47 Most Popular Girl Party Themes
If you want to plan the perfect birthday party for your little girl in the new year, then look no further than this list of the 47 Most Popular Girl Party Themes!
Are you looking for some inspiration on what to do for your daughter's next birthday party? From mermaids and unicorns to rainbows and ice cream, we have the perfect inspiration with these 47 Most Popular Girl Party Themes for 2022!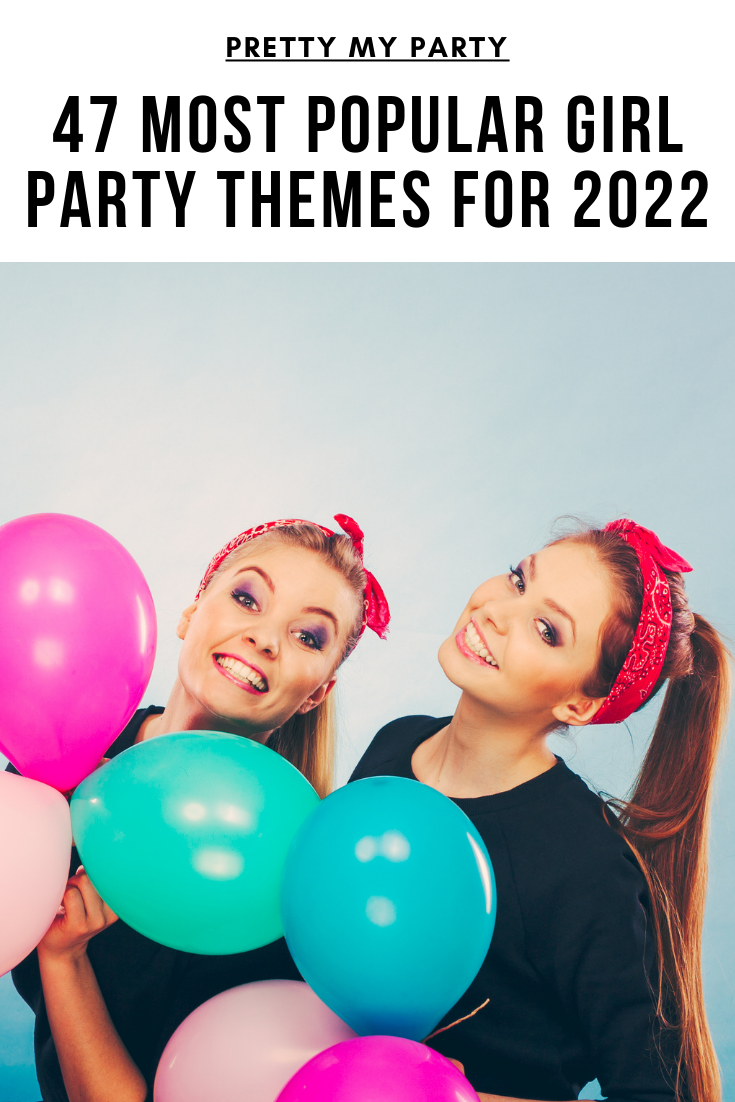 Get fun and creative ideas for food, supplies, cakes, cupcakes, cookies, invitations, party favors, dessert tables, and more!
Whether your little girl loves animals or Disney princesses, we have something for everyone on this list. Your daughter and her party guests are sure to love these creative party ideas as much as we do!
It doesn't matter if it's her first or fifth birthday – there's always a reason to go big at any age! So what are you waiting for? Let's get started planning the perfect celebration today!
47 Most Popular Girl Party Themes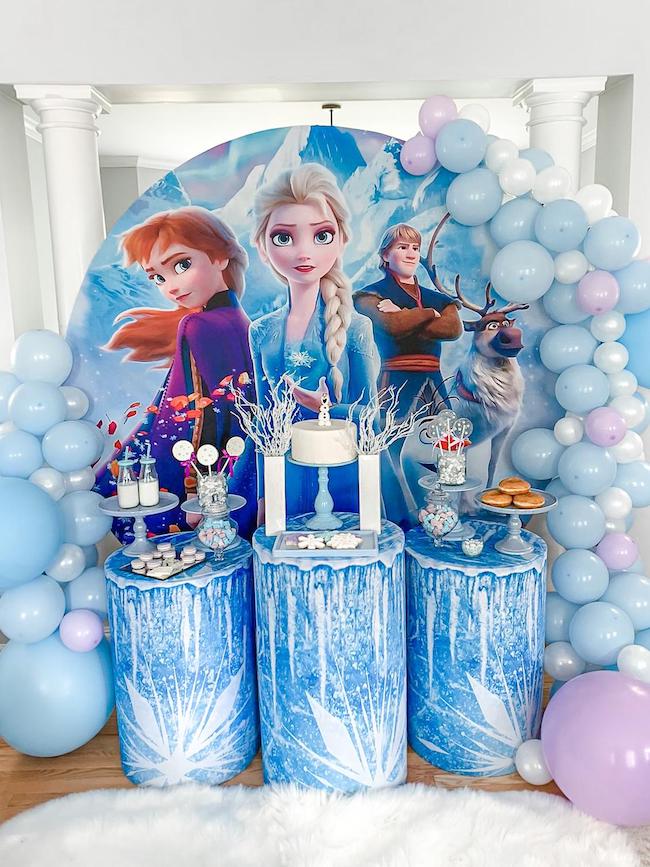 Disney Frozen is the perfect theme for your little girls' next birthday celebration! What girl doesn't love the movie Frozen?!
Bring your daughter's Frozen party to life with favorites Anna, Elsa, and Olaf. Turn your venue into an icy fairytale with the perfect cake, backdrop, dessert table, tablescapes, and more!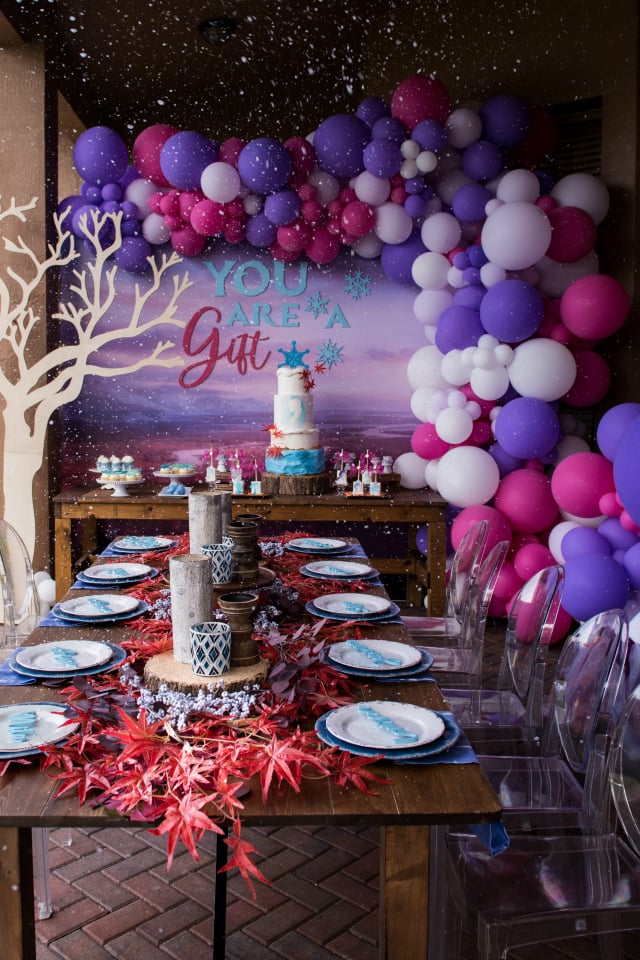 Have you watched Frozen 2? A Frozen 2 theme is also on our top list of themes!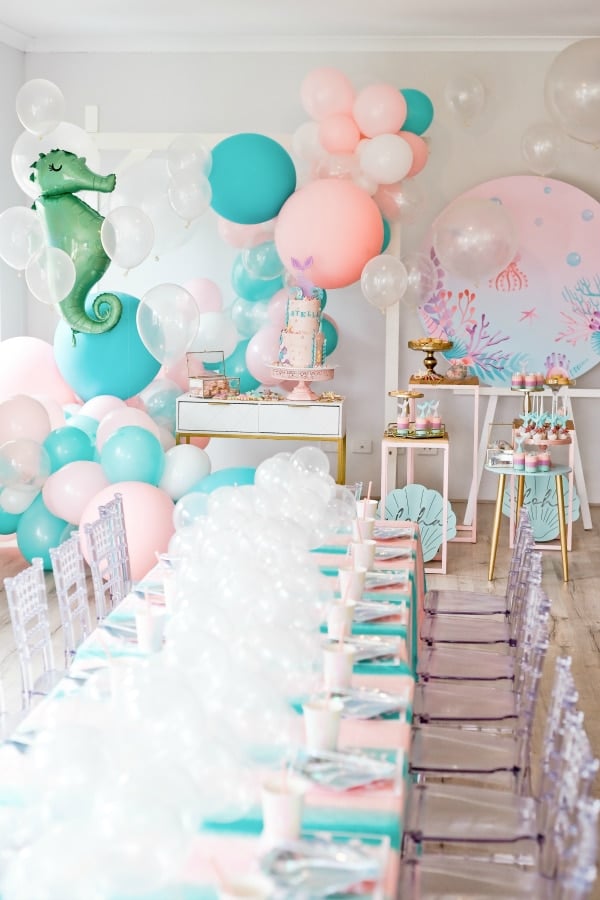 Mermaids are majestic creatures that every girl loves! A mermaid or Under the Sea birthday party theme can be as simple or extravagant as you want it to be.
You could go all out and create an entire underwater world in your backyard or keep it simple by just having some fun activities or mermaid dress-up time.
Either way, your little one will love celebrating their special day surrounded by their favorite characters from the deep blue sea!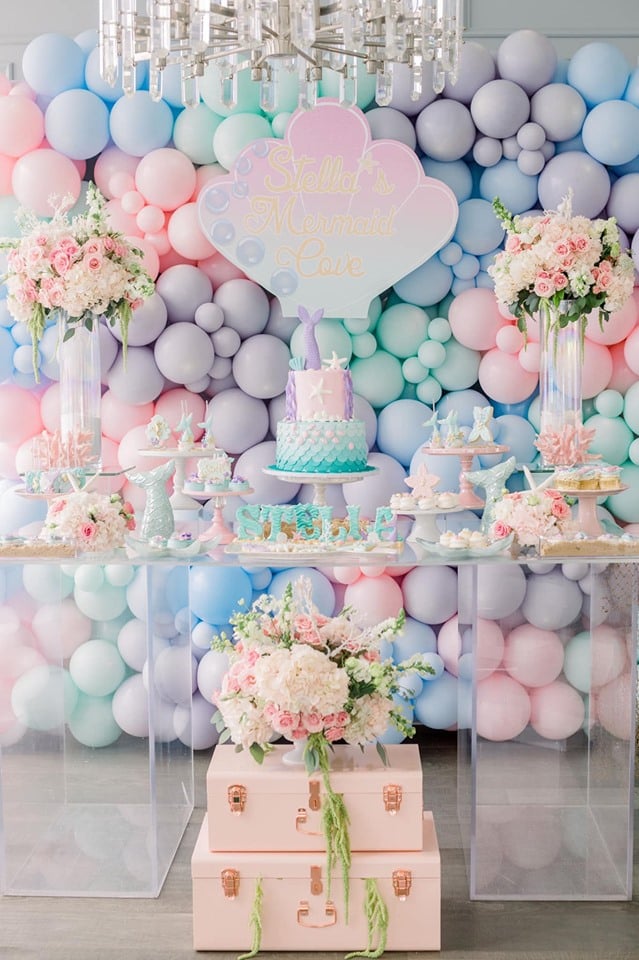 The best part about throwing a mermaid-themed birthday party is that there are many ways to make it unique and memorable for everyone involved.
You can do plenty of DIY projects at home to add some extra touches, like making custom invitations or decorating cupcakes with edible glittery scales.
And if you're feeling ambitious, why not try creating an entire outfit inspired by Ariel herself?
Then, your little girl will feel just like her favorite Disney character Ariel when she gets dressed up in her new finned tail before heading to her special birthday celebration.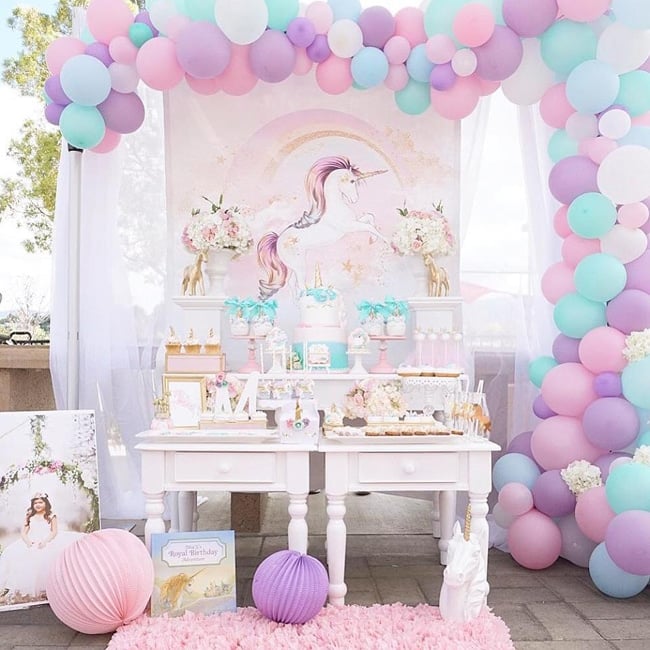 3. Unicorns
Is your little girl's heart set on a magical unicorn celebration for her birthday party?
Plan an unforgettable unicorn-themed event with these ideas for the best party supplies and printables, favors, food, desserts, and more.
Whether you add a little sparkle, pastel shades, or rainbows, your daughter will have the best birthday ever with these popular unicorn party ideas!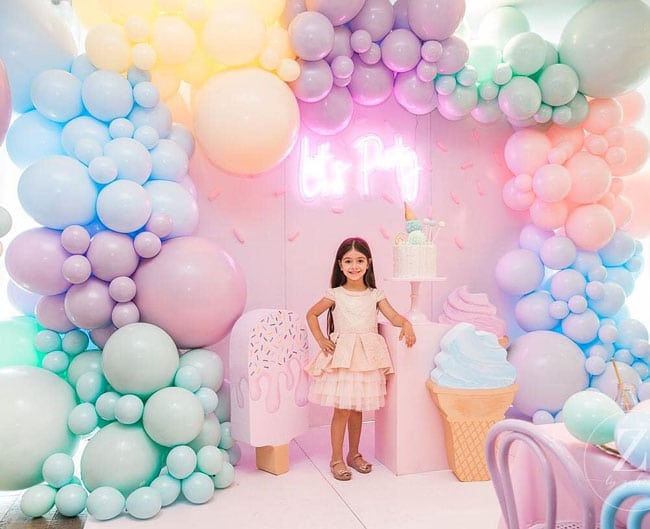 4. Ice Cream
An ice cream party theme is a delicious way to celebrate any special day! Add some sprinkles and put a cherry on top for a fun and sweet way to mark your daughter's birthday!
You can have your ice cream party at a local ice cream parlor or home with a visit from the ice cream truck! Either way, it's going to be a day your ice cream-loving birthday girl will never forget!
There are so many fun and creative ways you can celebrate an ice cream theme. Get inspiration for decor, desserts, invitations, favors, and more!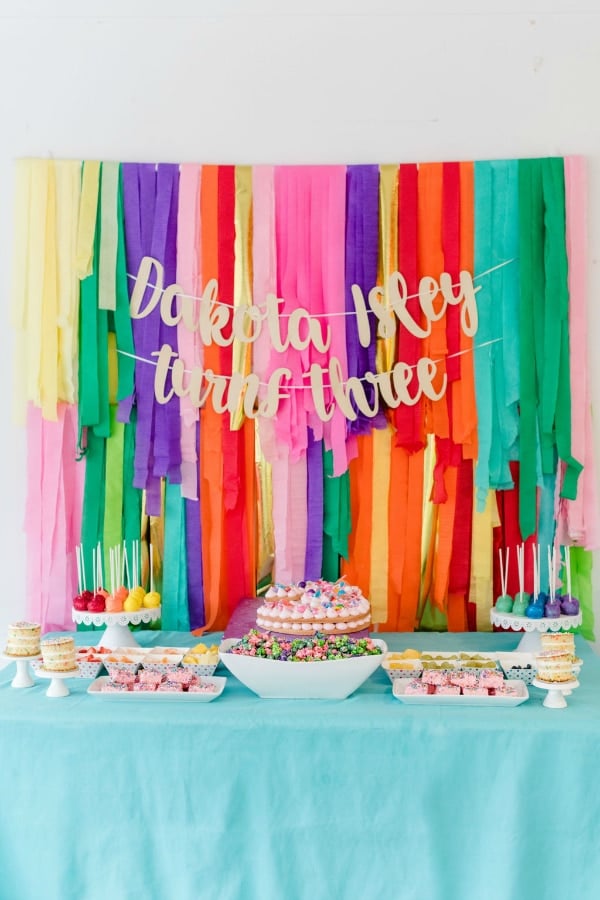 5. Rainbow
Can't choose a color for your child's birthday party? No worries, a rainbow theme is perfect!
There are tons of bright and colorful party supplies and decorations you can buy for your rainbow party.
This happy rainbow theme is sure to put a smile on any child's face! But, of course, you can make this day special without breaking the bank, too, with a bit of rainbow DIY magic.
From invitations to decorations, we've got all of the best rainbow birthday party ideas right here!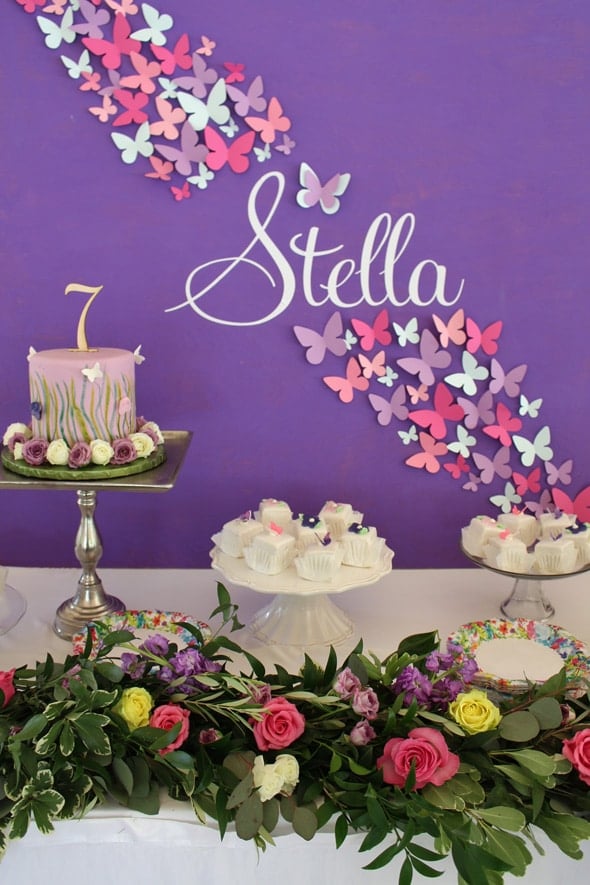 6. Butterfly
There's nothing more beautiful than butterflies, and that's why they make a great party theme. Add some pastel colors and a little bit of sparkle, and your kids will love it!
Some butterfly-themed birthday party ideas are to treat your little guests with some sparkly butterfly wings they can wear around the party. They also double as a fantastic party favor!
You can also incorporate face painting, a makeup station, a craft station where the girls can make a butterfly craft, pin the wings on the butterfly game, etc.
The possibilities are endless when it comes to a girls' party!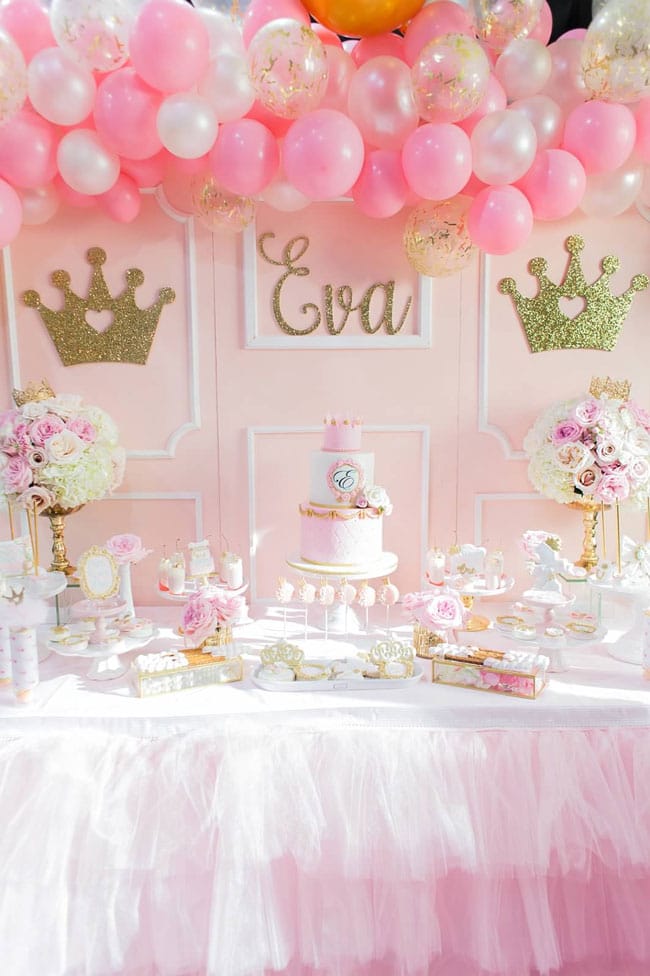 7. Princess
We all know that girls love to dress up and feel like royalty. So if you're looking for an easy way to make her birthday party extra special, look no further than a pretty princess birthday party!
Give out some magic wands to all of the little princesses at your princess-themed party, roll out the red carpet, and add a princess-themed cake, cupcakes, and cookies fit for a queen!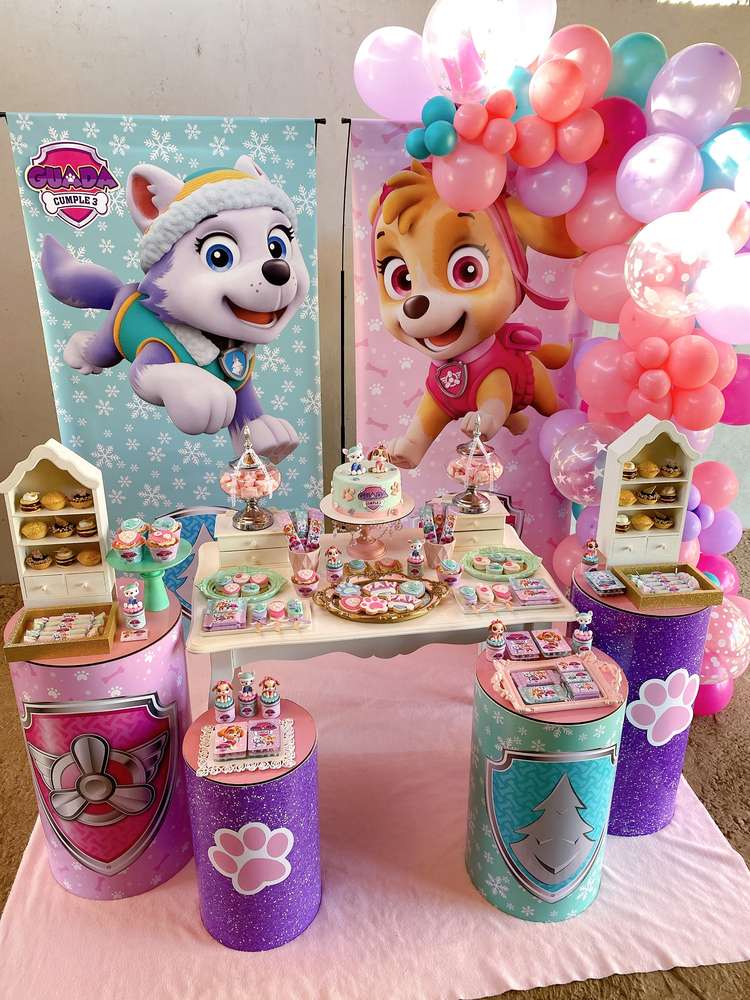 Photo: Party Now Design
8. Paw Patrol / Skye / Everest
Do you want to know how to plan a PAW-sitively perfect Paw Patrol Party?! Well, look no further!
Every girl loves Skye and Everest from Paw Patrol, so why not make it a Skye-themed party with pink and blue party supplies and decorations, puppy themed food, treats, and party favors.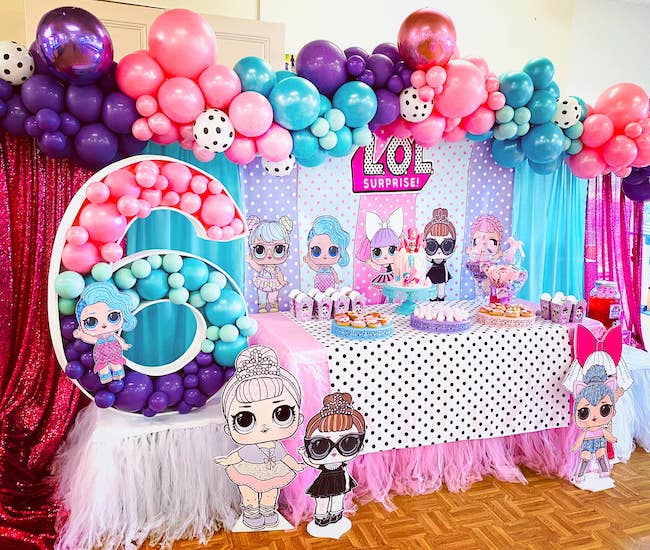 Does your daughter LOVE LOL Surprise Dolls? This popular theme is a great way to celebrate her big day!
Decorate your party space with LOL Surprise Doll-themed balloons, banners, a giant backdrop, and LOL Surprise Dolls, of course! Everyone little girl will love this theme!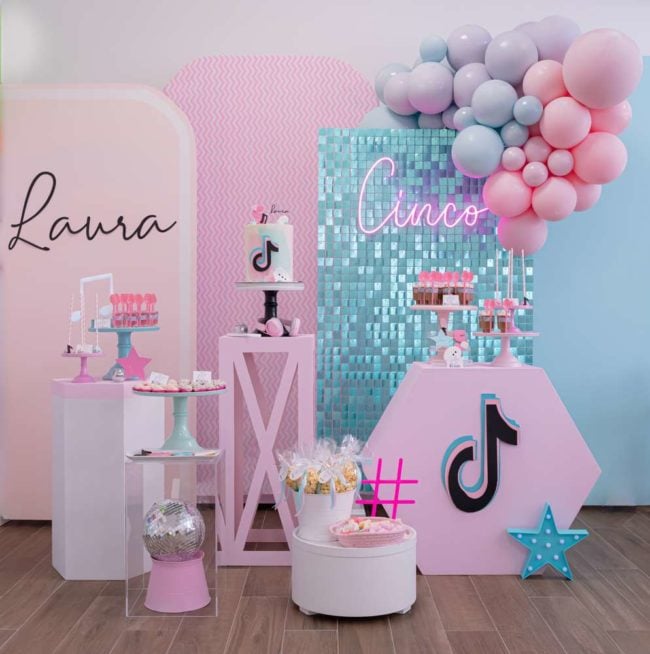 Photo: Mi Festas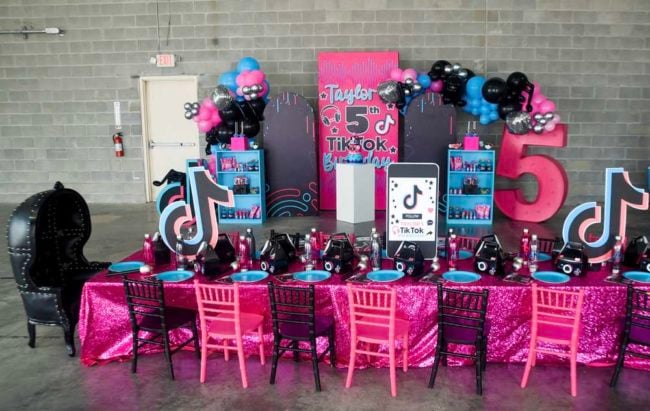 Photo: Dymonz Designz
10. TikTok
If you have a tween or teen daughter, consider a trendy TikTok-themed party!
You can find a variety of party supplies and decor for this theme and even attempt some cool DIYs too!
Your daughter and her friends will have a blast at a TikTok party – it might even go viral!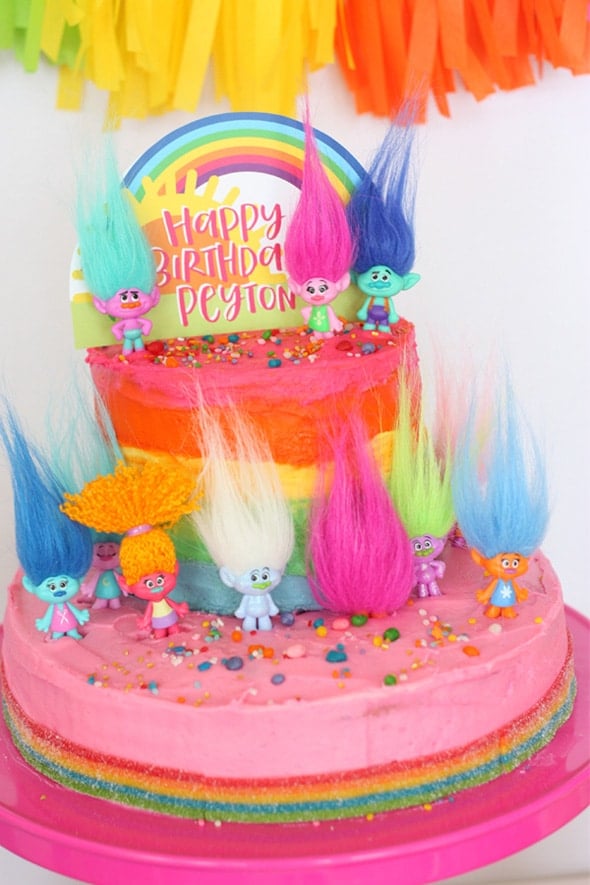 11. Trolls
Does your baby girl love the Trolls movie? This colorful theme is perfect for a girls' birthday party!
Bring in all the adorable Trolls dolls and use them as decor around your party.
You can even give your guests DIY Trolls headbands for a fun Trolls party favor and photo op!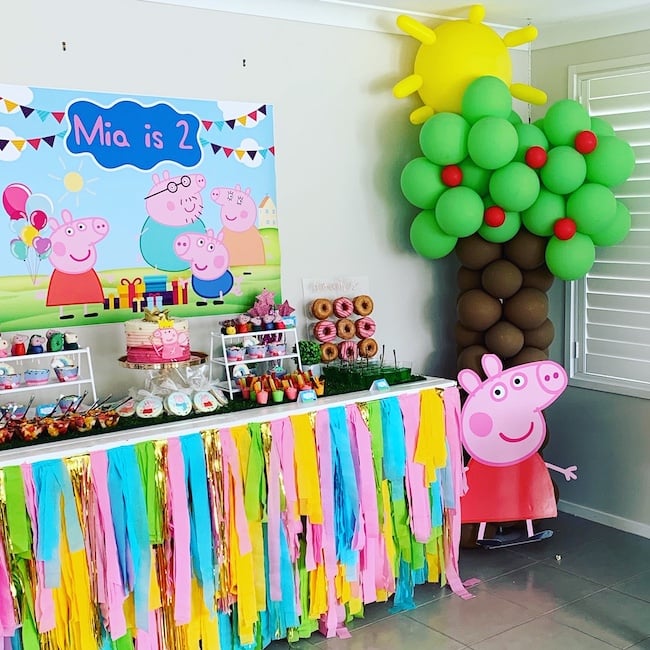 12. Peppa Pig
Peppa Pig is a great first birthday party theme for any girl! So round up Peppa Pig, Mommy Pig, George, and the gang for a fun-filled day of Peppa-themed treats, games, and food!
You can have all of your friends and family over for a day full of fun Peppa-themed games and activities that are sure to keep everyone entertained.
And with this fun Peppa Pig inspiration, you have some great ideas for cakes, food, decorations, party supplies, and more!
We know how hard it can be to plan an entire event on your own, so we put together some of our favorite Peppa Pig Birthday Ideas!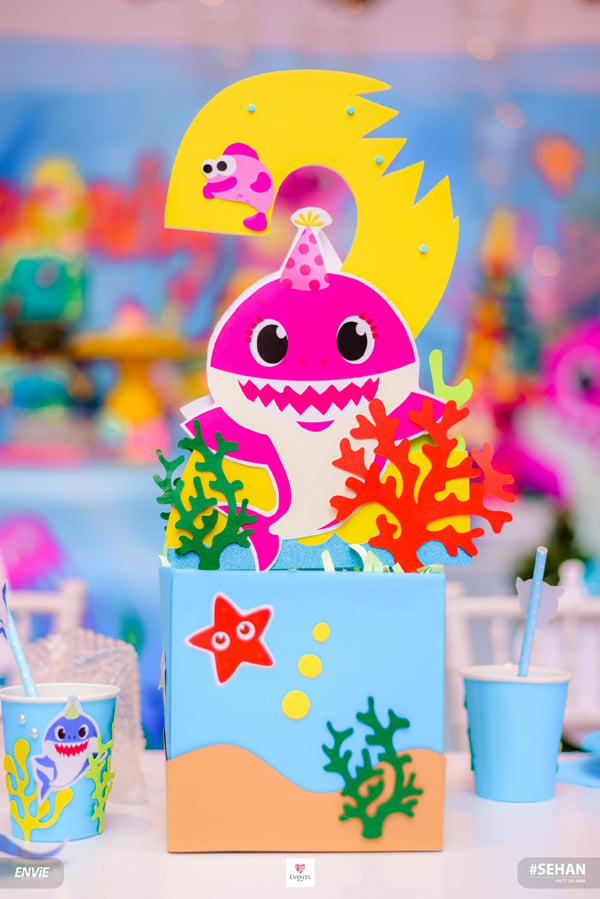 13. Baby Shark
Do you have a child that's obsessed with Baby Shark? This popular party theme is cute, colorful and will make a splash among your friends and family!
There are so many adorable ideas you can incorporate or DIY for a fun Baby Shark event.
Bring the ocean vibes to your Baby Shark party with fun crafts, snacks, favors, games, activities, and more!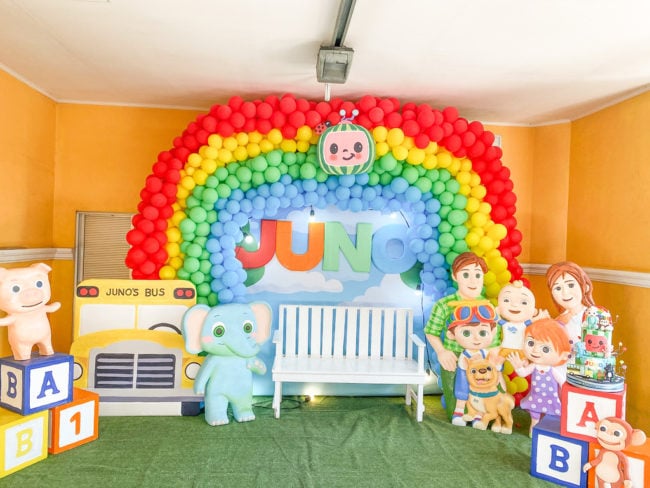 Photo: Party Curators
14. Cocomelon
Cocomelon is popular among the kids, and that's why it's the perfect theme for any party! Host the best Cocomelon party with the adorable characters every young child loves!
This theme is not only cute but super colorful too! A Cocomelon party would be perfect for a 1st, 2nd, or even a 3rd birthday.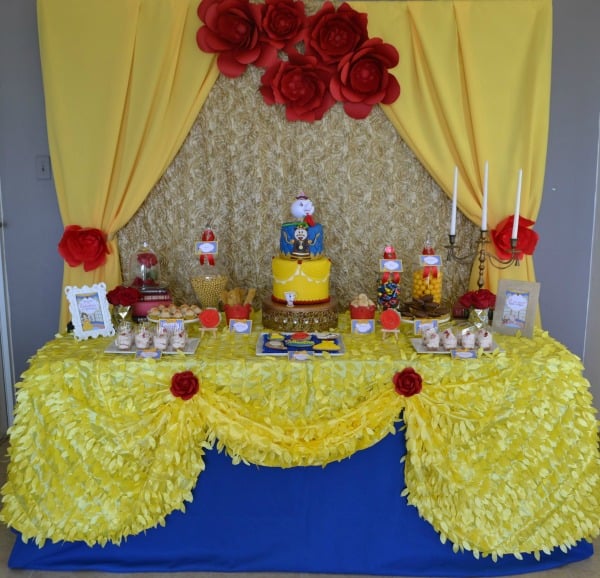 15. Belle / Beauty and the Beast
Every little princess dreams of being Belle from Beauty and the Beast for a day, and what better way to make your child's dream come true than to throw a fabulous Belle-themed party for her big day!
There's so much you can do for a beautiful Beauty and the Beast celebration so you can truly make the day magical.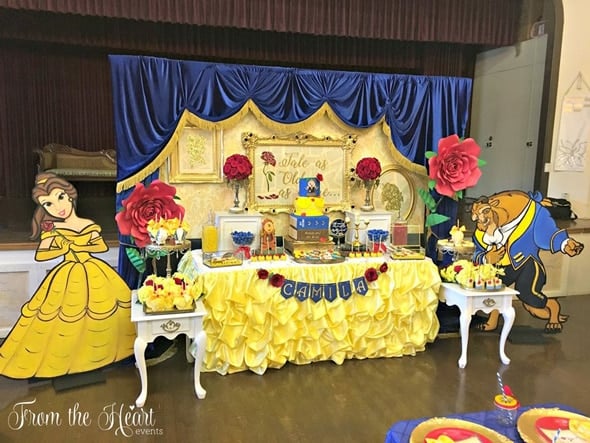 Make the day truly magical with beautiful party supplies, decorations, desserts, games, and more.
Invite Belle to your party to surprise the birthday girl and her friends. This classic theme is a favorite in our list of 47 Most Popular Girl Party Themes.
Be sure to tell all of the guests to come in their best princess dresses for an afternoon full of fun!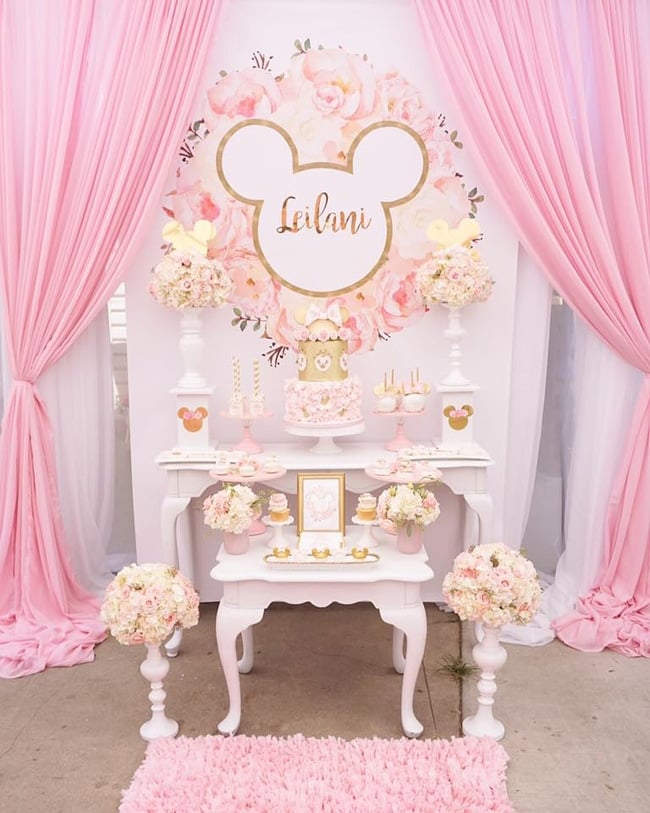 16. Minnie Mouse
Minnie Mouse is a classic party theme and can be in red, black, and white or pink and gold!
You can even get super creative and do a vintage Minnie theme with pastel pink, purple, and blue color palette or have some fun with a Minnie Mouse Tutti Frutti Party!
The possibilities are endless with this classic Disney theme!
Don't forget your Minnie Mouse ears and the BOW-tique for some fun DIY bow-making!
All the girls will have a blast at this Minnie Mouse celebration!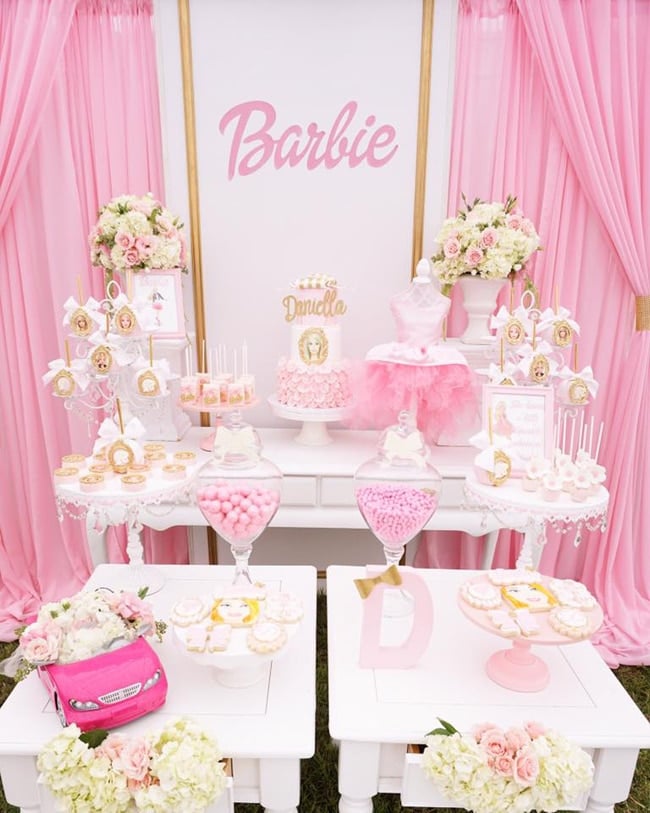 17. Barbie
Barbie is a classic party theme that never goes out of style! So, if your little girl wants a fabulous Barbie bash, look no further than these pretty party ideas!
Of course, when you think of Barbie, you think of all things pink and girly.
But, the possibilities are endless when it comes to an iconic Barbie-themed birthday party as you can see in this groovy vintage Barbie-themed party!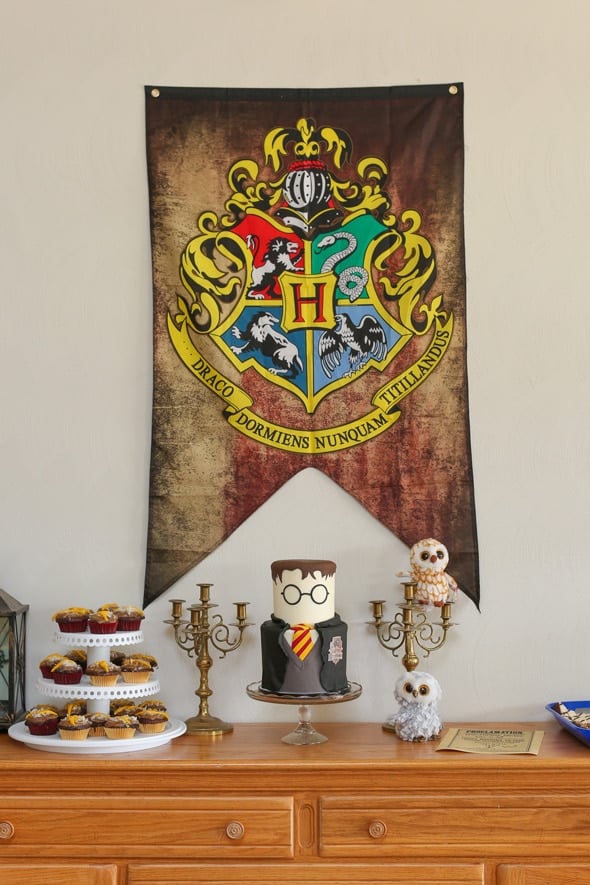 18. Harry Potter
Harry Potter is an excellent choice for an older child. If your daughter loves the Harry Potter books or movies, this theme is a no-brainer.
There are so many fun and creative things you can incorporate into this party.
The DIY and food options paying homage to the series are endless, so you can have a lot of fun planning this Harry Potter wizardly fete!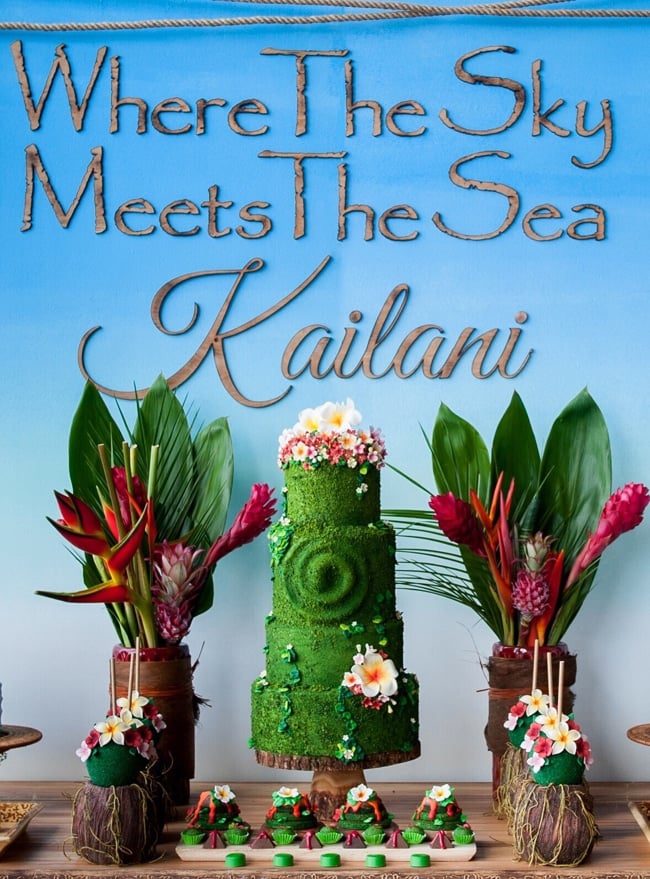 19. Moana
Everyone will think they are somewhere tropical with a Moana-themed birthday party! Moana is so much fun with its island vibes and can even be budget-friendly.
Make it as big or small as you like with tropical props, party printables, and party supplies everyone will love.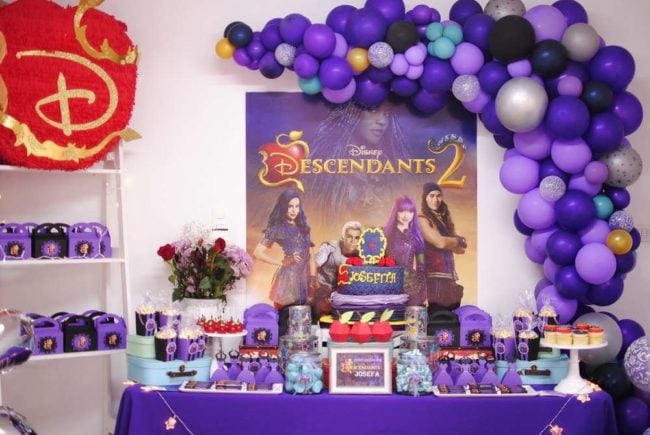 Photo: Eventos Celebra Candela
20. Descendants
The popular Descendants movie makes a great party theme for any tween or teen! Transform your venue into a medieval castle complete with dragons and evil apples.
Invite guests to wear Descendants costumes so everyone can be their favorite character from the movie!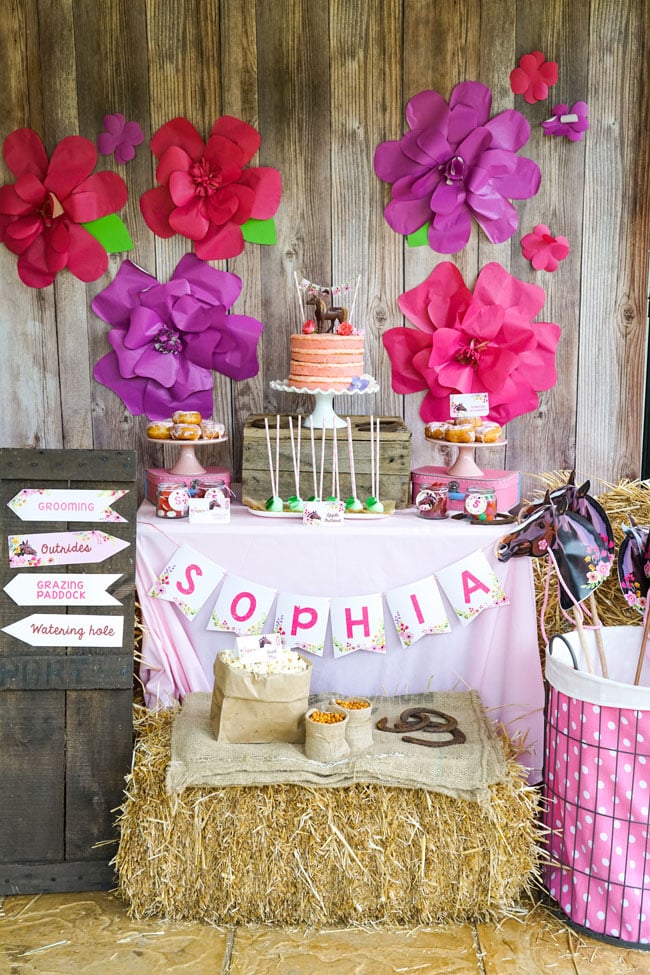 21. Horse
Saddle up for a wild time with a horse-themed party! Do you have a horse-lover in your family? Maybe your child loves riding horses and is a country girl at heart.
A horse-themed birthday party is a perfect way to celebrate a birthday! Whether you have the party outside or indoors, you can bring the horses to you with fun, girly party supplies, and decorations.
How about a beautiful horse cake or trail mix party favors? No matter what elements you decide on, we're sure it's going to be the best horse-inspired party ever!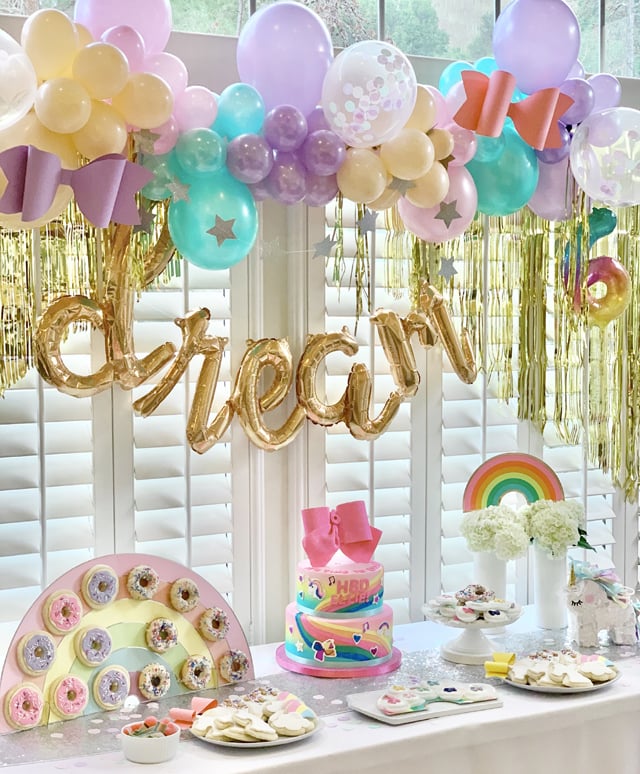 22. JoJoSiwa
Every girl loves JoJo! Who wouldn't with those big, colorful bows? If you have the ultimate girly girl on your hands, a cool JoJo Siwa party theme is perfect!
Add sparkle and rainbows to your Jojo Siwa party, have a makeup and hair session, or include a DIY bow-making activity for your daughter and her friends.
No matter what you do, dream crazy big for your daughter's JoJo party!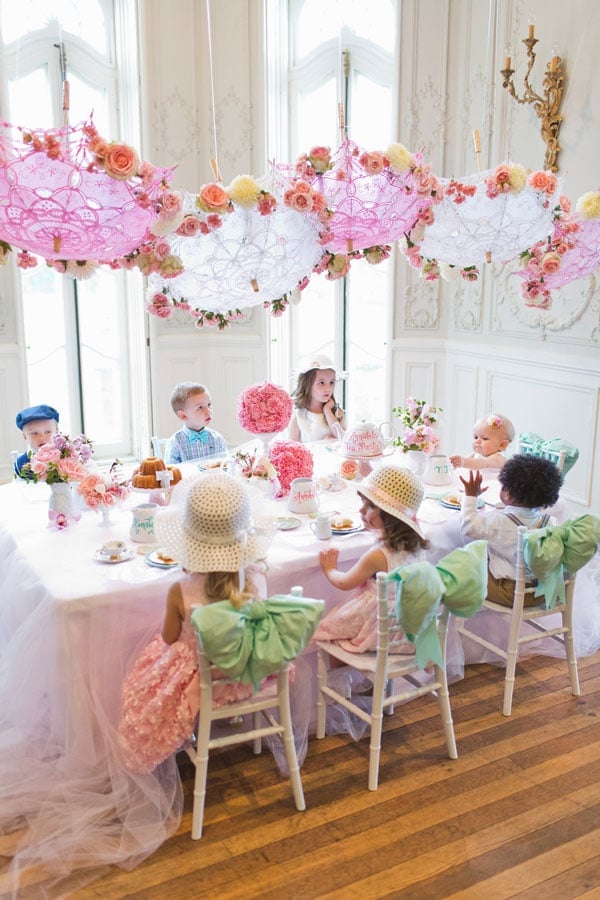 23. Tea Party
Would your daughter and her friends like to get all dressed up and have a fun tea party? If tea time sounds like something she would love, a tea party would be a perfect birthday theme for her next celebration.
First, serve some fingers foods and dainty desserts for the perfect afternoon tea time! Then, transform your venue with classic floral decor and party supplies for a dreamy tea party that everyone will love!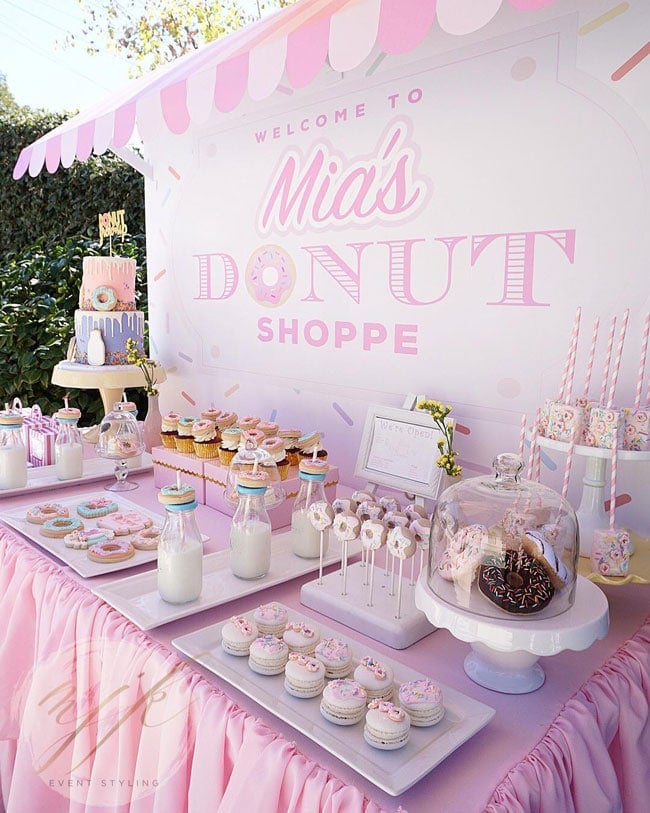 24. Donut
There's nothing sweeter than a donut and sprinkles party! This theme is perfect for a 1st birthday party too! A donut party is also an easy one to DIY on a budget.
You can make a cool sprinkles backdrop with donuts, add a donut-themed dessert table, and even have a donut-shaped cake and party favors! Donut worry, be happy!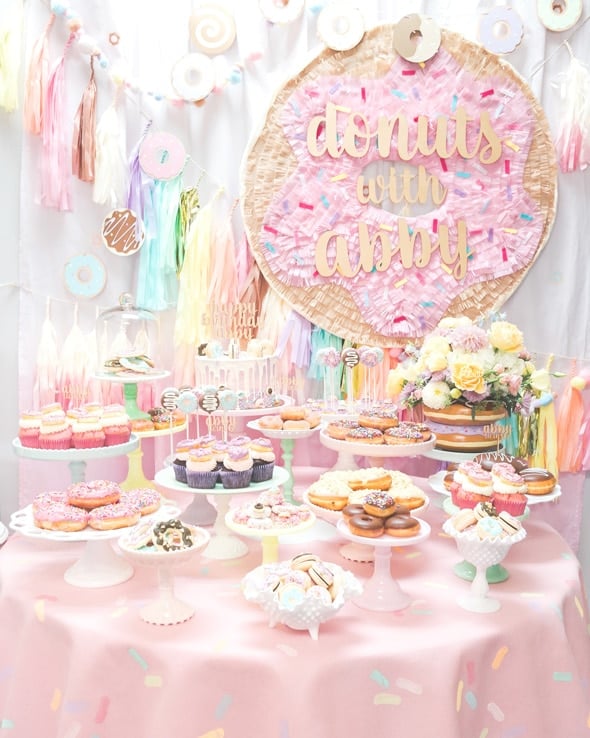 We love a sweet donut theme with a pastel color palette and tons of donut-themed balloons and props.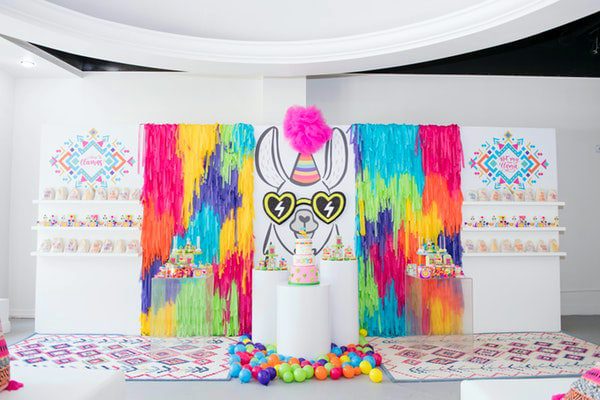 25. Llama
Llamas are so adorable and make the perfect theme for girls' birthday parties – even a 1st birthday! Make it a true fiesta with a fringe paper backdrop or photo booth, cactus items, and a fun, festive color palette.
Add in some cute plush llama party favors or incorporate them into the llama party decorations. There are so many creative ways to make this party special for your daughter and her friends.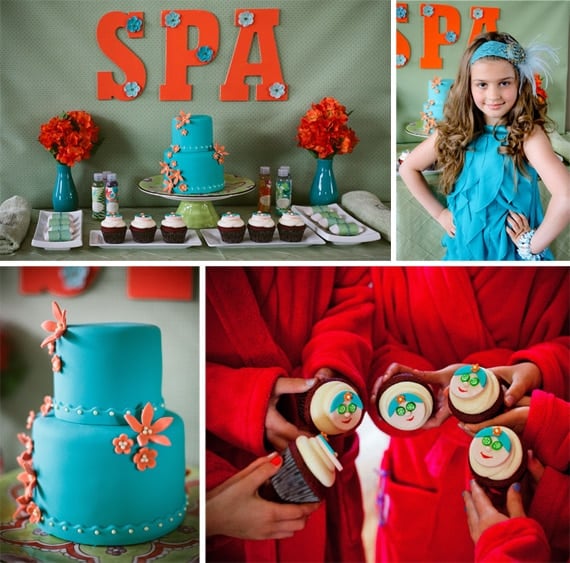 26. Spa
Pamper your daughter and her friends with a spa-themed party! You can have the party at home or even a salon where the girls can sit back, relax, get a mani/pedi, and talk about boys!
There are so many fun spa-themed party dessert and cake ideas you can incorporate into your party. A spa day is an excellent idea for tweens and teens and would even be fun for little girls too!
What girl doesn't love getting all dolled up and pampered?!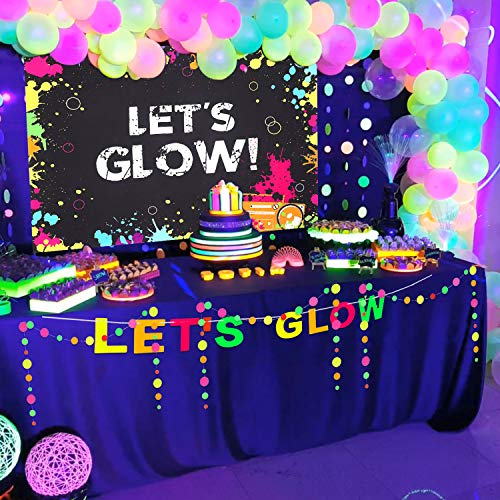 27. Glow in the Dark
A cool glow-in-the-dark-themed birthday is perfect for any tween or teen who wants to stay away from the cute party themes.
Have a glow-in-the-dark dance party with disco lights, DJ, glow-in-the-dark desserts, cups, decorations, balloons, and more!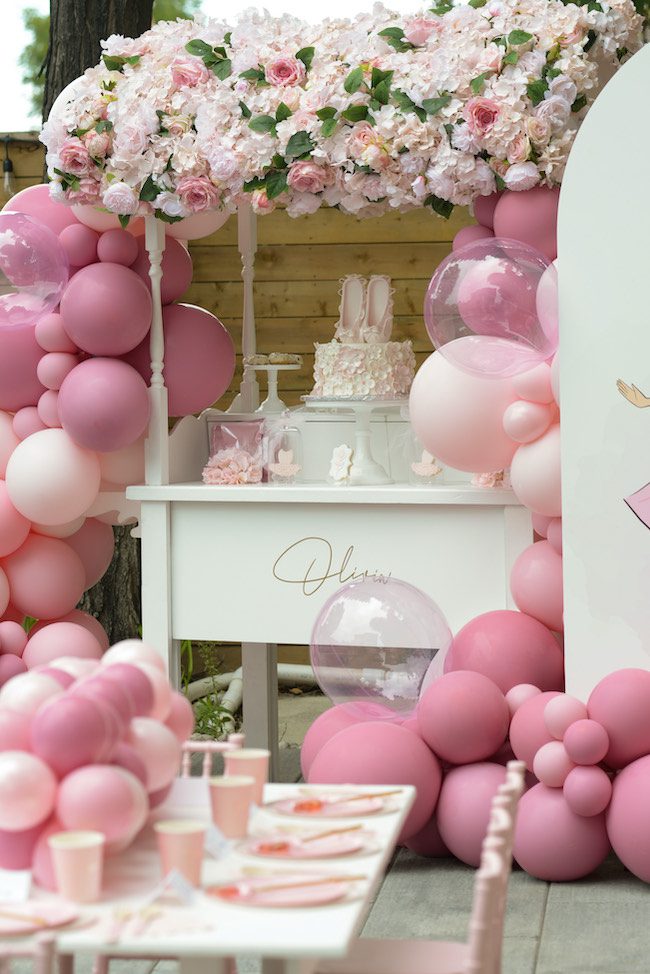 28. Ballerina
Do you have a little ballerina in your life? Think all things pink with a sweet ballerina birthday party, complete with tutus, a pink cake, ballerina shoes, and a ballerina-themed party gift for your guests.
Tell all tiny dancers to dress in their favorite tutus and dance the day away with this sweet ballerina theme.
You can even do things a little different and plan a vintage ballerina party!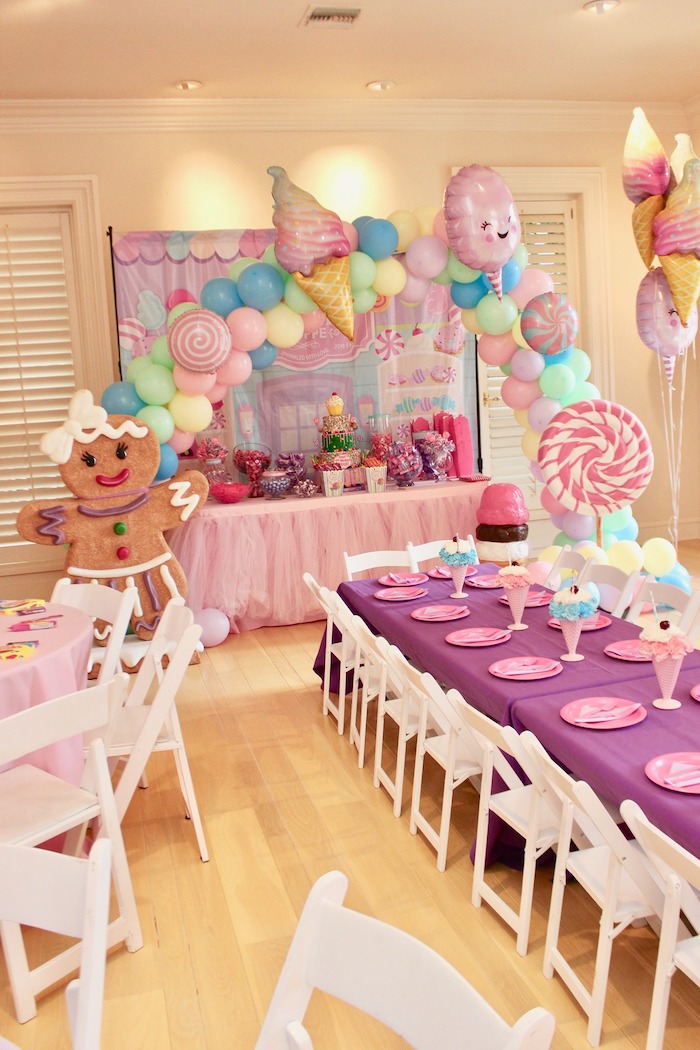 29. Candyland
Turning your party venue into a sweet Candyland will be a hit with the kids!
First, get sugared up with a colorful candy buffet and a Candyland-themed birthday cake.
Then, go big with the Candyland decorations and include giant lollipops, candy balloons, and a gingerbread house. The Candyland theme is fun for any age.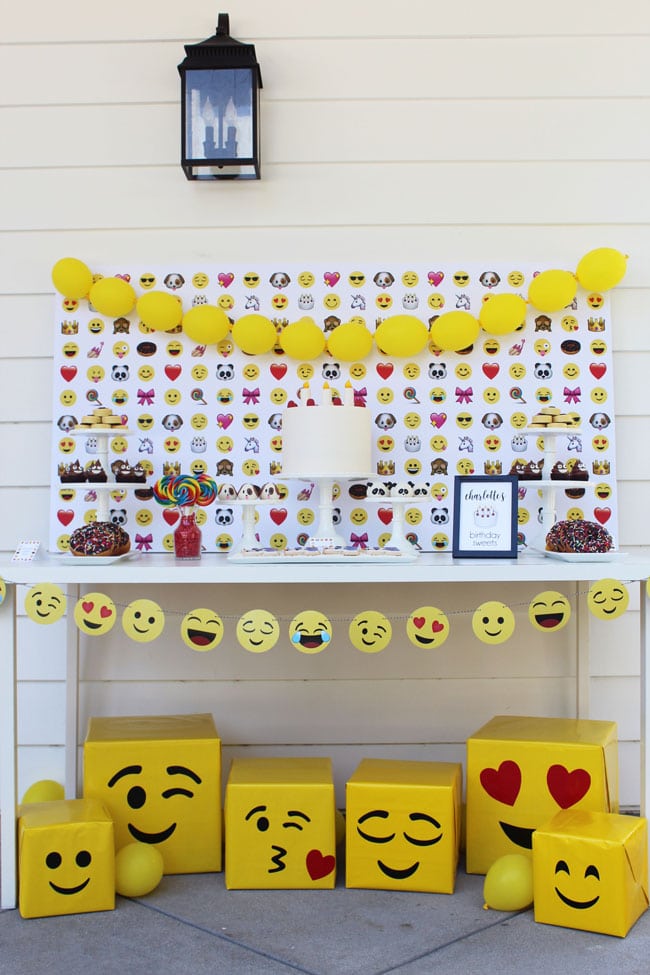 30. Emoji
An emoji-themed celebration is perfect for tweens and teens.
Go all out with bright, colorful emoji decorations and party supplies, desserts, an incredible cake, and a fun photo booth. We're sure your emoji party will be Instagram-worthy!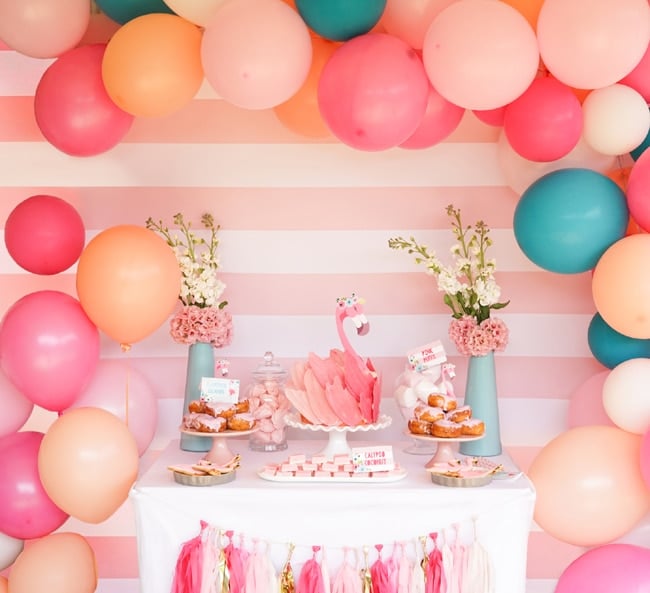 31. Flamingo
Let's Flamingle! A flamingo birthday party is a fun way to celebrate a special birthday!
Bring in the tropical vibes to your event to your flamingo celebration with flamingo-inspired plates, napkins, cups, banners, balloons, and themed treats!
A flamingo party is perfect for any age too!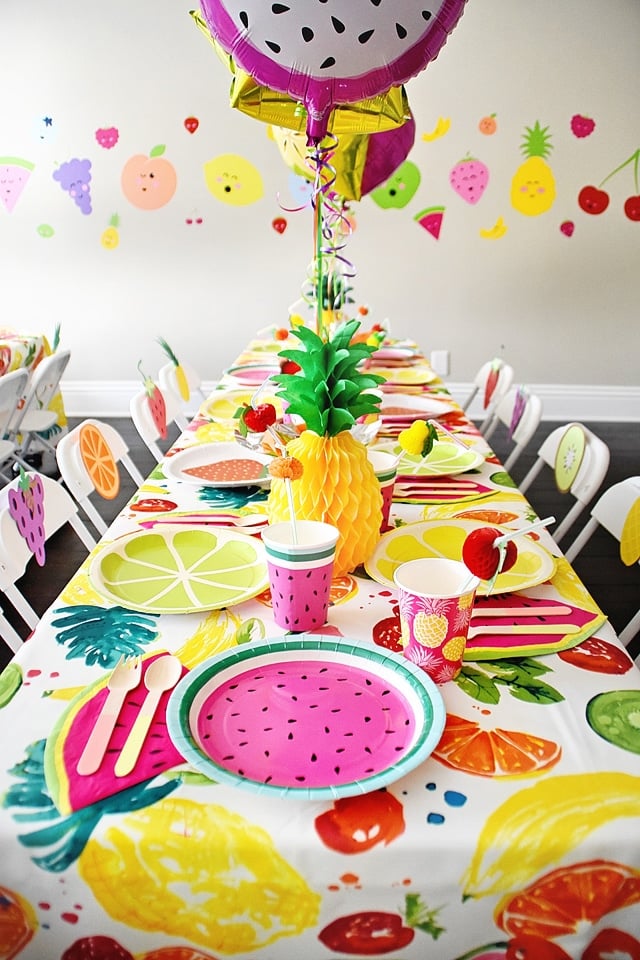 32. Tutti Frutti
We love the colorful and fun tutti frutti parties! So incorporate watermelon, strawberries, bananas, and kiwi for a trendy party everyone will love!
There are so many adorable tutti frutti invitations, party supplies, balloons, and centerpieces to choose from for your Tutti Frutti event to make your party a hit!
There are also many cute ideas for fruit-themed birthday cakes, cookies, cupcakes, and a fruit stand-themed dessert table.
So get as creative as you want and DIY your way to a fabulous fruity celebration!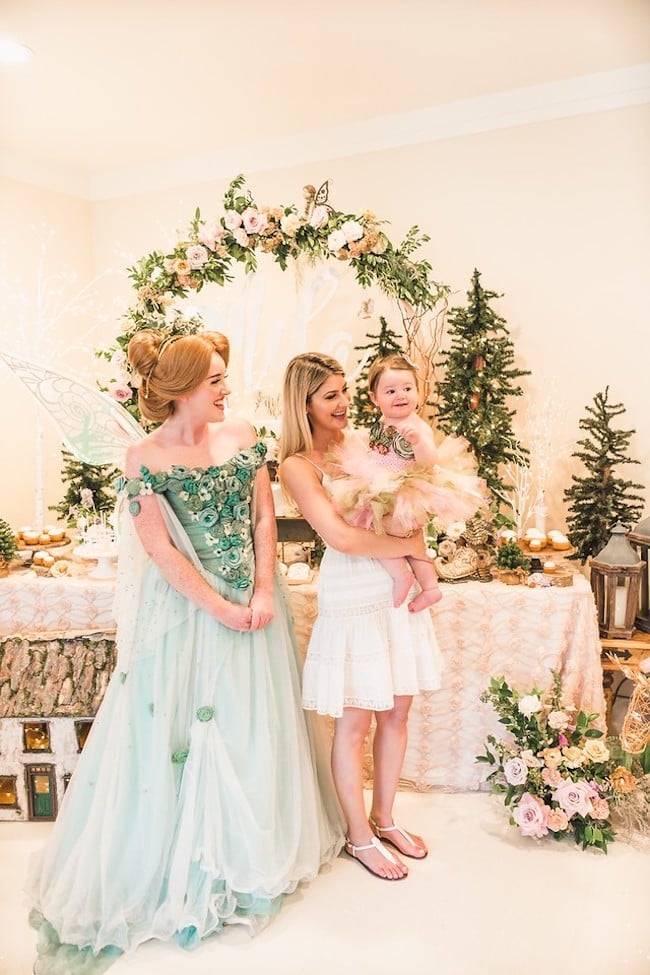 33. Fairy
Sprinkle some fairy dust and wave your magic wands for a magical day of celebrating the birthday girl! All fairies are welcome to this special fairy-themed party.
Just grab some fairy wings and wands and give them to your guests as party favors that they can wear and use around the party.
The photo ops are endless with this dreamy theme. Make this a garden fairy theme with tons of flowers, mushrooms, and greenery.
You can even give it a woodland vibe with fairy wings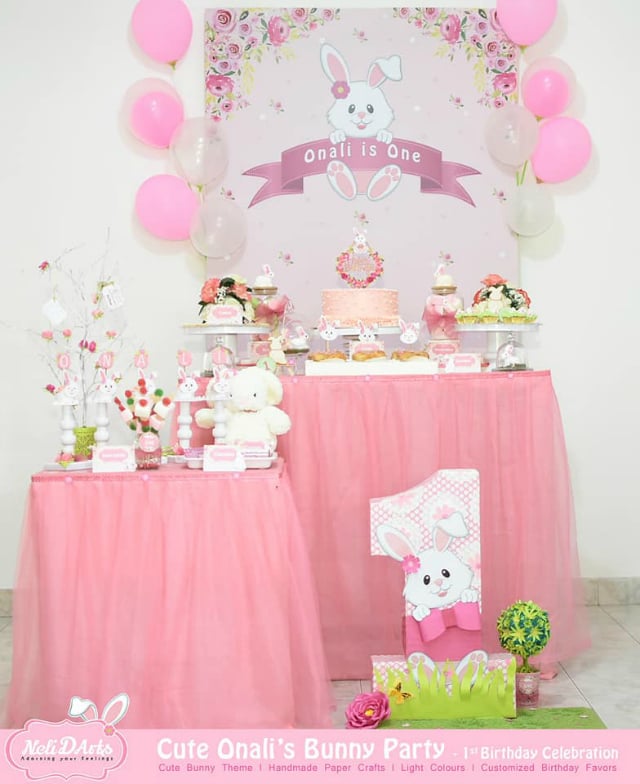 34. Bunny
Some Bunny is 1! A sweet bunny theme is perfect for a first birthday party! Think pink and white bunny-themed party banners, balloons, tablescapes, centerpieces, cake, cupcakes, cookies, and favors. Have the kids hop on over with some adorable DIY bunny ears for the perfect bunny party photo op.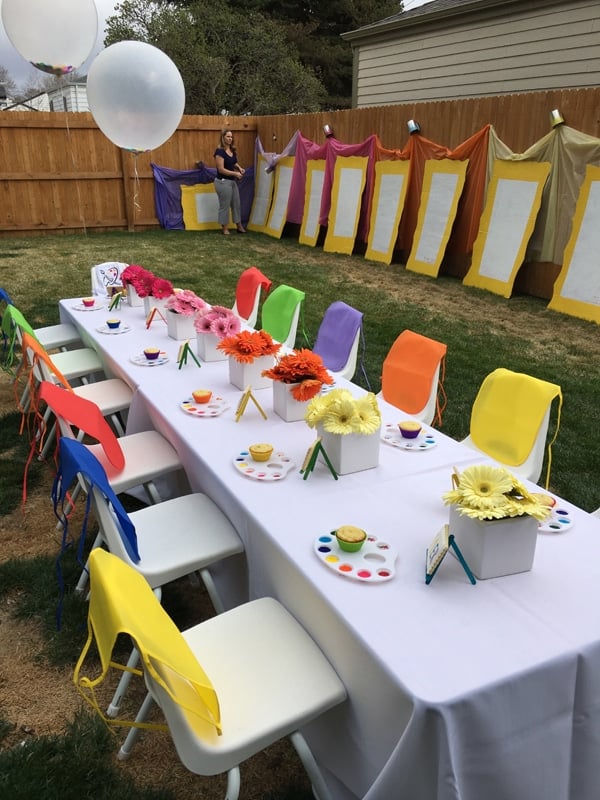 35. Art
Do you have a little artist on your hands?! An art party is a great way to show off the kids' creative side and is one of our favorite 0f these 47 Most Popular Girl Party Themes!
Have a fun afternoon with a rainbow art theme, complete with a painting project and art-themed desserts, art-themed party props, and more.
The kids will have fun making a cool masterpiece at your art party to share with their parents.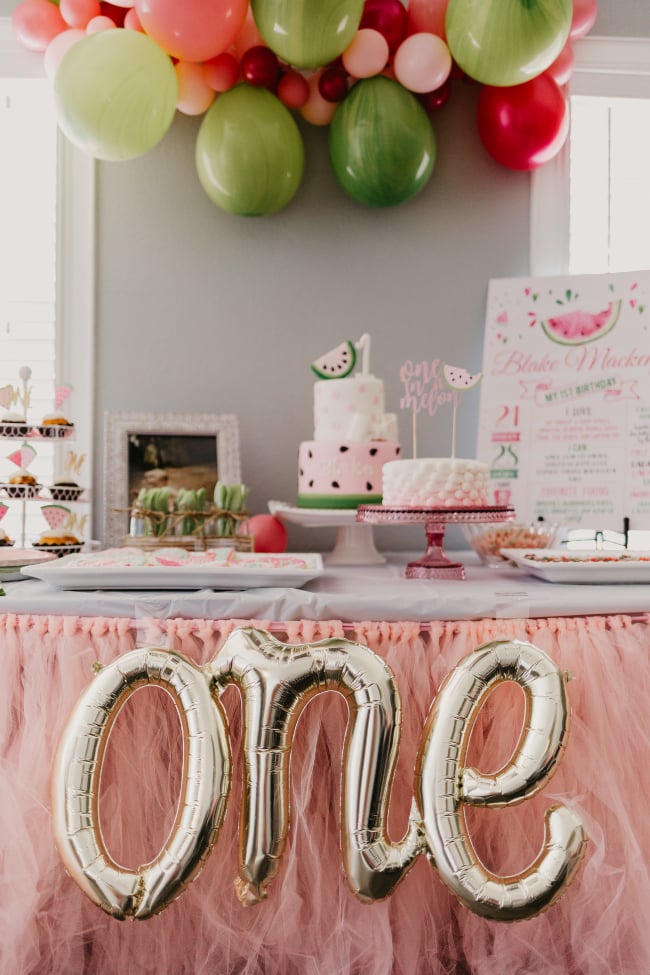 36. Watermelon
One in a Melon is a popular 1st birthday party theme for girls. You can do a red and green color palette or go for a more soft pastel color palette.
Then, add some cute watermelon balloons, desserts, and favors for a truly sweet watermelon-themed party!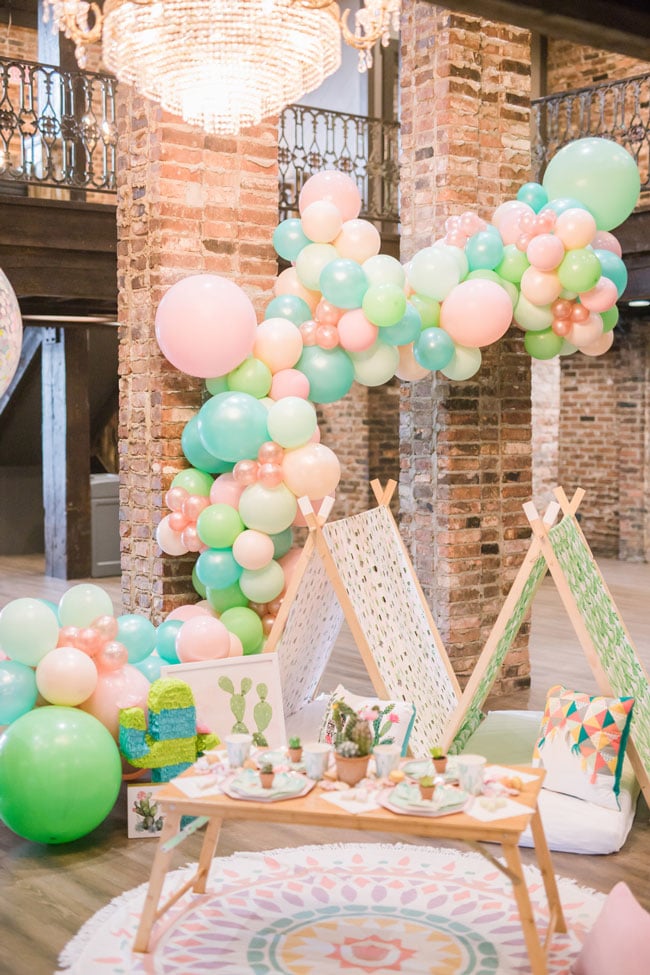 37. Fiesta / Cactus
It doesn't have to be Cinco de Mayo to host a fun fiesta or cactus-themed party! The fiesta theme is heating up and the ideas are endless.
Decorate your space with colorful hanging banners, cactus plants, desert florals, and succulents.
You can also find cute cactus plates, napkins, banners, and other things to dress up your venue.
If your little girl is turning one, you can host a First Fiesta or cactus-themed birthday with a pink and green color palette or if she's turning two, plan a cool Taco TWOsday celebration!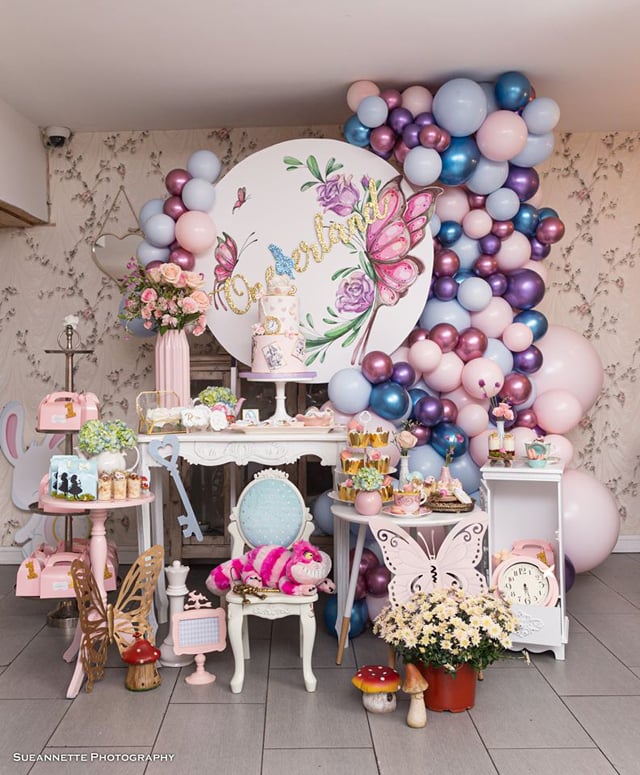 40. Alice in Wonderland
Alice in Wonderland is a classic theme that's perfect for any age!
Make this theme magical by adding some edible tea cup cupcakes to your Alice in Wonderland-themed dessert menu, along with Cheshire cat cookies.
Include a fabulous Alice in Wonderland themed birthday cake, favors, games, and more for a whimsical event any girl will love!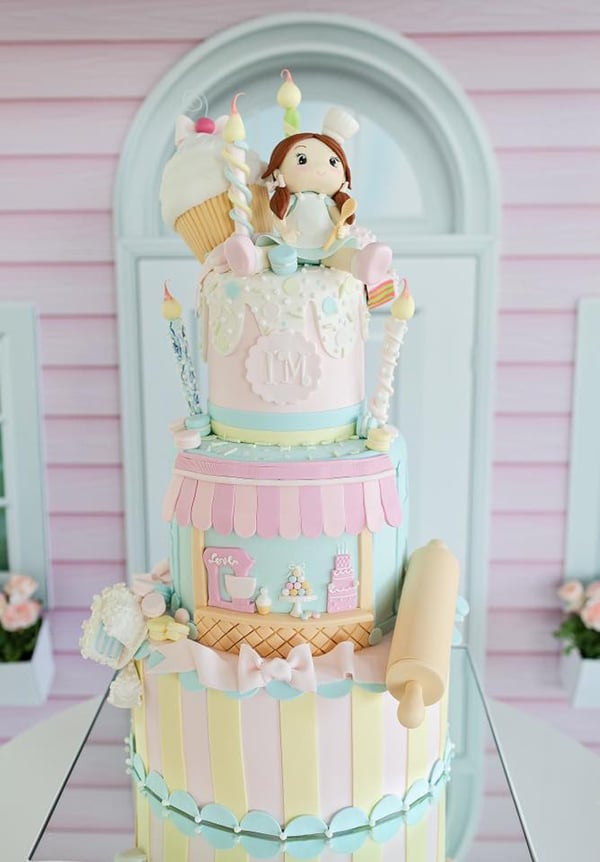 41. Dolls / Dollhouse
Girls love dolls so why not bring a dollhouse to life and host a doll-themed party for your little girl?!
With a sweet pastel color palette, you can transform any space into the ultimate dollhouse!
Set up a doll station with clothes and accessories for the girls and double their doll as a party favor to take home.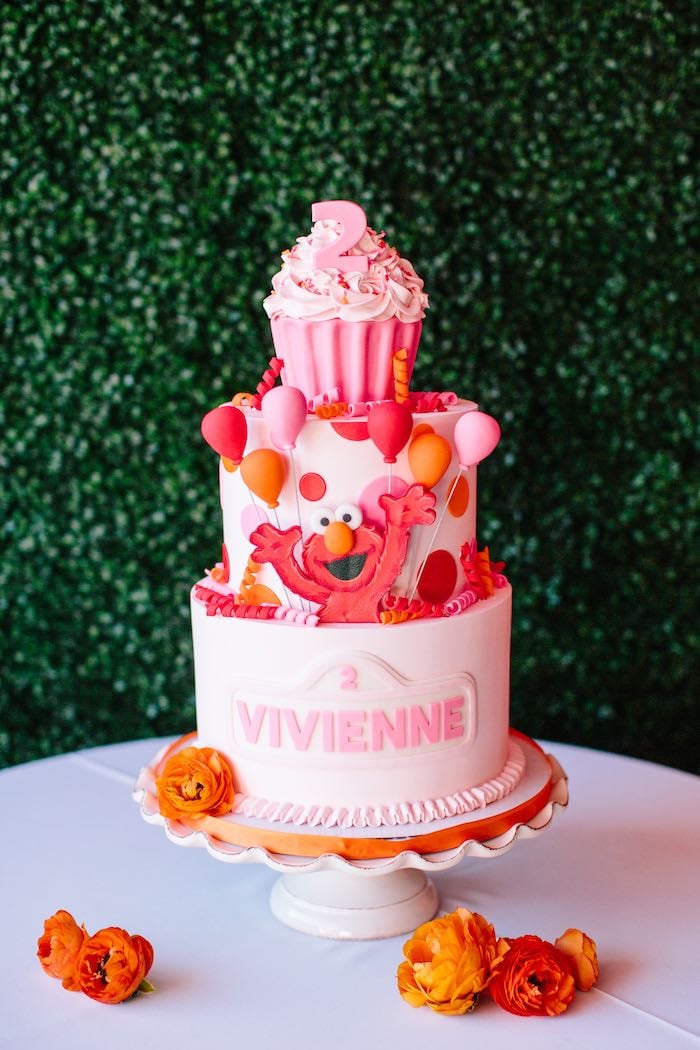 42. Elmo
Elmo doesn't just have to be for the boys.
There are tons of little girls who love Elmo from Sesame Street, and you can quickly turn this party into a girly theme by incorporating pink into your desserts and party supplies.
An Elmo theme is great for a 1st, 2nd, or 3rd birthday!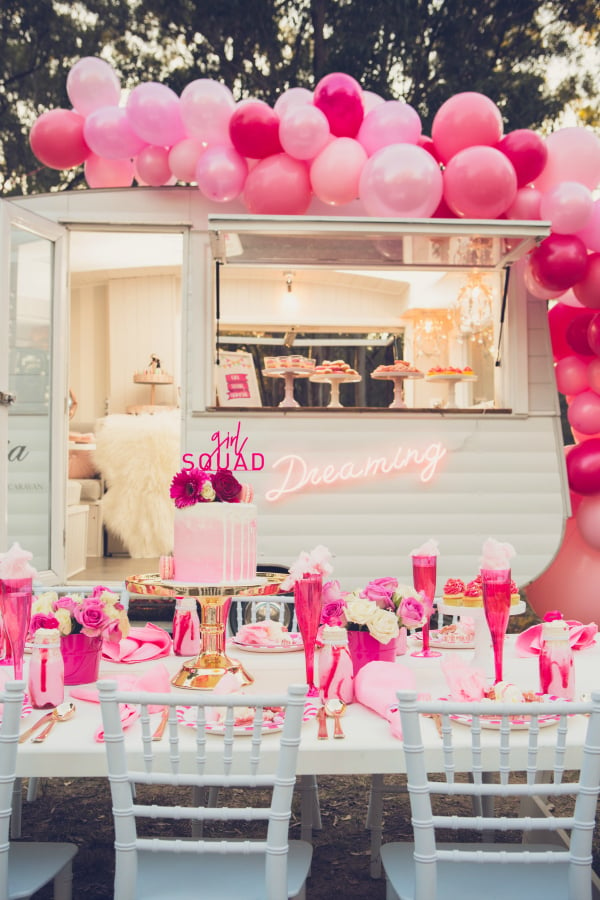 43. Glamping
Glamping indoors or outdoors is a fantastic way to mark another birthday with friends. But, of course, we've all seen those cute indoor tents that you can set up at home for you glamping party. So fun!
Turn your glamping sleepover into any theme you like!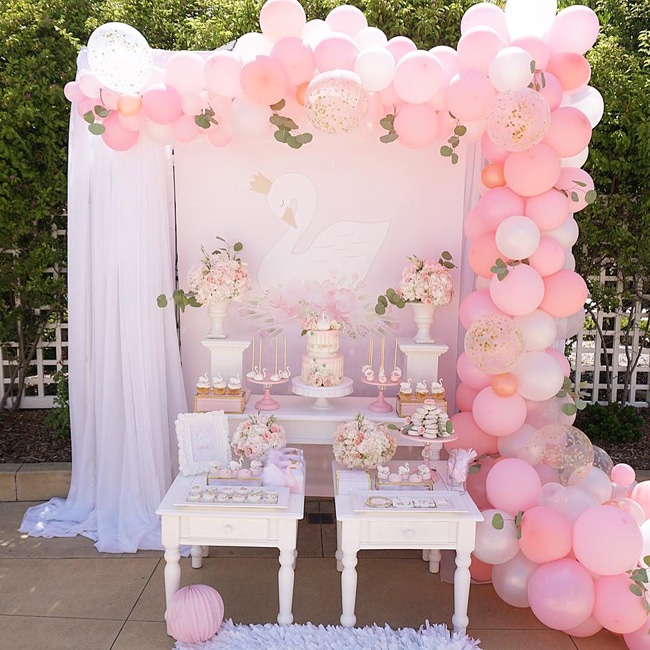 44. Swan
A beautiful swan-themed party is another theme that you can make gorgeous. Whether you're having a 1st birthday or a 10th birthday, a swan theme is perfect.
Incorporate a swan-themed dessert table full of delicious desserts, add a gorgeous Swan backdrop, get matching party printable, and more!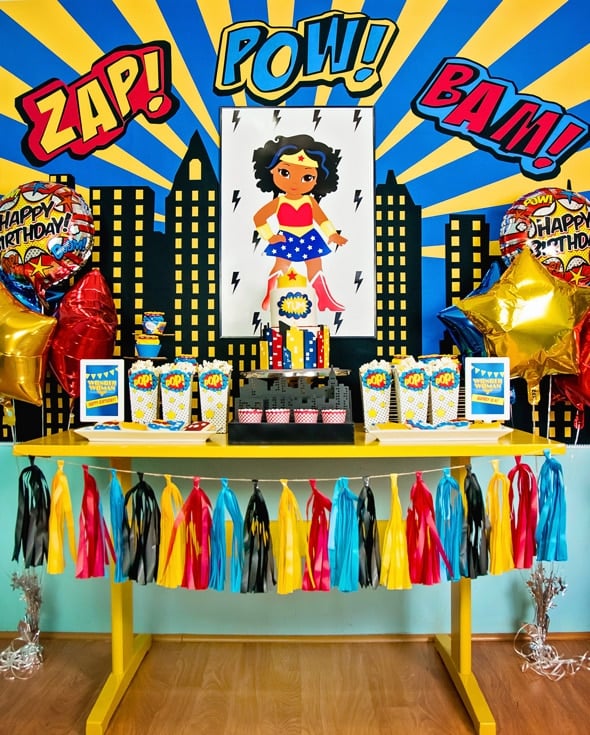 45. Wonder Woman
Do you have a supergirl in your life? If so, Wonder Woman is the perfect party theme for her and her friends.
We know you have all of the superpowers to make your child's Wonder Woman party a success!
This red, blue, and yellow Wonder Woman celebration is eye-catching, with tons of great party supplies to choose from on the market. Just don't forget your superwoman cape for this Wonder Woman party!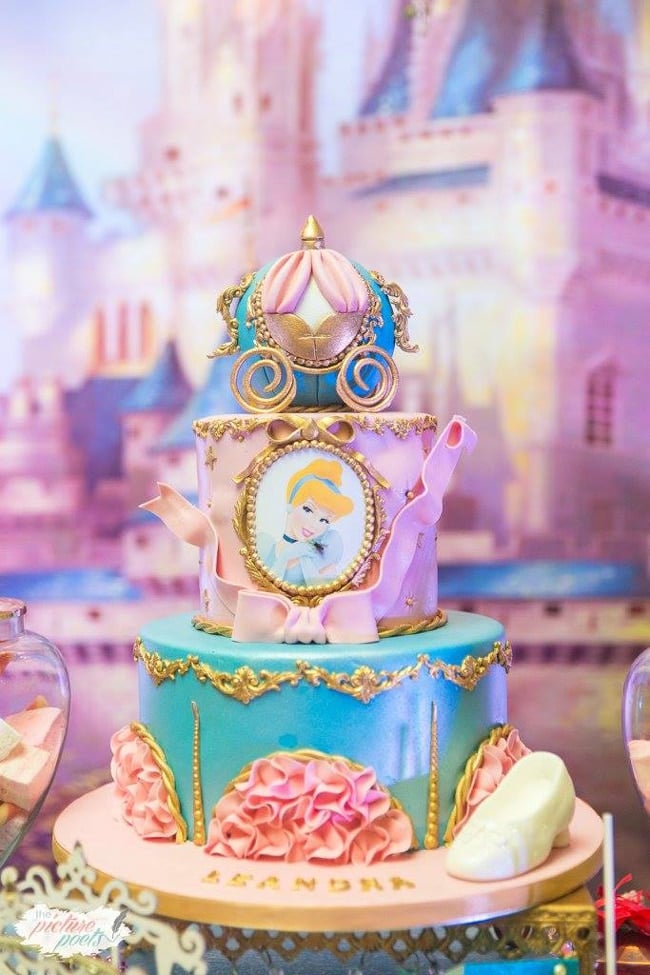 46. Cinderella
Cinderella is another classic party theme that any princess would love! That's why it makes our list of the 47 Most Popular Girl Party Themes.
So make it a magical afternoon with Cinderella-themed party plates, napkins, cups, balloons, banners, backdrops, centerpieces, and more!
Turn your venue into the ultimate Cinderella castle with these creative ideas.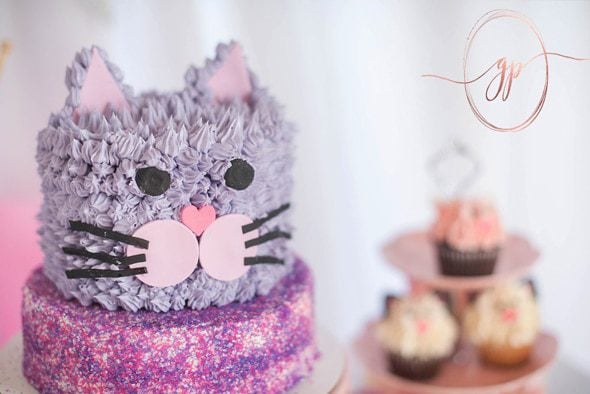 47. Kitty Cat
A kitty cat party is perfect for any little girl who loves cats.
You can make it super girly with kitty cat decorations, fun colors, a little bit of sparkle, a pastel color palette, and themed desserts, favors and games.
Or think outside the box and combine two themes like in this Meowmaid Birthday Party!
Wow! So that's our amazing list of the 47 Most Popular Girl Party Themes. That's a lot of incredible girl party themes to choose from!
Which of these 47 Most Popular Girl Party Themes are you planning for your daughter? We'd love to hear all about it in the comments below!
Follow us on Instagram @prettymyparty and Pinterest for more girl party themes, and join us in our private Facebook group to talk all things party and entertaining!