This Colorful Art Party will brighten any child's birthday!
Just look at all of these bright colors and fun backdrops. There isn't a better way to celebrate this fun Colorful Art Party than with rainbow colors, great art projects to do and stunning art party decorations found all throughout the event.
Anes Custom Party Decor did a wonderful job styling this fun art themed event, as well as providing the stationary that was part of the day. Everything was picture perfect with rainbow decorations found all throughout the birthday party. Cute mason jars were painted, which held different art supplies that the party guests were able to use.
And just look at that amazing dessert table! The incredible rainbow balloon garland wow'd everyone who walked in and we just love that sweet backdrop that pulls it all together. The gorgeous macaroon set-up was organized by color, with an incredible birthday cake that incorporated the art theme perfectly. There was even a cake topper that was the perfect addition with "art supplies" found on top, made to perfection. We just love it!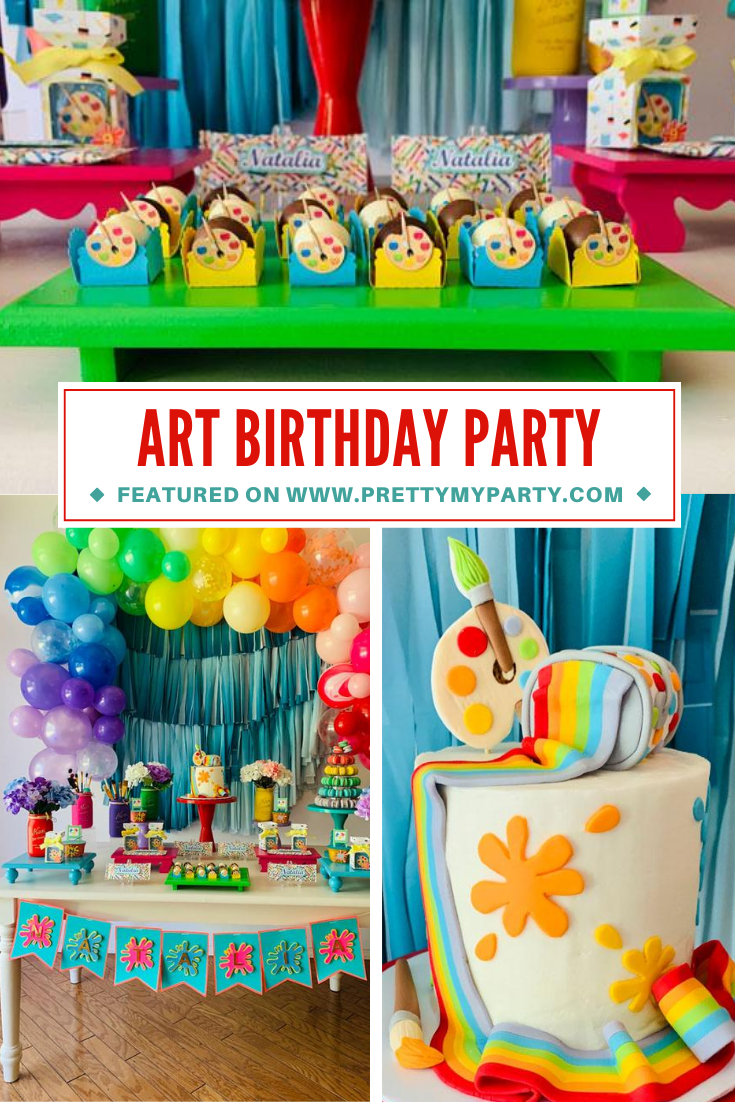 Art Themed Party Ideas
Bright colors were a huge theme with a rainbow palette for this Art Birthday Party
Art Birthday Party balloon garland backdrop was a big hit on the dessert table, with a rainbow color scheme
A fun art cake was front and center on the dessert table, with a fun painters palette created as a cake topper
Art themed party supplies were front and center, with many great DIY projects created like the painted mason jars
Art party decorations were on-point, starting with the gorgeous banner on the front of the dessert table
A delicious art themed dessert table was presented with rainbow macaroons and other delicious desserts
DIY art projects were available for the guests to contribute in and take home their creations
Yummy food was available for everyone to enjoy with a sweet menu and drink station for everyone to refresh at
Gorgeous art birthday party favors were custom made for each guest, with their individual names
Party favor boxes included fun printables and an arts and crafts theme
Centerpieces on the guest tables included brightly painted mason jars, which held flowers or different art supplies
This fun arts and crafts themed birthday celebration had lots of fun games and activities to keep everyone entertained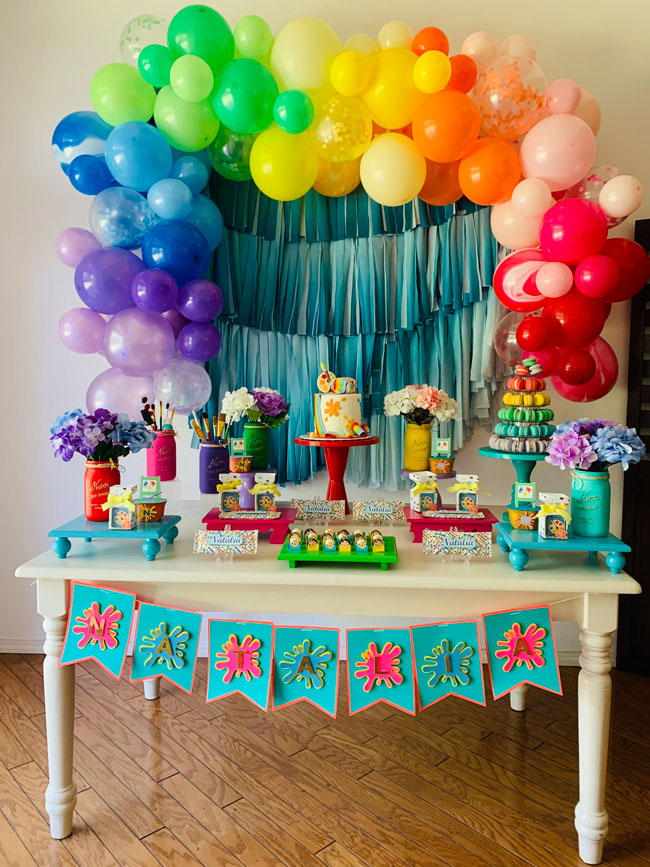 There is a lot to love at this amazing art themed birthday party, but our favorite has to be the amazing dessert table! Art is all about colors and fun and the rainbow color scheme does just that. We love the great rainbow balloon backdrop that was used behind the dessert table, along with the great banner that was found up front. And look at all of those colorful desserts!
This is such a fun theme for any age, but especially for anyone who has a passion for art. Add in some fun projects for the kids to complete during the party and everyone will remember this one for a long time!
What are your favorite details from this Colorful Art Party? Let us know in the comments below!
For more fun party ideas, follow us on Instagram @prettymyparty and Pinterest and join us in our private Facebook group.
Party Vendors