Quarantine Cactus Backyard Party
We just can't get enough of this fabulous Quarantine Cactus Backyard Party!
This incredible Quarantine Cactus Backyard Party includes so many of our favorites, from gorgeous tablescapes to the a beautiful southwestern decor vibe. And it was all done from the craziness of quarantine in 2020!
This little girl was getting ready to turn six, and who wants to spend their sixth birthday in quarantine?! The thought of not having a birthday party definitely didn't sit well with her and why would it? Luckily, her aunt is the brains behind 3 Little Birds Event Planning and was able to find a special way to celebrate her perfectly with help from Nifty Balloons.
This little girl loves all things cacti! When styling this cactus themed celebration, they knew they wanted to focus on a feminine cactus event that kept a fun and modern feel. And what better way to do that than to pair the cute terra cotta with the sage and pink color scheme?!
It's all about the details! Which is exactly why the cute cactus shot glasses, pink Himalayan salt shot glasses, sage drinking glasses and terra cotta bowls were used. How amazing are the guest tables, with the beautiful plates with a strong southwestern vibe and amazing florals from Pavan Floral and Creative Amme all around the birthday party?! Everything fit together perfectly and was a stunning vision. It's gorgeous!
One of our favorite things, though, is the amazing balloon cactus provided by Sharp Balloons. Just look at the incredible attention to detail on the cake table that the backdrop of that balloon cactus provides! It even has flowers on it, as well. It's gorgeous and this little girl was so excited to walk into her party and see it.
Heirloom-LA provided the meal and food for the Quarantine Cactus Backyard Party and they did an incredible job. And look at those amazing desserts made by Janice Wong! She made the cutest cactus macaroons, along with an incredible rose gold drip cake. It fit with the theme perfectly, especially with the adorable cactus cake topper!
This birthday girl was full of big smiles after walking into her celebration with close family and enjoying some social distanced space with her loved ones! Will Gill even provided a little entertainment with her favorite songs, as well! The birthday girl felt celebrated and loved, which was all this family wanted during this unexpected time. Everyone needs to plan a backyard birthday celebration!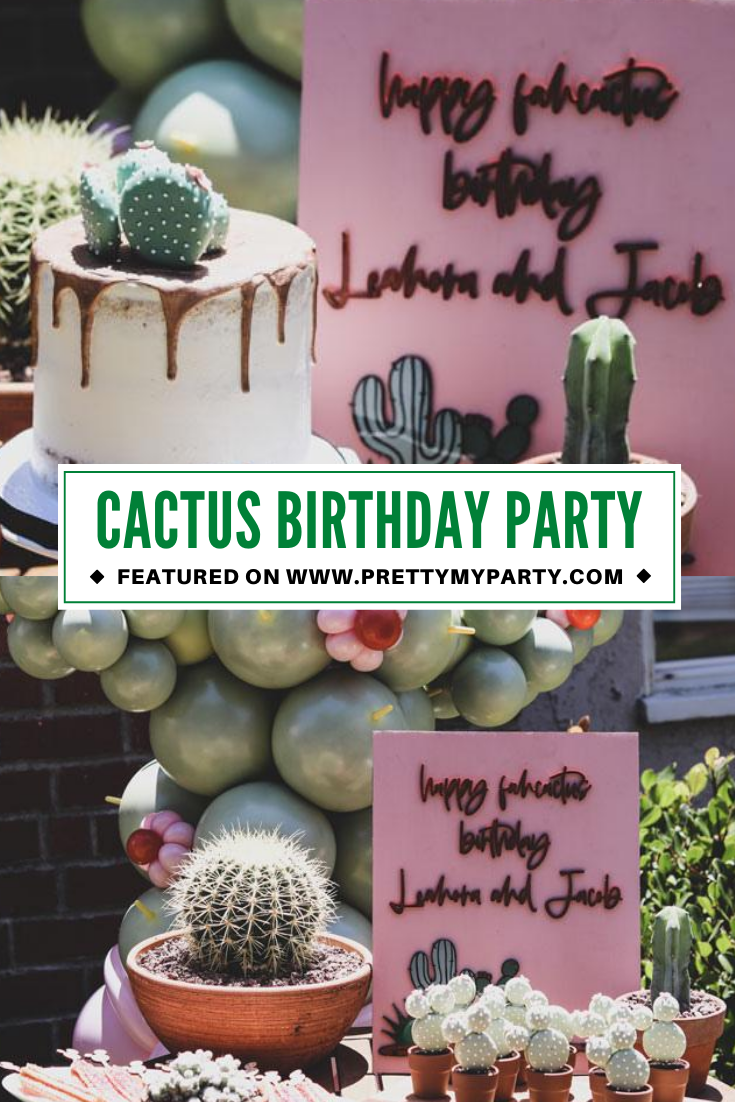 Quarantine Cactus Backyard Party Ideas
A Quarantine Birthday can be just as special and fun with amazing ideas like what was found at this Cactus Themed Party
A gorgeous Southwestern Birthday Theme was created with fun Terra Cotta decorations and cactus centerpieces
An outdoor guest table was created for close family that was going to attend, which was the perfect backyard birthday celebration
An incredible Cactus Balloon Backdrop was created for the dessert table, that even included some sweet dessert roses found on the "cactus"
While the birthday cake was a relatively simple creation, it was taken to the next level by gorgeous cactus macaroons that were used as a cactus cake topper
Speaking of cactus macaroons, there were also terra cotta pots that were used as sweet cactus party favors, with cactus macaroons appearing to "grow" out of the pot
A Cactus Theme Birthday Party For Girls is perfect with a color scheme like this, which included rose gold, pink, green and sage. It was beautiful!
Southwestern food ideas were easy to create for this menu theme, with yummy Mexican fare available for everyone to enjoy
We just adored the Cactus Birthday Party Decor, especially all of the unique cactus cups that everyone was able to enjoy their drinks out of
A birthday amid quarantine isn't so bad with gorgeous centerpieces and desserts available at a Backyard Birthday Party with family
Feminine white florals, along with fun real cactus plants were used around the celebration, along with many other cactus decorations
The drink station even contained a cactus drink container that everyone was able to enjoy a signature drink from
Sweet signs and printables were found on the dessert table, as well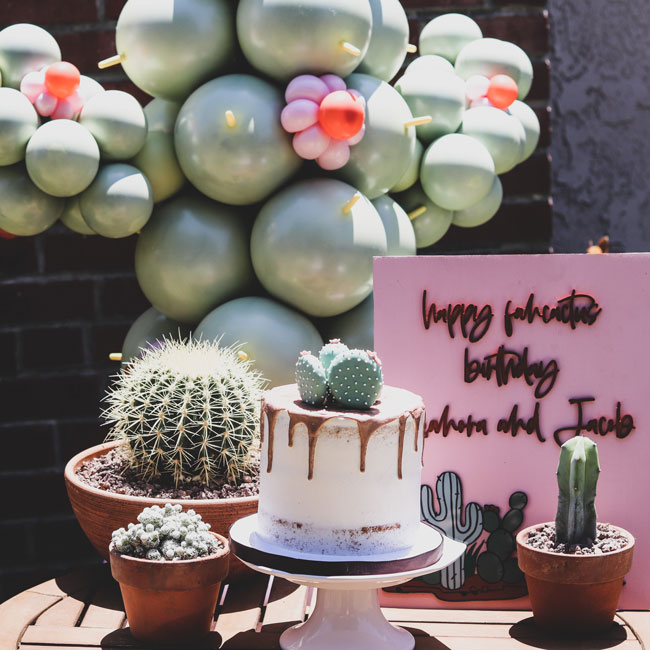 The southwestern vibe of this gorgeous Quarantine Cactus Backyard Party was an absolute hit for this little girl who deserved only the best for her sixth birthday. Our favorite part of this celebration is definitely the cactus balloon installation that was set up behind the small dessert table. Who says that just because you're having a little backyard birthday party with your close loved ones you don't get a dessert table?! Not us! We love the simplicity of the cake, as well, but the theme is pulled in perfectly with some of the cactus macaroons serving as a cake topper.
Guest tables were to die for! We might have to throw ourselves a Quarantine Cactus Backyard Party so we can enjoy this boho color scheme and floral settings. Everything from the plates to all of the unique glassware really made the birthday party unique and fun. We're betting that next year this birthday girl may want to up the ante and have this celebration all over again, but on a BIG level with her friends and those who weren't able to celebrate with her this year due to the quarantine. Great job!
What are your favorite details from this Quarantine Cactus Backyard Party? Let us know in the comments below!
For more fun party ideas, follow us on Instagram @prettymyparty and Pinterest and join us in our private Facebook group.
Party Vendors