Colorful Cactus Teepee Party
What little girl wouldn't love a Colorful Cactus Teepee Party with their friends?!
This Colorful Cactus Teepee Party is the ultimate in sleepover fun for any little girl! Let It B Love did an incredible job! The event design brought in tons of fun with cake, cookies, and cotton candy from Pandy Cotton Candy …oh my! Full balloon garland, along with the cactus themed teepees brought color and fun to this birthday party that any girl would love.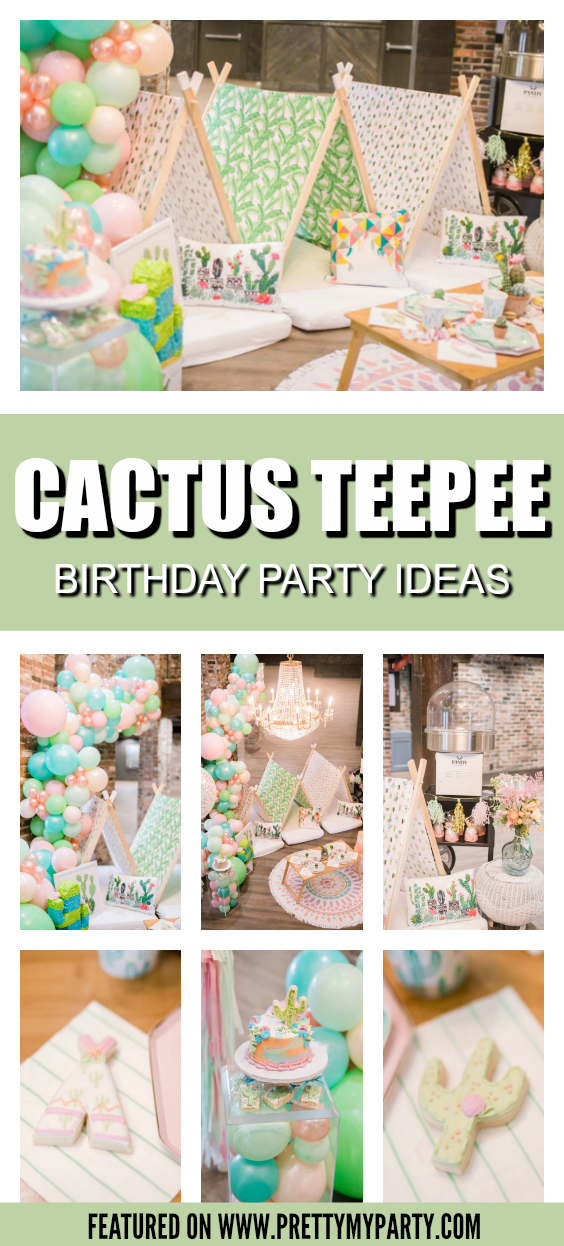 The soft pastel color palette of pink, sky, mint, and green is the perfect complement to this gorgeous loft venue. The balloon garland just seems to go up, up, up to the sky! Sugar Drop and Sugar Butter did a fantastic job with the cake and desserts. Everything felt so grown-up for these sweet little birthday guests. The guest table was also intricately designed, with gorgeous succulents used as centerpieces, along with a personal succulent set on each place setting for the guests. How fun!
What an amazing, modern cactus themed birthday party with a touch of whimsical fun for a very lucky birthday girl. Every party detail is absolutely gorgeous!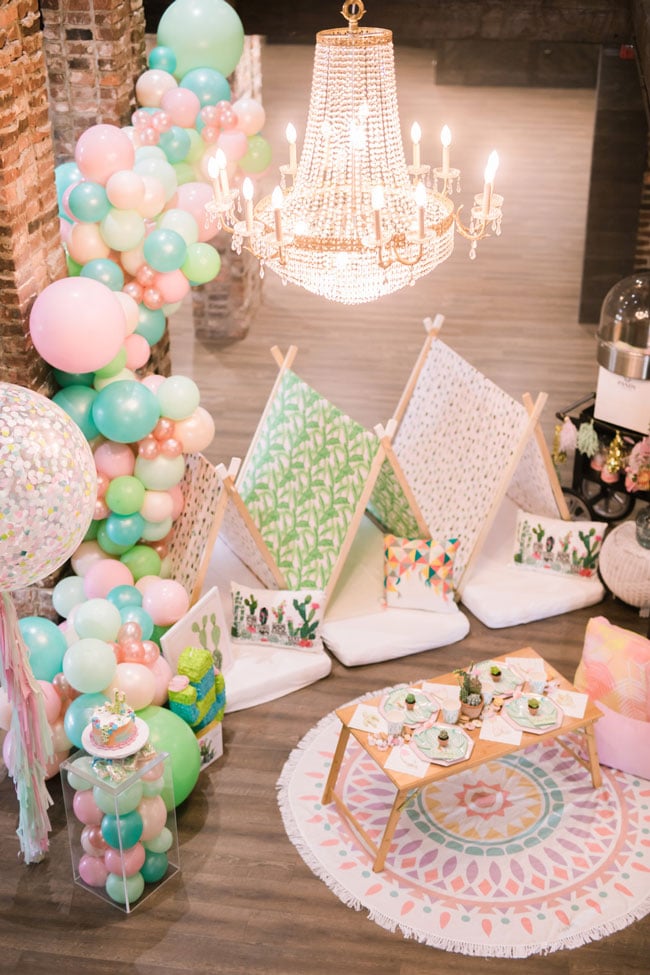 Colorful Cactus Teepee Party Ideas
Whimsical pastel balloon garland backdrop from floor to ceiling
Cactus plates and napkins on the guest table
Cactus party supplies, including cactus party cups
Teepee tents for all of the girls to sleep in
Fun sugar cookie cutouts, including cactus cookies and teepee cookies
Gorgeous succulents used for centerpieces and individual place setting decor and favors
Fun cotton candy machine
Cactus pillows outside used for decor around the cactus themed party
Fun cactus birthday cake with a cactus cake topper
Cactus pinata games to entertain the guests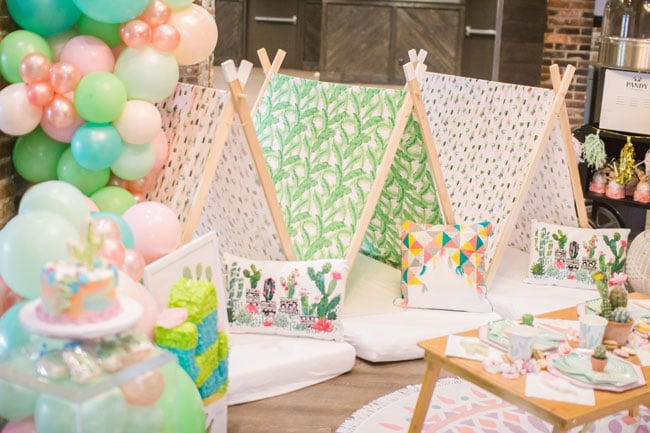 Colorful Cactus Teepee Party Supplies and Decorations:
See more girl birthday party ideas here:
This Colorful Cactus Teepee Party is everything fun about birthday parties and celebrating with friends. It is every girl's party dream to have a sleep over with as much color, fun and style as this! It was too hard to pick just one favorite detail, but one is definitely the stunning teepees that all of the girls got to enjoy for their sleep over. Who wouldn't love whispering with their bestie next to them in their own sweet teepee?!
The other detail that we still can't get over is the absolutely stunning balloon garland. With the height of the loft venue and the gorgeous colors and decor, it is definitely a show-stopper. What a statement!
How about you? What are your favorite details in this fun Cactus Themed Teepee Party? Let us know in the comments below!
For more ideas, follow us on Instagram @prettymyparty and Pinterest and join us in our private Facebook group.
Party Vendors