Colorful JoJo Siwa Sleepover Birthday Party
Every tween girl dreams of having a JoJo Siwa birthday party, but having a Colorful JoJo Siwa Sleepover Birthday Party … That is next level awesome!
Every girl in school is going to keep their fingers crossed to get invited to an amazing Colorful JoJo Siwa Sleepover Birthday Party like the one below! These JoJo Siwa birthday party ideas are going to knock some socks off and everyone will want to get in on the action!
JoJo Siwa Party Supplies and Decorations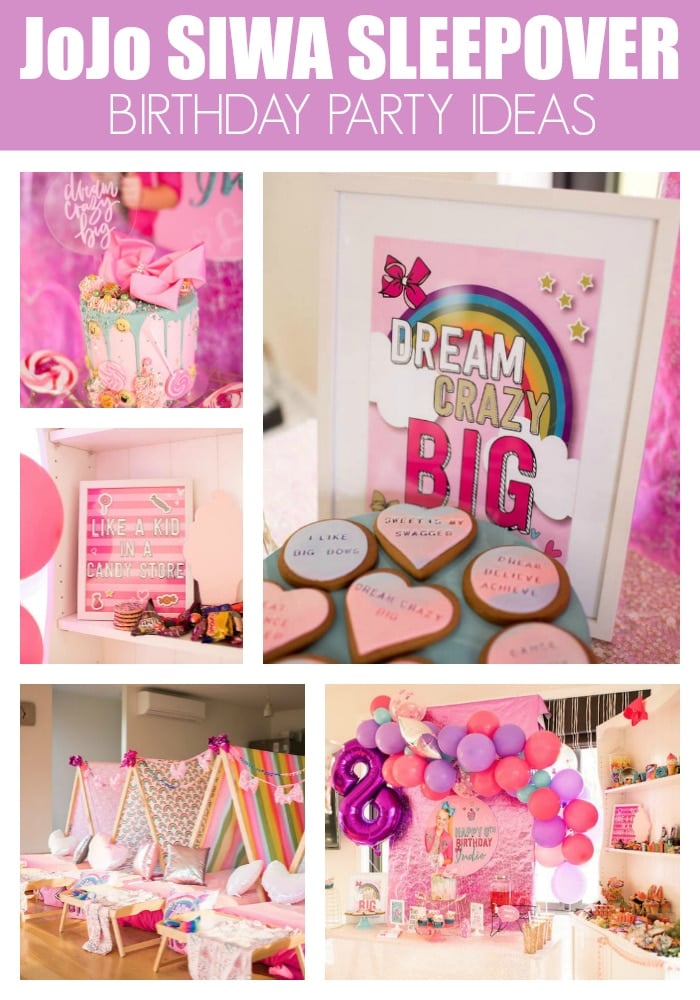 We all know that JoJo Siwa has taken the world by storm in the tween generation and this family's household is no different! JoJo is a HUGE hit with this birthday girl and she was so excited to be able to have a Colorful JoJo Siwa Sleepover Birthday Party! The Little Carousel did an amazing job with party styling and set-up and everything looks picture perfect!
Thanks to the bright color theme that focused on pinks, purples and teals, JoJo Siwa Party Ideas started flowing quickly with many great ideas to keep the party going all night long!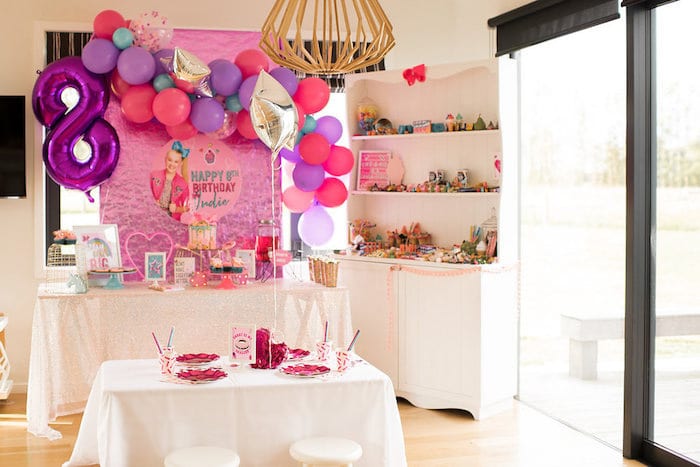 Many of the party details were outsourced to local talents and it helped mom plan the JoJo Siwa Birthday Party perfectly! It's always great to team up with other vendors to make the magic happen!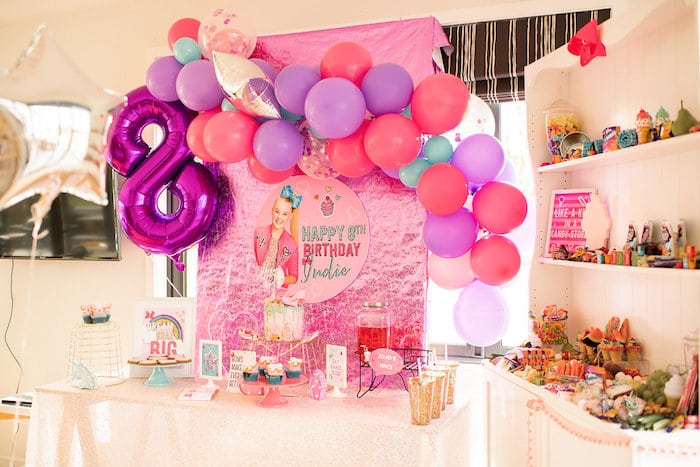 While this dessert table is absolutely fantastic, first thing was first. When all of the birthday guests arrived, the first bit of the night was learning a dance routine that Pitter Patter Parties put together for the birthday girl and her friends. Can you even imagine the fun they must have had being able to dance the night away for the rest of the party, knowing they had all night long to perfect all of their dance moves?! So fun!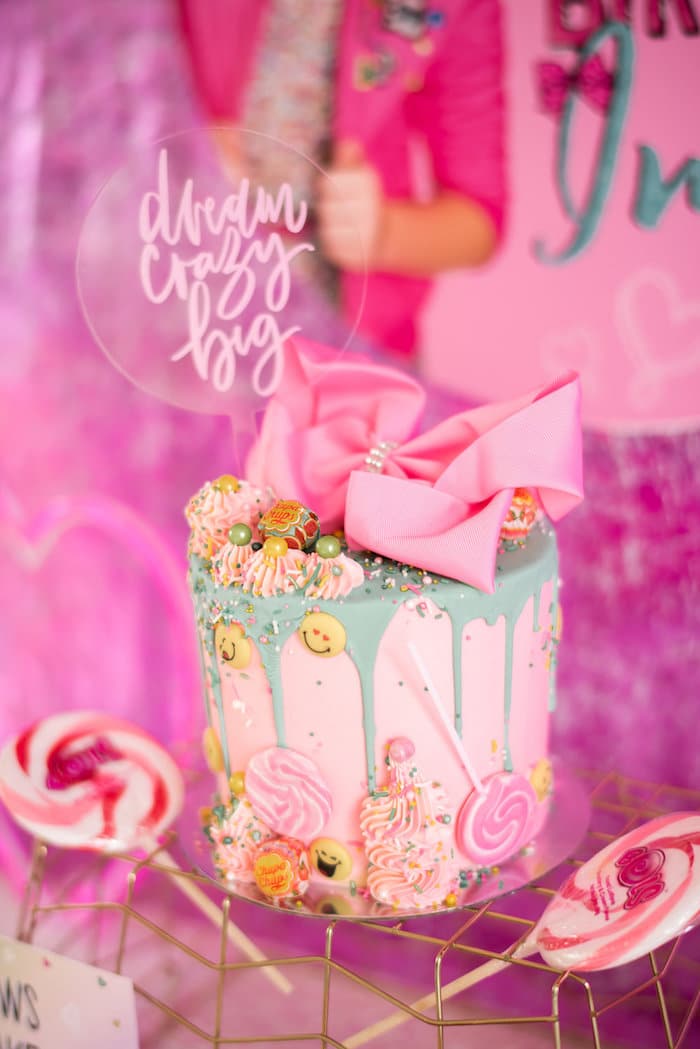 The Bake-Ari created the most perfect JoJo Siwa Birthday Cake, with lots of fun, sparkles and candy included on the spectacular creation! Embar Designs also was able to get in on the fun with the great "Dream Crazy Big" cake topper that was included, as well! What a fun cake, with a typical JoJo Siwa spectacular bow included, as well. Of course there had to be a bow!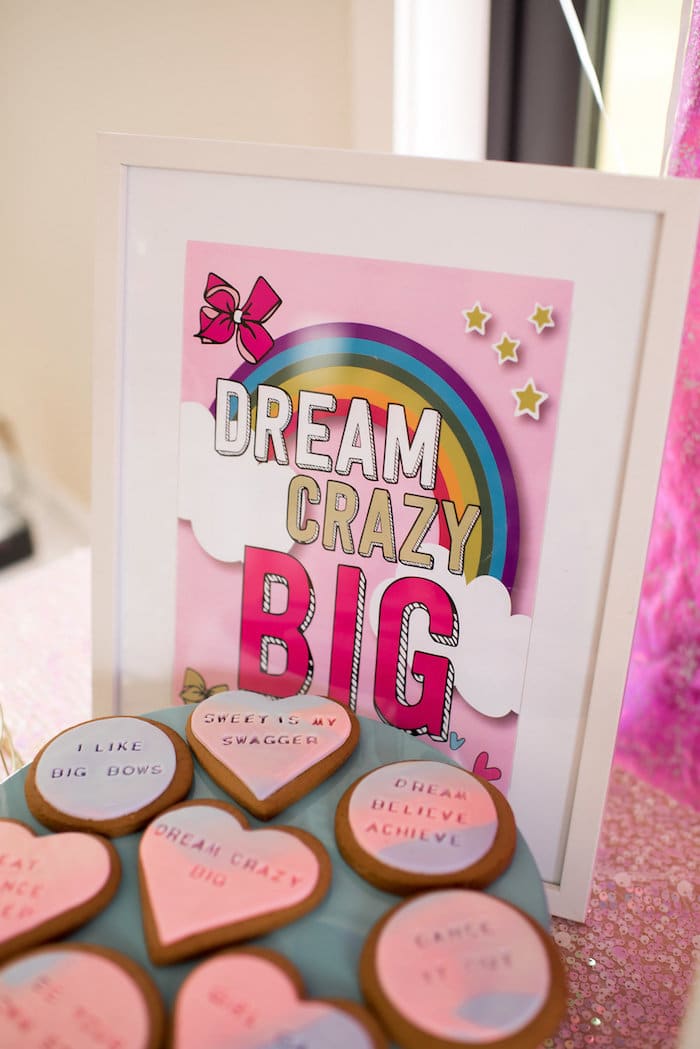 Cookies were created by Hello & Cookie and they fit perfectly with the fun sign that was set out on the cookie table.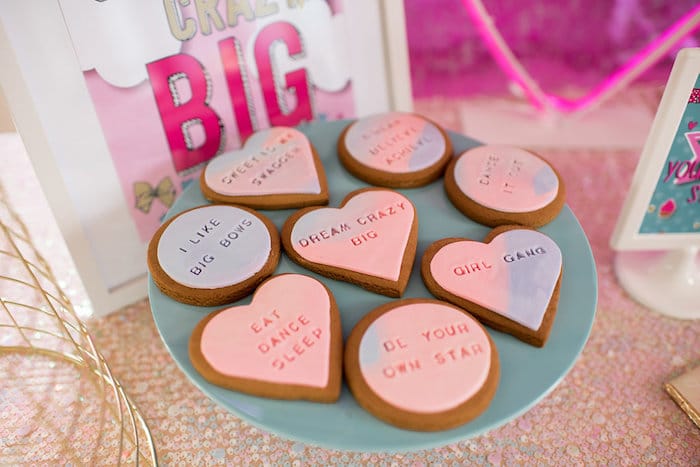 Here is another great look at the JoJo Siwa Birthday Cookies that were provided for the big birthday event. The guests loved them!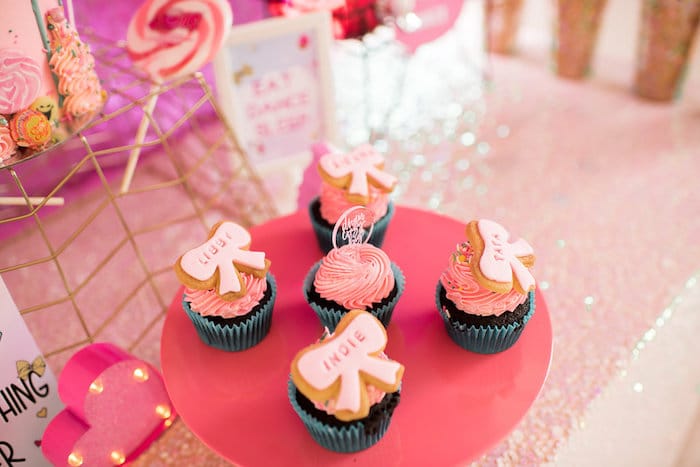 That wasn't the only dessert that The Bake-Ari provided, though. Just look at these amazing cupcakes, which even have "bow cookies" on top of some of them! The dessert table for this Colorful JoJo Siwa Sleepover Birthday Party was absolutely amazing, which you're going to see more of below.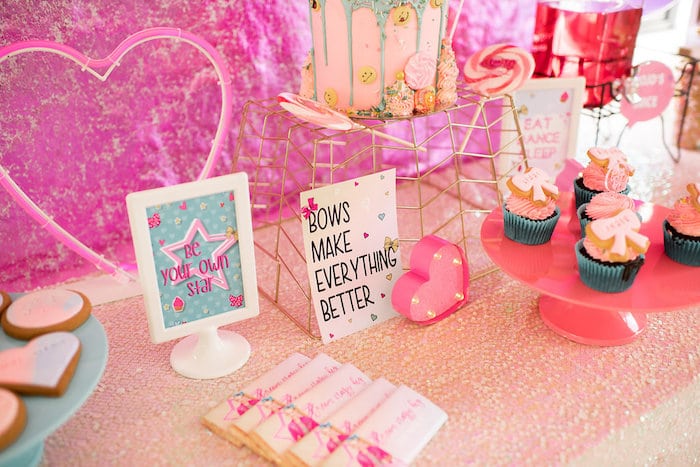 Of course, bows make everything better and these great signs that were used were perfect JoJo Siwa Party Decorations! It added to the fun and frills that should always accompany any JoJo Siwa Birthday Party!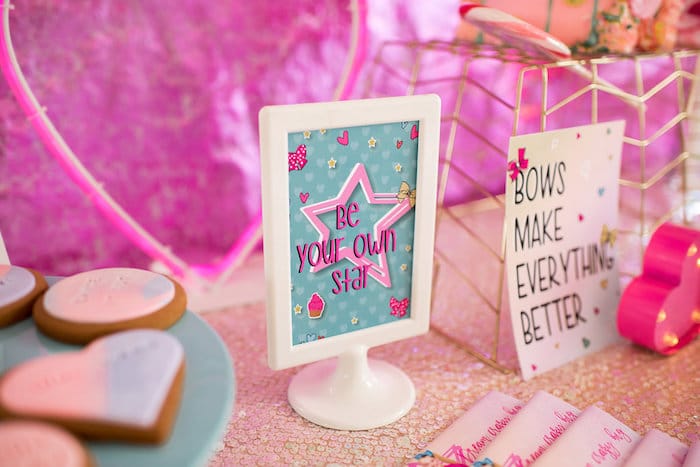 So cute! These JoJo Siwa Party Ideas would be great for the JoJo Siwa party of your child's dreams!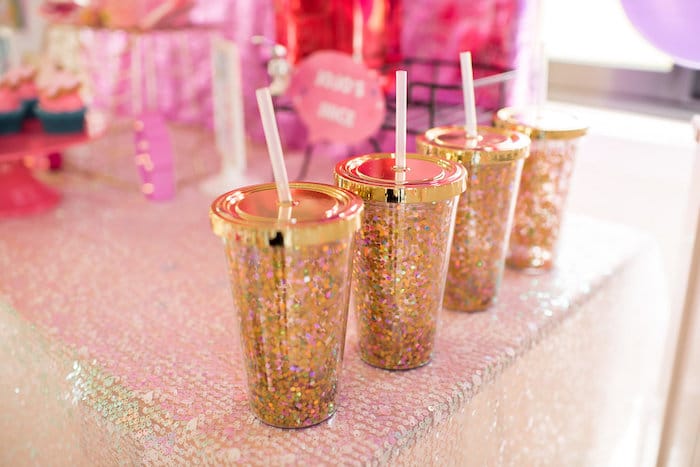 All of the birthday guests even got to drink their drinks in the best possible way – glitter cups! These cups were absolutely amazing and they also were a great item to include in all of the JoJo Siwa Party Bags. Everyone got to take theirs home and always remember the special time they had at this Colorful JoJo Siwa Sleepover Birthday Party!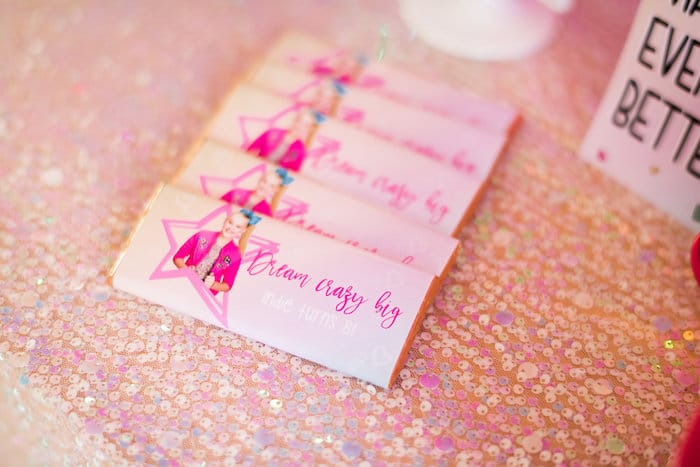 Graphics and chocolate bars were created by Millies Designs, who did a fantastic job in keeping the theme consistent throughout the party. Who doesn't want a chocolate bar to nibble on into the wee hours of the night during a fun sleepover birthday party?!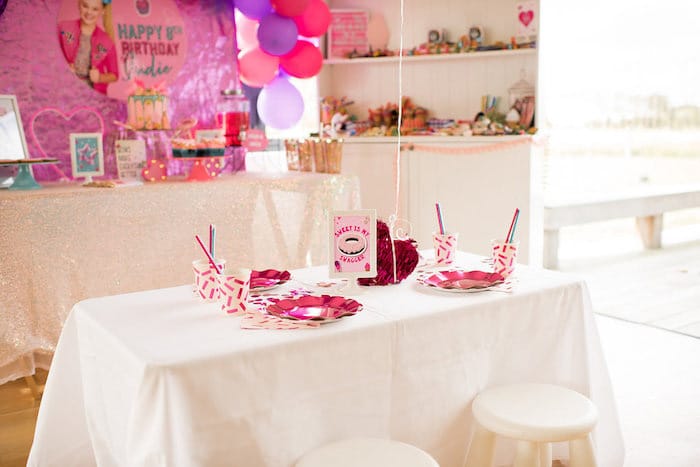 All of the tables where the guests were able to sit had plenty of JoJo Siwa Party Supplies spread all over! From the plates and cups to the centerpieces that rocked all of the tables, there was no doubting that JoJo Siwa was taking over this party by storm!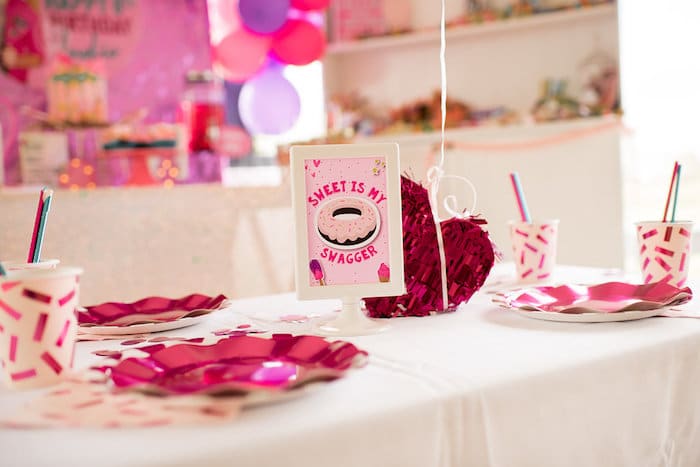 What great centerpieces for everyone to get their sugar fix on at!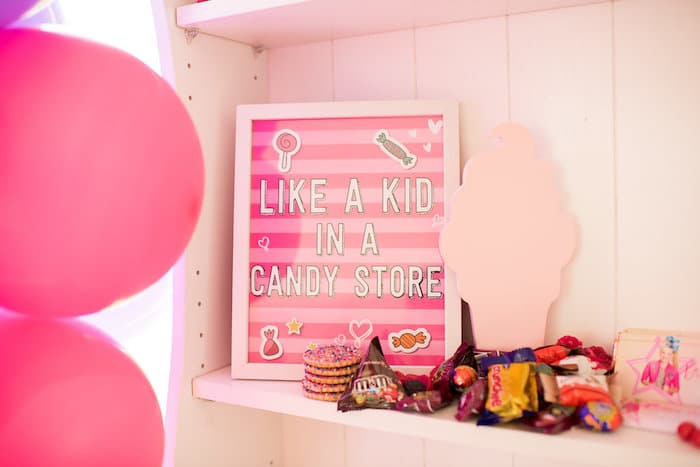 What's one of the best parts of this Colorful JoJo Siwa Sleepover Birthday Party? All of the guests were able to dig into the candy grazing table aptly named "Like a Kid in a Candy Store"! Can you even believe it?!?!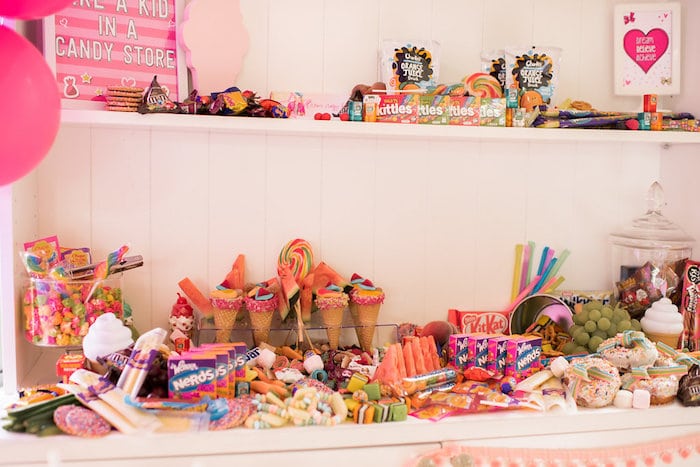 This incredible candy grazing table was put together by Forage and Gather and forage did they ever! There was every kind of candy available that one could even dream of, and we're sure that everyone went home with lots of leftovers the next morning, too!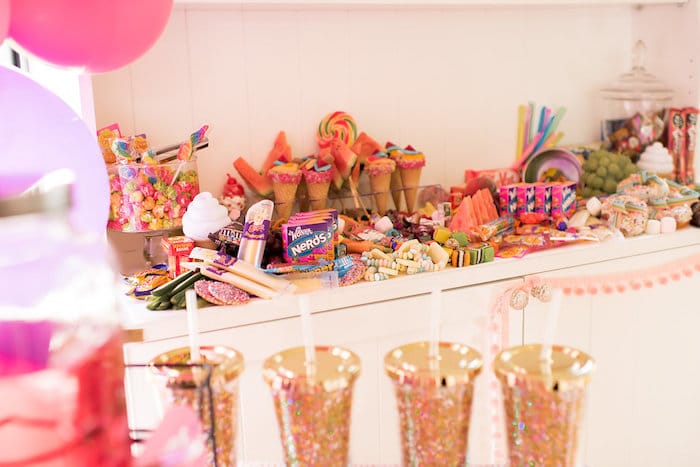 We bet we know what was for breakfast after everyone woke up the next day!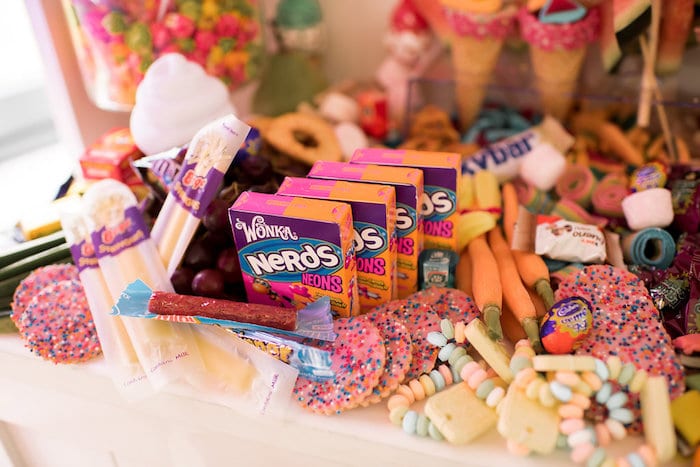 This candy grazing table is absolutely incredible! We've never seen so much candy at once that wasn't actually in a candy store before! We love it!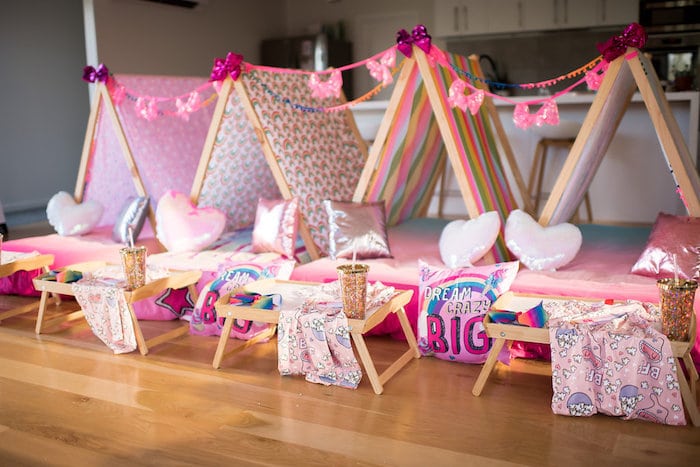 Little Slumbers did an amazing job with the slumber party tent set-up that they put together for all of the girls. While we know that the JoJo Siwa Themed Birthday Party was more than enough, it always makes things extra special when the evening is followed by a slumber party!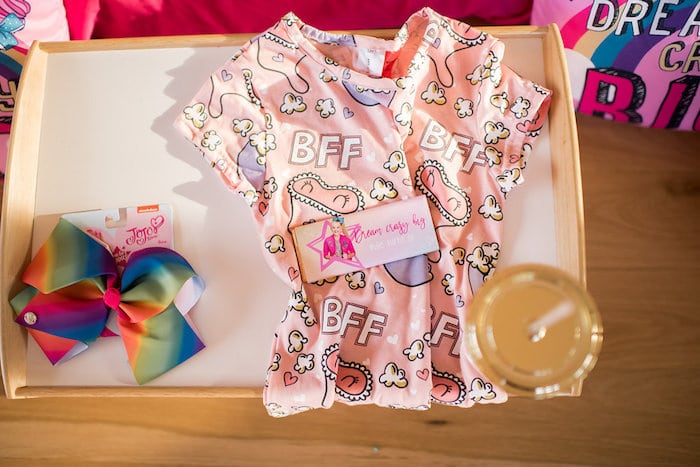 There were even custom PJ's and a bow that everyone got to take home, as well! How fun!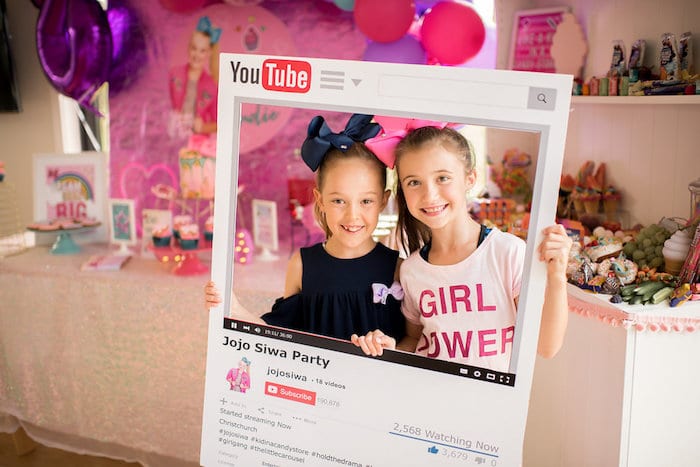 Finally, you can't have a Colorful JoJo Siwa Sleepover Birthday Party without having some social media pictures to share with everyone! These amazing You Tube Frames were created by Little Celebrations, and they also included an Instagram frame that the girls were able to use, as well! Photobooths are the bomb!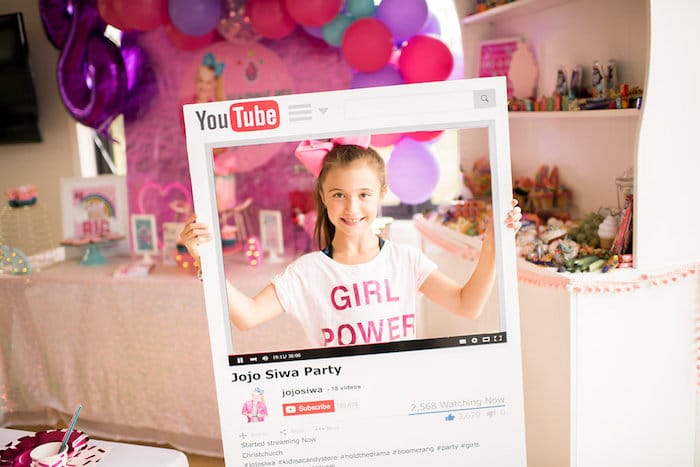 Any girl is going to love having a Colorful JoJo Siwa Sleepover Birthday Party like this and you can just see how excited this birthday girl was to share her big day with her special friends. What a fun way to celebrate and having a sleepover is the icing on the cake! Happy birthday, sweet girl!
Vendors & Credits
Party styling and set up: The Little Carousel
Candy grazing table: Forage and Gather
Cake and cupcakes: The Bake-Ari
Cake Topper: Embar Designs
Cookies: Hello & Cookie
Photography: Inview Photography
Graphics and chocolate bars: Millies Designs
Instagram and You Tube Frame: Little Celebrations
Slumber Tent set up: Little Slumbers
Dance routine and entertainment: Pitter Patter Parties
Pink Metallic party supplies: Pixie Party Supplies
What's your favorite details in this Colorful JoJo Siwa Sleepover Birthday Party? Let us know in the comments below.