13 Fun JoJo Siwa Party Ideas
If you have a JoJo Siwa lover, like over half of the other tweens in America, than you have to take a peek at these 13 Fun JoJo Siwa Party Ideas!
We're betting that if you have a pre-teen, they are probably begging for a JoJo Siwa Birthday this year! Well, you're in luck! We have 13 Fun JoJo Siwa Party Ideas that will save the day and give you all of the inspiration you need to pull off the perfect JoJo Siwa Birthday Party Theme! Take a look and you'll find everything you never knew you needed to know to pull off the ultimate JoJo Siwa Birthday Party!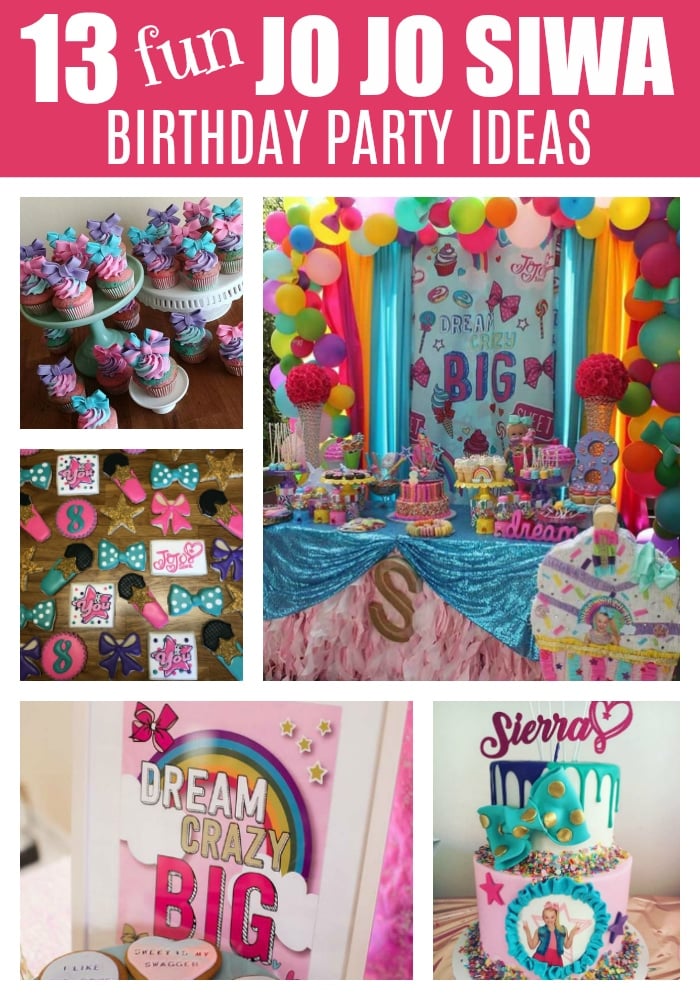 JoJo Siwa Party Supplies and Decorations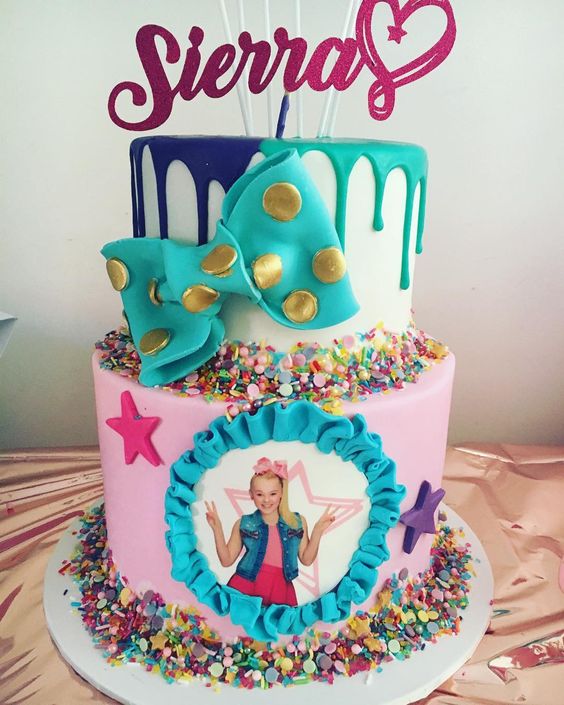 JoJo Siwa Party Idea #1: This Jo Jo Siwa Birthday Cake is the ultimate in tween girl love! The fun colors are right on point and it looks like a cake that is big enough for all of the guests to get a bite of that perfect JoJo Siwa bow, as well! We also love the great trend of the cake topper that will let all the guest know who is front and center on the big day. It's perfect!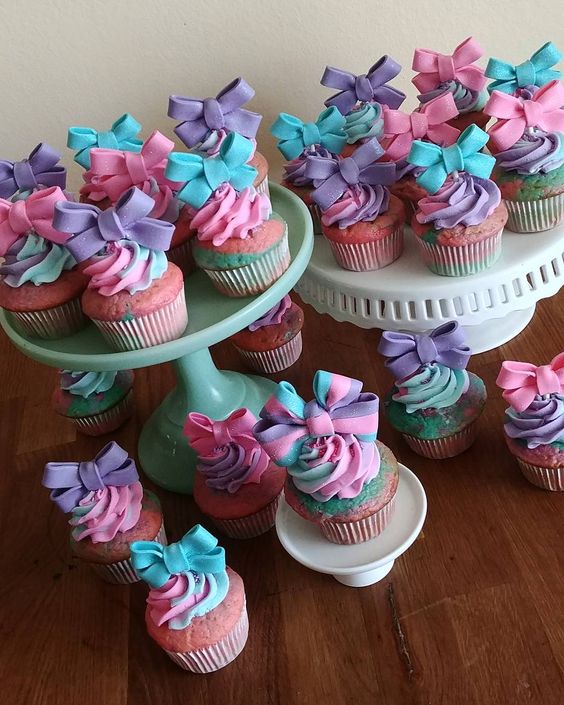 JoJo Siwa Party Idea #2: Speaking of big bows, these JoJo Siwa Bow Cupcakes are the ultimate JoJo party treat! Just look at the swirl design that the cupcakes have, that will incorporate all of the JoJo Siwa colors, too. Nothing is missed and we know all of the party guests are going to love eating these up!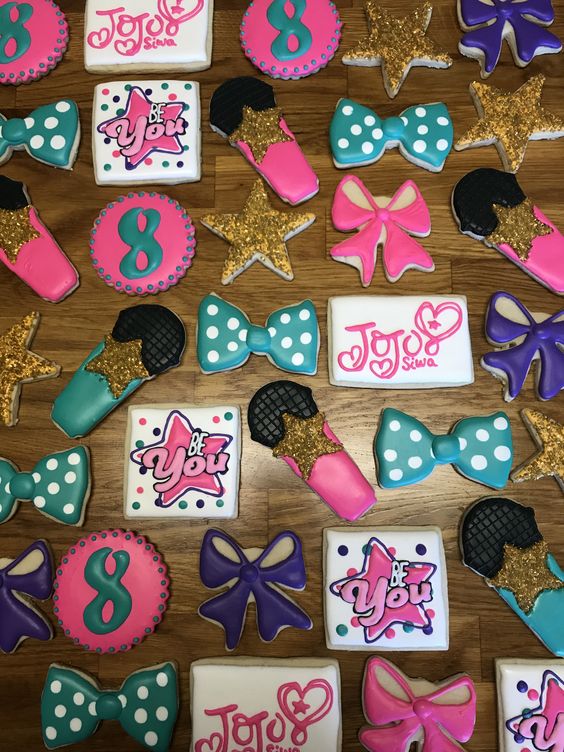 JoJo Siwa Party Idea #3: JoJo Siwa Cookies are another great way to liven up any JoJo Siwa Themed Birthday Party! We can already see all of the girls that are going to be dancing around a living room with their cookie microphone, belting out all of the great JoJo Siwa numbers. Who wouldn't be lifted up and in a great mood after seeing all of the fun to be had?!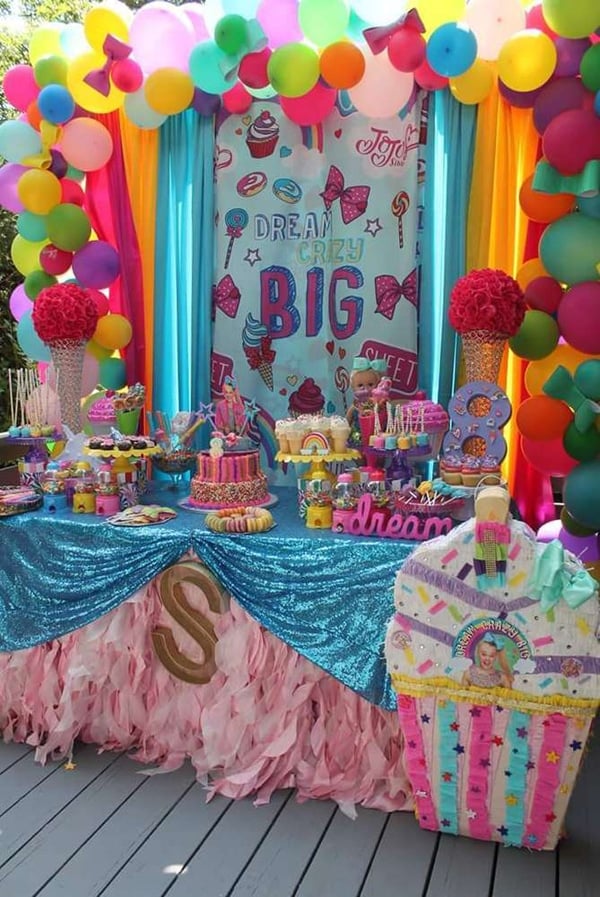 JoJo Siwa Party Idea #4: This incredible JoJo Siwa Party Dessert Table is the thing that party dreams are made of! Everything is absolutely perfect! Just look at all of the JoJo Siwa Party Decorations! We just adore the amazing backdrop that can be found on this dessert table and all of the dessert ideas too! These are the type of JoJo Siwa Party Ideas that you'll need to knock it right out of the park!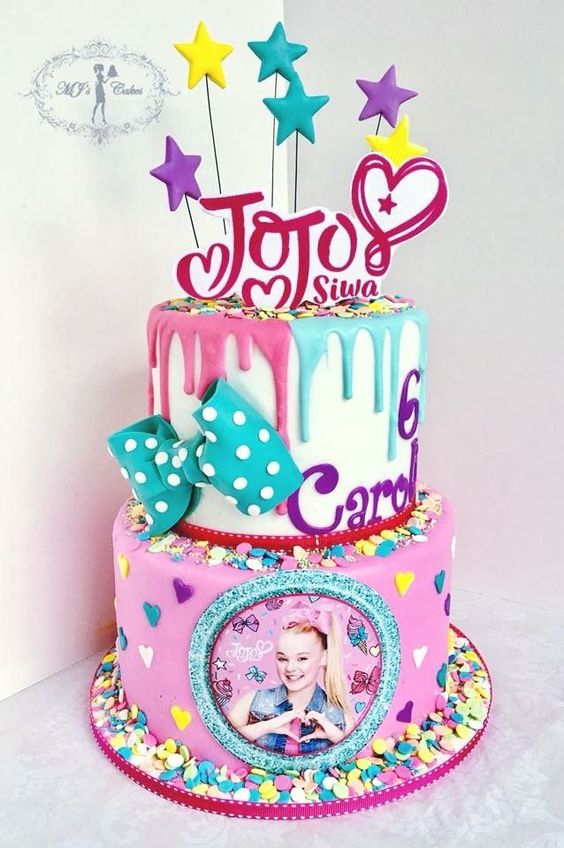 JoJo Siwa Party Idea #5: Another amazing JoJo Siwa Cake can be found here! When it comes to JoJo Siwa, everything is an explosion of color, fun and exuberance, just like this cake! Any young girl would love to have this as their birthday cake at their very own JoJo Siwa Birthday Party!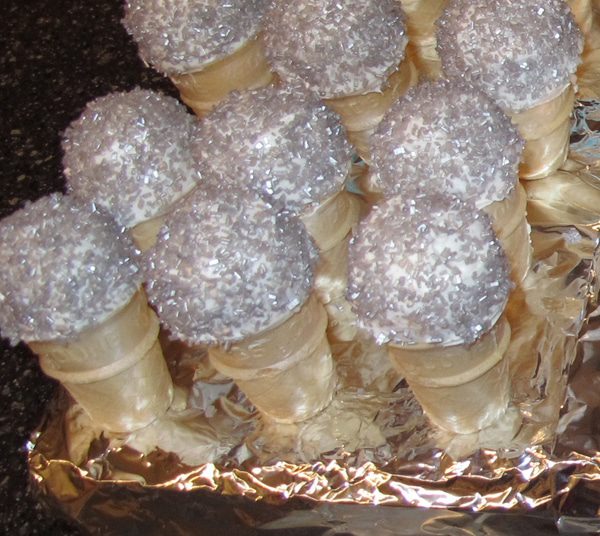 JoJo Siwa Party Idea #6: These Microphone Cake Pops are EVERYTHING! Who wouldn't want to dig into these delicious treats to celebrate a big JoJoSiwa Birthday?! You will have to have a sing-off before everyone digs into these, but the magic of these cake pops are the incredible silver sparkly glitter that is found on all of them. They are just gorgeous and we are betting that every single girl at the party is going to think they are the best things ever!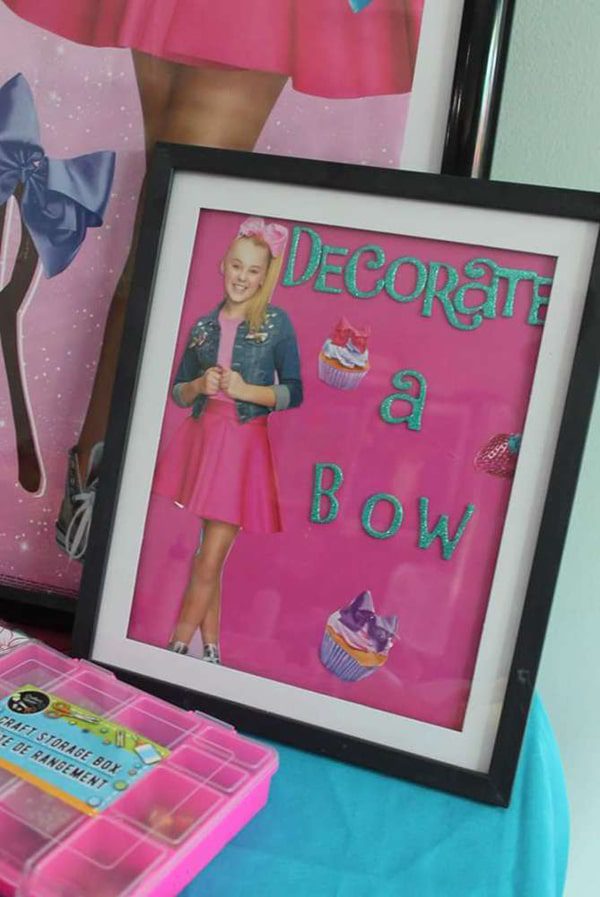 JoJo Siwa Party Idea #7: You absolutely can't have a JoJo Siwa Bow Party without including a Decorate a Bow Station! It would just never work! All of the girls will have a great time getting their own JoJo Siwa Bow and bedazzling them in whatever fashion they see fit. What a great activity to help move the birthday party along and it's also a great item for JoJo Siwa Party Favors, as well!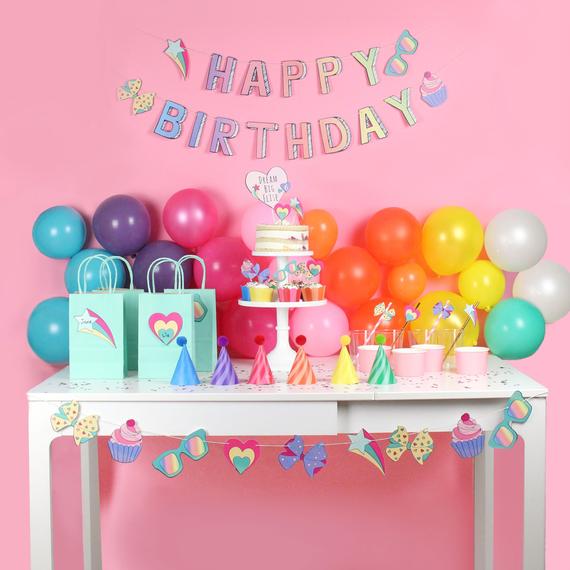 JoJo Siwa Party Idea #8: These fun and colorful JoJo Siwa Inspired Rainbow Party Decorations are the perfect addition to any JoJo Siwa Themed Birthday Party! We love adding in the rainbow color scheme, instead of the typical colors that JoJo Siwa has. It mixes things up while adding fun and bright elements to everything included at the birthday party. We love it!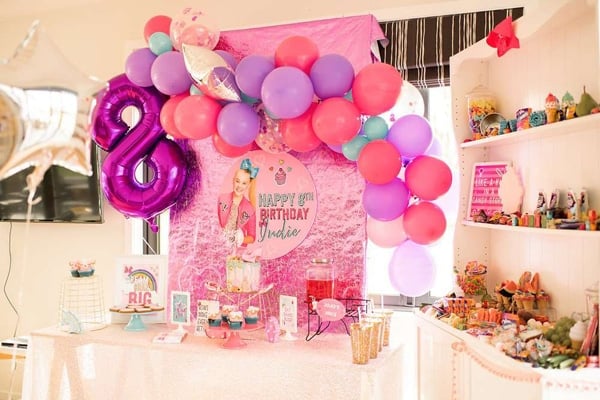 JoJo Siwa Party Idea #9: Another great JoJo Siwa Birthday Dessert Table can be found above and we adore the JoJo Siwa Party Decorations, especially the great balloons! Balloon garland is such a popular item to include in all birthday celebrations right now and this just proves why! It looks amazing! Not to mention all of the wonderful items that are found on the dessert table, as well.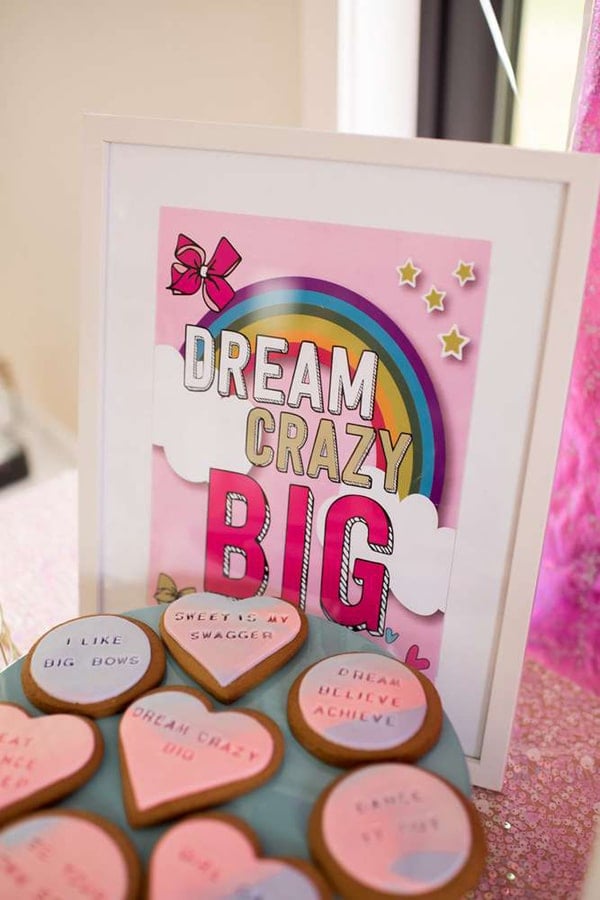 JoJo Siwa Party Idea #10: This fun JoJo Siwa Party Sign is the perfect decoration for when all of your party guests walk into the big event. There are so many great JoJo Siwa Party Decorations that can be used, but this one is so easy to print off, then frame with a frame you have around your home. Talk about decorating on a budget, it doesn't get much easier than that!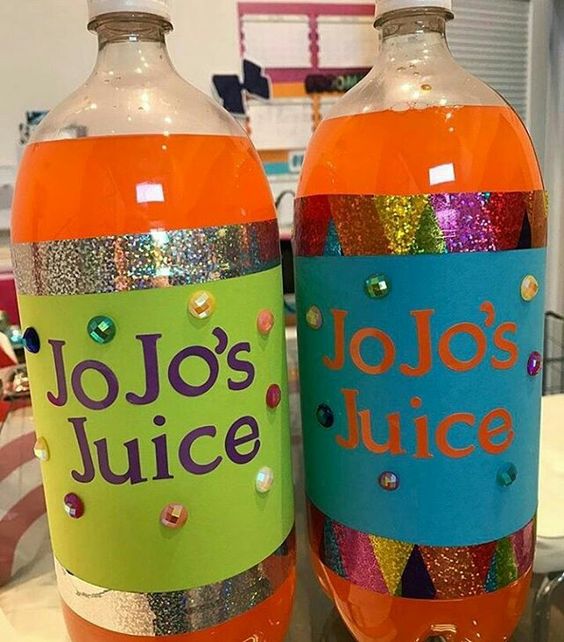 JoJo Siwa Party Idea #11: Make sure to include some personalized JoJo Juice for your big JoJo Siwa Birthday adventure. We love this one because your birthday girl can help you jewel up the soda and punch bottles, as well! Add in some fun tape to put around the bottles and you have yourself a great bejeweled JoJo birthday party!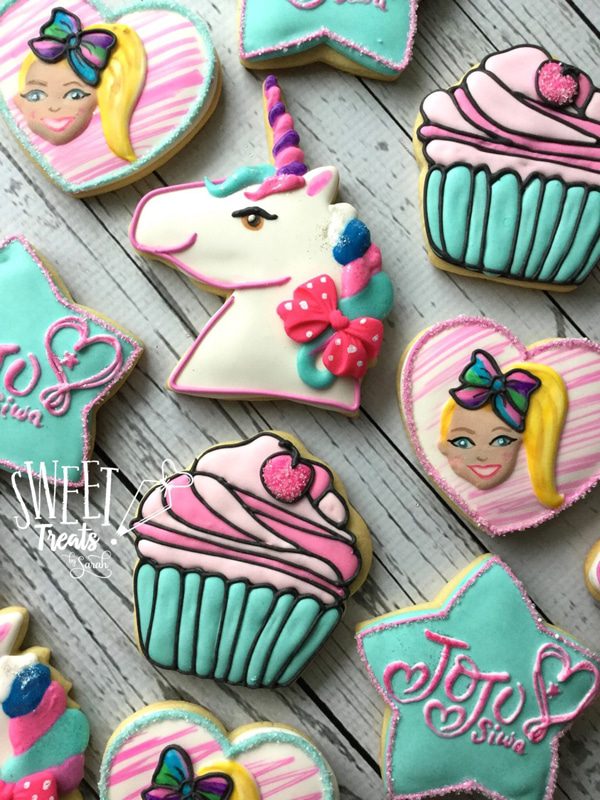 JoJo Siwa Party Idea #12: More JoJo Siwa Cookies are here for the rescue! How cute are these for the perfect JoJo Siwa Birthday Dessert?! Have a unicorn loving girl who also loves herself some fun JoJo Siwa things? Then don't forget to include fun and colorful cookies like the ones you see here. A unicorn that has a bow in her hair … Perfection!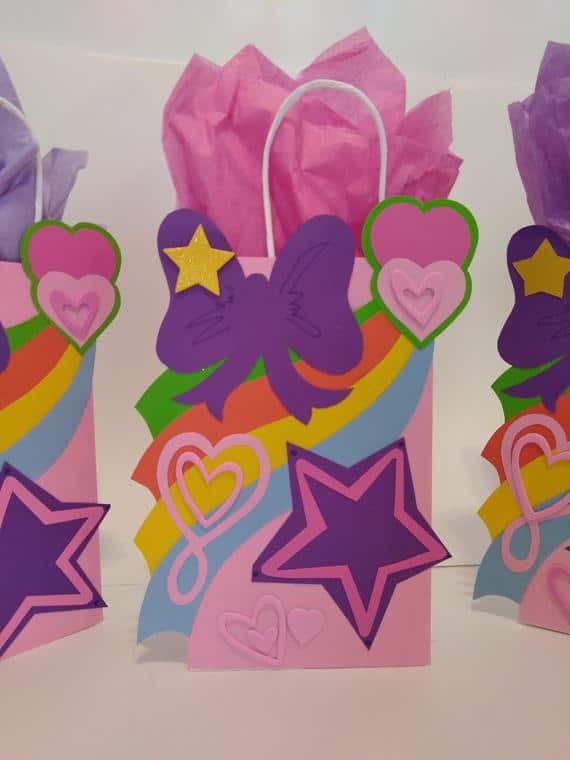 JoJo Siwa Party Idea #13: JoJo Siwa Favor bags are always a necessity for any big JoJo Siwa Birthday Party Theme and these will give you just the inspiration you need. With bright colors, big hearts and fun stars, it includes everything that would be expected in a JoJo Siwa party favor bag. Especially the bow!
Which of these 13 Fun Jo Jo Siwa Party Ideas are your favorite? Let us know in the comments below!
For more party ideas, follow us on Instagram @prettymyparty and Pinterest and join us in our private Facebook group.