17 Fun Slumber Party Ideas
Your tween or teen will love these 17 Fun Slumber Party Ideas!
No matter what age you are, sleepovers are always so fun! Whether you're having your girlfriends over to have some drinks and chit chat or organizing a kid-friendly slumber party for your little girl and her friends, it's always nice to make your sleepovers more special with some delicious snacks or custom DIY crafts.
If you want to host the ultimate slumber party or a sleepover that everyone is going to remember for ages, we've just got the thing! Here are 17 super fun slumber party ideas for your kid's next sleepover!
Sleepover Ideas, Decorations and Party Supplies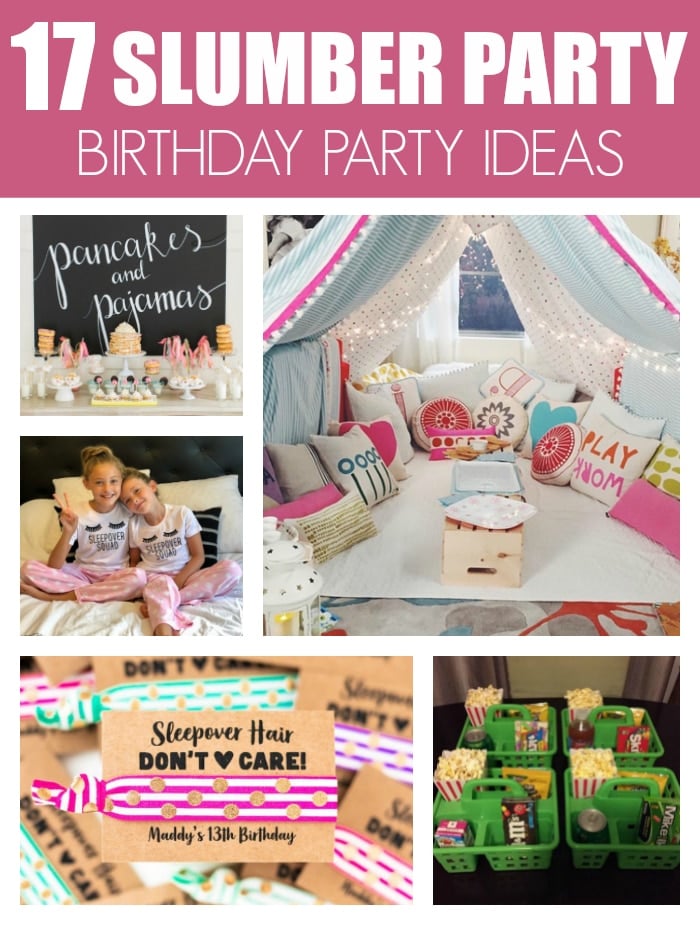 Slumber Party Ideas
Personalized Pillow Cases
Waffle Bar
Sundae Bar
Make friendship bracelets/necklaces
Hot Cocoa Bar
Nail Polish Bar
Cupcake Decorating
Slime Making Station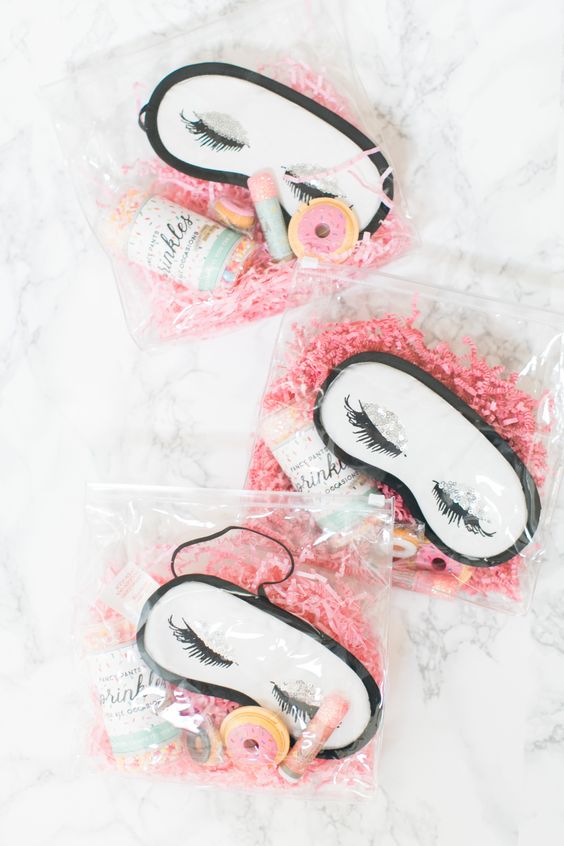 Fun Slumber Party Idea #1: Your sleepover buddies are going to just love these super pretty Slumber Party Favors! All it took was a clear plastic bag or makeup bag, a sleeping mask that all the girls will adore, some cute sweets-themed goodies and of course, nail polish! This goodie bag is just the perfect party favor for a slumber party!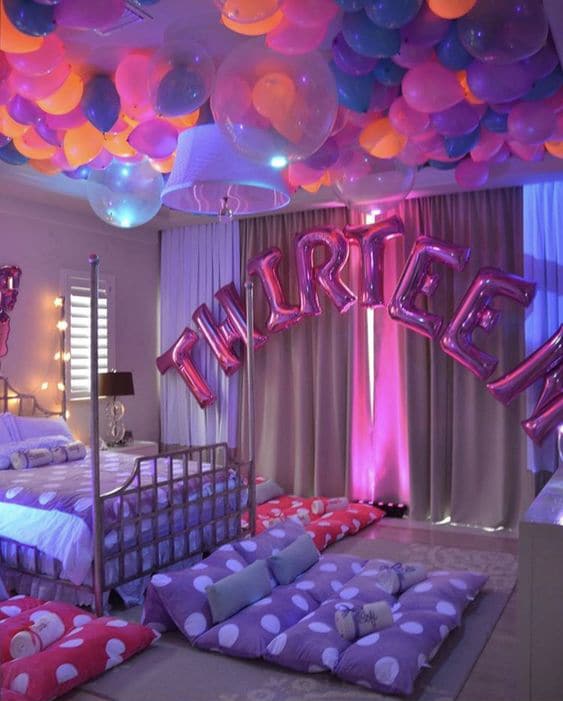 Fun Slumber Party Idea #2: Want a super chic slumber party for your teen? Check out these amazing Slumber Party Decorations! Your teenage girl is going to love having her friends over when she sees this cool pink and purple polka dot setup. The ceiling balloons and giant foil balloons that spell out her age is just icing on the cake!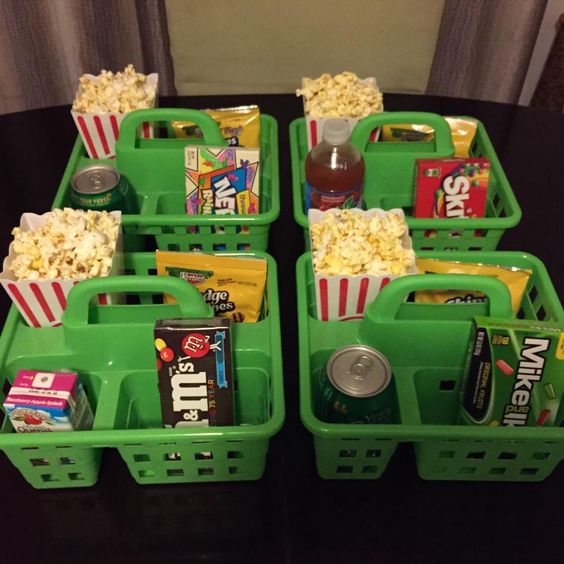 Fun Slumber Party Idea #3: Having Snack Caddies like these ones will help keep the crumbs and wrappers at bay! You can easily get cheap plastic caddies like these ones at your local dollar store, and you can reuse them for storing your toiletries, makeup, and other stuff later on. It's a win-win!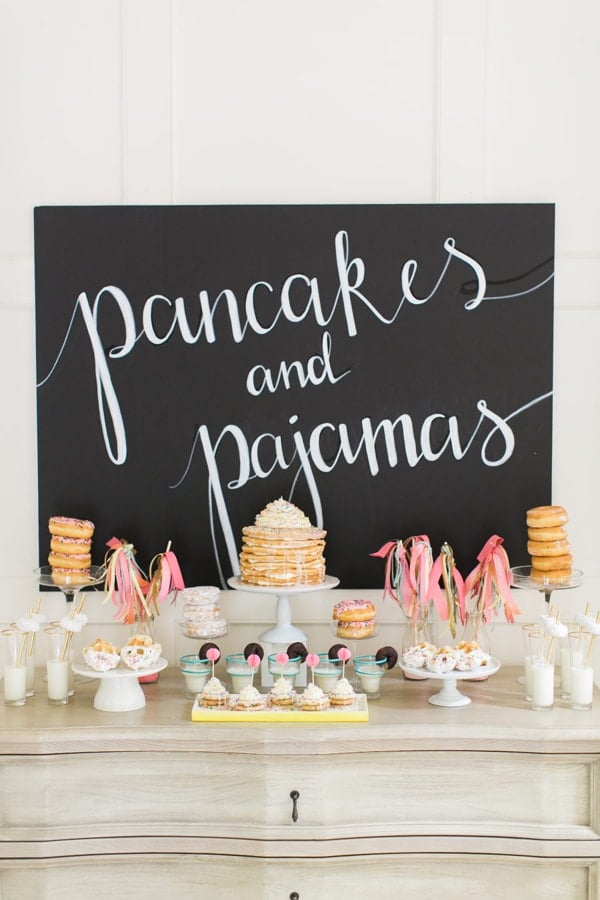 Fun Slumber Party Idea #4: This Pancakes and Pajamas Themed Slumber Party Table just looks so chic and elegant! From the cursive lettering in the backdrop to the pastel colored goodies and ribbons, every little detail in this slumber party table setup just looks so aesthetically pleasing. Even the light colored wooden chest helps wrap up the whole look!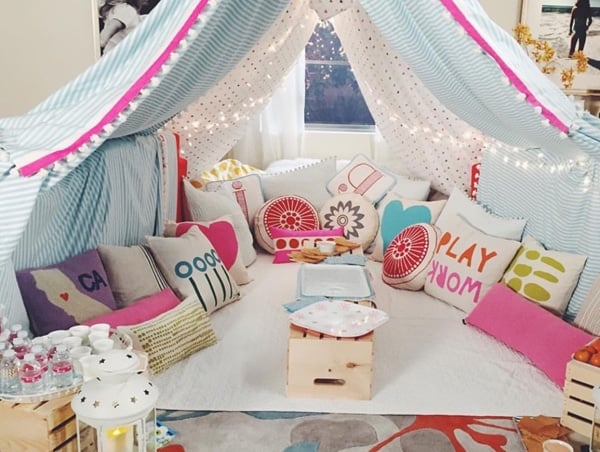 Fun Slumber Party Idea #5: Who wouldn't love to spend time inside this funky but cozy giant tent?! If you're looking for awesome Slumber Party Tent Decorations, you can really take inspiration from this gorgeous setup. The fairy lights add a touch of whimsy to the whole affair too.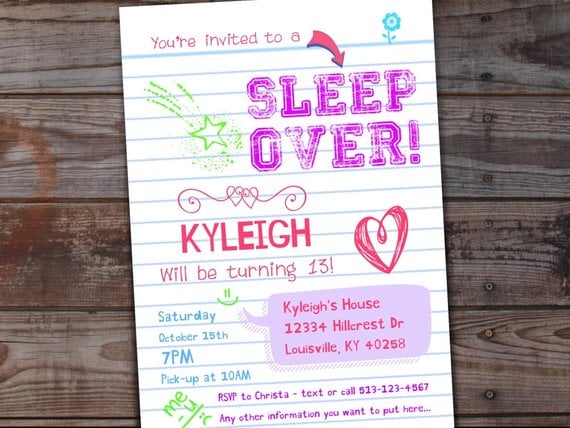 Fun Slumber Party Idea #6: This colorful Sleep Over Party Invitation is the perfect way to invite guests to your cool and casual party! With cute handwritten fonts and sweet little accents, this party invitation is surely going to get your guests excited for the party!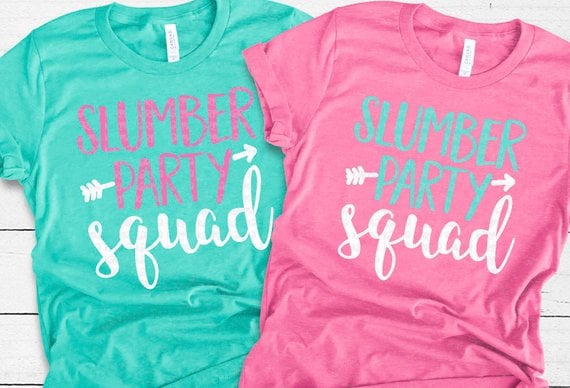 Fun Slumber Party Idea #7: Make your own custom sleepover outfit with a iron-on sticker and a cute digital Slumber Party Squad Iron On File For Shirt like the one right here! You can buy a ready-made digital file from Etsy or other online stores or, if you're design and tech savvy, you can even make your own!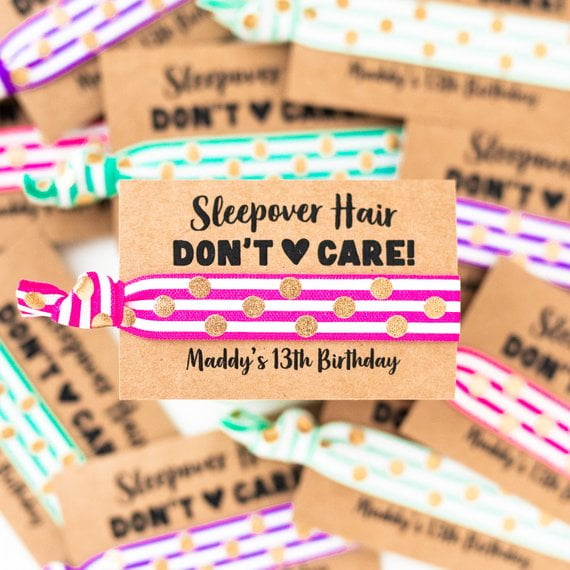 Fun Slumber Party Idea #8: Here's another adorable idea for Sleep Over Party Favors: cute hair ties that go perfectly with your theme! You can go bargain hunting to find pretty hair ties and add a little touch of personality to your party favors by making these simple cards to hold your hair tie party favors.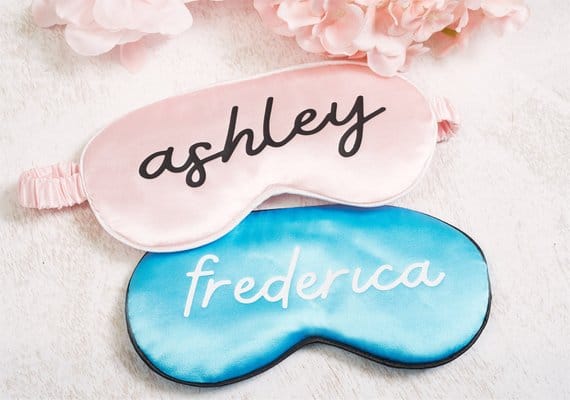 Fun Slumber Party Idea #9: Really want to step it up and impress everyone at your slumber party? Take it to the next level with this impressive Personalized Sleep Masks! These made-to-order custom silk sleeping masks are definitely the perfect party favor for a sophisticated slumber party. These party favors are so great that your guests are surely going to use and treasure them for a long time! Talk about an unforgettable sleepover!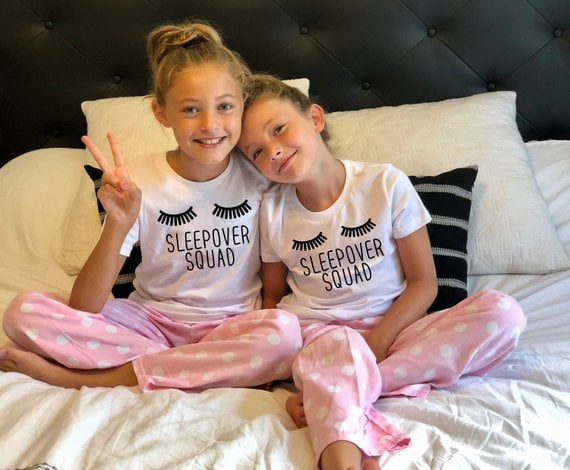 Fun Slumber Party Idea #10: These Matching Pajamas – Sleepover Squad Party Shirts are going to make for really cool photos! You can get ready to wear matching pajamas, or if you have a little more time or money to spend, make some personalized ones! These work as good party favors too!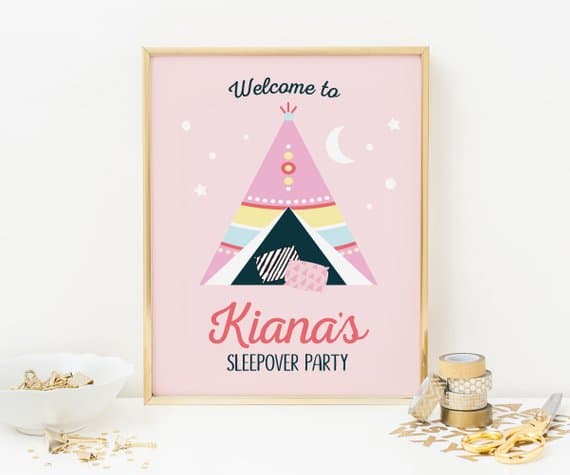 Fun Slumber Party Idea #11: Make your slumber party guests feel at home with a pretty Slumber Party Welcome Sign like this one. You can find many free printables or editable templates online. Look for something that goes well with your slumber party theme!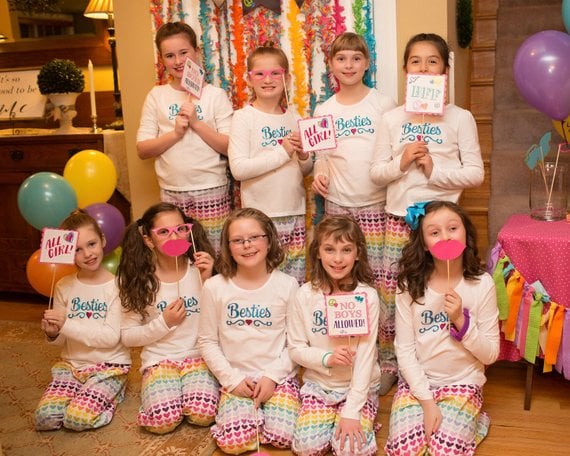 Fun Slumber Party Idea #12: Having a photo booth at your sleepover is another cool way to bring fun to the party! And what makes a photo booth even more enjoyable? Super cool Sleep Over Photo Booth Props like the ones pictured here! From cardboard cutout glasses, mustaches, and creative quotes, you can have a wide selection of easy to make props for your photo booth.
Fun Slumber Party Idea #13: If you're hosting a slumber party/movie night, then you have to have an incredible Popcorn Bar! This popcorn bar has everything to suit every picky eater from regular and caramel flavored popcorn to sweet and savory toppings! There's definitely enough to suit every palate!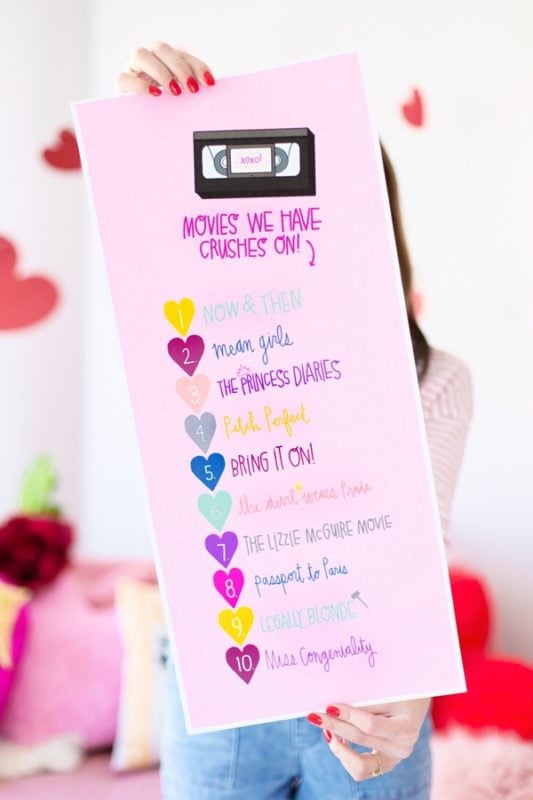 Fun Slumber Party Idea #14: Looking for movie recommendations to watch at your slumber party? Embrace your girly personality by watching a bunch of cheesy chick flicks with your friends! Here's an awesome Chick Flicks List to get you going.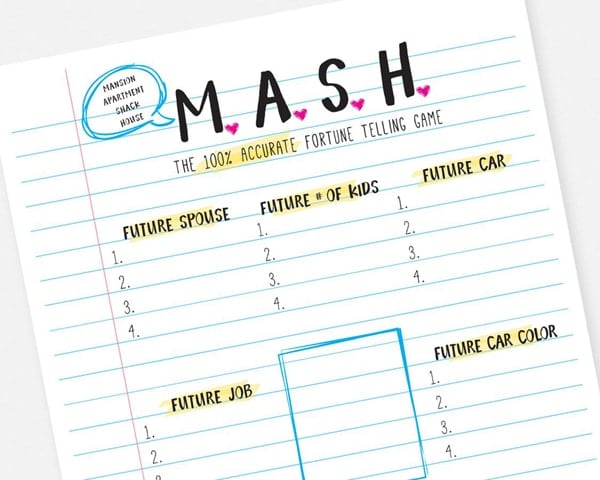 Fun Slumber Party Idea #15: Here's an exciting game for your little girl and her friends: Mash Printable Game! The little ones are going to have a boatload of fun trying to predict their future with this cute little fortune telling game.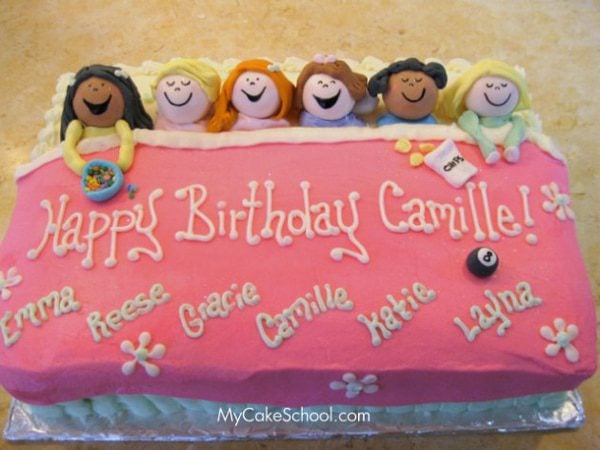 Fun Slumber Party Idea #16: Aww… How cute is this Slumber Party Birthday Cake? Having a personalized cake with your little girl's closest friends featured on it will definitely make her guests feel super special.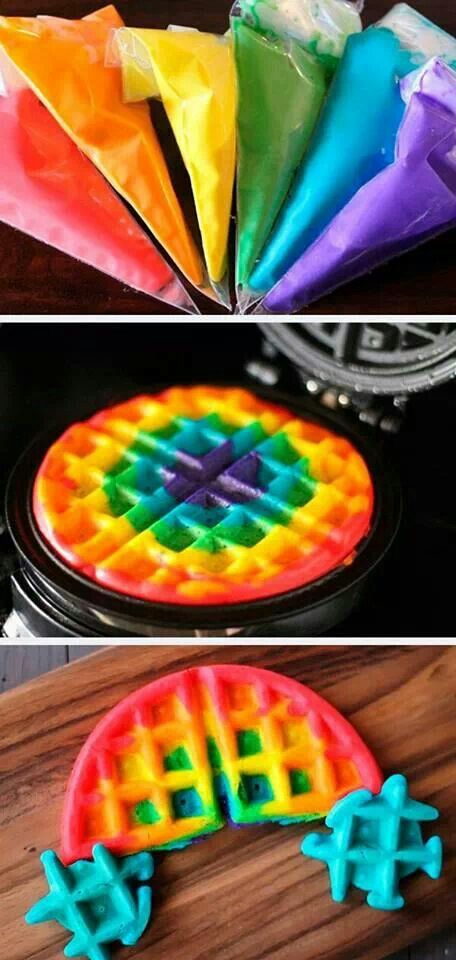 Fun Slumber Party Idea #17: What's for breakfast? How about these colorful and yummy Rainbow Waffles?! Make your guests' breakfast just as memorable as the slumber party with this deliciously pretty treat.
Which of these ideas are you going to try out at your next slumber party? Share your favorites in the comments section below!
For more party ideas, follow us on Instagram @prettymyparty and Pinterest and join us in our private Facebook group.