16 Cool Transformers Birthday Party Ideas
These 16 Transformers Birthday Party Ideas will blow any kid and his friends away!
Optimus Prime, Bumblebee, Autobots, and Decepticons: if all these names sound familiar to you, then you're definitely into the Transformers fandom! Whether you yourself are a fan of Transformers or your child has gotten you in the loop, having a Transformers party is definitely a cool idea.
The awesome visuals, jaw-dropping action, and adorably wicked characters in Transformers all make for a super snazzy party. No doubt, you won't run out of amazing ideas for a cool Transformers party that will please die-hard Transformer fans and casual viewers alike!
If you're looking for excellent Transformers birthday party ideas, you've definitely come to the right place. From Transformers cake ideas to Transformer party food ideas, you will find a whole bunch of cool Transformers party goals here.
Check out this list of 16 Transformers party ideas – we've included everything that a smashing Transformers party would need such as Transformer birthday cupcakes, Transformer party games, Transformers themed food, Transformers centerpiece ideas and a whole lot more!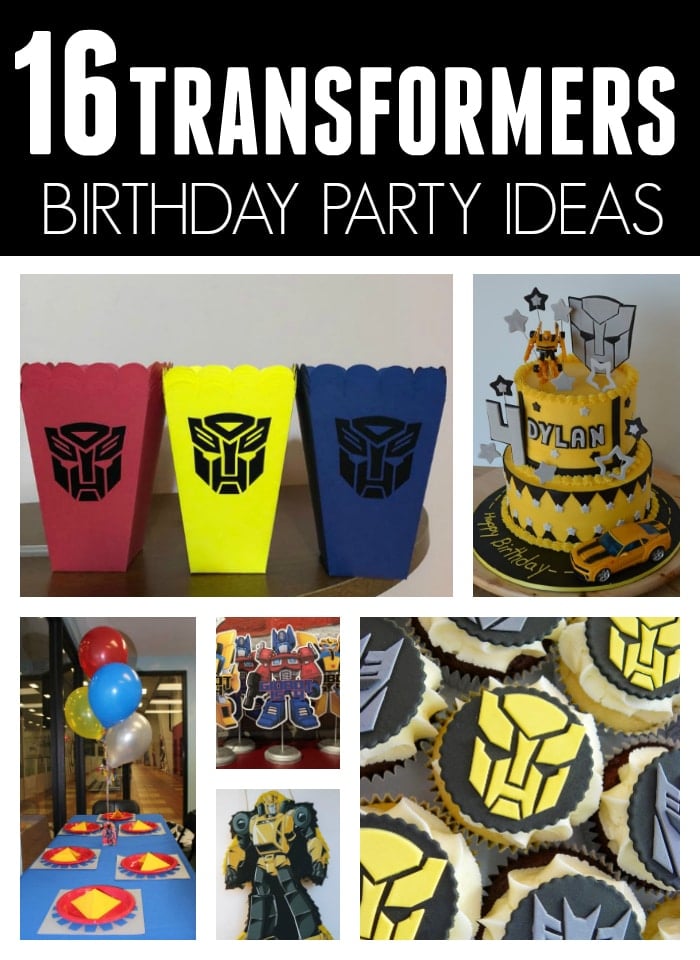 Transformers Party Supplies and Decorations

Transformers Birthday Party Idea #1: This bright yellow and black Transformers Bumblebee Cake is a certified head turner! Since Bumblebee is one of the most popular characters in the Transformers world, this awesome Bumblebee transformer cake will definitely be a party favorite as well.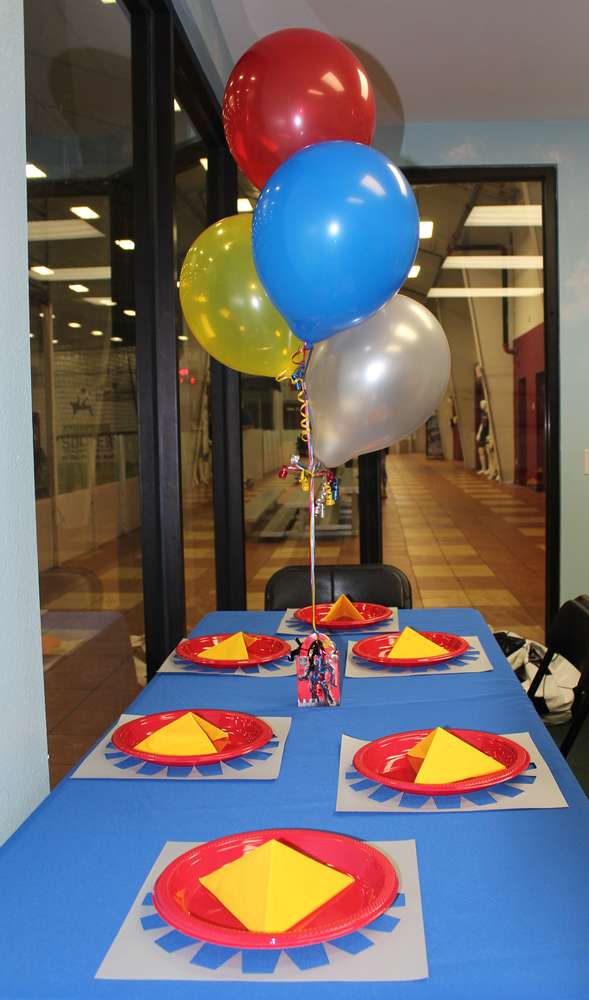 Transformers Birthday Party Idea #2: Bright primary colors and a cool balloon centerpiece make up this simple but lively bunch of Transformers Party Table Decorations. If you're looking for Transformers craft projects or DIY Transformer party ideas, this table setup is a nice way to start!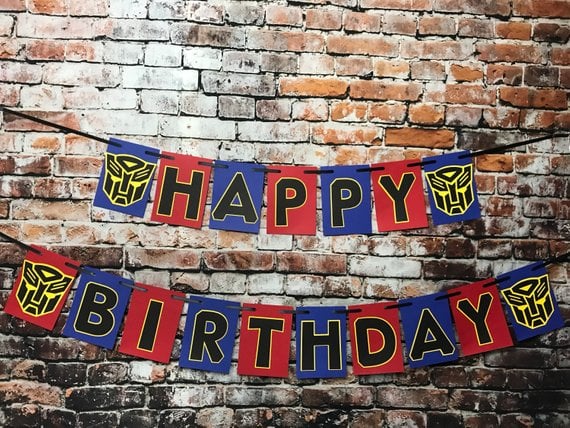 Transformers Birthday Party Idea #3: This Transformers Birthday Banner is another good example of a DIY project that will look perfect for the Transformers birthday party you're planning. If you don't want to purchase ready-made and boring banners from any old store selling Transformer birthday supplies, why not make your own? Check out some free Transformers party printables and DIY your way to a wicked party.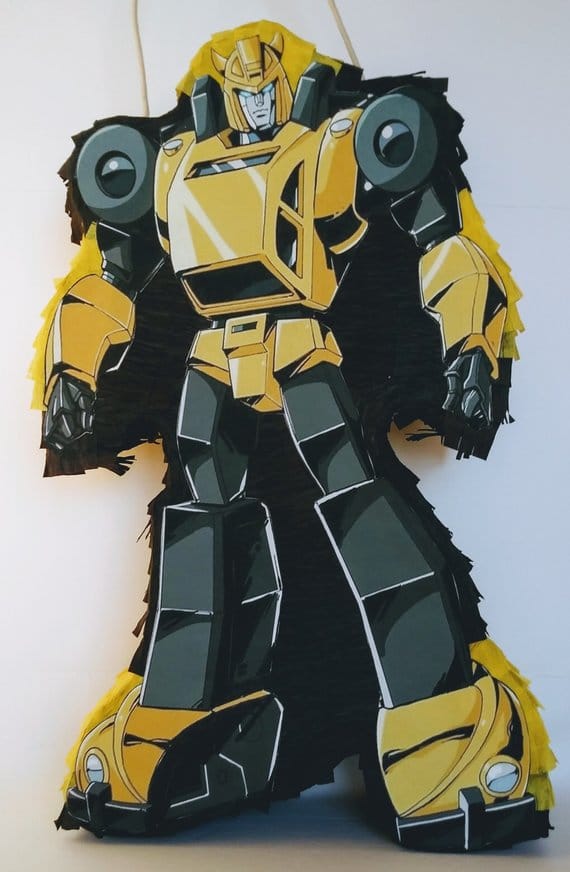 Transformers Birthday Party Idea #4: Your kid and all his friends are going to have a truckload of fun busting open this huge Bumblebee Pinata! Fill this awesome Transformers pinata with a bunch of your children's favorite candy and watch the kids go to town! You can even include some bonus Transformers toys inside!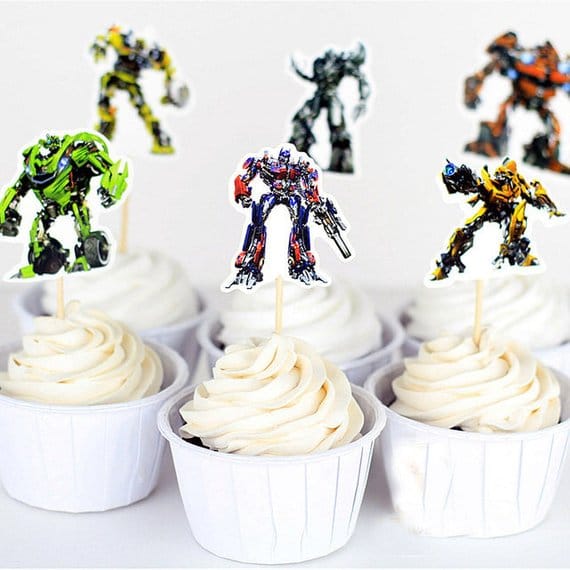 Transformers Birthday Party Idea #5: Want to have Transformer cupcakes but don't have the time or skill to decorate? Get a bunch of these Transformers Cupcake Toppers to instantly transform a regular cupcake into an Autobot or Decepticon-inspired sweet treat.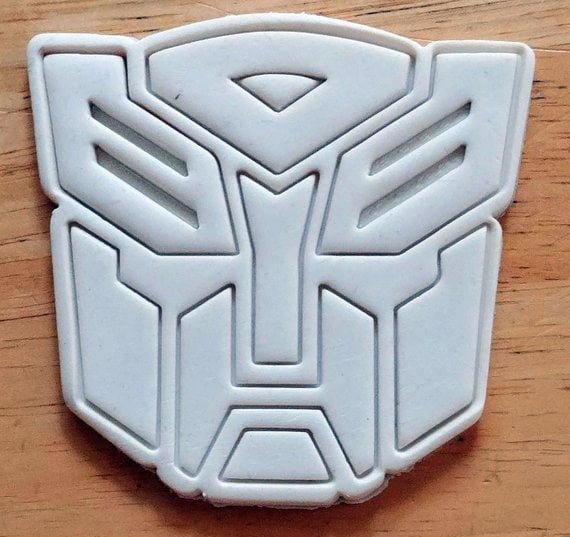 Transformers Birthday Party Idea #6: Forget regular old cookies! If you're looking for Transformers theme party ideas that won't break the bank, how about getting this Transformers Cookie Cutter and making your own desserts? You can use a Transformers cookie cutter like this to cut cookie dough, fondant, or even clay if you want to make other Transformers crafts!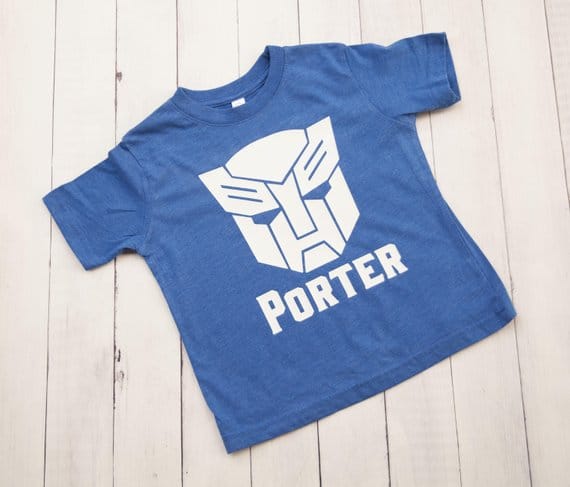 Transformers Birthday Party Idea #7: Looking for awesome Transformers Rescue Bots party ideas? Check out this cool Rescue Bots Transformers Shirt! This will make for nice Transformers party favors that your party guests can really make use of! Your guests' parents will definitely love such a practical party favor.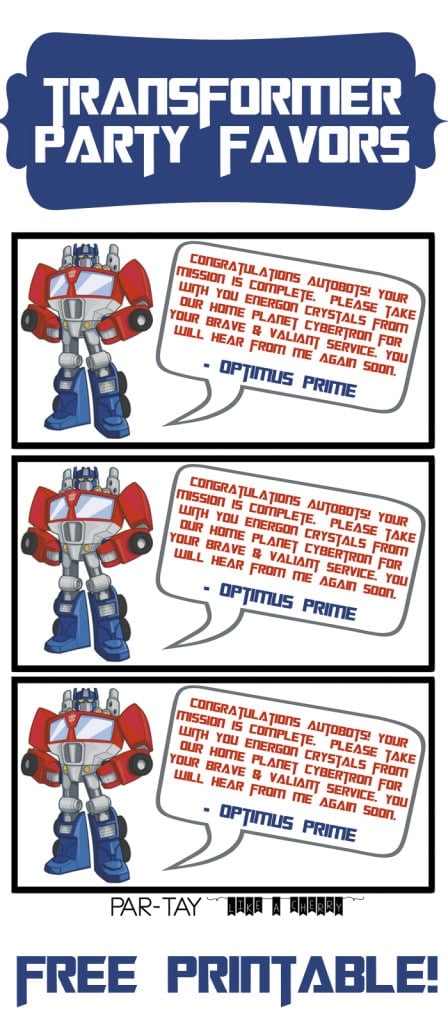 Transformers Birthday Party Idea #8: Here's another cute party favor idea: Free Transformers Favor Tags! These free printable tags are very easy to add to any Transformers party favor.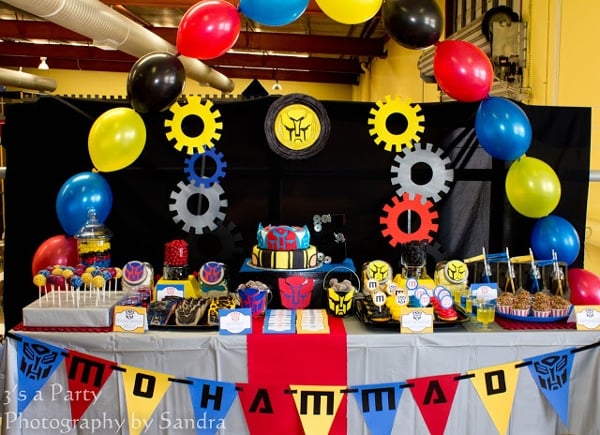 Transformers Birthday Party Idea #9: Wow! How exciting is this Transformers Dessert Table?! Your little guests will definitely race to be the first to savor some of the sweet and yummy treats at your table. This table spread has got it all from Transformer birthday cupcakes to an awesome two-tier Transformers cake. There are even some cake pops and cookies that look delicious too!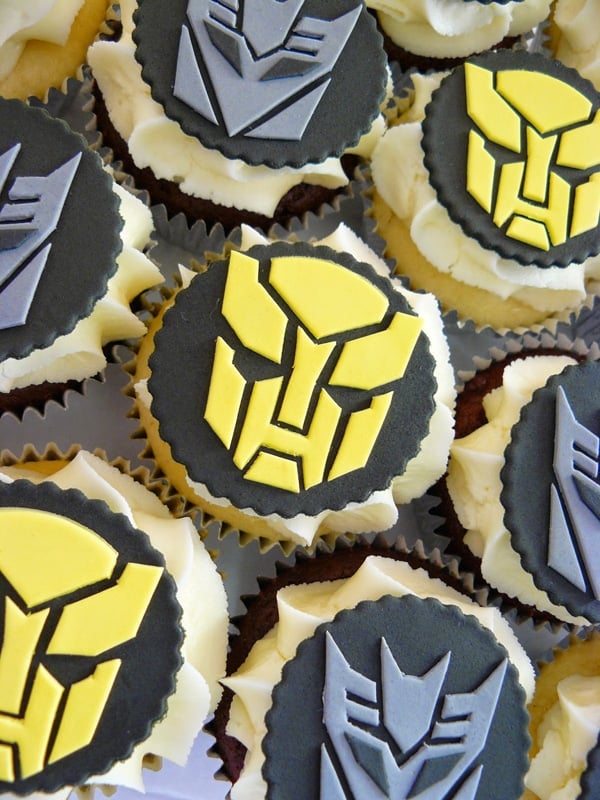 Transformers Birthday Party Idea #10: These Transformers Cupcakes will definitely be a huge hit at your party! With beautifully handcrafted flat cupcake toppers, these sweet treats are going to just fly off the dessert table.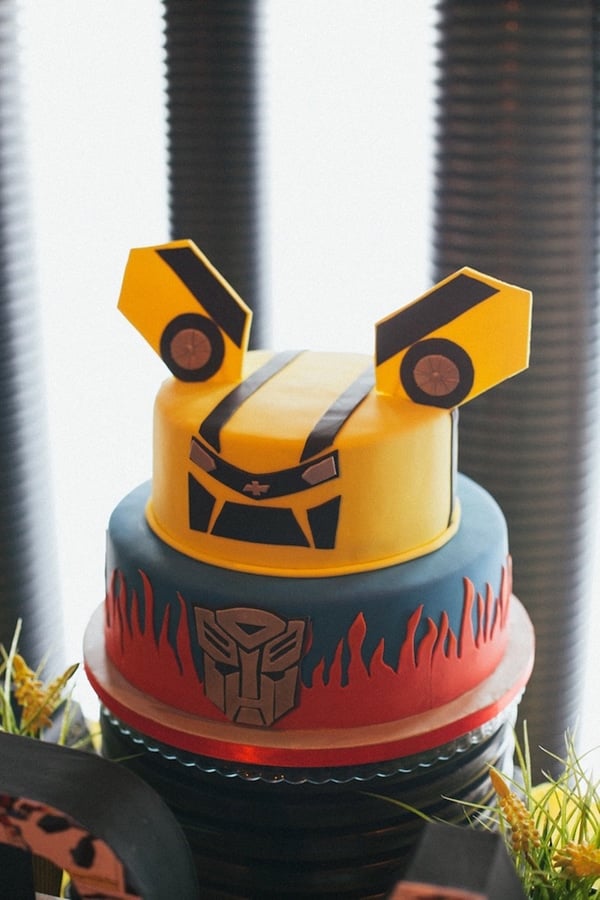 Transformers Birthday Party Idea #11: This Transformers Cake really takes the cake! It's creative and the colorful fondant definitely makes it look so appetizing. The Bumblebee top tier in the middle of transforming is such an amazing touch.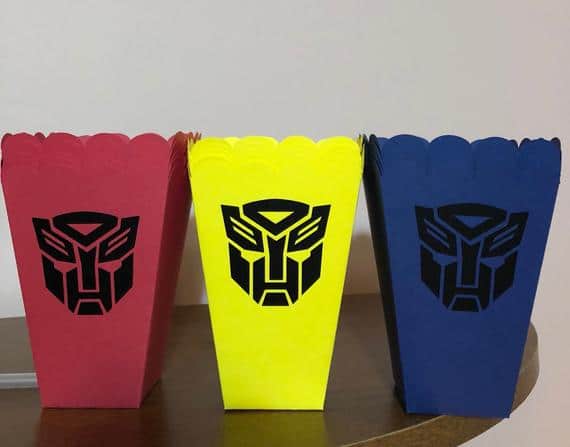 Transformers Birthday Party Idea #12: These Transformers Snack Boxes look simple but remarkable! If you can't find any similar ones at a local store selling Transformers party supplies, you can even make them yourself quite easily.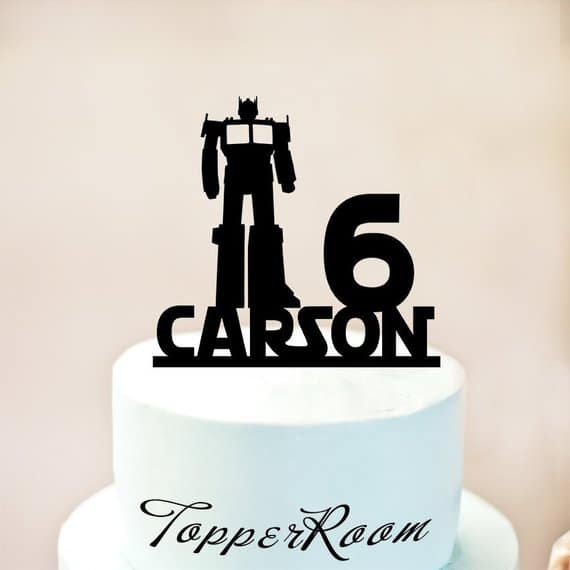 Transformers Birthday Party Idea #13: This chic and subtle Optimus Transformers Cake Topper makes for a sophisticated Transformers birthday cake. If you want to keep your theme monochromatic, a cake topper like this one is the way to go. It's also pretty easy to make, too.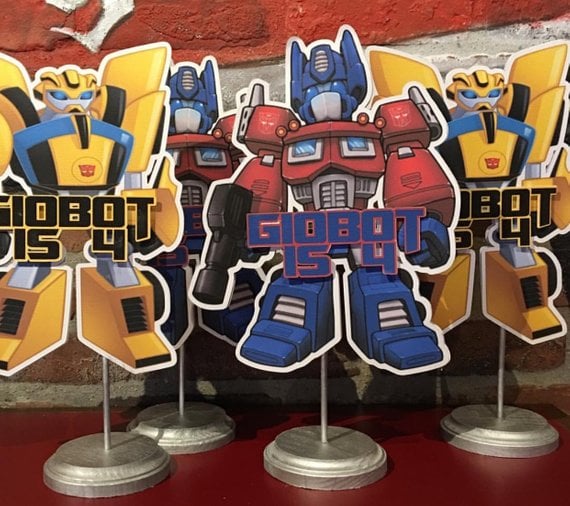 Transformers Birthday Party Idea #14: These super cute Transformers Table Centerpiece items will definitely make your party tables look a lot more special. It's a great way to tie up the whole theme. Plus, the cute "Giobot is 4" custom messaging adds a nice personal touch as well!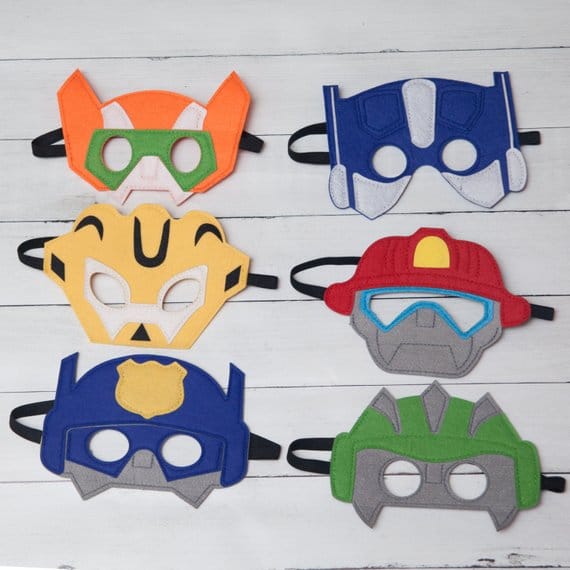 Transformers Birthday Party Idea #15: Want your little ones to transform into Rescue Bots themselves? Get these adorable Rescue Bots Transformers Masks and hand them out to all your little party guests! The little ones are going to look like super cute miniature Rescue Bots with these masks on. You can even think of a fun game that makes use of these masks for maximum fun!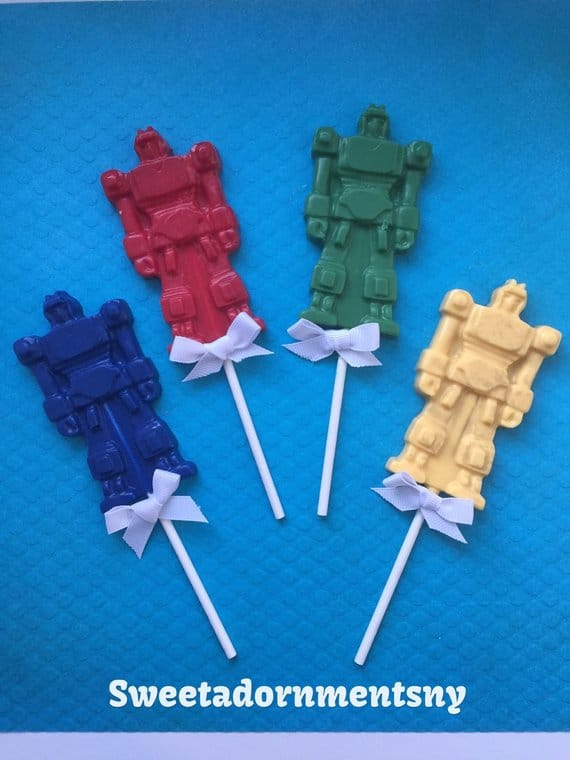 Transformers Birthday Party Idea #16: Whether as party favors in your favor bag or as part of your dessert table spread, these Transformers Lollipop Favors are going to be a wonderful addition to your awesome Transformers party. These lollipops are made from rich, creamy milk chocolate and come in a variety of colors that all the kiddos will love!
Which of these amazing Transformers birthday party ideas are you going to use for the wonderful party you're planning? Do you have any other exciting Transformers party ideas you've come across or have used in a previous Transformers party? Share them with us by leaving a comment down below! We'd love to see your awesome Transformers party ideas.
For more party ideas, follow us on Instagram @prettymyparty and Pinterest and join us in our private Facebook group.