Pastel Rainbow Themed Party
It's all sunshine and rainbows in this colorful pastel rainbow birthday party!
If you're looking for delightful pastel rainbow themed party ideas for your little one's upcoming birthday, this charming and bright-colored party has a lot in store for you.
Immediately upon seeing pictures of this lovely party, the contrast between the bright white and pastel decorations caught our eye. We absolutely loved the massive wall covered with a crepe paper streamer backdrop! This pastel backdrop looks stunning both in person and as a photobooth background, and it's an excellent DIY project too! The addition of the glittery silver strings add a nice touch of sparkle to the pastel backdrop and really makes the whole thing pop!
The dessert table setup looks simple but eye-catching. With white tables and white dessert and cake stands surrounded by white balloons at the bottom, the pastel colored rainbow desserts look even more enticing!
For food and drink, the kids had some delicious pizza and milk and soft drinks. For dessert, they had huge, yummy looking cupcakes with different pastel colored frosting. The star of the dessert table is a simple but adorable rainbow sprinkle cake with a tiny pastel party balloon arch as the cake topper. How adorable!
From rainbow food ideas to pastel decorations, check out the creative pastel rainbow party ideas in this colorful celebration.
Pastel Rainbow Theme Party Ideas
Massive pastel rainbow colored streamers for the backdrop

Some silver glitter string garlands and a gold party signage to add a little bit of glitz and glamour

A simple but adorable white birthday cake with rainbow sprinkles at the bottom and a super cute mini pastel rainbow balloon arch as cake topper

Large pastel cupcakes with different pastel colored frosting

A unique dessert table featuring stands with different heights to highlight the cute and yummy desserts

White balloons surrounding the dessert table to make the rainbow colored desserts pop

Create your own rainbow party favors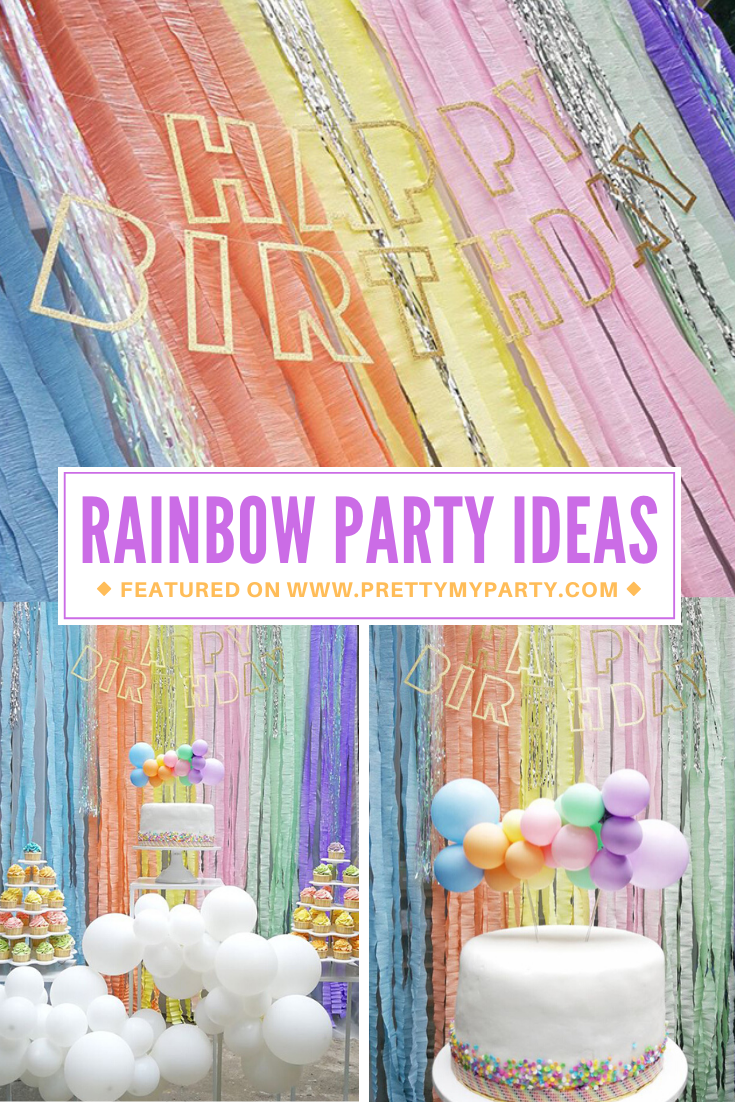 What a magical pastel rainbow party! Judging by their beautiful smiles, all the kids in the party had an amazing time at this colorful rainbow party.
Here's what Ms. Laine Events had to share about this wonderful birthday party: "Everyone deserves to have a birthday celebration." Throwback to this rainbow theme party for the Chin refugee kids at CWO, in conjunction with Dionne's birthday. All the kids are so happy to be able to take an individual shot with the setup to keep in their memories."
This colorful party definitely had a lot to share when it comes to pastel rainbow party decoration ideas and rainbow birthday party food ideas. We absolutely loved the large pastel backdrop and the cute pastel rainbow decorations.
What are your favorite details in this Pastel Rainbow Themed Party? Do you want to share your own unique DIY rainbow birthday party ideas? Let us know in the comments below!
For more fun birthday party ideas for kids, follow us on Instagram @prettymyparty and Pinterest and join us in our private Facebook group.
See more party ideas here:
Party Vendors
Party Styling: Ms. Laine Events