Sorbet Pastel Balloon Themed Party
Pretty pastel balloons and party supplies make this party fun, easy and stylish!
Balloons were the star of the show at this Sorbet Pastel Balloon Themed Party by Amber Lundy of Illume Partyware from Sydney, Australia!
From Amber: While we can all go crazy with decorations, we wanted to show how you can simplify a party with 3 elements – balloons (3 different varieties), partyware and food! A fun fresh party using clever styling techniques to inspire a beautiful, memorable birthday with minimum fuss.
We're sure busy moms are always looking for ideas on how to simplify a party, but still have it look amazing! This pretty pastel party definitely accomplishes that!
Balloon decorations really do look incredible, especially at this Sorbet Pastel Balloon Themed Party. So there's no need to add other party decorations.
Sorbet Pastel Balloon Themed Party Ideas
Pretty Pastel Balloon Garland
Pastel Drip Birthday Cakes
Pastel Circle, Heart and Star Cookies
Giant White Happy Birthday Balloon With Pastel Pink and Gold Tassel
Clear Confetti Balloon Decorations
Pastel and Confetti Plates, Napkins and Cups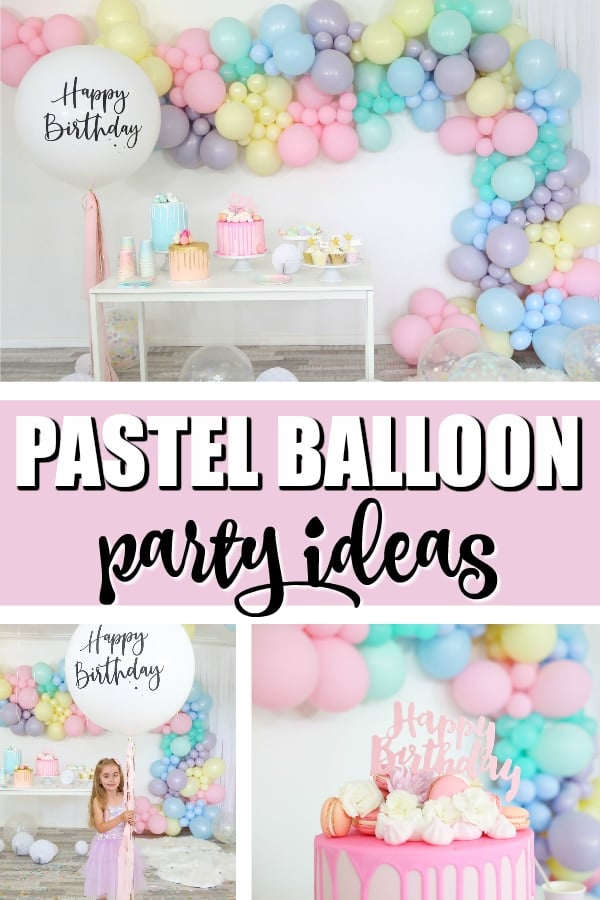 Sorbet Pastel Balloon Themed Party Supplies and Decorations
Check out these other party ideas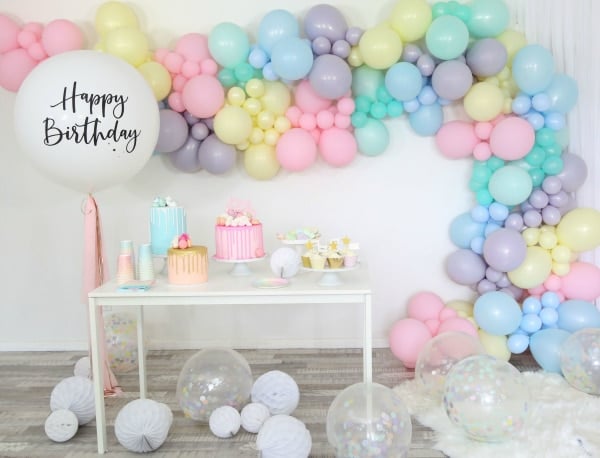 For a pastel party like this one all you need is a white table, some pretty pastel party desserts and cakes, and of course, balloons!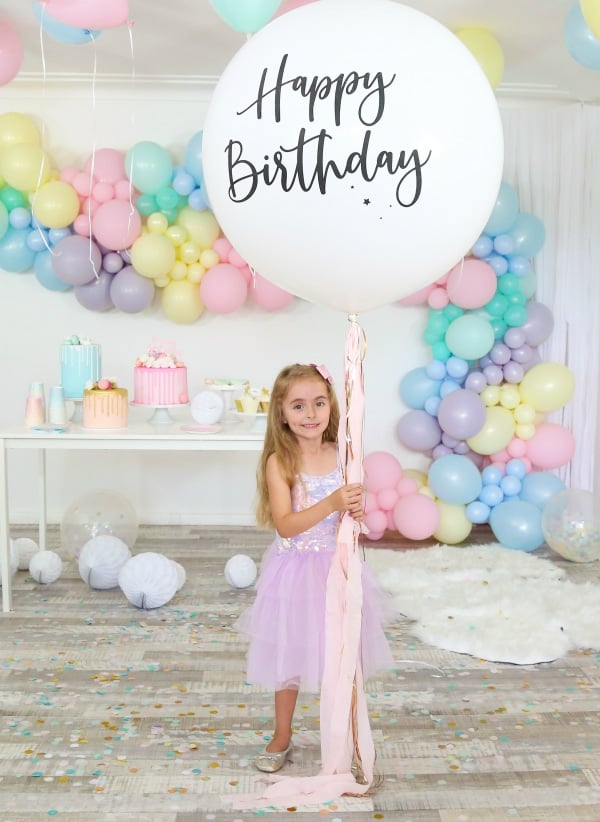 We love the addition of this jumbo Happy Birthday Balloon with pretty tassels! It looks great against the pastel balloon garland backdrop!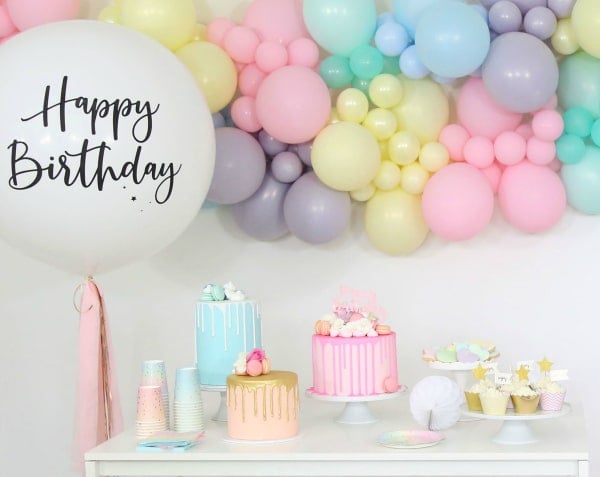 Gorgeous drip cakes matched the balloons and party supplies perfectly. Cookies and cupcakes were also added in the party's colors as well.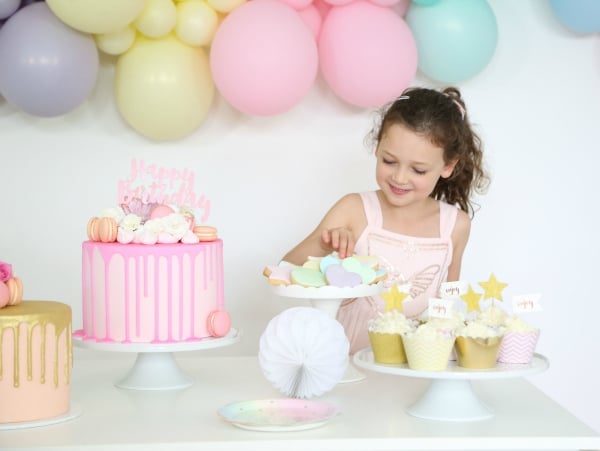 We love the pastel macaroons and flowers that were used to decorate the top of the birthday cakes. The design is simple, yet girly, fun and beautiful!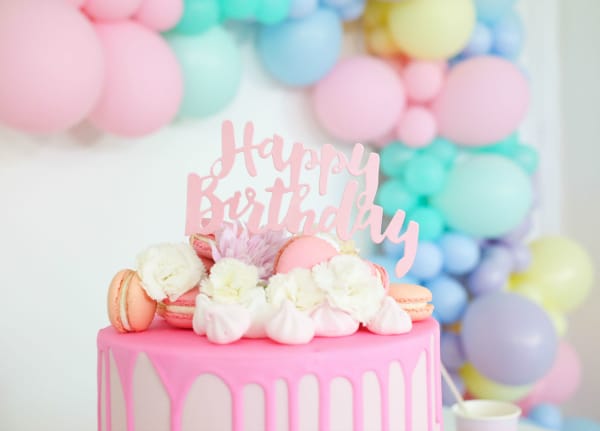 A pastel pink Happy Birthday cake topper finished the look of this pretty drip cake.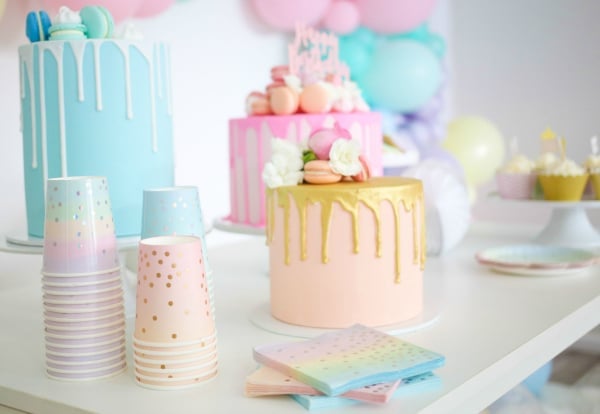 Pastel rainbow partyware with confetti matched the look and theme of the party perfectly.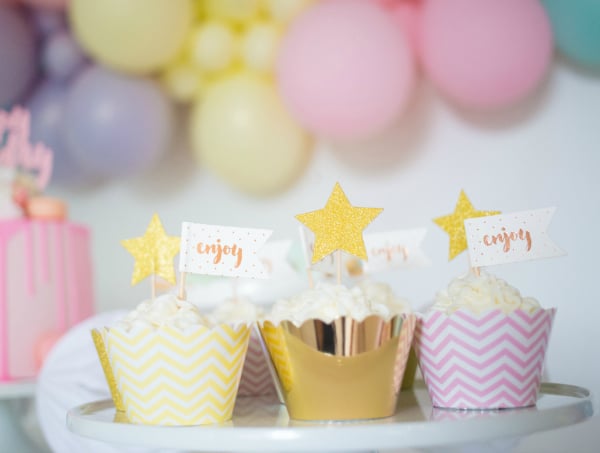 Cupcakes were wrapped in pretty cupcake wrappers and gold glitter stars and confetti cupcake toppers were added to make these sweets even sweeter!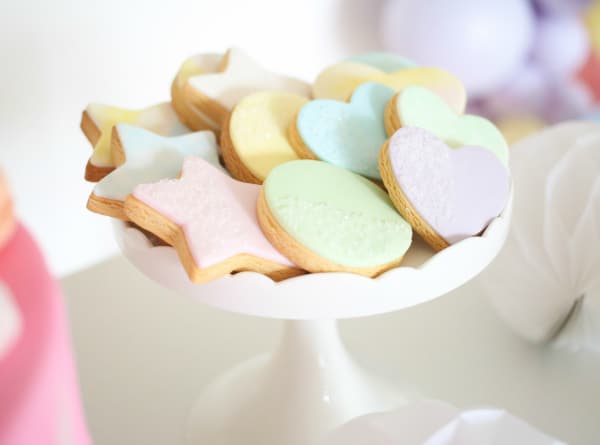 Other party food included simple pastel sugar cookies in star, heart and circle shapes.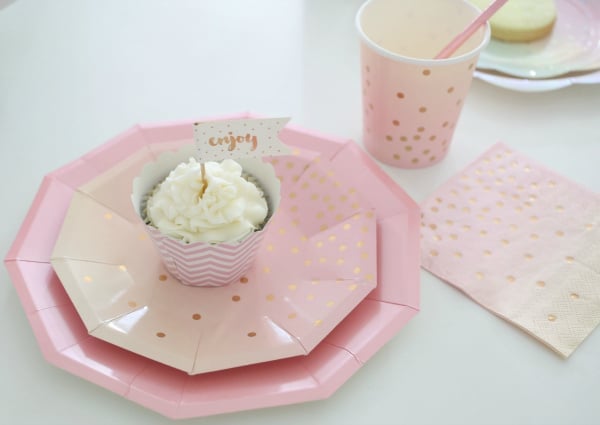 Pastel pink party plates with gold confetti are the perfect girly addition to the party supplies.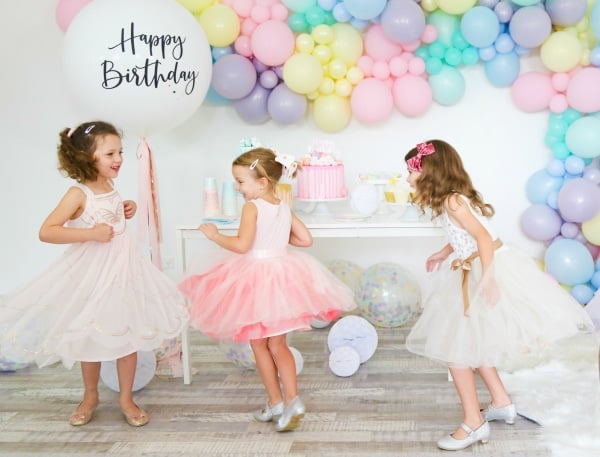 The girls looked beautiful in their party dresses, which also matched the party colors!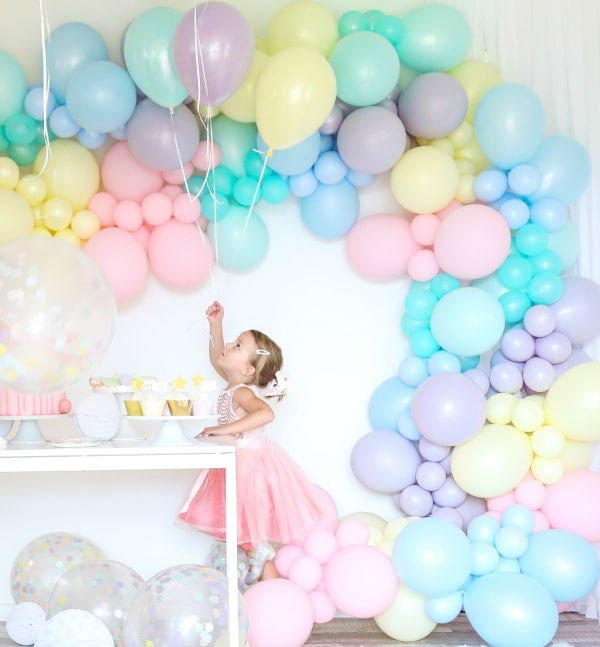 Let's talk about the AH-mazing pastel pink, purple, blue, yellow and green balloon garland decoration, which really made the whole space pop!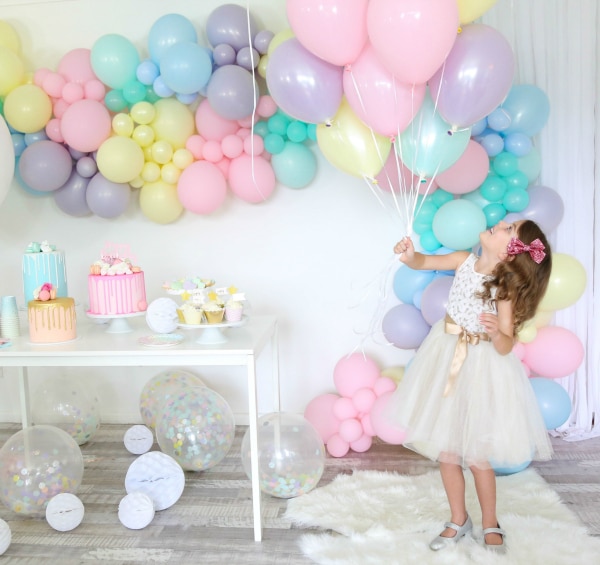 Clear confetti filled balloons also decorated the dessert table area along with white honeycomb balls.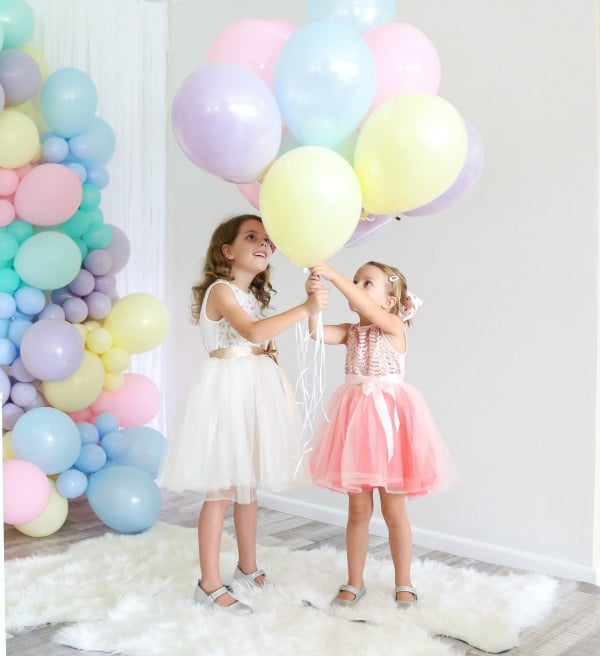 To a little girl there's nothing better than pastels, lots of balloons, desserts and best friends! It's the perfect party if you ask us!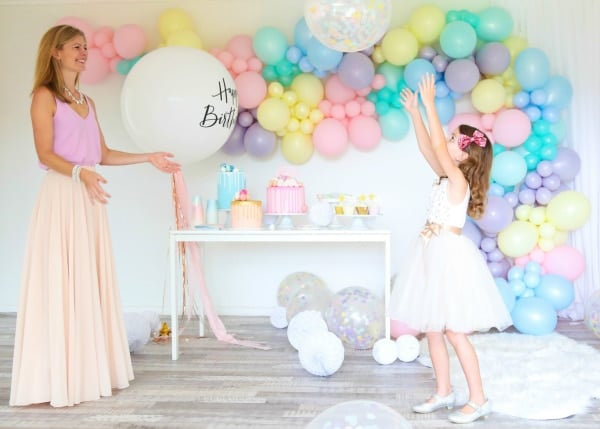 Simplifying the party planning process with a few key elements like in this party just goes to show how you can have a fabulous birthday party without a ton of decor.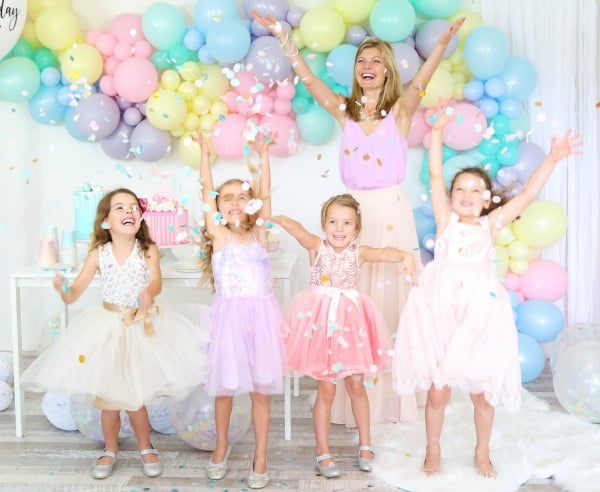 Add in a little bit of confetti and this Sorbet Pastel Balloon Themed Party is picture-perfect. What a wonderful birthday theme for a girl at any age!
Vendors & Credits
Styling: Louise Lazendic from Illume Partyware
Balloons and Partyware: Illume Partyware
Cake: Genevieve Peacock: Cake Chemistry
Cookies: Martina: Mar-Valicious Bites
Photographer: Stacie LaGreca
Videographer: Blake Dubler from Creative Blue
What's your favorite details in this Sorbet Pastel Balloon Themed Party? Let us know in the comments below!
Shop these Pretty Pastel Party Supplies and Decorations
(Amazon Affiliate Links)