Pretty Pastel Ice Cream Birthday Party
This Pretty Pastel Ice Cream Birthday Party is every little girl's dream! Beautiful balloons… check! Ice cream carts… check! A colorful pastel palette… check! So fun!
What fun it must be to have an Ice Cream Birthday Party for your special day when you're six years old! From the fun decorations to the wonderful party games, every little birthday guest had a blast when the big day arrived. Not to mention … ice cream! It must have truly been like walking into a perfect dream when everyone arrived at The Clayton Hotel. Just look at it! We can only imagine all of the squeals of delight when the children walked into the room.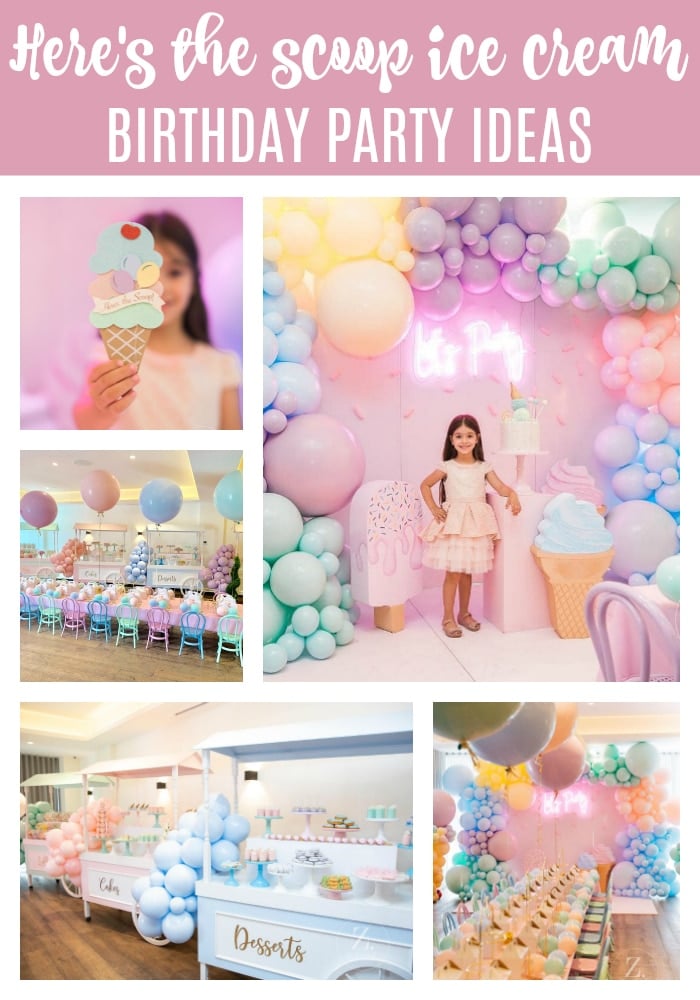 Ice Cream Birthday Party Supplies and Decorations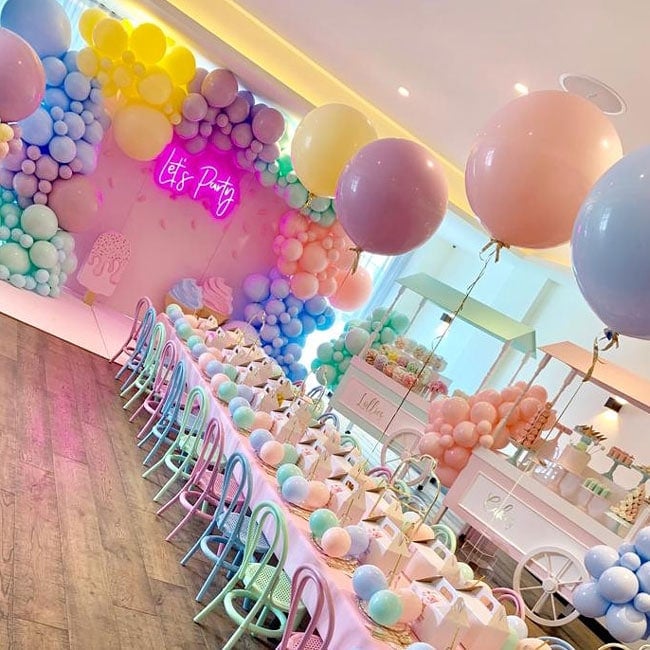 We can't think of a more whimsical and delightful girl's Ice Cream Birthday Theme! Besides the gorgeous balloons, along with the sweet pastel colors, the first thing guests noticed were the adorable mini chairs and tables for all of the guests from Mini Party People. We just love this and it was the perfect welcoming for each and every person. How adorable!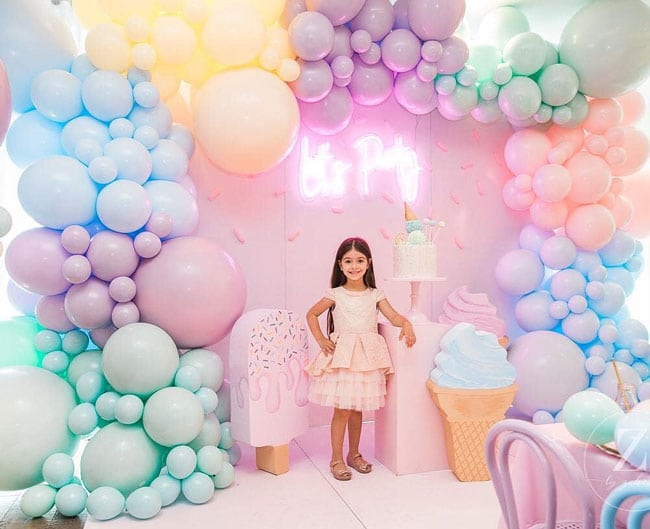 This little birthday girl was surrounded by the most beautiful Ice Cream Birthday Party Decorations. All of those incredible balloons were provided by Boutique Balloons, with the fun ice cream foams coming from ChocoBliss Australia. What a fun and unique way to decorate for an Ice Cream Birthday Party!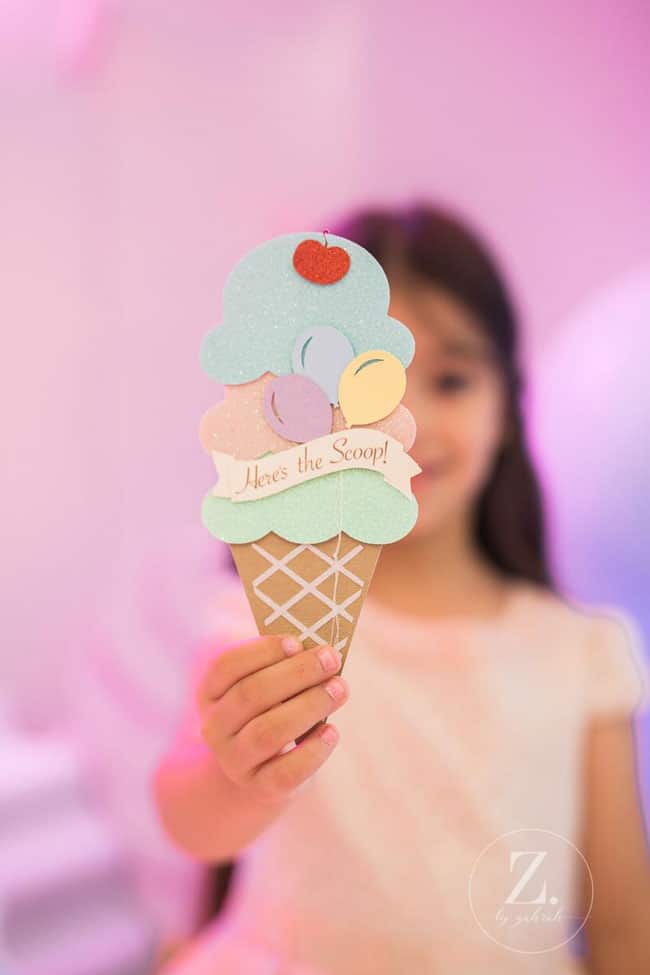 How cute are these Ice Cream Birthday Party Invitations that were sent out to all of the guests?! This is such a cute way to incorporate the theme and colors into everything for the Ice Cream Birthday Party. Everyone knew they were in for some fun and some delicious ice cream treats the second they walked in! Who wouldn't want to clear their calendar for this awesome Ice Cream Birthday Party!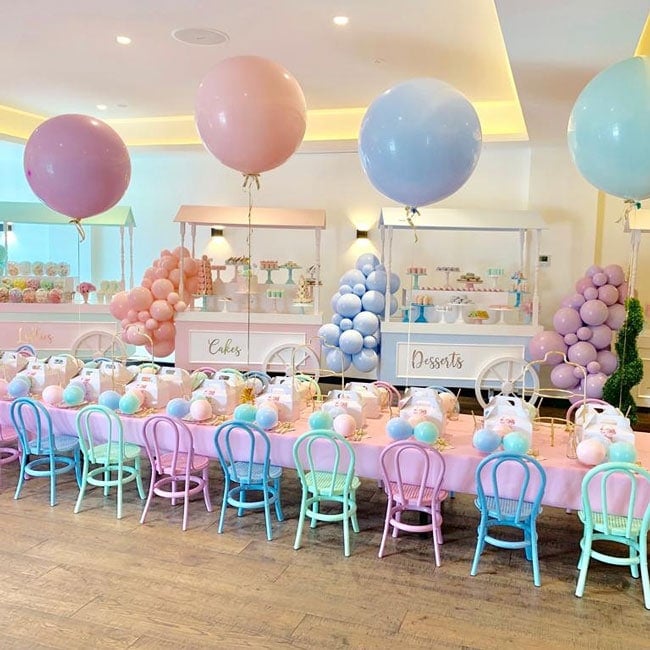 The Event Rental Company went all out when it came to Ice Cream Birthday Party Supplies. No detail was forgotten and everything turned out perfectly. Walking into the Ice Cream Birthday Party filled everyone with joy, excitement, and the smells of some amazing desserts that were going to be served. That sounds like a great afternoon to us!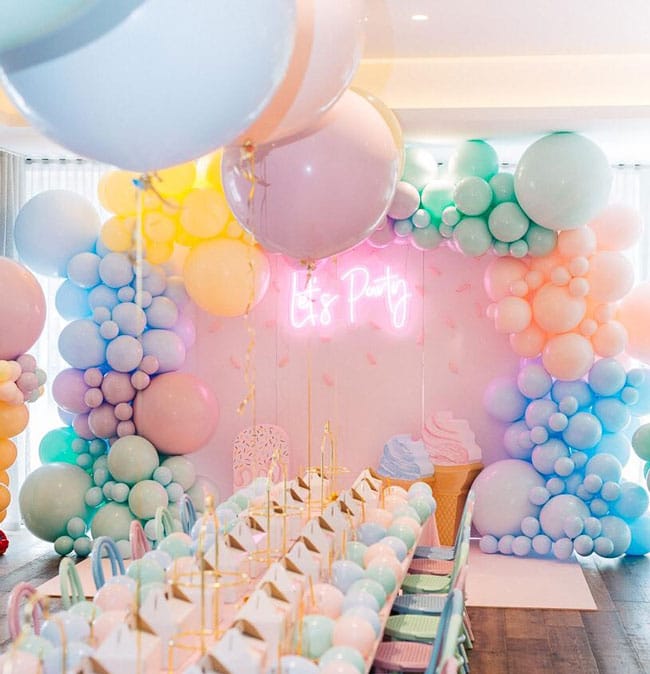 Look at that gorgeous backdrop that was used for pictures with the birthday girl and all of her little friends! How awesome is that neon light from Neon Collective? All of these flawless Ice Cream Party Ideas came together to create the perfect event. We still can't get over how beautiful the pastel color scheme looks. It truly looks like you're walking into an ice cream dream!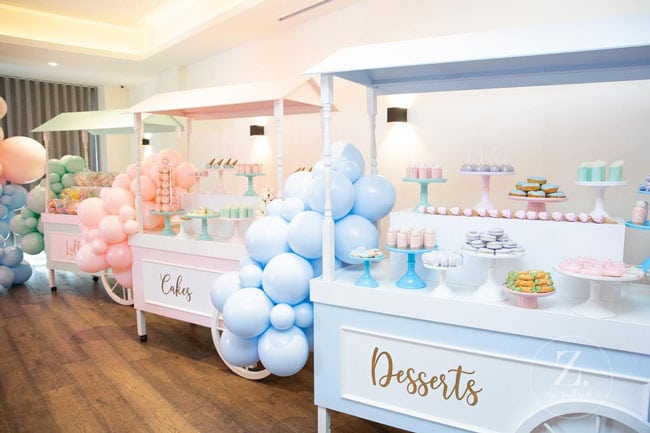 Another MUST HAVE for this fun birthday was an ice cream birthday party cake! Niko's Cakes created a gorgeous creation that everyone enjoyed, but there was much more than cake to be had by everyone! Desserts of all kinds were provided by Chocolate No. 5, Taylor Made Gourmet, Nobody Hates Cake, Chocobon Melbourne, Sweet Eve, Chantal Patisserie, Aynet's Cookies & Treats.
And don't forget the actual ICE CREAM! Lickings Fine Ice Cream was on-hand to satisfy the sweet tooth of kids and adults alike! What an incredible ice cream party dessert table that was adorably displayed in multiple carts. Our mouths are watering just looking at all of that sugar and deliciousness!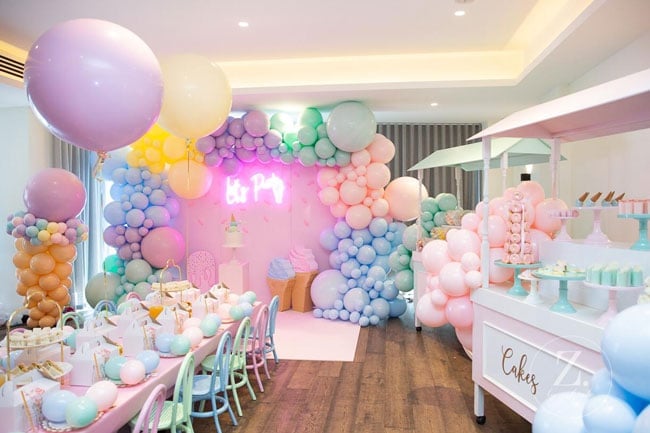 What an incredible Ice Cream Themed Birthday Party. All of the party decor was absolutely perfect, from the incredible balloons, to the sweet table place settings that were waiting for everyone at their seat. Ruby Rabbit and The Pretty Balloon Co did an incredible job with all of the tableware that was used at the seating area for the Ice Cream Birthday Party.
Everyone also had their own individual box for Ice Cream Birthday Party Favors that they were able to take home, as well. Nothing was forgotten and we're sure that all of the sweet memories these children were able to make won't be forgotten anytime soon with the special things they were able to take home!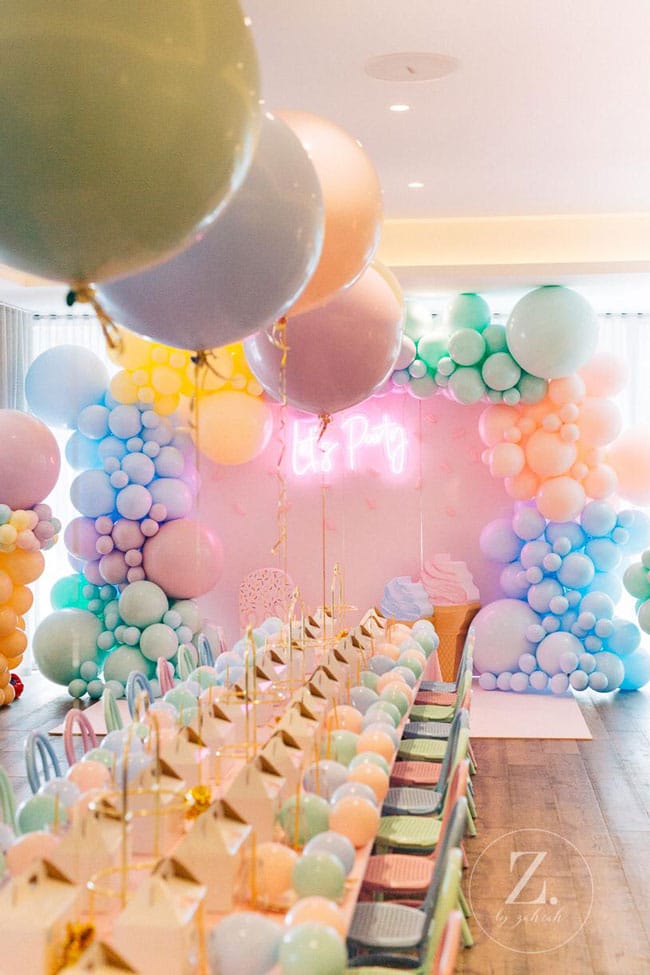 We just love the varying sizes of the gorgeous balloons that were used. It really adds a sense of depth and perception that makes everything seem larger than life! We can only imagine what it looked like from the eyes of a child! This could also easily be replicated with different colors, to make it more of a boy theme, if desired. Because we all know that ice cream is gender neutral!
As a matter of fact, this ice cream party theme would be fun for any type of event! From baby showers, to wedding events, what a fun way to lighten the day and theme and create a fun and whimsical party for kids and adults alike. We love it!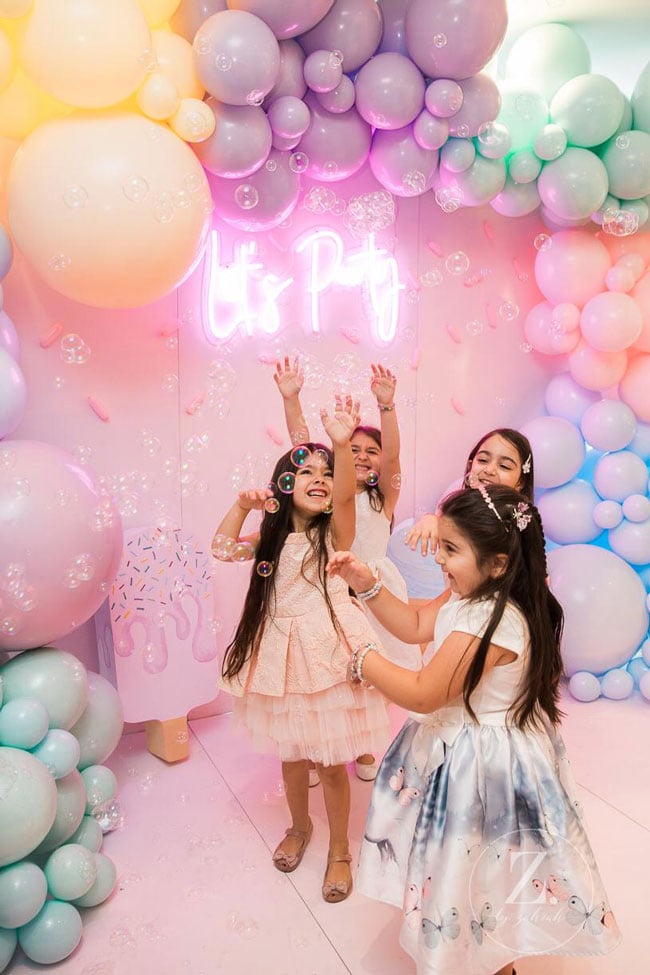 Last but not least, this Ice Cream Birthday Party didn't skimp out on great party games! Balloon Twisting with Con and Magical Princess Entertainment provided the entertainment for the day and it didn't go unnoticed! The birthday girl got to hang out with her favorite princesses during her ice cream party. And how appropriate was a balloon twisting entertainer when there were gorgeous balloons that took center stage of the entire Ice Cream Birthday Party?! And last but not least… bubbles! The best!
We think it's pretty safe to say that this was the sixth birthday dream Ice Cream Birthday Party for this little girl, as well as her friends! What a gorgeous event for a gorgeous little girl. We can't wait to see what the theme will be for her seventh birthday! Happy birthday, sweet girl!
Vendors & Credits