Cool Aviator Mickey Mouse Birthday Party
This Cool Aviator Mickey Mouse Birthday Party will have you flying right out of your seats!
Sky's the limit when it comes to Laila Plant of One Inspired Party from Miami, Florida and this Cool Aviator Mickey Mouse Birthday Party!
Birthday boy Bryan loves all things Disney, especially Mickey and Airplanes, so it was only fitting to throw him the best Aviator Mickey Mouse Party ever!!! So take a spot in the pilot's seat because the Aviator Mickey Mouse Party Ideas you're about to see will have your party guests soaring! Everything from the Aviator Mickey Mouse party decorations to the birthday cakes, desserts and food were spectacular.
Plus, there were some special friends that made an appearance just for the birthday boy! How sweet! Mickey's pals Minnie Mouse, Donald Duck, Goofy, Pluto and Daisy Duck were there to see the lucky birthday boy and take some awesome photos.
Aviator Mickey Mouse Party Ideas
Amazing Balloon Decorations Above the Dessert Table and Party Space Made To Look Like The Sky and Clouds
Personalized Aviator Mickey Floor Decor
Incredible Aviator Mickey Mouse Birthday Cakes
Aviator Mickey Mouse Cake Pops
Personalized Aviator Mickey Mouse Cookies
Aviator Mickey Mouse Ears For Each Guest
Personalized Name Balloon Decorations
Fun Mickey Mouse Donut Wall
Aviator Mickey Mouse Favor Bags
Aviator Glasses and Suitcase Place Settings For Each Guest
Personalized Themed Chocolate Covered Oreos, Suitcases and Cupcakes And MORE …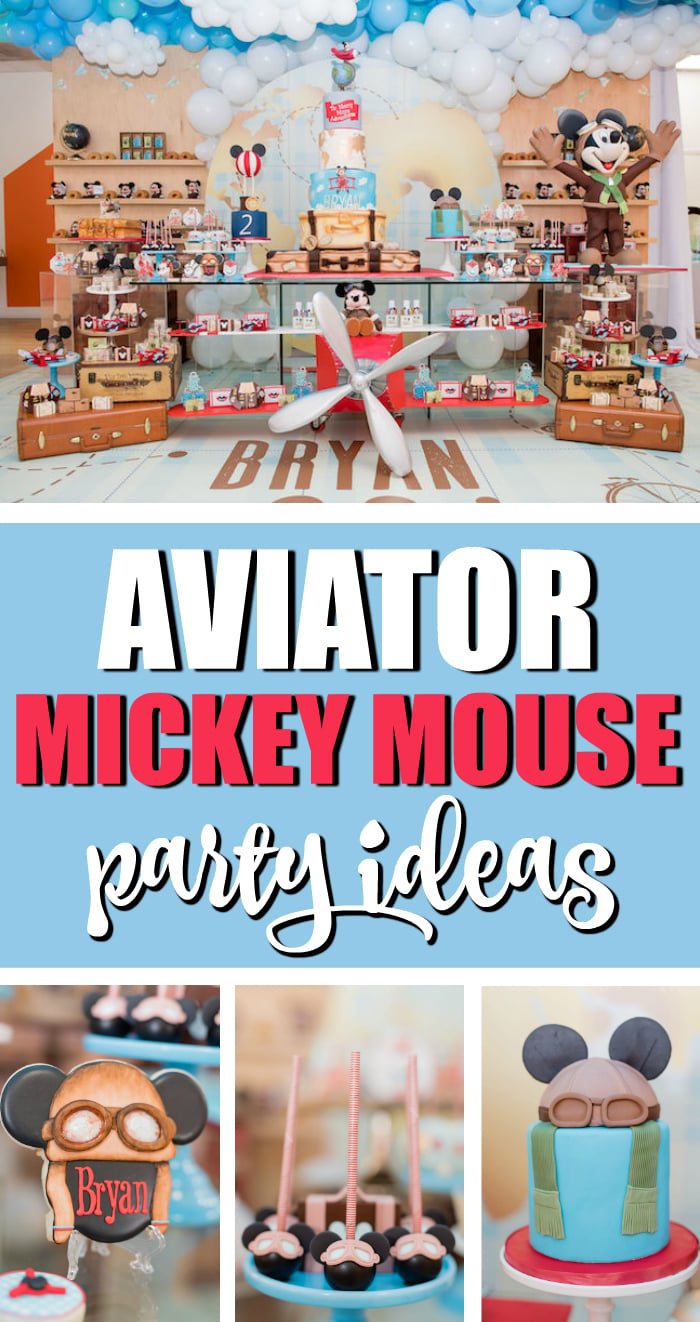 Aviator Mickey Mouse Party Supplies and Decorations: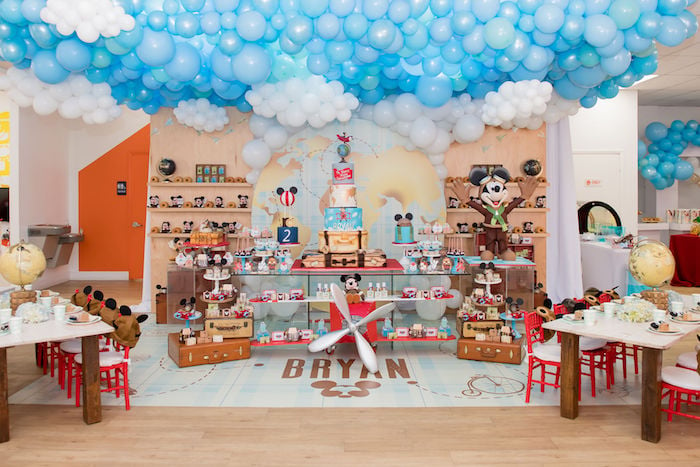 WOW! Imagine walking into this party space and seeing this incredible Aviator Mickey Mouse Party Dessert Table. We especially love how the ceiling is covered with white and blue balloons made to look like the sky and clouds!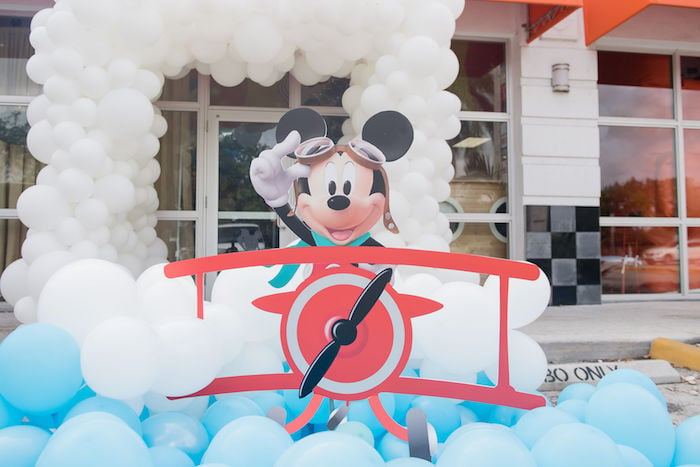 Guests were greeted outside with this awesome Mickey Mouse in an Airplane surrounded by balloons. How cool is that?!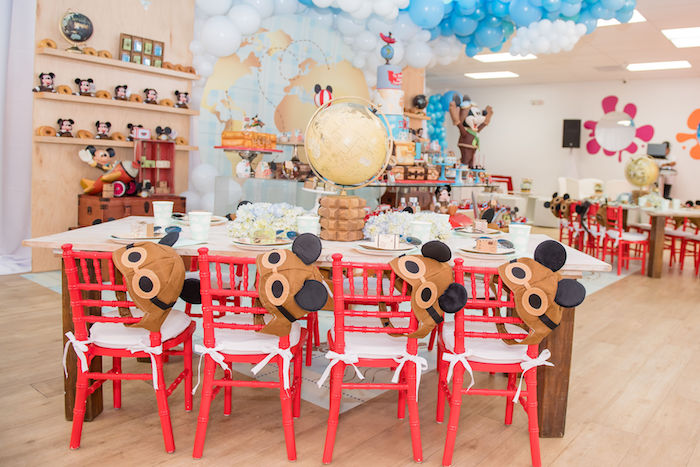 Party tables included aviator Mickey Mouse ears for each child. Table centerpieces were a large globe surrounded by pretty flowers.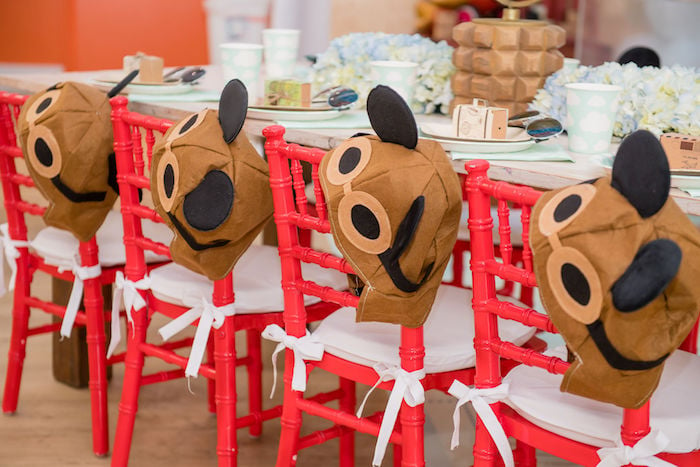 Aviator Mickey Mouse ears were placed on each chair as a surprise gift for the kids.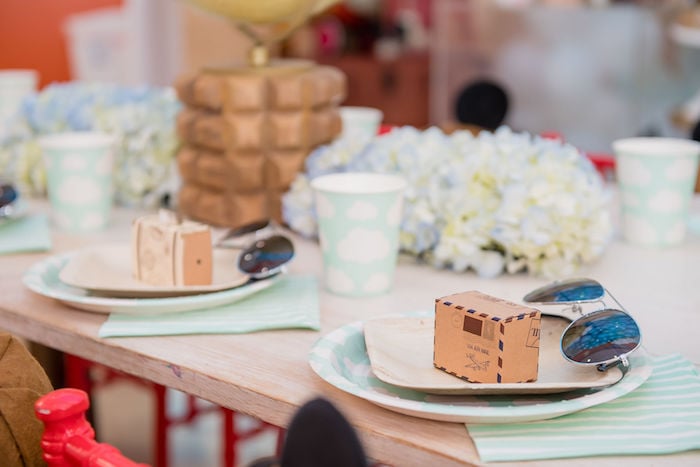 Place settings included aviator sunglasses for each little pilot and either a vintage suitcase or vintage mailer package.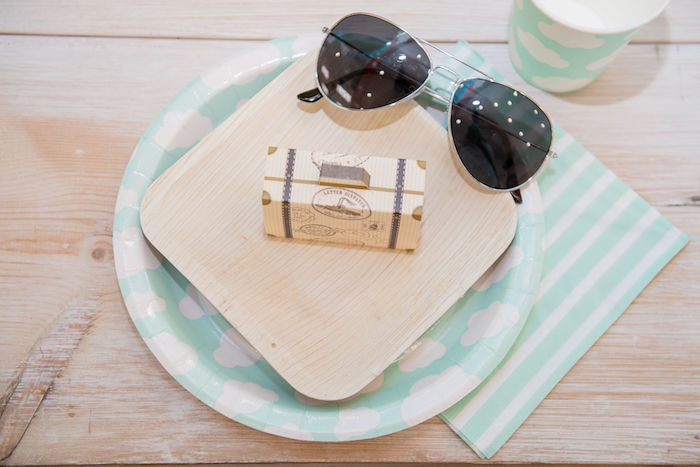 How adorable is the cloud plates and party cups?! They go with the theme perfectly.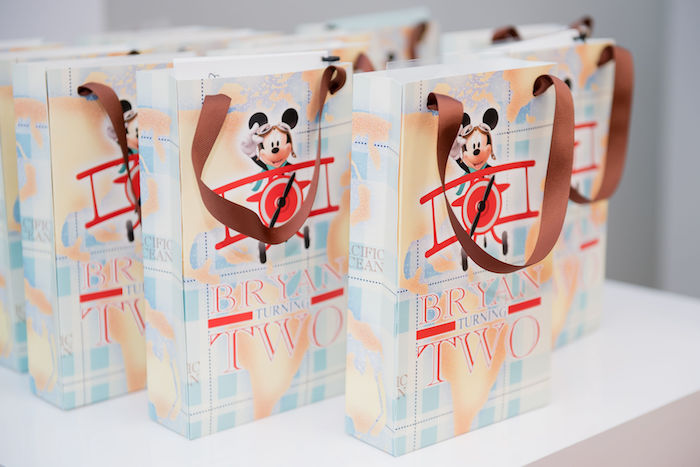 Kids took home these adorable Aviator Mickey Mouse Favor Bags with goodies!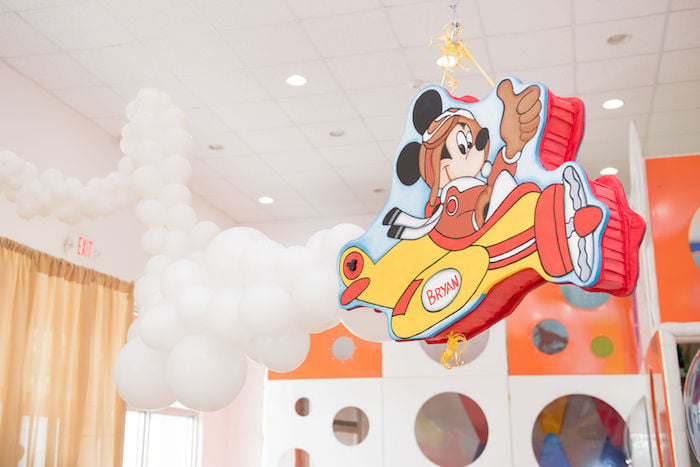 How cool is the Mickey Mouse Airplane Party Decoration flying high above the party?!
Check out that incredible Aviator Mickey Mouse Birthday Cake!!!! Five layers of amazing design work from Divine Delicacies Cakes.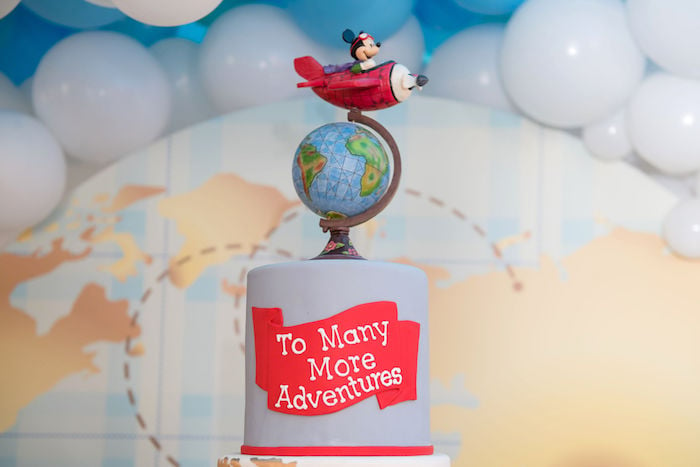 The cute Mickey Mouse Aviator Cake Topper on a globe is the perfect way to complete the incredible birthday cake. We also love the sign on the top layer of the cake that reads "To Many More Adventures!"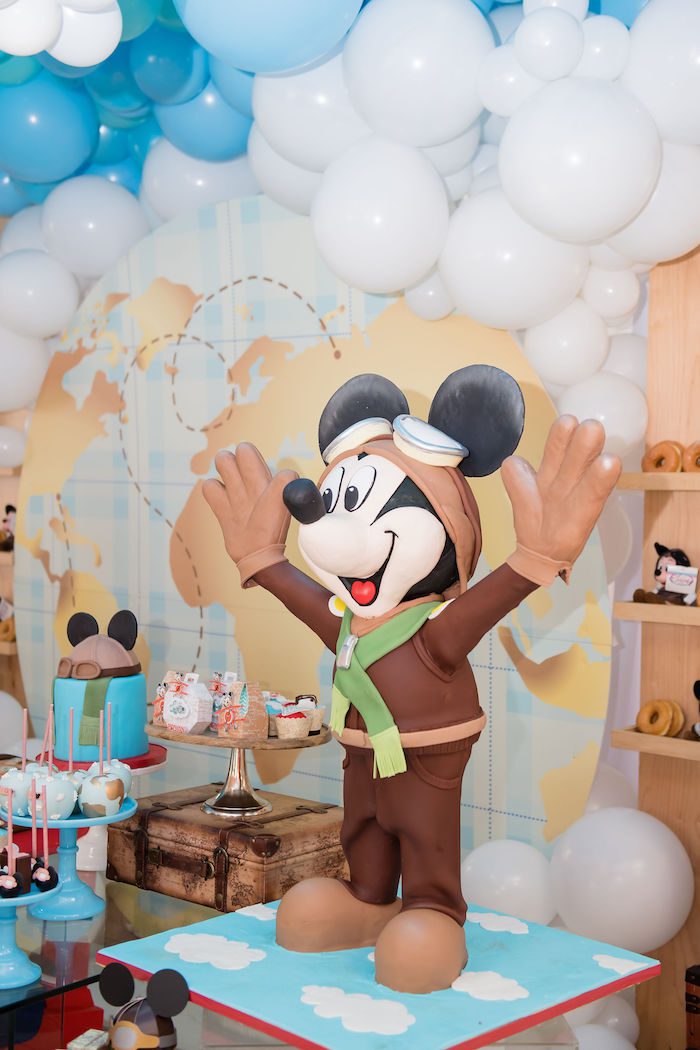 WOW! Aviator Mickey is all smiles surrounded by the amazing dessert spread.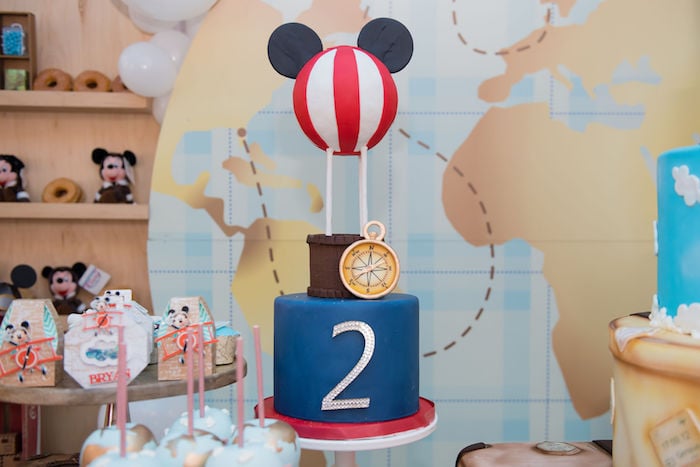 Another awesome cake from Divine Delicacies Cakes was this fabulous Mickey Mouse Hot Air Balloon Cake.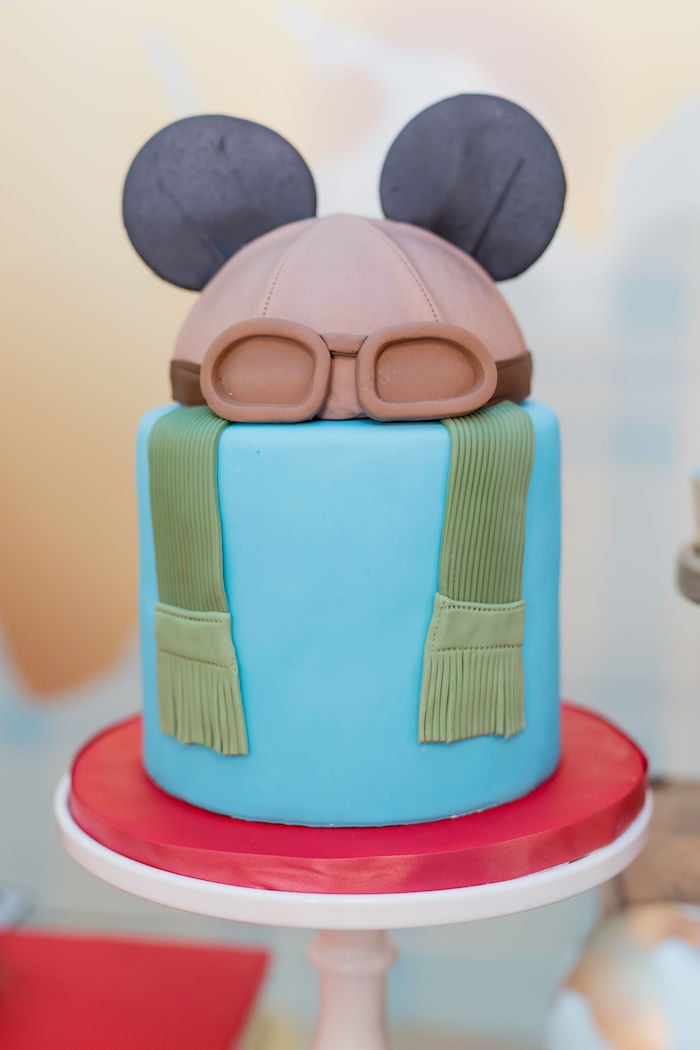 This Aviator Mickey Mouse Cake was another great addition to the cakes and desserts.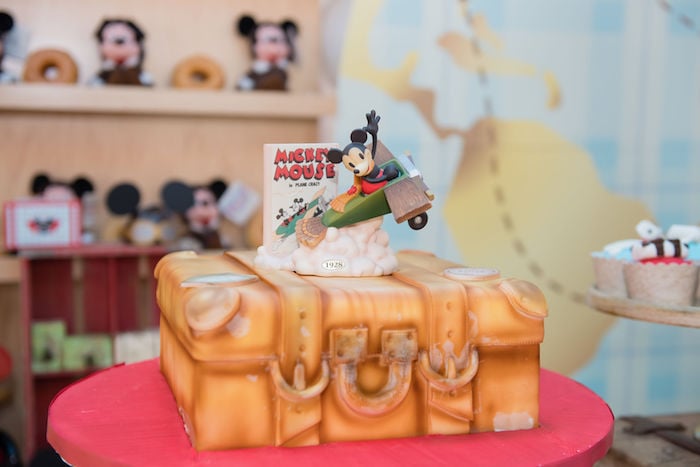 How cool is this Vintage Aviator Mickey Mouse Suitcase Cake?!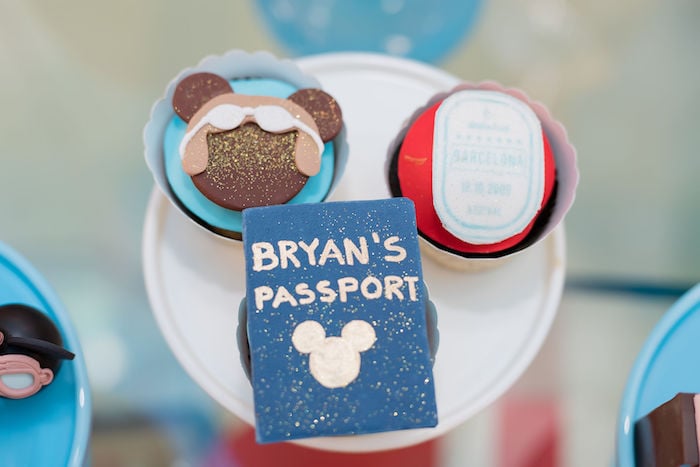 Personalized Aviator Mickey Mouse Desserts included the birthday boy's passport. How creative and clever!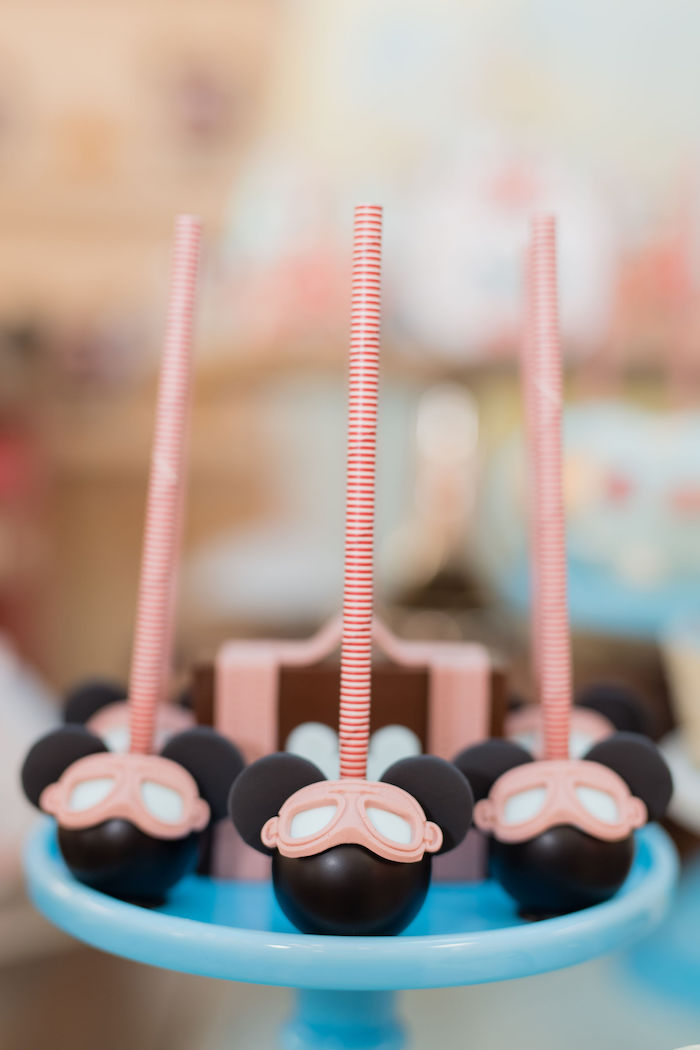 These awesome Aviator Mickey Mouse Cake Pops were definitely a favorite.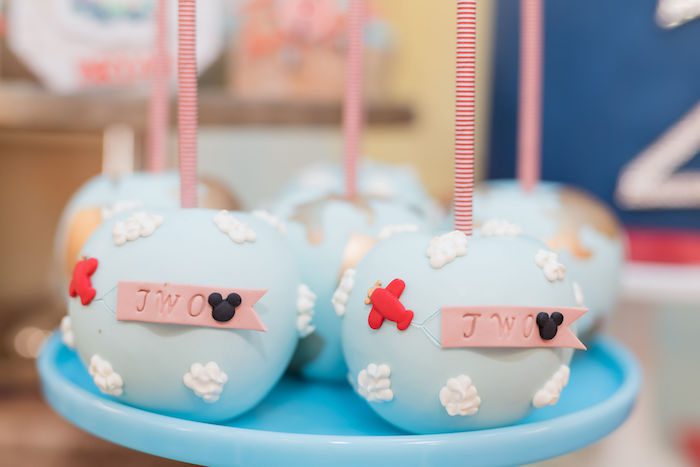 Guests also enjoyed these Mickey Mouse Airplane 2nd birthday apples.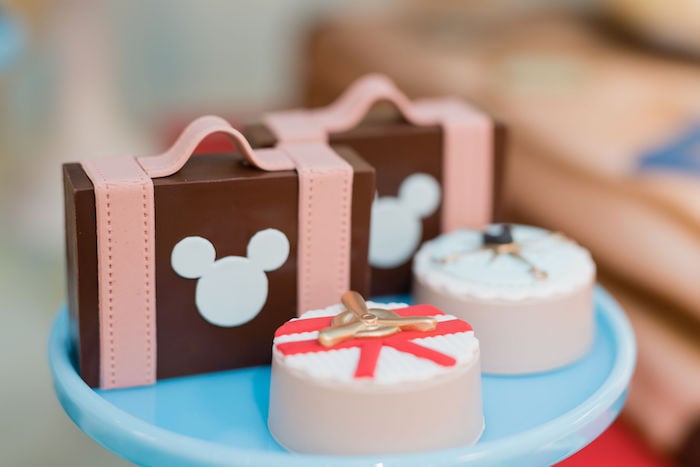 Mickey Mouse and Airplane Chocolate Covered Oreos and Suitcases fit in with the aviator theme perfectly. All of the desserts were incredible!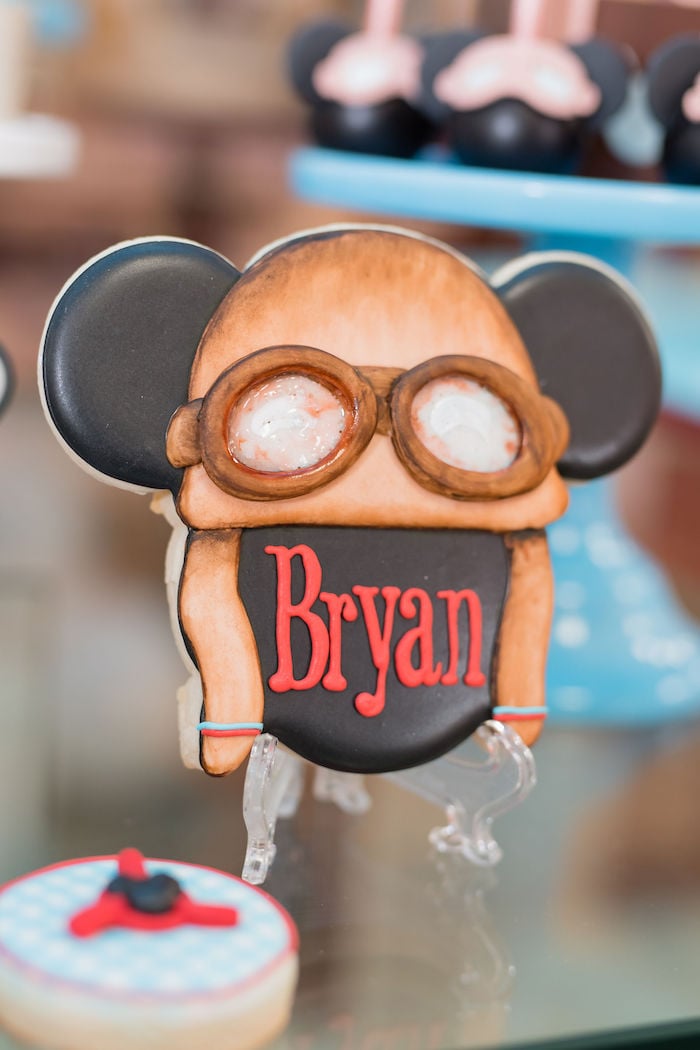 We love this personalized Aviator Mickey Mouse Cookie with the birthday boy's name. How awesome is that?! The cookies were true works of art.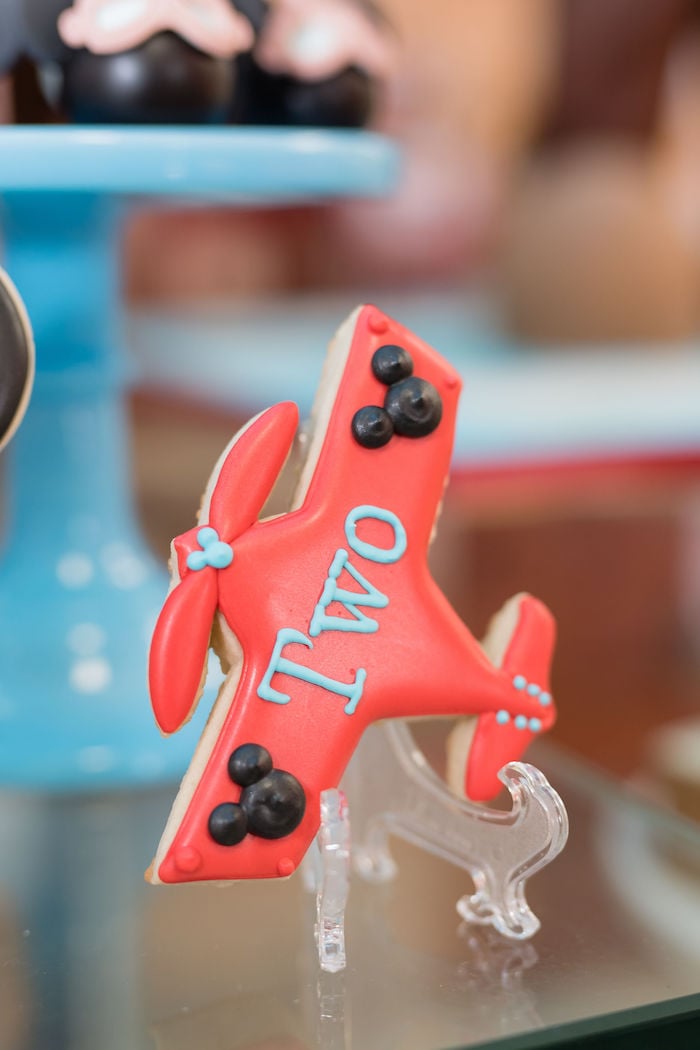 Mickey Airplane Cookies were also among the many desserts at the party for this lucky 2-year-old!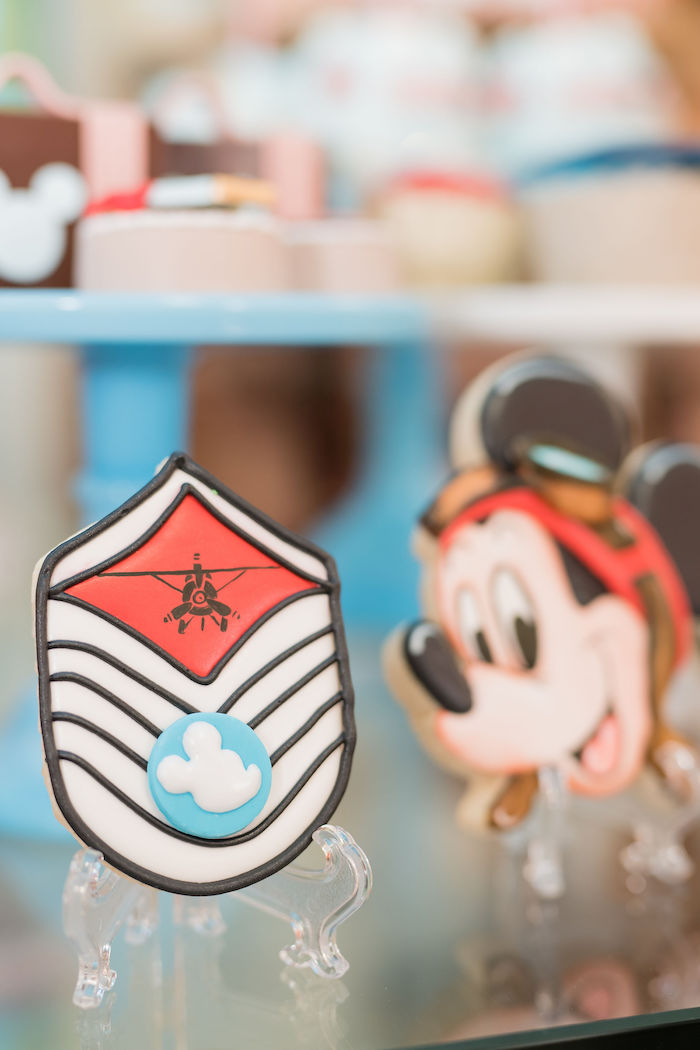 These Mickey Mouse Aviator Cookies were placed individually on their own stands and were definitely not overlooked!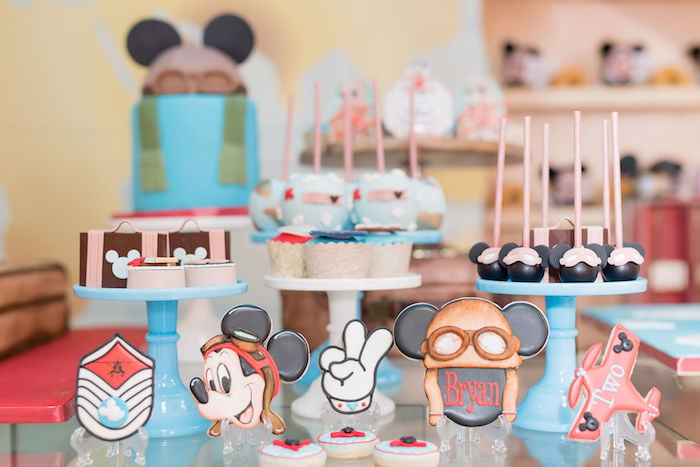 The Mickey Mouse Aviator Party Desserts were all jaw-dropping works of art that looked too perfect to eat!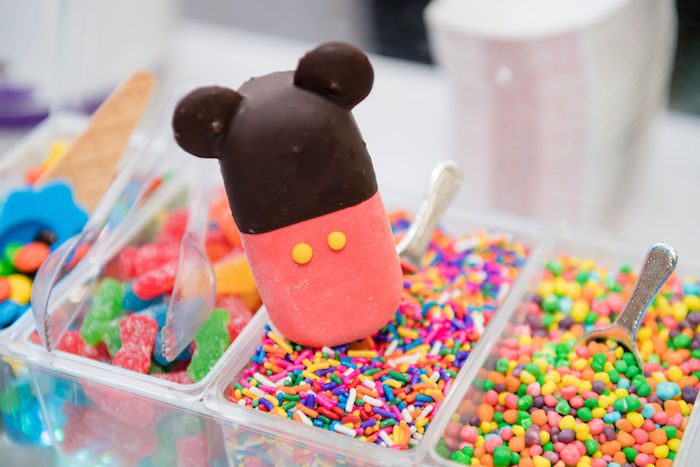 Yum, the lucky guests even got to enjoy Mickey Mouse Ice Cream Pops.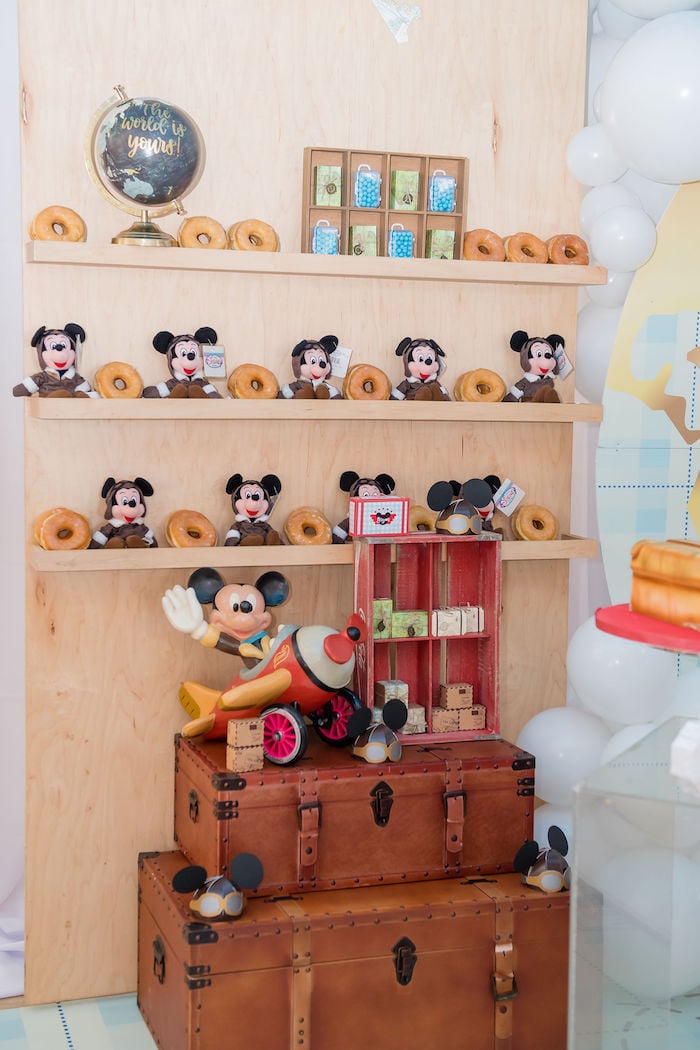 We love the idea of this Aviator Mickey Mouse donut wall! How fun!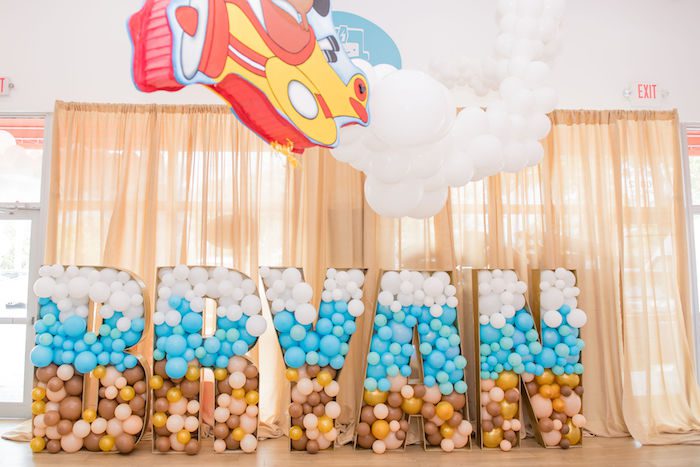 These fun personalized name balloon decorations were eye-catchers. We're sure everyone loved all of the party supplies and decorations at this fun birthday bash!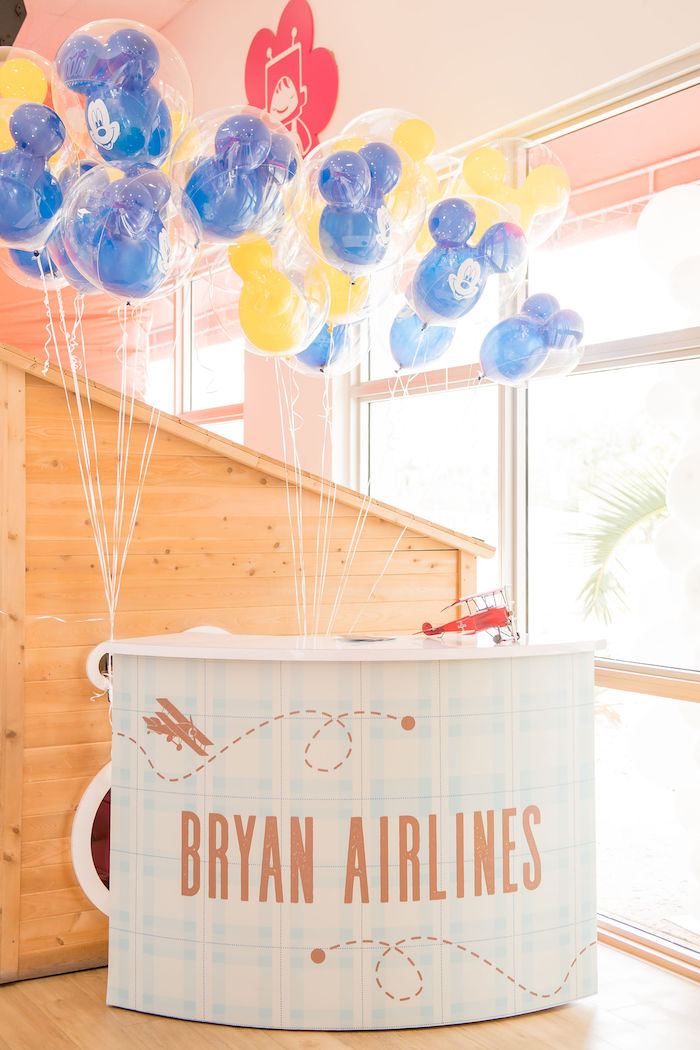 Step right up to Bryan's Airlines for your plane tickets!!! This Personalized Aviator Mickey Mouse Party Decor is one-of-a-kind and the perfect addition to the party!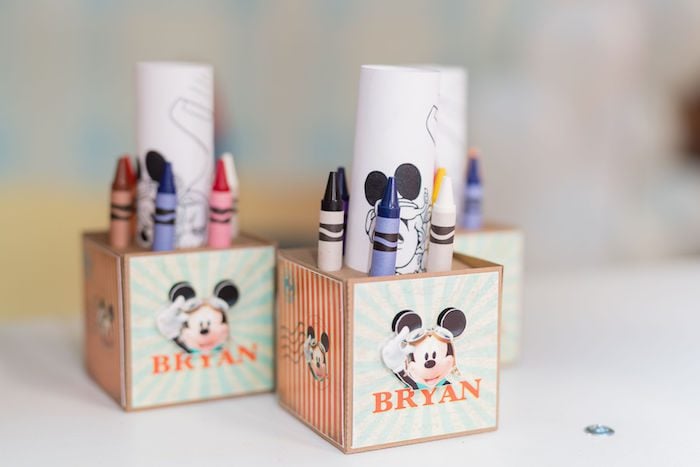 The kids had fun with a Mickey coloring activity.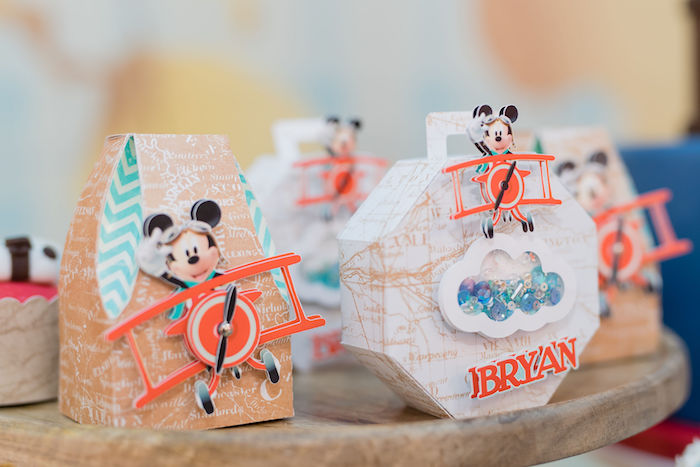 No detail was left out of this incredible Mickey themed party complete with fun airplane decor.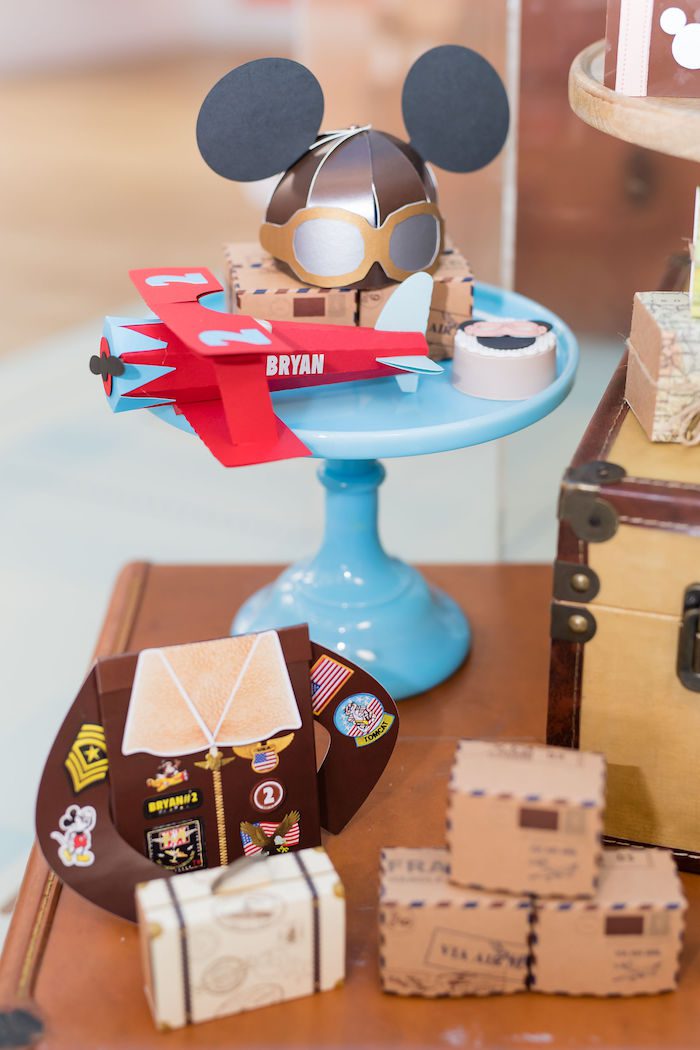 Everyone must have been in awe when they walked into this event space. All of the decorations make you feel like you're in your own little world of Aviator Mickey and Friends!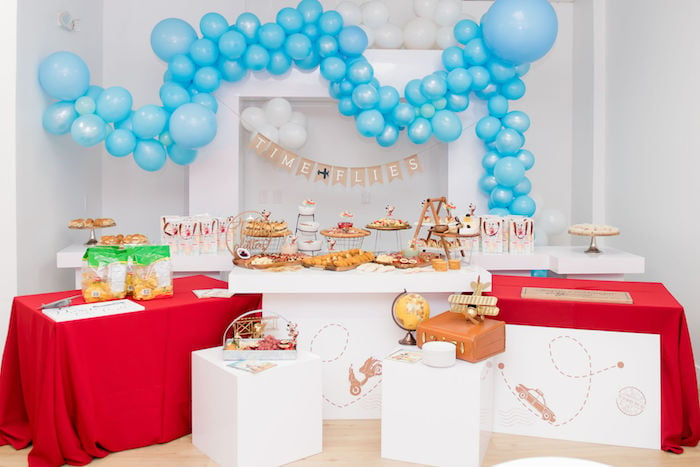 The food table was even all decked out with festive balloons, a Time Flies banner and airplane and travel decorations.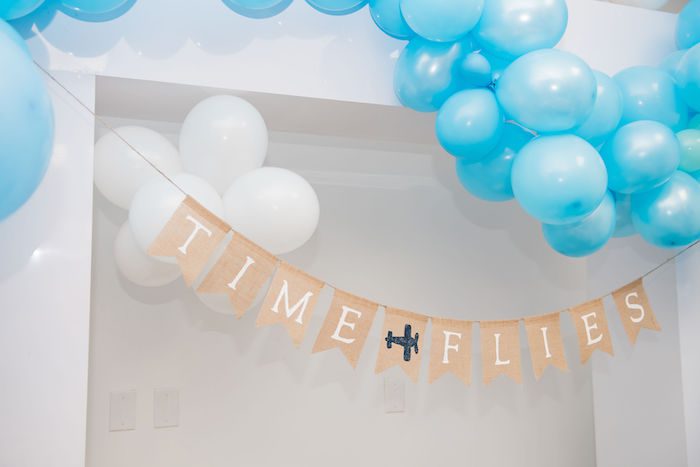 Time sure does fly. I bet these parents can't believe their little boy is already 2 years old!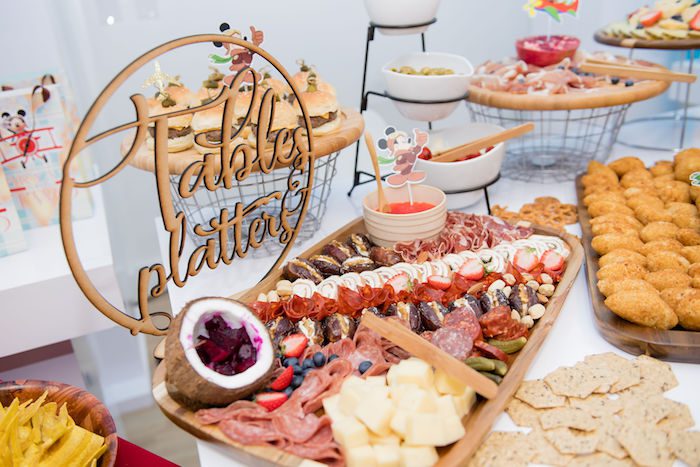 The party food spread was just as incredible as the desserts!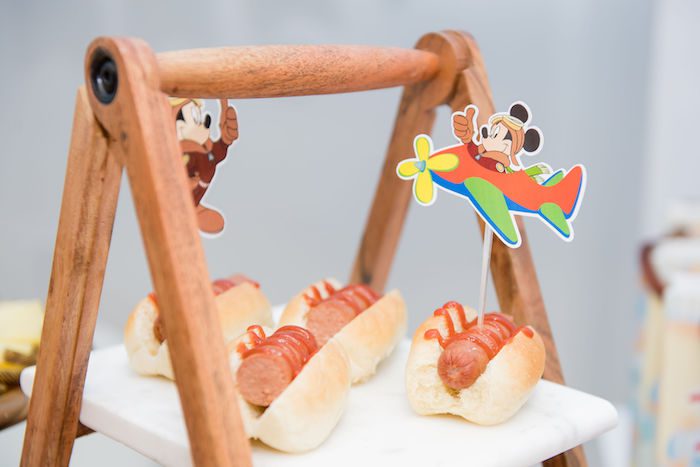 Of course you have to offer Hot Diggity Dogs at your Mickey Aviator Party, right?!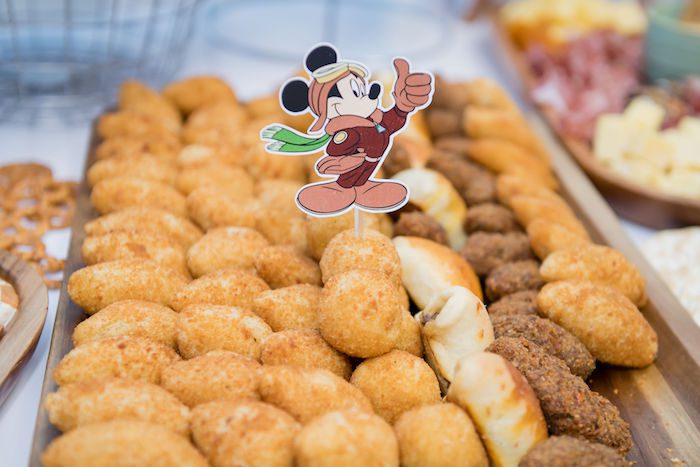 Mickey gives all of the party food a big thumbs up!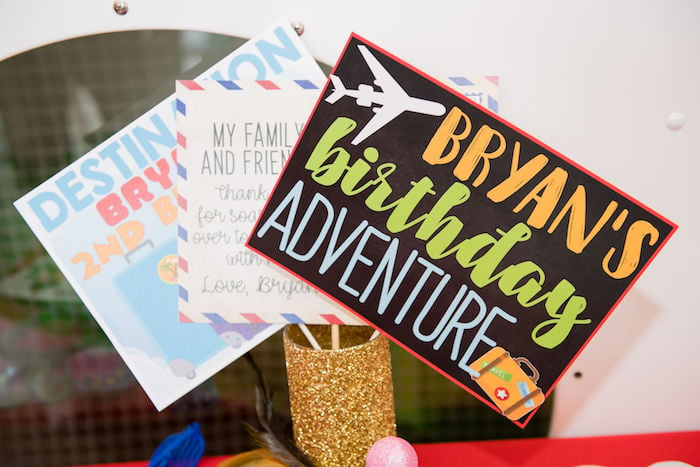 Everyone had a blast at the photo booth with some props and some special friends!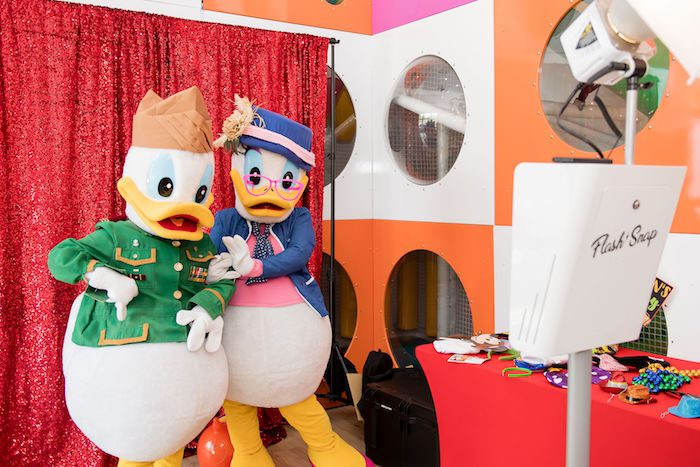 Donald and Daisy Duck were ready for their close ups in the photo booth!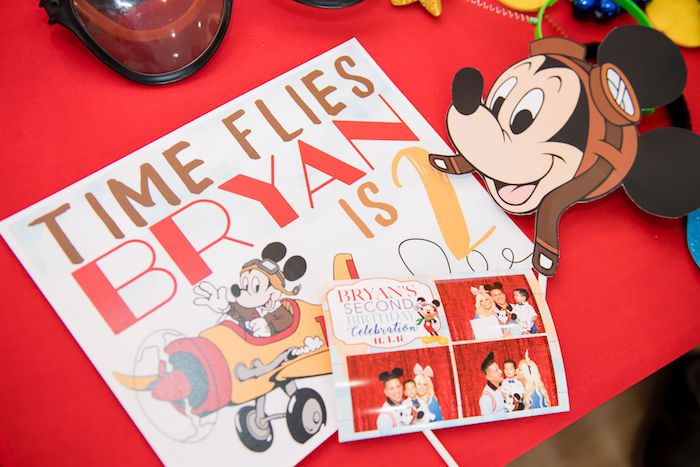 Everyone had their ears on for some photo booth fun!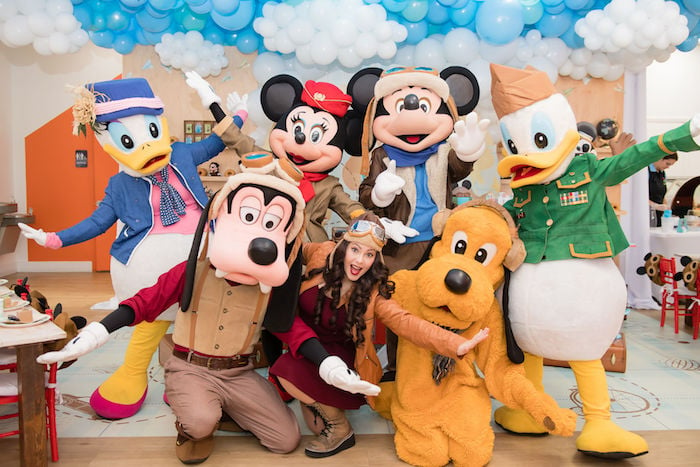 Looks like Mickey and Friends were having an incredible time and we're sure the kids were just as excited!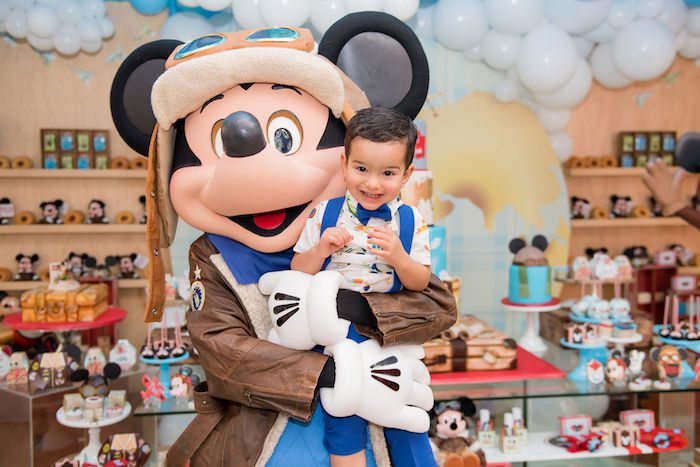 At the end of the day, the birthday boy was all smiles and that's exactly what we like to see. What an incredibly Cool Aviator Mickey Mouse Birthday Party! We're so excited to see what theme his family will come up with for his third birthday party!
What's your favorite details in this Cool Aviator Mickey Mouse Birthday Party? Let us know in the comments below!
For more ideas, follow us on Instagram @prettymyparty and Pinterest and join us in our private Facebook group.
Party Vendors
Event Planning and Styling: One Inspired Party
Decor: Bambini Soiree
Photography: Christy and Co Photo
Balloons: Balloons by Luz Paz
Entrance sign: Elf's Prop Shop
Cakes: Divine Delicacies Cakes
Sweets: Baked with Love_
Packaging: Galletitas Packaging & Elimelin