Magical Pastel Unicorn Party
There's noting better than a Magical Pastel Unicorn Party, especially to celebrate a first birthday!
First birthday parties are a big deal, so it's only fitting to celebrate with a magical unicorn birthday party! Creative Touch by Johanny pulled out all the stops to make sure this little girl had the most amazing unicorn themed party! With a pastel color palette and adorable unicorn party decorations, this event is definitely one to remember!
It's the little details that make the biggest impact and we love every detail in this party! Some of our favorite details include the two-tiered unicorn cake, party favors, cake pops and cookies! Oh and we can't forget about the awesome balloon garland!
What's great about the unicorn theme is that it's perfect for any age and there are a ton of pretty unicorn party supplies too! See some of our favorite party decorations below! You can do a rainbow unicorn party, a pastel unicorn party like this one, or a glitz and glam party with lots of sparkle! No matter what style you incorporate into your unicorn theme, we know it will be fabulous! Just get some inspiration from this amazing party and add in some fun unicorn desserts, a vintage color table and a fabulous balloon garland!
Learn How To Make DIY Unicorn Party Favors
Shop these Unicorn Party Supplies: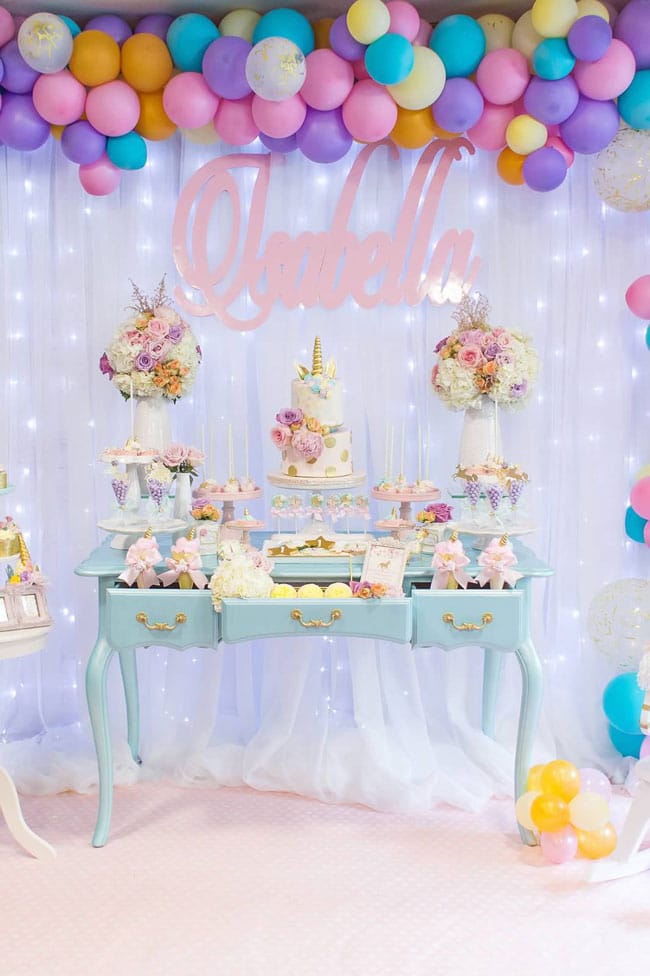 Creative Touch by Johanny did a fabulous job making this theme come to life. Just look at that amazing set-up for the fun dessert table! And that vintage blue table … PERFECT!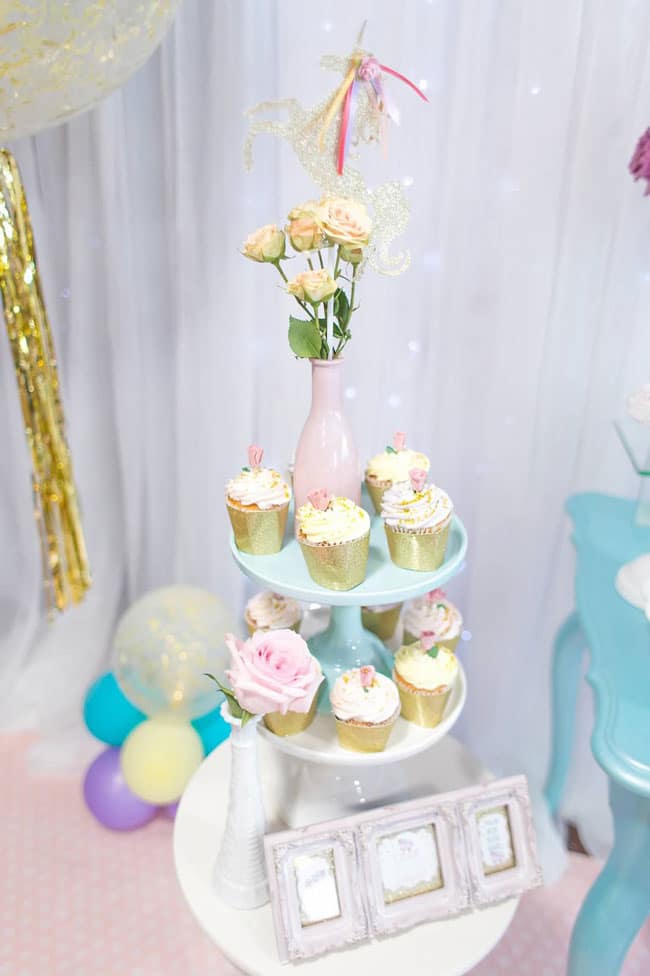 Where do we even begin with the rest of the gorgeous details on the sweets table for this Magical Pastel Unicorn Party?!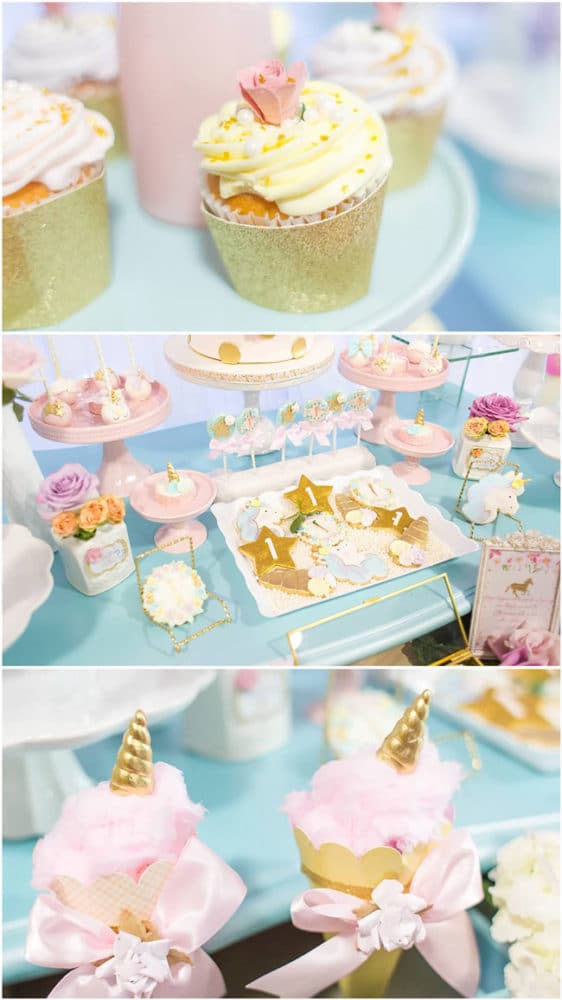 Party guests enjoyed an array of desserts, including pink cotton candy unicorn cones, cupcakes with pink flowers, and more! The cookies were works of art and were an eye-catcher with gold glitter details. Your sweet tooth was definitely satisfied at this birthday party!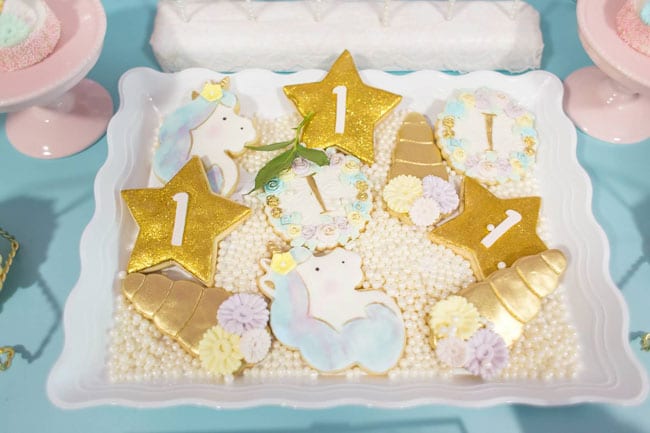 We are loving these Unicorn Party Ideas:
Amazing unicorn birthday cake

Cotton candy filled "unicorn cones"

Gorgeous sheer backdrop with lights

Unicorn themed cookies and cake pops

An over-the-top, fun pastel balloon banner

Gorgeous colorful flower arrangements

Customized name sign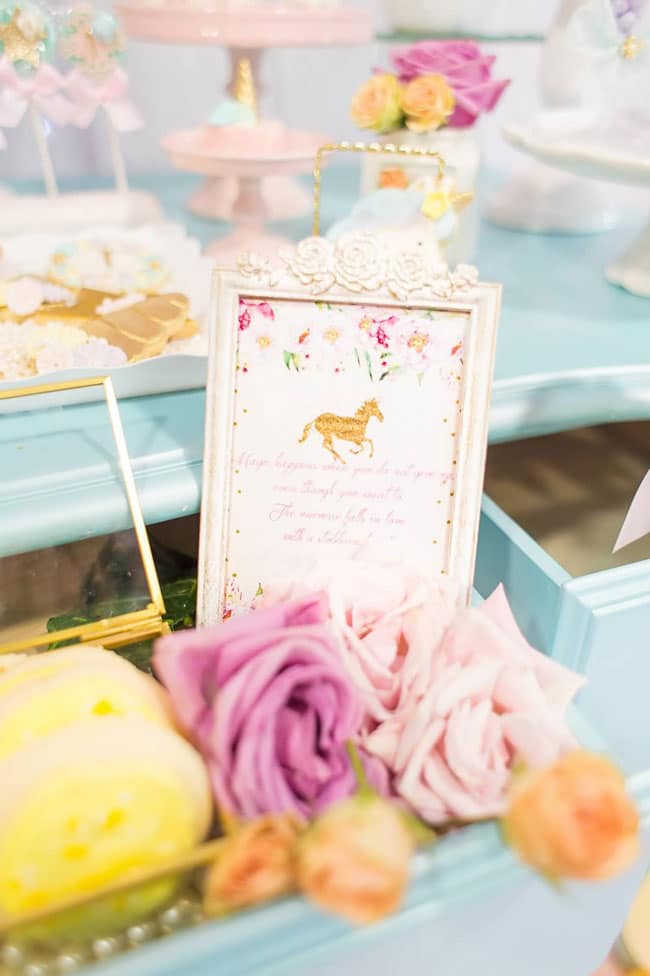 Unicorn party signs could also be seen as part of the party decor. Glitter, lights and gorgeous flowers filled the room and set the tone for this magical celebration!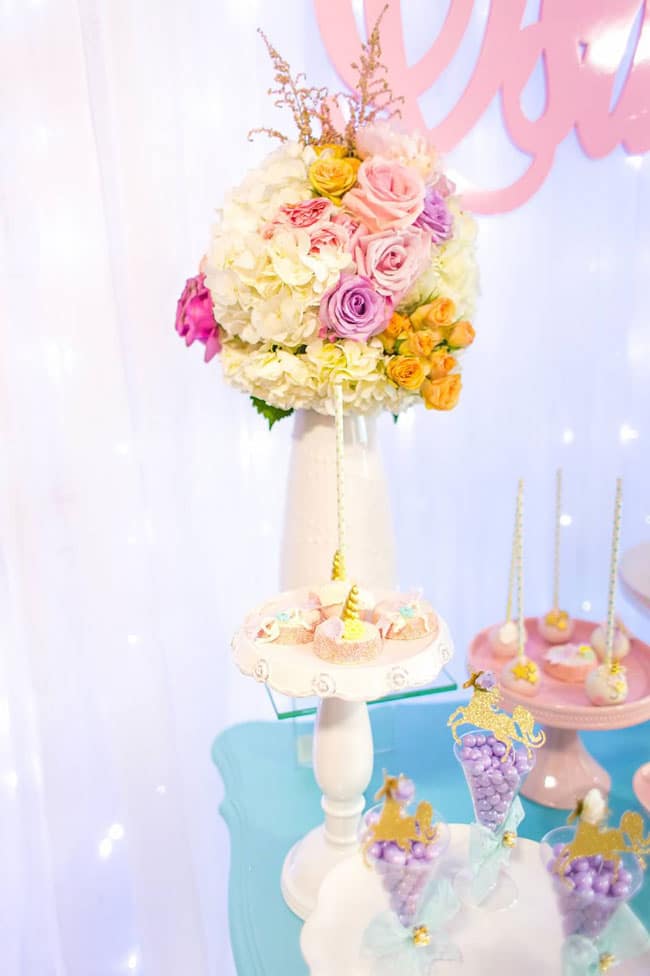 The beautiful flower arrangements were by InspirationZ. The pretty pastel colors paired with the gold, glitter and glam of this event all worked so well together to create a whimsical fun atmosphere.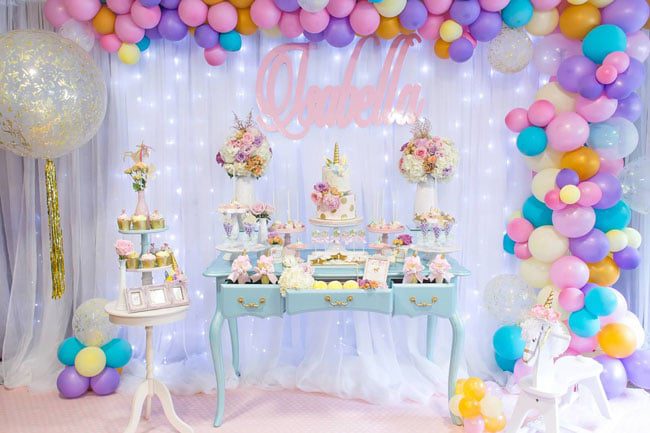 Who else is obsessed with the gorgeous blue vintage table?! Anytime you can add a cool table with a pop of color go for it!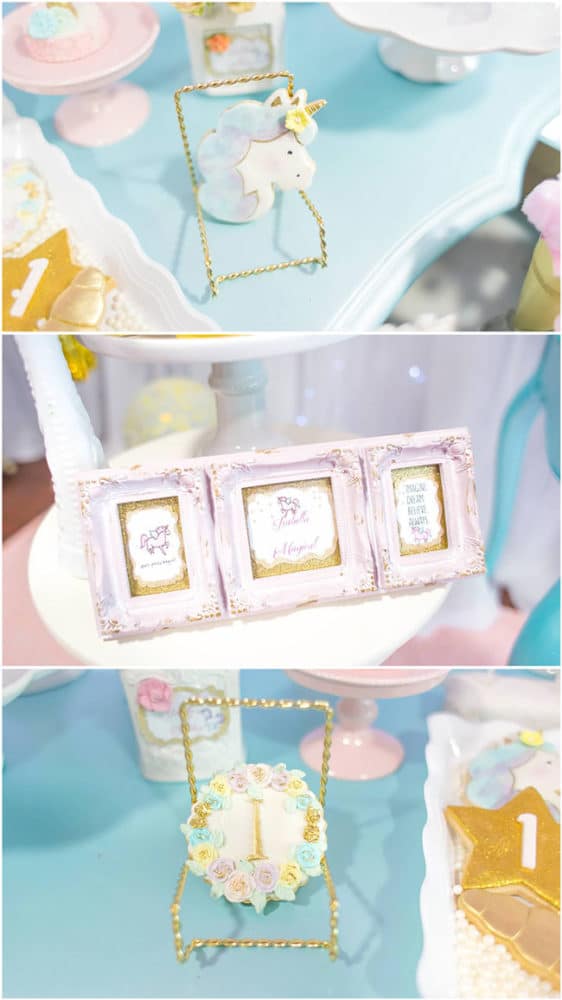 We love how the dessert platters were filled with white candies. It's all about presentation when it comes to the sweets table! And the cookies looked to perfect to eat!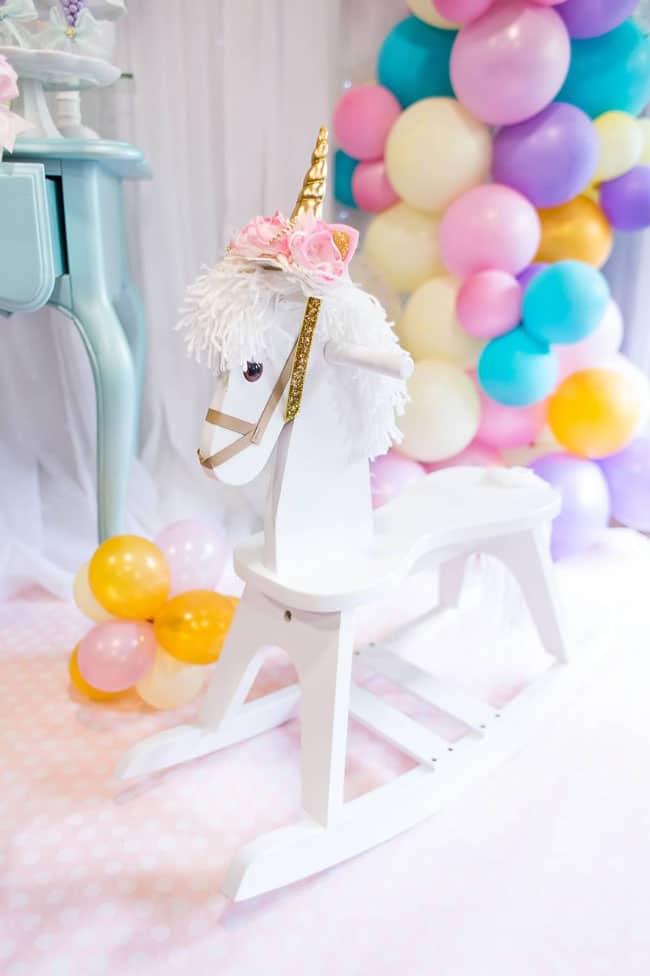 How perfect is this unicorn rocker?! What a great decor element for the party and a fun toy for the birthday girl!
Look at this amazing cake! La Cuchara Dulcetta couldn't have done a better job incorporating the theme into the cake. We love the gold polka dots on the bottom layer and the watercolor effect on the top layer. The flowers and unicorn topper complete the amazing design. What a fabulous birthday cake for this Magical Pastel Unicorn Party theme!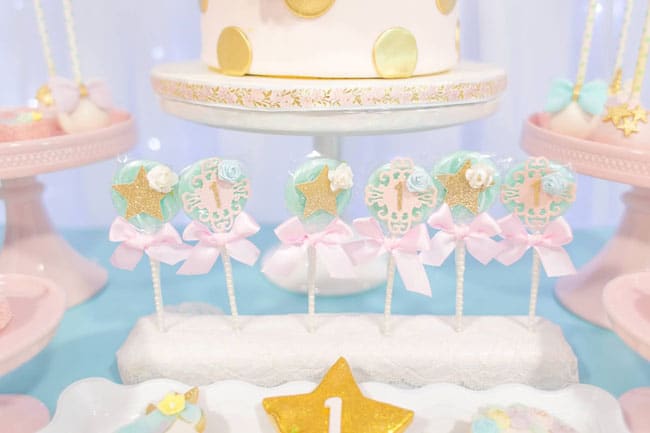 As you can see, the details don't stop there. Lollipops were perfectly placed in front of the cake and were adorned with gold glitter ones, stars and flowers.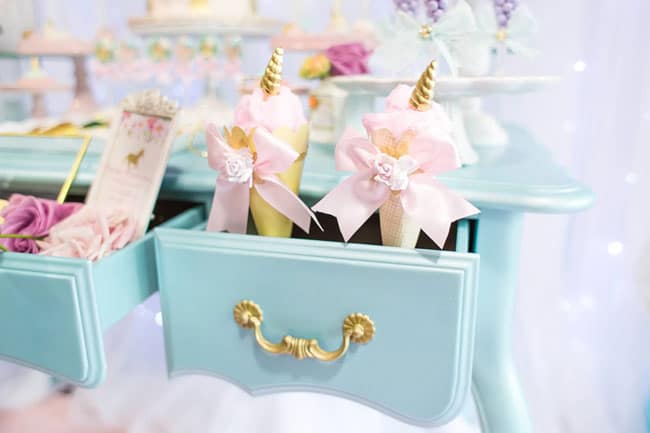 How adorable are those cake pops and the cotton candy filled "unicorns"?! We just can't get enough of these fabulous desserts!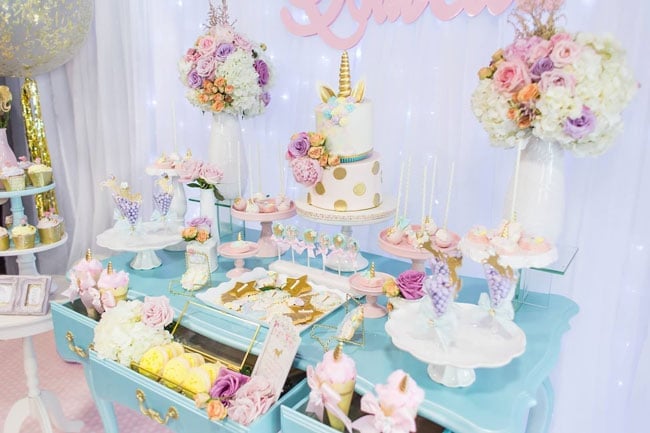 We also love how purple candy filled glasses and were topped with nine other than gold glitter unicorns!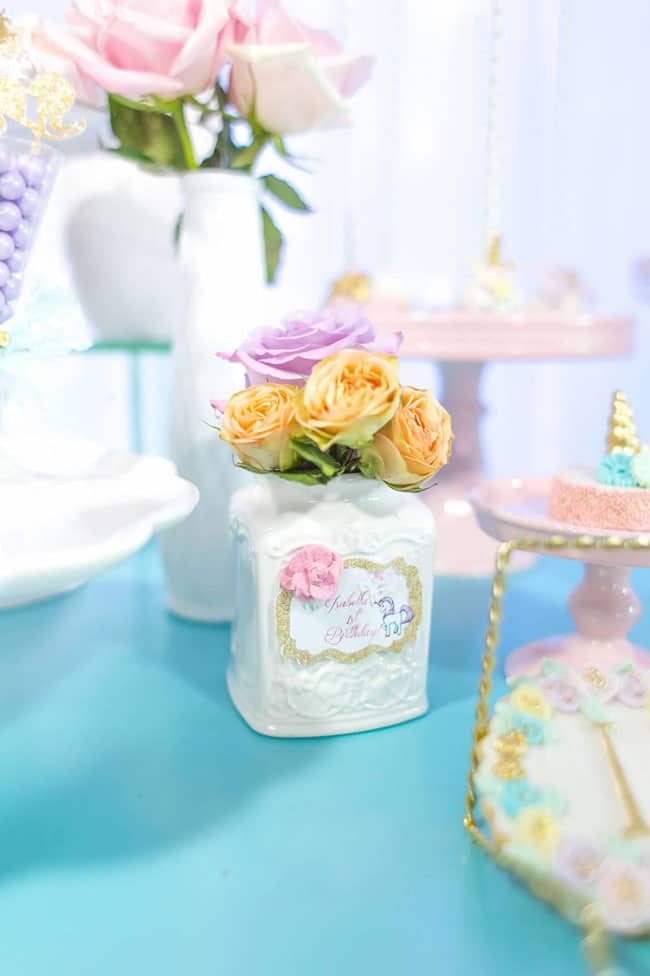 Party favors were wrapped up in pretty little polka dot boxes with a tag that read Isabella's 1st birthday. The box was also adorned with a pretty bow and a gold glitter unicorn.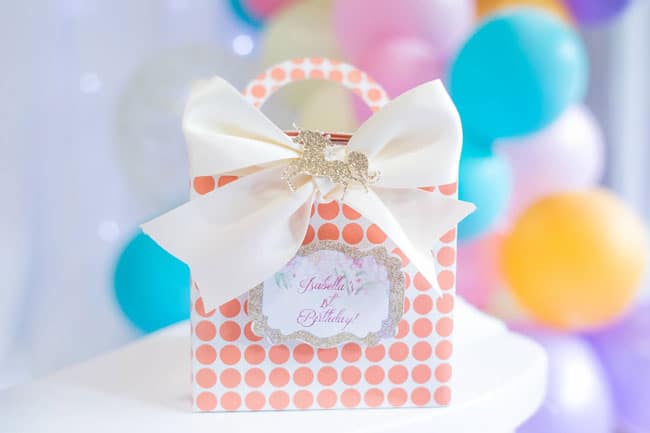 This party couldn't have been a more perfect celebration for a sweet little girl. Who wouldn't want to be surrounded by beautiful colors and unicorns? It's like something out of a magical fairytale. What's your favorite details in this Magical Pastel Unicorn Party? Let us know in the comments below!
SaveSave
SaveSave
SaveSave
SaveSave
SaveSave
SaveSaveSaveSaveSaveSave
SaveSave
SaveSave