Farm to Table 60th Wedding Anniversary
Anniversaries are a special day, but nothing comes close to this Farm to Table 60th Wedding Anniversary celebration!
See just how sweet summer love can be! We love the fresh vibe of this great anniversary party and can't get enough of the delicious looking fruit and veggies that are the stars of this great event. A Farm to Table 60th Wedding Anniversary was the perfect way to celebrate this huge milestone for this adorable couple!
So often, we see great designs for couples at the very start of their journey together – on the happiest day of their lives – their wedding day! But what happens next? Leila and Floyd are a real-life example of lasting love … 60 years later and they've still got the flirts to prove it! We love the idea of a fun anniversary party to celebrate such a special moment.
Shop These Farm To Table Wedding Anniversary Party Ideas: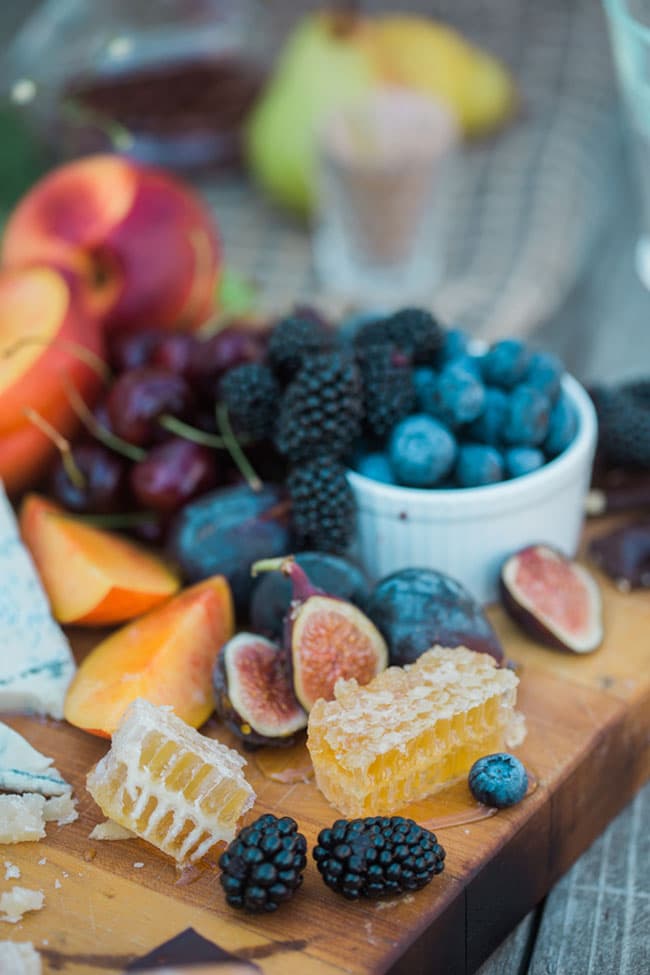 Our favorite Farm to Table 60th Wedding Anniversary ideas:
Delicious and delectable fresh fruit and chicken
Vintage plates for the tablescape
Bountiful flowers from the farm to the table
Heart-shaped hand pies made by the couple's granddaughter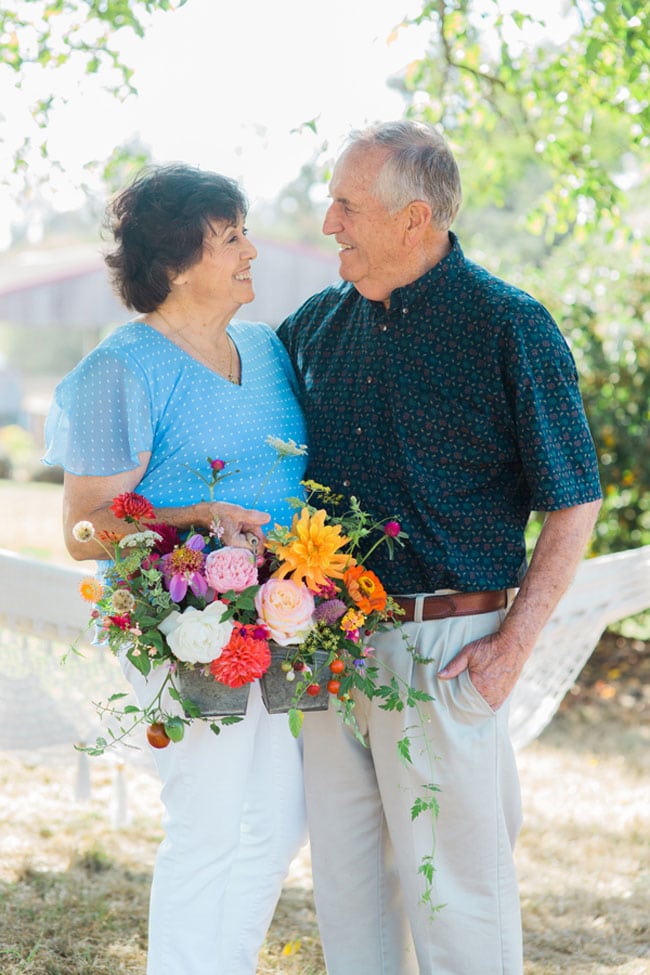 Leila and Floyd met in a small town in the Midwest and quickly fell head over heels for one another. Floyd served as a medic in the army, and their family and travels brought them to Sonoma County, California nearly 40 years ago. They've spent the years since then in the same home, raising their kids and enjoying their grandkids, surrounded by fruit trees, flowers and a lifetime of love. Why wouldn't their loved ones want to throw them a special wedding anniversary party to celebrate this special love?!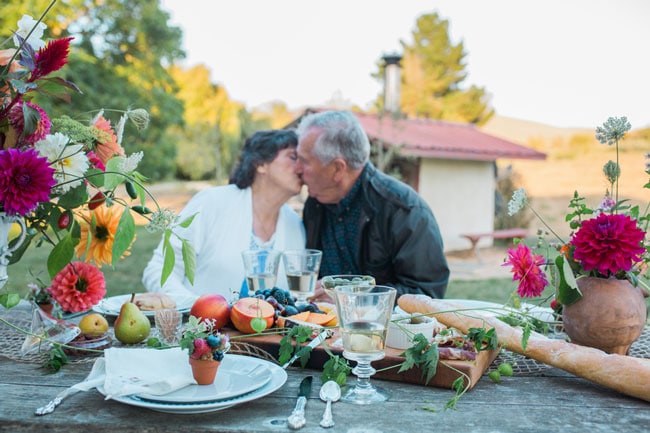 Leila's sweet smile and warmth, Floyd's quick wit and twinkly eyes, and their mutual heart for loving others well is truly infectious. Theirs is the type of home where you can never leave empty-handed and where you always want to return. A farm to table event, styled by Emelina, was the perfect way to bring their coziness and welcoming demeanor together!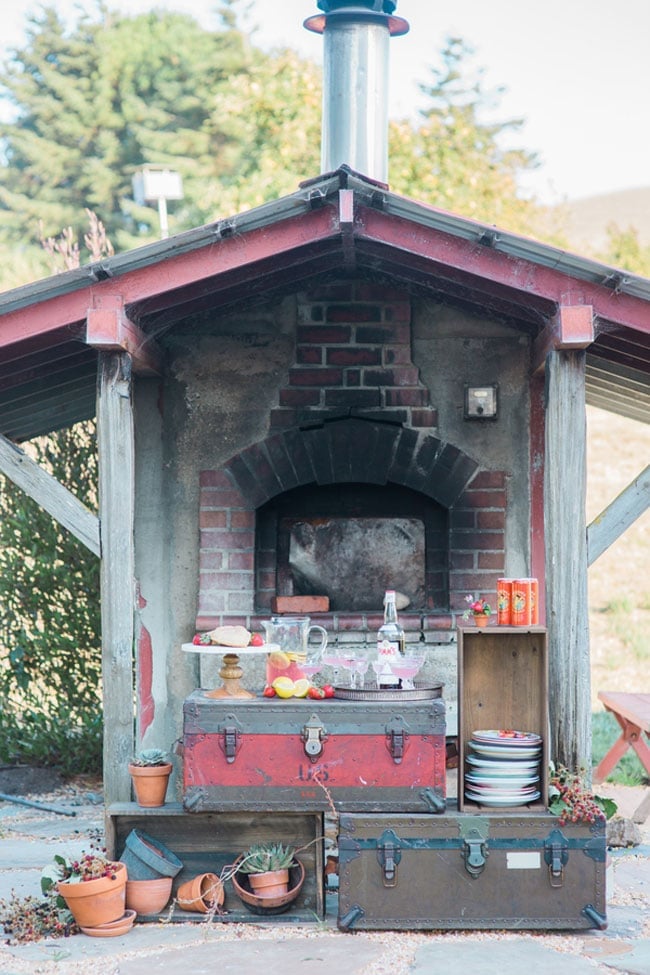 The picturesque Olympias Valley Estate was the perfect location for their casual picnic anniversary celebration. Everything was truly perfect for a farm to table event like this!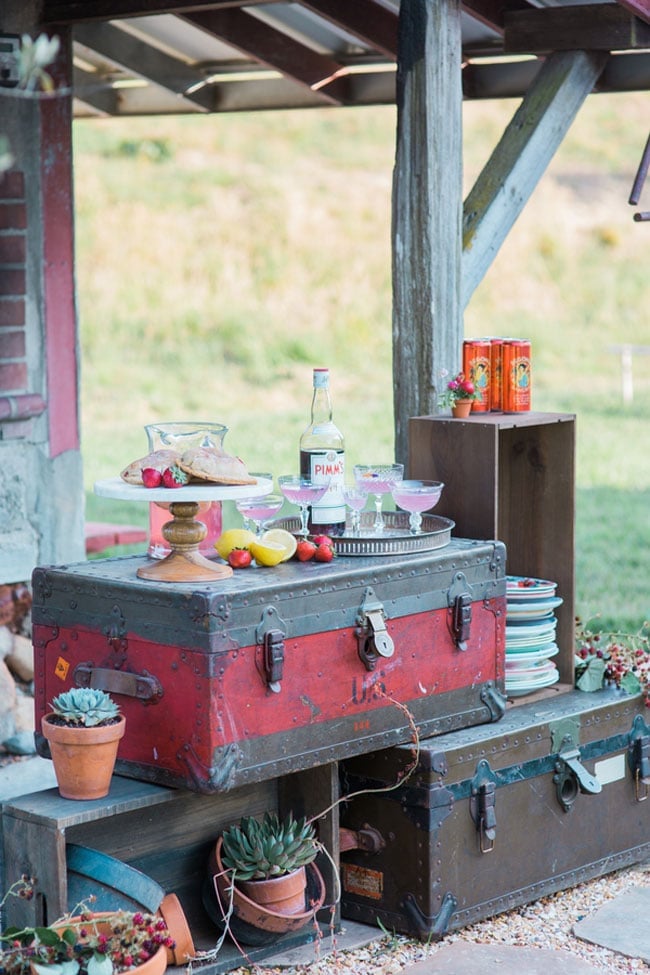 Rustic decor was found at this anniversary party, where old trunks and crates were used as a tablescape for the drinks and sandwiches. Simple yet elegant!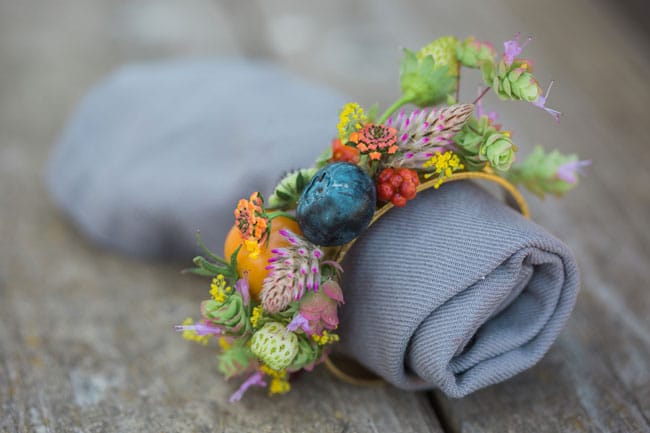 Farm to table details were found throughout this anniversary party, such as here, in the napkin ring holders! What incredible detail for something so many would overlook. We just love this!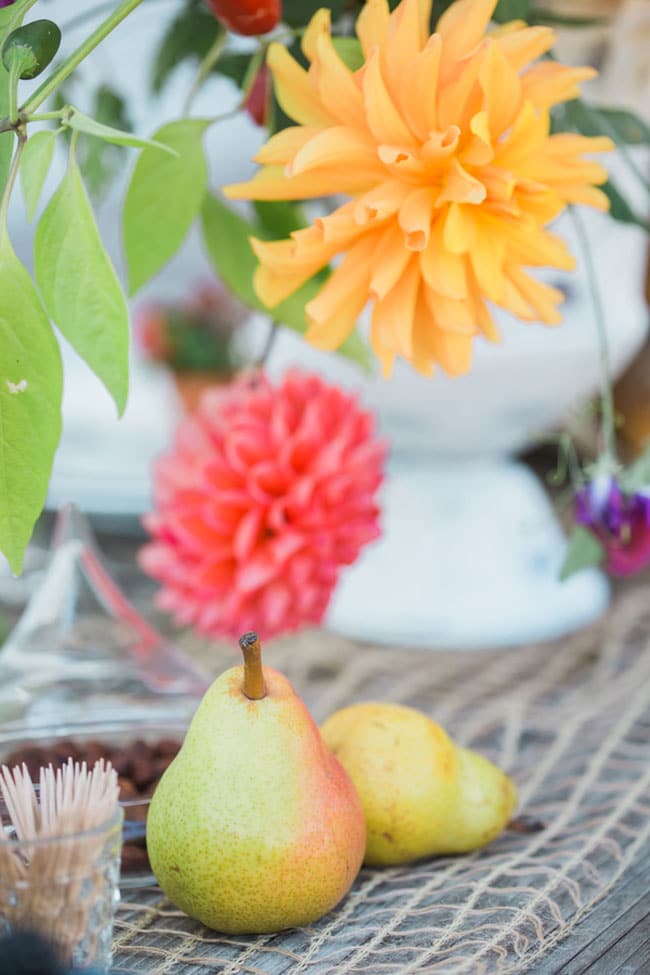 How could a farm to table event not showcase the real stars of the anniversary event, the fruit and vegetables?! We love the table settings with fresh fruit around the table.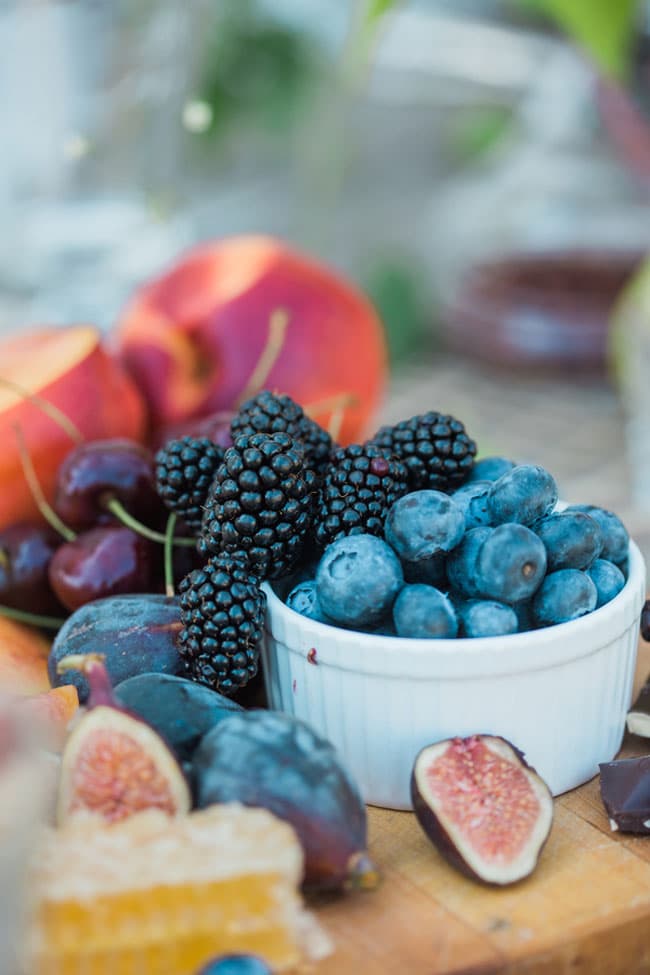 What a beautifully styled anniversary celebration with fresh produce found everywhere. The farm to table event also featured dripping honeycomb across the best of summer's bounty.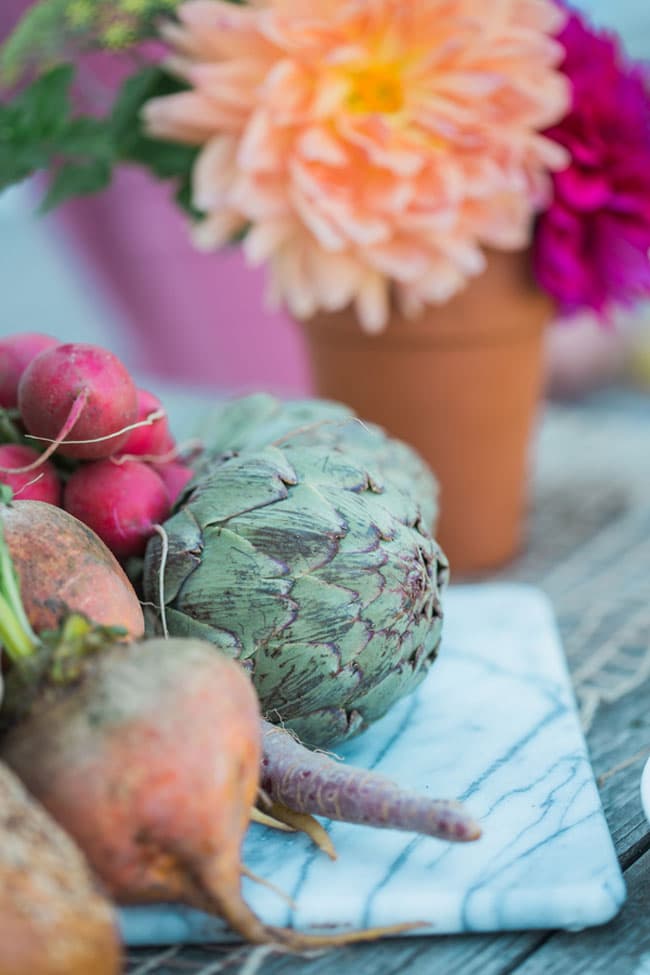 Stephanie Hopkins Photography captured every little detail in the most perfect way! We love how the farm to table vibe came shining through in these detailed fruit and vegetable pictures. Everything is so fresh and colorful for a special anniversary celebration!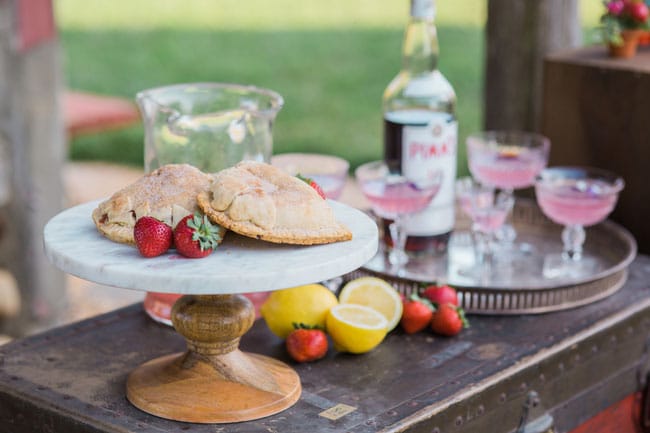 Whimsical features were found throughout the farm to table anniversary celebration. Vintage items were used as serving trays and tables. So creative!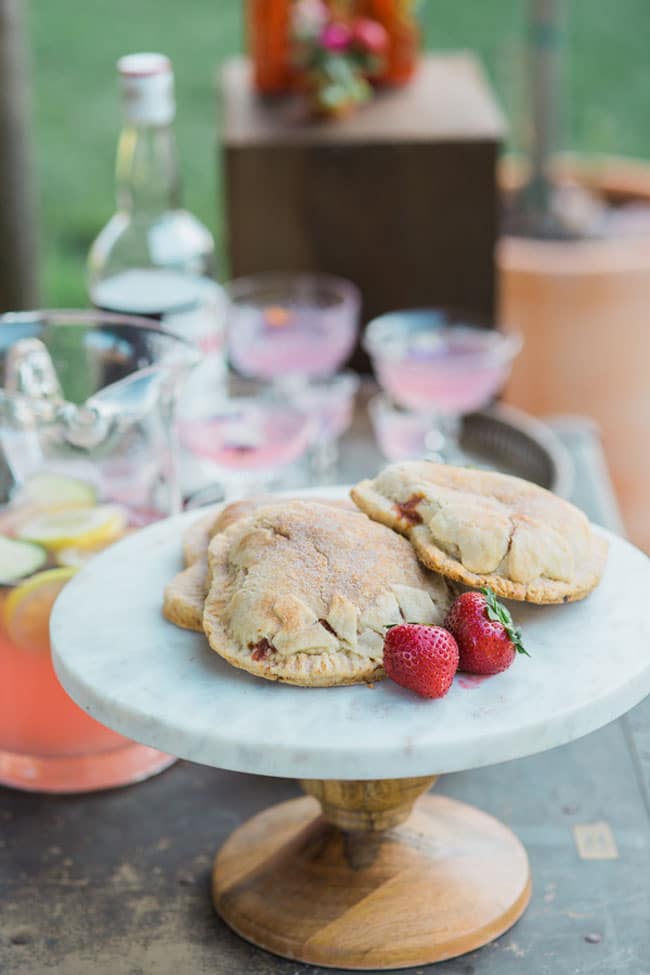 The anniversary was simple and low-key, yet classic, just like this happy couple. We love the understated features that make all of the farm to table produce and sweet pies the real winners.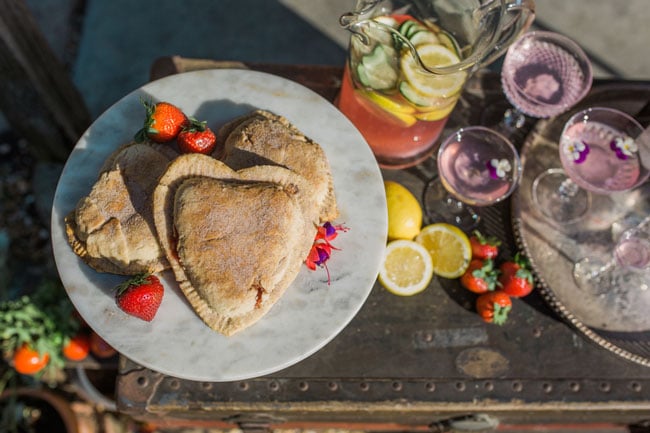 The heart-shaped hand pies were baked with love by the couple's granddaughter, Hollie of Beloved Bakery. Her pastry business specializes in organic and naturally flavored desserts for weddings and events, which was the perfect vendor for this farm to table event!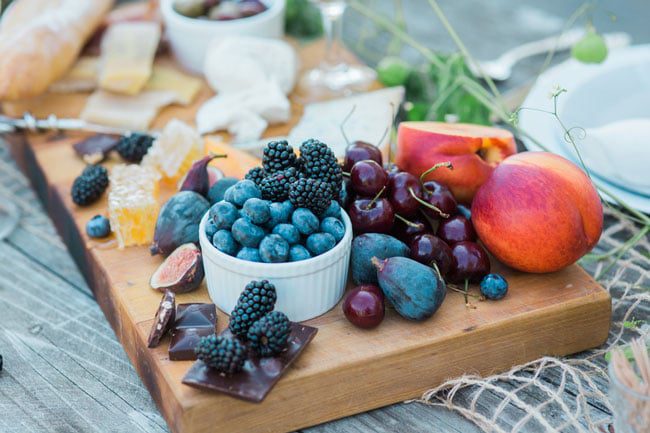 Countryside features are found throughout this anniversary party, such as the produce board that was available for grazing. All of the farm to table menu items highlighted this couple's love of farm fresh produce, as well as their love for each other!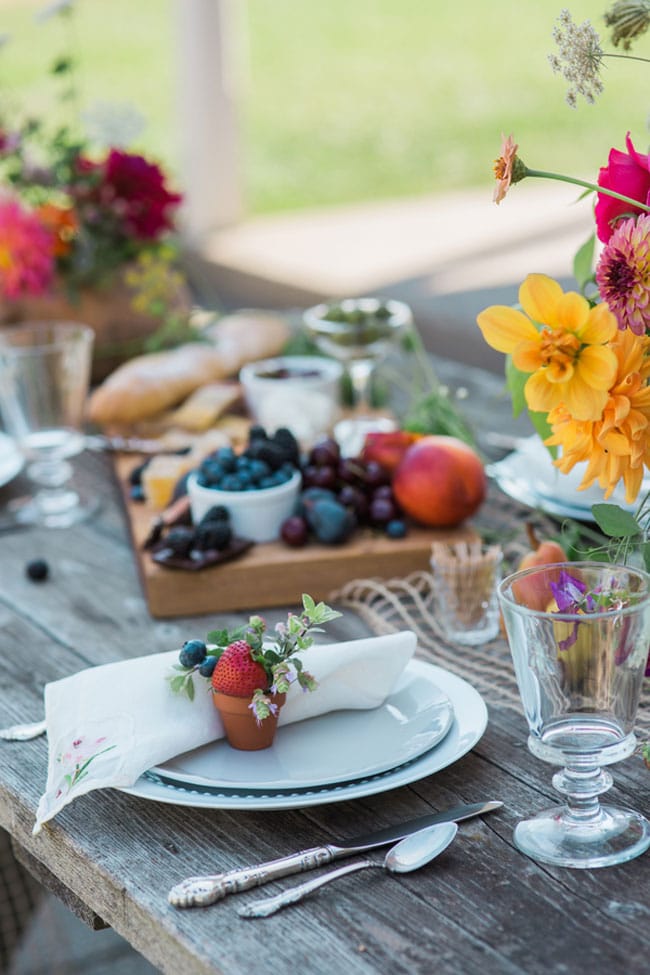 Table settings were elegant, yet classic, with simple picnic tables holding the guests. We love the simple china and the hand-embroidered napkins that were used at the farm to table anniversary event. Such a classy touch among the fresh fruit and dazzling flower displays.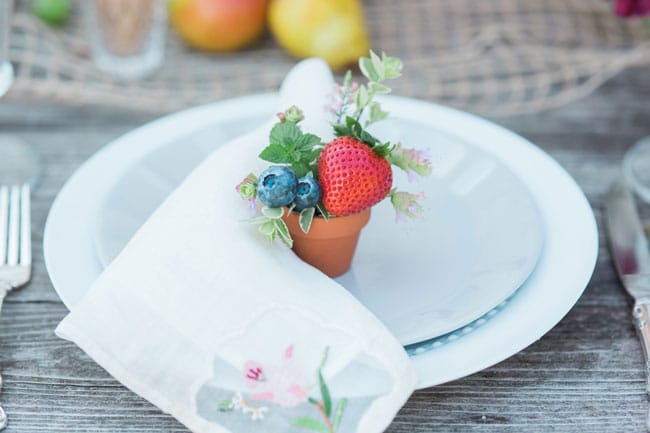 We are absolutely in love with this great place setting at the anniversary party, featuring farm to table produce in sweet terra-cotta plant holders. What a great way to emphasize the farm to table theme, while staying simple!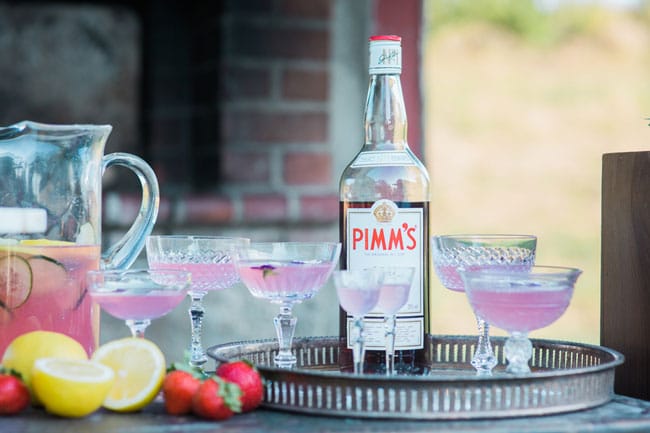 Delicious pink lemonade was found at this farm to table event. What a great way to celebrate an anniversary in the middle of the summer. Refreshing, yet quenches the thirst on a hot summer day!
We love the floating flower petals that were found in the drinks at the farm to table anniversary event. Every detail was thought of and nothing was left to chance!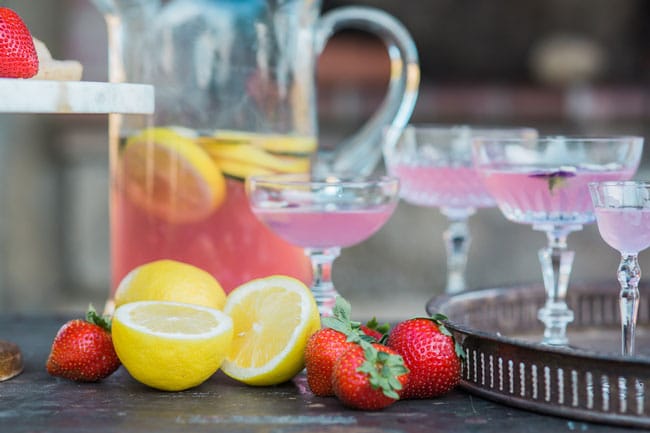 Fresh lemons and strawberries were welcomed delights at the drink station for this summer anniversary party! Farm to table features were brought in everywhere throughout the entire event.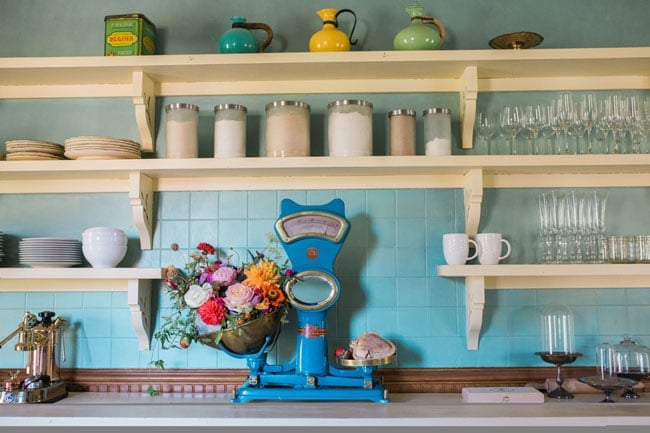 We just love this quintessential farm kitchen found at the venue. We're sure that this happy anniversary couple can relate to many of the things seen in this picture, as they have lived through many happy times with similar memories!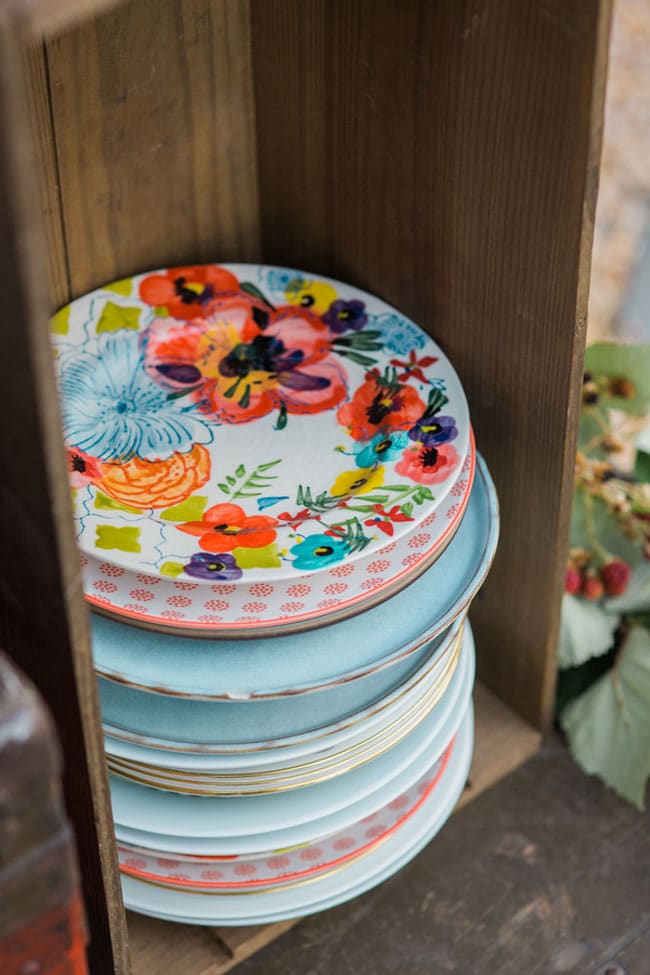 Vintage plates were used at the anniversary event, mainly as decorations found on the tablescape.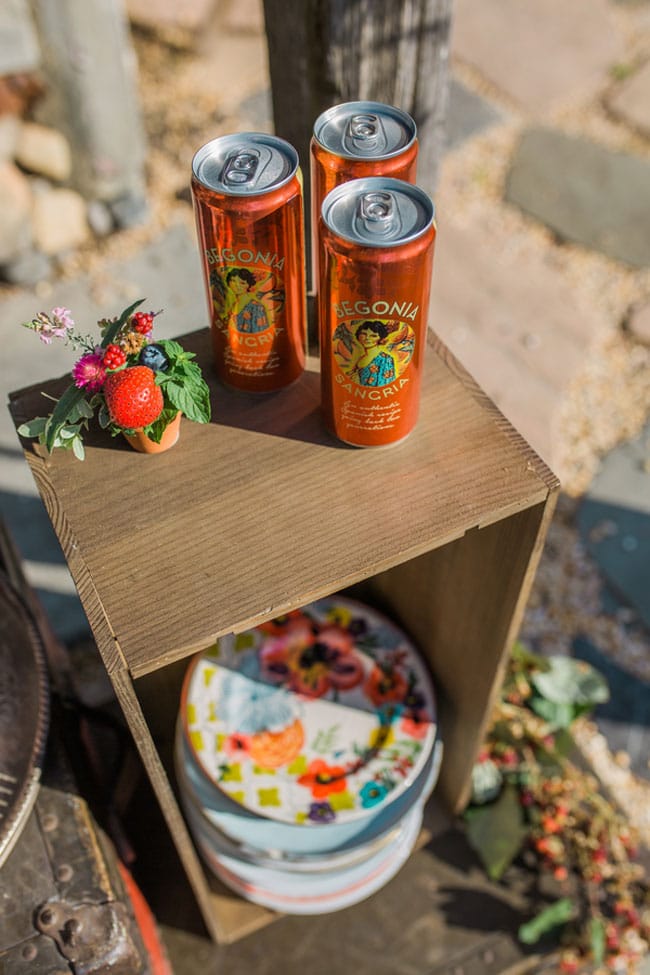 Sangria! Who doesn't love some special sangria for a special anniversary event?! What a perfect fit for a farm to table summer event.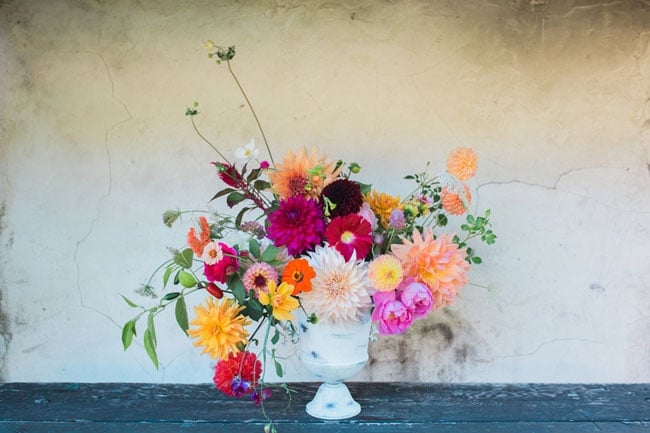 All the flowers featured in the shoot were sourced from Natalie Mack Floral Design. The blooms were exquisite and a great way to showcase the wife's great love of flowers!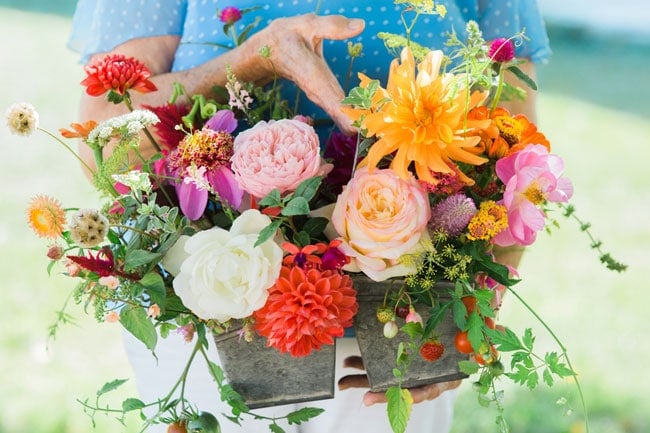 What gorgeous anniversary flowers for an incredible anniversary party. The florals really brought together the entire farm to table theme and tied things in perfectly.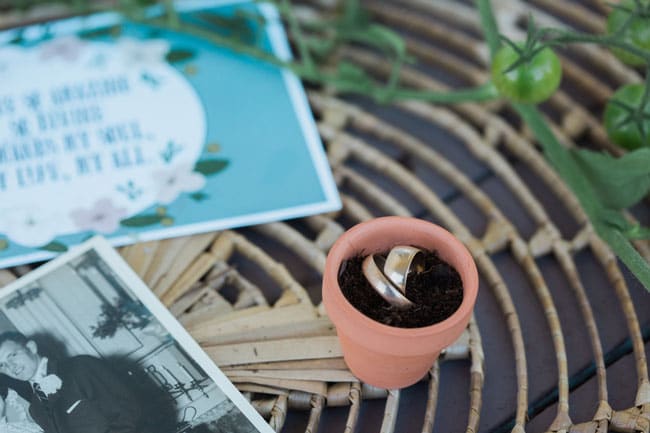 We love the symbolism of the rings in the soil. As the love of theirs grew from year to year, so does the decor show their love for each other at this wonderful anniversary event.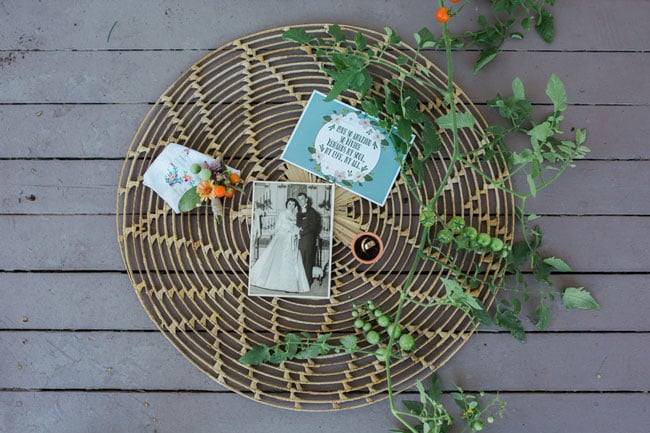 We just love the anniversary event details found throughout this special farm to table celebration. Wedding photos from 60 years ago were a highlight around the wonderful bounty that was found at the event.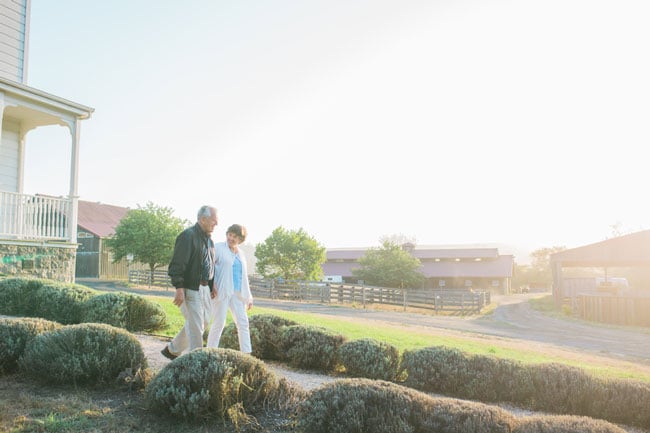 Leila and Floyd felt right at home on the family owned farm and event venue in Petaluma, California. Being avid gardeners and longtime nursery owners themselves, they value working with their hands and appreciate colorful celebrations that are reflective of the seasons.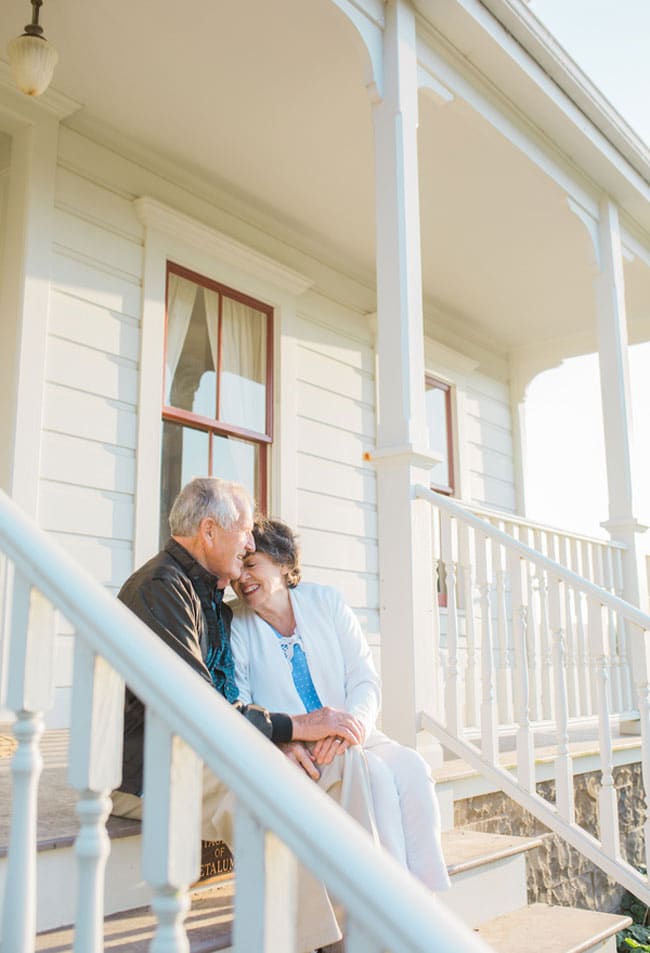 Events that are outdoors and casual always makes everyone feel at home and happy. That is why this was the perfect theme for this amazing anniversary celebration. Everyone was thrilled to be included in such a special farm to table anniversary event for such a special couple! What's your favorite detail in this Farm to Table 60th Wedding Anniversary? Let us know in the comments below.
Vendors & Credits
SaveSave
SaveSaveSaveSave
SaveSave
SaveSave
SaveSave
SaveSave
SaveSave