Romantic Tucson Garden Wedding
This Romantic Tucson Garden Wedding Shoot features lush greenery, beautiful blooms, a naked cake adorned with flowers, and more!
If you've been dreaming about a romantic garden wedding and need some ideas and inspiration, take a look at these photos by a group of talented wedding photographers in Tucson, Arizona. Since Tucson allows for amazing weather and scenery in the winter months, numerous wedding vendors in the area came together for a gorgeous styled photo shoot with a Valentine garden wedding theme in mind.
The setting took place at Kingan Gardens, a quaint downtown location that provides an intimate setting for weddings. Lush greenery can be found in this Tucson oasis, and created the perfect backdrop for the table setting, cake, flowers, and garden-themed wedding decor.
Shop these Garden Wedding Ideas: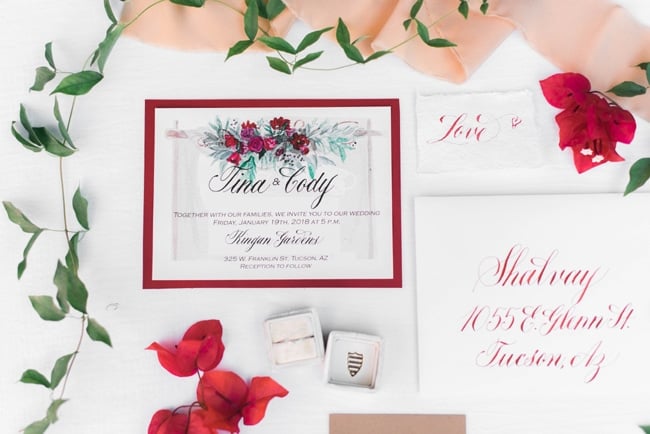 If you're thinking of having an outdoor garden wedding like this one, invitations with flowers and greenery are the perfect way to set the tone of your wedding for your guests. Case Sensitive Designs provided the exquisite, hand-created invitation, calligraphy, and place settings that added a special touch to the table display. The addition of red colors on the invitations were perfect for a Valentine garden theme.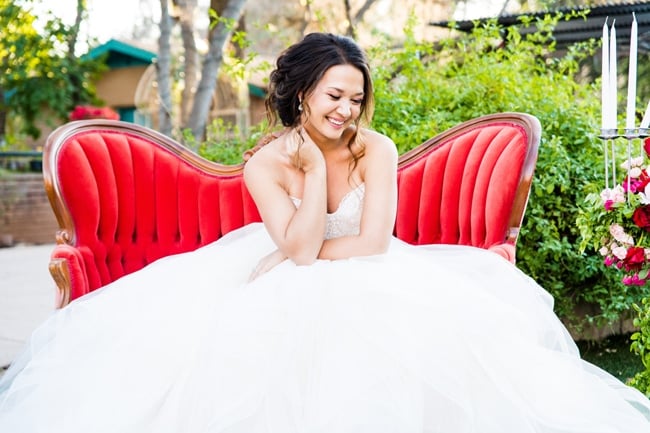 Since this styled shoot is inspired by a romantic Valentine garden theme, the gorgeous vintage red couch from Love & Lace made the perfect accent piece. We are loving the effect! The bride looks gorgeous on this sexy and sophisticated red sofa!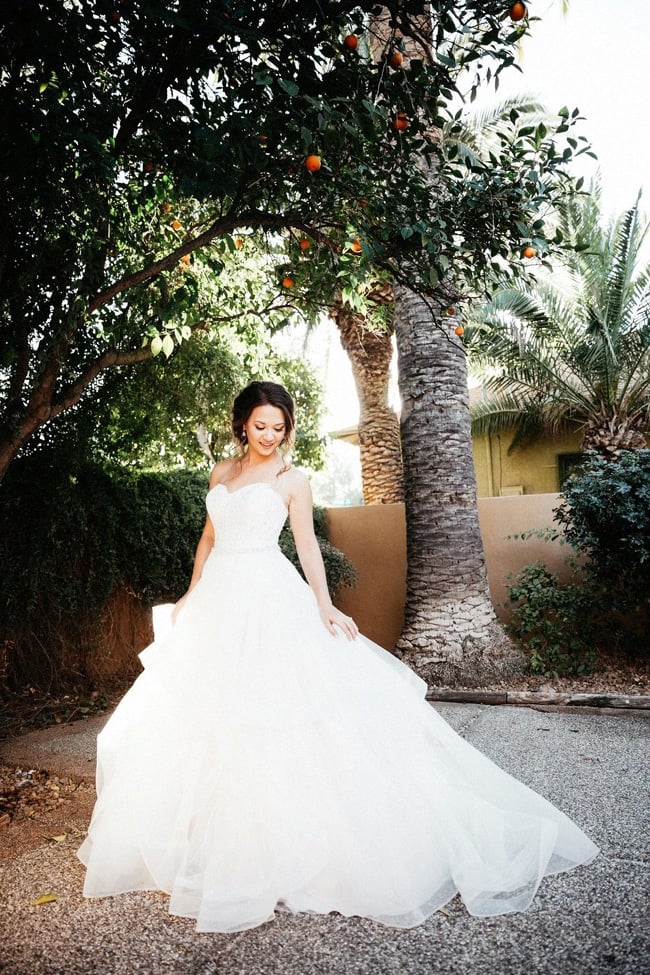 The romantic lace wedding gown with delicate crystal belt, is by JBridalBoutique, a couture bridal shop located in Tucson, Arizona. The gown is absolutely perfect for a garden wedding. It definitely has the romantic, whimsical vibe that goes perfect with the theme and decor.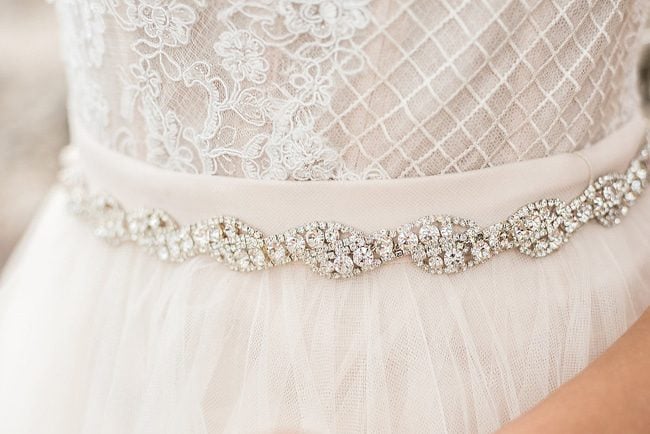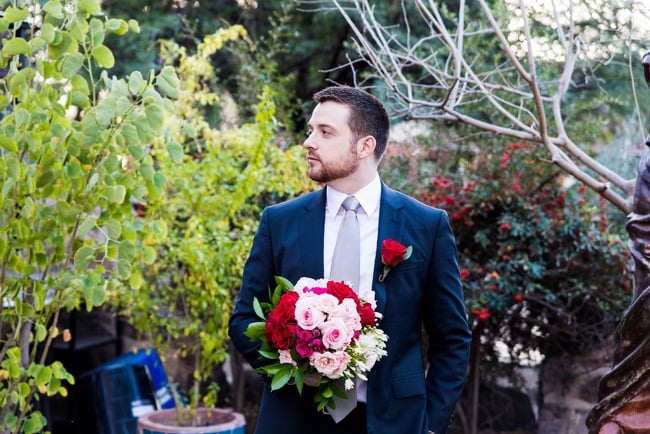 Romantic yet contemporary florals were provided by Tucson flower design studio Glitter & Pearl. Created by artist Sarah Hauer, these flowers created unique pops of color and texture while still featuring a romantic softness.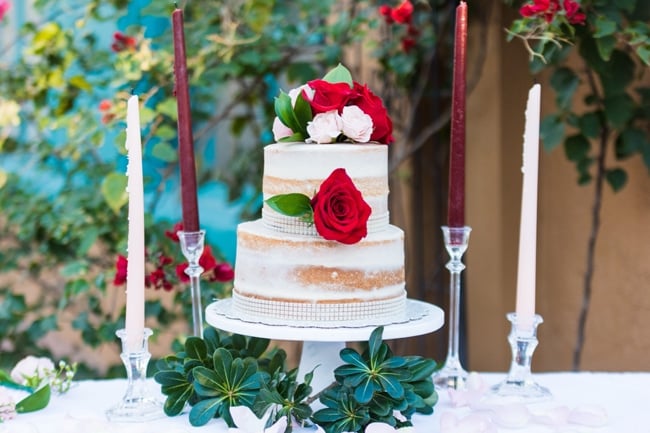 The beautiful naked wedding cake by Cakes By Amy was accented with fresh florals that matched the wedding flowers. Surrounded by greenery and candles, the cake table was also inspired by the romantic garden theme.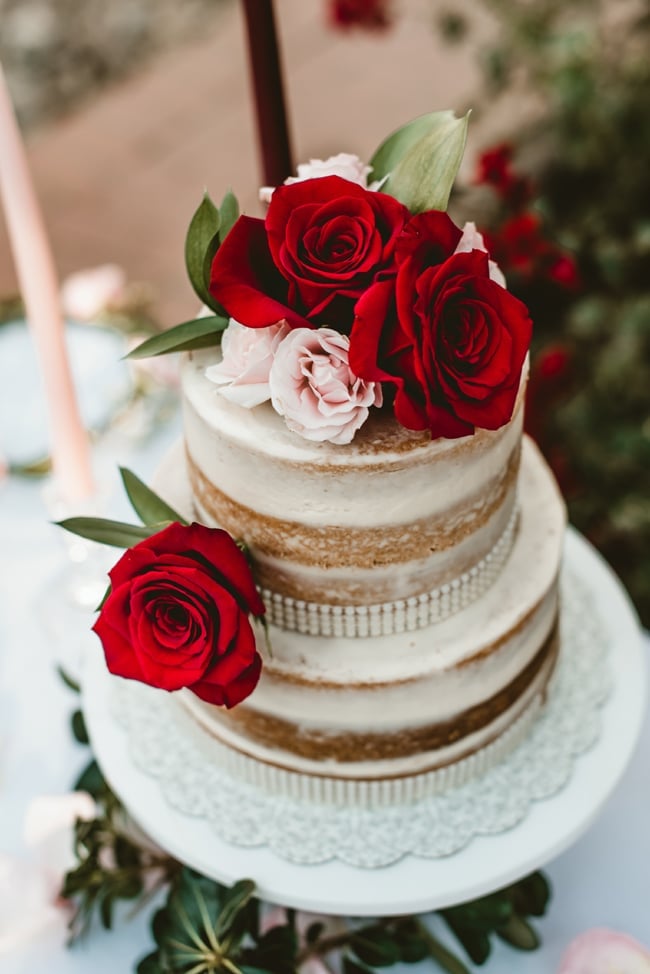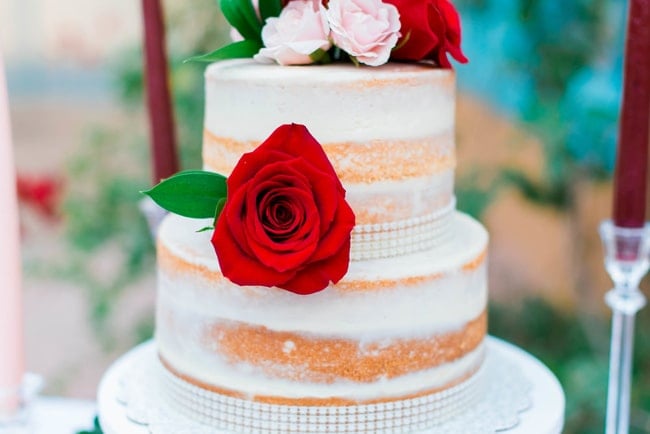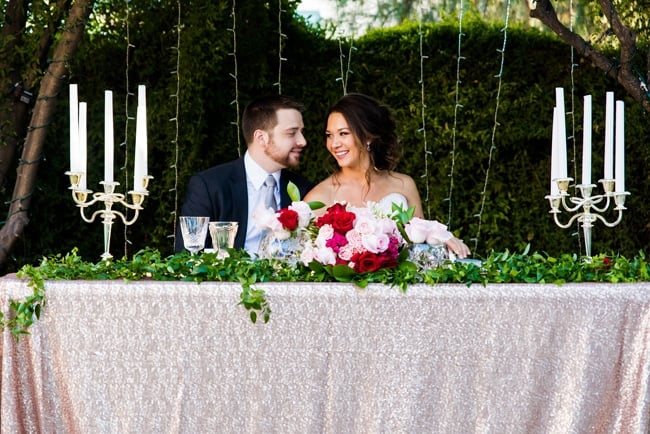 The couple's table features a gorgeous shimmery table cover, greenery, florals and candles – all keeping with the romantic and timeless garden theme. Lights strung behind the couple were there to set the mood after the sun sets. How romantic!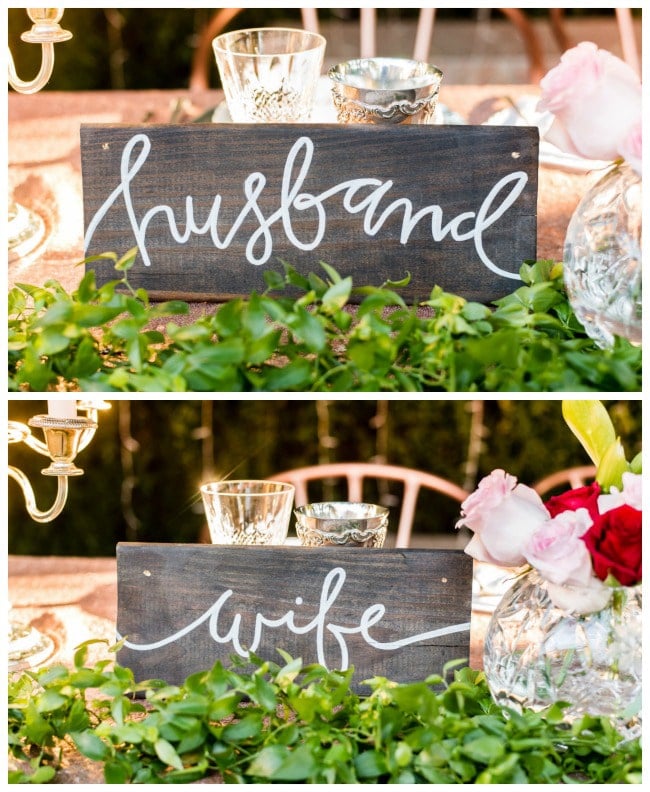 Wooden husband and wife wedding signs were also party of the decor.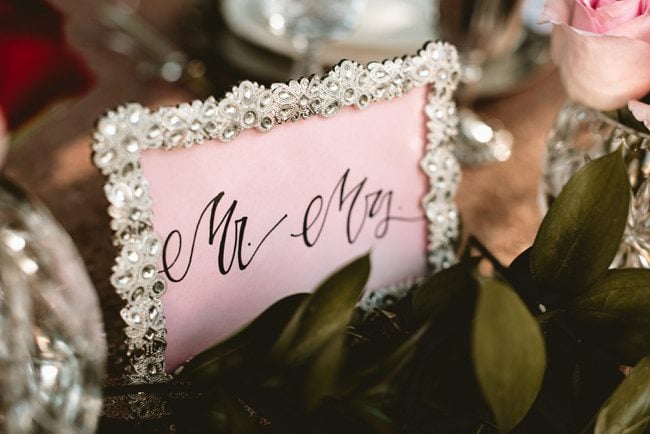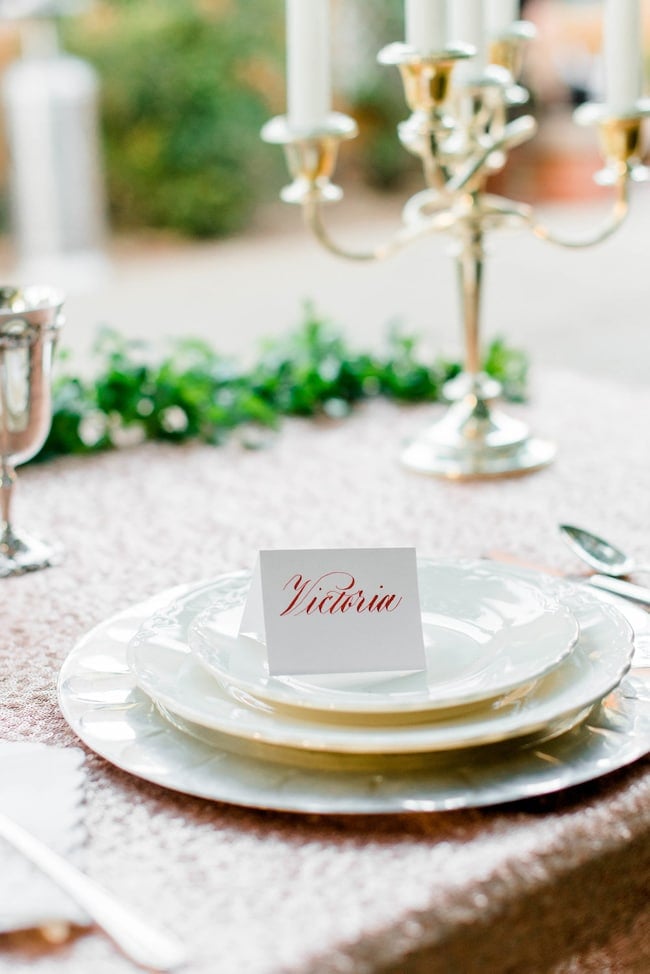 Beautiful elements of crystal, silver, and shimmering place settings were styled by Betsy Allen and Amanda Bynum and supplied by Love & Lace.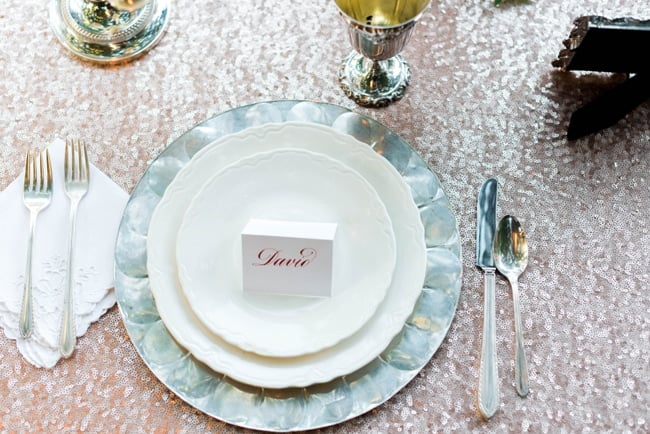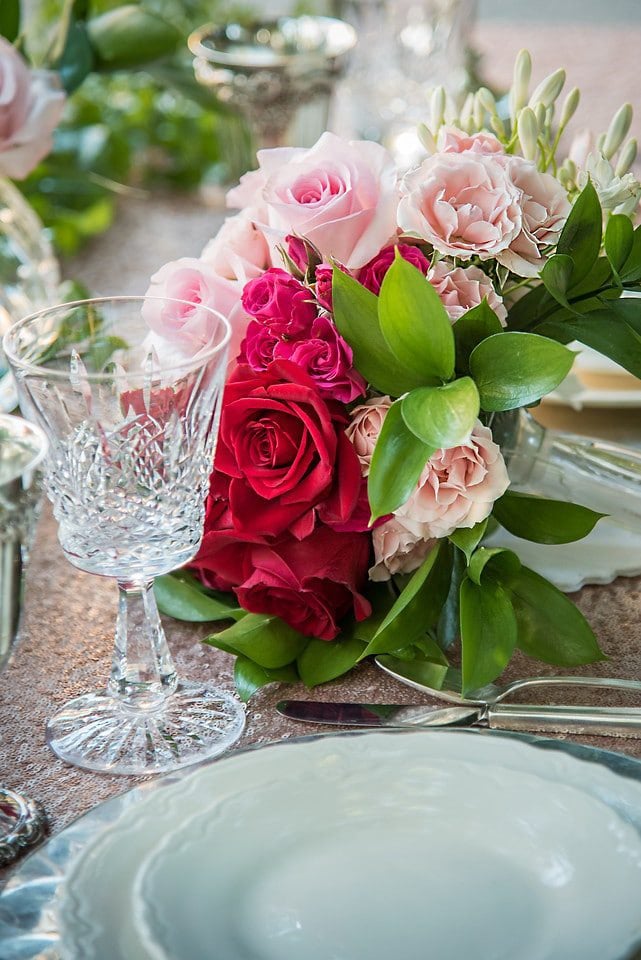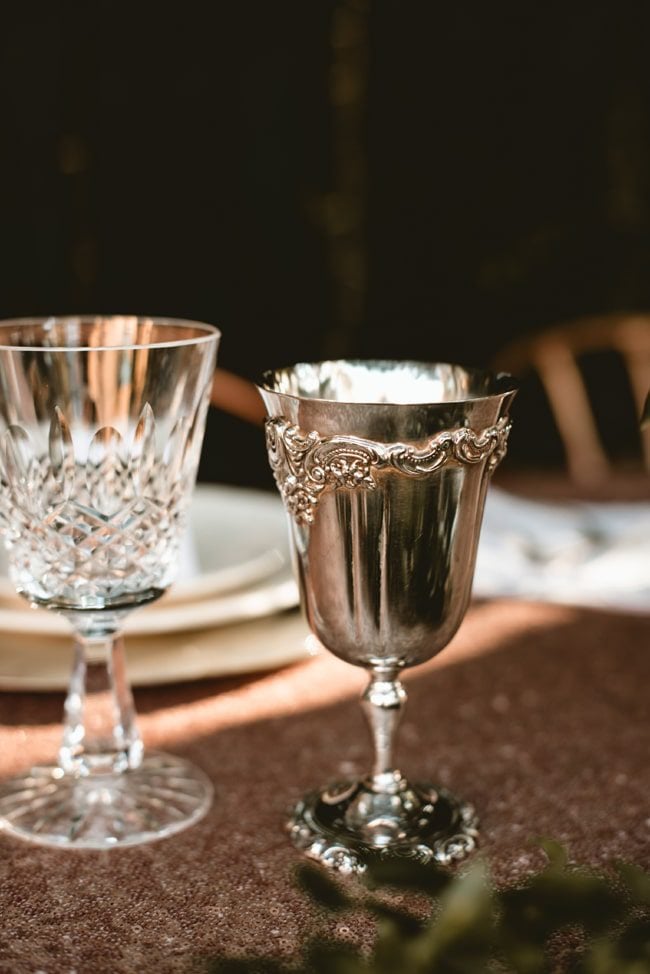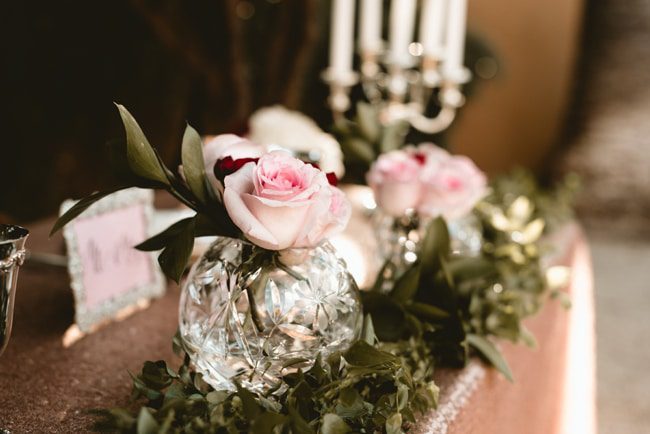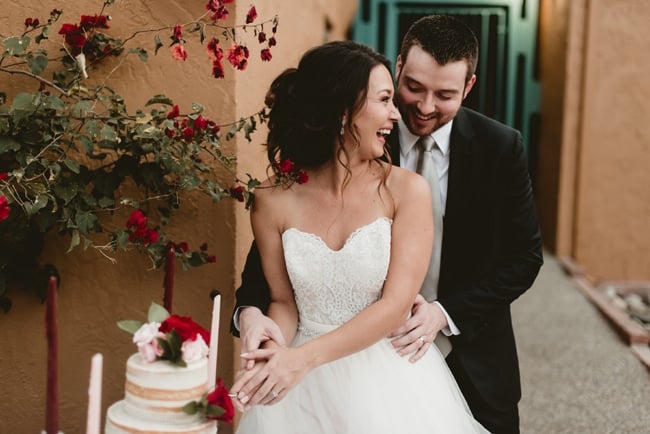 The bride and groom models are a real life love story, Tina and Cody Kraemer who are celebrating 10 years of marriage! The joy of their love was captured beautifully throughout the afternoon.
Everything from the jaw-dropping Tucson garden wedding venue to the beautiful florals and decor, make this Romantic Tucson Garden Wedding shoot one to remember! Do you have a favorite detail in this romantic garden wedding shoot? Let us know in the comments below.
Vendors & Credits
Venue: Kingan Gardens
Florist: Glitter & Pearl (IG: @tucsonweddingflorist)
Hair & Makeup: Heather Van Houten (IG: @hvhfaces)
Bakery: Cakes by Amy
Furniture tablecloths & table settings : Love & Lace (IG: @loveandlacerentals)
Chairs for table: Valenci Vintage
Invitation & Sign: Case Sensitive Designs (IG: @casesensitivedesigns)
Gown: J Bridal Boutique (IG: jbridalboutique)
Models: Tina Marie Kraemer & Cody Kraemer
Jaelynn Valencia & Johnathan Lockwood
Styling: Betsy Allen & Amanda Bynum
Photographers:
www.kringfotography.com – Kring Fernando
www.reginafraustophotography.com – Regina Frausto
www.facebook.com/angiecramblitphotography – Angie Cramblit
www.andreaobert.com – Andrea O'bert
www.amandabynum.com – Amanda Bynum
www.mhutchisonphoto.com– Mina Hutchinson
SaveSave
SaveSave
SaveSave
SaveSaveSaveSave
SaveSave
SaveSave
SaveSave
SaveSave