Baby Unicorn Themed First Birthday Party
Sit back, relax and get ready for some serious cuteness with this Baby Unicorn Themed First Birthday Party from Creative Touch by Johanny ! This party has it all – super adorable baby unicorns, pastel color palette, the most amazing cake and desserts, and the cutest birthday girl dressed to impress for her 1st birthday party!
See more Unicorn Party Ideas:

The dessert table is a total showstopper! The table really makes a statement with a pink tutu skirt and jumbo pink and white jumbo balloons. The white balloons were filled with gold confetti and accented with a pink ribbon! The beautiful dessert table backdrop features a baby unicorn in pastel colors and is personalized with the birthday girl's name in gold lettering.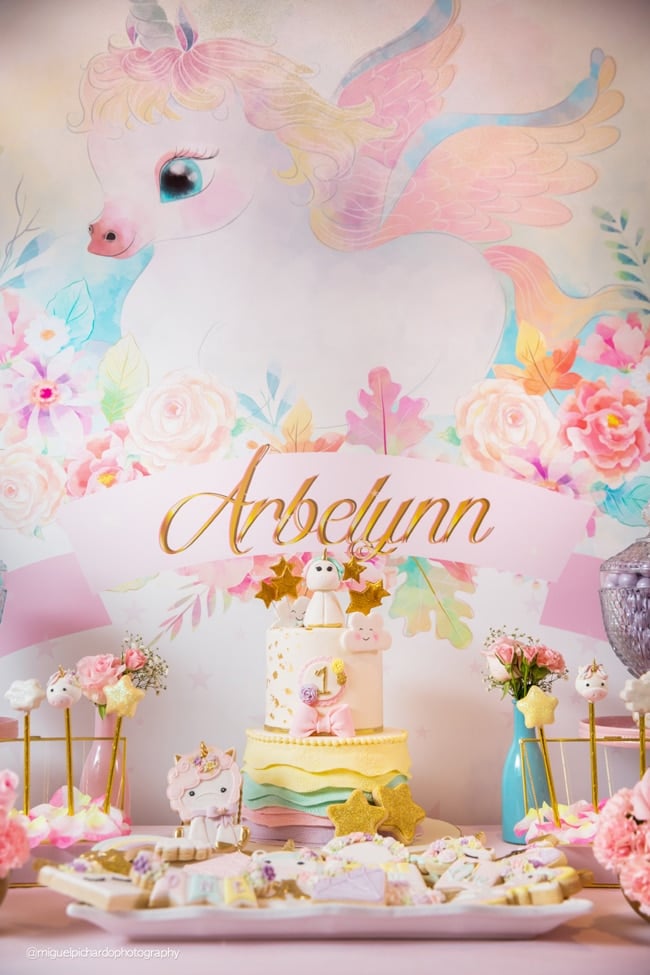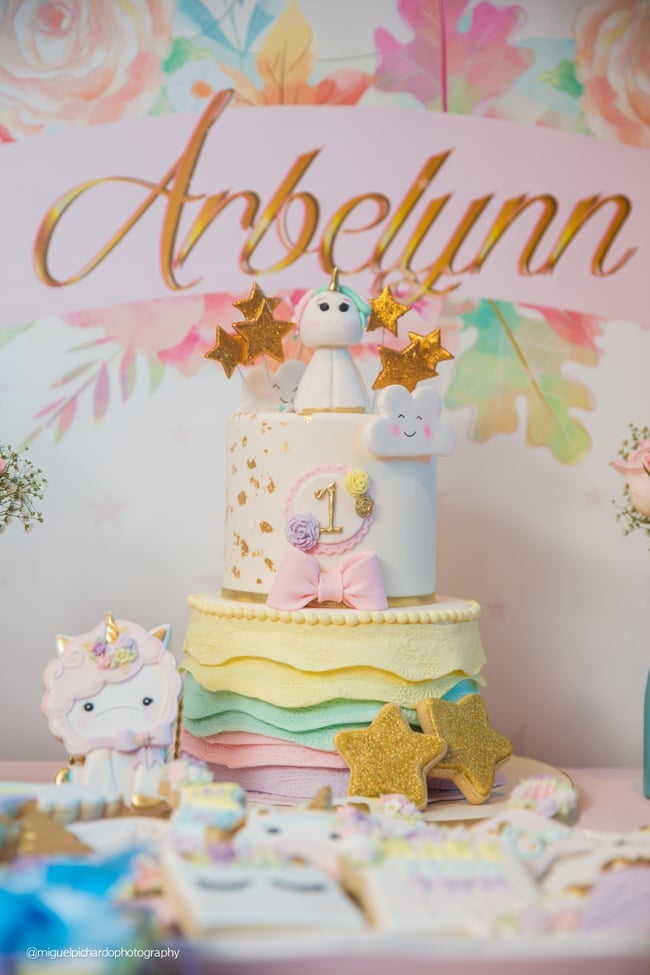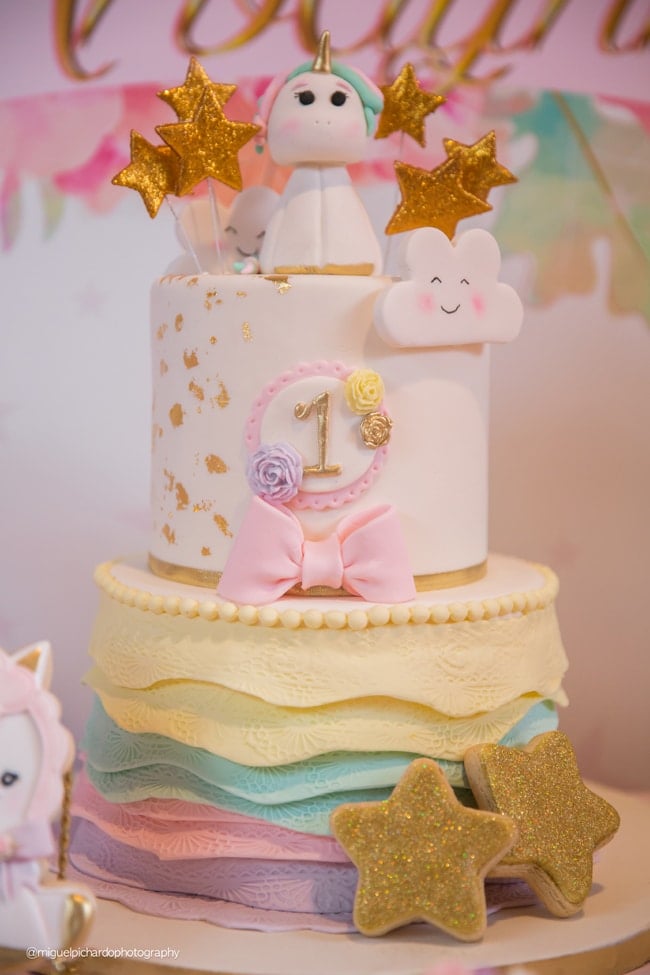 The pastel baby unicorn cake featured girly accents such as the ruffled bottom, pink bow, flowers and gold accents. The top of the cake is adorable with a baby unicorn, cloud and stars. Seriously, how perfect is this cake?!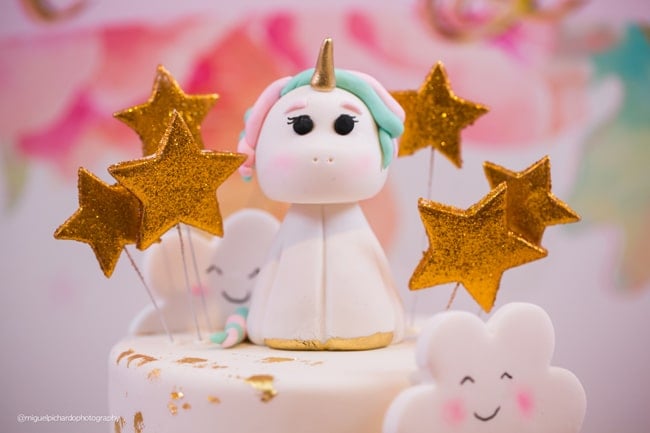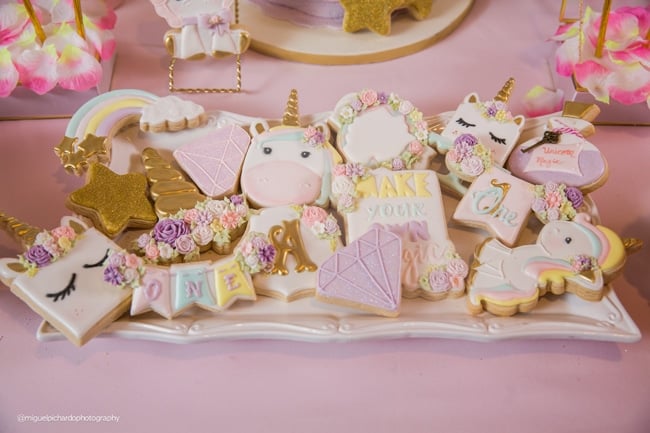 The other desserts were just as amazing! The cookies featured unicorns, rainbows, diamonds, stars and more! The cake pops were equally just as adorable. Look at the shiny cloud and star cake pops in addition to the unicorn cake pops! PERFECTION!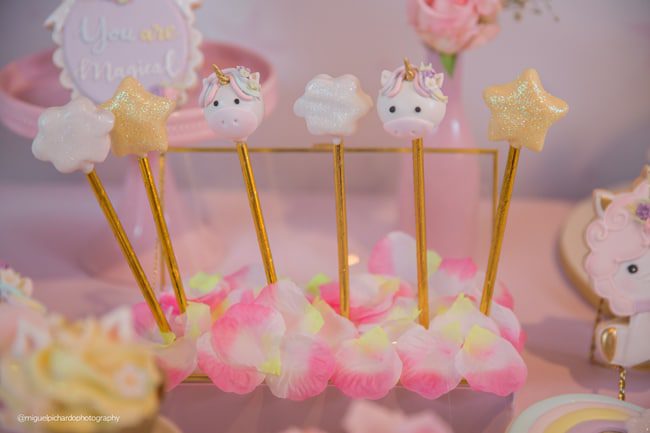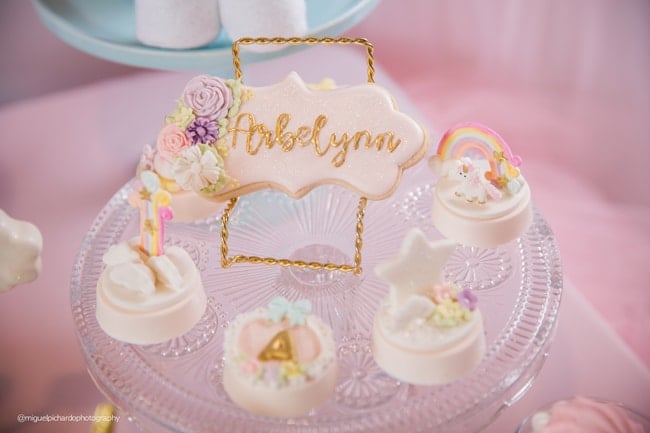 The other delectable desserts included cupcakes and Oreos that looked too perfect to eat! I'm sure they were just as delicious as amazing as they looked!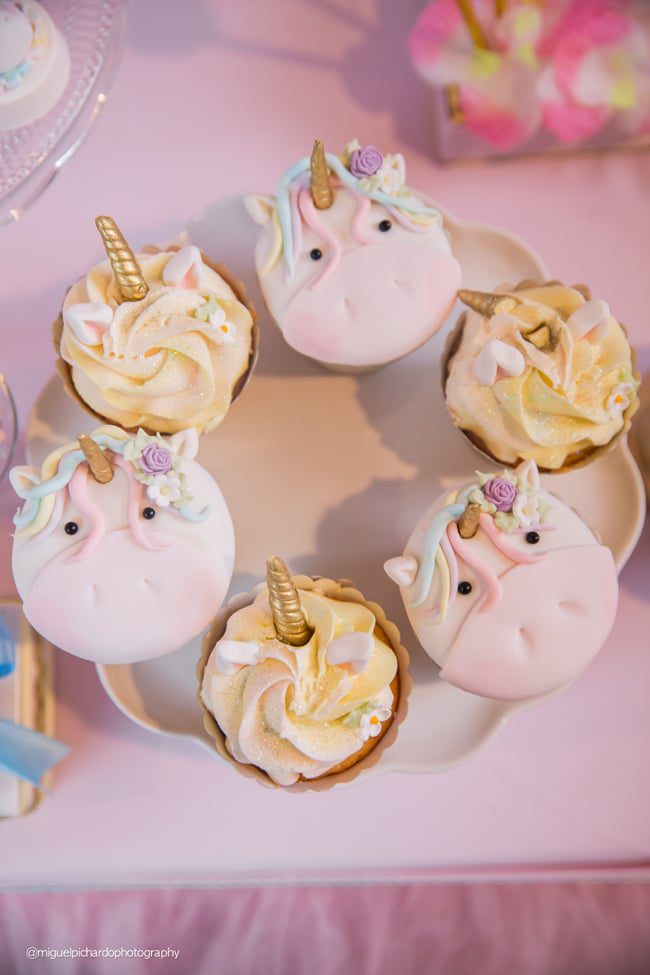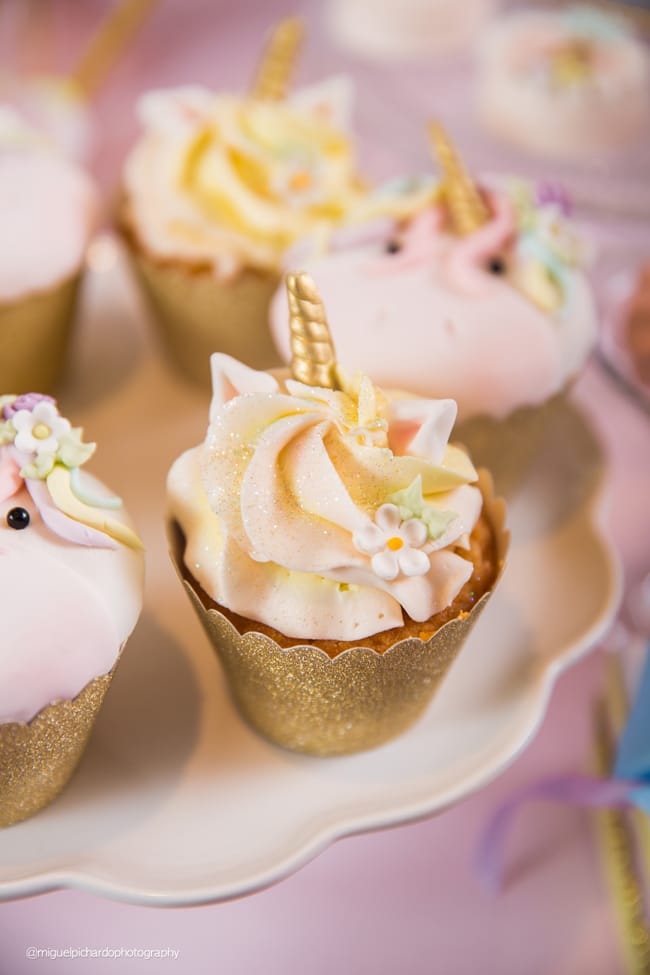 The cupcakes were kept in gold glittery cupcake wrappers and some were even sprinkled with some "magic unicorn dust"!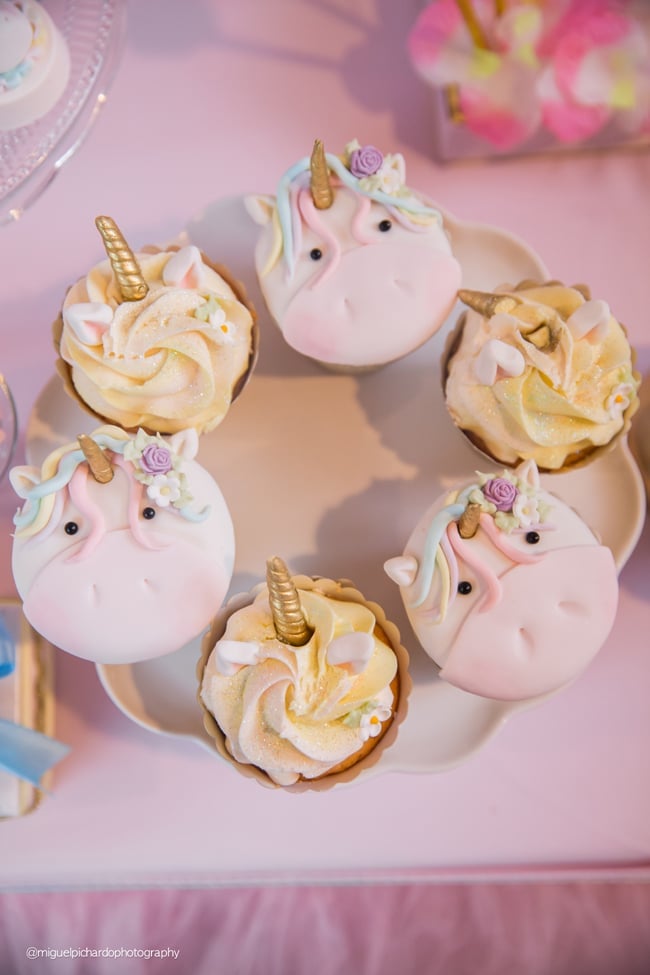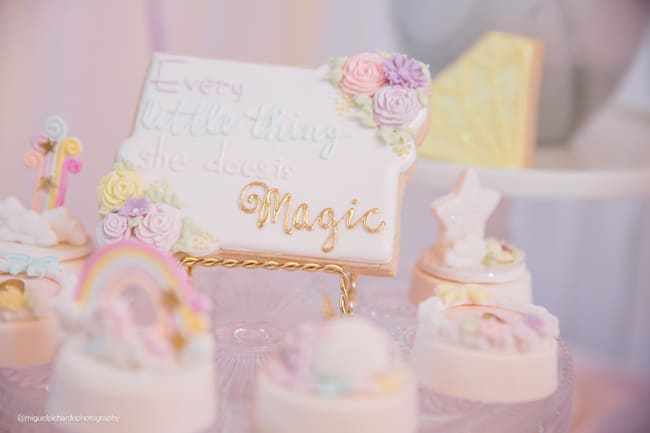 We love the inspirational cookies that were designed as well, including this one that says "Every little thing she does is magic"!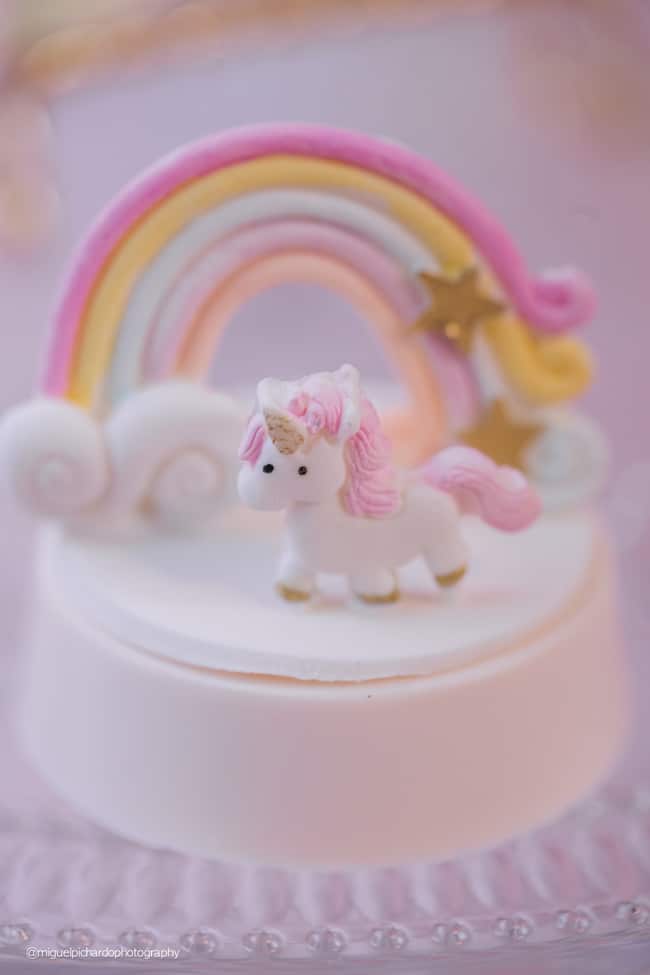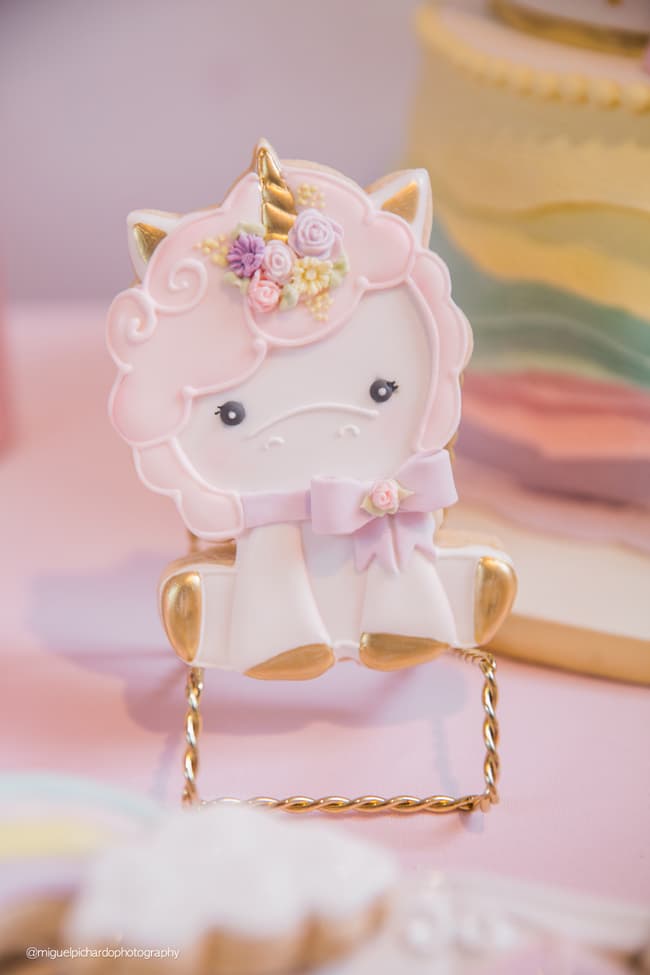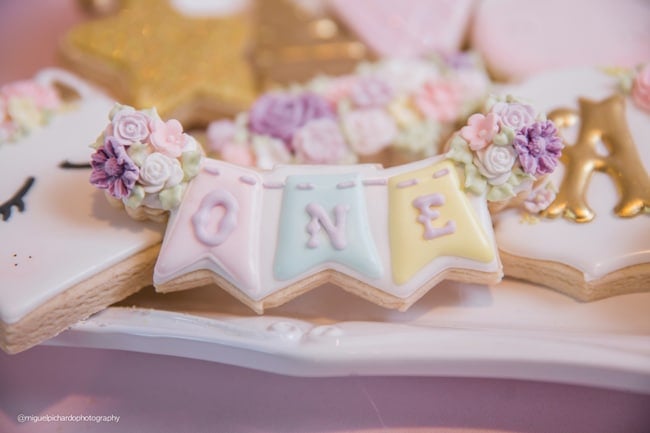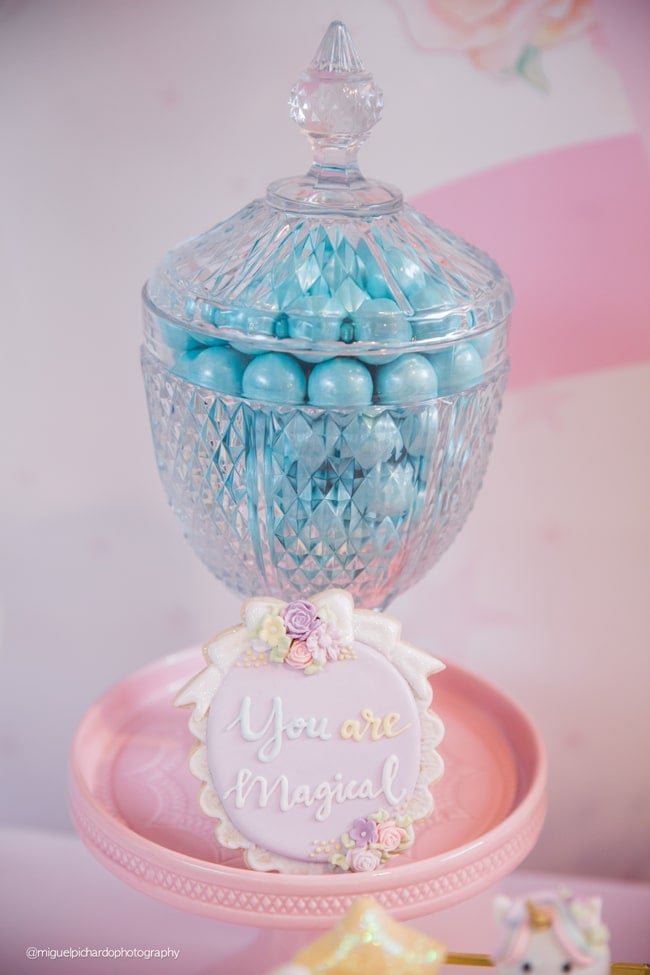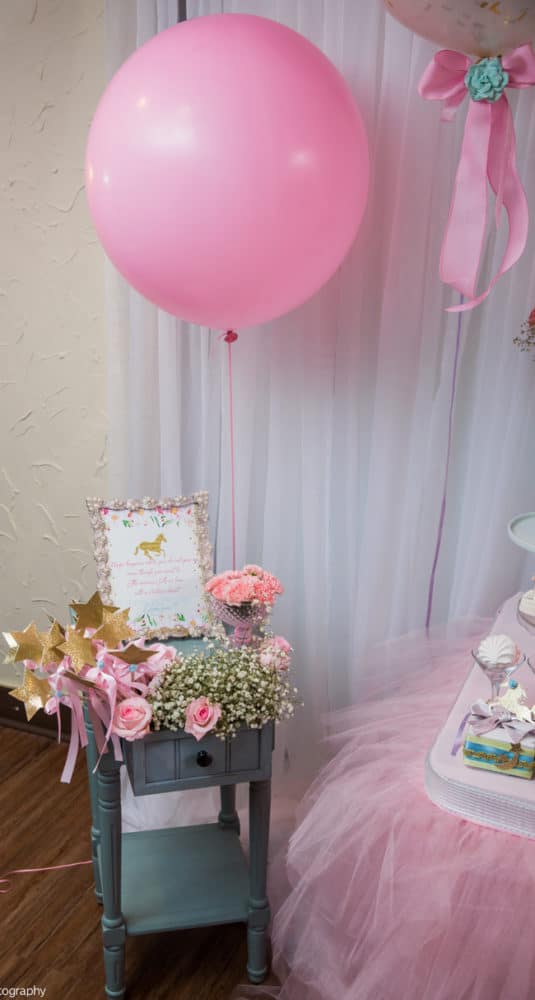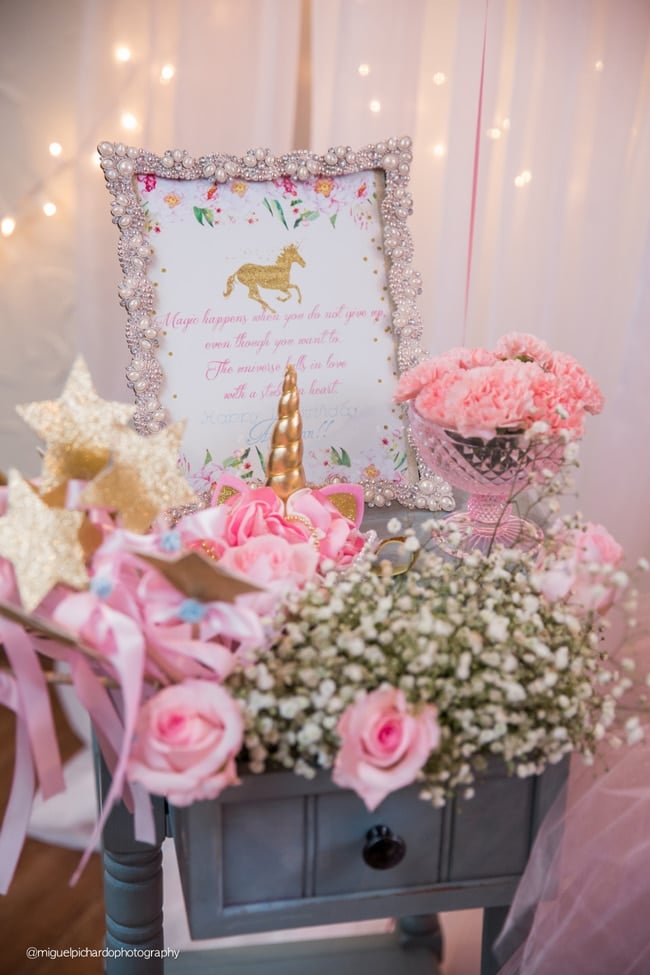 We love the small accent table set up right next to the dessert table with an inspirational message for the birthday girl … how sweet!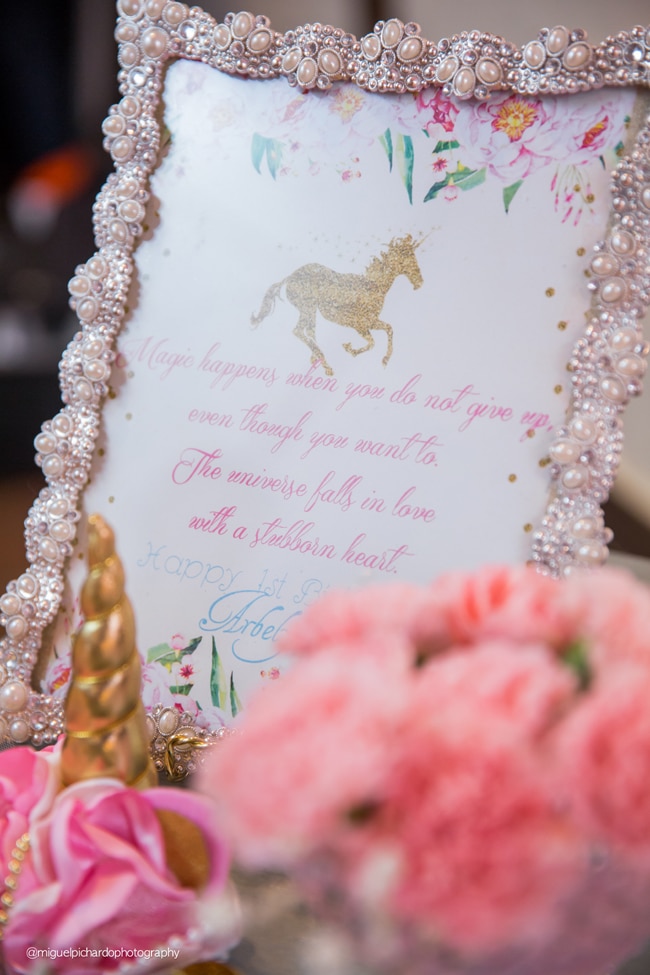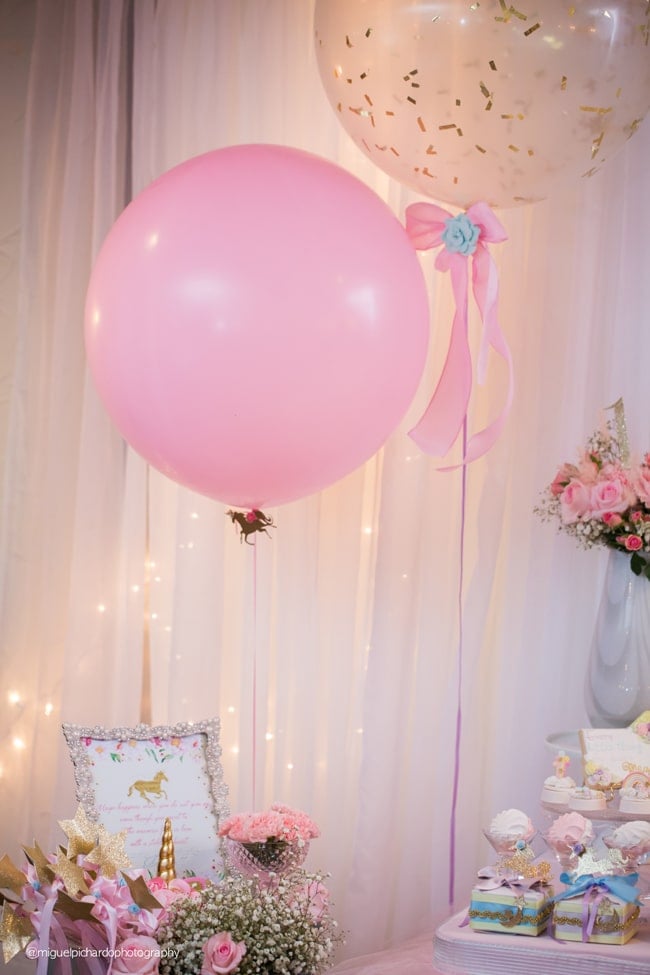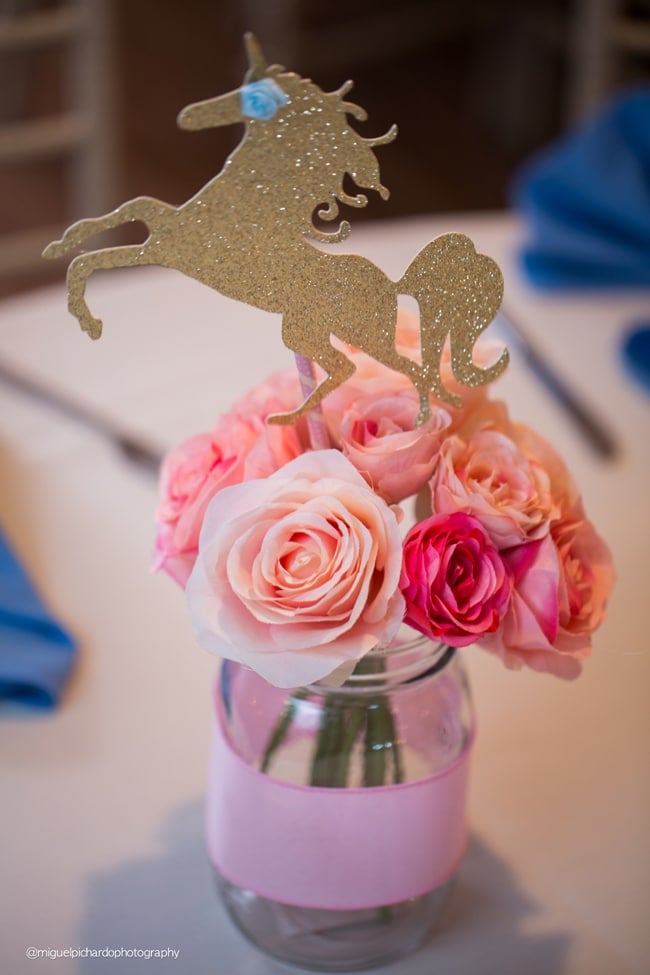 Another great detail was the table centerpieces that were mason jars wrapped with pink ribbon. Gorgeous pink blooms were added and topped with a gold glittery unicorn.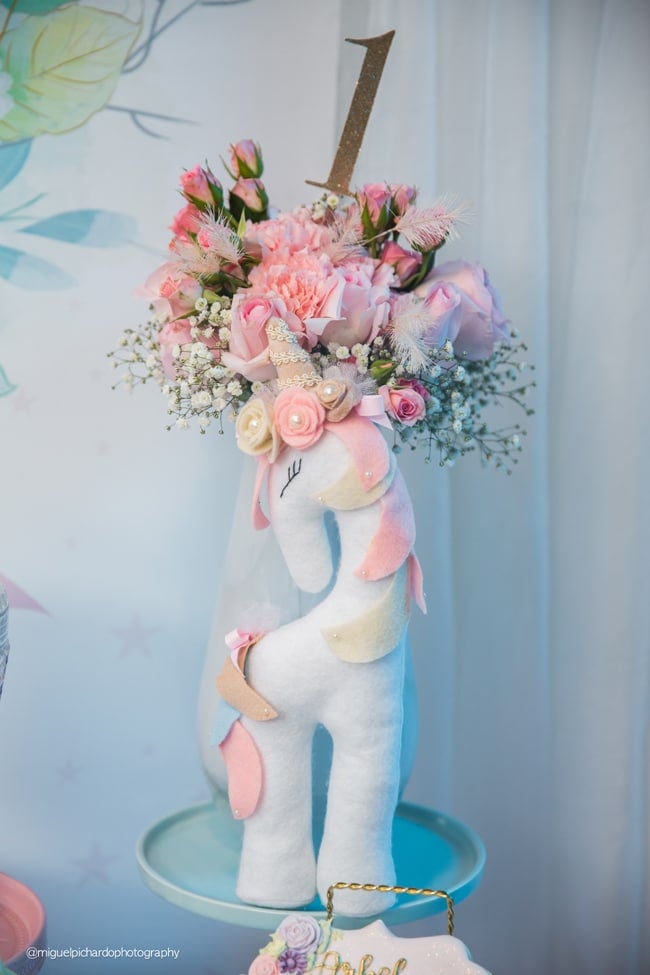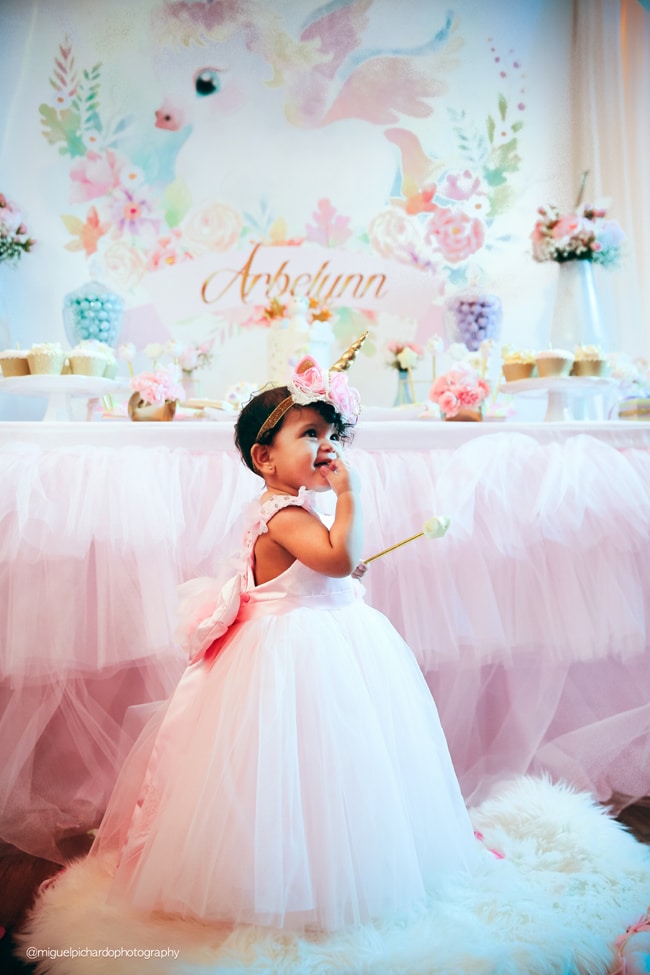 Look at the precious birthday girl – dressed to perfection for her party with a gorgeous gown and unicorn headband accented with flowers!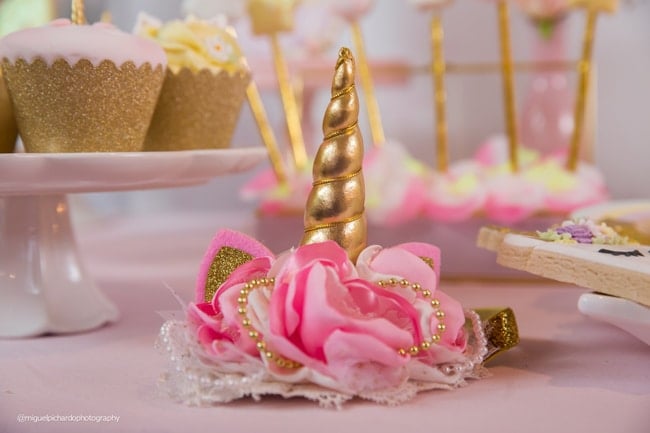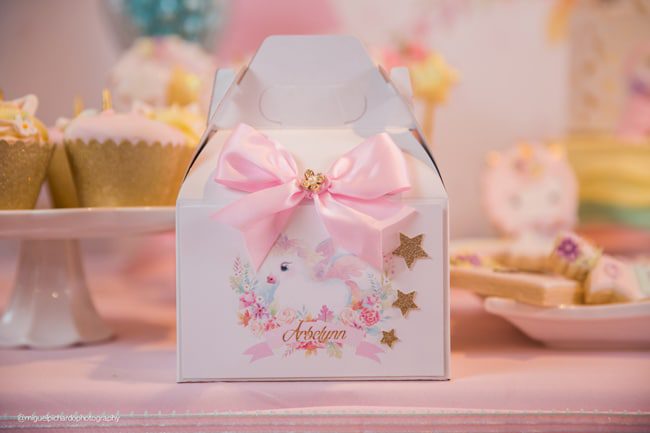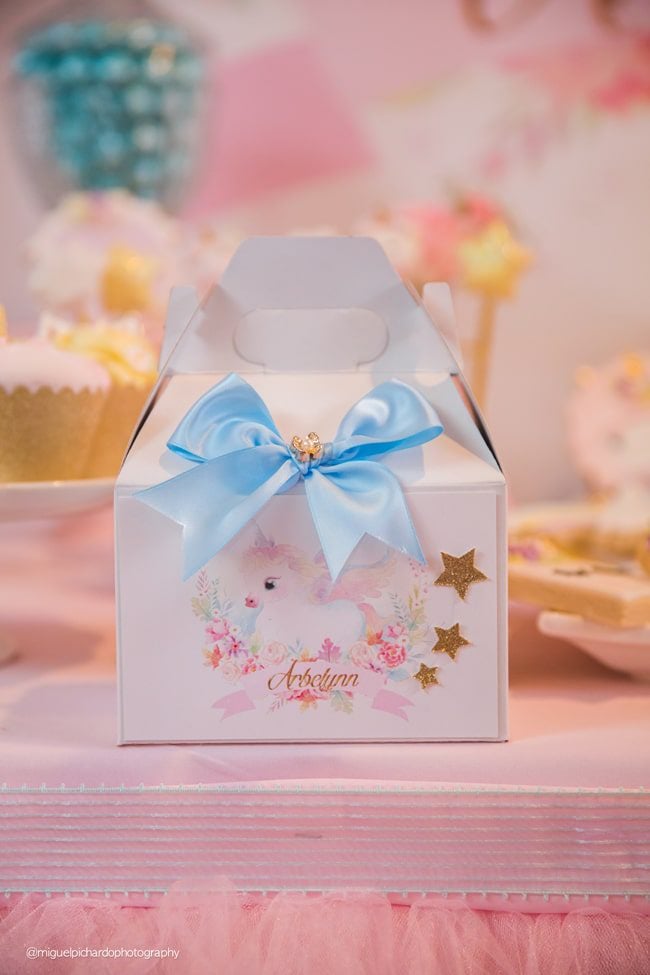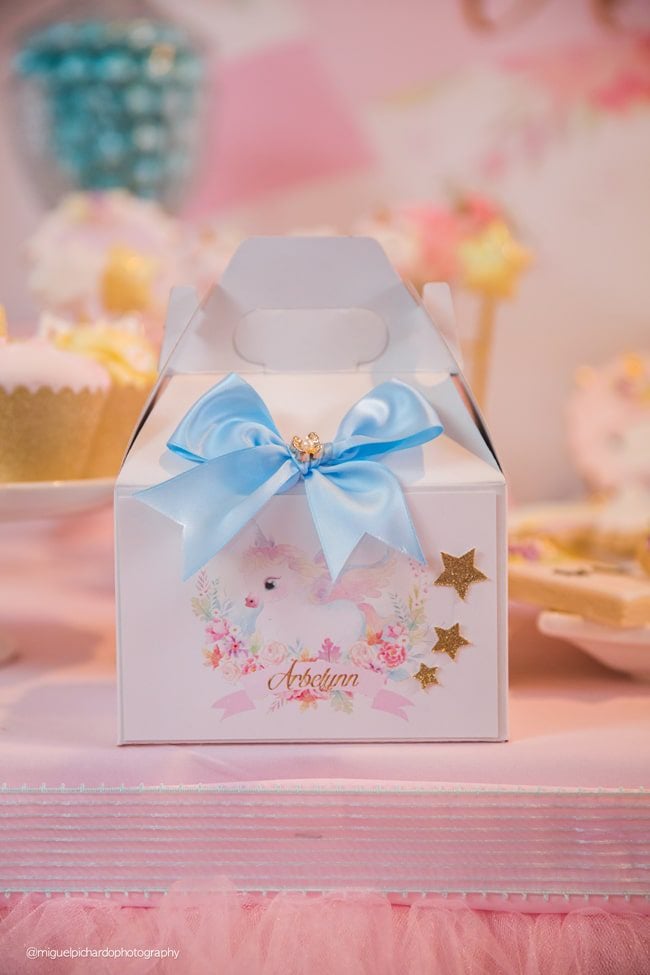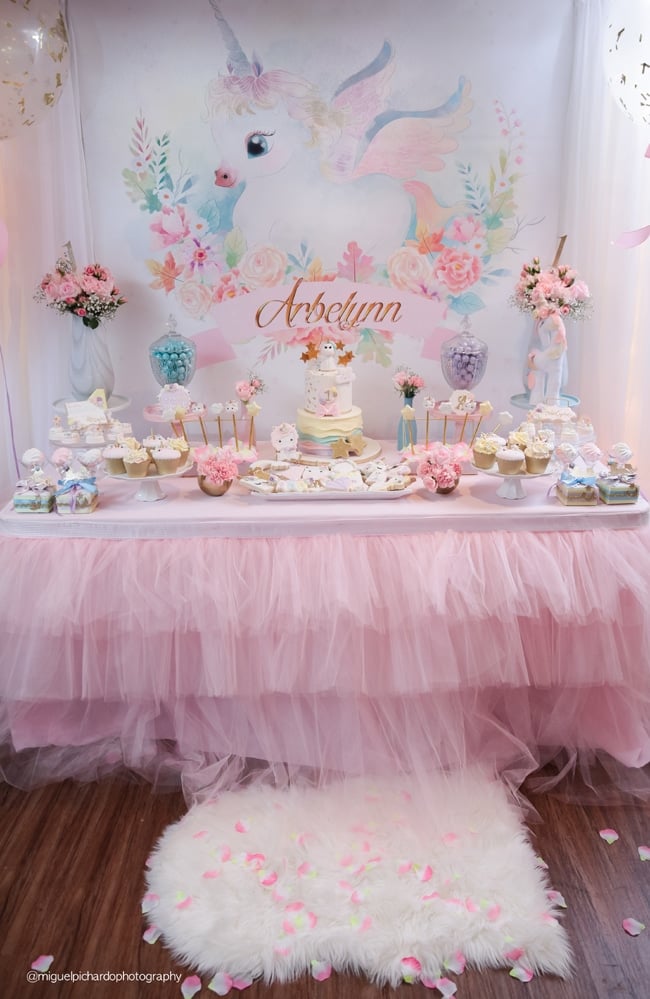 Party favor boxes featured the baby unicorn in pastel colors accented with a blue or pink ribbon. We love how the baby unicorn theme came together for this stunning soiree. What a magical Baby Unicorn Themed First Birthday Party! We can't wait to see this little cutie's 2nd birthday party!
Vendors & Credits
Event Stylist and Planner and Stationary: Creative Touch by Johanny
Beautiful Sweets: Mayra's Cakepops
Cake: La Cuchara Dulcetta (Instagram)
Photgraphy: Miguel Pichardo Photography
Backdrop image from Etsy and modified by Creative Touch by Johanny
Flowers: Hunt Points Market
Baby Dress: Ittybittytoes
Table Tutu: Past Decoraciones
What's your favorite detail in this Baby Unicorn Themed First Birthday Party? Let us know in the comments below.
For more party ideas, follow us on Instagram @prettymyparty and Pinterest and join us in our private Facebook group.


SaveSave