Rainbow Dream Party Theme
This Rainbow Dream Party was the perfect theme for a very special TV premiere watch party!
"It was all a dream" for Lilly Jimenez of The Creative Art Studio as she prepared to watch herself for the first time on national television. Lilly was a contestant on season 2 of NBC's Making It, where the best makers around the country take on a variety of handmade projects all with the hopes of becoming "Master Maker."
Lilly is a self-taught balloon artist, DIY content designer, creator of Balloon Mosaic™️, and owner of Creative Heart Studio.
The theme for the viewing party was IT WAS ALL A DREAM. This theme was fitting because every endeavor she's jumped into has started with exactly that … a DREAM. This PJ party included rainbows, balloons, confetti and lots of colorful decorations.
Rainbow Dream Party Ideas
Amazing Rainbow Balloon Mosaic
It Was All A Dream Backdrop
Colorful Candy Grazing Table
Mini Unicorn Pinatas With Bracelets
Mini Converse Key Chains
Awesome Photo Booth with Rainbow, Balloon Dogs, Balloon Mosaics and Confetti
Awesome Viewing Area with White Balloon Clouds.
Cotton Candy Balloons With Garland
Food Truck With Mini Sliders and Mini Pizzas
See also: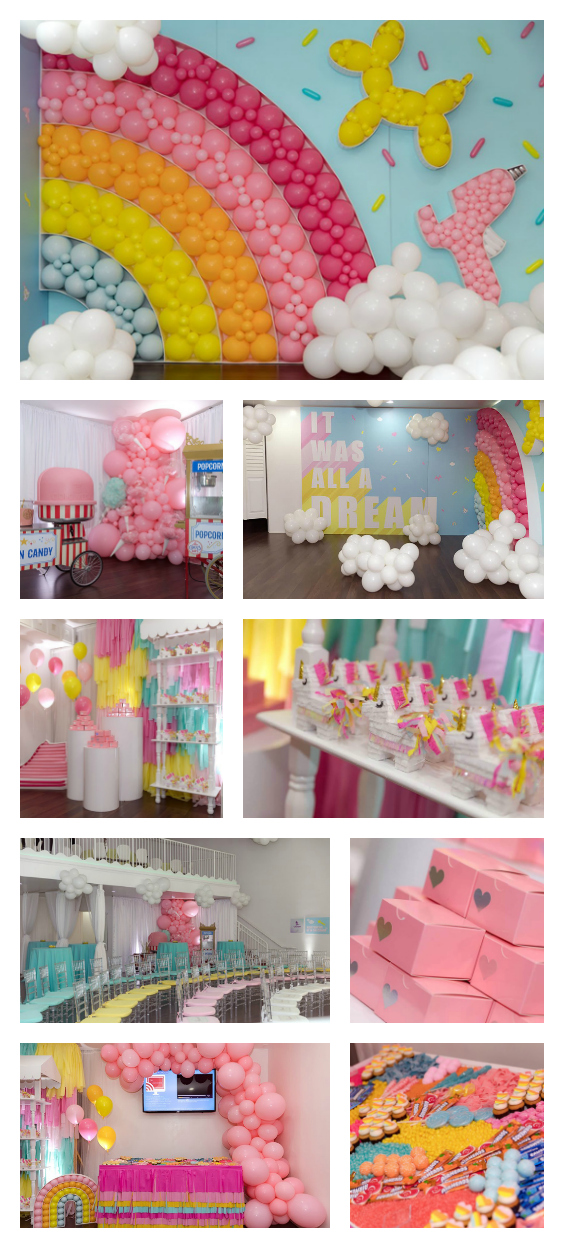 Get the Rainbow Balloon Mosaic HERE // Get the Balloon Dog Mosaic HERE
Pastel Rainbow Party Supplies and Decorations:
Do you watch NBC's Making It? Let us know in the comments below! If you haven't watched Season 2 of Making It, you can stream it on HULU or the NBC app!
For more ideas, follow us on Instagram @prettymyparty and Pinterest and join us in our private Facebook group.
Party Vendors
Photography: Wee Love Photography
Photo Booth: Dipp Photobooth
Styling: Maggie Creative Design
Cotton Candy and Popcorn: Circus Eats
Cupcakes: Bunnie Cakes
Mini Pinatas: Lula Flora Designs
Viewing Screen: Maxon Events
Bracelets: Broken Mariposas Fly