Colorful Baby Shark Birthday Party
This Baby Shark 2nd Birthday Party is fun, colorful and full of amazing party ideas for any age!
Baby Shark, doo doo doo doo doo doo. This Adorable and Colorful Baby Shark Birthday Party, styled by Sarah Husni of Events By Sa from Sri Lanka, is a vibrant and happy celebration with the most colorful party supplies, decorations, desserts, centerpieces, backdrop, party favors, and more!
The moment guests walked into the party venue they knew they were in for a real treat! The Baby Shark Theme is great for any young child's birthday. Not only is it a colorful theme but super adorable too. Baby Shark Themed Parties are perfect for a boy or a girl. There are so many DUY Baby Shark Birthday Party Ideas you can take from this event for your own parties.
Baby Shark Party Ideas
Colorful Baby Shark Backdrop With Name Sign
Giant Baby Shark Party Decoration Props
Bright, Colorful Favor Boxes
Cute Baby Shark Chair Decor
DIY Baby Shark Plates and Cups
Fun 2nd Birthday Centerpieces
Awesome Baby Shark Desserts: Cake, Cookies, Cupcakes, Cake Pops
Baby Shark Donut Display Topped With Shark Fin
Clear Balloons Made To Look Like Bubbles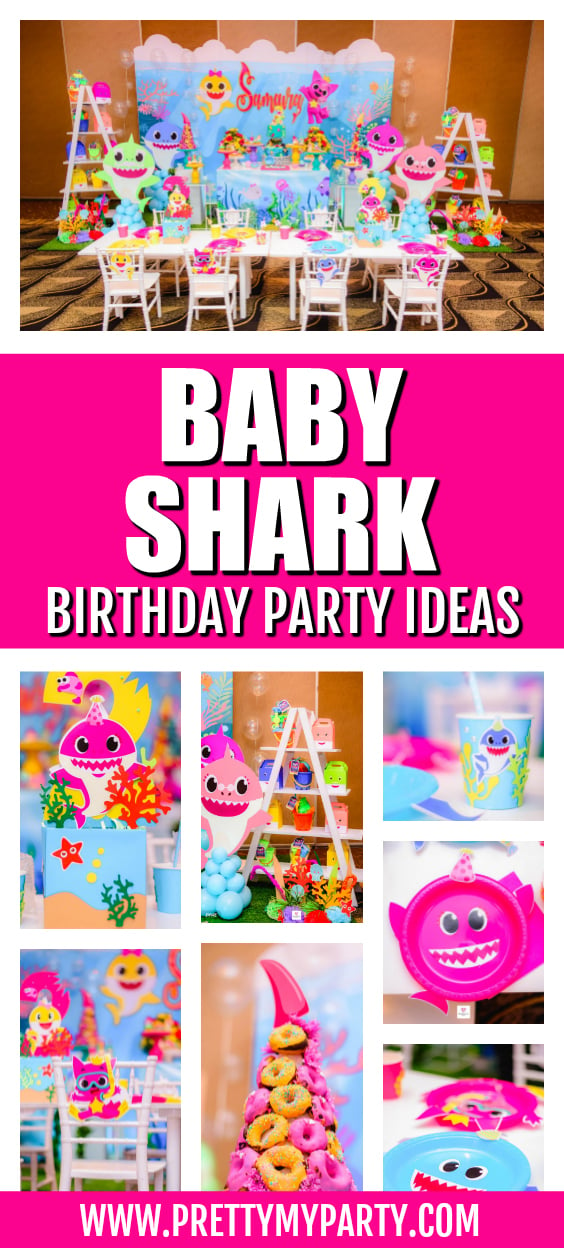 Baby Shark Party Supplies:
See also:
Wow! No detail was left behind in this amazing Baby Shark Party. If you're looking for a birthday party theme that will be a hit with your child and their friends, Baby Shark is the way to go! Have you planned a Baby Shark Birthday for your little one? Tell us all about it in the comments below or tag us in your party photos in Instagram using the hashtag #prettymyparty.
What's your favorite details in this Colorful Baby Shark Birthday Party? Let us know in the comments below!
For more ideas, follow us on Instagram @prettymyparty and Pinterest and join us in our private Facebook group.
Party Vendors
Cake and Towers: Bake with Han
Cupcakes and Cake Pops: Best in Town Cakes & Cup Cakes
Crafts (Centerpieces, Paper Plates, Cups, Napkins, Straws and Chair Backs: Concept by
Events by Sa
, Crafted by Shaziya Kamil