Sweet Shark Birthday Party
This Sweet Shark Birthday Party is going to blow your mind! Modern, fun, and creative touches were found everywhere around this party! What more could a little shark lover ask for?!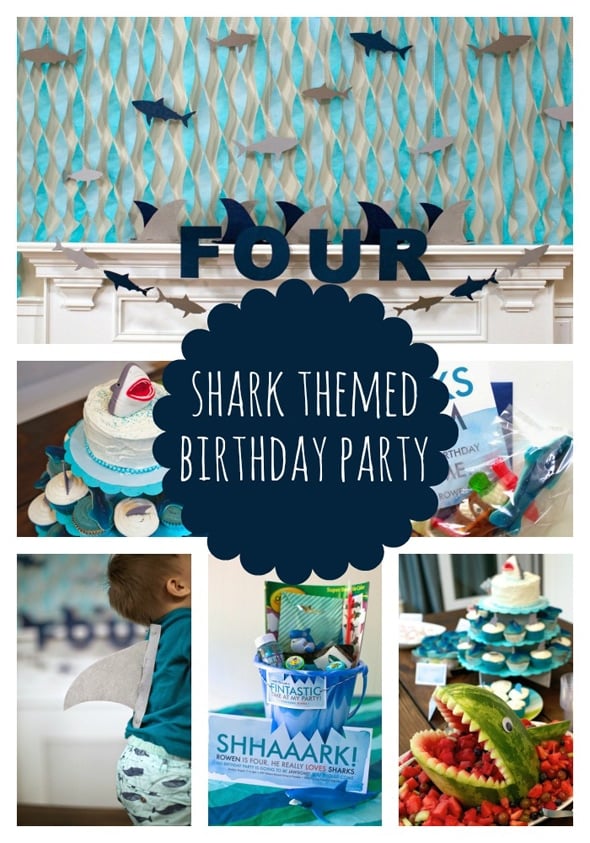 This little birthday dude is ALL about the sharks and when it came time to plan a party, it was obvious what the theme would be. This birthday party turned out crafty in the coolest way, had a super clever menu, along with fun games for the kiddos. It was perfect! Check out this amazing birthday mantle! Two slightly different colors of crepe paper were used and then were twisted together to create "water waves." Sharks were hung all over from string, so they would appear to float on top of the waves. Ummm….. DIY GENIUS!
You know it's going to be a good party when you walk in and find this absolutely awesome DIY wreath on the front door! Created by spray painting a foam wreath core grey, there were then small plastic sharks that were hot-glued all around the wreath to simulate a shark attack feeding frenzy! What? How adorable!
There were even homemade fins made for all of the kids to wear! They were made using stiffened felt. You can find the tutorial HERE.
And then there was this watermelon shark fruit bowl. I mean… really… The hostess's husband carved up this bad boy after showing him pictures on Pinterest. She convinced him it would be easy, but we haven't heard back from him to confirm that theory. Ha! Nobody could have possibly left hungry! The Shark Bait Sandwiches (tuna salad), Shark Fin Sandwiches (cheese triangles), Slow Swimmer Salsa and Sea Algae Guacamole with Fins (blue tortilla chips) and Shark Teeth (Bugles) had everyone super impressed with the great menu names! And that didn't even include the Whale and Goldfish crackers, the Vegetarian Shark Food (crudités), and sea dogs (hot dogs). Impressive!
The awesome cake for the shark party was about as "shark" as you could want! With a cute little DIY cake topper on the main layer and cupcakes flowing underneath, it was what every little birthday boy would love!
The dessert table was absolutely "to-die-for"! It included so many unique and awesome ideas, including the shark attack cupcakes (blue velvet cake with coconut cream cheese icing and fondant fins), Jaws Cupcakes (vanilla cake with vanilla whipped frosting and gummy sharks), Great White Sugar Cookies, Fish Kabobs (gummy fish and shark candies on a stick), and Life Preservers (mini sugar donuts with red gel icing). What great ideas and everything was so fun and unique!
And the watering hole? It was absolutely perfect and how cute is the little shark surfboard that was used to decorate the table as a backdrop! How perfect! Who could resist that Shark Infested Lemonade or the Chum Punch when it looked so irresistible?!
One of the favorite things about the sharks that hung from the ceiling were the shadows they created when the light was turned on. The slight movement of the sharks and the big shadows made it look like there were actually sharks swimming around the room. Can't get much better than that for a shark party!
How about these super awesome party activities?! There was a shark dress up bucket that included a shark, sailor, and captain costumes, along with a beach ball, surfboard, sunglasses, flower leis, a blow-up shark, and various beach paraphernalia. Everyone sure loved digging into that! They also had games like Pin the Fin on the Shark and "Let's Go Fishing," along with a Make Your Own Shark craft station. And how could you have a shark party without a movie showing of Finding Nemo?
Once the party was dying down, it was time to pass out the party favor buckets. And oh my! Did the kiddos love these! They included an "under the sea" coloring book, shark stickers and tattoos, a bag of shark and fish gummy candies (Fish kabobs, anyone!), a shark squirter toy, fish stamps, sunglasses, and a glow bracelet. WOW!
This was one amazingly styled birthday party, which included so many great DIY projects! Mom really outdid herself on this one and it looks like it was totally worth it. What a hit!
Credits & Resources