Llama Themed 1st Birthday Party
There isn't a much better way to celebrate a big milestone birthday than with a Llama Themed 1st Birthday Party!
How fun is this Llama Themed 1st Birthday Party, which was designed by Our Nest Handmade in Naples, Florida?! We just love everything about this fun birthday celebration for this sweet girl. It definitely looks like a "Whole Llama Fun"!
Llamas are all the rage right now, so what better way to celebrate a birthday in your life than with a fun Llama Themed Party? This colorful pastel celebration is full of Llama 1st Birthday Party Ideas that all of your friends and family will love to be a part of.
From the chalkboard poster sign to the amazing dessert table that included everything from a perfect cake to amazing cactus and llama themed desserts, everything was absolutely perfect for this Llama Themed 1st Birthday Party. This birthday girl celebrated her big milestone first birthday in big time style and we absolutely love it!
And just look at all of those amazing pastel balloons that lined the dessert table! All of the colors, including Ivory, Yellow, Pink, Sky, Teal, Mint, and Silver made for a striking display all over the Llama Themed Party. Luckily, everyone will remember what an amazing celebration this was, thanks to the fun backdrop that was available with tons of cute photo booth props! So fun!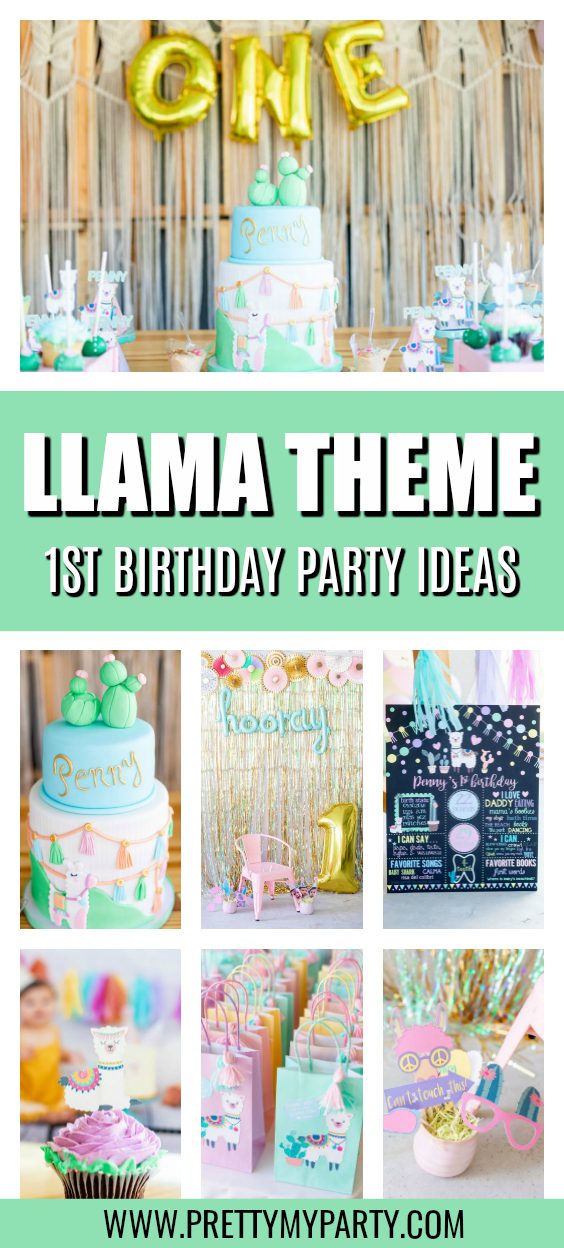 Llama 1st Birthday Party Ideas
Bright Chalkboard Poster Sign
Llama and Cactus Themed Birthday Cake
Fun Llama Themed Decorations
Llama and Cactus Party Supplies
Bright and Colorful Llama Favor Bags
Cactus Cake Topper
Colorful Dessert Table Garland
Gorgeous Gold-Lettered First Year Photo Banner
Personalized Llama High Chair Banner
Welcome Sign
Balloon-Filled Dessert Table Backdrop
Llama and Pom Pom Garland
Dessert Table with Bright Personalized Llama Cookies
Gorgeous Floral Centerpieces
Fun Potted Cactus Centerpieces
Amazing Dessert Table Decorations
Gorgeous Pastel Balloon Garland
Jumbo 'ONE' Backdrop Balloons
Personalized Llama Popcorn Boxes
Cactus Topper Cupcakes with Llama Decor
Fun Cactus Cake Pops
Taco Bar Signs and Fixings
Cactus Themed Rice Krispie Pops
Fun and Bright Photo Booth with Gold Backdrop
Llama Themed Photo Booth Props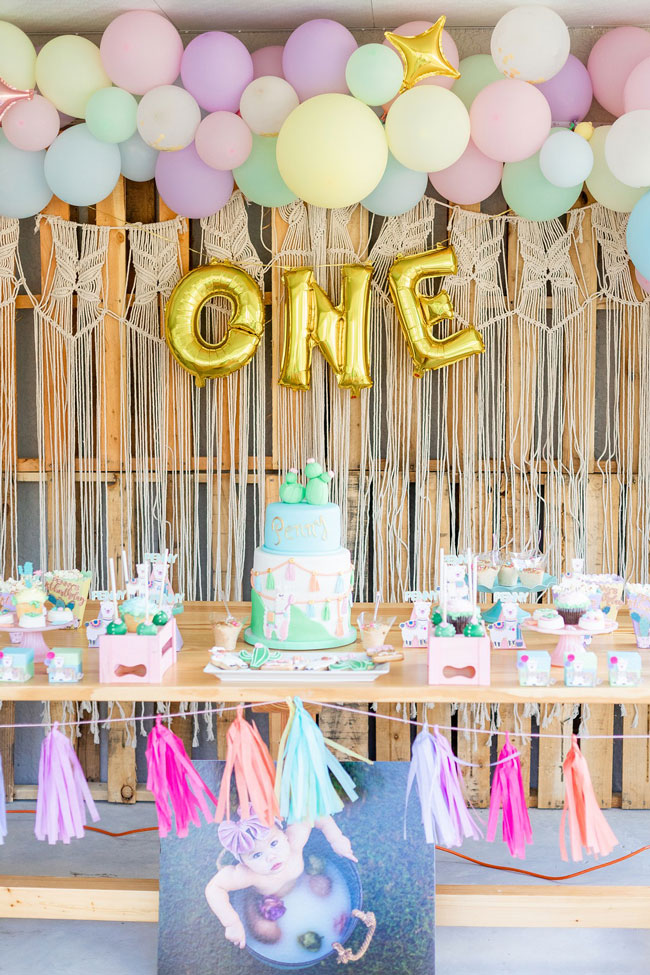 Llama 1st Birthday Party Supplies and Decorations:
More party ideas for girls:
We have so many favorite details in this amazing Llama Themed 1st Birthday Party. It's hard to pick an overall winner, but we sure do love all of the sweet treats that were made and all of the pastel llama and cactus decorations! This was a such a great theme for a first birthday celebration for a sweet little girl. How about you? What are your favorite details? Let us know in the comments below!
Party Vendors
Event Designer: Our Nest Handmade
Photographer: Pine & Forge