Cute Llama Birthday Party
Llamas are all the rage right now, so why wouldn't you want to have a Llama Birthday Party for your next big celebration?
This Llama Birthday Party from Trendy Events of Puerto Rico is everything we never knew we needed! We love the desert vibes with the pastel color palette. All of these gorgeous Llama Party Decorations would be good for any kind of celebration, not just a birthday. We think it would be great for a baby shower, as well. So many possibilities with such a fun Llama Party Theme!
The colors give off a southwest vibe, which is a fun background to have for any birthday celebration. We can almost imagine sitting in a warm, poolside venue with the hot air blowing around us and a llama sticking close by to keep us company. How fun! All of these Llama Party Supplies can make this dream a reality in no time. We love it!
Llama Party Ideas
Gorgeous Pastel Llama Birthday Cake
Adorable Llama Themed Cookies
Llama Themed Chocolate Covered Oreos
Llama Cupcake Toppers
Cute Llama Party Favors
Llama Party Placemats
Awesome Pastel Llama Backdrop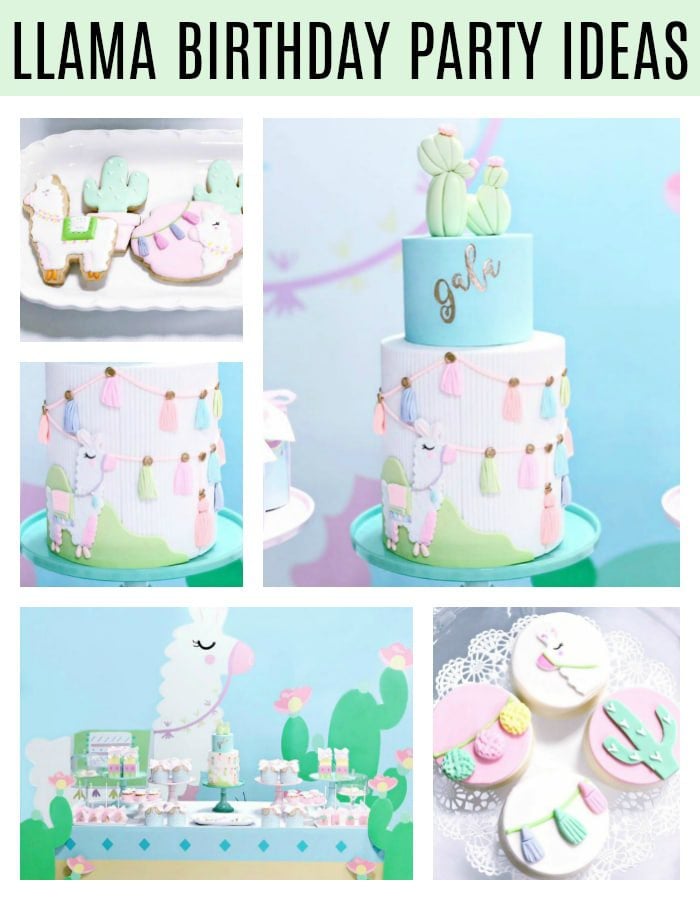 Llama Party Supplies and Decorations
All of the party supplies that were used were absolutely perfect for the Llama Themed Birthday Party. We're sure you can get all of the inspiration you need with the party supplies listed, along with the great ideas listed in the Llama Birthday Party below!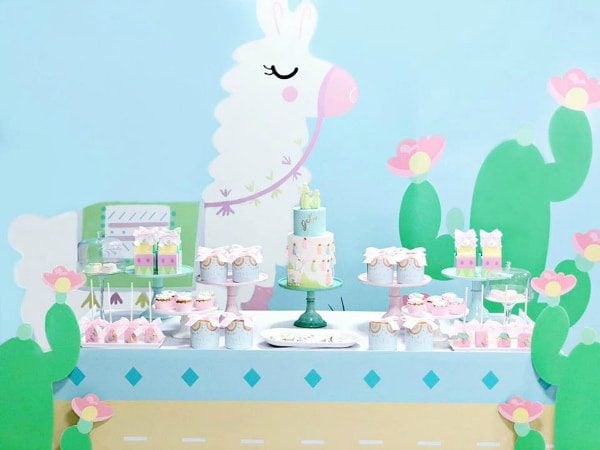 This Llama Themed Birthday Party is absolutely adorable! The large llama backdrop that is in front of the spectacular dessert table is absolutely everything! We also love how the flowers and cacti set off the entire theme of a western dessert llama vibe.
We also love the table cover that ties the whole tablescape together. With the geometric shapes and contrasting colors, everything looks picture perfect for this sweet birthday party. We really love the 3D dimensional view of the cactuses and flowers right in front of the dessert table. It's beautiful!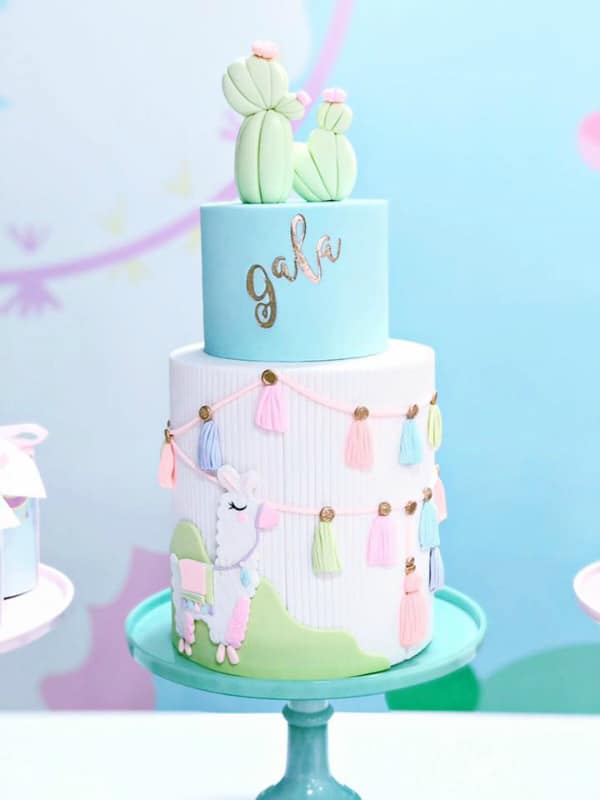 Cake Therapy did one amazing job on this Llama Birthday Cake! We love all of the details that were included and they made the pastel color palette continue to look gorgeous, as well! Just look at all of those amazing details, with a great cake stand to complete the great look!
What a gorgeous 3-tiered cake that will feed everyone, along with some seconds! Because who wouldn't want seconds from this awesome Llama Birthday Cake?! We also love how the cactuses are the cake topper to bring that southwest vibe to the theme. Gorgeous!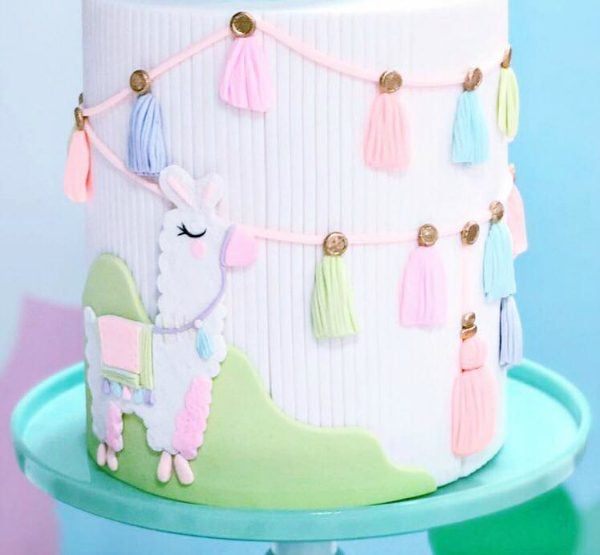 How sweet are all of the beautifully crafted tassels that go around the Llama Birthday Cake?! This sweet llama looks like she is having one fun time at their birthday celebration! Creating a cake is no small feat and we just love how this one turned out for the Llama Themed Birthday Party. What a fun multi-dimensional feel.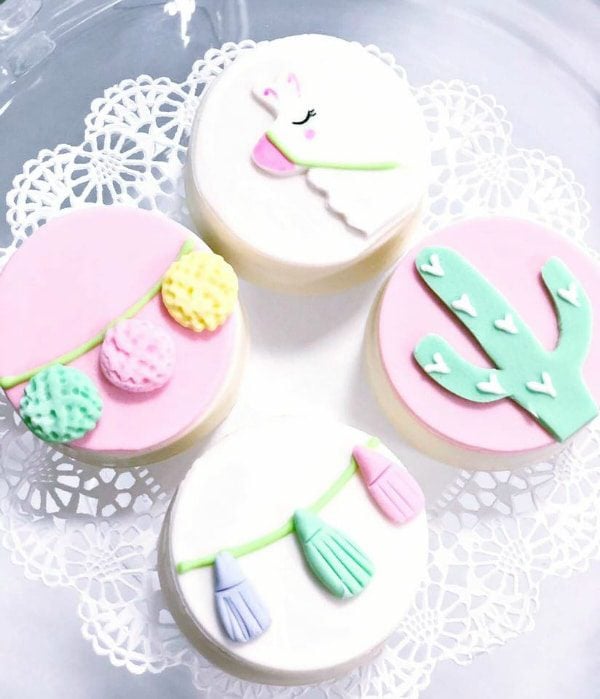 Look at these tasty treats that will give you many Llama Party Food Ideas! One of my favorite parts is that they have different colors of pink and white to offset the different looks that the party is going for. Everything also ties in beautifully with the cake, that has similar decorations around it, as well. We also love the dainty doilies that are used for presentation. Everything looks so fun, yet with a touch of elegance.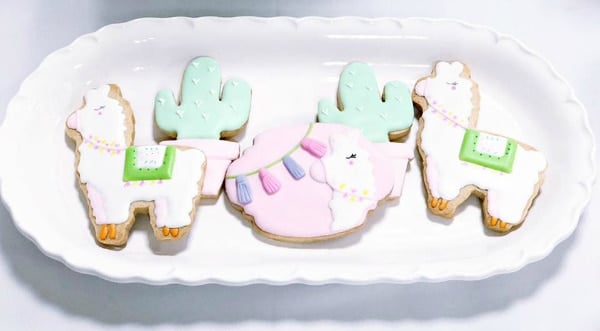 No Llama Themed Birthday Party would be complete without these amazing llama cookies! Again, we love that they are varied between the different colors, like the green on the cactus and pink for some of the cookies, as well. And how much time it must have taken to be so meticulous with these cookie decorations is impressive! We're not sure we would want anyone eating them, because they are truly gorgeous works of art!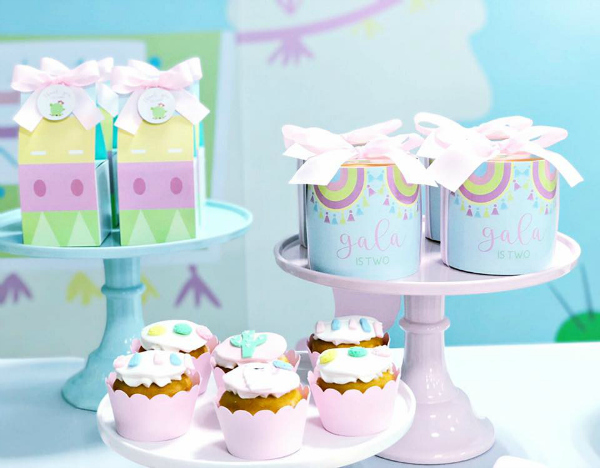 Llama cupcakes were also available at the Llama Themed Birthday Party. There were also fun Llama Party Favors available for all of the Llama Birthday Party guests. What cute little boxes that were created for all of the guests to take home some goodies in! We're sure that everyone took advantage and stuffed as many yummy treats in their goodie box as they could fit! We know we would!
All of the place settings for the event were absolutely adorable. Llama Party Supplies were found all around the birthday party, with great llama place settings laid down at every chair. We bet all of the little birthday guests loved having their own place to sit, along with a fun place setting to play with and take home, as well! What great printables for the event!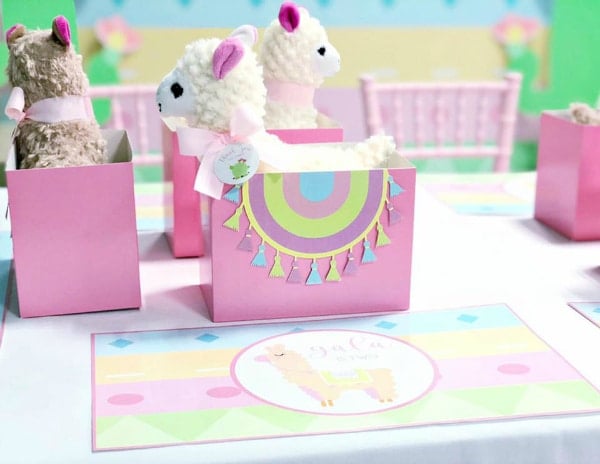 Little Llama Party Favors were found at all of the individual place settings, as well, with all of the party guests getting their own special stuffed llama! What little party guests wouldn't love to go home with a stuffy all of their own from the fun Llama Themed Birthday Party?! We bet these were one of the biggest hits of the birthday party and we like how some of them are lighter colors than others, to vary the color palette throughout the seating table.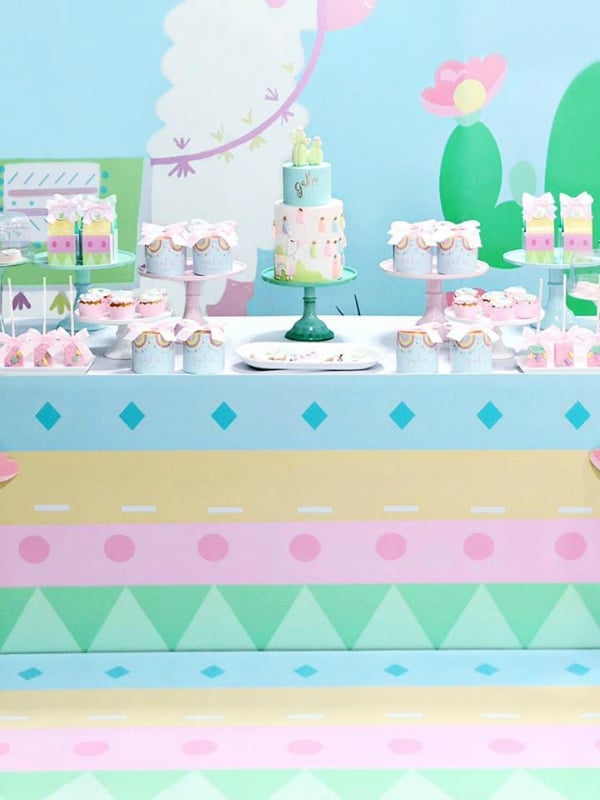 And just like that, we have the cutest little Llama Birthday Party Ideas that we've ever seen for a Llama Party! We love everything from all of the Llama Birthday Decorations to the great Llama Party Food Ideas. Everyone had to have went home pretty excited about the fun adventure that they just got to experience. We know we sure would be!
Any child would love the colors and llama adventures that would await them when walking into this magical llama birthday celebration! We're sure they were all sad to leave and say good-bye to their new llama buddy. Until next time!
Vendors & Credits
Party Styling: Trendy Events
Cake: Cake Therapy
What's your favorite details in this Llama Birthday Party. Let us know in the comments below.
For more party ideas, follow us on Instagram @prettymyparty and Pinterest and join us in our private Facebook group.