Fun Soccer Themed Birthday Party
If you have a soccer loving kiddo in your house, this Soccer Themed Birthday Party will definitely score you some extra points!
This fun Soccer Themed Birthday Party from Trendy Events of Puerto Rico is right up your alley if you have a soccer enthusiast in your home! We especially love this Soccer Birthday Party because it incorporates this little birthday boy's favorite soccer team into the event, as well.
It's a win-win for him and we're sure his family was ecstatic to see the big smile on his face as soon as he walked in the doors. Check out these great Soccer Party Ideas!
Soccer Party Ideas
Awesome Soccer Birthday Cake With Giant Soccer Ball Cake Topper
Fun Soccer Themed Cookies
Soccer Theme Cupcake Toppers and Green "Grass" Frosting
Cool Personalized Soccer Party Backdrop
Soccer Inspired Rice Krispie Pops
Personalized Soccer Water Bottle Party Favors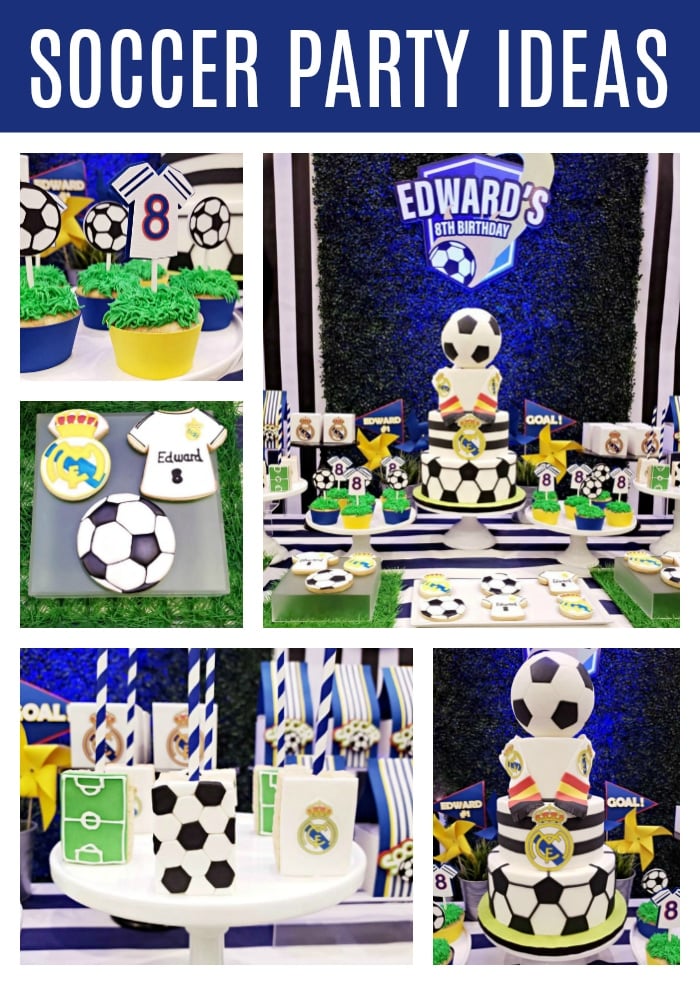 Soccer Themed Birthday Party Supplies and Decor: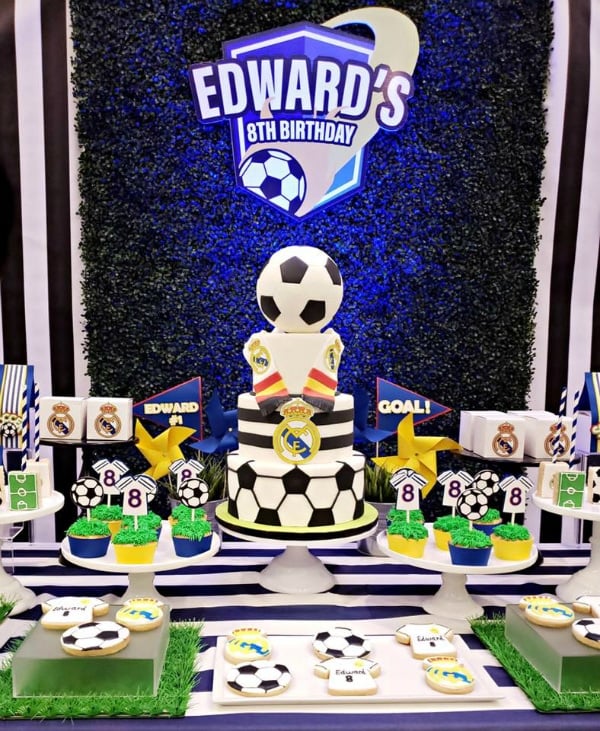 Everything about this Soccer Themed Birthday Party tablescape is absolute perfection! The color scheme was taken from this little guy's favorite soccer team, and the contrasting blue, green and yellow look amazing together! That backdrop is gorgeous with the colors and 3D effects it invokes.
The blue and white tablecloth look great against all of the desserts that are piled high on the table. Soccer Themed Treats are found everywhere, along with great Soccer Party Decorations lining up around the table and being used as serving trays. We love it!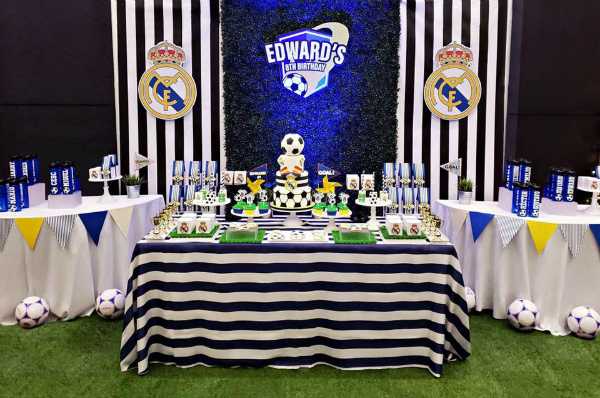 Everything at this Soccer Themed Birthday Party is top-notch! The logos that were created by Cristina Marrero are such a fun addition to the Soccer Birthday Party. Fun flag decor, along with soccer balls are seen around the tables and everything looks exactly where it is meant to be. It's almost a shame that this tablescape couldn't be left alone for eternity, because it is so beautiful and perfectly curated! But, we guess that's what a birthday party is all about. Having all the littles come in and have some big-time fun!
Hello Stickies did one amazing job creating all of the graphic design and specialty items that were found around the Soccer Themed Party, as well!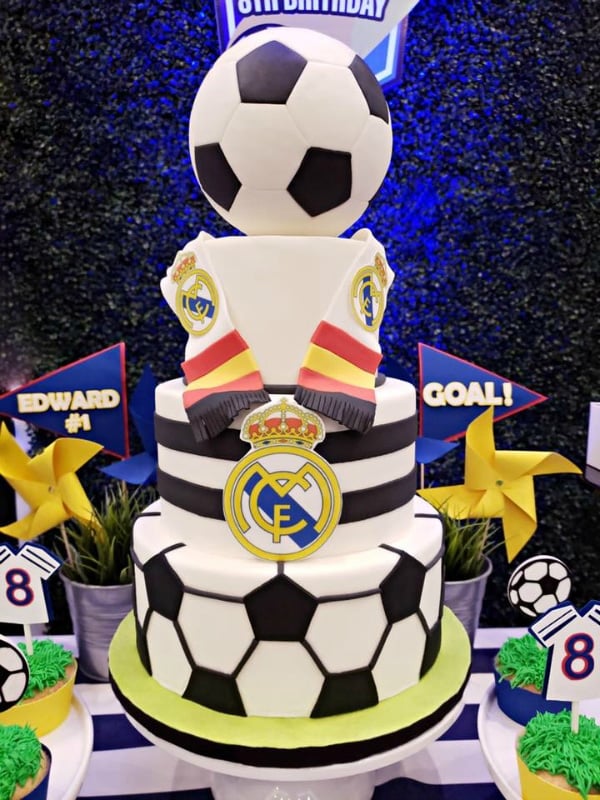 Check out this amazing Soccer Birthday Cake that was created by Cake Boutique by Grizelle Silva! It is EVERYTHING! We love all three tiers of this fabulous cake, starting with the great soccer design on the first layer. It almost made us do a double take! The fun logos are found on the second and third layers, with a grand finale on the top with the soccer ball! If anyone was questioning this little guy's loyalty to soccer, they clearly have never seen this birthday cake. It's amazing!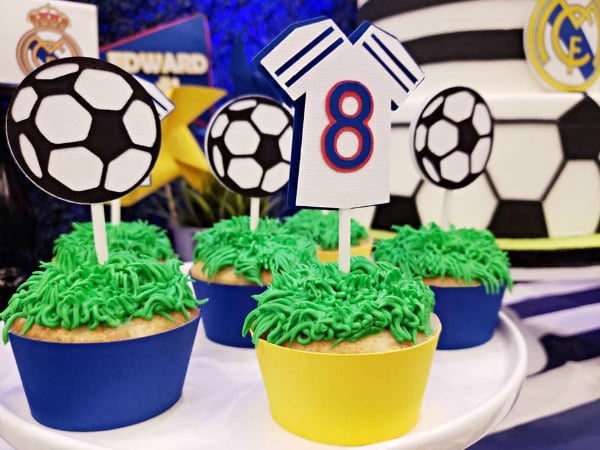 How fun are these great soccer cupcakes?! We love how the frosting on the cupcake was made to look like grass. Then, with some great cupcake toppers added to each one, a fun creation was made that everyone is going to be excited to bite into. Even the cupcake holders are on-point with the color palette that was used around the birthday party. If you're looking for Soccer Dessert Ideas, these are great!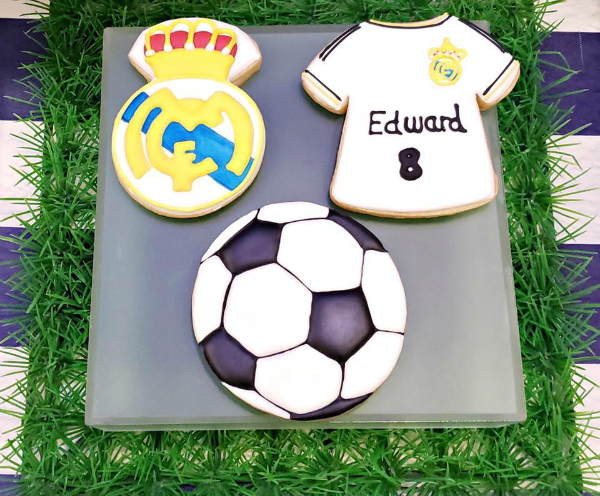 Sugar Box PR did an amazing job in creating soccer cookies for this Soccer Themed Birthday Party. We especially love the little guy's jersey that was recreated with the cookies, along with the turf on the bottom where the cookies were displayed. How fun that it almost feels like you're at a real soccer field getting ready for the big game to start!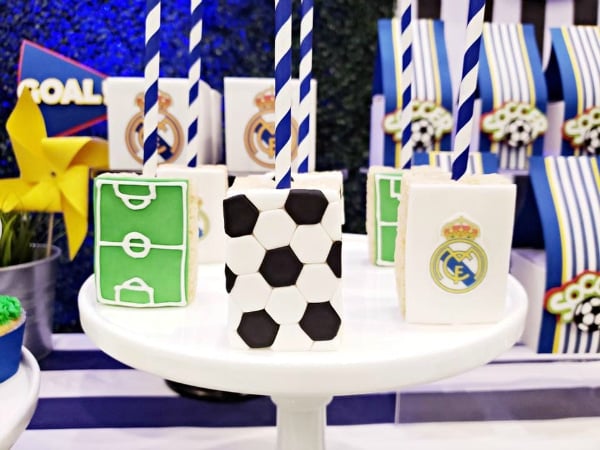 Look at these yummy treats that replicate soccer balls, soccer fields, and the birthday boy's fun logo. Having them served with the striped blue and white straws was a fun idea to incorporate more of the colors from the Soccer Birthday Party Theme and goes great with all of the fun Soccer Party Supplies around the event, as well.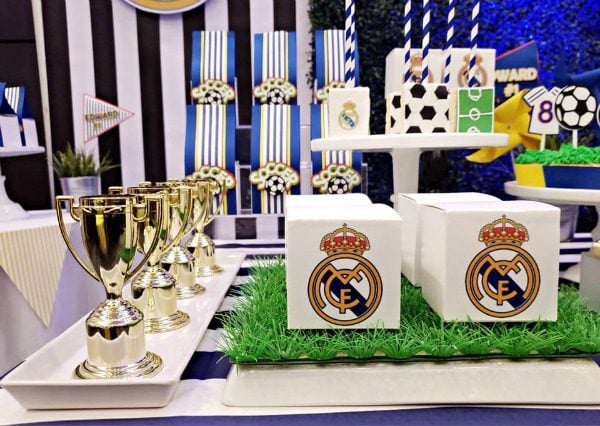 Soccer Party Favors were of course around for all of the kiddos once the Soccer Themed Birthday Party was coming to an end. Everyone was a winner with these fun trophies the kids got to take home, along with a goodie box that everyone was able to fill with their own favorite sweets from the party. Who doesn't want to take home extra goodies when the party is over?! We know we do!
Even better, there was even more to come as soon as the kids got a good look at the Soccer Party Favors table. We bet they couldn't wait to get their hands on all of the goodies!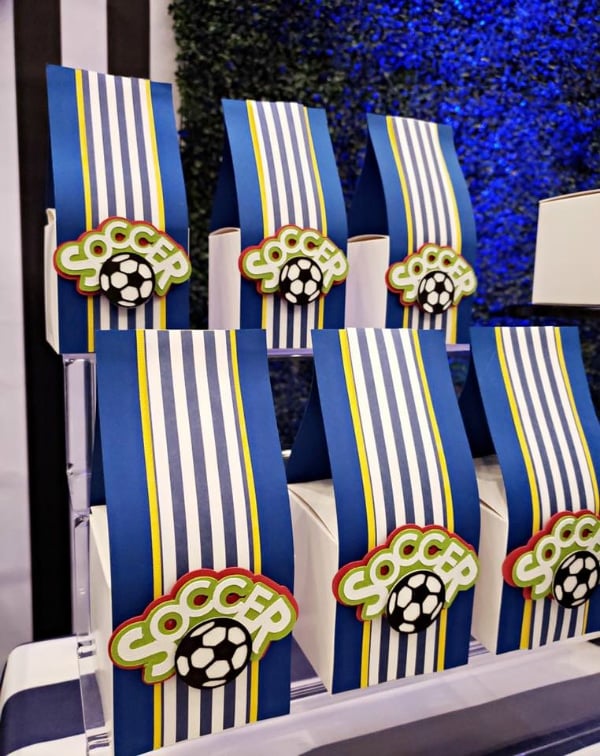 More than one type of box was created for the Soccer Party Favors, so kids got to choose which one they preferred before filling it full of treats. What a fun adventure for everyone! And just look at the amazing detail with these party favors. We love how the word "soccer" has a multi-dimensional look with all of the colors from the event utilized on the bag.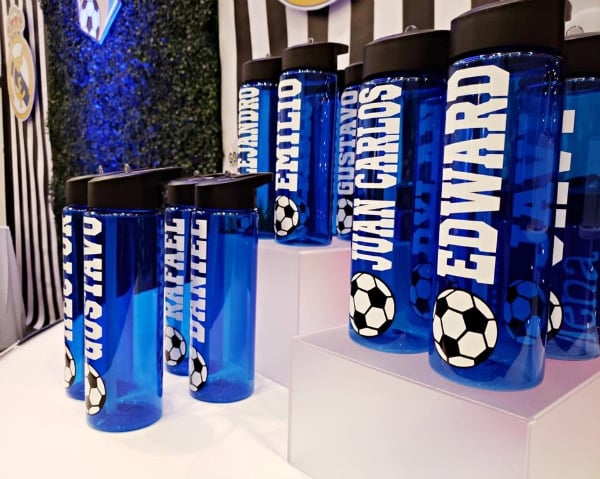 Our favorite thing that all of the Soccer Birthday Party guests got to take home were these personalized water bottles for each child! All of their names were put on the water bottle, along with a soccer ball, to always remind the kids where they got the fun party favor. We're sure all of the kids will get a lot of use out of the water bottle during soccer practices and games!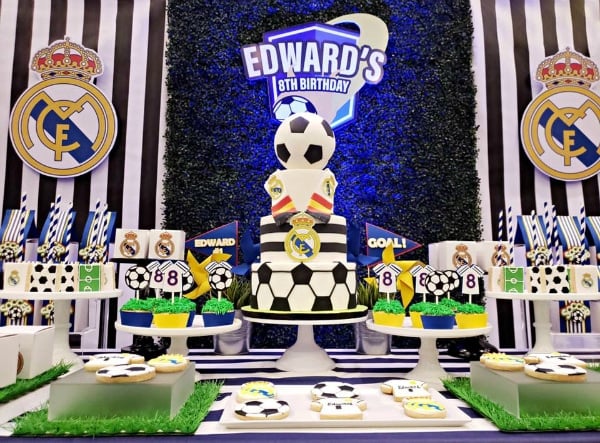 This final look at the Soccer Birthday Party truly shows how much effort and details were used to make everything absolutely perfect. From the fun backdrop to the amazing cake, this is one birthday party that this little boy is going to remember for years to come. How could you not with how awesome it is?!
What's your favorite details in this Fun Soccer Themed Birthday Party? Let us know in the comments below.
Vendors & Credits
Planning, designing and styling by Laurie Figueroa of
Trendy Events
Edwards Logo: Cristina Marrero

For more party ideas, follow us on Instagram @prettymyparty and Pinterest and join us in our private Facebook group.