Adorable Construction Birthday Party
If your little ones likes dump trucks and construction equipment, than this Construction Birthday Party is going to bulldoze a new path in your life!
It's a right of passage that every little boy has to eventually have a Construction Birthday Party held in their honor for their big day. This party created by Joy in the Commonplace is full of great construction party ideas, decor and supplies that you can utilize for your own little builder!
We love the color palette with the bright yellow and black, along with a fun wooden palette background. Simple, yet adorable! Wait until you see all of these amazing Construction Party ideas!
Construction Party Ideas
Wood Pallet Backdrop
Adorable Construction Party Printables and Invitation
Bulldozer With Donut Holes
Yellow and Black Balloon Garland Decoration
Creative Party Food Ideas (Boulder Donuts, Dirt Cups, 2×4 Lumber Wafer Treats, etc.)
Construction Party Supplies and Decorations
What a fun Construction Birthday Party tablescape for a Construction themed event. Look at all of the Construction treats that are available, along with all of the great decorations that utilize construction items in one way or another. We especially love the bulldozer that is full of doughnut holes. What a unique and fun way to serve desserts!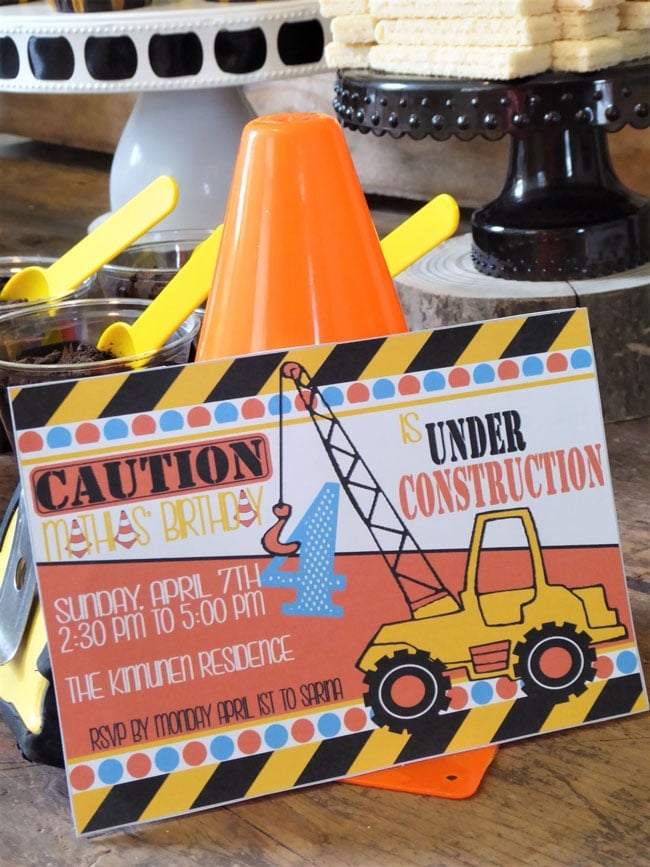 The Construction Party Invitations couldn't have been any sweeter! Mimi's Dollhouse was responsible for all of the great paper printables that were around the Construction Birthday Party. All of the colors in the invitation were definitely going to grab the attention of everyone who was invited. Who could forget this fun birthday celebration that was coming up when you could easily throw this on your refrigerator and always get reminded with the fun and bright colors?! We love it!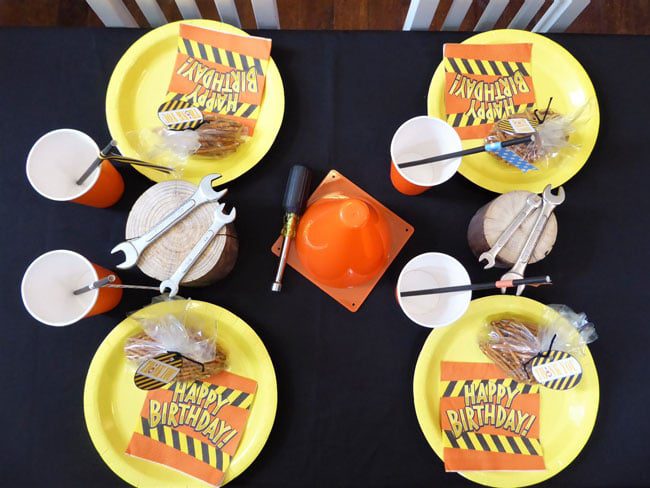 All of the place settings on the table were geared towards this fun Construction Birthday Party. You can find so many amazing Construction Party Ideas from all of the things at this party and we love how even napkins convey the construction vibe of the birthday celebration. With a crisp, black tablecloth to make everything stand out with the bright yellow plates, it was perfect!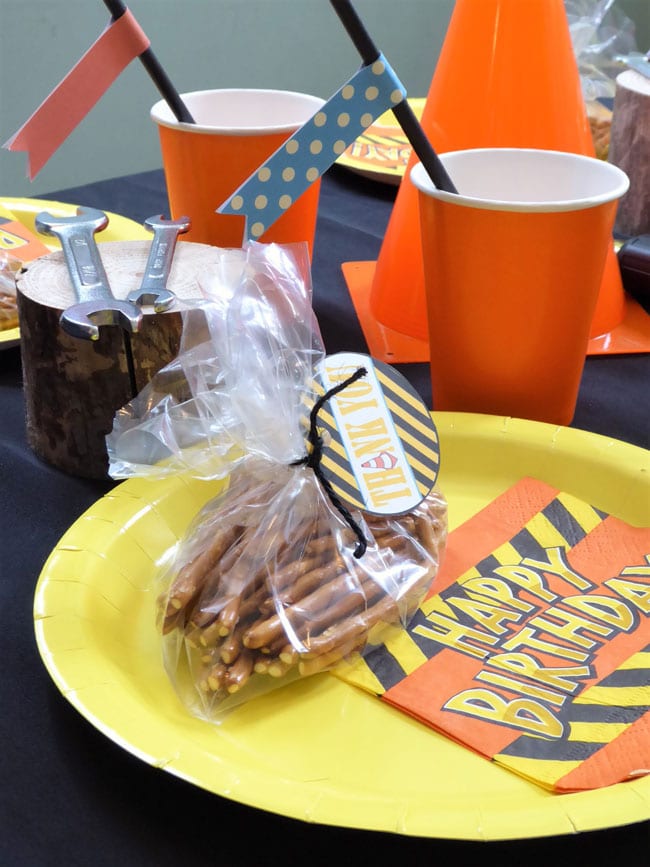 Simple and easy centerpieces were used on the birthday table, such as little blocks of wood that held some tools that were on display. Of course, there HAD to be construction cones found all around the Construction Birthday Party, too!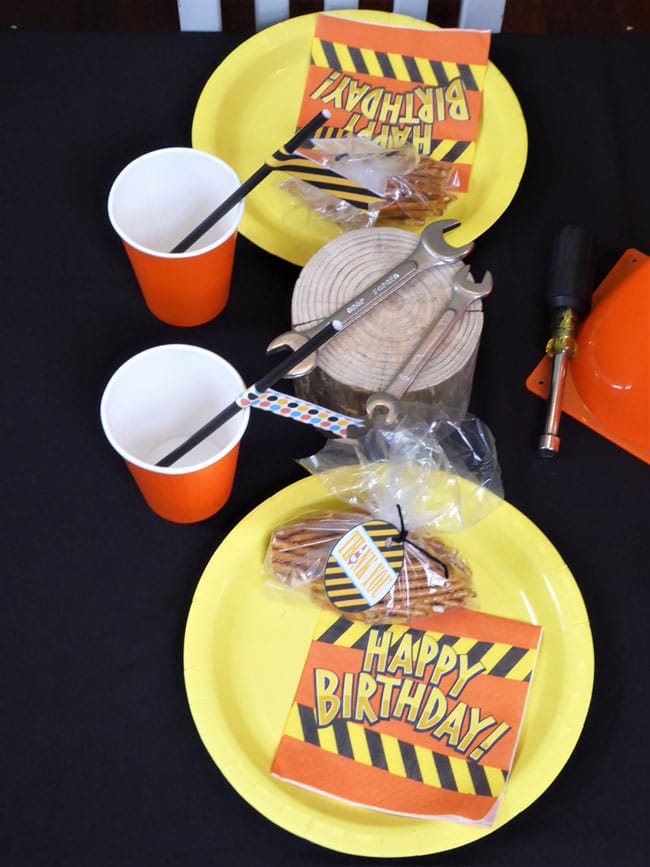 The bright yellow plates and orange cups made a big statement on the tables where everyone ate. It was a great way to incorporate the Construction Birthday Theme and tied everything together between the different areas of the event.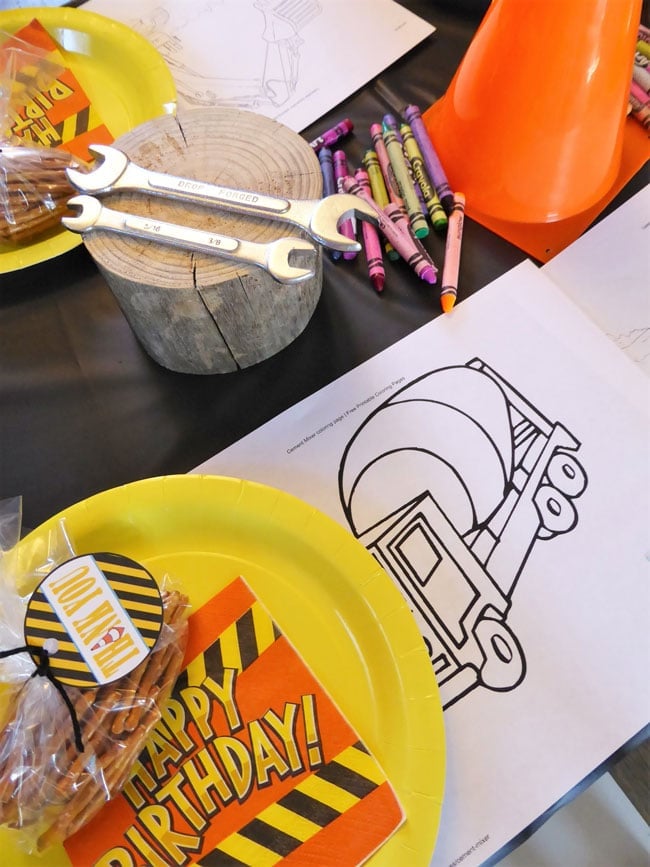 What Construction Birthday Party would be complete without some fun coloring sheets with the construction theme, as well! What a great idea to bring out some coloring sheets and crayons to keep everyone occupied when things are moving along at the birthday party. There were a lot of different coloring sheets for the kids to choose from, and they could even bring one home with them if they wanted to!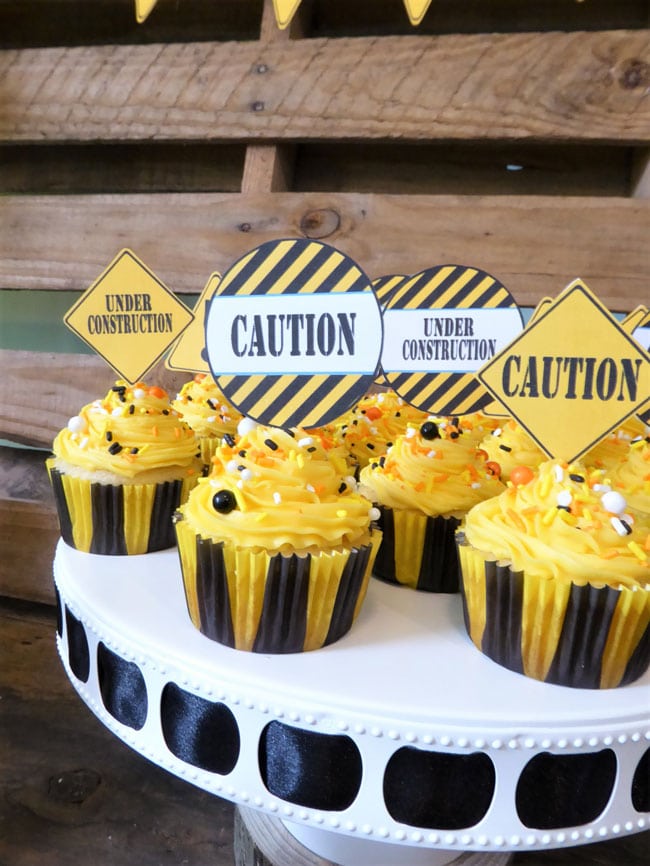 Caution! These amazing Construction Cupcakes were coming in hot! The great white cake stand was supplied by Amalfi Decor and we love how the ribbon winds around the stand. Cupcakes were full of Construction fun with the great sayings that were used as cake toppers, along with the bright orange and yellow frosting and sprinkles that were used.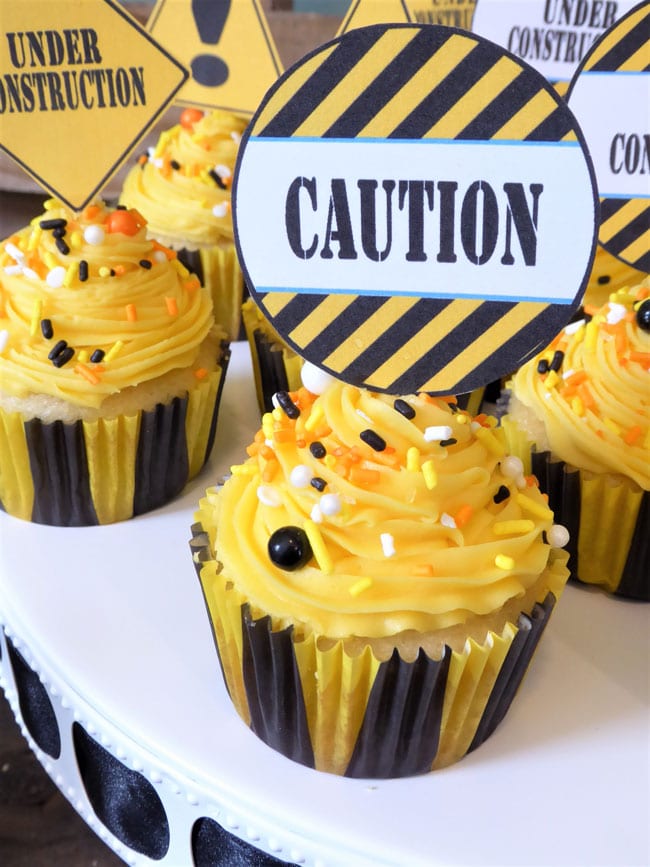 This little guy had some amazing Construction Cupcakes instead of a Construction Cake, but he didn't mind! We love all of the small construction signs that adorned each cupcake, signaling the warnings that you'd see in a construction zone in real life. We bet those may be some of the first words he reads really well someday soon!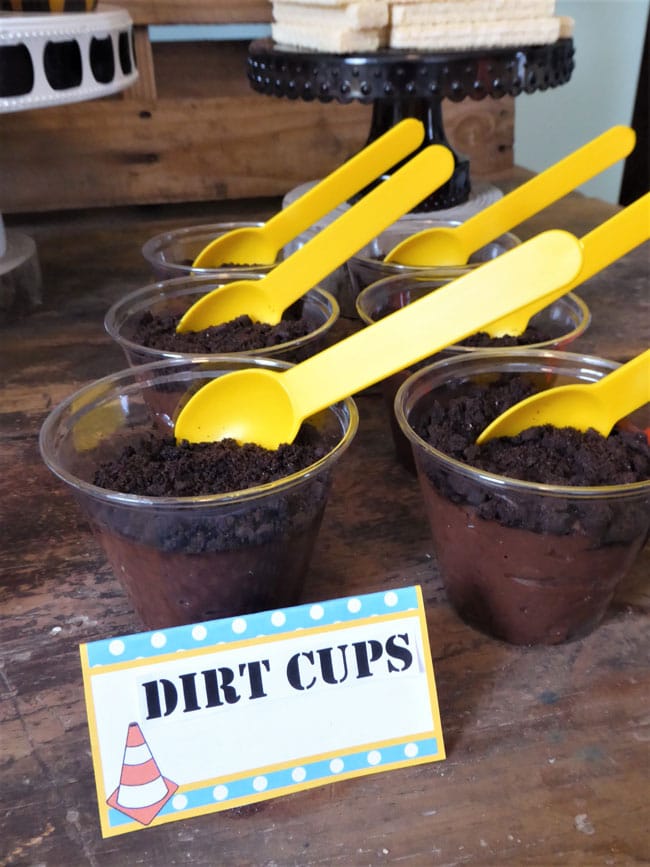 You can't have a Construction Birthday Party without some mud and dirt. Even in real life, construction sites get pretty darn messy! These Dirt Cups were a great way to bring the outside in, but they were definitely much yummier to eat! Crushed Oreos and chocolate pudding? Yes, please!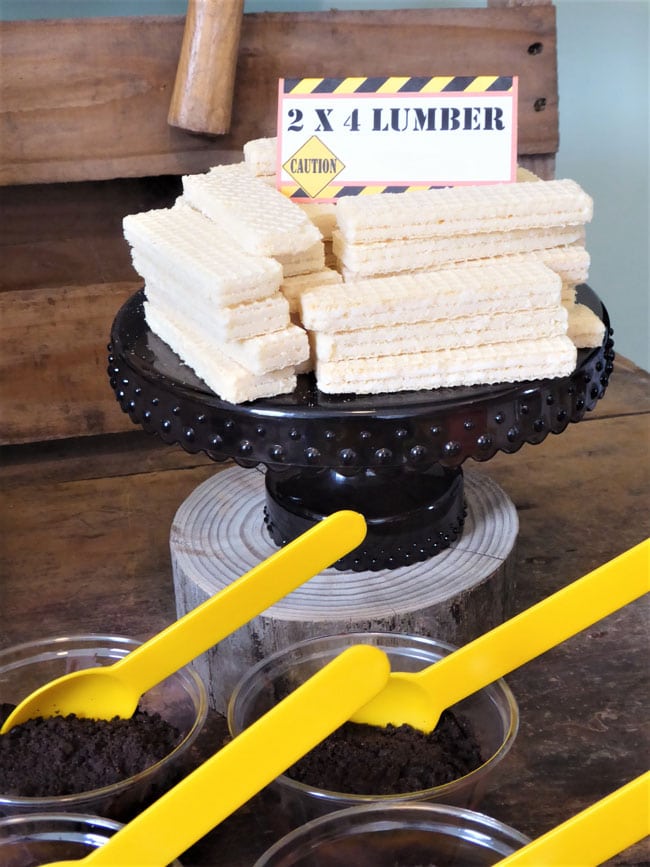 We love how these wafer cookies were used as a dessert in the Construction Themed Party. Of course, they look great as a 2×4 that would be used to build something. How perfect!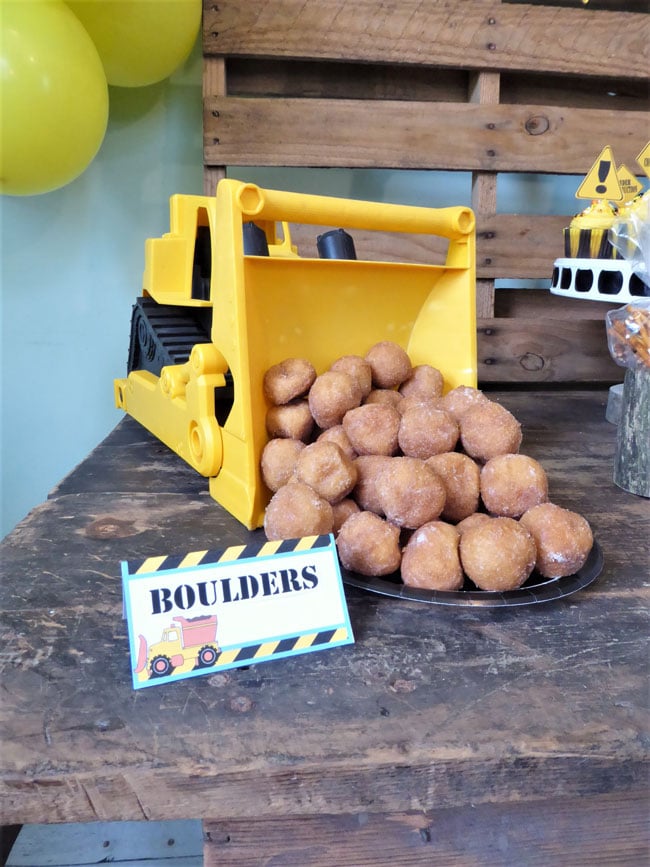 Here is that great bulldozer pushing around some doughnut holes, or "boulders," from one side of the party to another! They probably stayed in the same place during the entire Construction Party, but we bet all of the little ones wanted to get that toy off of the dessert table and play with it for real!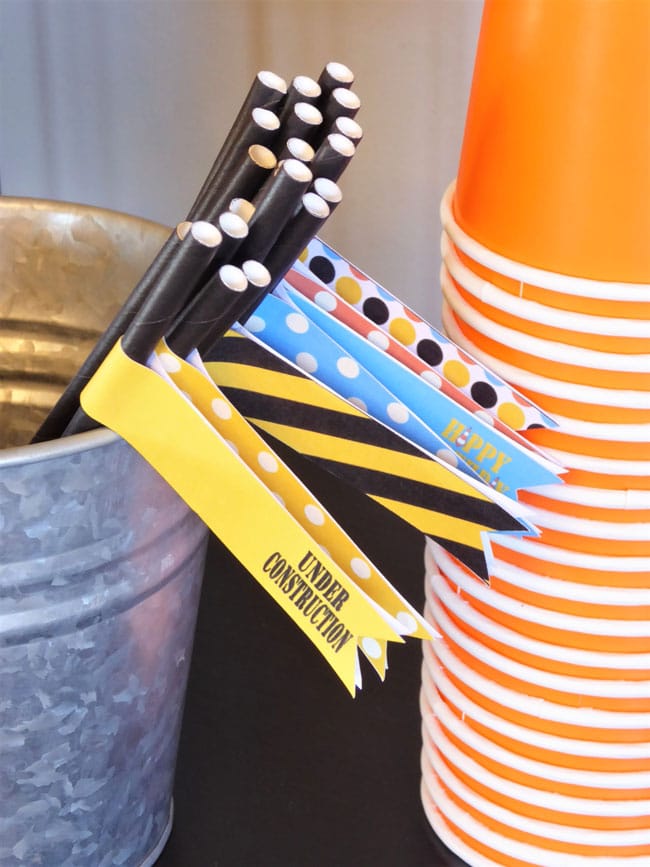 How fun are these great straws that were used, along with the straw flags that were wrapped around all of them?! We love how the galvanized tub was used to store all of the flags in next to the drink station. What a great idea!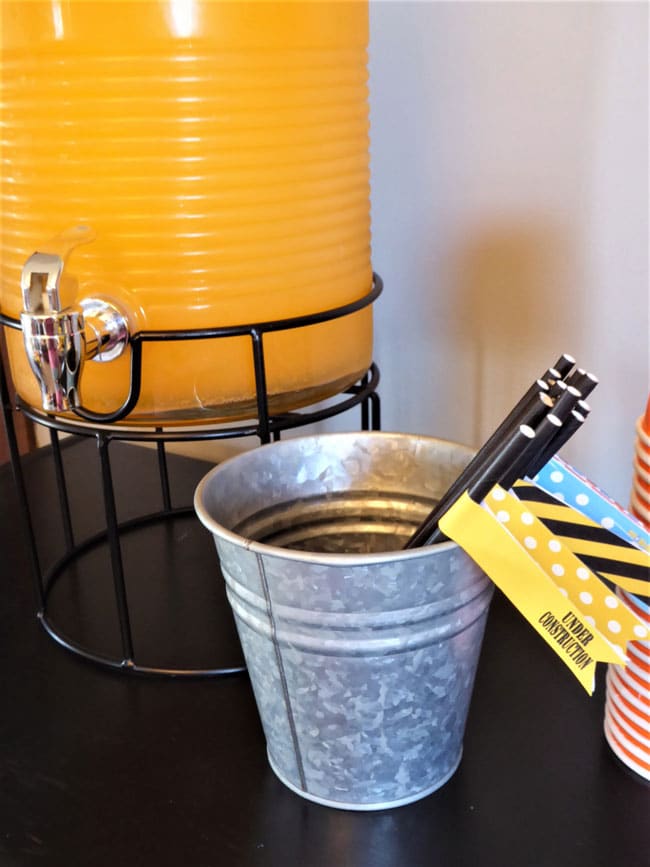 Sweets & Treats provided the straws that were used. Everyone was able mix and match whatever straw and straw flag that they wanted for their drink, so everyone was happy! And, of course, a big orange jug held all of the fun drinks that the kids got to enjoy. We just love this color scheme!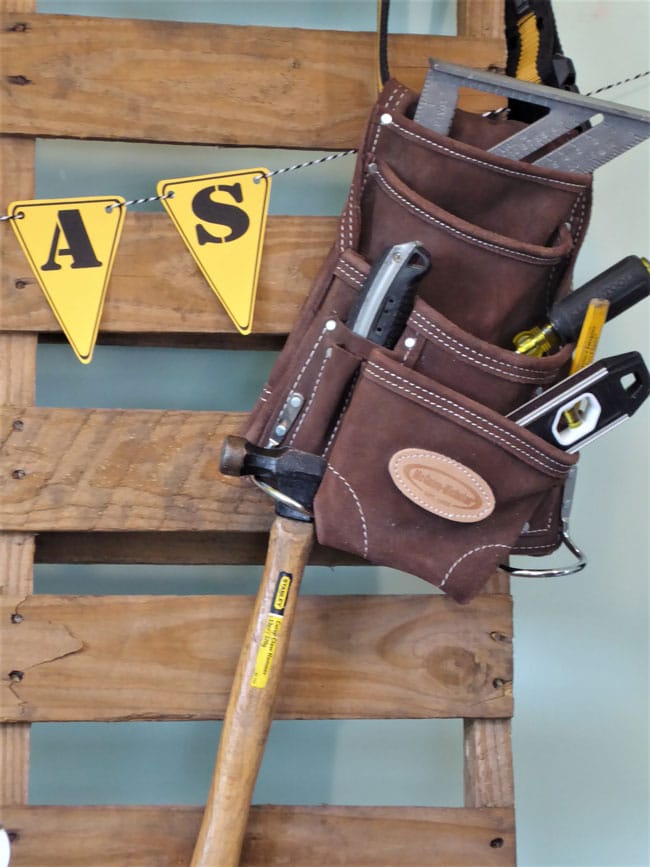 What kind of Construction Birthday Party would it be without using tools for Construction Birthday Decorations?! Different tools were used on the dessert table to add to the decor of the event. This tool belt was a great addition to the side of the dessert table, which held a whole bunch of different tools for the kids to oooh and aaah over!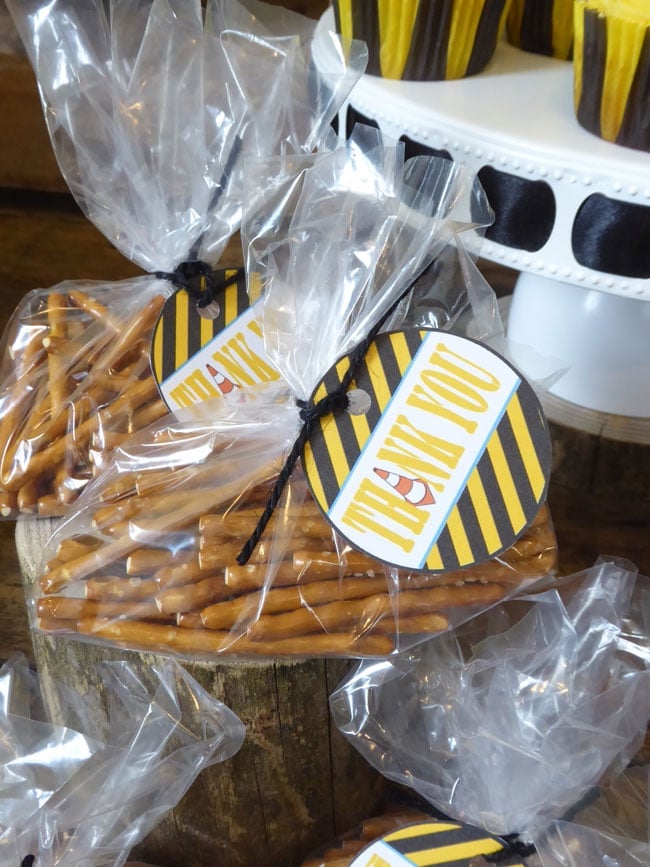 Of course, there was fun Construction Goody Bags ready and waiting for all of the birthday guests. Everyone would love to go home with a yummy bag of pretzels that was sealed off with a Construction themed paper thank-you tag. What a great way to end a big day!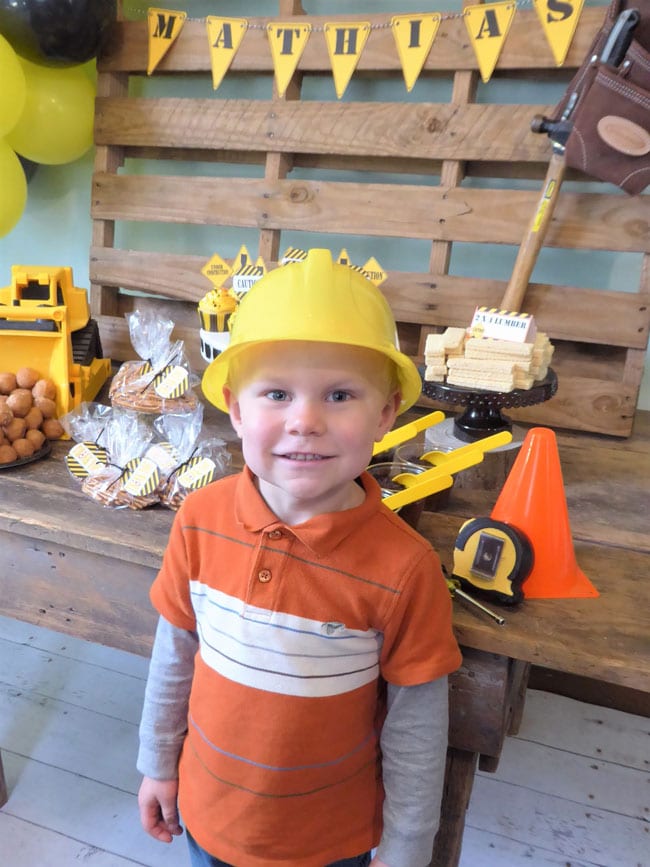 At the end of this amazing Construction Birthday Party, this little guy was one happy dude! He even wore a bright orange shirt so everyone would know he meant business. He definitely was going to stand out in a sea of children with that great outfit! Happy birthday, little guy, and we hope your amazing Construction themed party was everything you wanted!
Vendors & Credits
What's your favorite details in this fun Construction Birthday Party? Let us know in the comments below.