Vintage Inspired Peter Rabbit Birthday Party
This sweet Peter Rabbit Birthday Party is a great one for a first birthday party and is too cute to pass up!
If you have a little one and you love all things vintage, this Vintage Inspired Peter Rabbit Birthday Party from As You Wish Parties of Sri Lanka is right up your alley! Everything from Peter Rabbit comes alive for this Peter Rabbit First Birthday Theme and it all came together beautifully. Just wait until you see all of the gorgeous Peter Rabbit Party Decorations and Supplies that were used to make this sweet one-year-old feel like the most important person in the universe!
Peter Rabbit Party Ideas
Adorable Vintage Peter Rabbit Party Backdrop
White Picket Fence
Cute Peter Rabbit Themed 1st Birthday Cake
Amazing Vintage Peter Rabbit Cookies
Peter Rabbit Themed Cupcake Toppers
Food Themed Cake Pops
Vintage Peter Rabbit Party Printables
Peter Rabbit Centerpieces
Gorgeous Peter Rabbit Chair Decor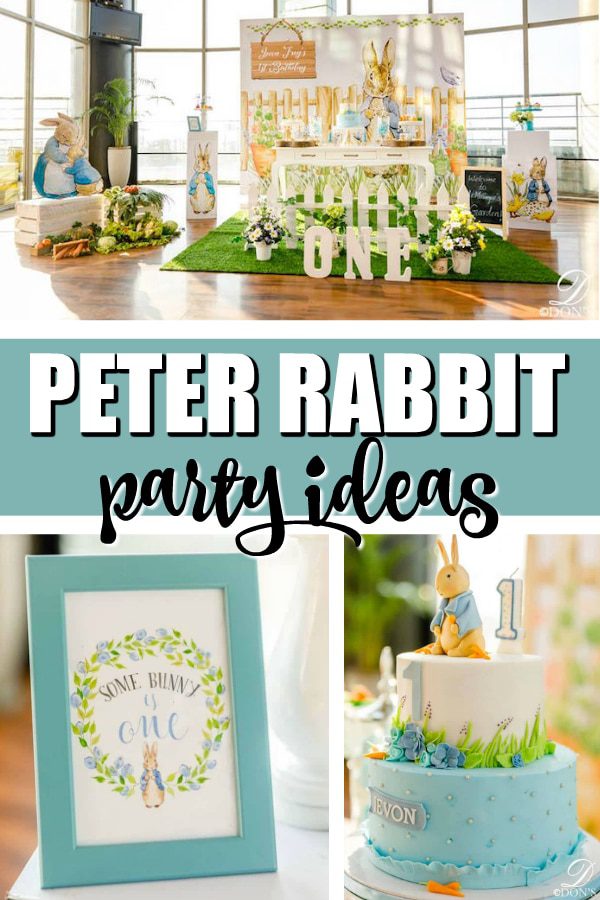 Peter Rabbit Party Supplies and Decorations:
When you think about a great tablescape for a first birthday party, particularly for a Peter Rabbit Birthday Party, we bet that you didn't think something as amazing as this would be the result! The "green" carpet was rolled out and nothing was left to the imagination. It's perfection and we are sure everyone who walked into the birthday party was left speechless by the gorgeous display, just as we were!
Peter Rabbit Party Ideas
Personalized Vintage Peter Rabbit Backdrop
Cute White Picket Fence
Blue and White Vintage Inspired Peter Rabbit Birthday Cake
Adorable Peter Rabbit Themed Cookies, Cupcakes and Cake Pops
Wooden Dessert Platters
Vintage Inspired peter Rabbit Party Printables
"Bed of Veggies" as Party Decor
Peter Rabbit Table Centerpieces with Greenery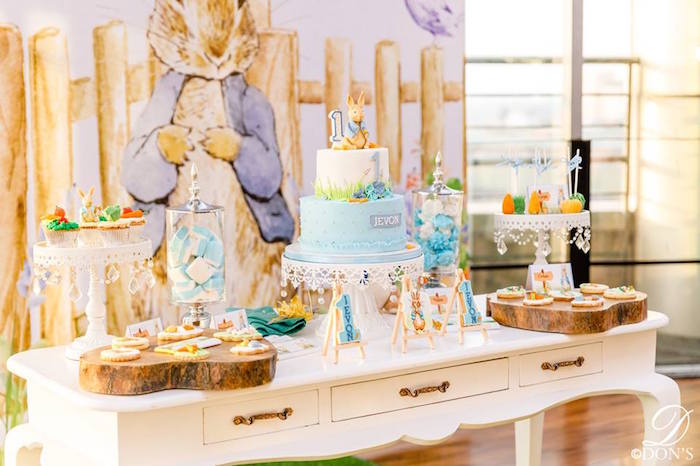 What an amazing tablescape that all of the desserts were laid on. The backdrop, itself, is truly stunning, but we really love the vintage table that was used to hold all of the Peter Rabbit Birthday Treats. The rustic wooden serving trays were a great touch on the white table, as well, and were the perfect compliment to the color scheme.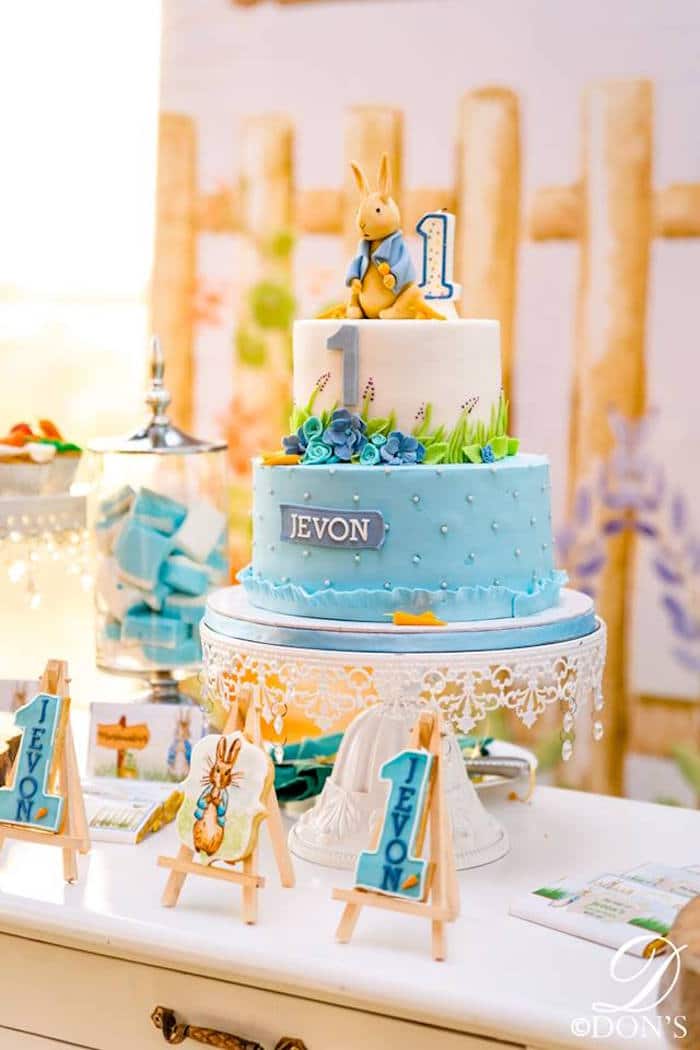 This Peter Rabbit Birthday Cake is absolutely the sweetest and it fits in perfectly for a one-year-old's birthday party! The multi-tiered creation is so sweet and Peter Rabbit, himself, adorned the top of the cake. What more could anyone want in a cake topper? We're so glad they got some wonderful pictures of this creation because we are sure it was hard to cut apart and eat after admiring it for so long!
We love the amazing details on the cake, such as the flowers that were between layers, and Peter Rabbit, himself. He looks just perfect! And how cute are those little carrots that were added to the base of the cake, for Peter Rabbit to munch on when he got hungry, too. We're not sure how you top this first birthday cake next year, because this one was absolute perfection!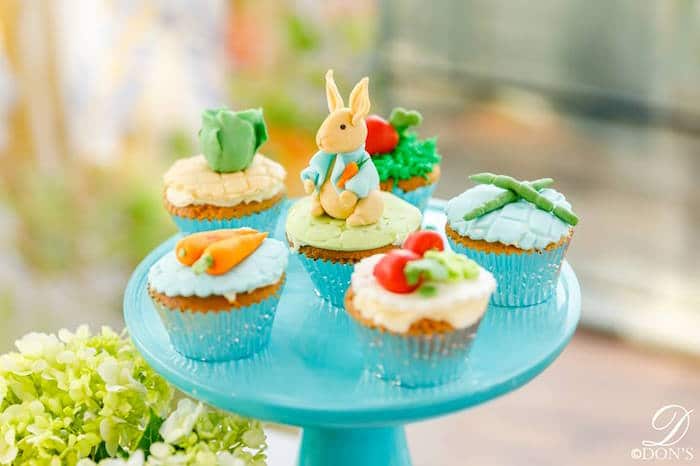 Cupcakes were made and displayed on a perfect eggshell blue stand for everyone to enjoy. All of the cupcakes had a different veggie found on top, as well. How cute! Just think, this may be the one easy way for kids to eat their vegetables without a big battle! Too bad they'll be surprised the next time they actually eat those vegetables and it doesn't taste like sugar on the cake!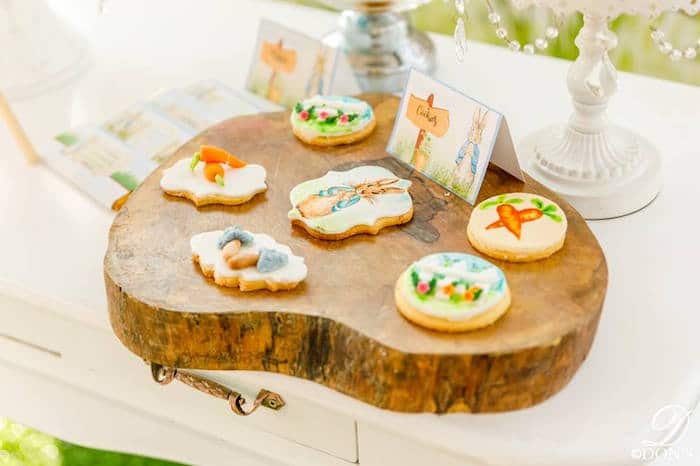 Sweet cookies were around for all of the party guests to enjoy. You are sure to find some amazing party food ideas at this beautiful event, that's for sure!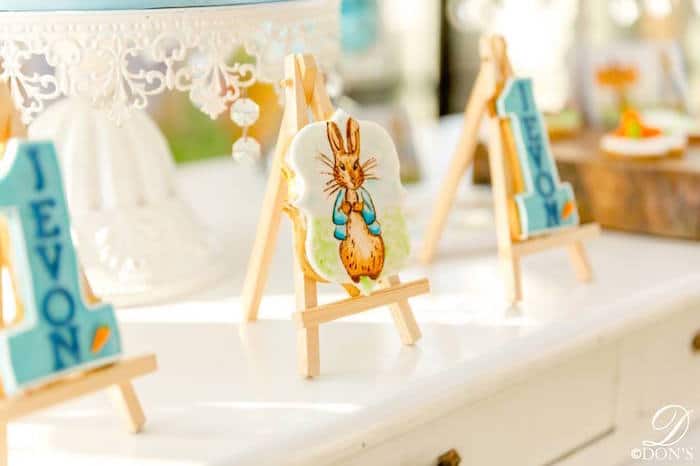 How cute are these mini easels that displayed the gorgeous, hand-painted cookies at the Peter Rabbit Themed Birthday Party?! What a great way to display things that deserve a little extra attention. It's also a great way to mix things up on the tablescape so everything isn't just sitting on the table. Variety is the key!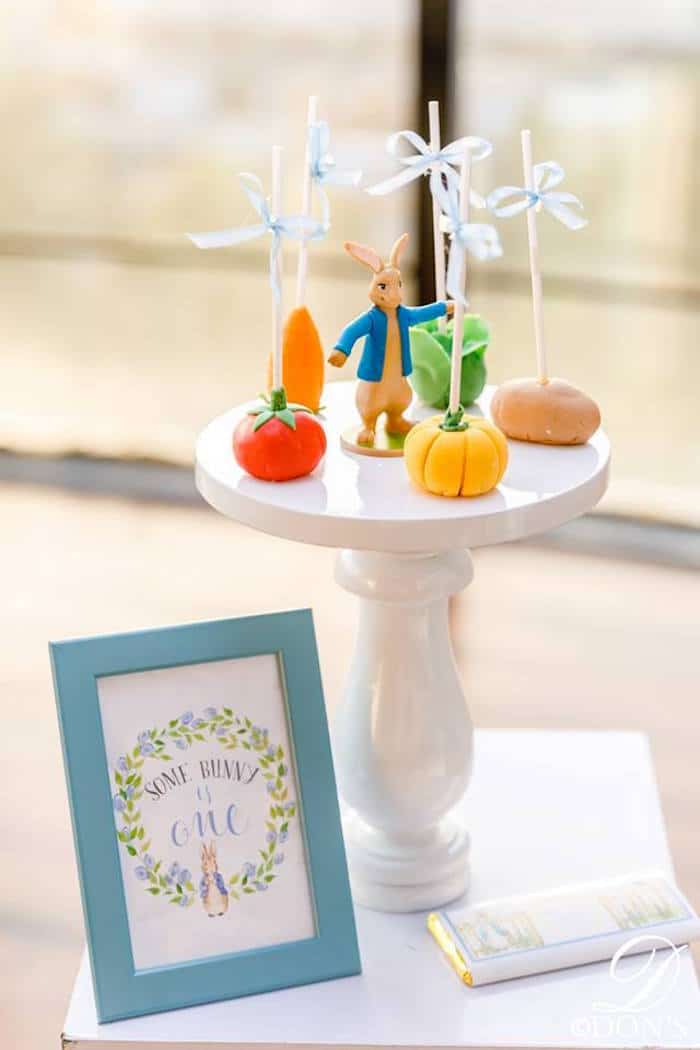 We just can't get over all of the amazing detail that was used for the Peter Rabbit Themed Party desserts. Just look at these cake pops, we've never seen anything like it! Again, some kids might be a little leery on eating a tomato that shows up on their plate, but once they figure out it's sugar and frosting? They were in all day!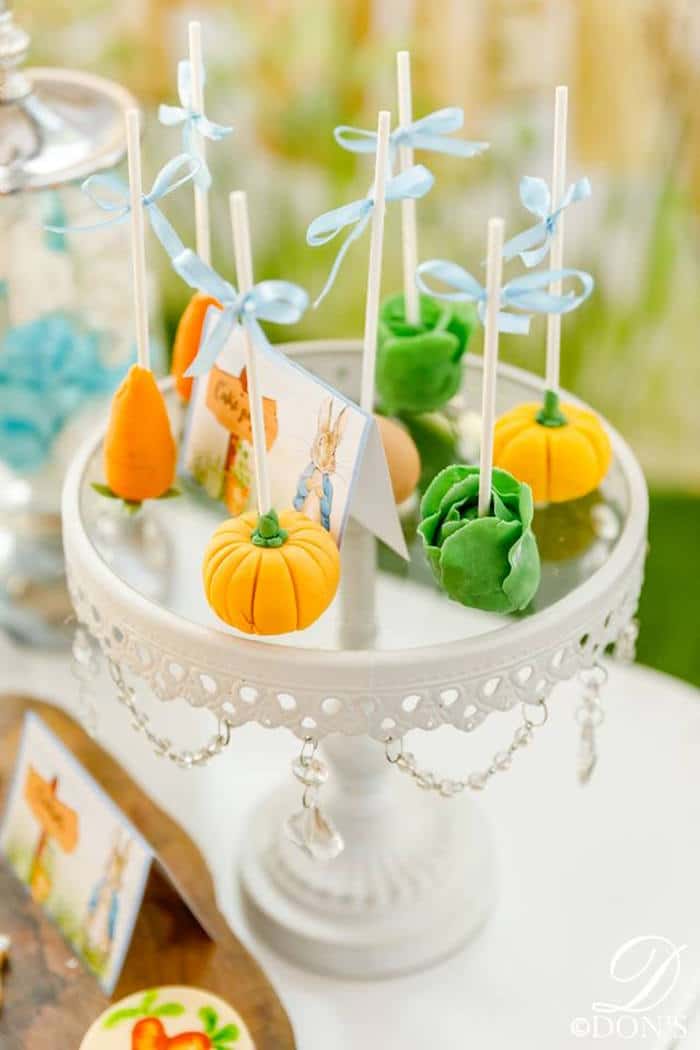 We just love it! How realistic do these cake pops look?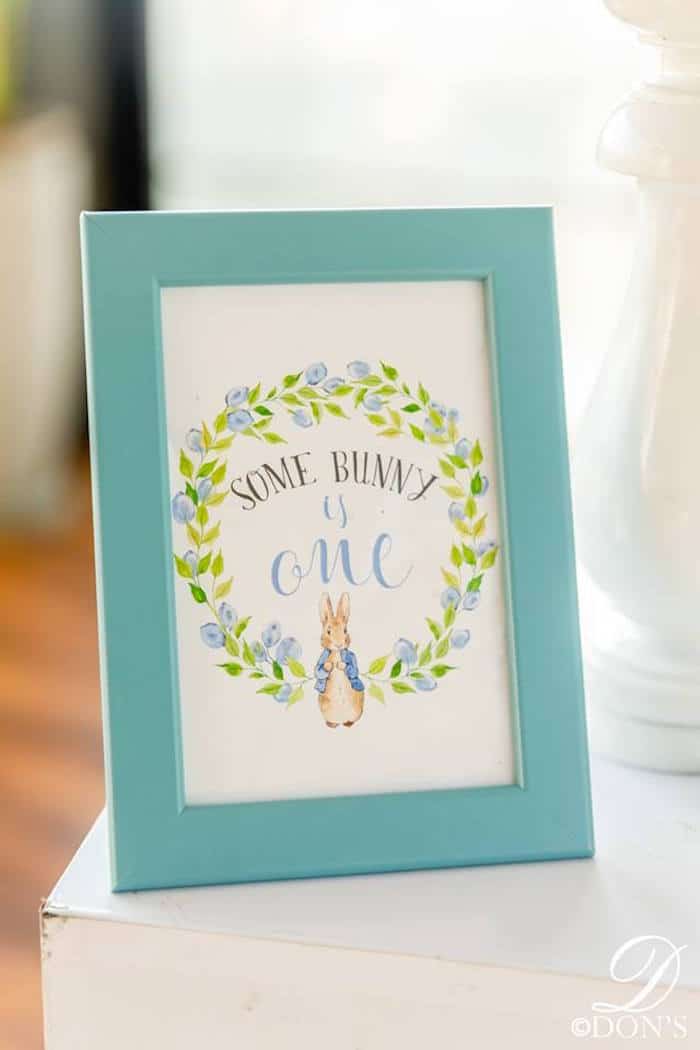 There were lots of great printables found around the Peter Rabbit Birthday Party, like this great one for the birthday boy's 1st birthday! We love the blue frame that was used for this, matching the rest of the party's color palette perfectly!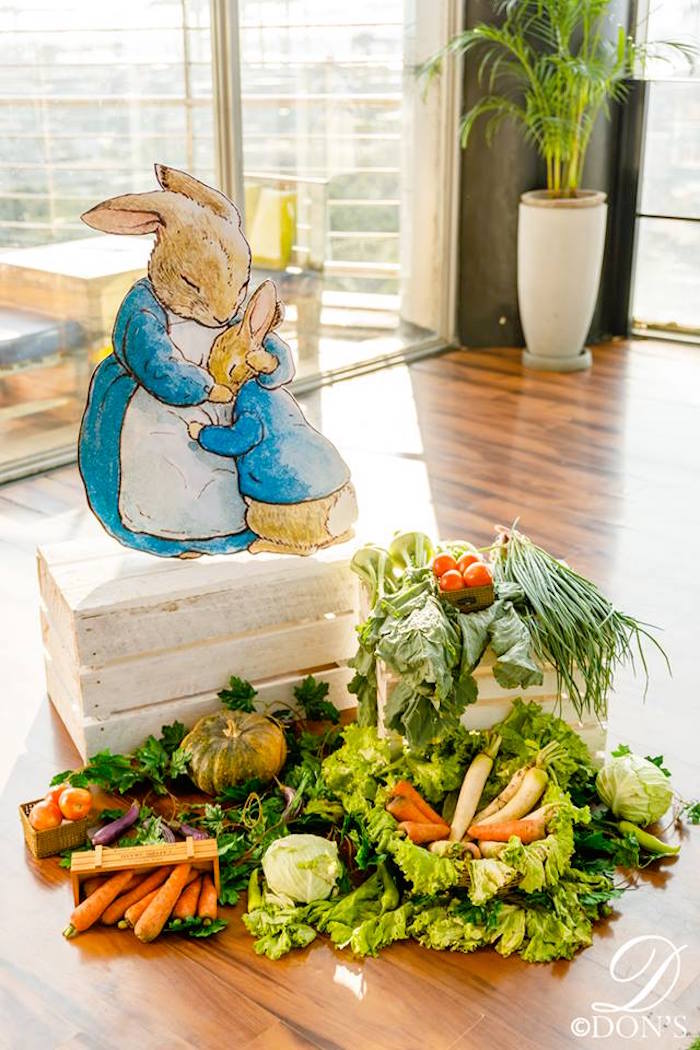 Peter Rabbit looks like he came to life when he's snuggling with his mom in front of a bed of veggies! What a great idea and it's an easy way to create eye-catching decorations around the Peter Rabbit First Birthday Theme. Yum!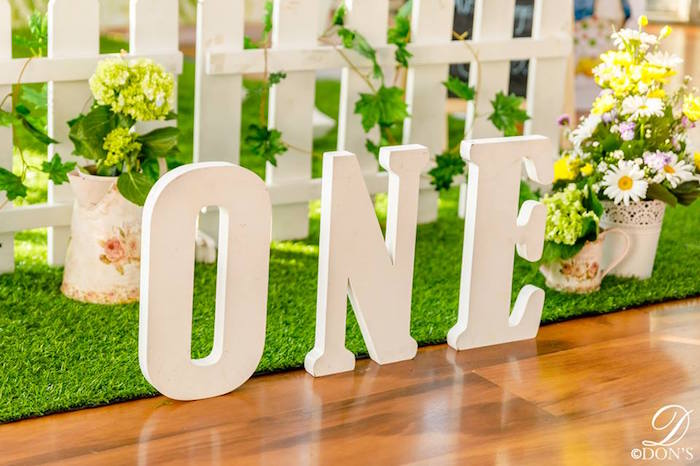 Front and center by the tablescape, were great ONE Letters celebrating this big first birthday! We love it!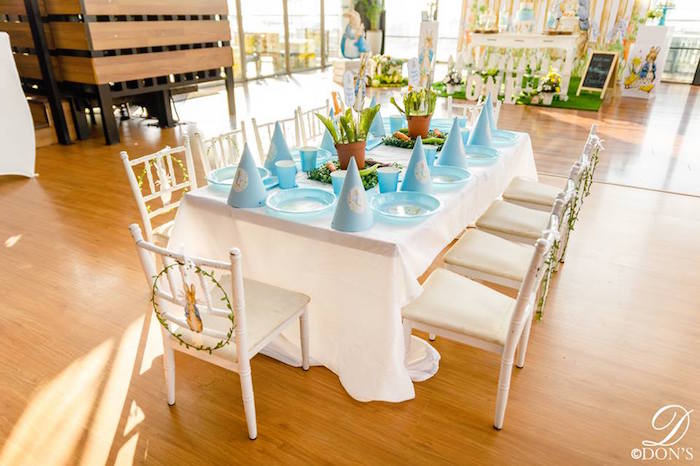 Tables were set up for all of the guests to eat at and they were absolutely gorgeous! We love the decorations that were on each chair, along with the basic, crisp white tablecloth that was used.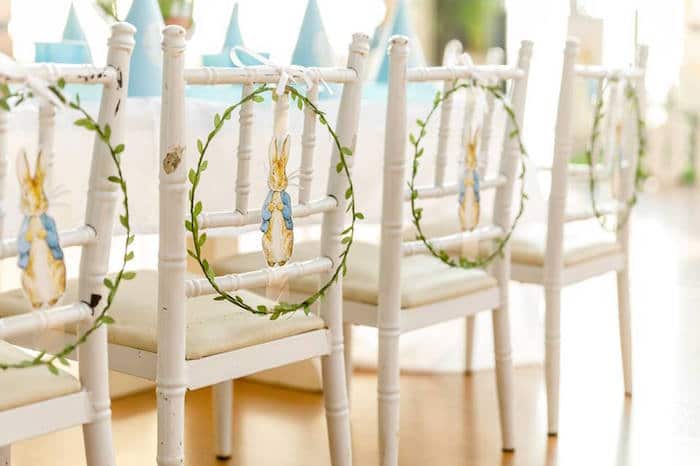 How cute are these chair decorations? Everyone was so excited to pick their spot when it came to all of the wonderful things that were found at each place setting!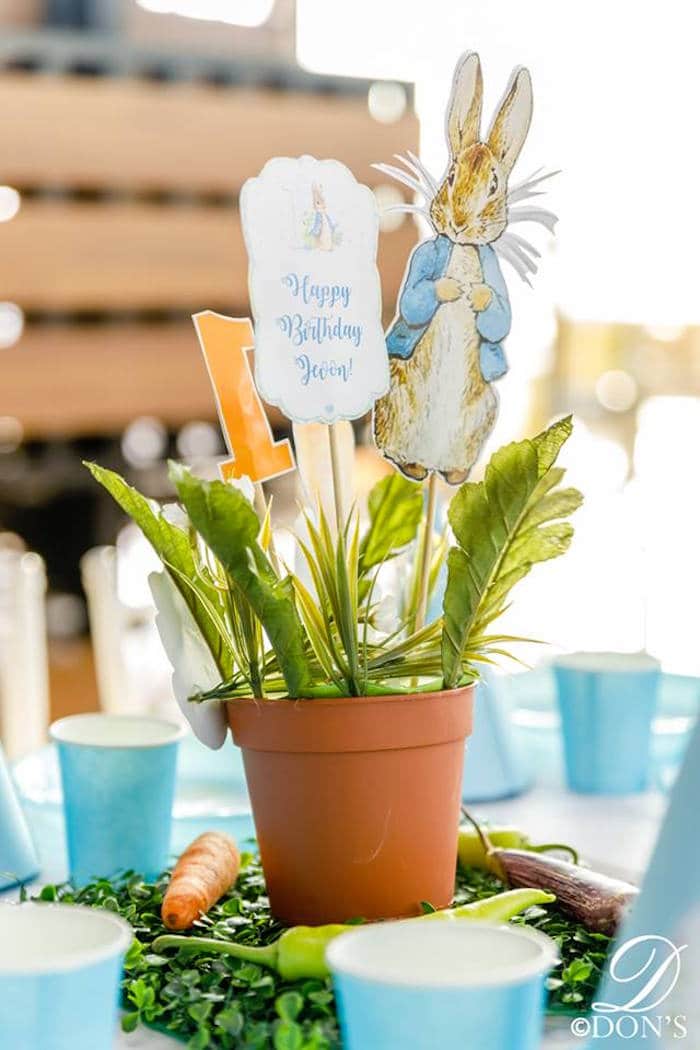 Centerpieces were perfectly arranged, with veggies and grass surrounding a simple terra cotta pot with greenery and paper cut-outs planted in the pots. What a unique and fun idea that is a great DIY project for your own Peter Rabbit Birthday Party!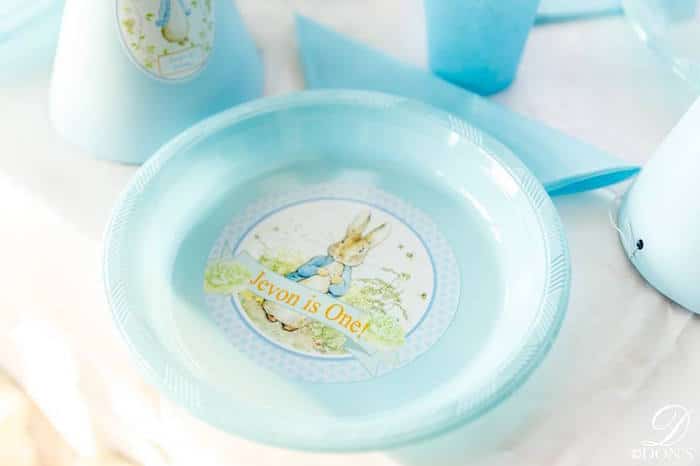 All of the plates were personalized for the birthday boy. What a special treat and they were a great addition to all of the wonderful Peter Rabbit Party Ideas!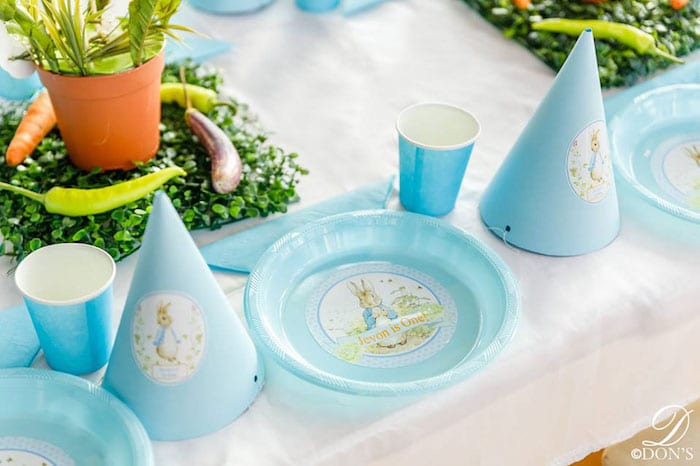 Birthday hats were found at each place setting, as well, and everyone couldn't wait to get all dolled up for the birthday celebration! We still can't get over those flawless centerpieces. They are amazing!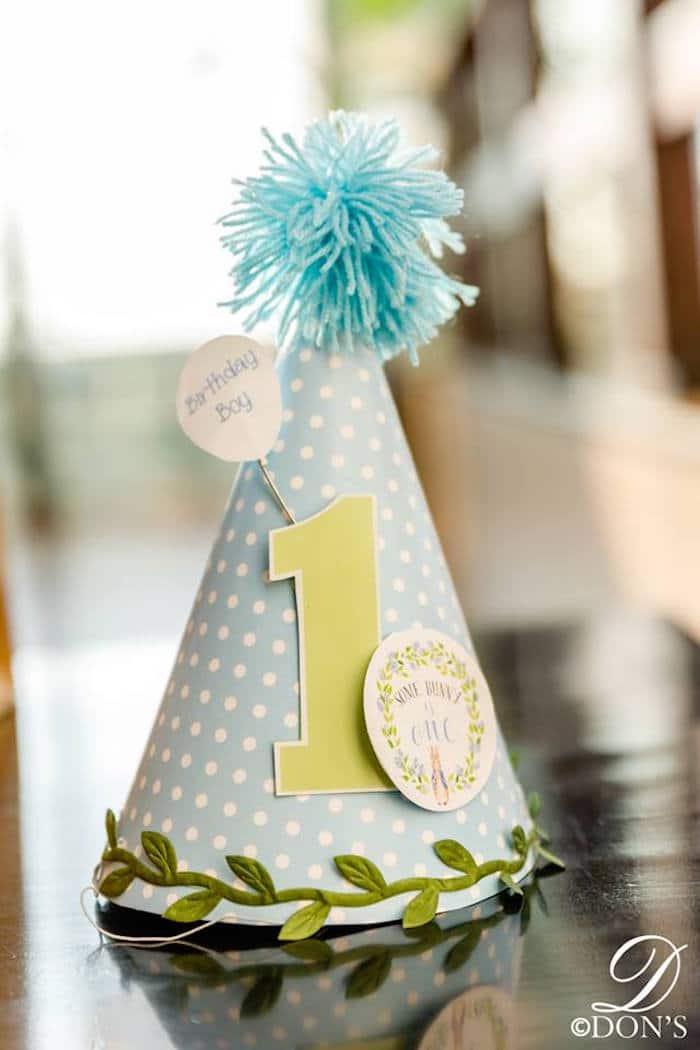 Of course, there had to be a specially crafted birthday hat for the birthday boy! We love the sweet pom pom that was found on top of the hat, along with the greenery that was attached to the base of the hat. We're sure that was one special picture with the little one!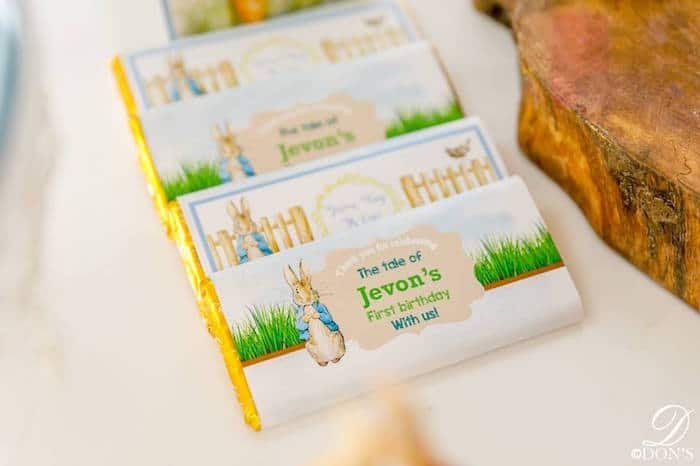 Personalized chocolate bars were given out as party favors. What a simple and effective way for everyone to remember the fun day they had at this little guy's first birthday party!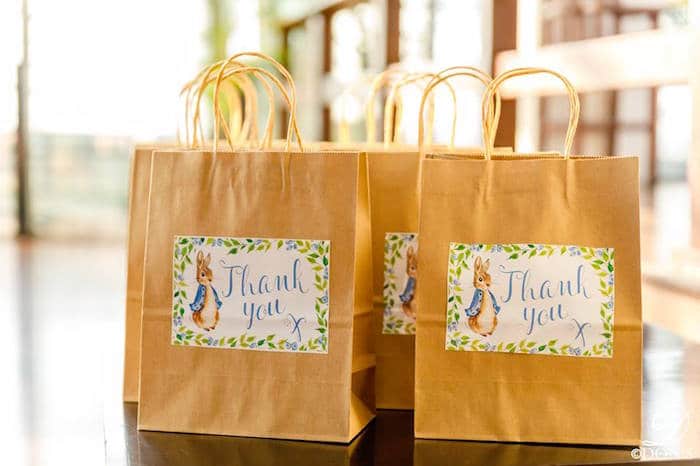 And just like that, the special Peter Rabbit Themed Birthday Party was over. We are absolutely blown away by how amazing everything turned out with this birthday celebration. What a sweet and memorable party this will be for everyone and we just love the vintage touches that were added around the celebration, as well. Happy birthday, little guy!
Vendors & Credits
Party Styling: As You Wish Parties
What's your favorite details in this Peter Rabbit Themed Birthday Party? Let us know in the comments below.
For more party ideas, follow us on Instagram @prettymyparty and Pinterest and join us in our private Facebook group.