Tutti Frutti Minnie Mouse Party
Celebrate your little one with a Tutti Frutti Minnie Mouse Party like this one!
We're just giddy over this Colorful Tutti Frutti Minnie Mouse Party. It's the perfect way to make your traditional Minnie Mouse Party a fun, festive and colorful event that's perfect for summer!
Tutti Frutti Birthday Parties are so popular, but when you throw in Minnie Mouse it's perfect for any little girl, especially a Two-tti Frutti Two-Year-Old!
This fabulous Tutti Frutti Minnie Mouse Party from Jaynne Perez with Little Couture Parties & Events out of Houston, Texas, is the party theme of the summer! Everything from the Tutti Frutti Party Supplies and Decorations to the birthday cake is perfection!
Tutti Frutti Minnie Mouse Party Ideas
Tutti Frutti Minnie Mouse Birthday Cake
Colorful Balloon Garland
Tropical Fruit Party Decor
Green Moss Backdrop
Minnie Mouse Ears Balloon Decoration
Number 2 Balloon Mosaic
Tropical Fruit Flower Decor
Large Pineapple Balloon Decoration
Tutti Frutti Minnie Mouse Ear Headbands
Tutti Frutti Desserts and more
More party ideas for girls: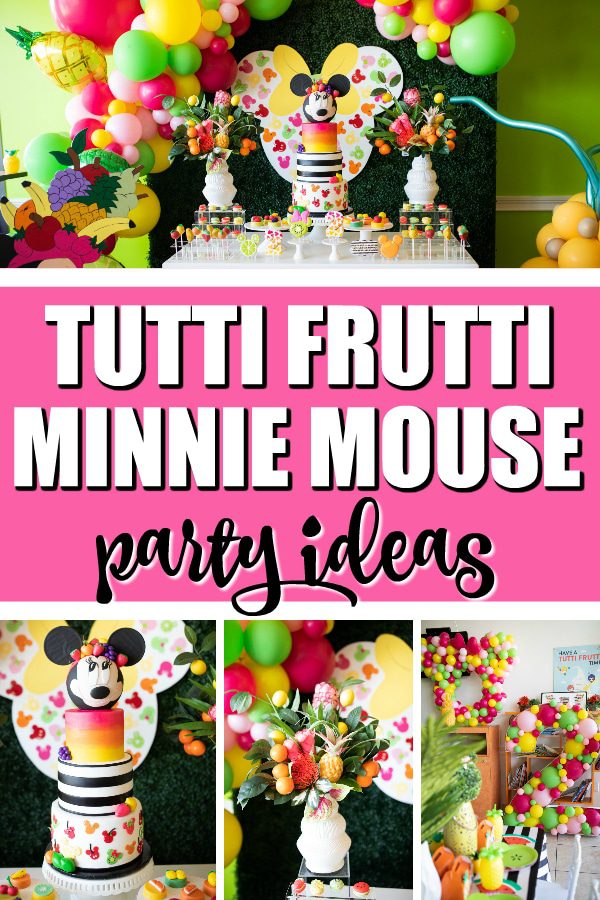 Tutti Frutti Birthday Party Supplies and Decorations: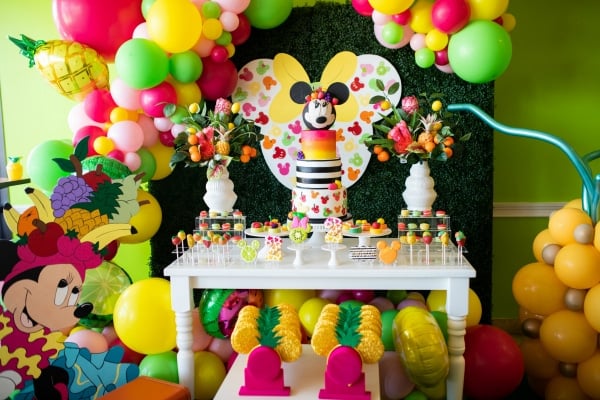 First let's start with the amazing Tutti Frutti Minnie Mouse dessert table! We're loving everything about this set up including the ah-mazing Tutti Frutti Minnie Mouse Birthday Cake from Jamie Sweet Eats. The cake is truly a showstopper and the star of the sweets table!
Next, let's talk balloon garlands shall we?! Personally we're obsessed with balloon garlands and this colorful balloon decor is everything! It really makes the dessert table pop!
The dessert table backdrop features a color Minnie Mouse cut out with coordinating colors that work perfectly for a Two-tti Frutti Birthday! The Tutti Frutti Minnie Mouse Cut Out is set on top of a green moss background. We just love how it all works perfectly together.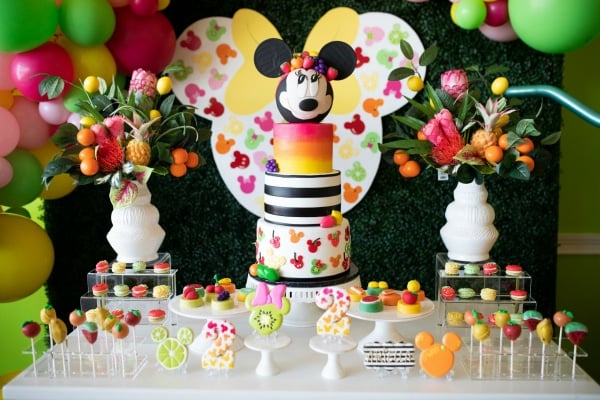 The dessert table also including awesome Tutti Frutti Theme Desserts. The cake pops and chocolate covered Oreos were by Nicole Elisa Designs.
How cute are the Minnie Mouse and Tutti Frutti Theme Cookies?! My Sweet Impact did a great job with the cookies!
And the Tutti Frutti macarons by Courtney's Cake and Cookies are too adorable for words! How perfect are they?!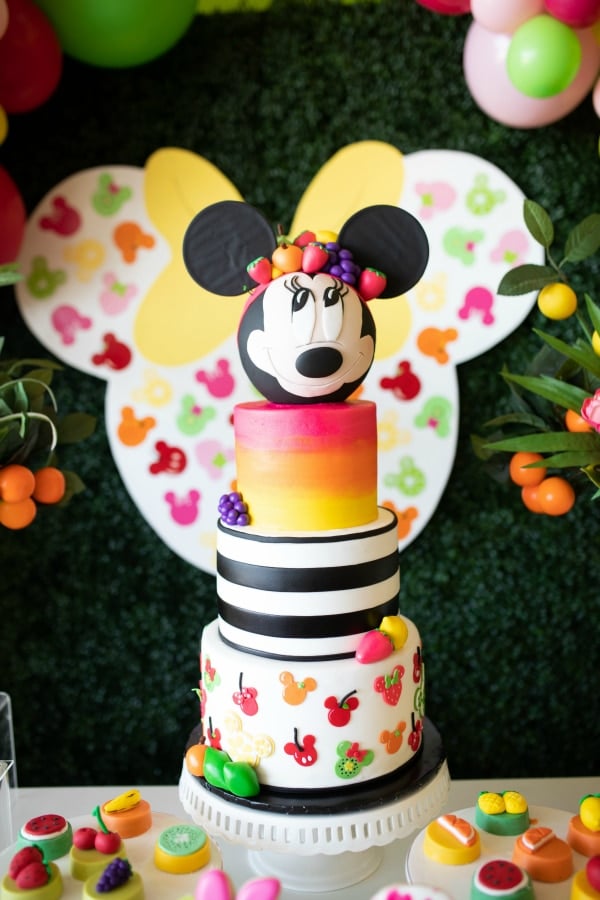 Seriously how perfect is this cake? We love how they combined the Minnie Mouse and Tutti Frutti theme so seamlessly. And how about those Tutti Frutti Minnie Mouse Ears made to look like tropical fruits on the bottom layer of the birthday cake?!?! Perfection!!!!
The cake also featured the black and white stripes that's also seen on the party tables and of course the most perfect Minnie Mouse cake topper with tropical fruit. This has to be one of our favorite cakes ever!!!!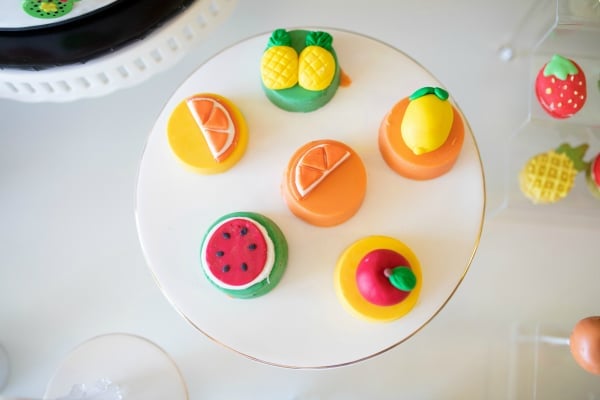 Colorful fruits can also be seen on top of the delicious chocolate covered Oreos. They look too picture-perfect to eat but I'm sure the kids loved them!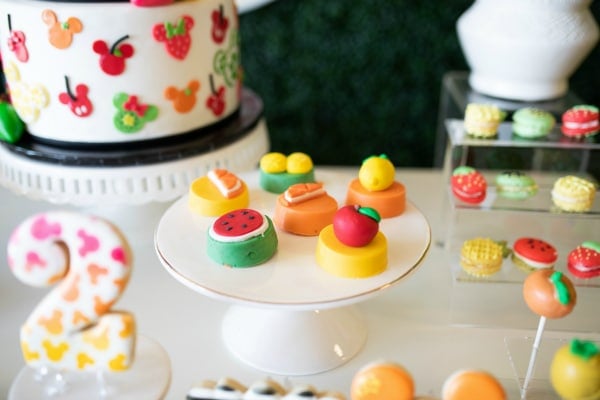 There's nothing better than amazing desserts to round out your dessert table.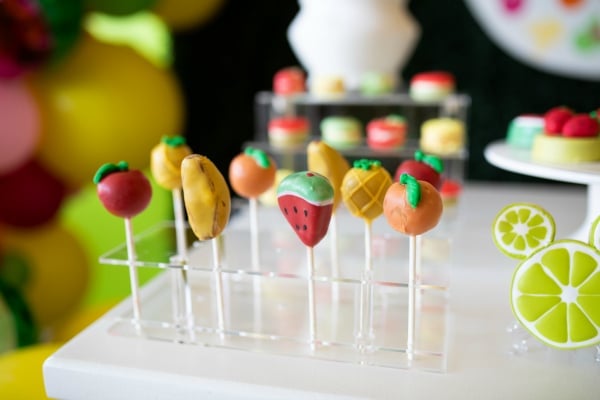 We absolutely adore the Tutti Frutti Cake Pops. They make the perfect addition to the other colorful desserts on the sweets table.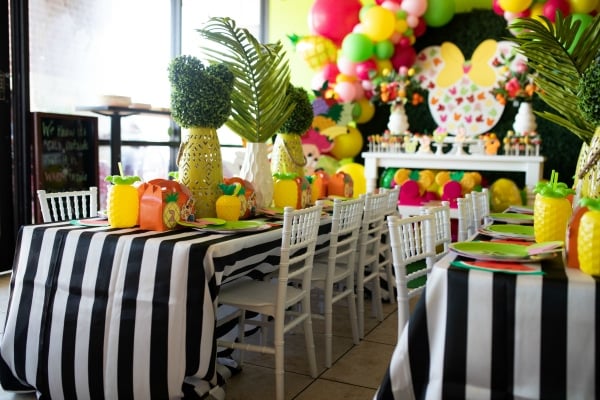 Now let's talk party tables! Each table featured a black and white striped table cover, which paired perfectly with the other Tutti Frutti Party Decorations.
Party Centerpieces we a combination of tropical palm leaves and Minnie Mouse ears in colorful vases.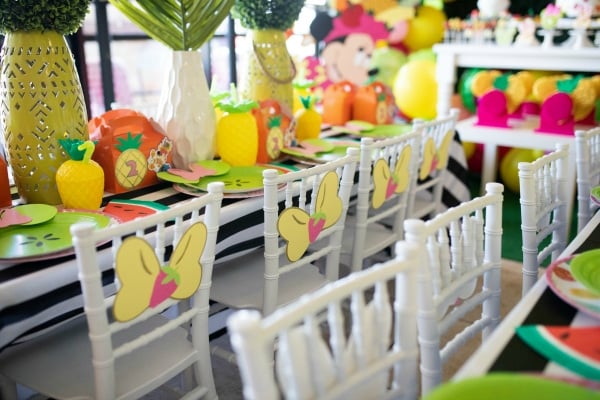 Each chair had a Minnie Mouse bow with a strawberry. How cute is that?! No detail was left behind in this perfectly curated Tutti Frutti Birthday Party featuring everyone's favorite … Minnie Mouse!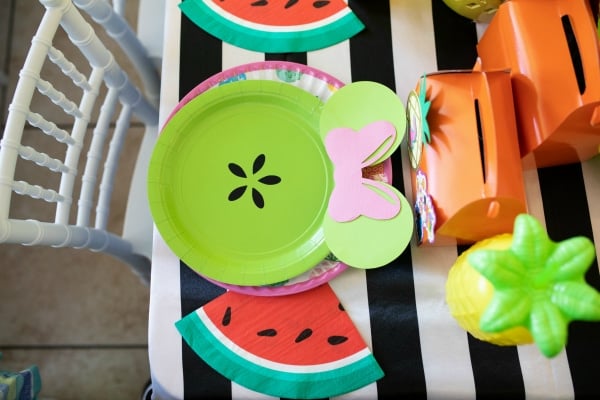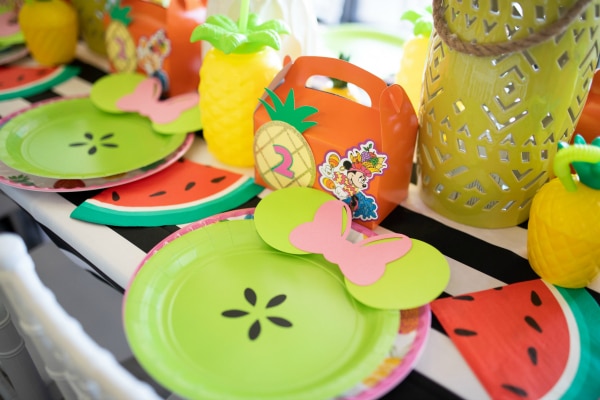 Each party place setting featured DIY kiwi party plates with Minnie Mouse ears. How clever is this?! The table also featured watermelon napkins, pineapple party cups and orange Tutti Frutti Minnie Mouse party favor boxes.
We're sure all of the children were so excited the minute they walked in the door to this incredible Tutti Frutti Minnie Mouse Party!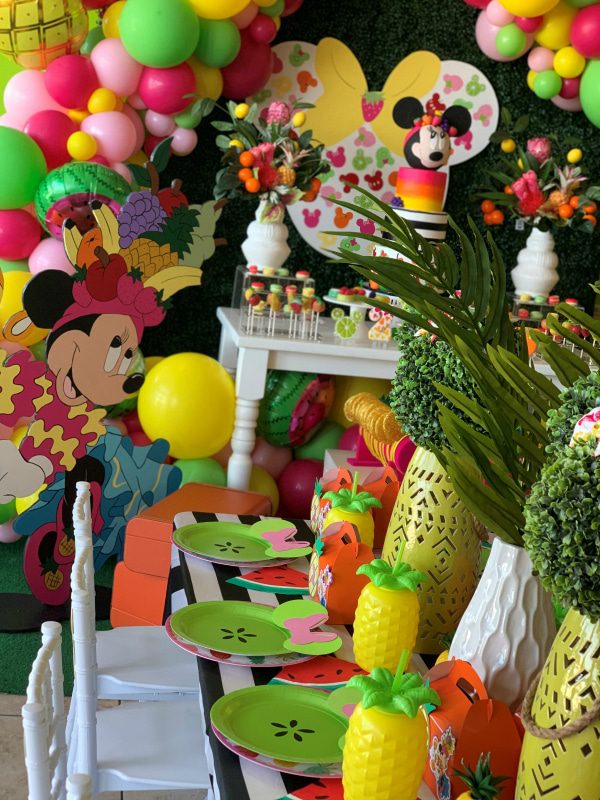 Check out the awesome Tutti Frutti Minnie Mouse Cut Out Decoration next to the dessert table! We're sure all of the kids loved taking photos next to this creative and unique party decor.
Another great piece of decor on the dessert table was the colorful flower arrangements which featured tropical fruits. What a fun and creative idea!
The party tables featured awesome Minnie Mouse ears with a Tutti Frutti Bow in bright yellow vases. What a great idea for a Tutti Frutti Minnie Mouse Party Centerpiece.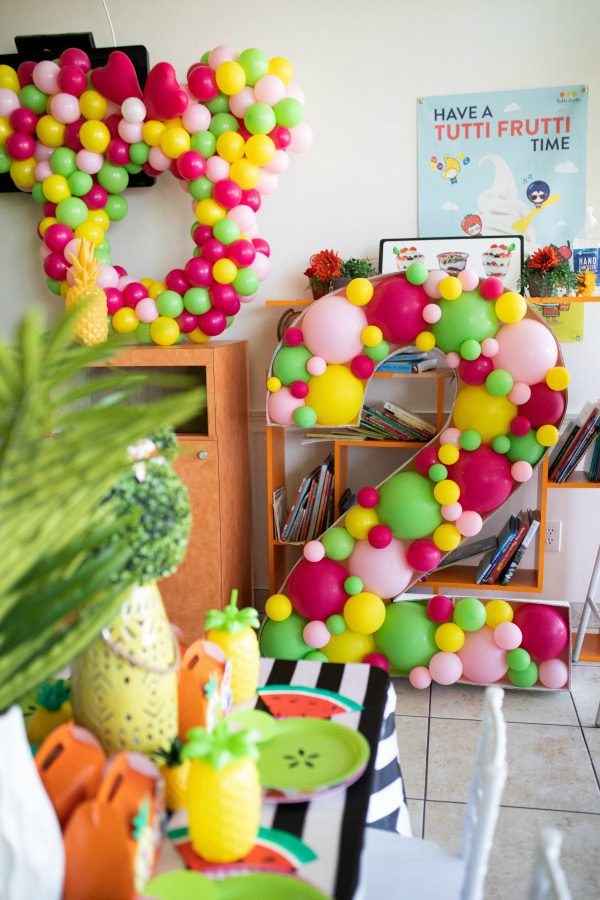 The party decor only gets better with a giant Number 2 balloon mosaic which just screams Two-tti Frutti doesn't it?!?! The other balloon decoration features, of course … colorful Minnie Mouse ears. LOVE it!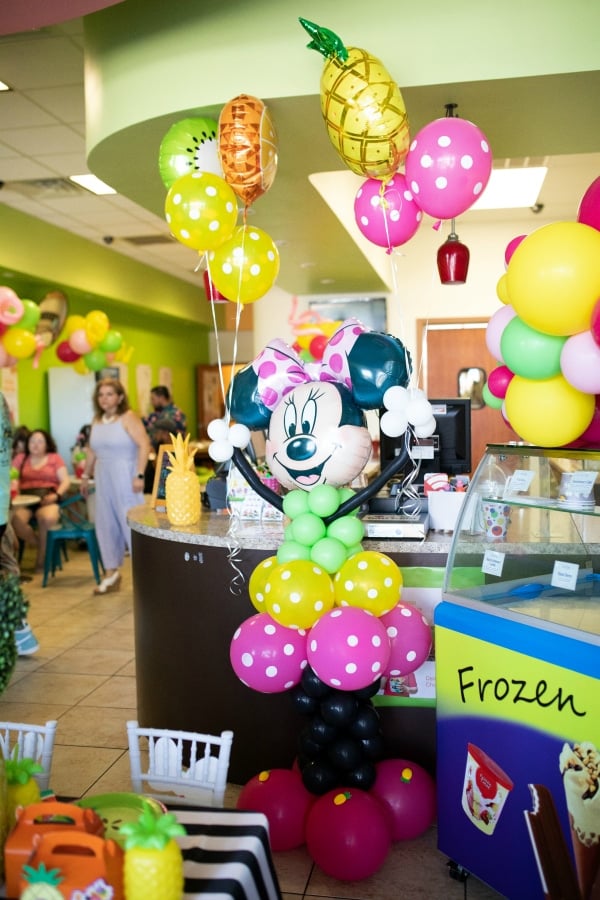 Minnie Mouse is all smiles in this incredible life-size balloon decoration! Volare Studio did an amazing job on all of the balloon decor for this one-of-a-kind Tutti Frutti Minnie Mouse Birthday Party!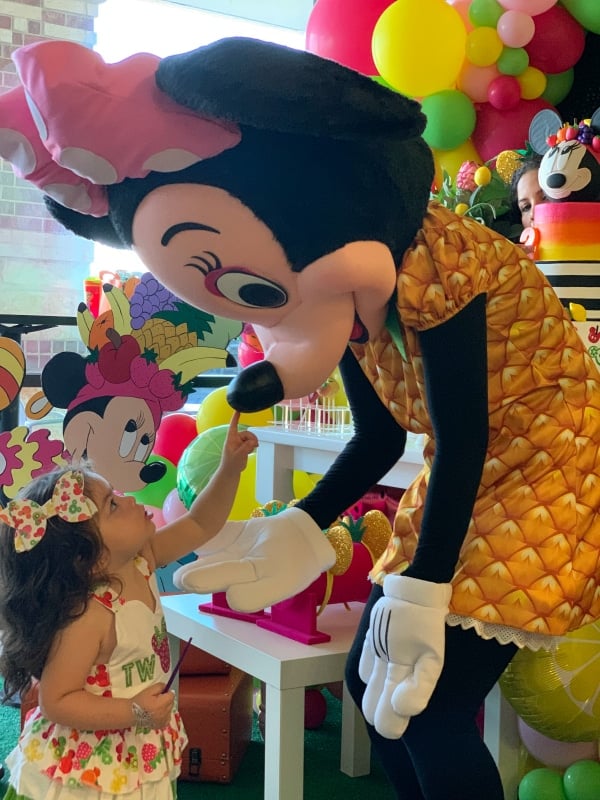 The birthday girl even got a special visitor from Minnie Mouse herself dressed in a pineapple dress!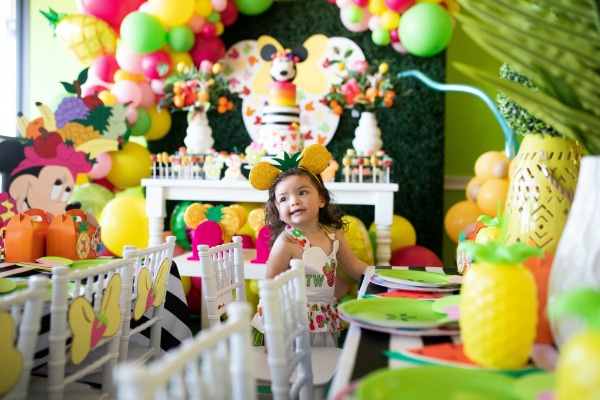 Look at the adorable birthday girl all dressed up in her Tutti Frutti Minnie Mouse outfit and Tutti Frutti Minnie Ears! How cute is she?! We love all of the incredible details in this colorful fruit themed second birthday party.
If you're looking for a clever and creative spin on a Tutti Frutti or Minnie Mouse theme this party is perfect. We can't wait to see what her third birthday party theme is!
Party Vendors
Event Planner & Designer: Jaynne Perez with Little Couture Parties & Events • IG: littlecoutureparties
Event Venue: Tutti Frutti Frozen Yogurt
Cake: Jamie Manak with Jamie Sweet Eats • IG: jamie/sweeteats
Cake Pops & Chocolate Dipped Oreos: Nicole Lopez with Nicole Elisa Designs • IG: Nicoleelisadesigns
Cookies: Natasha Smith with My Sweet Impact • IG: mysweetimpact
Macarons: Courtney Nguyen with Courtney's Cakes & Cookies • IG: courtneyscakesandcookies
Balloon Décor: Jessica Bonilla with Volare Studio • IG: Volare_Studio_
Goody Boxes & Plates: Jaynne Perez with Little Couture Parties & Events
Photography: Barbara Zelaya with Naranja Dulce Photography • IG: Naranjadulcephotography
Rentals: Avalon Event Rentals • IG: avaloneventrentals
Minnie Mouse Mascot: Magic Fun Mascots IG: magicfunmascots
What's your favorite detail in this Colorful Tutti Frutti Minnie Mouse Party? Let us know in the comments below.
For more party ideas, follow us on Instagram @prettymyparty and Pinterest and join us in our private Facebook group.