29 Minnie Mouse Party Ideas
Are you thinking of planning a Minnie Mouse birthday party? There are tons of party ideas for every girl's favorite mouse!
Minnie Mouse is a popular party theme for a first birthday celebration.
But any Minnie fan of any age can make this a fun birthday theme!
What's great about a Minnie Mouse party is that you can make it a red, black, and white theme or glam it up with a pink and gold celebration!
Add some polka dots and bows and it's one of the most sought-after, cutest themes for little girls!
Why a Minnie Mouse Birthday Party?
Why not? After all, everybody's favorite mouse (aside from Mickey, that is) never gets old and is always a hit with kids and adults alike.
It's also perfect if your little girl is wanting to have Disney themed party.
How to make a Minnie Mouse Birthday Banner
If you're wondering how to decorate a Minnie Mouse Birthday on a budget, there are a lot of tutorials to help you. Start off with a simple birthday banner.
If you want to save time, grab this FREE Minnie Mouse Happy Birthday Template and print it out on thick cardstock paper.
Get a hole puncher and some ribbon or twine and you have yourself a quick and easy birthday banner for your party!
How to make a Minnie Mouse Birthday Cake
There are many mothers out there who love making their child's birthday cake. So if you're wondering how to make a Minnie Mouse birthday cake, this video tutorial shows you how to achieve that.
Unique Minnie Mouse Party Ideas
Did you know that Minnie's full name is Minerva? And did you know that if you're looking for ways to cut costs, there are a lot of ways for you to have a Minnie Mouse party on a budget?
From cakes to homemade decorations, these girl party ideas are sure to win your little girl's heart and make you party planner mom of the year!!!

Shop these Minnie Mouse Party Decorations:
There are tons of unique and creative Minnie Mouse party ideas and adorable details that you can easily incorporate into your party without breaking the bank!
All you have to do is get a little crafty with some DIY Minnie Mouse Party Decorations!
Here are 29 Minnie Mouse Party Ideas that any Disney fan of any age will LOVE!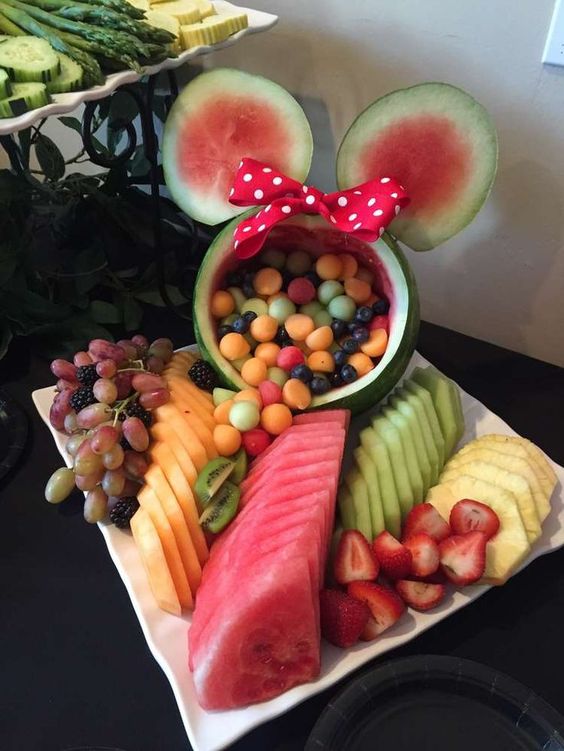 1. MINNIE MOUSE WATERMELON
Don't you just love this Minnie Mouse Watermelon idea? How creative!
Your guests will absolutely go crazy over this detail, especially if you put this on the dessert table.
Win-win if you're on the lookout for healthy Minnie Mouse party food ideas. Moms are sure to appreciate these healthy snacks for their kids.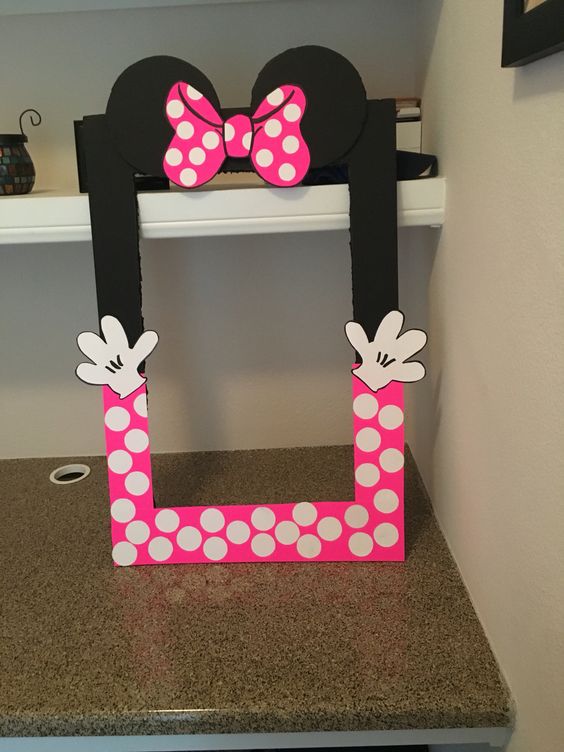 2. DIY MINNIE MOUSE PHOTOBOOTH
Everyone will have a blast taking photos with this fun DIY Minnie Mouse Photobooth.
If you prefer other color themes, you can always go with pink and gold or red and black. Just don't forget the bow!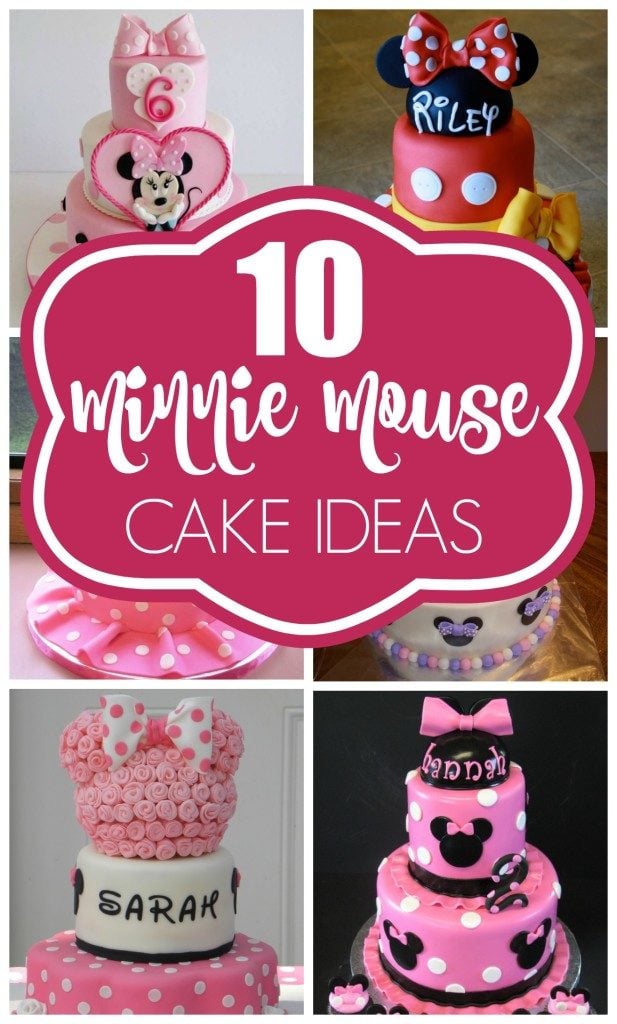 3. MINNIE MOUSE BIRTHDAY CAKE IDEAS
Are you looking for Minnie Mouse cake inspiration? You don't want to miss these 10 Cutest Minnie Mouse Birthday Cake Ideas!
It's so hard to choose just one design because they are all amazing for a Minnie Mouse birthday!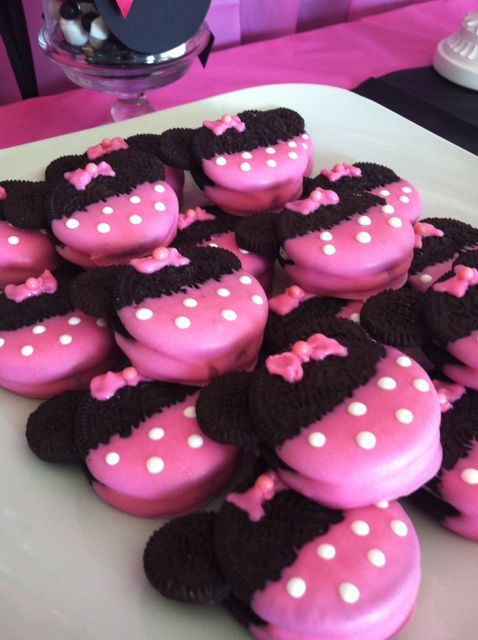 4. MINNIE MOUSE OREO COOKIES
These adorable Minnie Mouse Oreos are super easy to make and would be the perfect addition to your dessert table. Check out the adorable mini Oreo bows!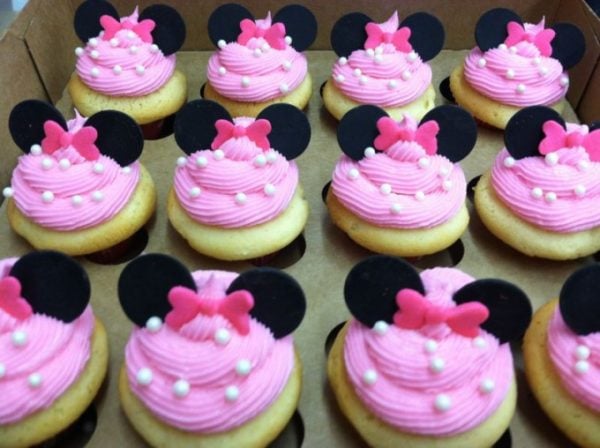 5. MINNIE MOUSE CUPCAKES
These Minnie Mouse Cupcakes are a must-have at your Minnie Mouse birthday party!
Wouldn't it look absolutely amazing on your dessert table?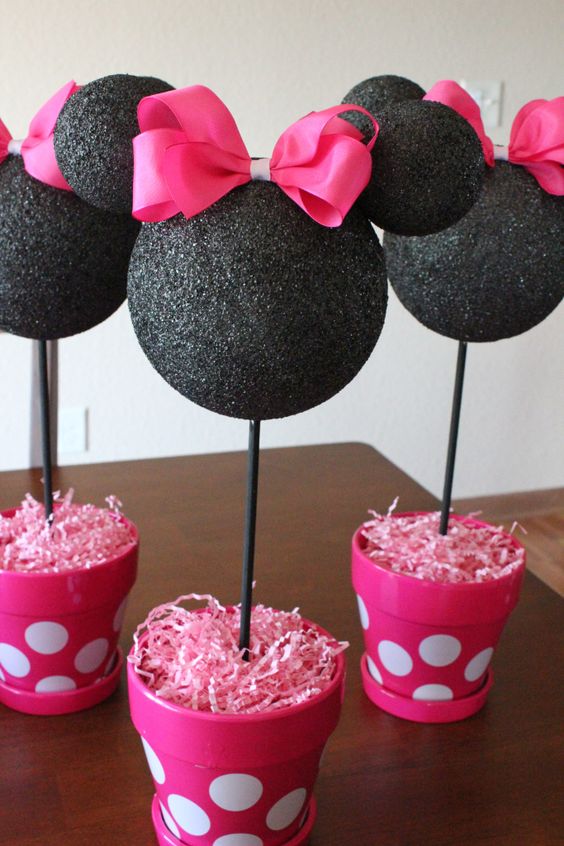 6. DIY MINNIE MOUSE CENTERPIECES
A little crafty (Disney) magic is all you need to make these cute Minnie Mouse DIY Centerpieces.
Fill the pots with treats and they can also serve as unique Minnie Mouse party favors. Easy-peasy.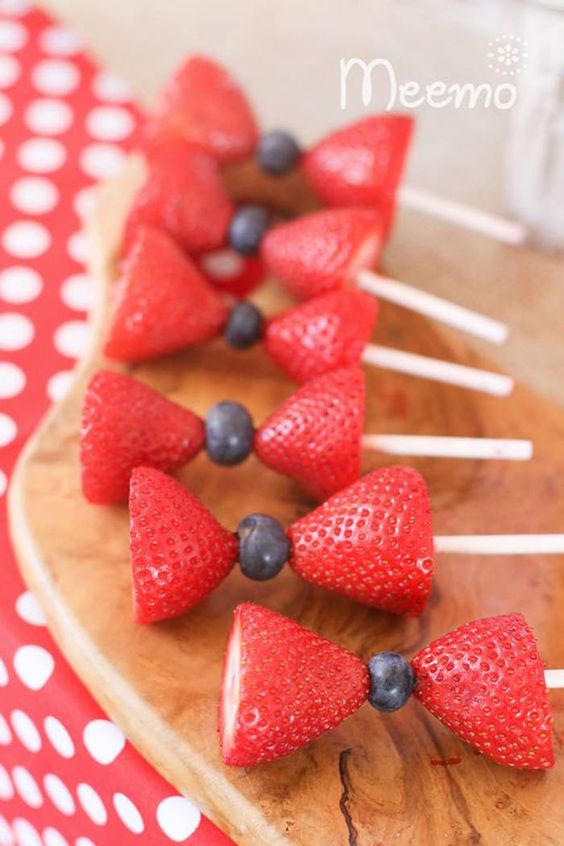 7. MINNIE MOUSE FRUIT BOWS
Don't forget about these Minnie Mouse Fruit Bows! They're a must for Minnie's BOW-tique!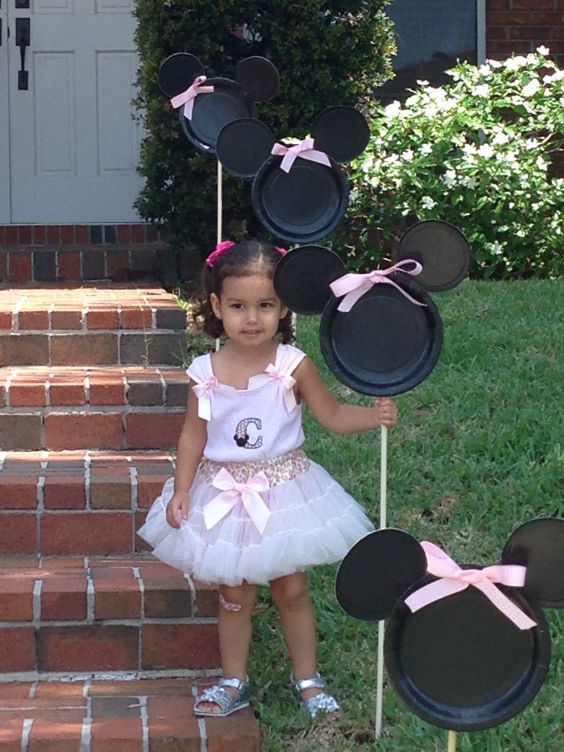 8. MINNIE MOUSE PARTY ENTRANCE DECORATIONS
This Minnie Mouse Party Entrance is a simple yet awesome way to welcome your guests to your awesome Minnie Mouse birthday bash!
The birthday girl and her party guests are sure to love it!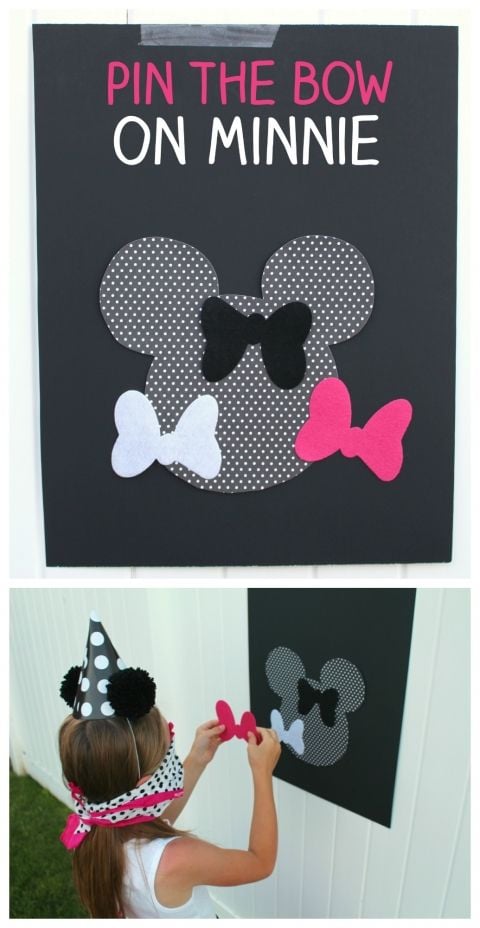 9. PIN THE BOW ON MINNIE GAME
This fun Minnie Mouse Party Game, Pin the Bow on Minnie will keep the girls entertained at the party! It's going to be fun, fun, fun!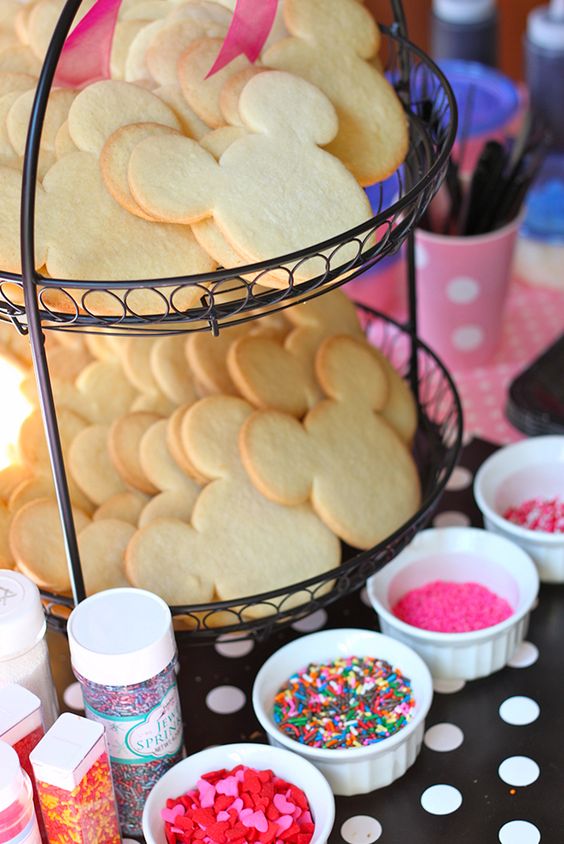 10. COOKIE DECORATING STATION
The girls will LOVE this Minnie Mouse Cookie Decorating Station at the party!
It's a great party activity in addition to some fun party games!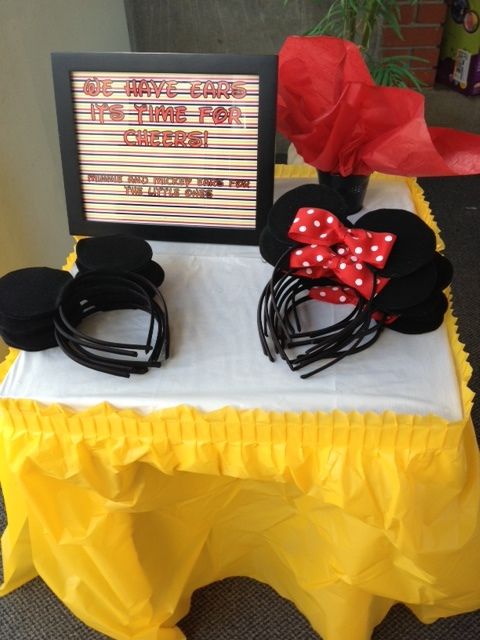 11. MINNIE MOUSE HEADBAND EARS
Now you can't leave a Minnie Mouse party without ears, right?
These Minnie Mouse Headband Ears make the perfect party favor and the girls will have so much fun wearing them around the Minnie party!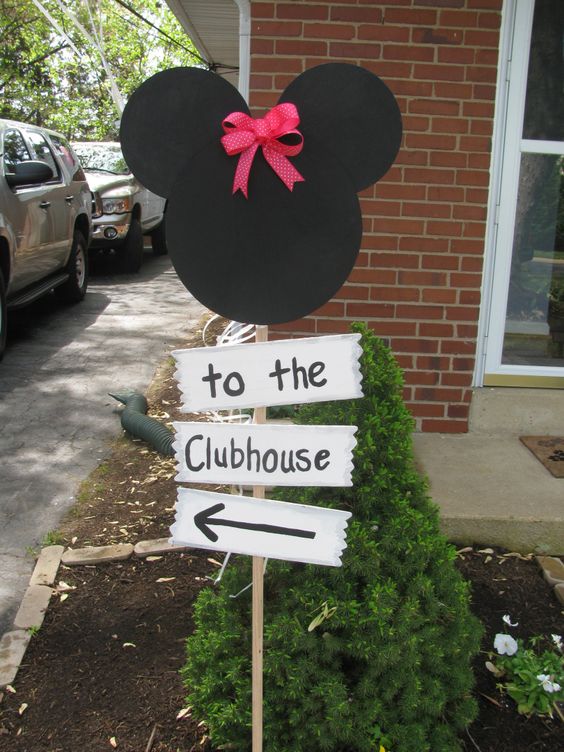 12. DIY PARTY SIGN
Direct your party guests to the clubhouse with this easy-to-do DIY Minnie Mouse Party Sign.
If you run out of time to make your own or you're not the crafty type, you can always buy this Minnie Clubhouse Sign.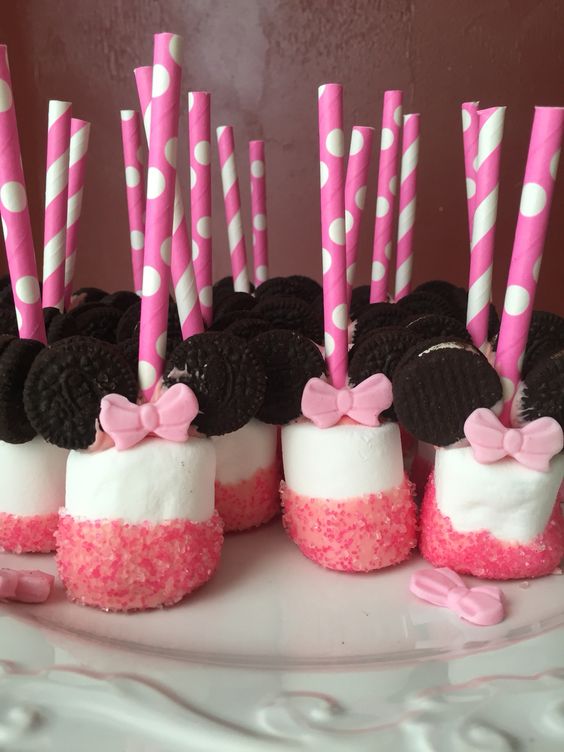 13. MINNIE MARSHMALLOW POPS
These Minnie Mouse Marshmallow Pops are super easy to make for your Minnie Mouse birthday party.
The kids (and kids at heart) will surely love them!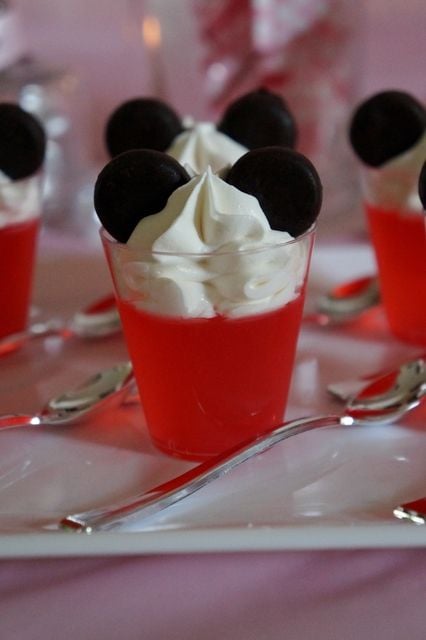 14. MINNIE MOUSE JELLO CUPS
Are you looking for more desserts to add to your sweets table?
Check out these cute Minnie Mouse Jello Cups! They're easy to make and super delicious too!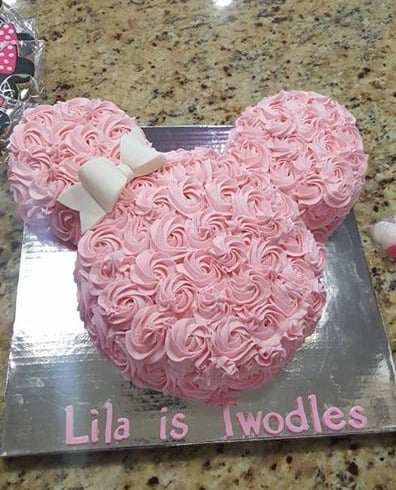 15. MINNIE MOUSE BIRTHDAY CAKE
This pink and white rosette Minnie Mouse Cake is perfect for any little one's birthday!
We love how they incorporate "TWO-dles" on there for a second birthday. Very clever!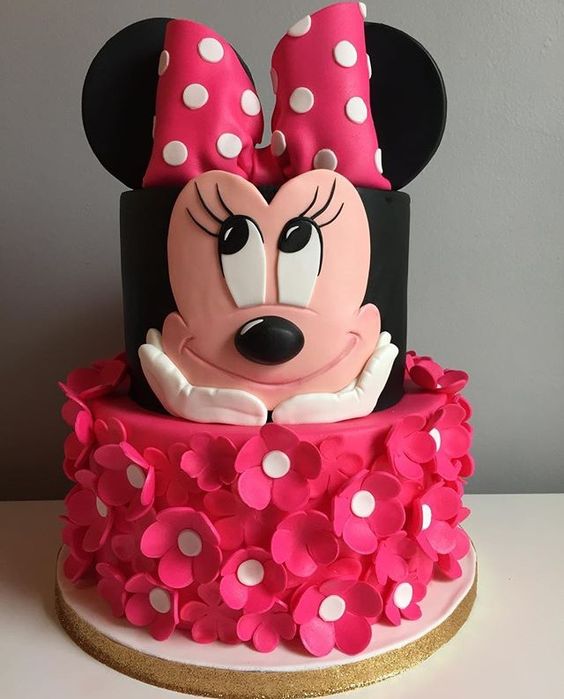 16. HOT PINK MINNIE MOUSE CAKE
This Minnie Mouse Birthday Cake is as sweet as can be!
Perfect if you're on the lookout for red Minnie Mouse party ideas.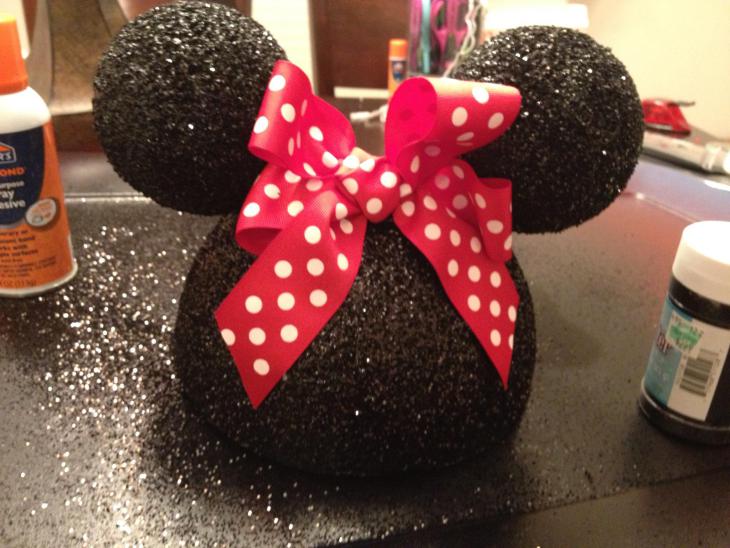 17. DIY MINNIE EARS CENTERPIECE
How adorable is this centerpiece?
Check out how you can make this DIY Minnie Centerpiece for your party tables!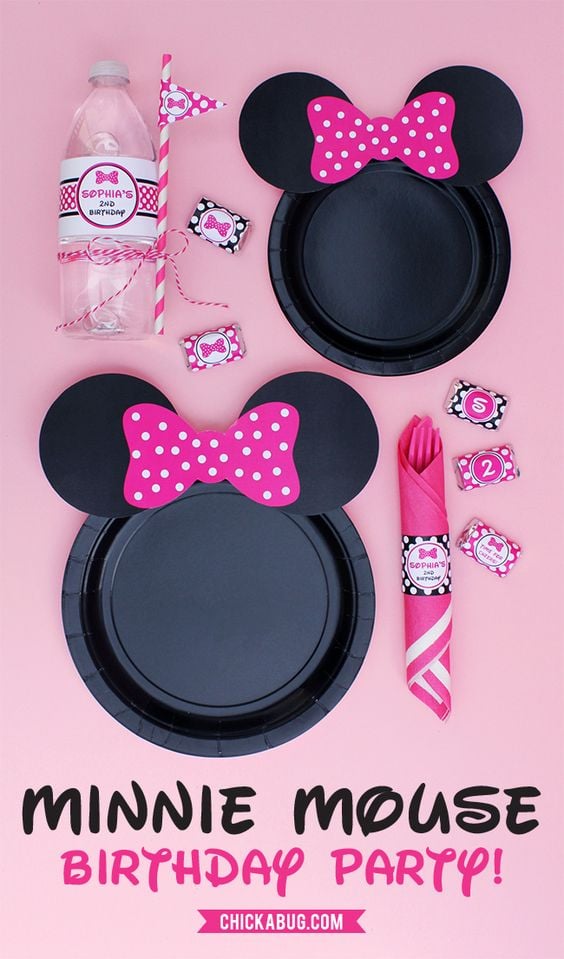 18. DIY MINNIE MOUSE PARTY PLATES
Grab these delightful Free Printable Minnie Ears and dress up your party plates. Seriously. How cute are these?
And if you're on the hunt for more free party printables, check out these free Minnie Mouse party signs.
Are you loving these fantastic Minnie Mouse party ideas or what?!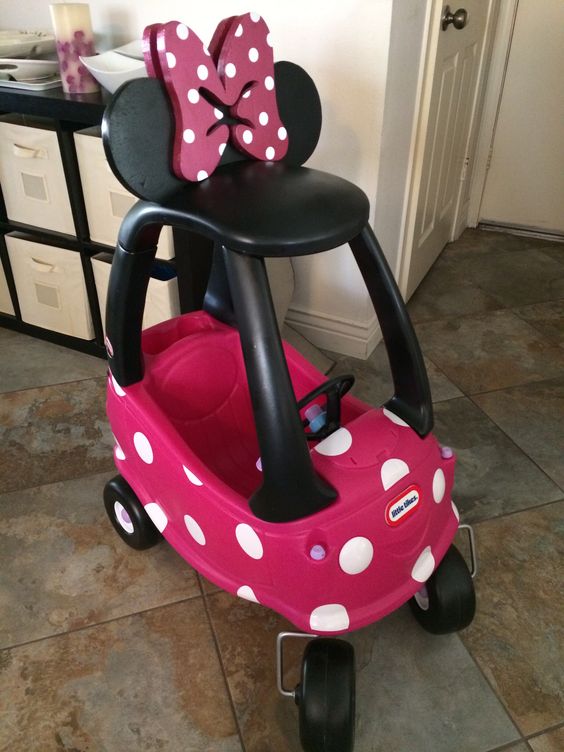 19. DIY MINNIE MOUSE-MOBILE
Wow! Isn't this DIY Minnie Mouse Car adorable? What birthday girl wouldn't love this?
She'll go places with this one! What a fabulous idea for your little one to get around her party!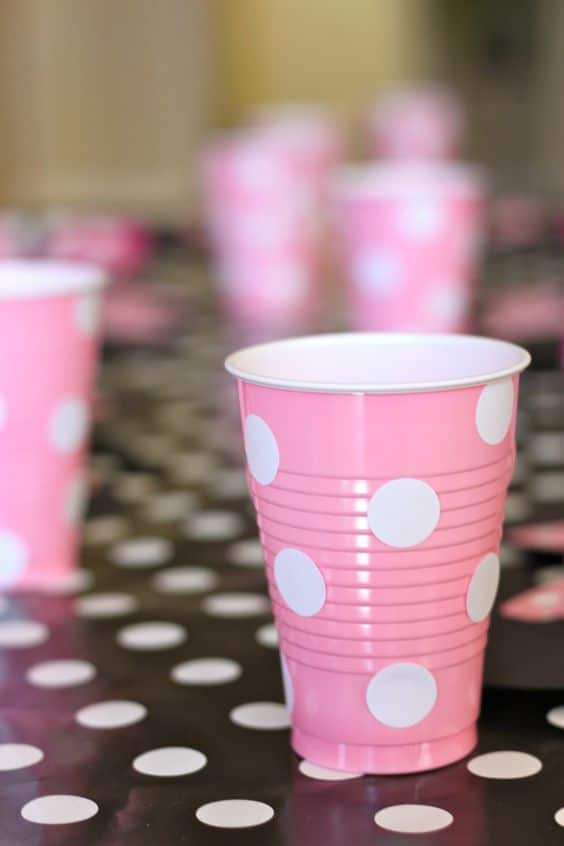 20. EASY DIY MINNIE MOUSE PARTY CUPS
It's all about the details party people, so why not add some sweet polka dots to your Minnie Mouse Party Cups? Easy, fun and budget-friendly!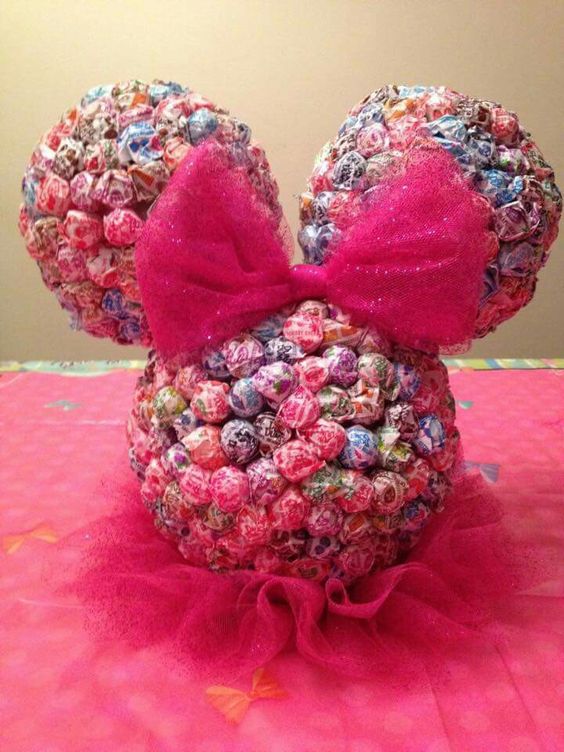 21. DIY MINNIE MOUSE LOLLIPOP HEAD CENTERPIECE
Sweets for your sweet. This creative Minnie Mouse Lollipop Head makes a great party decoration!
Your little girl can share the sweets with her guests after.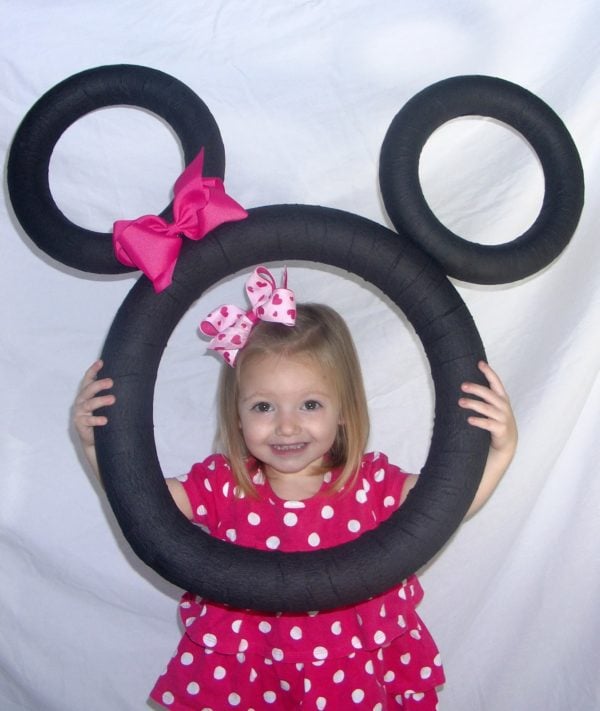 22. DIY MINNIE PHOTO PROP
How adorable is this DIY Minnie Mouse Photo Prop?
It seems easy enough for anyone to make and the kids will love it for party photos!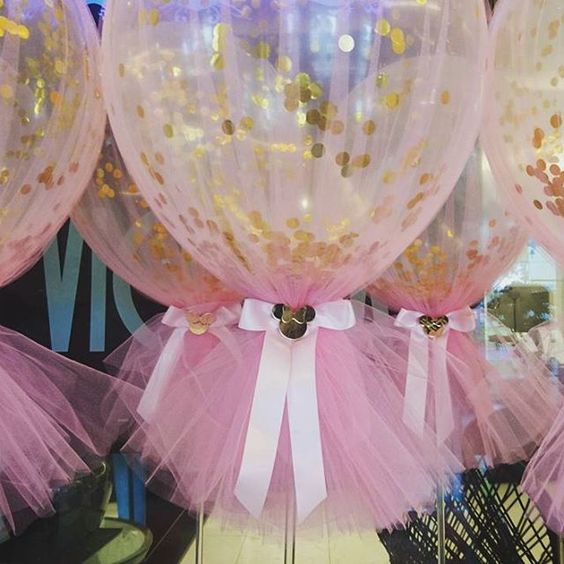 23. PINK TULLE BALLOON DECORATIONS
These gold and pink polka dot tulle Minnie Mouse Balloons are a great way to dress up ordinary balloons. Plus they make a great statement piece.
You can easily change the color tulle to red if you're planning a red, black, and white Minnie Mouse party theme!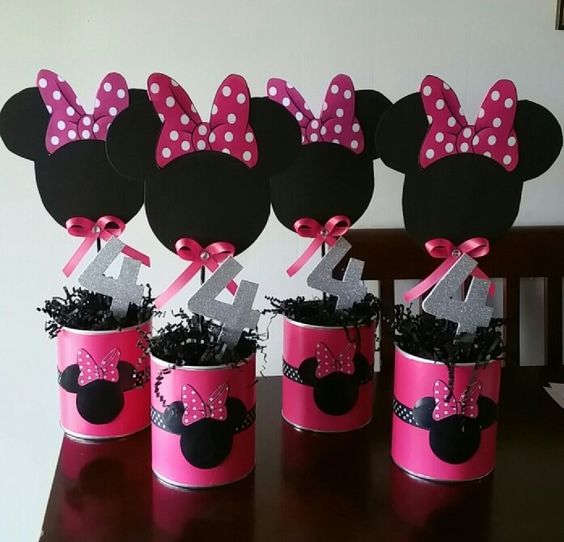 24. DIY TABLE CENTERPIECES
Here's another fabulous DIY idea for Minnie Mouse Centerpieces.
All you need are some leftover cans, some ribbon, Minnie ears stickers, glitter numbers, etc. See how to make a similar one with this tutorial.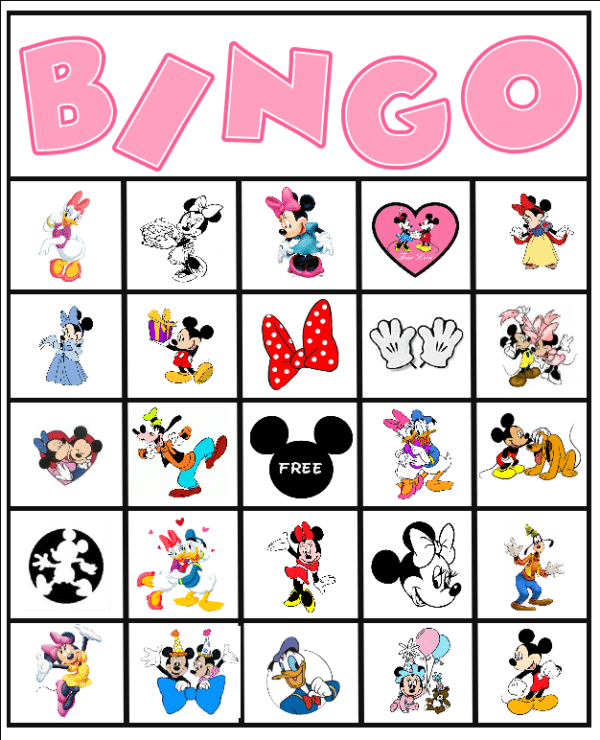 25. FREE BINGO PRINTABLE GAME
Looking to keep the party guests entertained? Grab this Free Minnie Mouse Bingo for a fun party activity for the kids.
They're going to have a blast with this free bingo!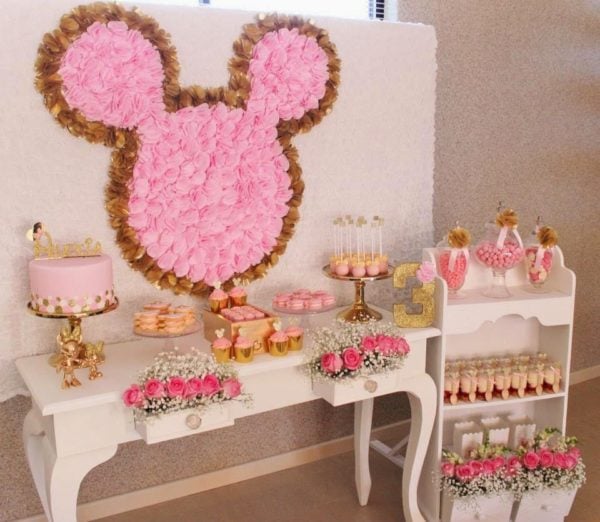 26. PRETTY DIY FLOWER PARTY BACKDROP
We're totally in love with this DIY Minnie Mouse Flower Backdrop! Just look at the delicate pink and gold color combination – all the exquisite details. Isn't it just stunning?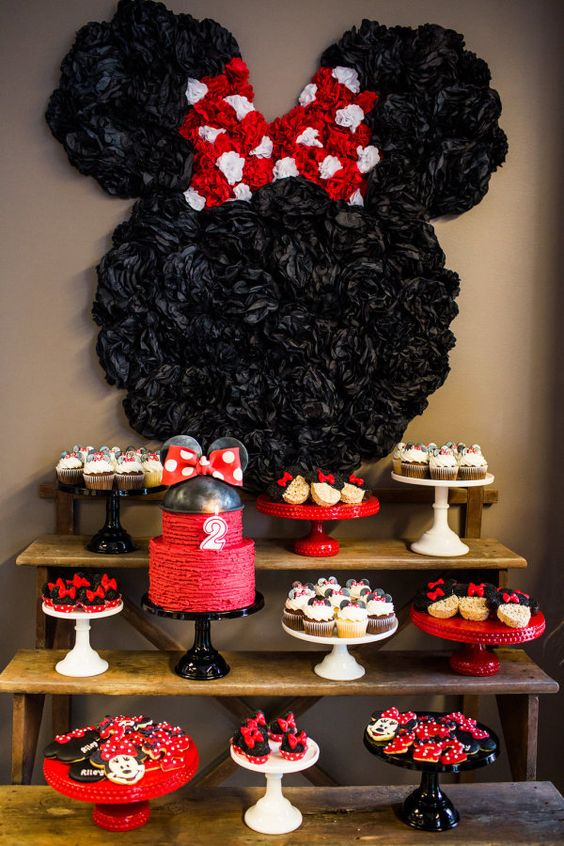 27.
Here's another clever DIY Tissue Paper Minnie Mouse Backdrop!
This is absolutely perfect if you're looking for a rustic-themed Minnie Mouse party.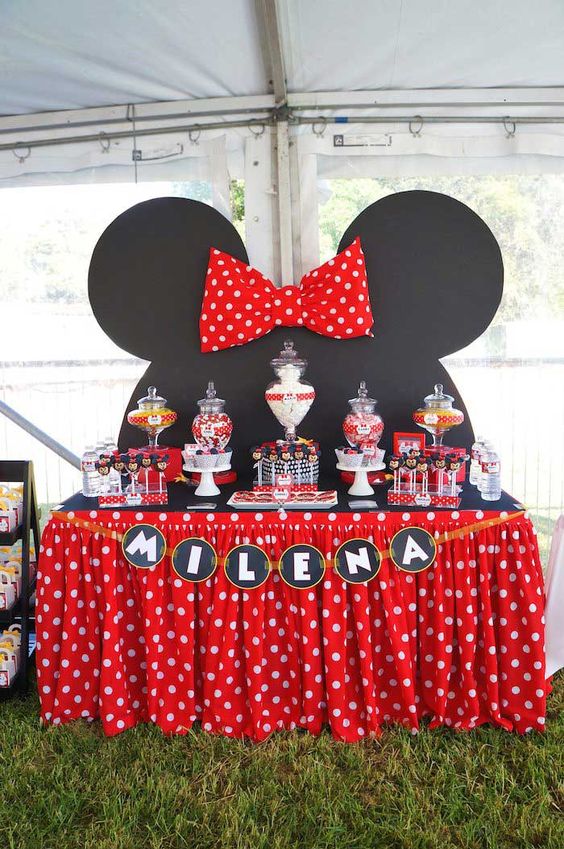 28. MINNIE MOUSE PARTY BACKDROP AND DESSERT TABLE
A red and white polka dot tablecloth and Minnie ears backdrop make this Minnie Mouse Dessert Table outstanding. A perfect color combination, don't you think?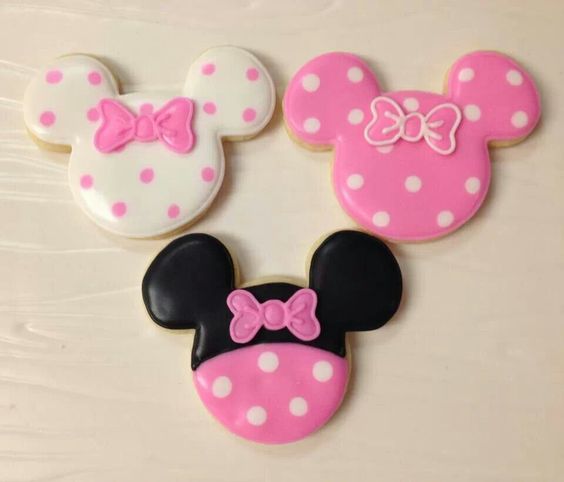 29. PINK AND BLACK MINNIE MOUSE THEMED COOKIES
Send your guests home happy with sweet Minnie Mouse Cookies like these!
Wrap them individually in clear wrappers and attach a bow and Minnie favor tag for a sweet take-home treat!
These unique ideas should be able to make your little girl's birthday a success.
Now, which of these 29 Minnie Mouse Party Ideas will you incorporate into your party? Let us know in the comments below!
Looking for more party ideas? Don't forget to follow us on Instagram @prettymyparty and Pinterest and join us in our private Facebook group. SaveSave SaveSave SaveSave SaveSave SaveSave SaveSave SaveSave SaveSaveSaveSave SaveSave SaveSave SaveSave SaveSave SaveSave SaveSave SaveSave SaveSave
SaveSave
SaveSave
SaveSave