Pink and Gold Minnie Mouse First Birthday Party
This Minnie Mouse Birthday Party is gorgeous beyond words! Plan an amazing first birthday like this one with these ideas!
Minnie Mouse is such a classic children's birthday theme. Minnie Mouse is everyone's favorite mouse! We especially love this theme for a first birthday party! This gorgeous Pink and Gold Minnie Mouse First Birthday Party styled by M&J Kreations is beyond beautiful! Gorgeous pink florals and perfectly placed gold accents make a grande statement at this little girl's party!
Shop these Minnie Mouse Party Supplies and Decorations:

If you're looking for Minnie Mouse Birthday Party Ideas, this party has it all!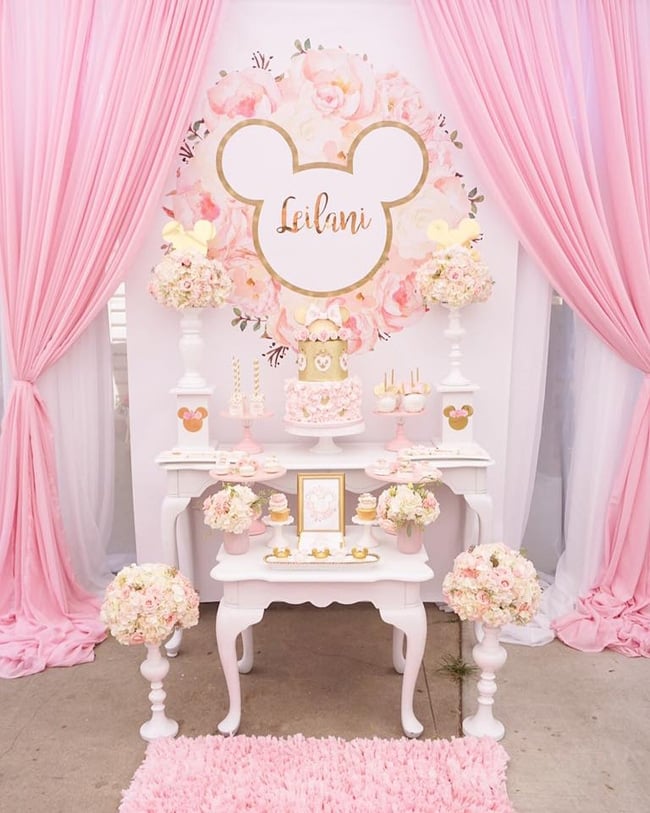 The sweets table featured a personalized gold Minnie Mouse backdrop with the birthday girl's name in the center from Edge House Designs. The gold Minnie Mouse was surrounded by gorgeous pink flowers and drapery. The dessert table featured an array of amazing desserts to choose from including a stunning Minnie Mouse birthday cake, cookies, cupcakes, and more!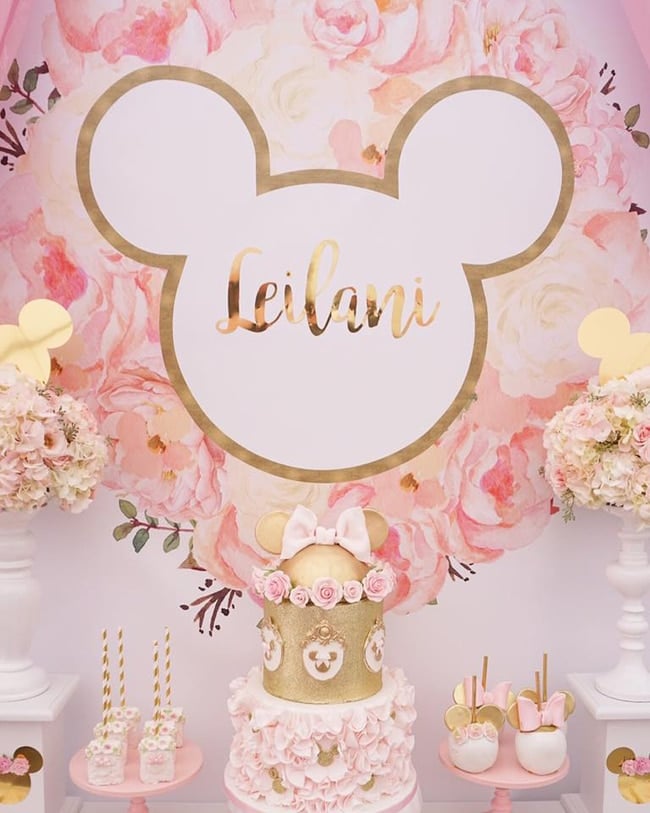 The birthday cake was designed by Rooney Girl Bakes and fit the theme perfectly! The bottom layer of the cake featured pink ruffles with gold glittery Minnie Mouse ears. The center of the cake was a shimmery gold with intricate Minnie Mouse details! The top of the cake was gold Minnie Mouse ears with a pink bow surrounded by pink flowers that matched the backdrop and other flowers on the table. Pure PERFECTION!
We even love the Minnie Mouse themed apples! Too cute! What an unforgettable Pink and Gold Minnie Mouse First Birthday Party!
The Minnie Mouse cookies were gorgeous as well with gold glittery details, pink bows, the birthday girl's name, pink flowers, etc.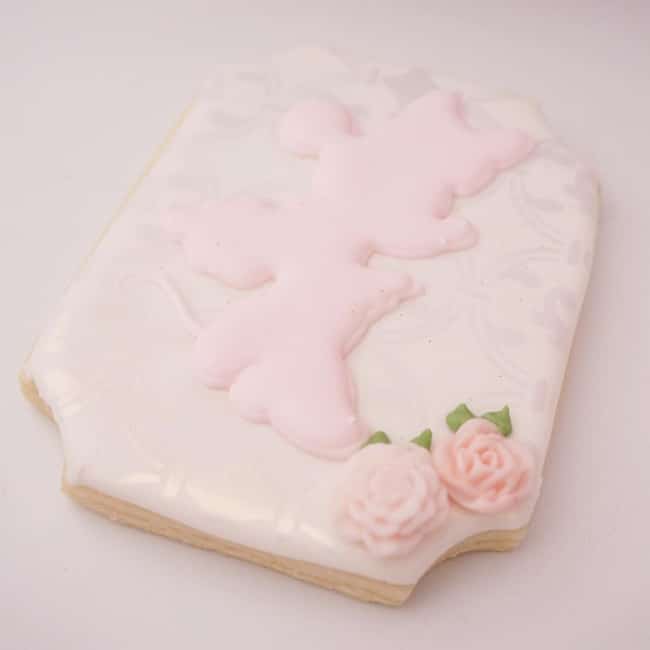 How perfect is this pink Minnie Mouse cookie?! The details of each Minnie-themed dessert were out of this world!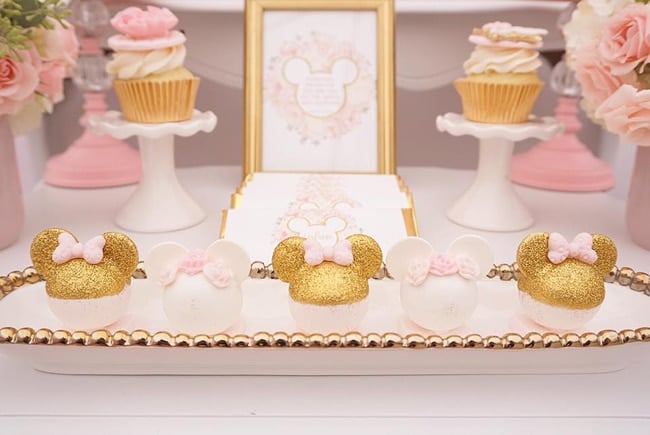 All of the desserts were provided by Sweets by Gigi. What an amazing job they did with each one!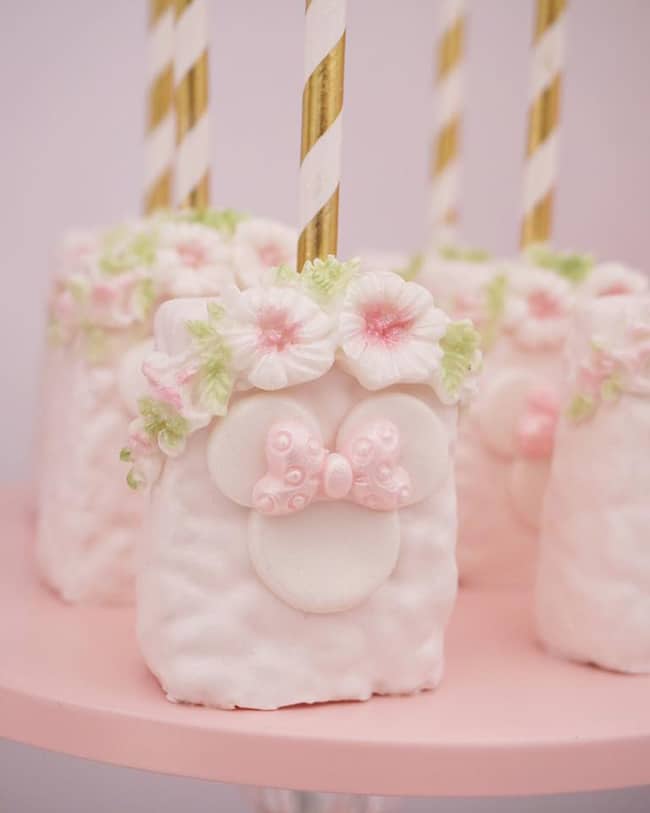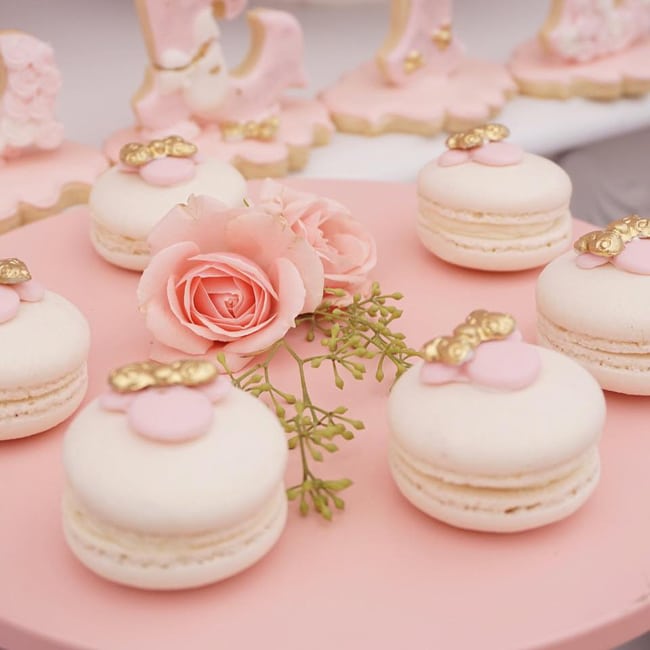 Macarons were also included in the dessert spread, which featured pink Minnie Mouse ears with a gold bow!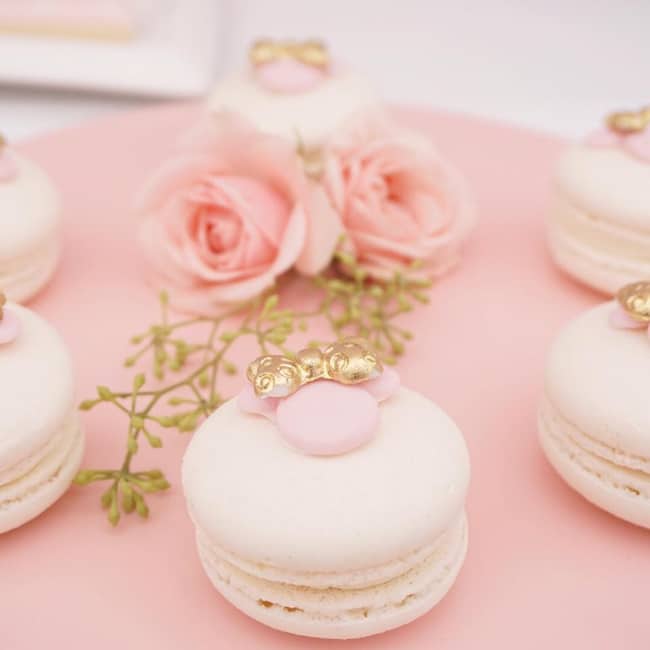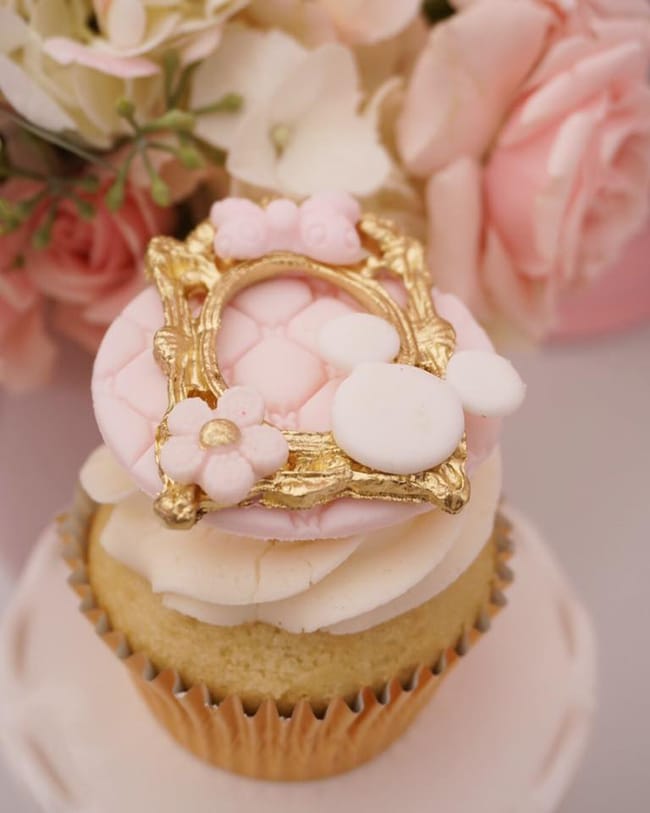 The exquisite Minnie Mouse cupcake details matched the cake and looked amazing!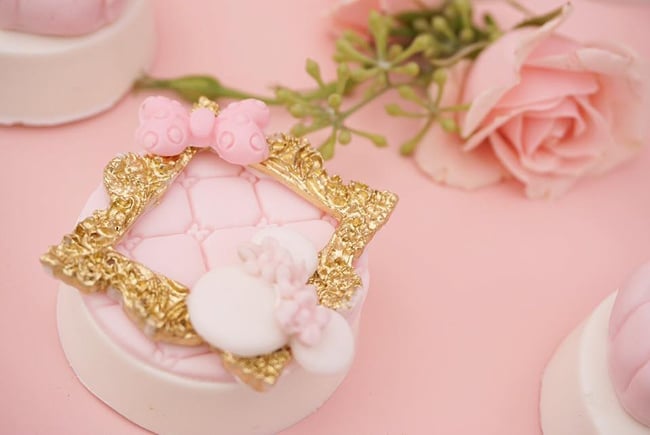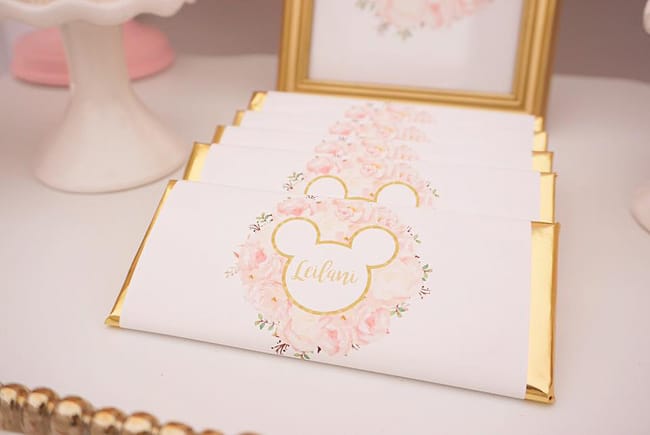 The same Minnie Mouse logo used for the backdrop was also used for the chocolate bar wrappers on the party favors! We just love how everything came together perfectly for the Minnie Mouse theme!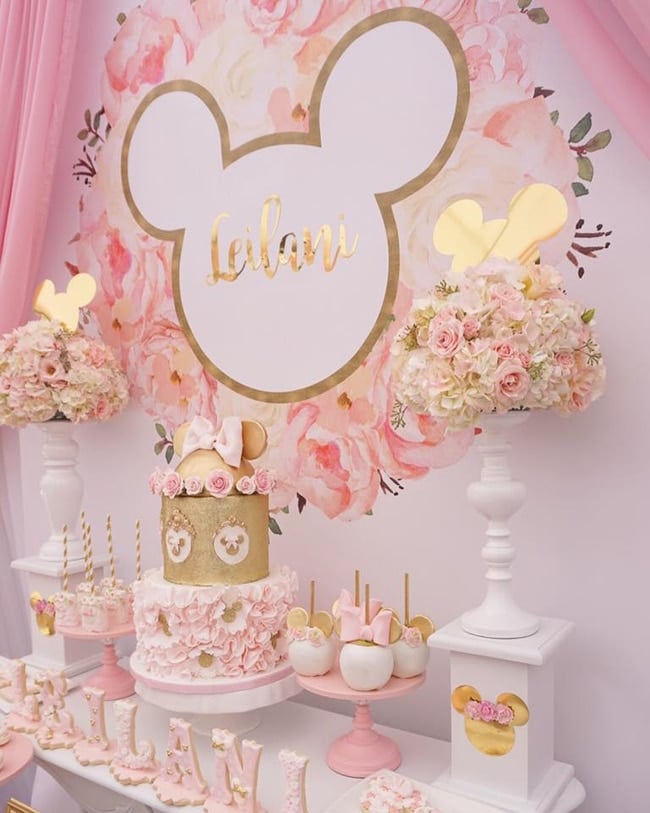 What a sweet Pink and Gold Minnie Mouse First Birthday Party for a special little lady!
Which details in this Pink and Gold Minnie Mouse First Birthday Party are your favorites? Let us know in the comments below!
For more party ideas, follow us on Instagram @prettymyparty and Pinterest and join us in our private Facebook group.
Vendors & Credits
Style & Decor: M&J Kreations // Cake: Rooney Girl Bakes // Flowers: MDC Flowers // Backdrop: Edge House Designs // Sweets: Sweets by Gigi