Gorgeous Minnie Mouse Baby Shower
Looking for inspiration for a Minnie Mouse Baby Shower? Look no further than this gorgeous event made for a Disney-loving mama!
When you're a huge Disney fan, how could you not have a Minnie Mouse Baby Shower?! This baby shower includes gorgeous Minnie Mouse decorations, centerpieces, desserts and more!
With a little baby girl on the way, this mom-to-be's family was chomping at the bit to throw her the baby shower of her dreams. And a Minnie Mouse Baby Shower Theme was exactly the perfect theme when your entire family loves all things Disney! Just wait until you see all of the perfect-ness that this baby shower has!
Minnie Mouse Baby Shower Decorations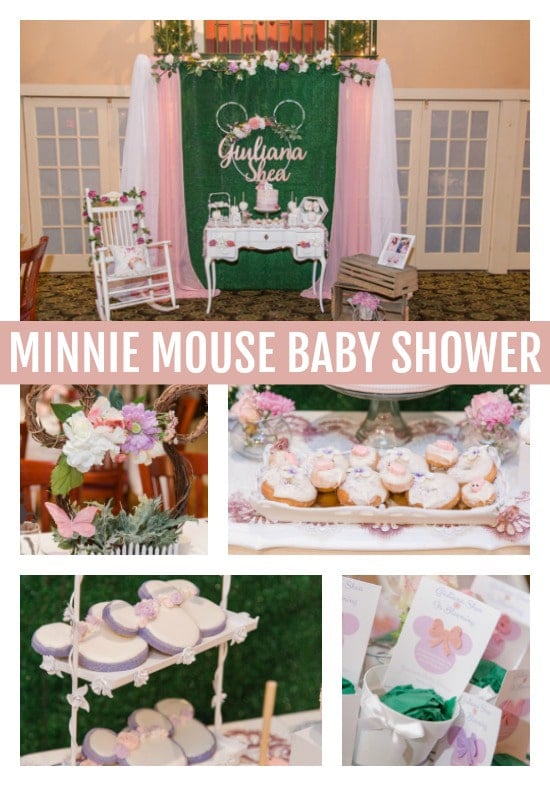 Just look at all of the amazing things to see at this Minnie Mouse Baby Shower! From amazing cookies, to the best Minnie Mouse Baby Shower Decorations around, we can't wait to see more!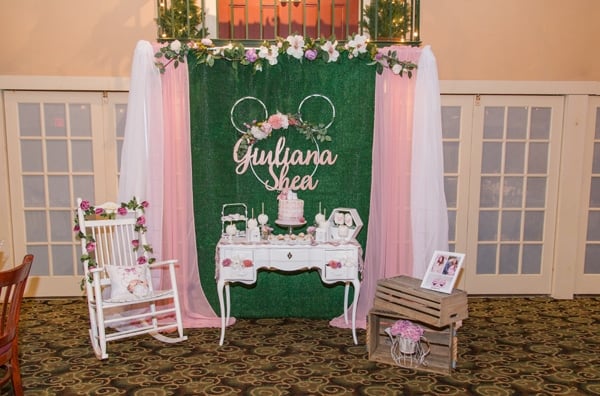 The baby shower decor includes "Hidden" Minnie Mouse items, as well as lots of lavender and pink decor. And just look at all of those flowers! Events By Cat did a great job on the "Minnie Mouse" backdrop for the dessert table. It really makes a statement!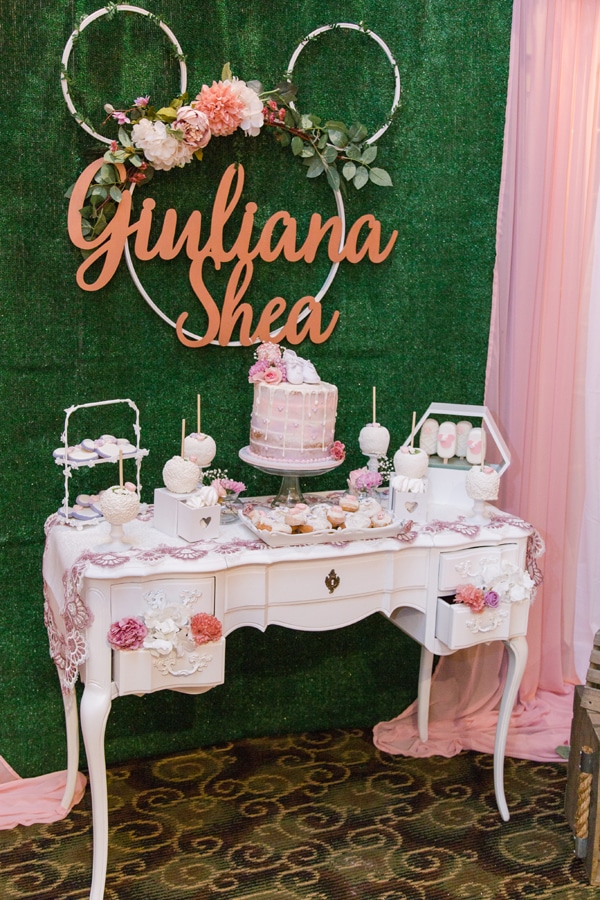 The desserts for this Minnie Mouse Themed Baby Shower are nothing short of breathtaking! Sweet Mama's Cakes by Tina is the mastermind behind the "Cakesicles" (pink velvet cake and white chocolate coating with designs of Minnie Mouse and flowers). You will also find Minnie Mouse shaped sugar cookies and chocolate covered apples with pink candy ladybugs. Impressive!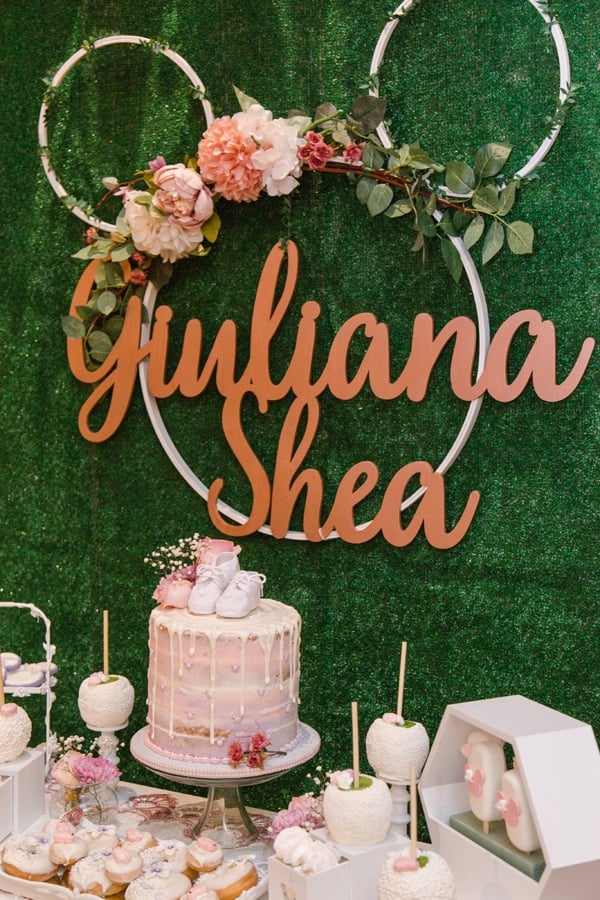 The Historic Old Bermuda Inn was the perfect venue for this Minnie Mouse Baby Shower. The food is incredible at this location, as well as housing a beautiful backdrop for the entire shower event. Everything is truly breathtaking!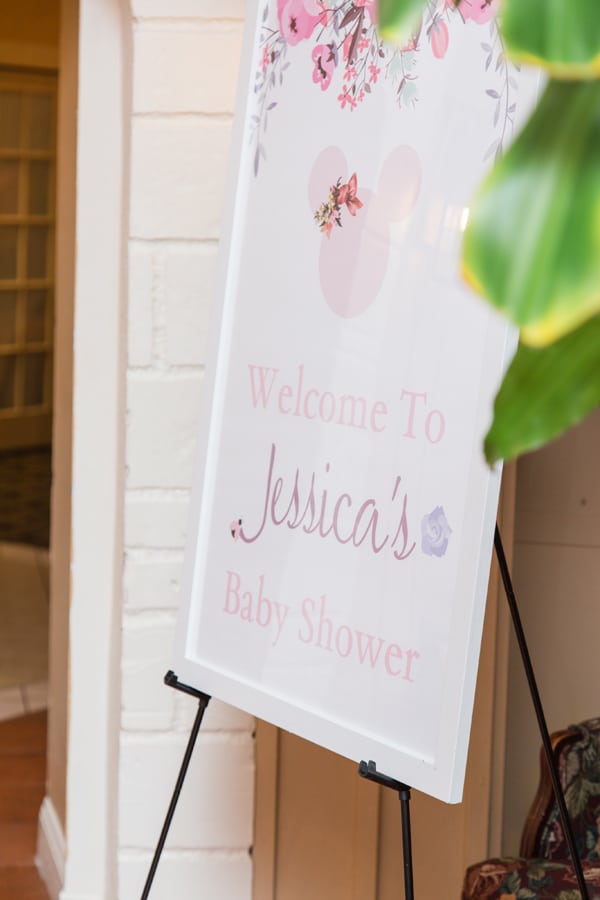 Signage is found throughout the Minnie Mouse Baby Shower, including this beautiful Minnie Mouse inspired welcome sign.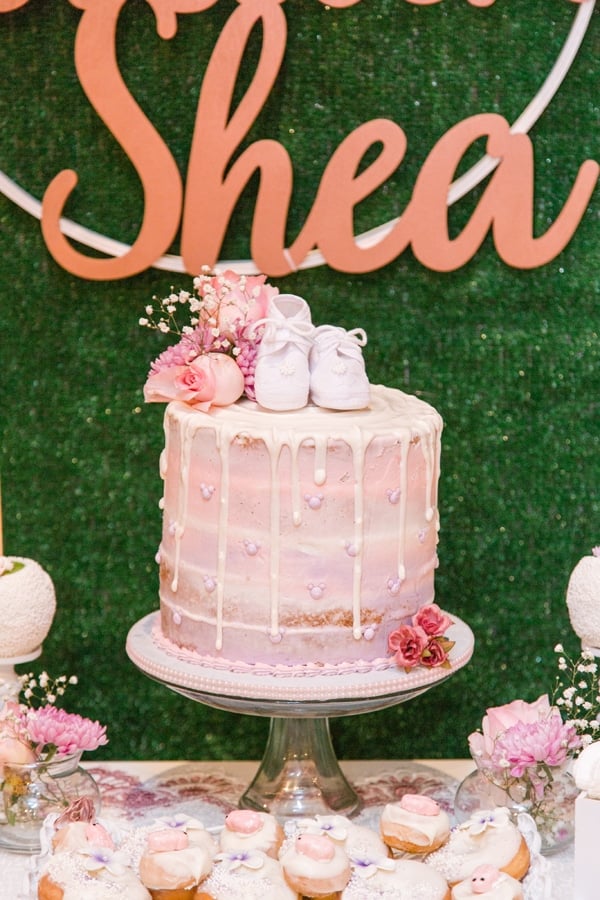 Sweet Mama's Cakes by Tina did an absolutely amazing job on this sweet Minnie Mouse Baby Shower cake! It was a Cannoli Filled "Semi-Naked" Vanilla Cake decorated with hidden Mickey's and fresh flowers. Gorgeous!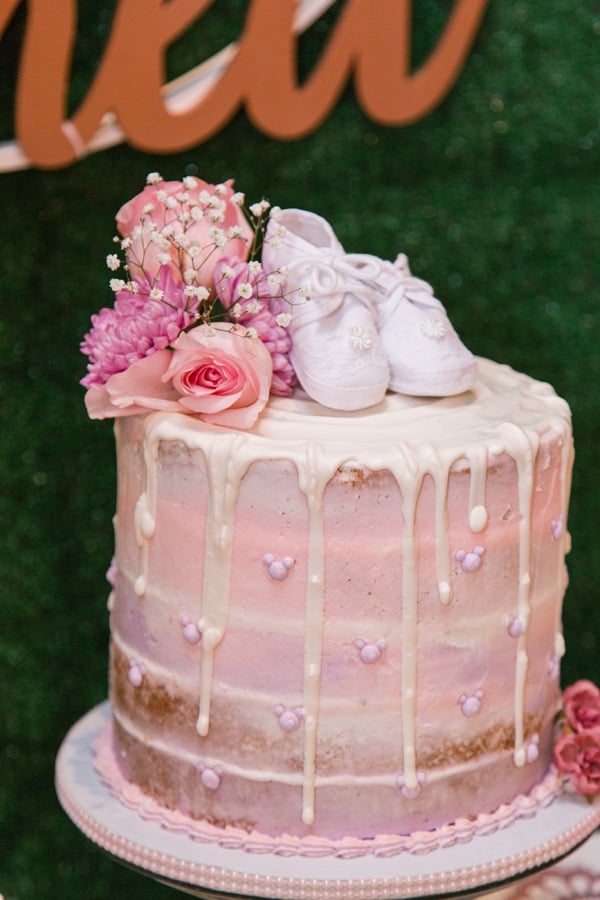 The little baby shoe cake toppers are such a brilliant idea! How else would one want to decorate a cake for a Minnie Mouse Themed Baby Shower?! And there are those sweet hidden Minnie Mouse decorations on the cake too! What a great Minnie Mouse Baby Shower Cake!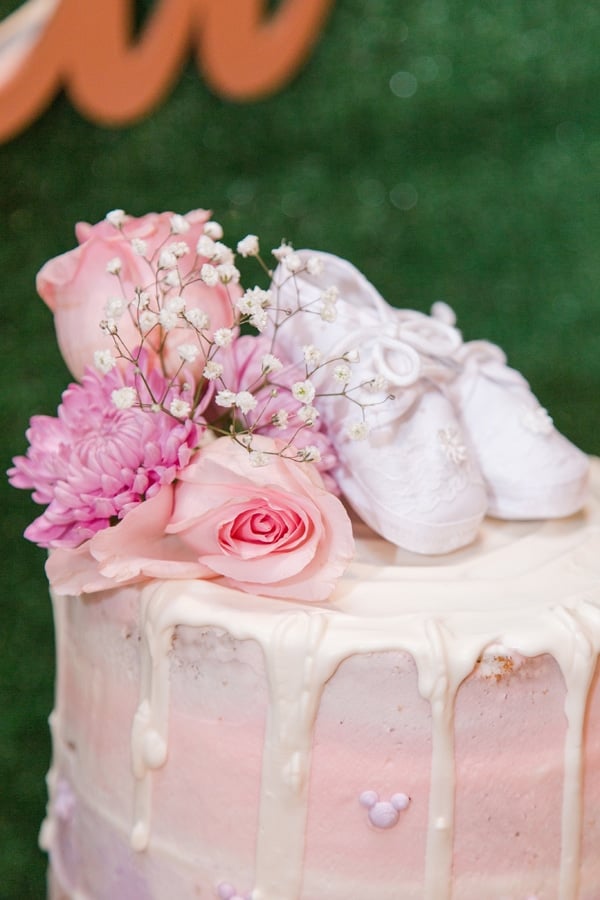 The flowers are absolutely divine. Not only on the cake, but around the entire Minnie Mouse Baby Shower. We love all the cute pink, blush and white flowers that are announcing the impending arrival of a sweet baby girl!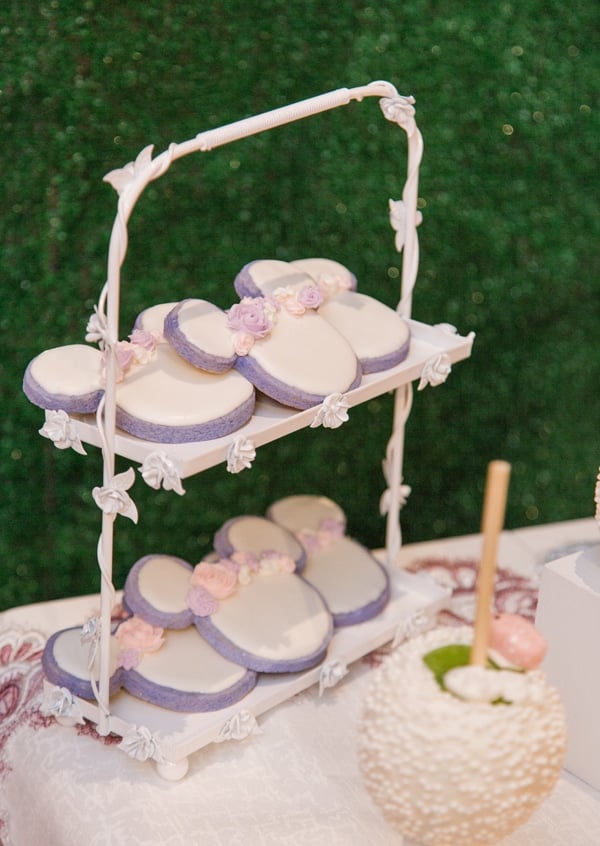 These Minnie Mouse cookies are absolute perfection! They almost look too good to eat, they are so gorgeous!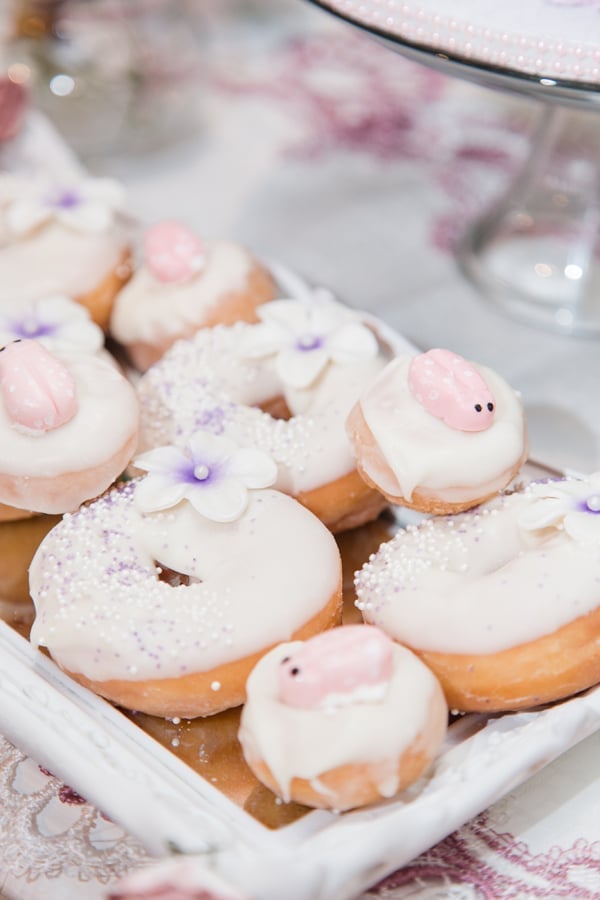 Even simple cupcakes and donuts are decorated to celebrate the Disney themed baby shower! Yummy food was all around and there was no way that guests were going to leave this baby shower with a growling stomach!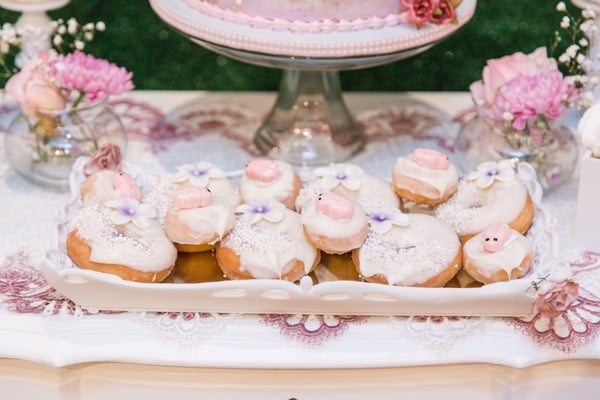 The presentation platters that are used for all of the cupcakes are absolutely beautiful, as well. It is such a gorgeous dessert table presentation!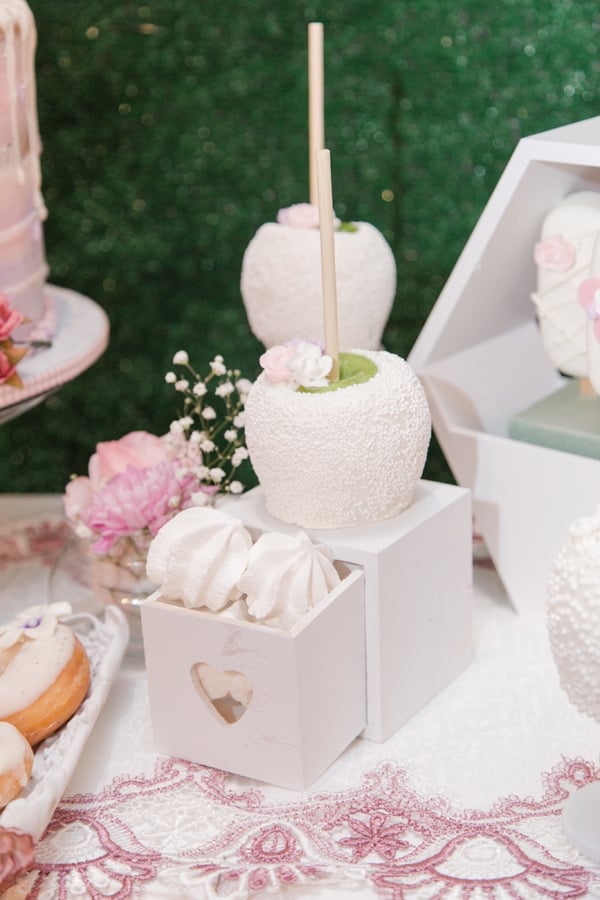 These fun candied apples are a showstopper! They look way to pretty to dig in, but it's such a unique item to have on the dessert table.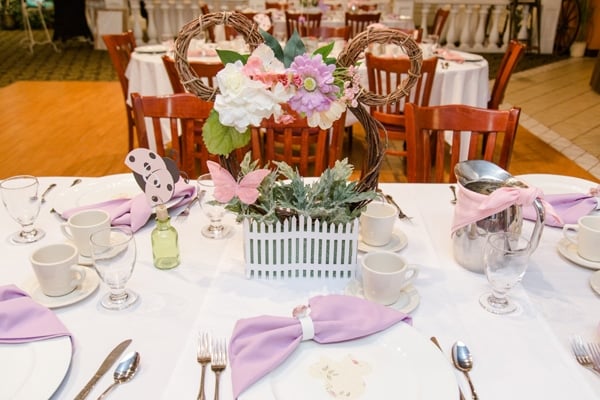 We love these centerpieces with the Minnie Mouse Floral Wreath in the picket fence! What a gorgeous idea and one that was admired over and over by all of the baby shower guests! We love the "hidden" Minnie Mouse and Napkin "bow" that was created with custom napkin rings, as well. Every guest definitely had a magical experience that one would expect with a Disney theme!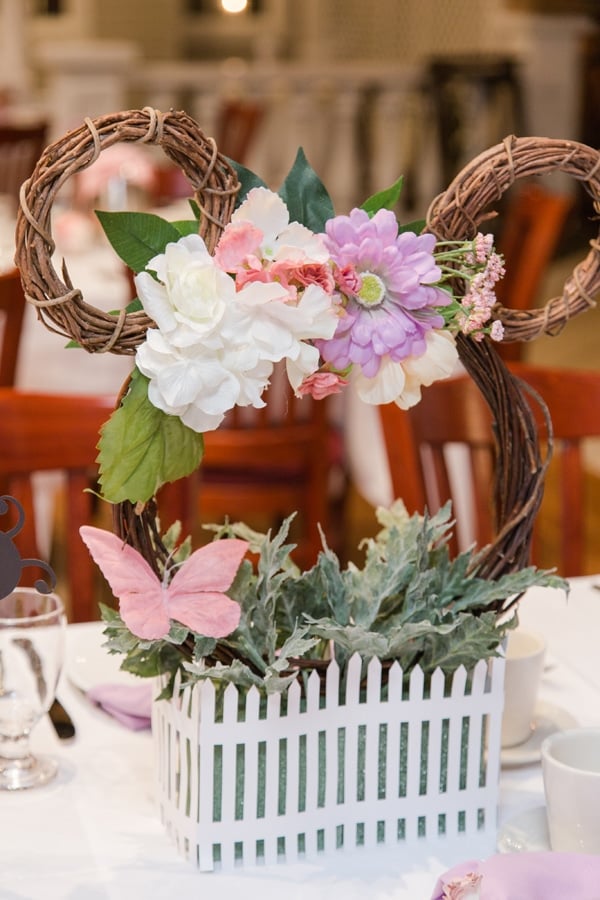 Just look at this up close view of the centerpieces! They couldn't be anymore adorable!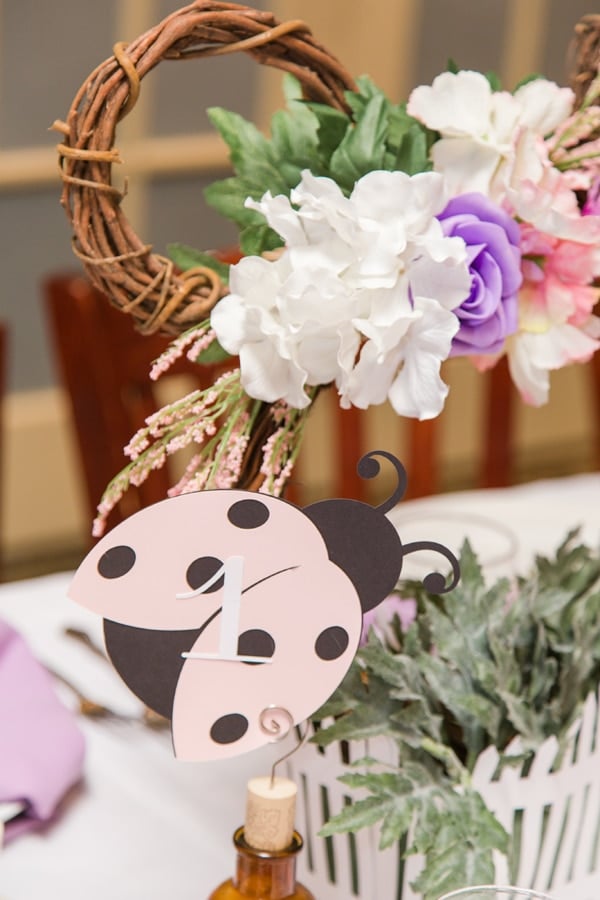 We love the way the table numbers were represented by the numbers on the lady bug. And how cute to have them held up through a cork in a bottle!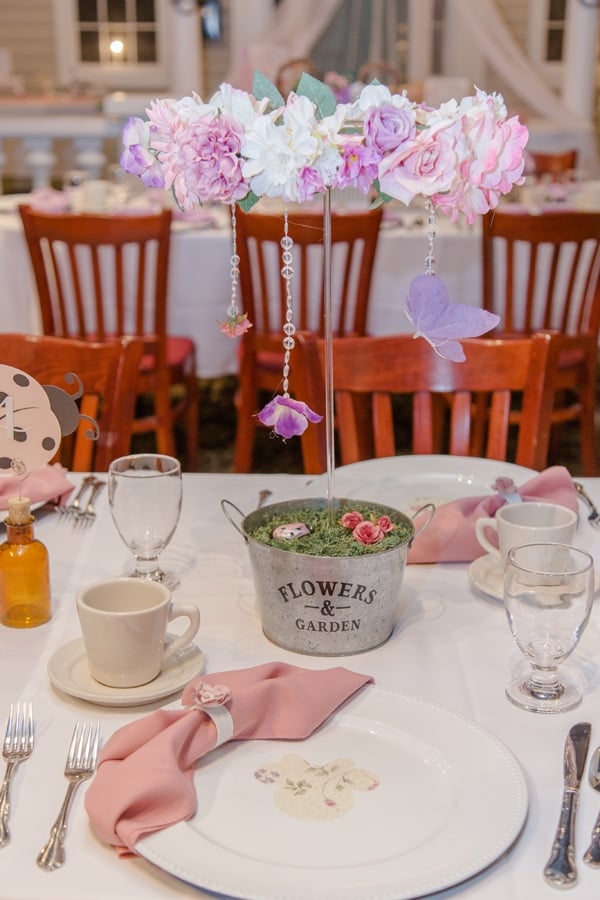 The brunch menu from The Historic Old Bermuda Inn included, fresh baked muffins and pastries, Penne a La Vodka, an Omelet Station, Chicken Marsala, Linguine with Shrimp, Roasted Vegetables and a Mimosa Punch. The charger plates also feature gorgeous custom decor on them, as well.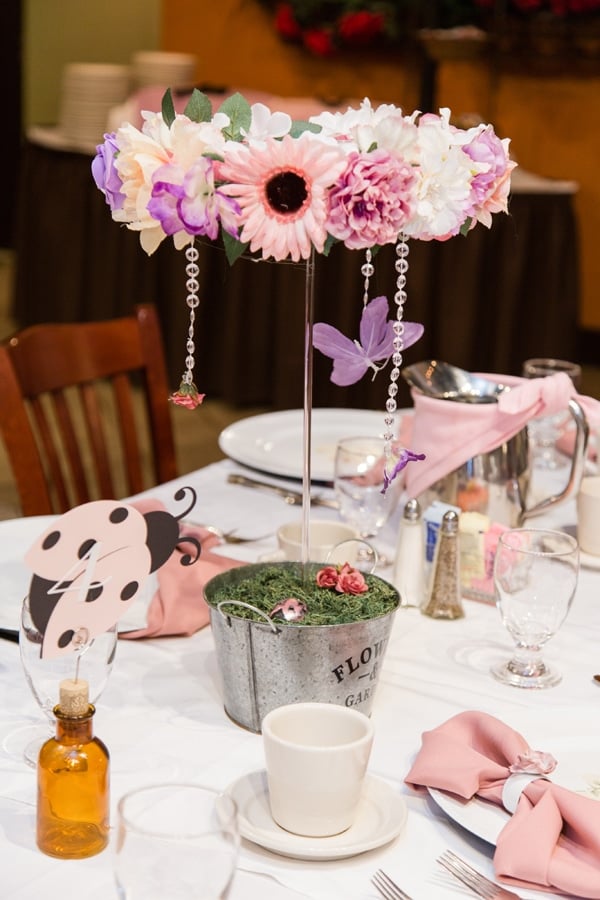 Every picture from the Minnie Mouse Baby Shower is more beautiful than the one before it! There is no lack of Minnie Mouse Baby Shower supplies at this event and everything turned out picture-perfect.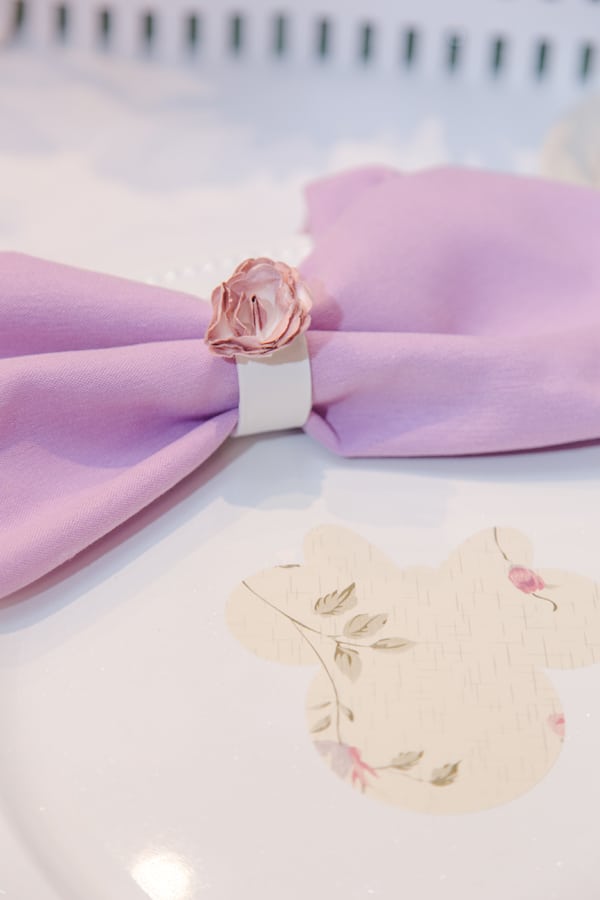 Just look at these amazing custom-made ring holders for the napkins! We love them!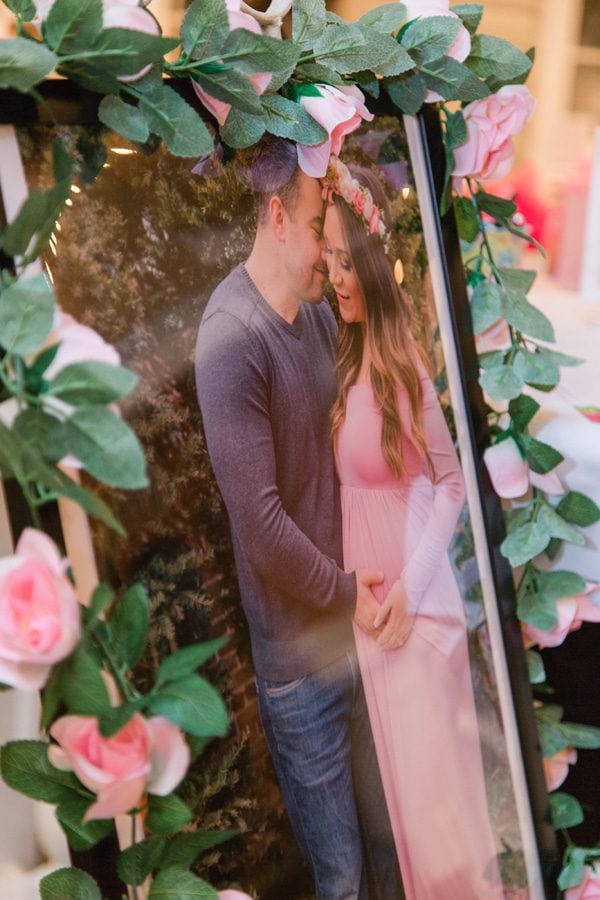 Music from the event included country Disney songs, Disney lullabies and some Disney soundtrack favorites mixed in with top 40 songs. It was a hit!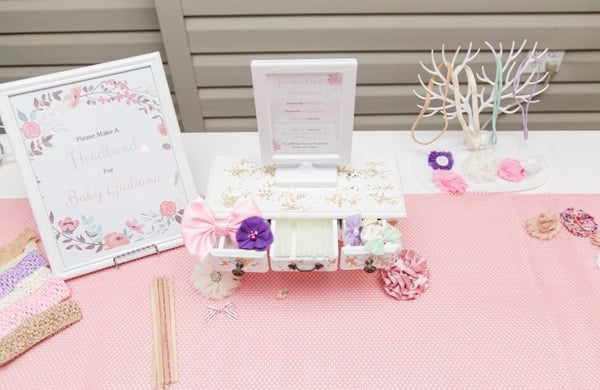 One of the best parts of the Minnie Mouse Baby Shower was that guests got to create customized hair bows for the new baby! What a fun baby shower activity to do with everyone. There were many different accessories that people could choose from and everyone had a blast putting their own twist on the perfect headband for baby!
Baby Shower Emoji Pictionary, along with Guess the Disney Silhouette are just some of the baby shower games that guests enjoyed. What fun games to include for a Disney themed baby shower!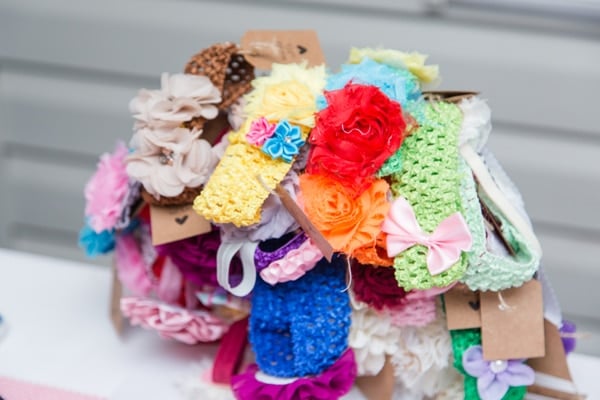 Look at how many headbands all of the guests made! That is one lucky baby who is never going to have to worry about a bad hair day!
The mom-to-be's sister-in-law (soon to be God mom) created custom onesies for the baby on the way, which are seen on the clothesline across from the gift table. Speaking of which, just look at that gift table! It was decorated to resemble a bassinet and they did an amazing job! This is just beautiful!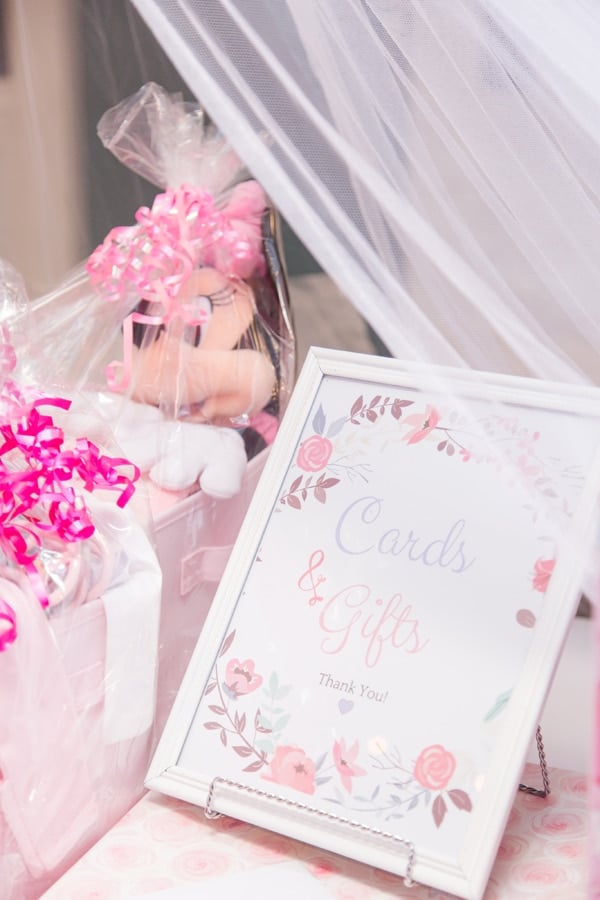 The gift table is so impressive and signage made it that much better!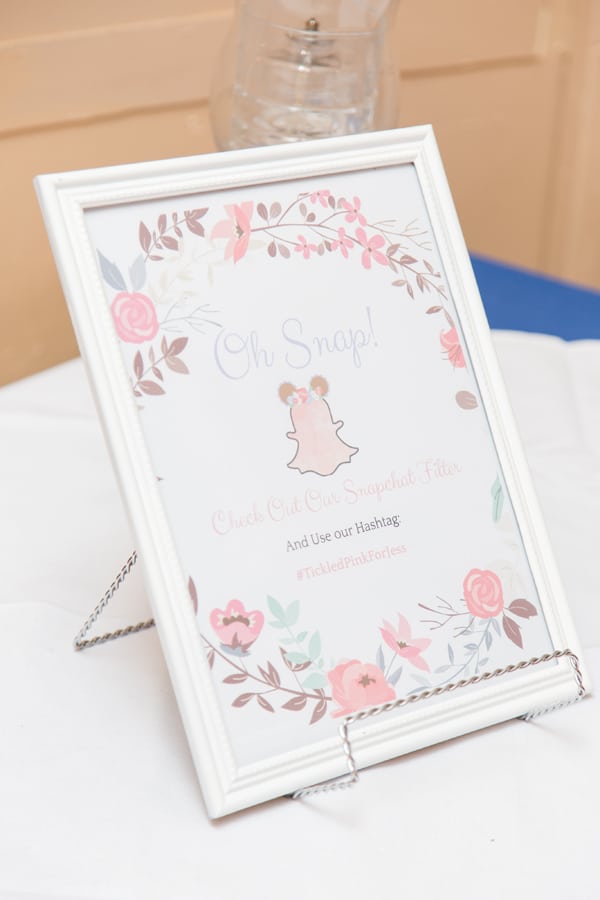 The Minnie Mouse Baby Shower even had its own hashtag for guests to use when posting pictures to social media. How fun!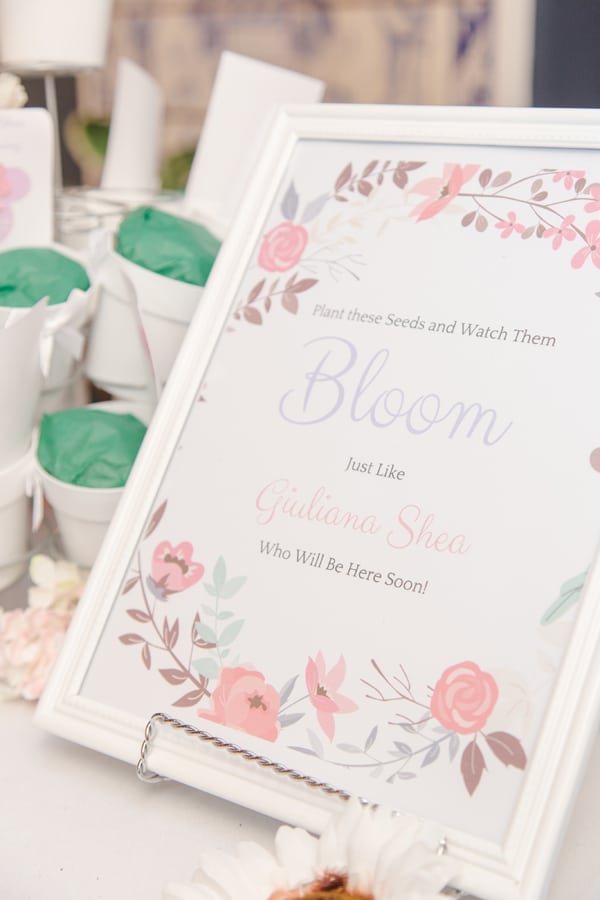 All of the signage at the Minnie Mouse Baby Shower is perfect, and we just love how this one told all of the baby shower guests about their sweet party favors that the mom-to-be was sending them home with. So cute!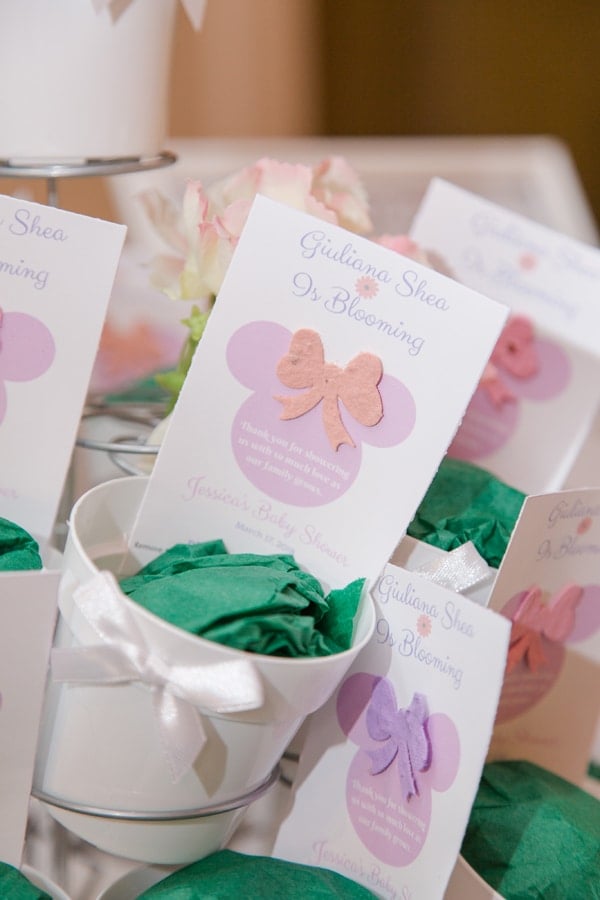 Just like the blooming baby, Mom was sending everyone home with some flowers that will bloom in due time for each of the guests! What a unique and fun idea for baby shower favors. The mini flower pot guest favors contained a card that had a seeded paper bow on Minnie's head, which were wildflowers everyone could plant at a later time.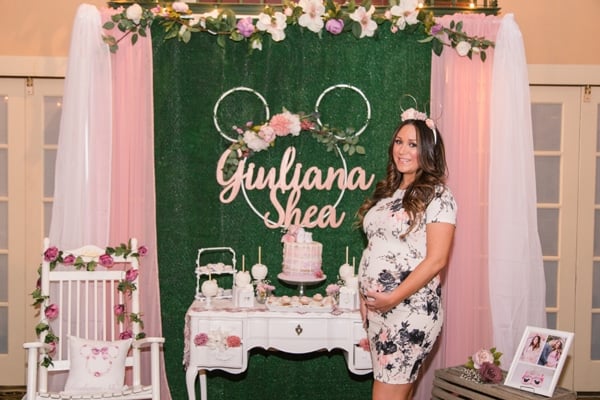 How cute is this mom-to-be wearing her Minnie Mouse Ears Floral Headband – a gift from grandma-to-be, which was made by Little Love Coconut. Overall, this is one baby shower that we are so impressed by. Everything is absolutely exquisite and not a detail was left undone. Mom is going to be able to look back on this baby shower with so much love for years to come!
What's your favorite detail of this Minnie Mouse Baby Shower? Let us know in the comments below!
For more baby shower ideas, follow us on Instagram @prettymyparty and Pinterest and join us in our private Facebook group.
Vendors & Credits