Amazing Jungle Book Themed Birthday Party
If you have your heart set on a Jungle Book Themed Birthday Party, sit back and take in all of the amazing details in this little girl's fourth birthday!
A Jungle Book Themed Birthday Party isn't for the faint of heart, with all of those jungle animals and wild decor that people could get lost in. But that didn't stop this sweet girl from making it the birthday party of her dreams!
This little girl turned 4 this year and was adamant on having a Jungle Book Themed Birthday Party! OC Vintage Charm knew that it wasn't the most girly party theme, but that wasn't going to stop them from creating the most awesome Jungle Book theme party ever!
Jungle Book Party Supplies
The party Jungle Book Themed Birthday Party was held in the kitchen of this family's home, but you'd never know it! It was completely transformed into an amazing whimsical jungle!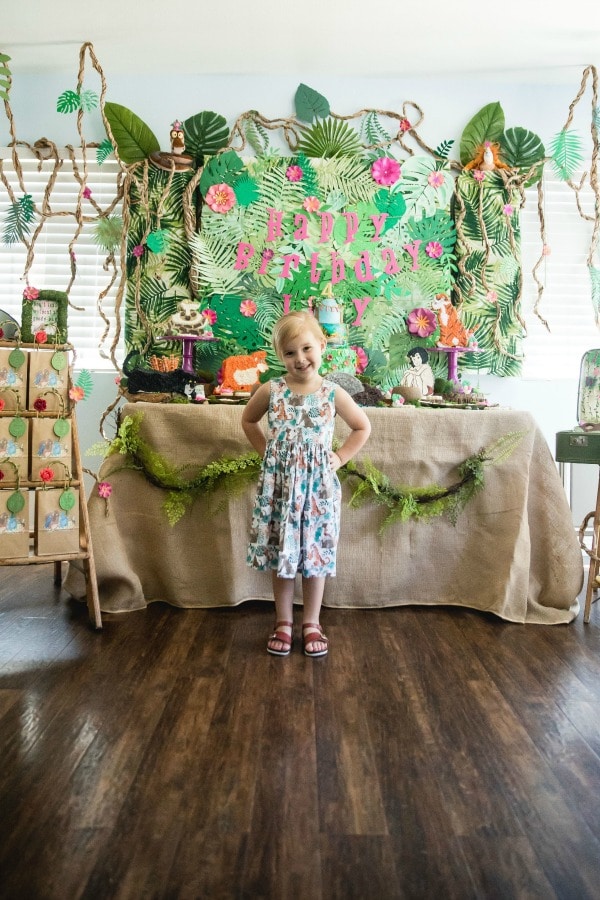 We knew it was going to be a good party when we saw the darling dress that was handmade by Spotty Lottie UK. They created a one of a kind dress in Jungle Book fabric that was a perfect match for this birthday girl's party.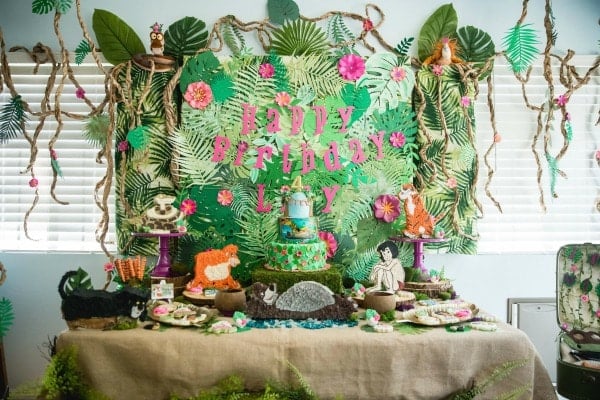 So how does one go about making a home look and feel like a jungle, but also give it that cute, feminine touch? With a bunch of great DIY projects! And when thinking about decorations, the first thought that came to this planner's mind? FLOWERS! Flowers have to grow in the jungle, right?!
By whipping out the Circuit machine and cutting up hundreds of flower templates, a jungle was soon brought to life. It also was a great way to add color to the Jungle Book Party, as well! Each flower was hand-painted with Lumber metallic paint, which added extra shine and texture. What exquisite details!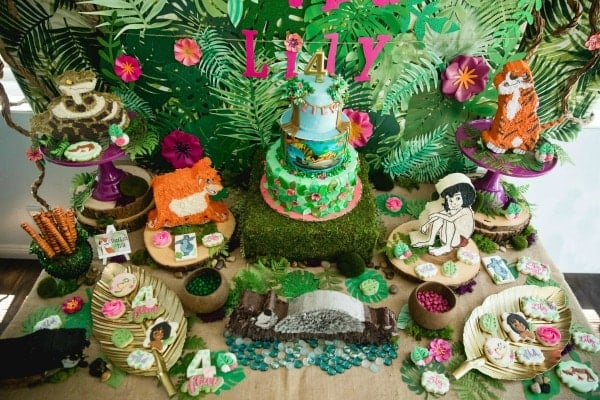 Just look at this gorgeous dessert table! We can't even believe our eyes, it is so impressive!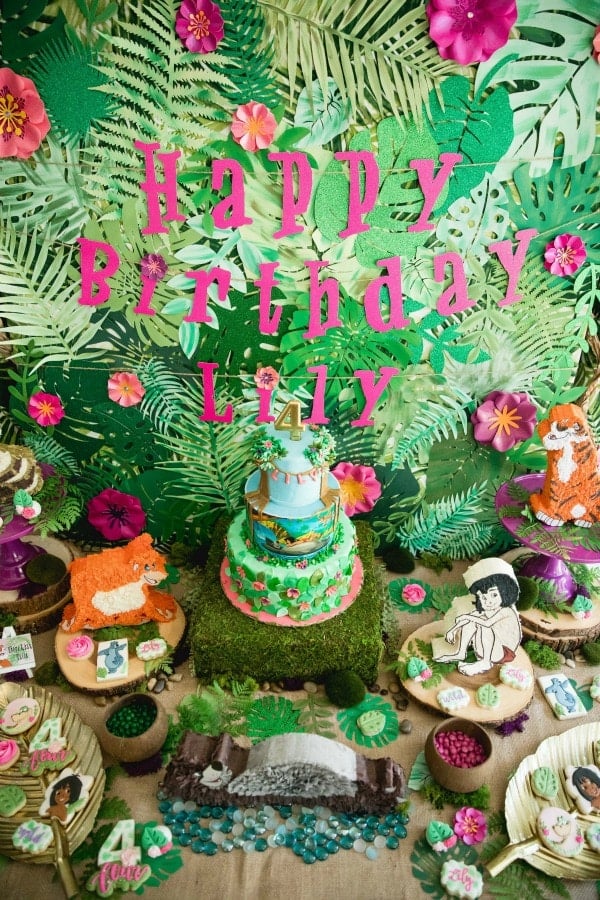 To create more of the jungle feel, leaves were cut out using SVG templates from Red Earth and Gumtrees. To add shimmer, glitter card stock was used for leaves, while others were hand-painted with more metallic paint.
A 4'x4' backdrop layering leaves, flowers and a handmade glitter birthday banner were all created in hot pink to offset all of the green. It really made them pop! And would you believe that all of the tree vines were created from brown paper lunch bags?! They were secured with small Command hooks, with leaves and flowers sporadically attached to tie it all together.
It really brought everything to life with an awesome jungle feel!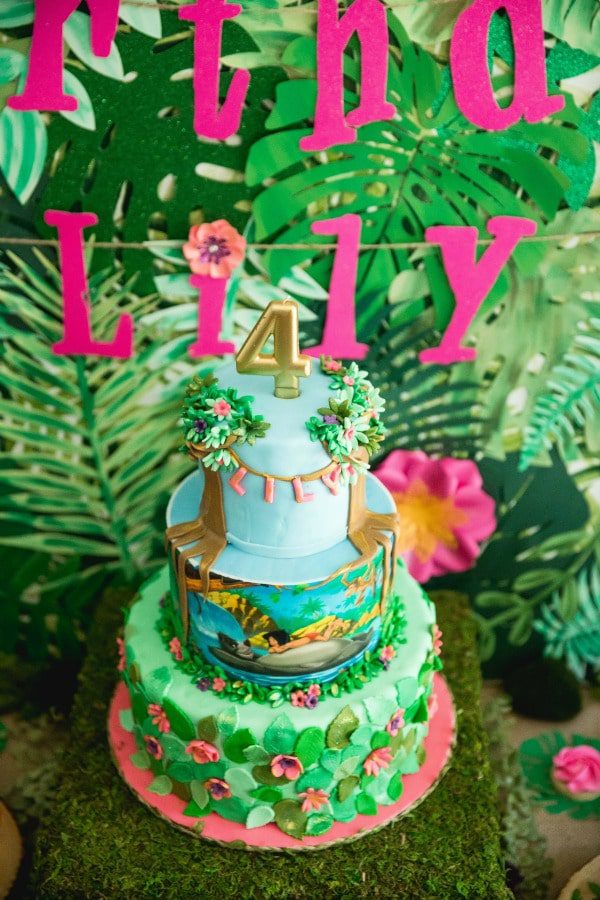 Frosting Avenue came up with an amazing 3-tier cake that knocked everyone's socks off! Every little detail was absolutely gorgeous! They added sparkle and shine with little matching flowers to make sure it fit in with the whimsical girly party.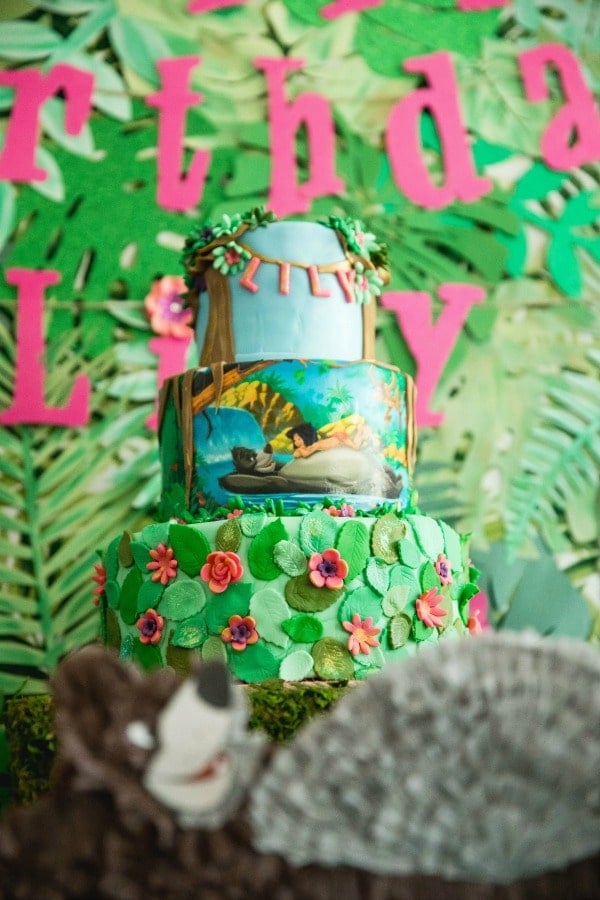 Just look at that impressive birthday cake! This might be the most exciting cake we've seen in quite awhile for a little girl's birthday. We love it!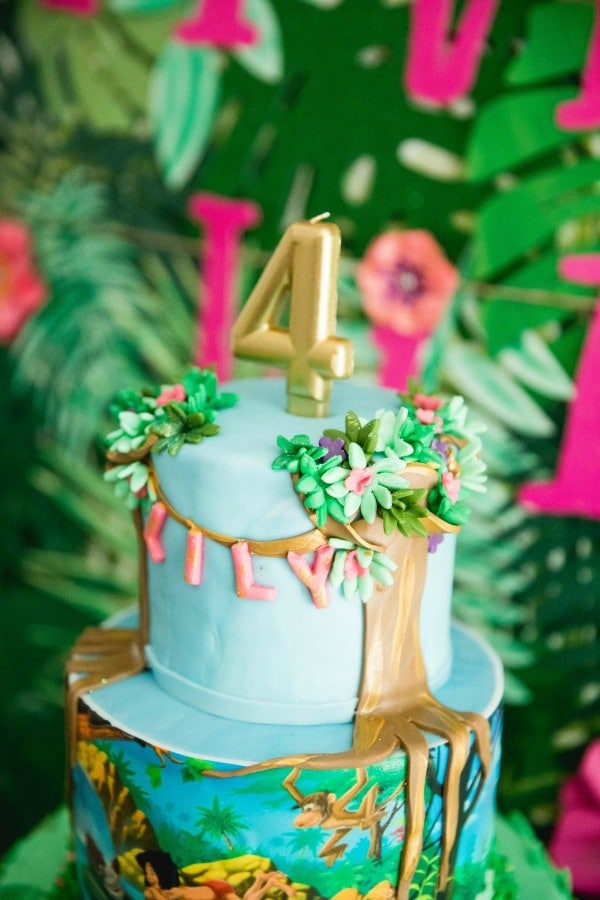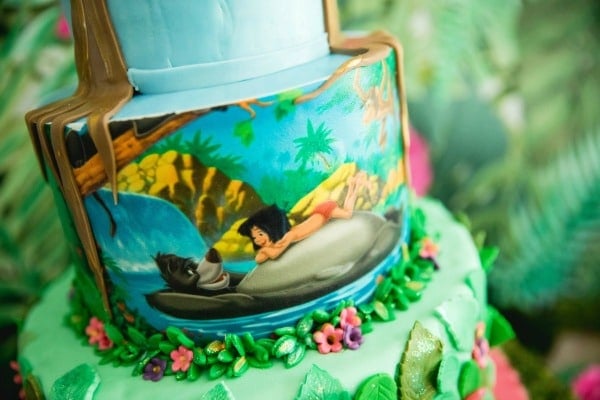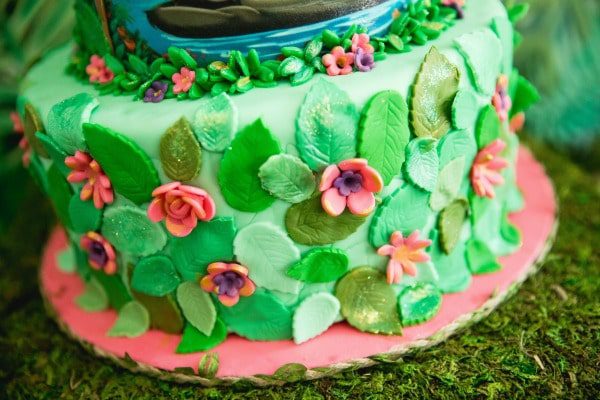 The cake wasn't the only thing that was impressive. Sweets by Gigi didn't disappoint with the life-like cookies of Mowgli, Baloo, Kaa and King Louie. This company has a true gift of making your cookies come to life and it is always so special to watch.
Sweets by Gigi also created the gorgeous cake pops, along with the pretzel treats, too! Yummy!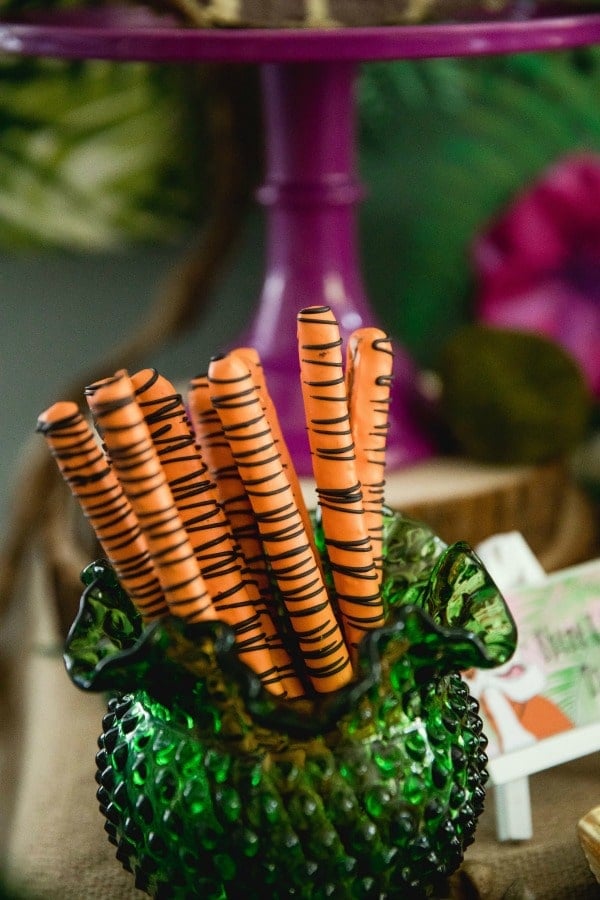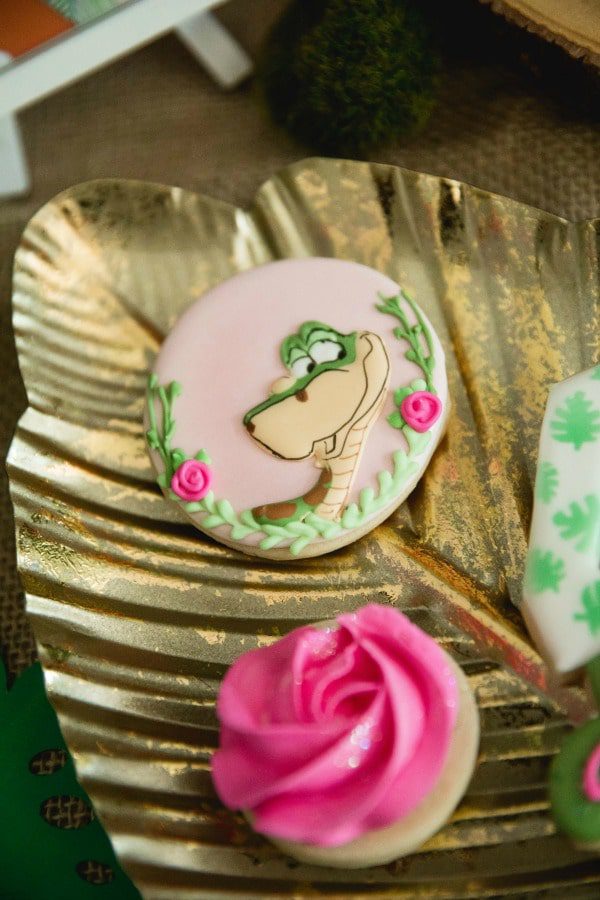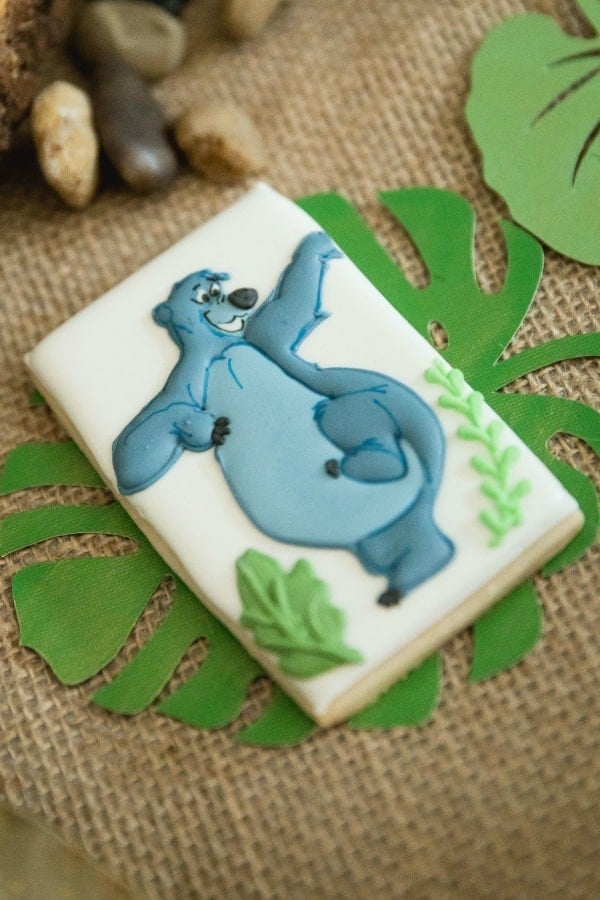 Just look at this big guy! He looks like he's ready to celebrate a very special Jungle Book Themed Birthday Party!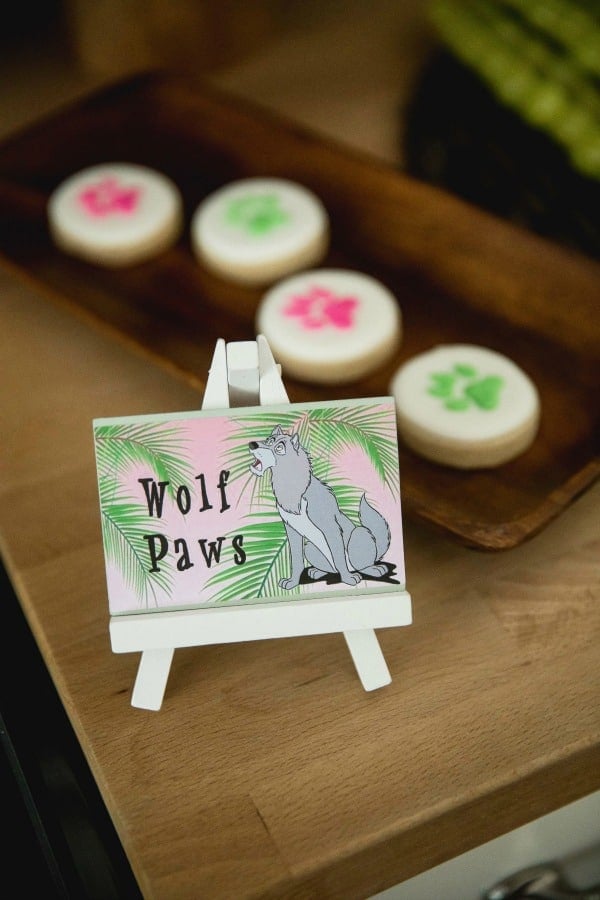 Small chalkboard signs with character images added a fun spin on some of the featured food. There were Shere Khan Tails (chocolate covered pretzel rods that were orange with black stripes) and Kaa-Bobs (grapes on a kabob stick to look like a snake with strawberries as the head). There was also Elephant Poop (chocolate covered peanuts), Baloo Bears (Teddy Grahams), Wolf Paws (cookies from Sweets by Gigi with paw prints on them), Cub Sandwiches (platter of sandwiches) and King Louie Banana Bread. Every single one was absolutely adorable!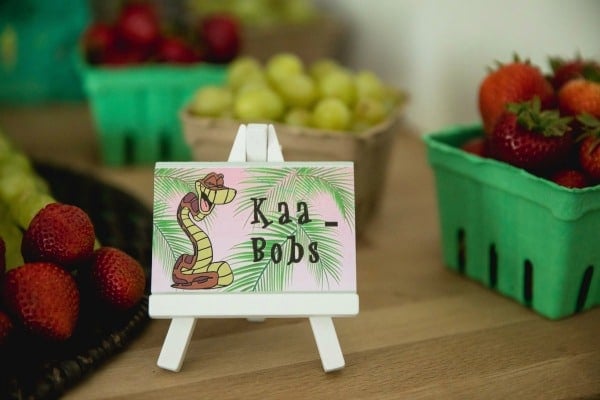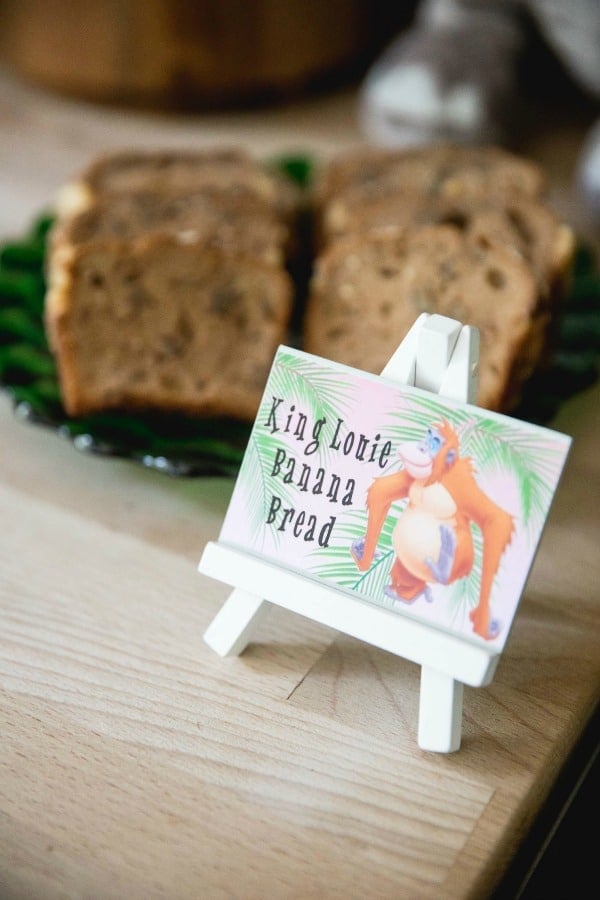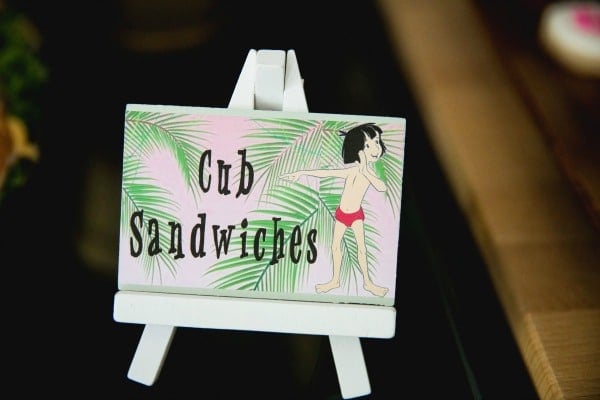 We even adore the cute themed food labels … So cute!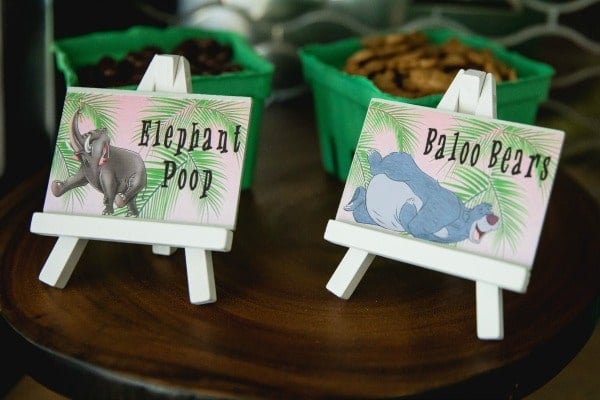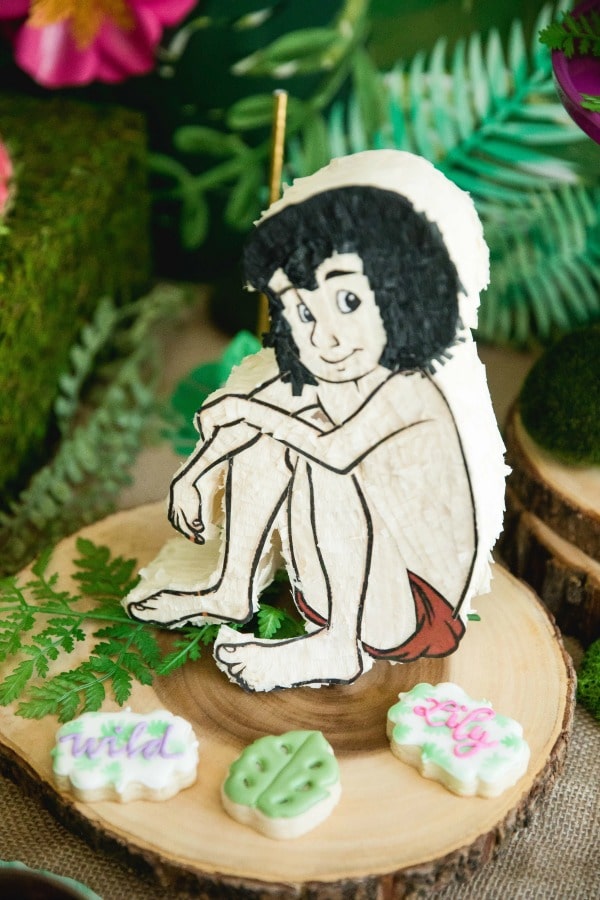 For the dessert table, JDJ Designs 2 created custom mini piñatas of Mowgli, Baloo, Shere Khan, King Louie, Bagheera and Kaa. Since this party was all about the details, these little guys were just perfect from the whiskers on Bagheera, to the stripes on Shere Khan!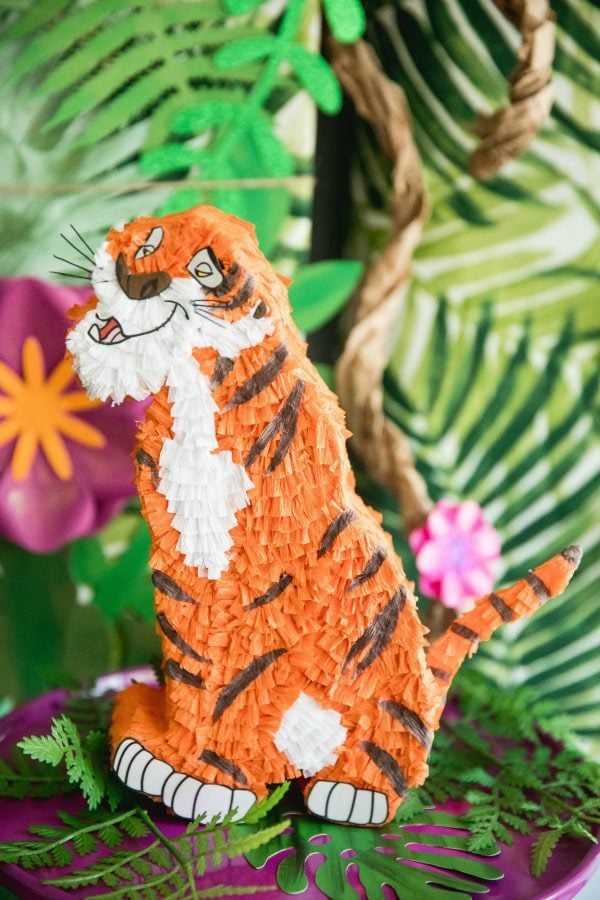 It's hard to feel like you're not in a jungle paradise when looking at these gorgeous pictures. We can only imagine how all of the guests felt once they walked into this Jungle Book Themed Birthday Party!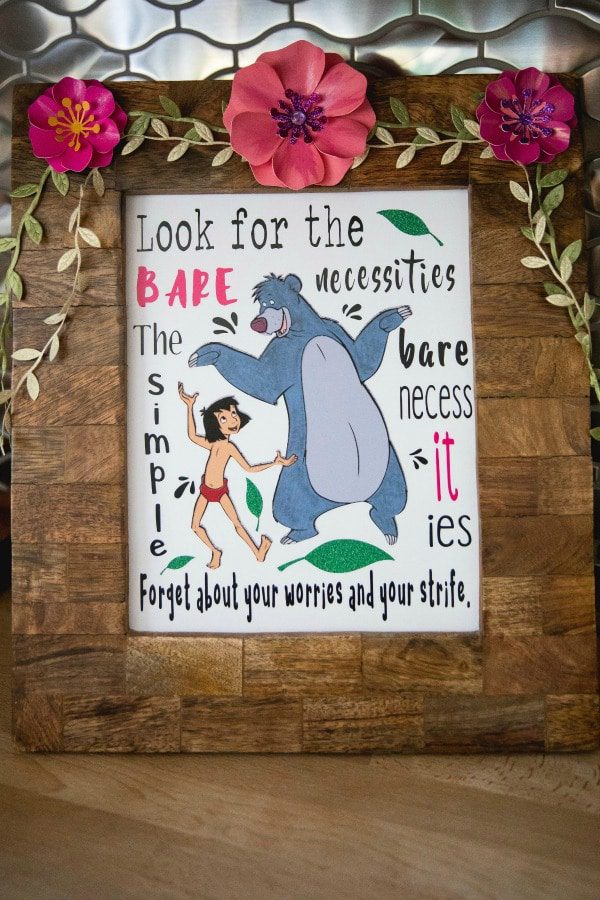 A little Bare Necessities made an appearance on a custom framed piece that was made with vinyl and printable vinyl. OC Vintage Charm added handmade flowers and vine ribbon for that girly jungle feel. It is perfect!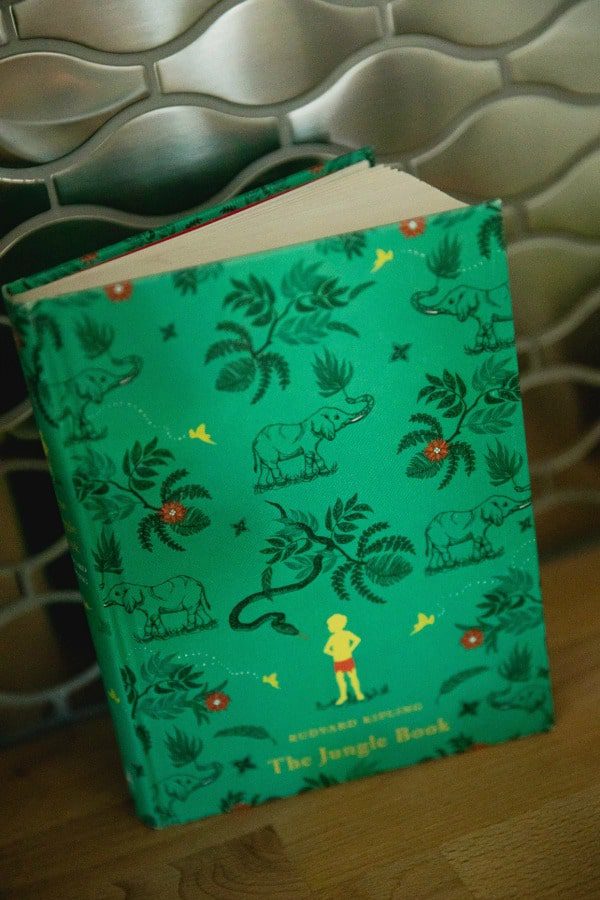 Of course, one of the Jungle Book Party Supplies had to be the actual book! It made its way front and center on one of the stands.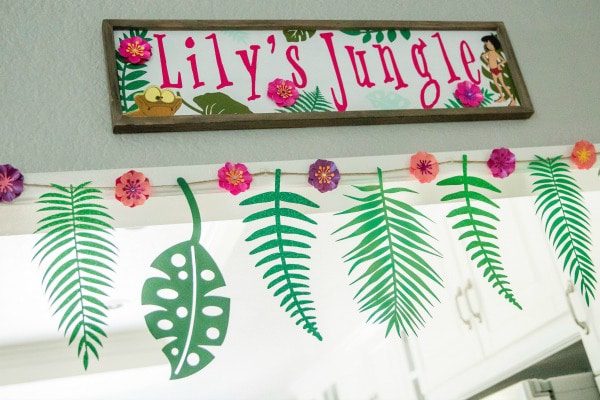 A "Lily's Jungle" wood sign was created for the entrance of the party that featured Kaa and Mowgli, which are the birthday girl's favorite characters.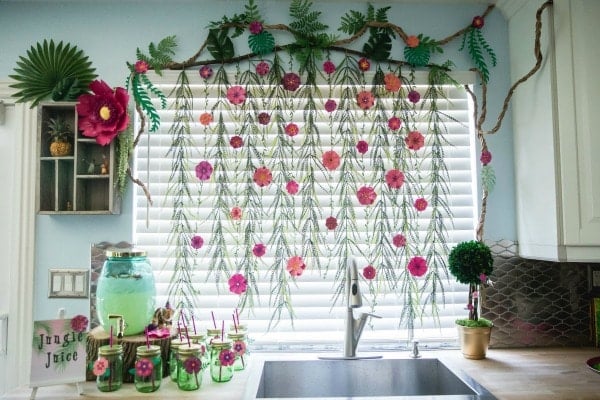 Above the kitchen sink a large stick that was found from a tree outside was used and artificial vines that were created were hung from it. It's perfect! To add some color, flowers were added on vine ribbon and attached to the stick as well. The wall was finished off with paper vines, handmade leaves and flowers. Adorable!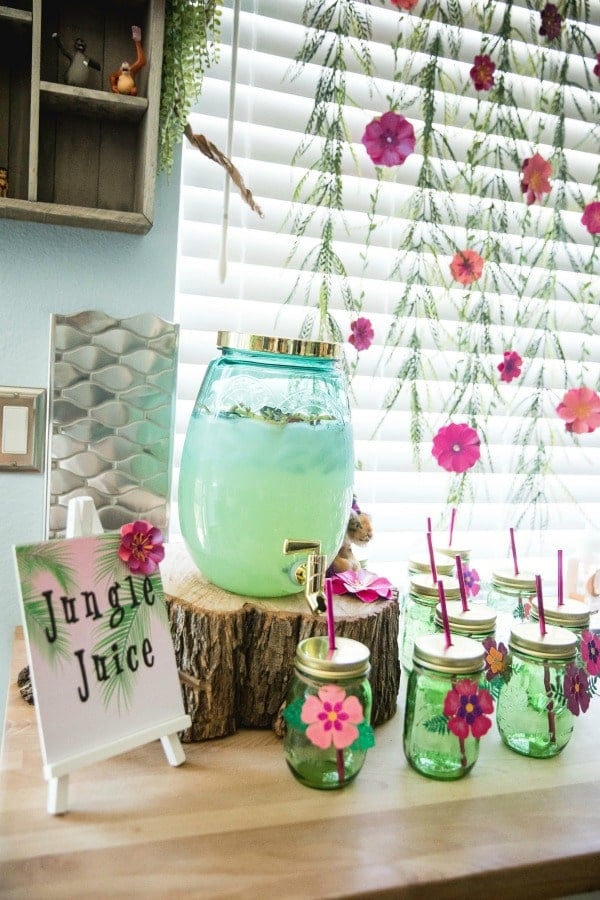 The party also had Jungle Juice, which was lemonade with snakes on the top. It may look scary, but it was actually quite delicious!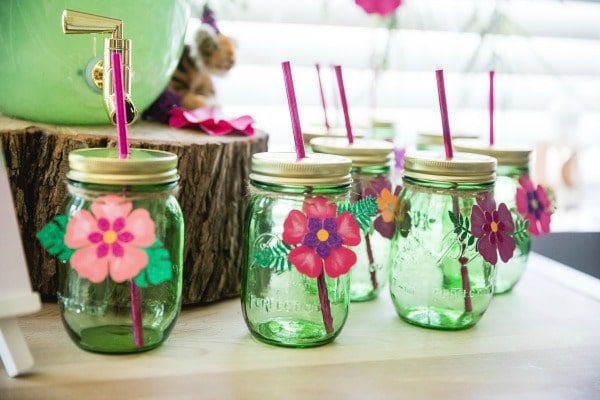 Below was the beverage station where the Jungle Juice sat on a large wooden stump. Green mason jars were purchased with gold straw lids for the kids to enjoy their drinks. And of course, handmade flowers tied with twine and a hot pink metallic straw were added!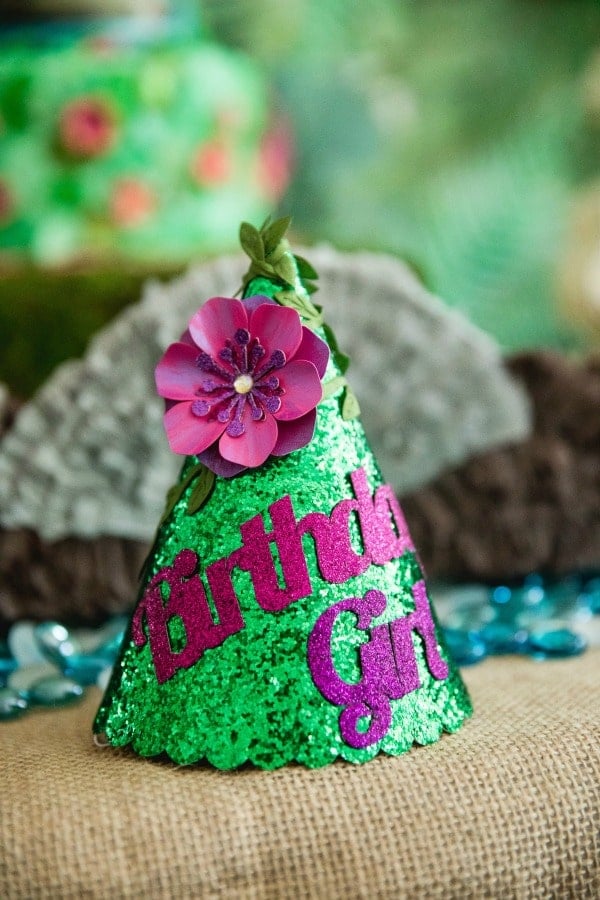 Fun little elements were also created, like these sweet party hats for the Jungle Book stuffed animals that were hanging around. And of course, a party hat for the birthday girl. What's a birthday party without party hats?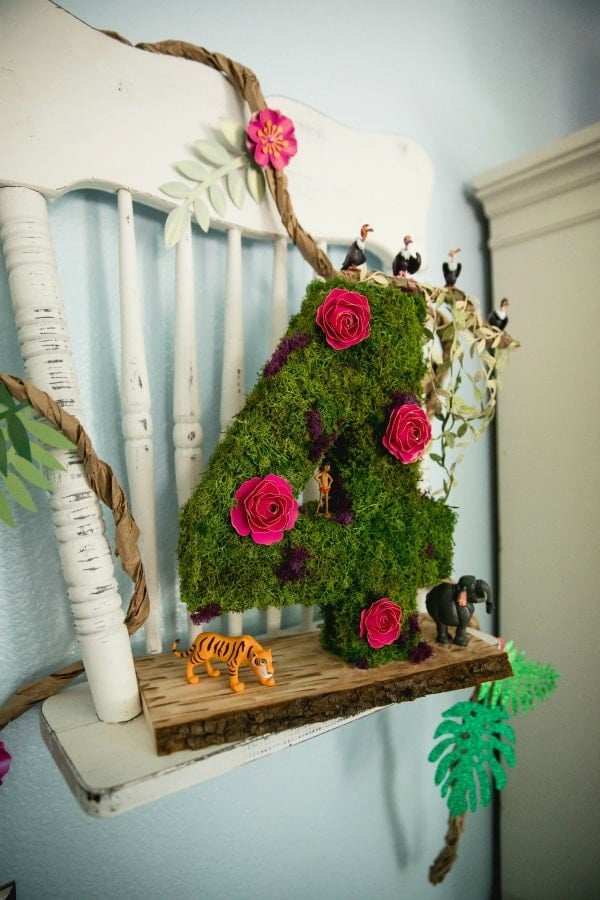 Since the birthday girl was turning 4, a cardboard Number 4 was turned into a miniature Jungle Book Themed Birthday Party scene! Preserved moss was glued to the 4, along with handmade flowers, a branch, vine ribbon and a few Jungle Book characters. It was glued to a slice of wood as the base, which gave it more depth and texture.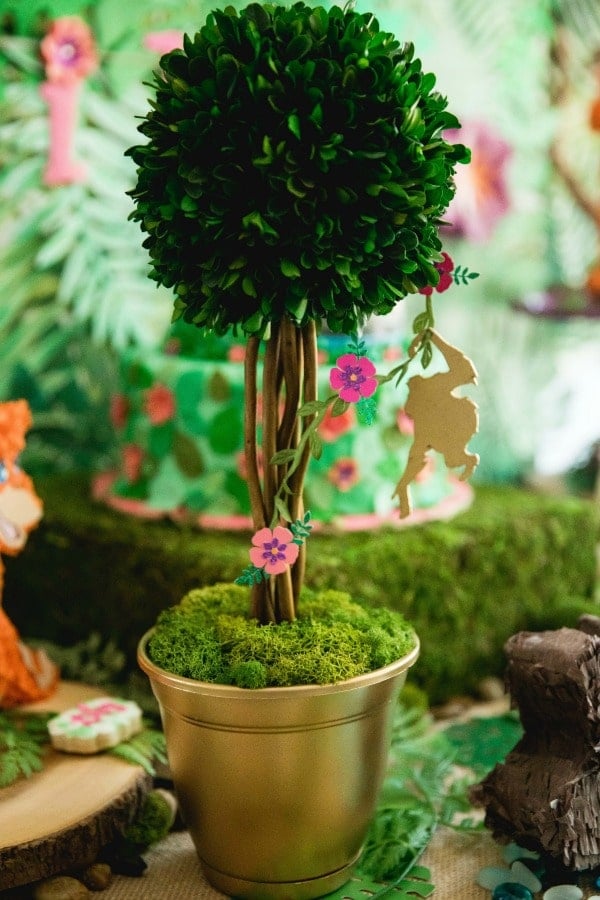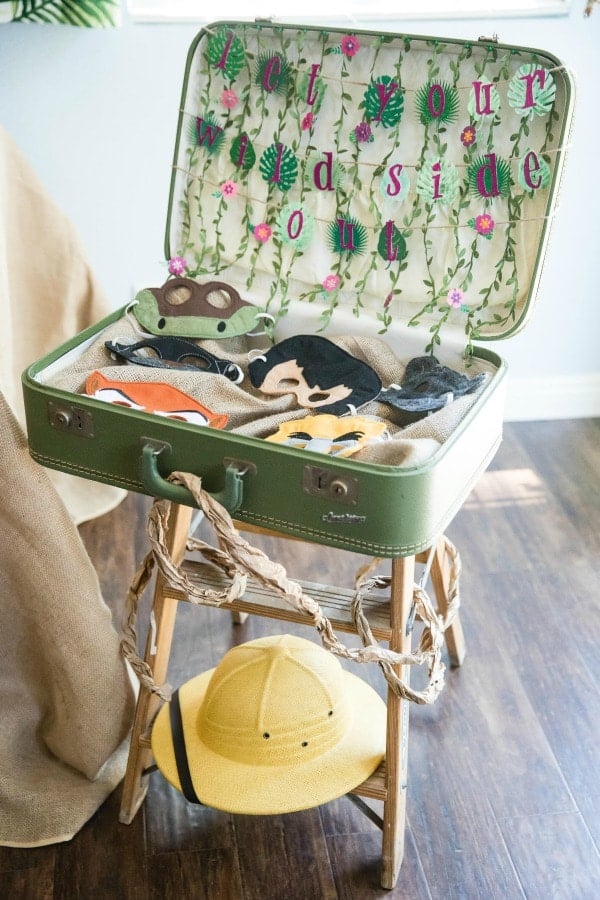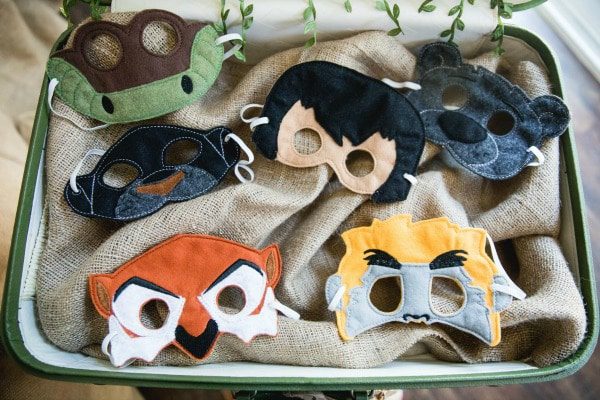 These darling Jungle Book character masks from Mythos a la Mode on Etsy were a perfect addition for all of the Jungle Book Party guests! They were great for a dress up station.
A vintage olive green suitcase was used to display the masks, with a fun "Let Your Wild Side Out" banner attached in jungle leaves, vines and tiny flowers. Displaying the suitcase on another vintage ladder tied the goody bag display in nicely.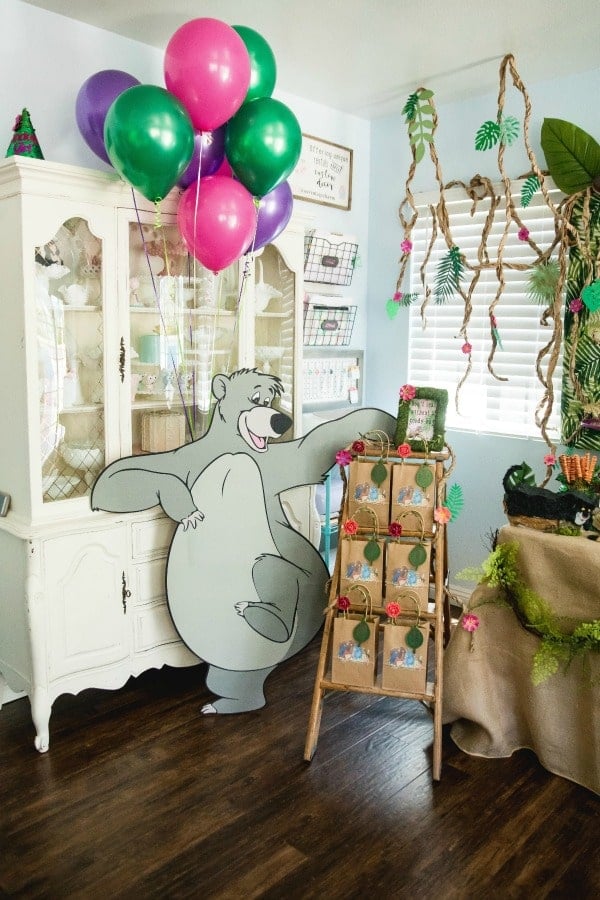 With the help from a Cricut machine, mom created a character image of Baloo. He was a showstopper and the kids LOVED him!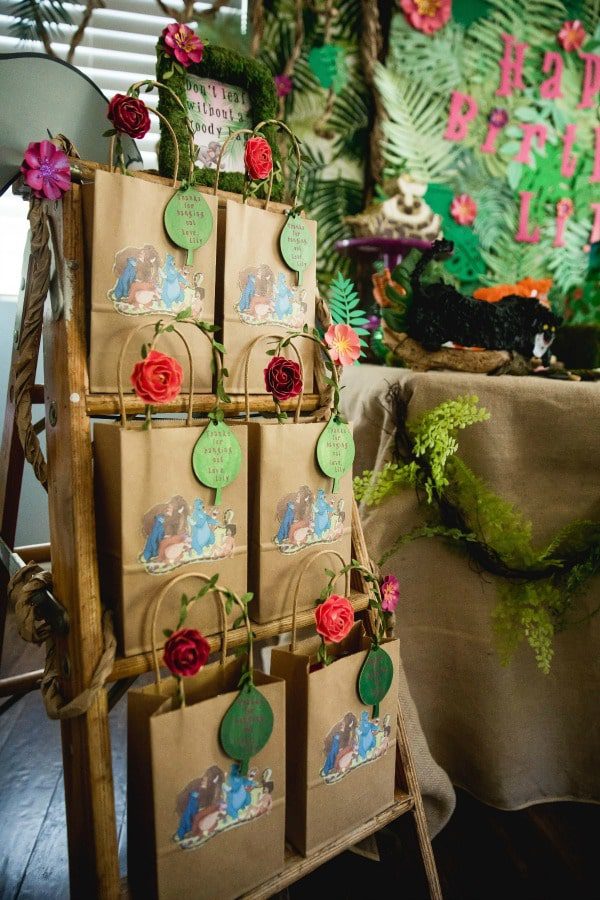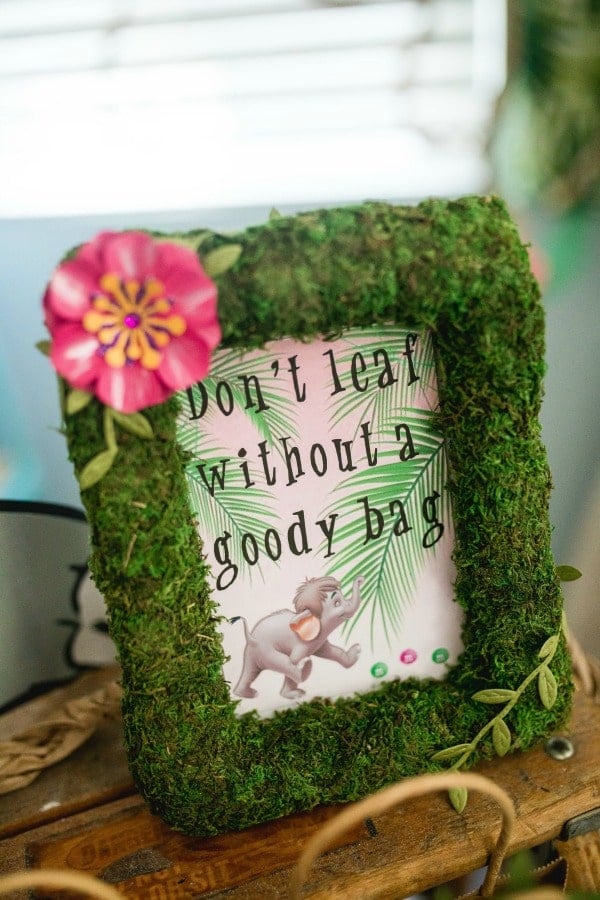 For the goody bags, a Cricut printable fabric was used to print an image of the Jungle Book gang on the bags. A sign was also created with little Hathi Jr. telling you "Don't leaf without a goody bag" who was following a trail of M&M's, which is the birthday girl's favorite candy.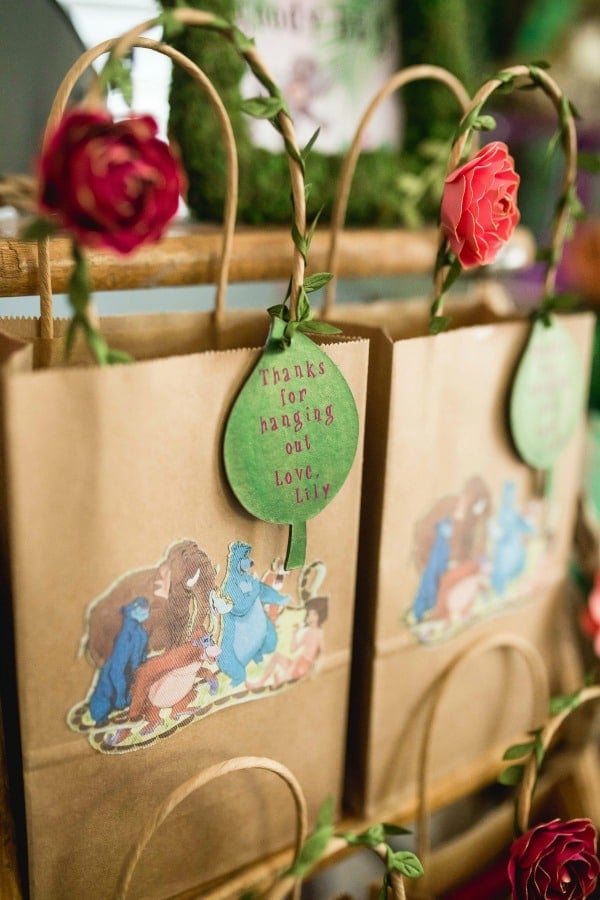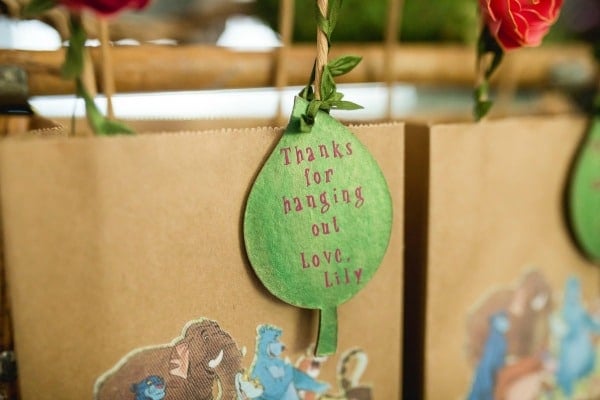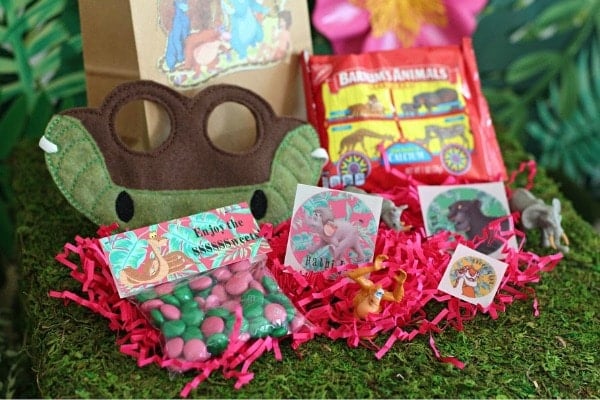 The goody bags not only featured some of the characters from Jungle Book but they also had that whimsical jungle feel. Chipboard leaf tags were cut out with a Cricut knife blade and painted with Lumiere metallic paint. Vinyl was then added for the wording.
All of the goody bags were displayed on a vintage ladder with vines wrapped around it. It was adorable and all of the guests couldn't wait to see what was inside!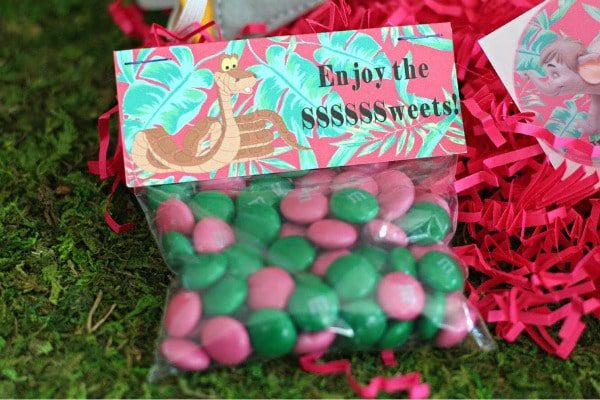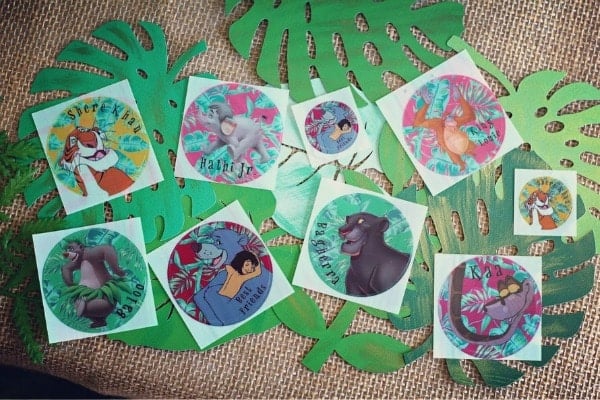 Goody bag contents consisted of a Jungle Book character mask, handmade stickers, an M & M bag with a handmade Kaa tag, animal crackers, and animal figurines.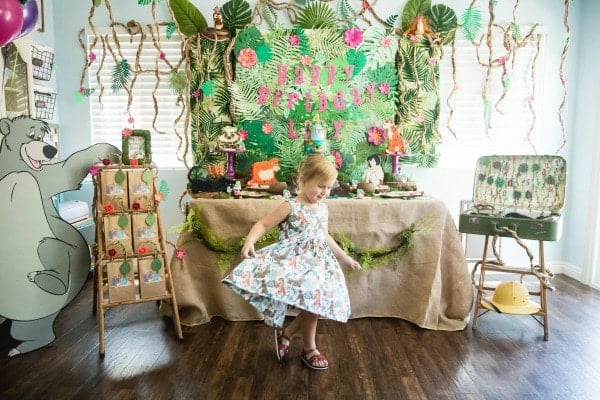 This will be a party that no-one will ever forget! If you're thinking of creating your own jungle party, you got some great ideas and inspiration with these Jungle Book Party Ideas. But we love that so many of these elements can work for so many different themes!
What's your favorite detail in this fun Jungle Book Themed Birthday Party?! Let us know in the comments below!
For more party ideas, follow us on Instagram @prettymyparty and Pinterest and join us in our private Facebook group.
Vendors & Credits