Adorable Piglet In Onederland 1st Birthday Party
Turn your child's Piglet Birthday Party into a winter wonderland 1st birthday party theme like this one!
What more could anyone want than this sweet Piglet In Onederland 1st Birthday Party? It's not only beautiful, but so fun! Take a look at the amazing styling this party had and you'll see what we are talking about!
A Piglet Birthday Party was exactly what this mom was looking for for her sweet girl's first birthday party! Everyone loves little Piglet and One Fine Day Parties came up with the cutest Piglet themed birthday party ever!
Piglet Party Supplies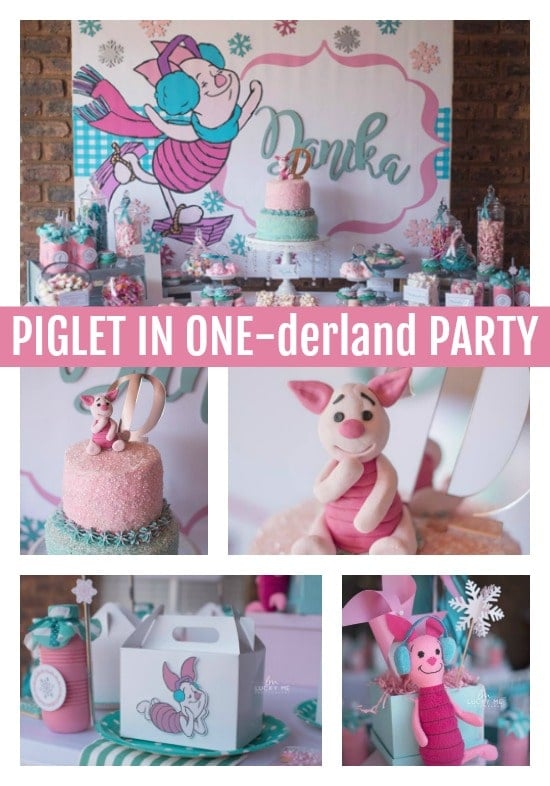 This Piglet Birthday Party had absolutely everything any parent would want to give their child for a first birthday! From the sweet Piglet stuffies, the cake and the adorable dessert table, there wasn't anything that was left out. Who wouldn't want the most perfect Piglet birthday party? Everyone loves the whole Winnie The Pooh story and piglet is one of those sweet characters that blazed his own trail!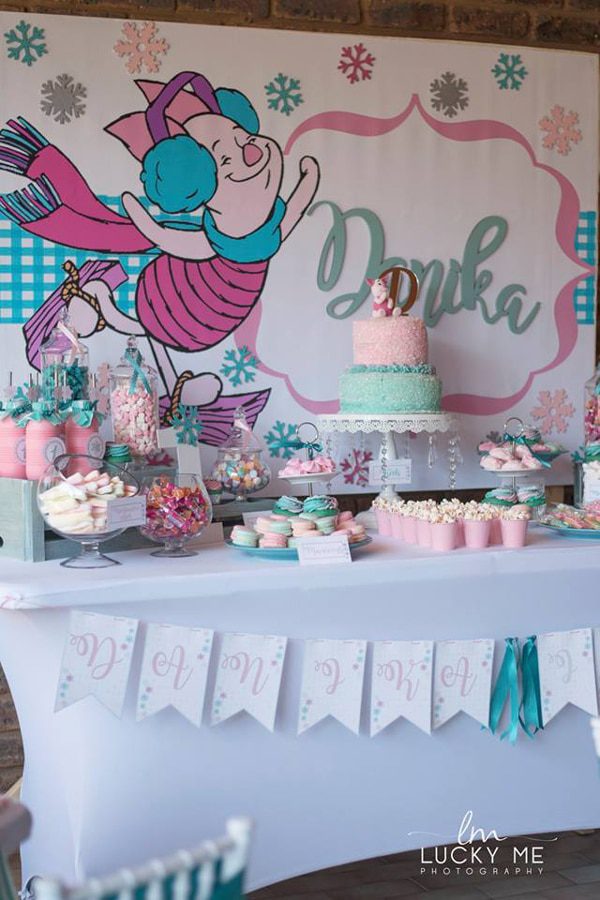 Just look at this dessert table! This Piglet themed birthday party had the most amazing backdrop to the table, which was completely personalized for this little birthday girl! We love the pink and teal colors and they look so amazing together. It gives us all of the warm fuzzies and wonderful feels that a first birthday should be like!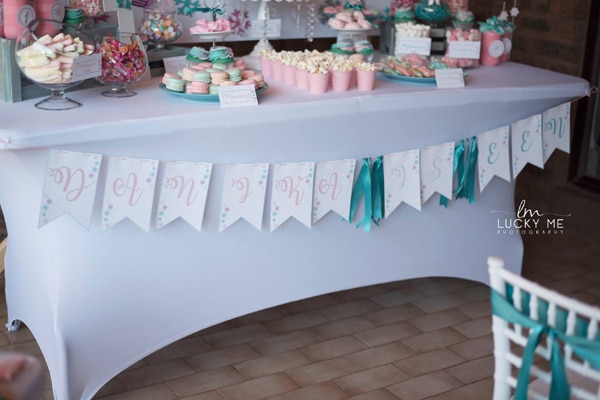 The Piglet Birthday Party candy table with yummy sweets and treats were done perfectly! There were so many desserts to choose from, such as little popcorn buckets, iced biscuits, meringues and macaroons. Best of all, Mom made almost all of it! That is incredible talent!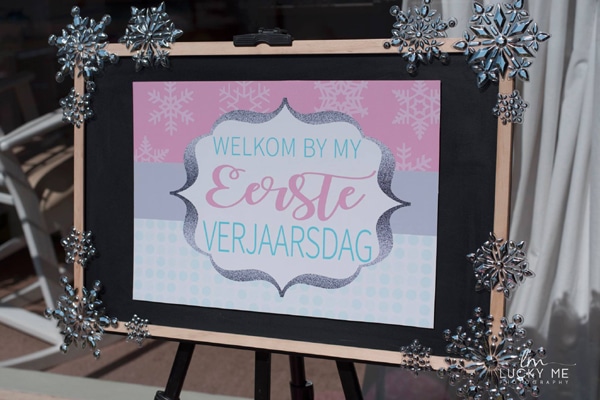 What a beautiful welcome sign! Snowflakes flanked the sign and everything looked like a true winter ONE-derland! Piglet party decorations were absolutely perfect in every corner of this first birthday party. Everyone felt welcomed by this amazing sign bringing everyone in for the piglet birthday party adventure!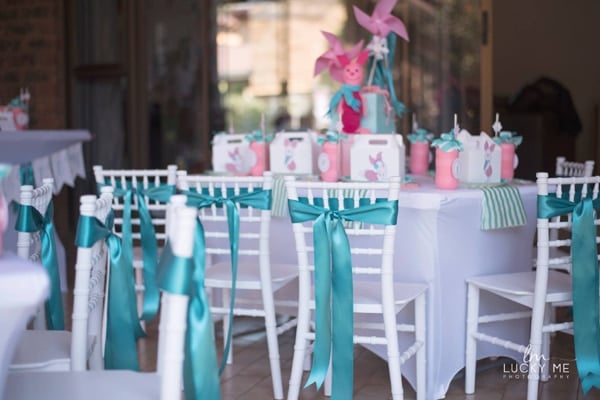 The fun kiddie tables were styled with tiffany chairs and teal ribbon tiebacks. It was the perfect complement to the pink of piglet. Everything had a fun Piglet birthday party theme vibe and brought the entire party together with the sweet color palette.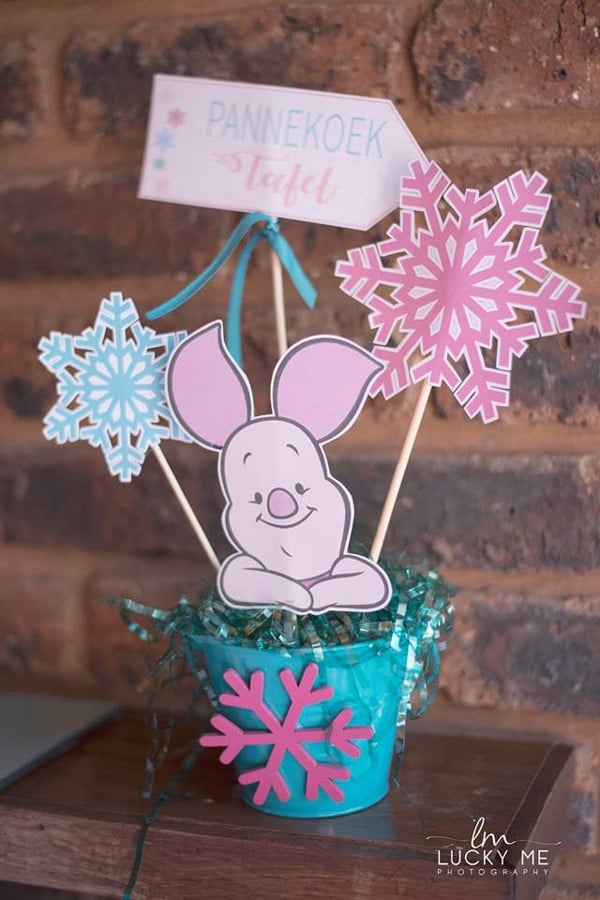 In addition, pancakes were served with various fillings for all of the party guests. What a fun birthday meal to plan! It was a unique way to incorporate a meal for a birthday party and make it a little bit different than the standard birthday party menus that are usually found.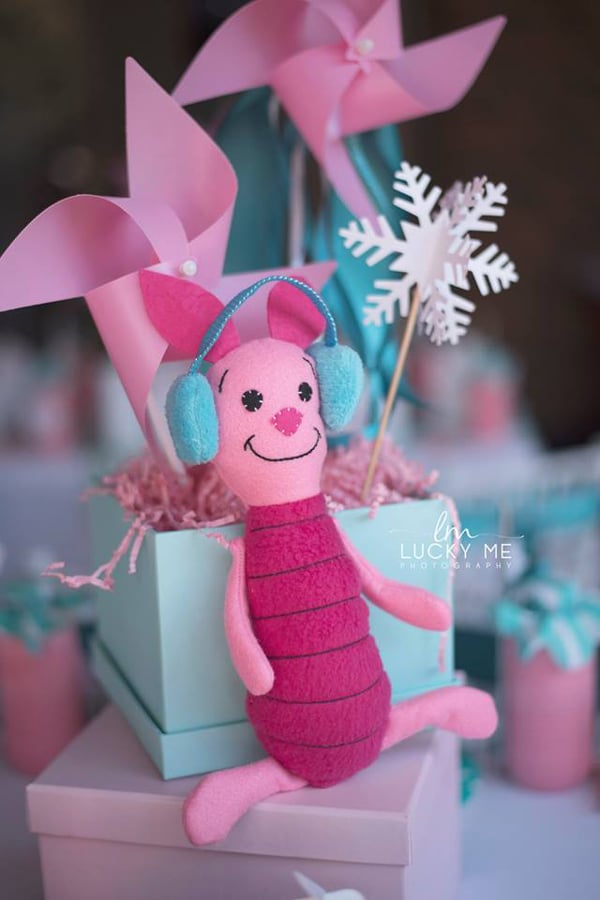 The cutest little Piglets, which were uniquely designed by Boobeloobies, were used as part of the centerpieces. Pinwheels and snowflakes were added, of course because that's what winter ONE-derland is all about! What a fun time of the year for this cute piglet theme!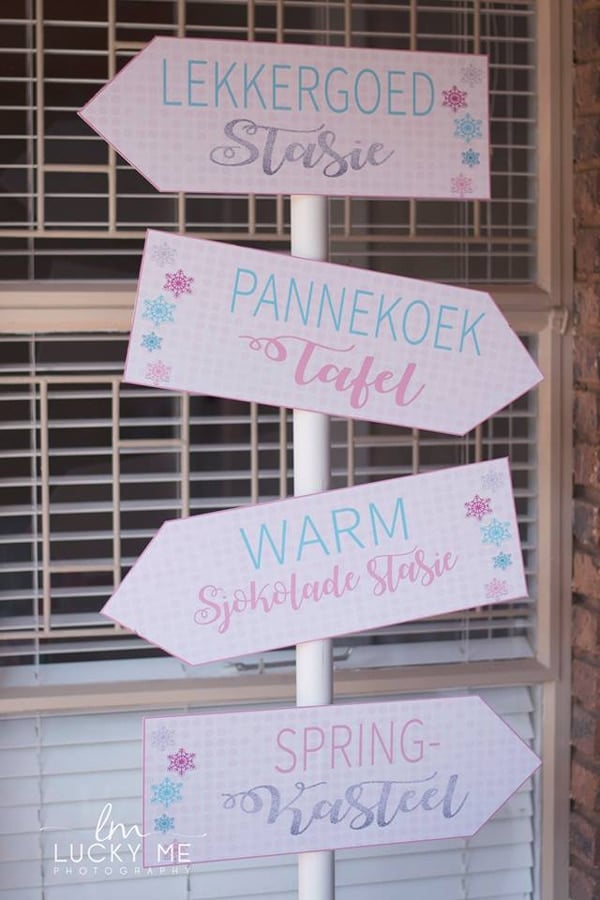 Just look at the great Piglet birthday party sign that was found at this first birthday party! Nobody was going to lose their way at this birthday event. But even if they did, we're sure that Winnie The Pooh would be able to direct everyone back to where they belonged!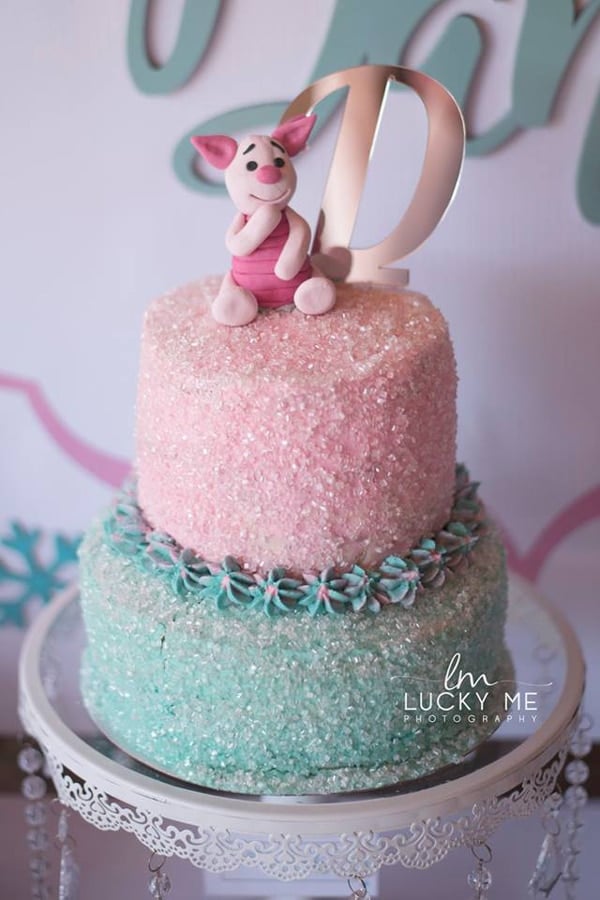 This. Cake. AHHHH-mazing! Mom did a great job making the Piglet birthday cake and we are absolutely impressed! We love how the cake is covered with the colored sugar that matches the birthday party color palette. It also makes it the perfect winter-themed cake, as well!
And sweet Piglet at the top of this cake?! Perfection!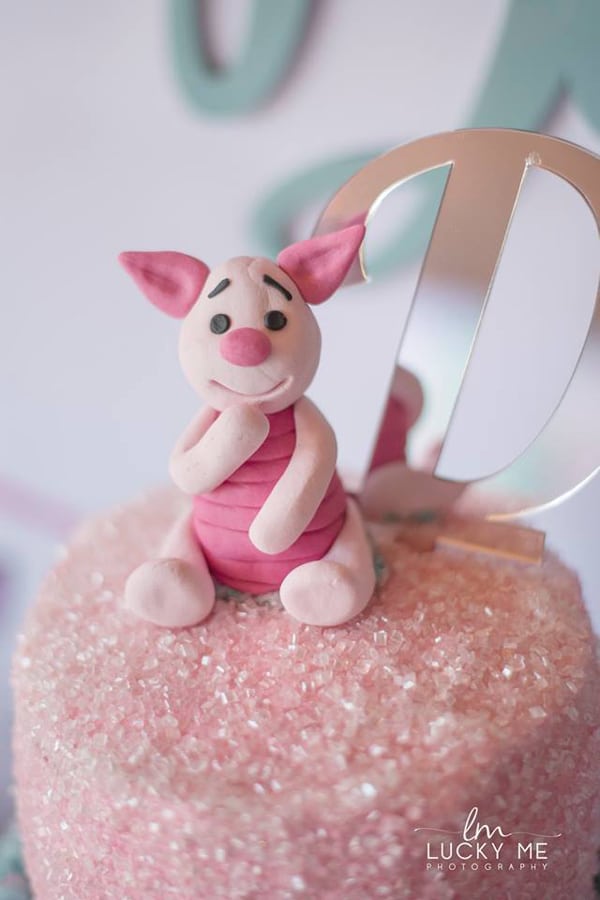 Just look at this! Mom went above and beyond the call of duty and everything about this Piglet birthday cake is the best! The sparkle and shine are the best parts, though, especially with the winter theme for this first birthday party celebration!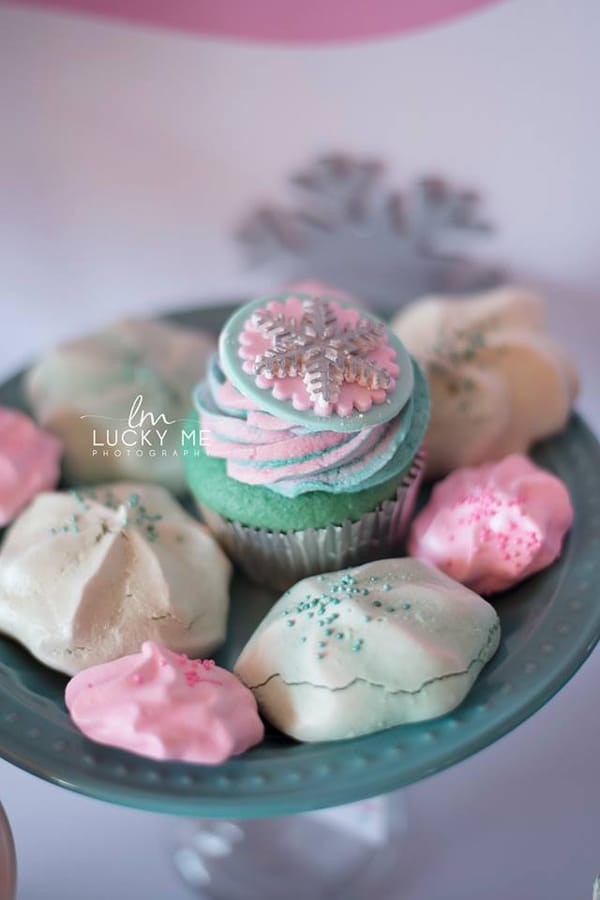 Yum! Cupcakes! Again, mom made these beauties and of course, they look perfect! We love the great platters that all of the desserts were placed on, as well. Mom really took on quite the undertaking to supply all of the sweet treats for a piglet birthday party for her little one!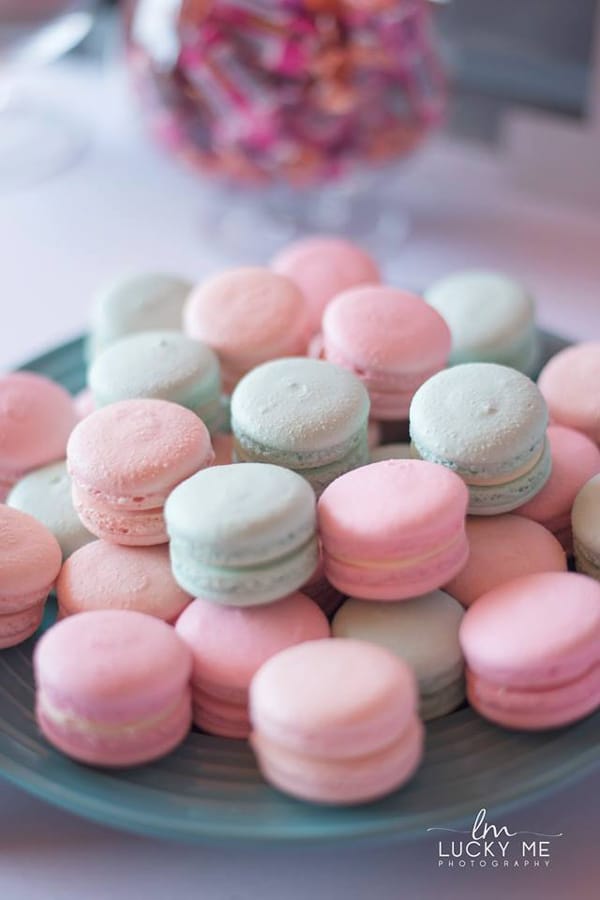 We just love each and every one of these beautiful desserts. The macaroons look mouth-watering and the colors are completely on point with the Piglet themed birthday party. Mom didn't miss a thing!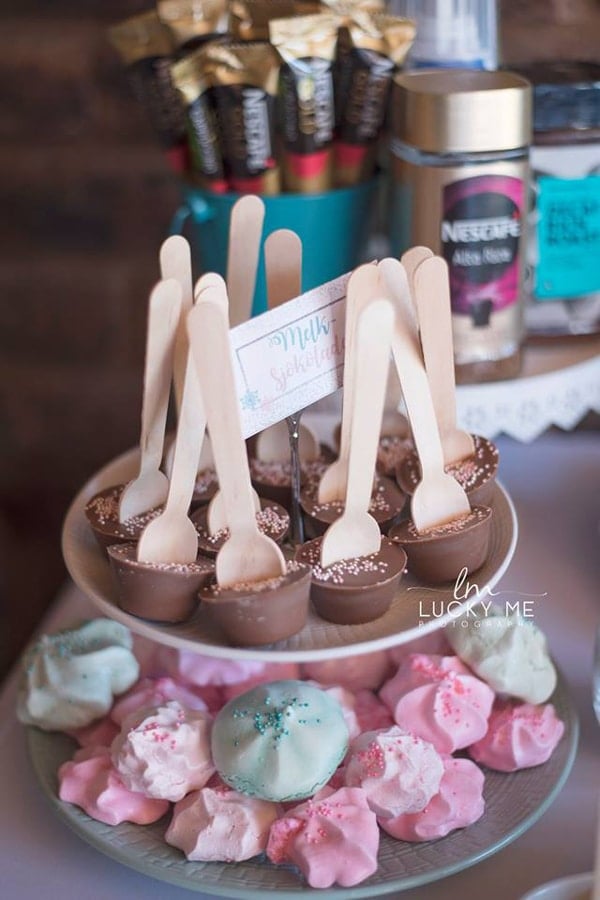 Iced biscuits, meringues and yummy chocolate sticks were some of the great desserts that were offered to all of the guests, as well. These are the perfect way to have hot chocolate easily and are such a popular item in the wintertime. It's easy and oh-so-good!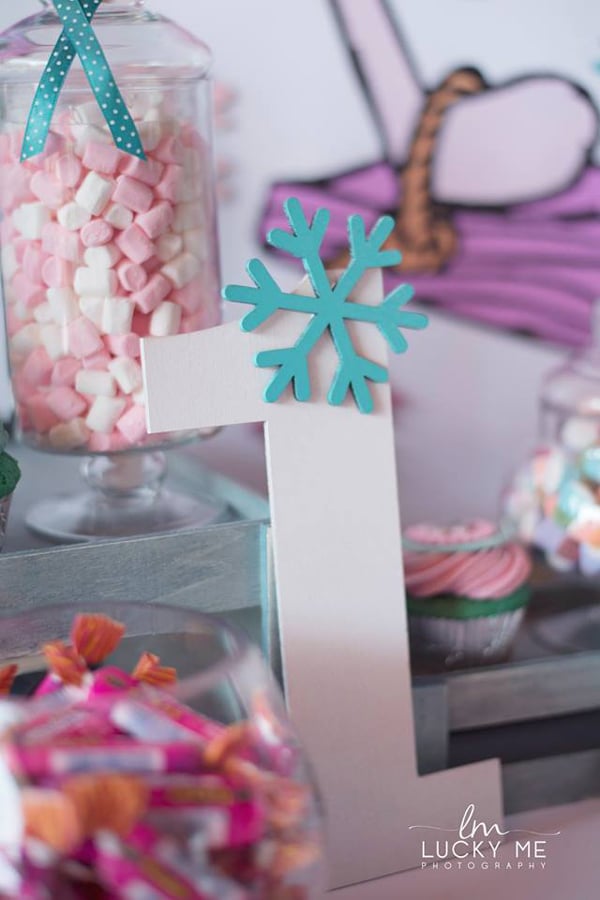 Nobody was going to forget about this little one's first birthday with the great big ONE signs around! They were a wonderful complement to the other signage that was found around the piglet birthday celebration!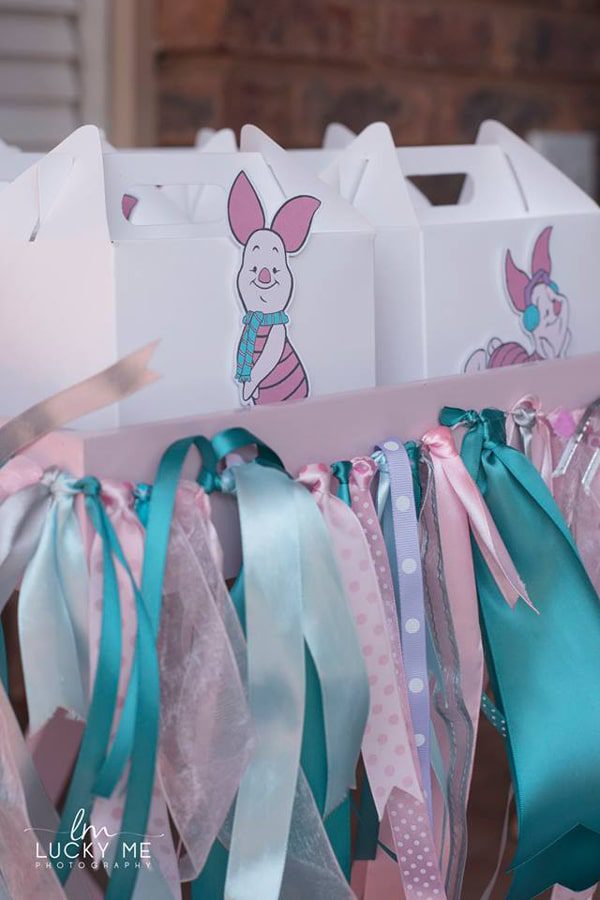 Look at the decorations around the party favors! We love the different colored and textured ribbon that was strung around the party table where the guests could pick up their party favors. With all of the different colors and styles, it was a fun and sweet way to present the Piglet party favors!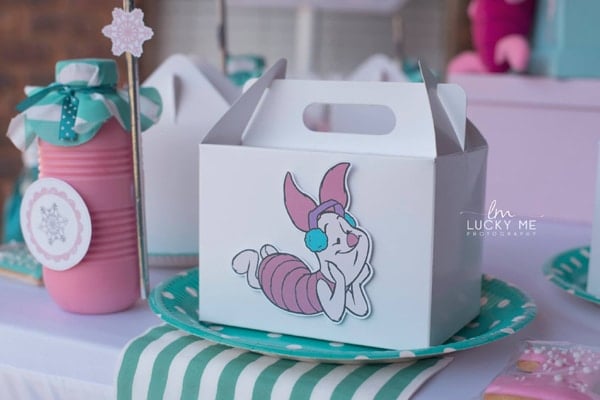 Party favors were filled with treats and fun other trinkets for the guests to take home. What would Piglet party favors be without having a fun piglet attached to the side of the box?! Piglet Party Supplies were in full force!
We also really loved the combination of stripes and polkadots when it came to decorations around the piglet birthday party. Between the napkins and plates, along with the way the ribbons surrounded different tables, it was a great way to add to the fun of who Piglet really is!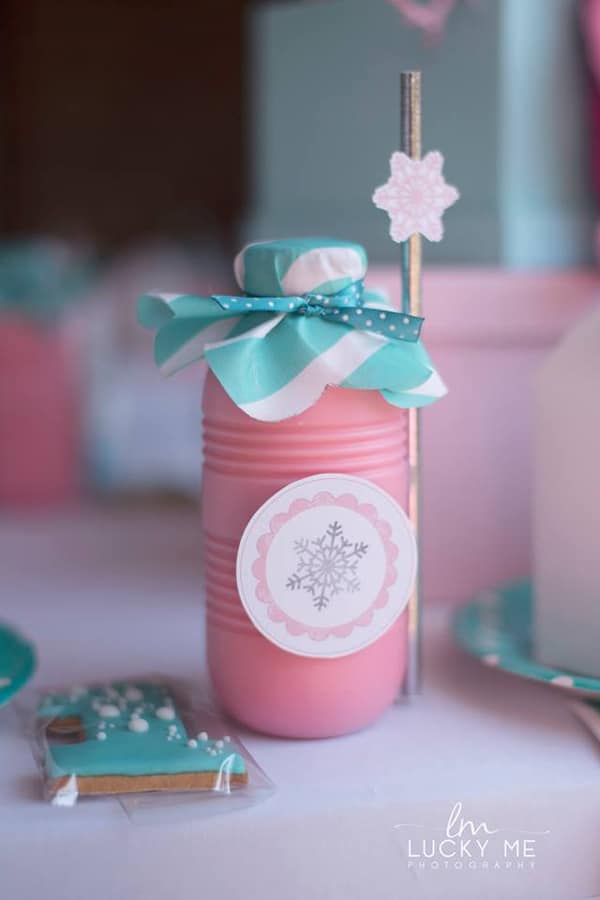 These milkshakes with themed straws to finish off this cute party were one of the most adorable things we have ever seen! Even though the kids got to play in a jumping castle, they were more than ready to dig into milkshakes with a fun treat to go along with it!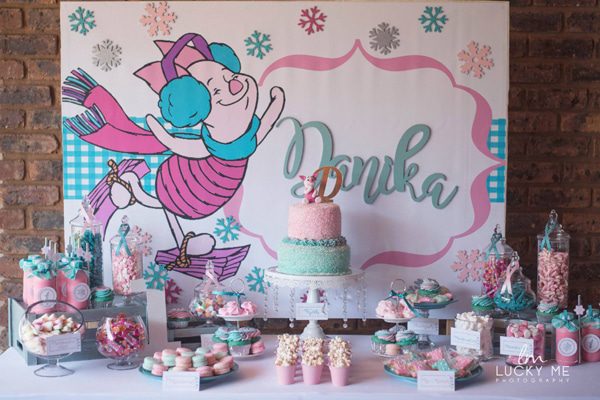 Overall, there is nothing better than a Piglet Birthday Party for a one-year-old! Especially when it's a winter wonderland themed too! What a creative way to take the Piglet character and turn it into the best first birthday party ever!!!
What's your favorite detail in this Piglet In Onederland 1st Birthday Party? Let us know in the comments below!
For more party ideas, follow us on Instagram @prettymyparty and Pinterest and join us in our private Facebook group.
Vendors & Credits