16 Most Creative Watermelon Fruit Salads
Are you looking to up your party game this summer? If so, check out these 16 Watermelon Carvings that will blow your guests away!
Have you ever been to a party that had those awesome watermelon carvings on display? There are so many watermelon designs you can do for any type of theme or event. These amazing and creative fruit carvings really up the game when it comes to party planning. Watermelon carvings really make a great fruit display and will be the star on your food or dessert table.
You maybe wondering how you can possibly pull one of these watermelon carvings off and have it look amazing. Well, with the right watermelon carving tools, a little creativity and some patience, you can have an awesome carved watermelon for your next event.
How to Carve a Watermelon
Carving a watermelon is easier than you might think. Get step by step instructions on how to make a shark watermelon carving below!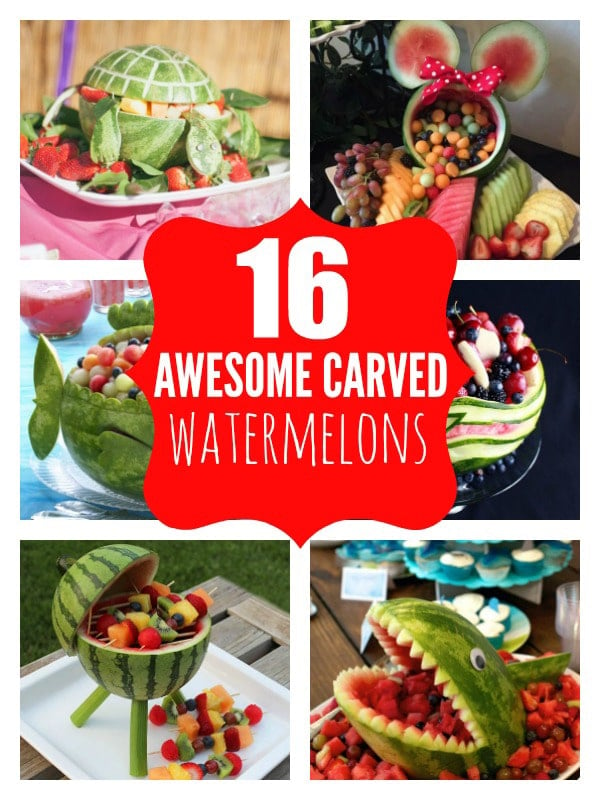 It's almost summer and you know what that means, right? It's time for all things watermelon! But what kind of hostess would you be if you just served plain 'ol watermelon? Get creative and have some fun with fruit art! Get a list of creative watermelon carvings that you can serve at your summer parties. There are so many watermelon fruit carving ideas! You can do a watermelon display that goes with the theme of your party or just pick something fun that everyone will love. If you're hosting a party, baby shower or BBQ this summer then you definitely have to check out the 16 Most Creative Watermelon Fruit Salads!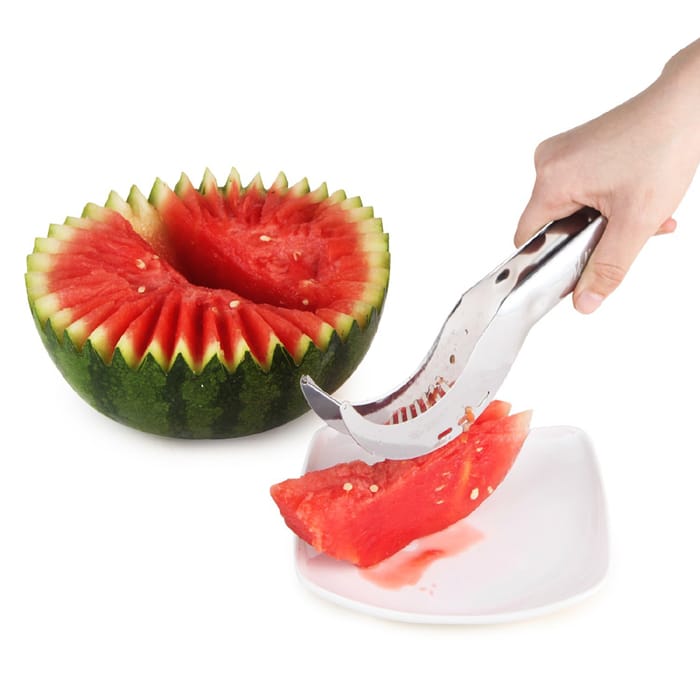 To make the best watermelon carvings, you need the right tools. This Watermelon Slicer Set is a must-have for creating fun watermelon fruit salad platters that will WOW your guests.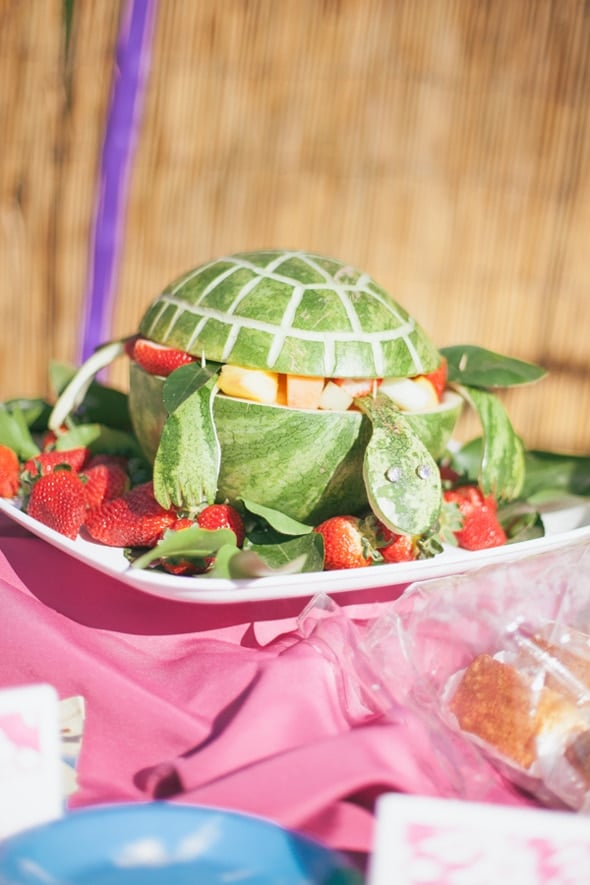 How adorable is this Turtle Watermelon Carving? This watermelon design was made for a summer luau but you can make a turtle watermelon fruit bowl for any summer party.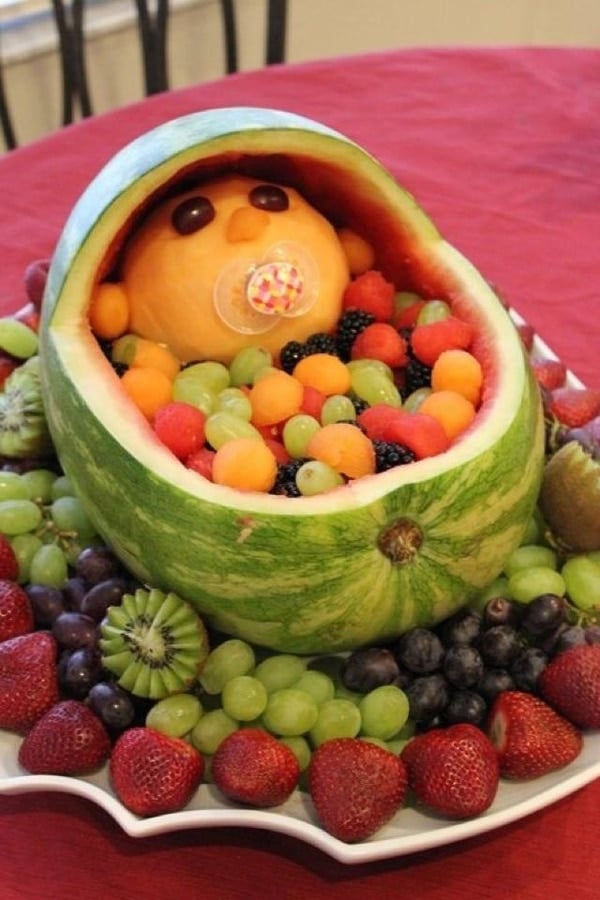 Are you planning a baby shower? If so, impress the mom-to-be and her guests with a Fruit Baby in a Watermelon Bassinet! This watermelon carving will be the center of attention at any baby shower.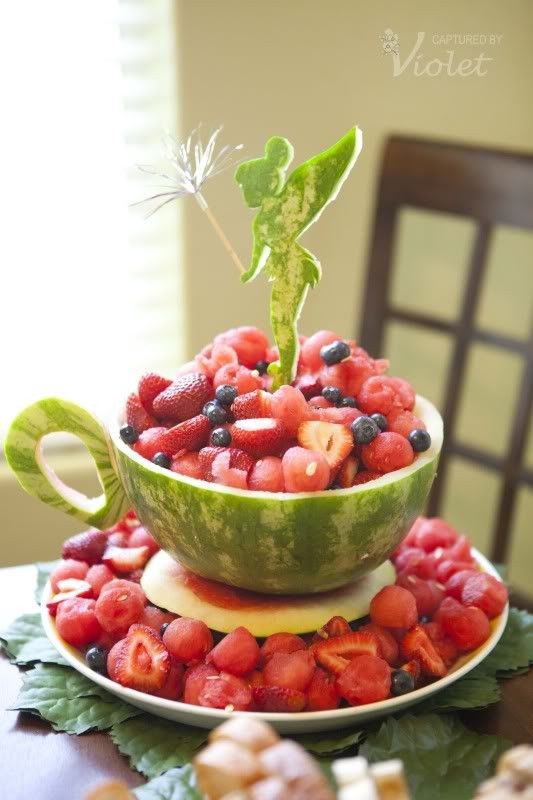 Any little girl would love to see this Tinker Bell Tea Cup Watermelon Carving at her birthday party! You can even have this sweet watermelon carving as the centerpiece on the kid's party table. What a great added detail and the kids will love it.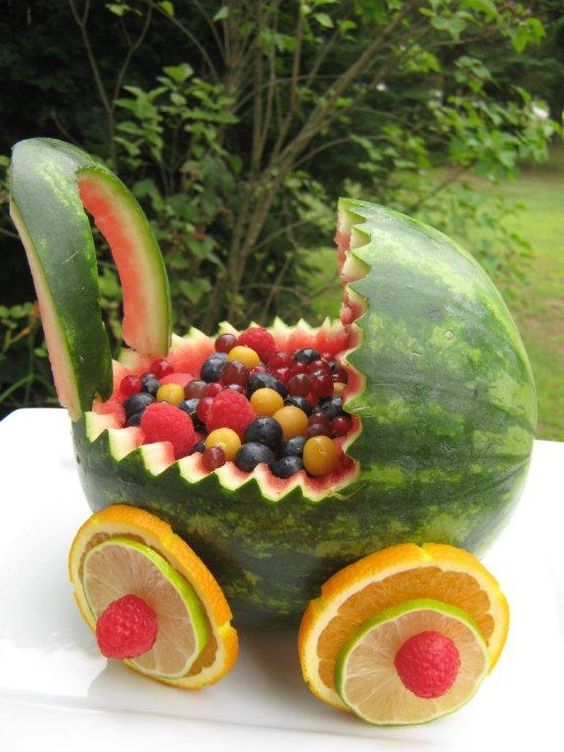 Another great idea for a baby shower is this Watermelon Baby Buggy Watermelon Carving. All you need are the right tools, a little patience and some creativity and you can have this sweet carriage be the star at any baby shower.
How adorable is this Fruity Frog Watermelon Carving? Imagine having this watermelon carving at your next summer party. Your guests will be amazed at your creativity when they see this on display.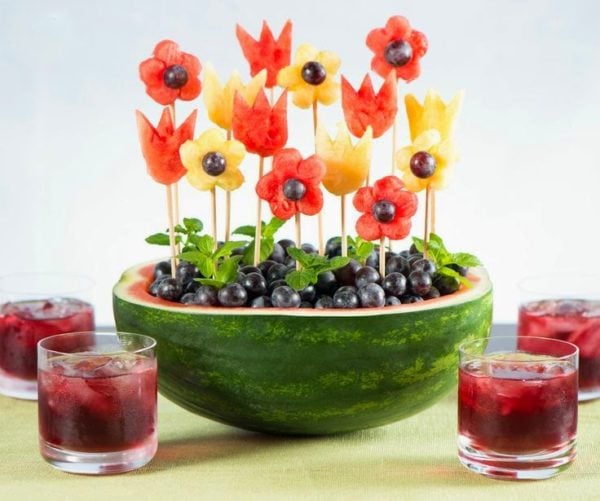 How sweet is this Fruit Garden Watermelon Carving? This watermelon carving idea is a great place to start if this is your first watermelon carving. It looks easy enough to accomplish for your next party.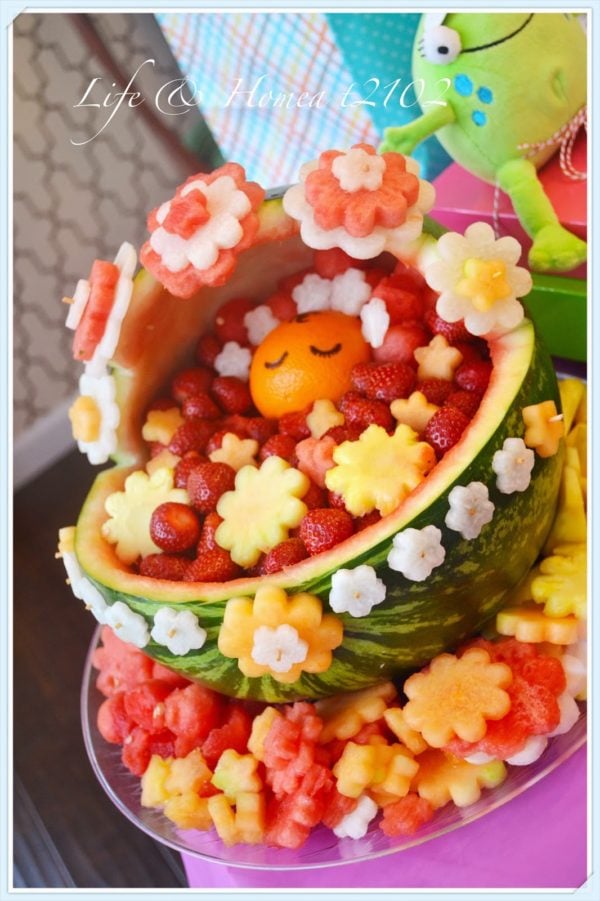 Impress your guests at the next baby shower with this Baby in a Bassinet Watermelon Carving! Instead of serving fruit on a platter, get creative with something like this. What a fantastic baby shower idea!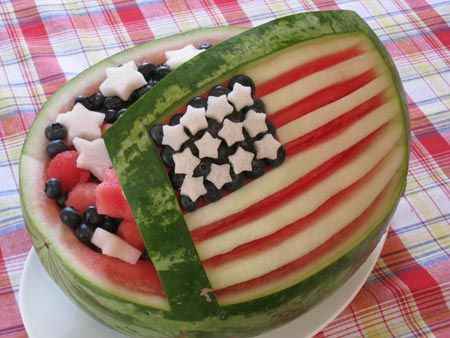 Get patriotic with this awesome Fourth of July Watermelon Carving Idea! We love the added detail on the outside of the watermelon. Carve one up for any BBQ or the next patriotic holiday.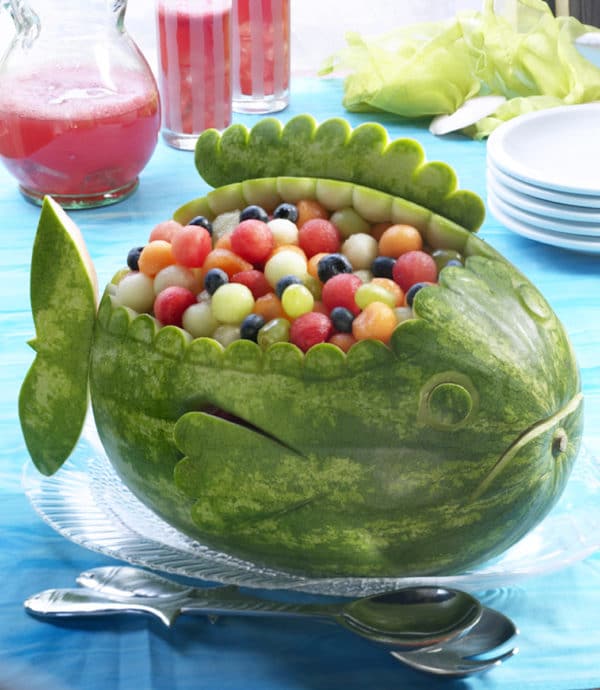 Enhance your pool party with this Fish Watermelon Carving! You will definitely get the kids to eat more fruit with a display like this one! No matter if you're having a birthday party, BBQ or graduation, this water melon carving will make quite the splash!!!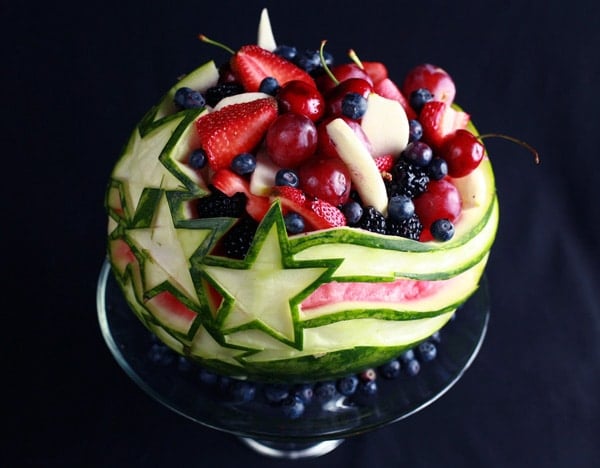 Another great patriotic watermelon carving, this Stars & Stripes Watermelon will certainly impress! This watermelon carving requires more advanced carving skills, but anyone can give it a try!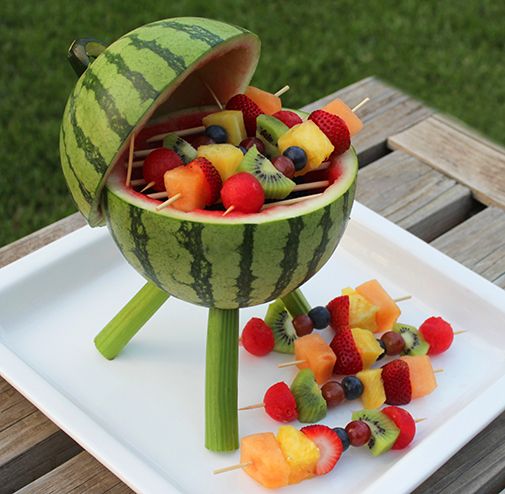 This Grill Watermelon Carving is one of our favorite watermelon carving ideas! The addition of some fruit kabobs are a definitely plus and win most creative for sure! Serve this up at your next summer party and you will be an instant hostess with the hostess!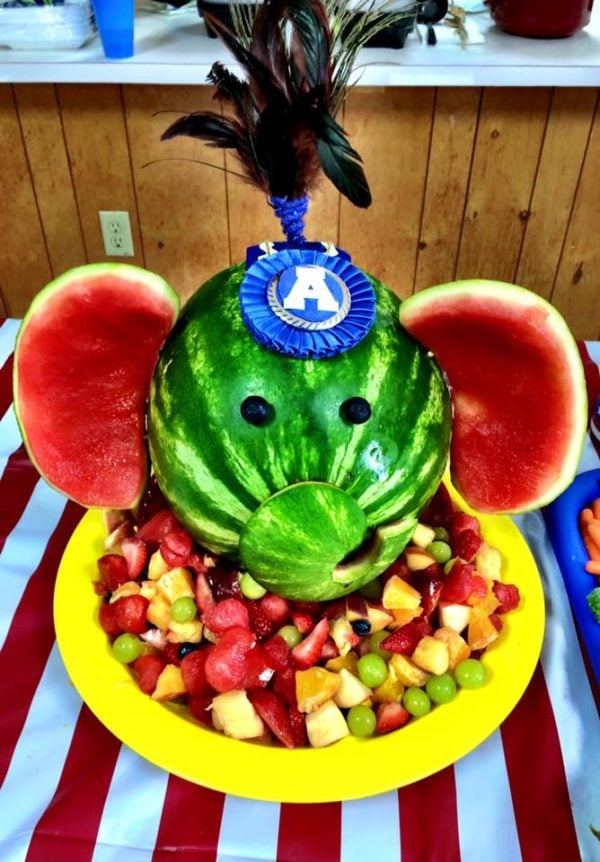 Step right up to this adorable Circus Elephant Watermelon Carving! If your child wants a carnival or circus theme for their birthday, this watermelon carving is a must have!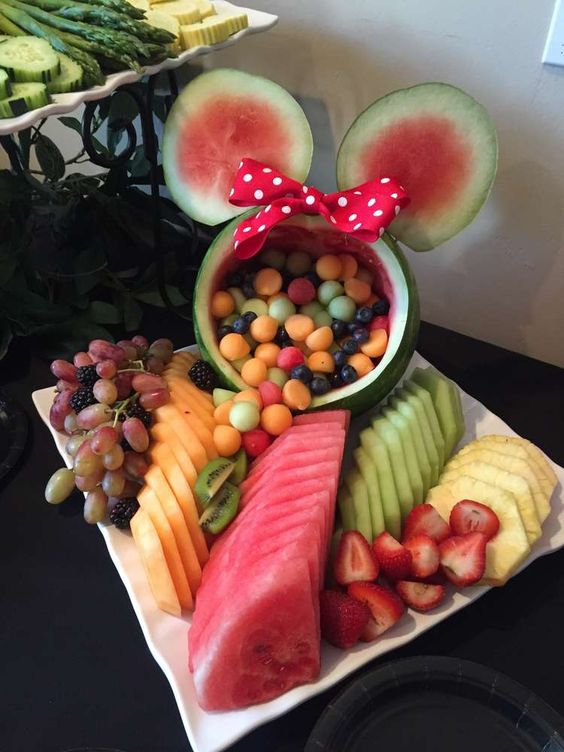 Planning a Minnie Mouse Birthday for your daughter? This Minnie Mouse Watermelon Carving is the perfect centerpiece! And if you're planning one a Mickey Mouse Clubhouse theme, add in Mickey Mouse too!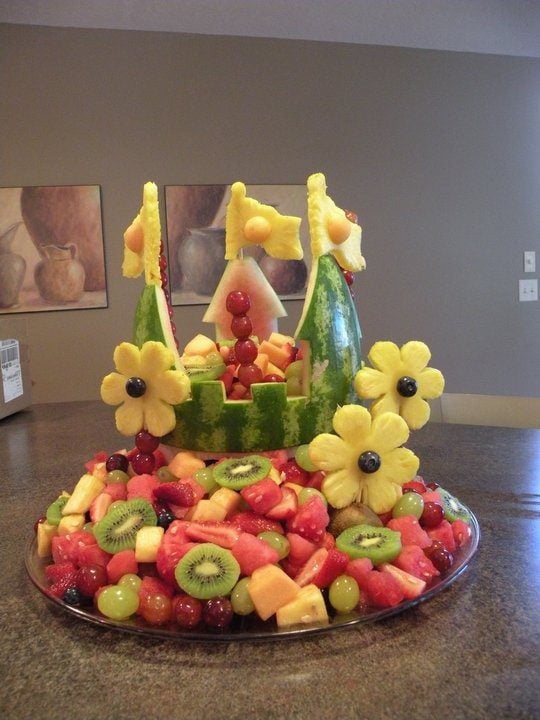 Calling all princes and princesses! This Castle Watermelon Carving will be a royal hit at your grand affair. Everyone will be impressed by your watermelon carving skills with this masterpiece front and center on your food or dessert table.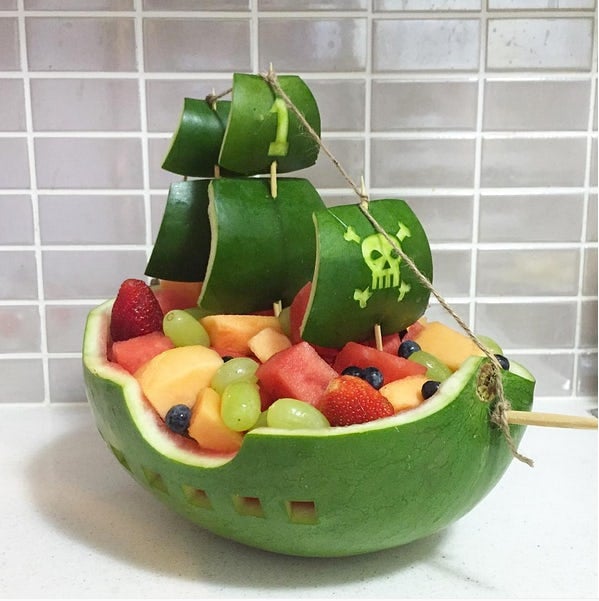 Calling all pirates! Check out this cool Pirate Ship Watermelon Carving – perfect for a pirate themed birthday party!
How to make a Shark Watermelon Carving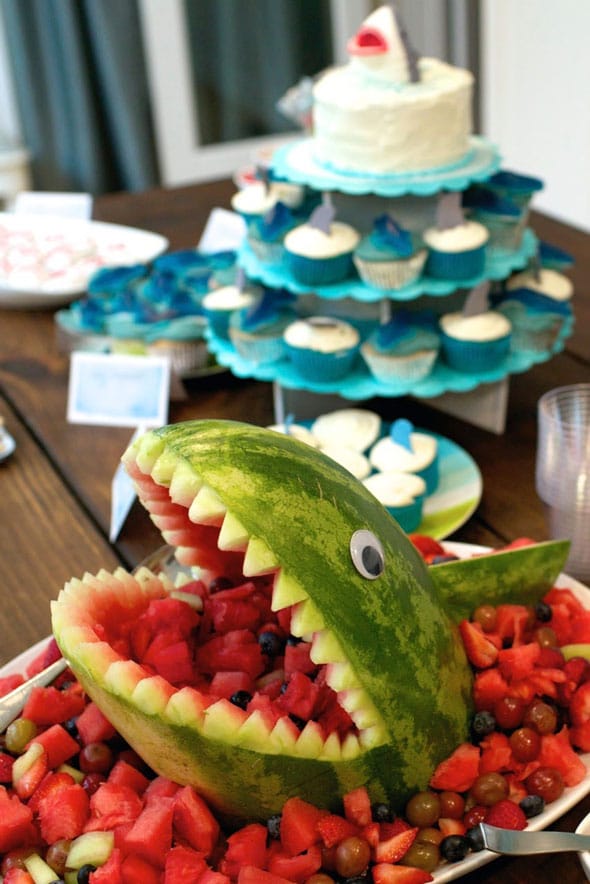 Watermelon Carving Tools:
1 watermelon
Small utility knife
Large knife
Paring knife
2 purple grapes or craft google eyes
Dry erase marker
Large spoon
Toothpicks
Melon baller
Instructions:
Wash and dry your watermelon.
Cut off 1/3 of your watermelon at a diagonal angle.
Stand the remaining 2/3 upright and use the dry erase marker to draw the mouth and eyes.
Cut out the mouth. Trim back a 1/2 line of the green part of the rind for the teeth.
Use a large spoon to scoop out the watermelon, leaving 3 inches intact at the base.
Cut out the shark teeth with the utility knife.
Use a melon baller to cut out the eyes. Then use a pairing knife to trim around the eyes. Lastly, add the grapes in the eye sockets.
Use the carved out rind form the mouth to make the shark fin. Attach the fin using toothpicks.
Cut other fruit and remaining watermelon to place around the shark for an awesome watermelon carving display.
So there you have it … 16 Most Creative Watermelon Fruit Salads for any party! What's your favorite watermelon carving? Which carving will you attempt? Let us know in the comments below!
For more party ideas, follow us on Instagram @prettymyparty and Pinterest and join us in our private Facebook group.