[convertkit form=4996735]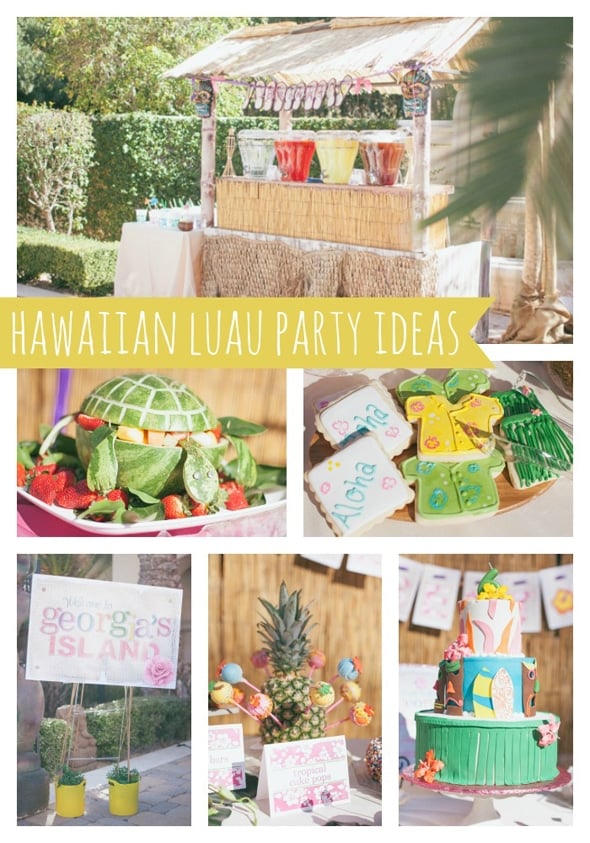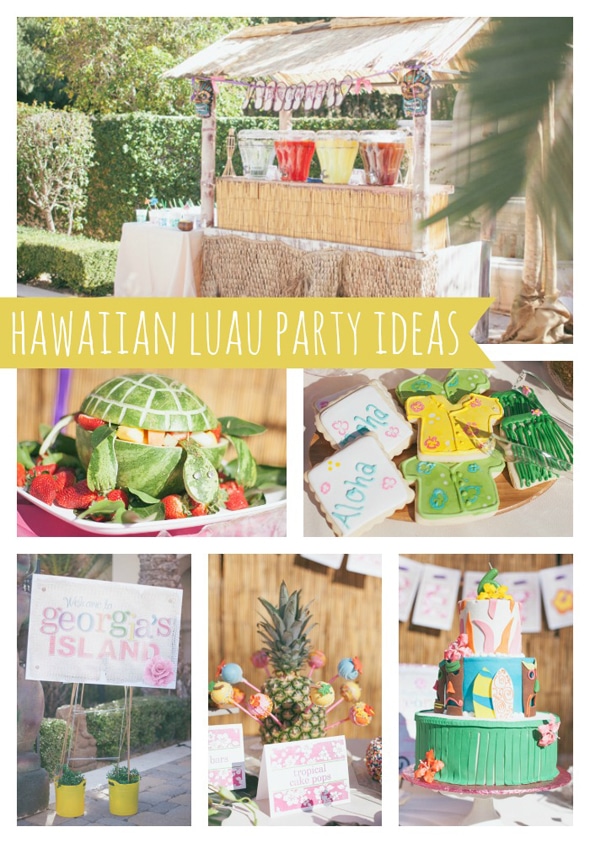 This Luau Birthday Party was all about fun in the sun and colorful tropical details! The birthday girl was celebrating her 6th birthday and absolutely LOVES Hawaii! It was no surprise that this would be the theme for this fun and special event!
The venue was at a gorgeous home in Paradise Valley, Arizona with a beautiful pool surrounded by palm trees and beach chairs. Perfect!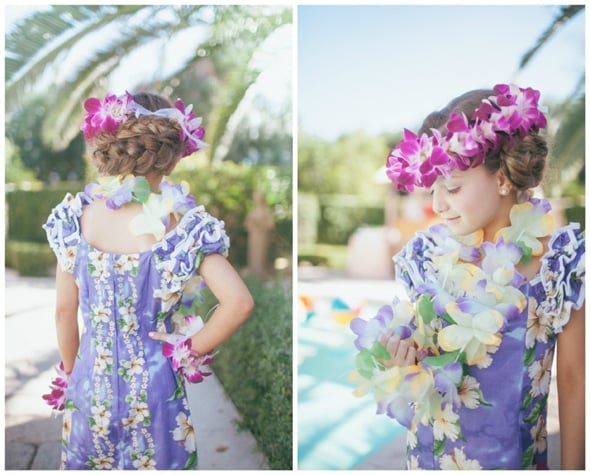 Guests were greeted to "Georgia's Island" with floral leis to put around their necks. Beautiful fresh floral leis were made from purple orchids from Yknot Flowers for mom, the birthday girl and her baby sister. Everyone was prepared for some Hawaiian fun!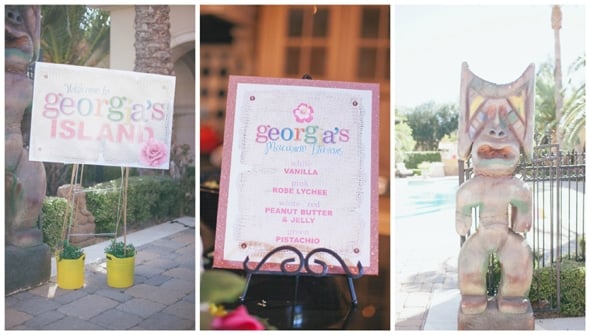 Bright colors including hot pinks, purples, and yellows came together to make this event tropical and fabulous! The luau decorations were styled and designed by Events Your Way, including bright pink linens, bright signs, palm tree leaves under the dessert platters, bamboo skirting, and a flip flop banner sign. How fun!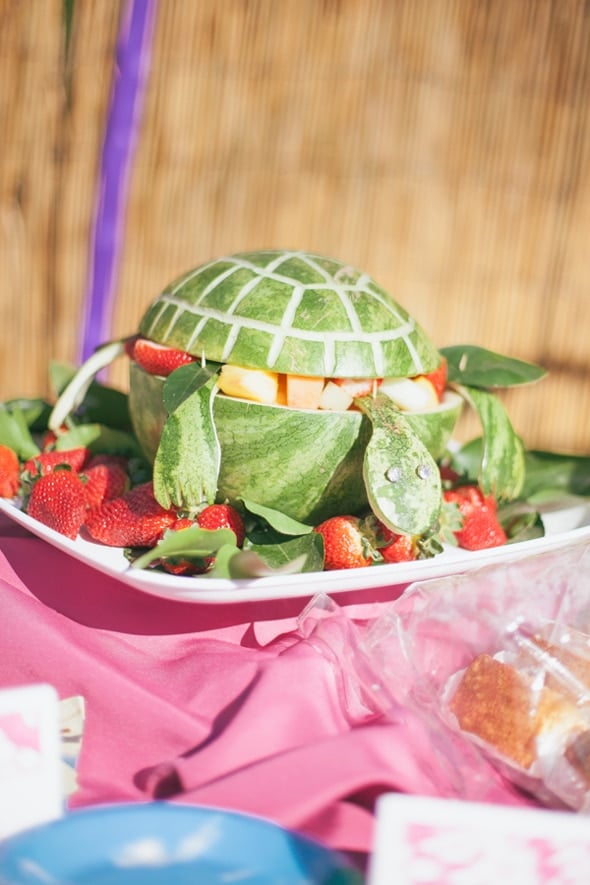 Next to the dessert table, was the fruit table. Roberts Catering carved a turtle out of a watermelon. It was amazing! The designer also built a palm tree out of pineapples and cut assorted fruit to put around the bottom of it. Guests were able to dip their fruit in strawberry yogurt that was poured into a plastic coconut. How fun!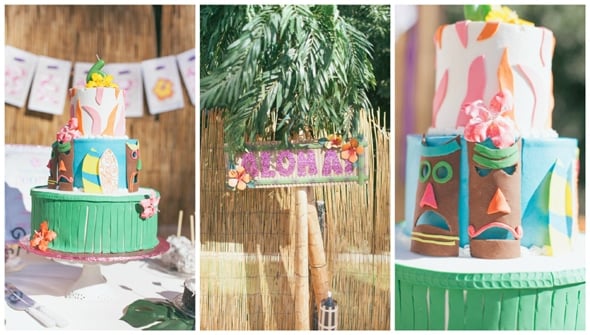 Sue Jacobs of Sue Jacobs Cakes provided a three-tier tropical fondant cake with luau fondant pieces that attached to the sides, such as surf boards and tiki gods. The bottom layer of the cake, which was pink champagne, was covered in fondant grass skirts. The middle tier was red velvet and the top tier was chocolate, chocolate chip. Yum, what a combination!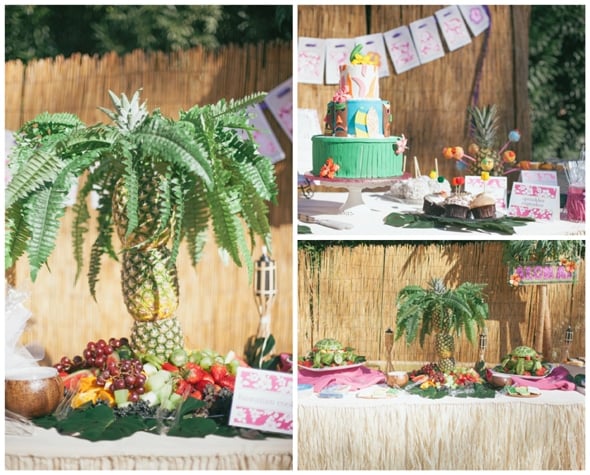 The dessert table was a big hit at the party. The table had a tan linen and grass skirting around the sides. Behind the table, they propped up a bamboo wall and hung banners from it. There was a great selection of desserts for guests to try. They displayed the desserts on glass blocks, tiles and bamboo platters. Everything looked delicious!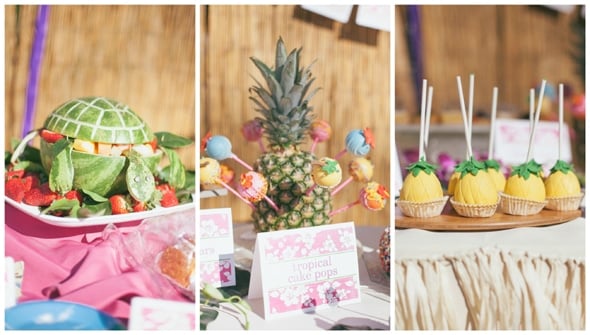 Lemon squares, mini fruit tarts and cake pops from Honey Moon Sweets were delicious! The cake pops were super adorable! One of the styles looked like mini pineapples and were displayed on bamboo platters. Other cake pops were decorated in tropical colors and flowers and displayed by sticking out of a pineapple. So clever!
Signs were made for each dessert item, beverage item, party favor table and macaron display. Kim of The Event Essentials used light pink glitter paper and bright-colored letters to inform guests about the gift table, party favors and macaron display. The smaller table tent signs were covered in pink hibiscus flowers.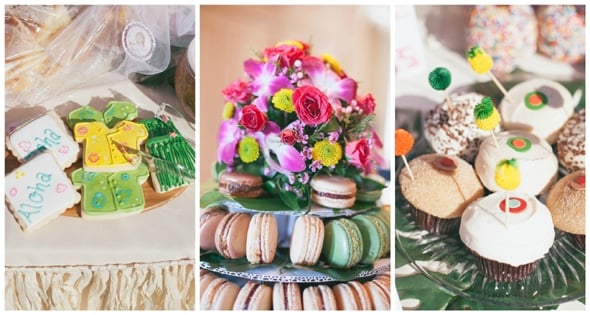 Bright colored sprinkles and coconuts were sprinkled on the caramel apples from San Franscisco Chocolate Company and Hawaiian cookies were cut out to look like Hawaiian shirts, grass skirts and flowers. How fun! Cupcakes were delivered from Sprinkles Cupcakes. Red velvet, cinnamon sugar, black and white and pumpkin were the assorted flavors and were topped with pineapple frills. Four different kinds of macarons from Macaron Cafe Fashion Square were displayed on a homemade macaron stand that was covered by palm tree leaves and fresh flowers.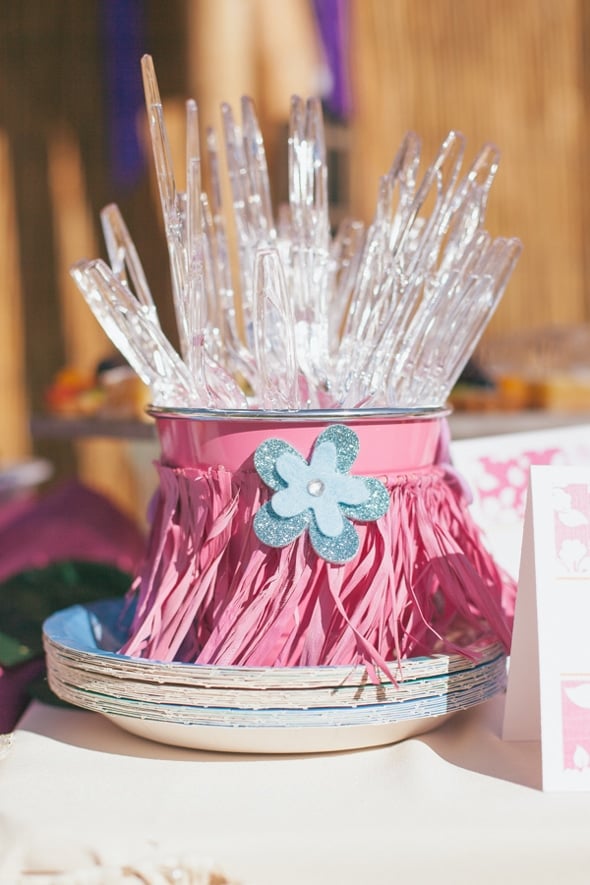 Hawaiian plates, napkins and silverware were displayed in bins with grass skirts and glitter flowers.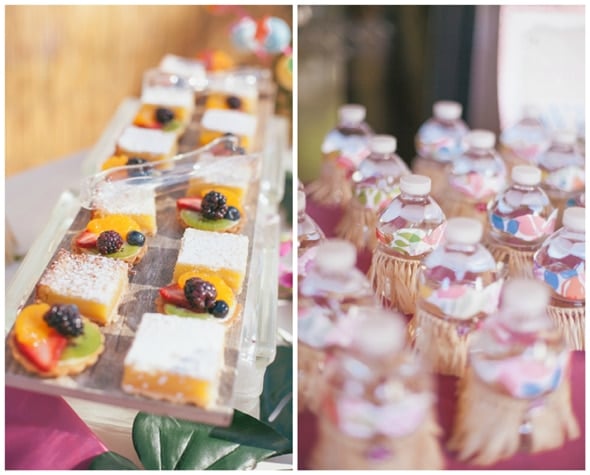 On the party favor table, small water bottles, labeled "Waikiki water" were displayed with small grass bamboo skirts and Hawaiian paper tops.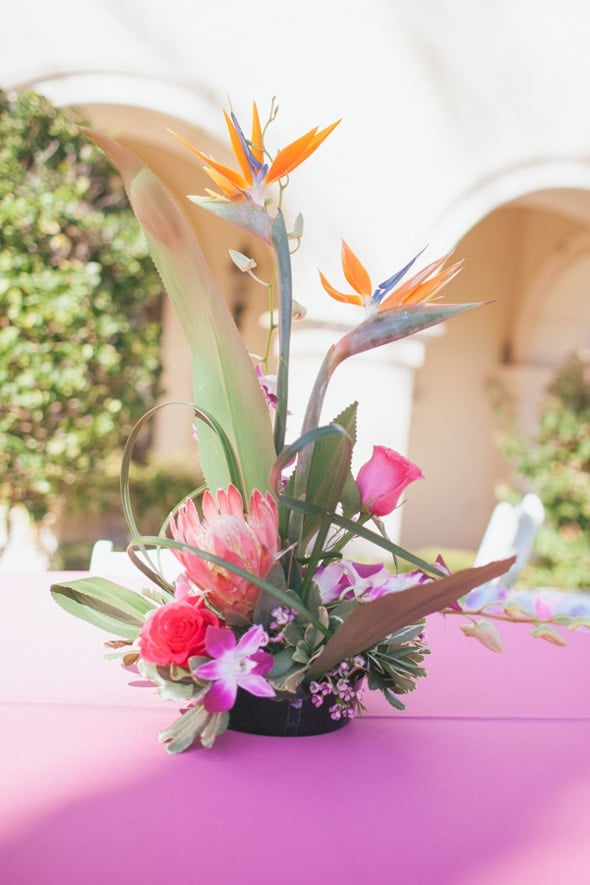 The centerpieces were amazing for the guest tables. The bird of paradise flower stood straight up from the middle surrounded by pit greens, bear grass, pink roses, pink wax flowers, and purple cymbid orchids that wrapped around it. Gorgeous!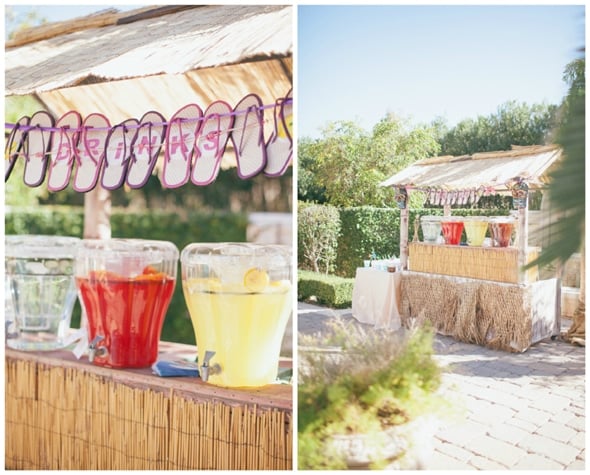 The fun tiki hut had a really cute flip flop banner that hung from the top of the hut. Themers Events provided some luau decor such as the tiki hut, tiki gods, bamboo wall, tables and chairs.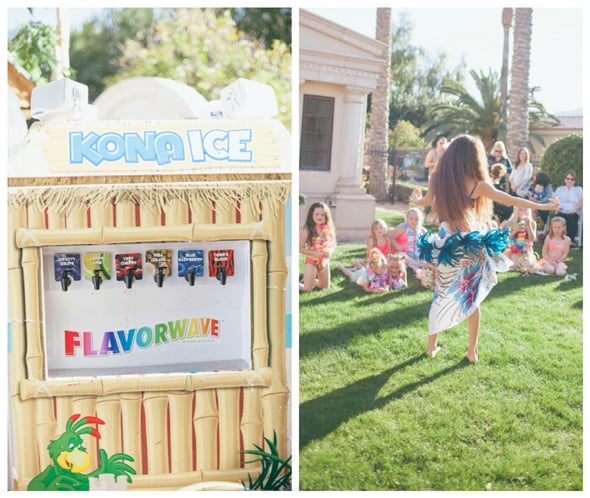 Hawaiian music was played as guests entered the party. DJ Flo Entertainment provided music for the event. April from Orohena Luau Entertainment taught the kids how to hula dance and a mom and daughter team showed the birthday girl and her friends how to shake their hips and hula dance to several songs. In between hula dancing, swimming and eating, the kids played games such as limbo and the ball toss game. Kona Ice North Phoenix provided shaved ice for the kids in tropical flavors. Pineapple, mango, strawberry and banana were some of the popular flavors.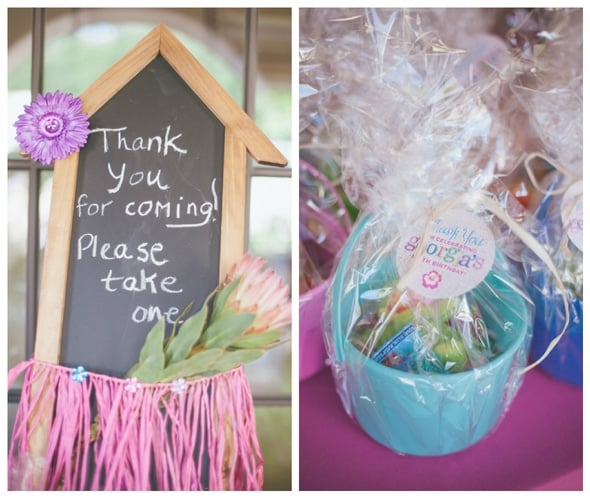 Each child received a plastic bin full of fun luau party items like a hula skirt small stuffed bear, bubbles, gum and candy. Each bin had a round "thank you for coming" sign wrapped with rafia. What a wonderful party full of wonderful memories for this lucky birthday girl!
Vendors & Resources
Party Planner and Designer: Events Your Way // Desserts: Sue Jacobs Cakes // Chocolate Desserts: Sanfran Chocolate // Penmanship: The Event Essentials // Birthday Cake: Honey Moon Sweets // Snow Cones: Kona Ice North Phoenix // Prop Decorations: Themers Events // Macarons: Macaron Cafe Fashion Square // Entertainment: Orohena Luau Entertainment // DJ: DJ Flo Entertainment // Photographer: April Maura Photography // Flowers: Yknot Flowers // Cupcakes: Sprinkles Cupcakes
Plan an amazing Luau with some of our favorite party products!