Planning a summer party or just looking for fun activities for kids? Check out these awesome water games that will keep them occupied all summer long!
There's nothing better than spending the summer outside with the kids. The sun is out, the weather is warm and the kids, well, are full of energy. So why not add some fun water games to your summer days! The kids and their friends will have a total blast with this list of fun games. These ideas would even make fun adult games!
What's great about these water games is they are cheap, so you don't have to go spending a fortune on the latest water games and toys. You can put together something as elaborate as the DIY Kid Wash or try for something a little easier like Water Gun Target Practice. No matter which water game you choose, the kids will have the summer of a lifetime.
Here are 16 Water Games we recommend for any party or summer fun!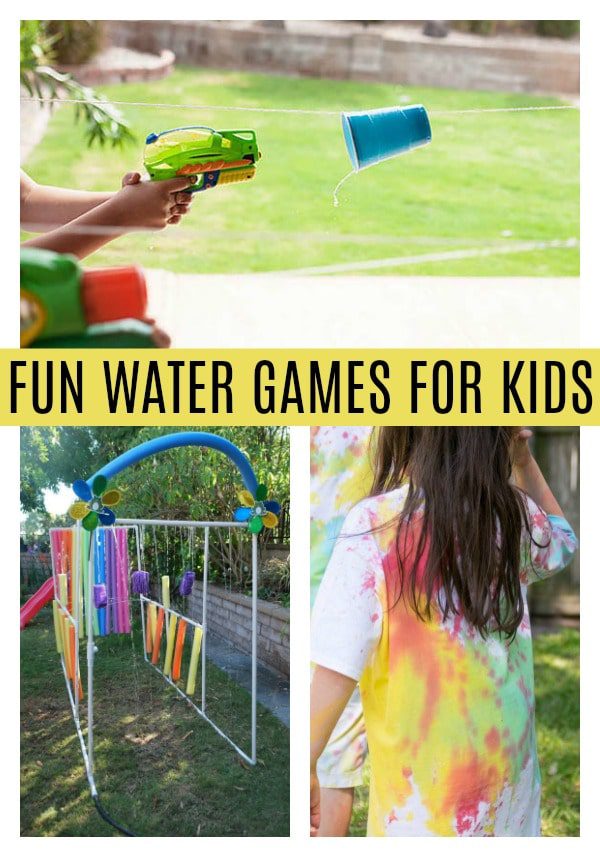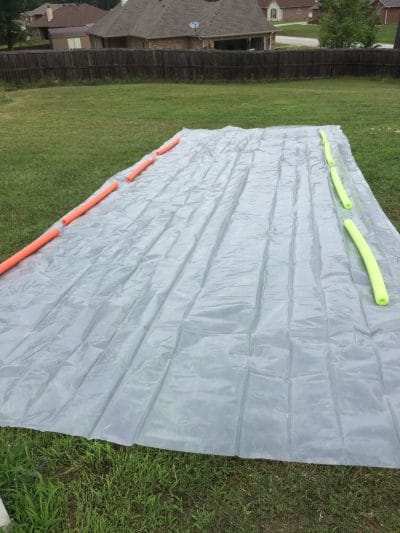 Water Game Idea #1: No need to go out and purchase a small slip and slide at the store when you can make the Ultimate DIY Slip and Slide for your backyard! Gran some 3M plastic roll and some pool noodles and make the biggest backyard slip and slide for your kids and their friends. This water game is quick and easy to make and won't break the bank. The kids will have the time of their lives on this awesome DIY slip and slide.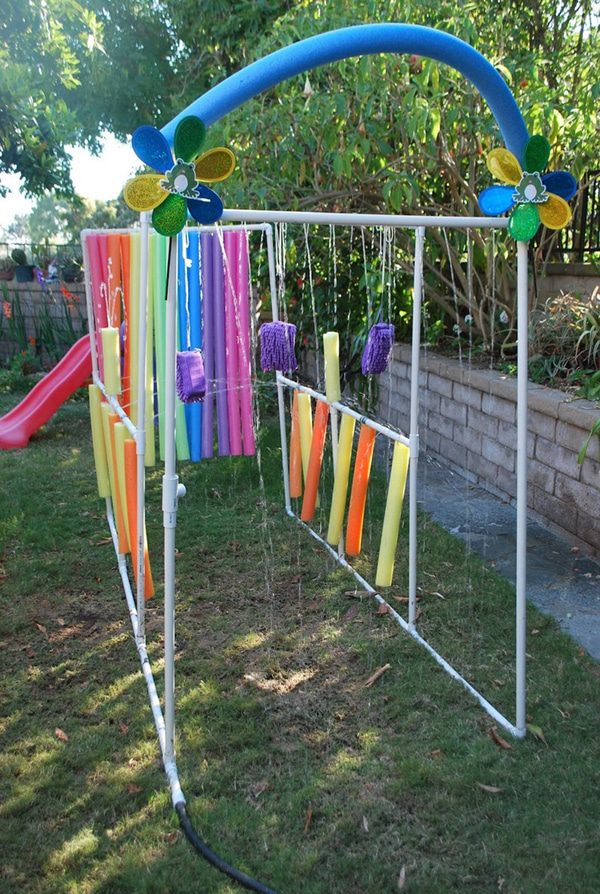 Water Game Idea #2: Now, if you're creative and a good builder, try your hand at this awesome Kid Wash! All you need to create this fun water game is some PVC pipes and a variety of pool noodles. The kids can even ride their battery-operated cars through the kiddie wash. What a fun water game for the kids!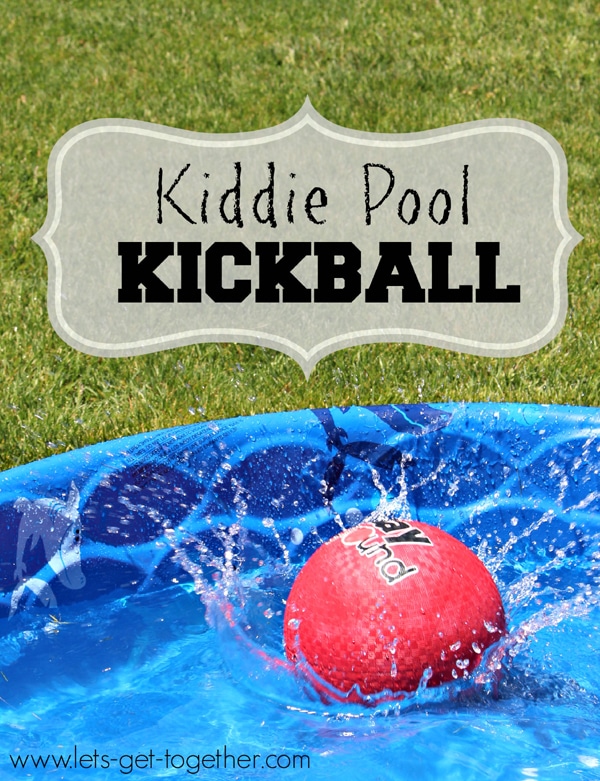 Water Game Idea #3: The kids will have a blast playing Kiddie Pool Kickball. For this water game, all you need are 3 kiddie pools, a slip and slide, and a kickball. This game is like the traditional kickball game but with an awesome summer twist … the bases are the kiddie pools and the slip and slide is to slide into home base. How awesome is that?!?! This is one water game the kids will be begging you to play!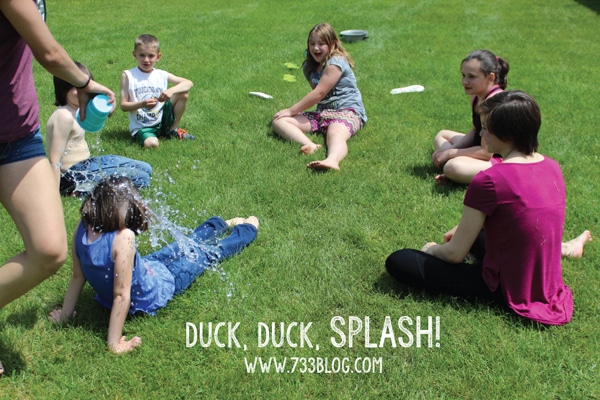 Water Game Idea #4: We haven't met anyone who hasn't played Duck Duck Goose as a child. This Duck Duck Splash game is the same concept, except you pour a cup of water over the person's head instead of tapping them on the head and saying "Goose." This water activity for kids will have them soaked but laughing!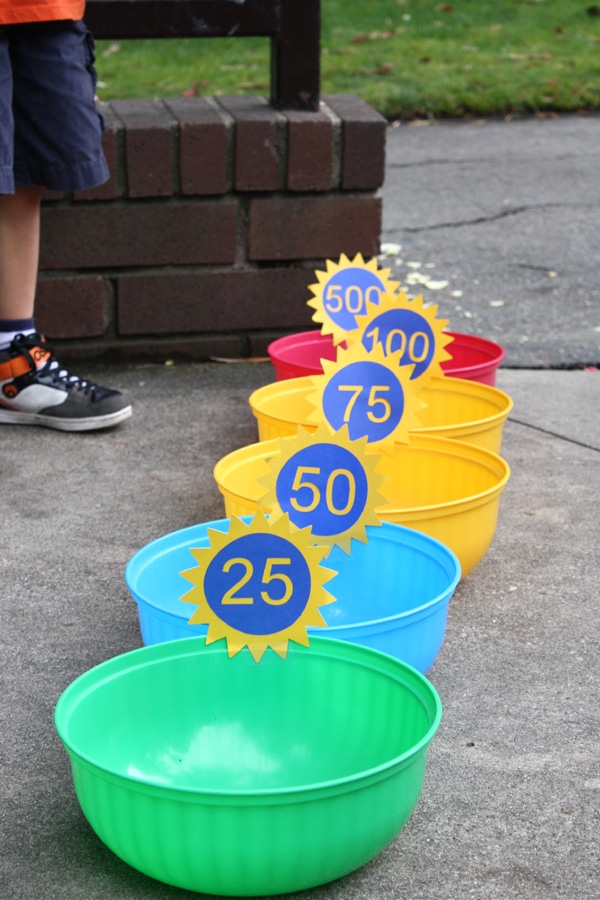 Water Game Idea #5: A water game that will never go out of style is the good old Water Balloon Toss! All you need are some large bowls from the Dollar Store. Next, craft some points to add to the bowls. Then it's time to line the bowls up and have the kids line up and toss the water balloons in the bowls. Whoever gets the most points wins the game and a cool prize!
Water Game Idea #6: Did you know that a water gun and a few soda cans can keep the kids entertained for hours?! Water Gun Target Practice will be everyone's new favorite water game. Kids and adults alike will love competing against each other.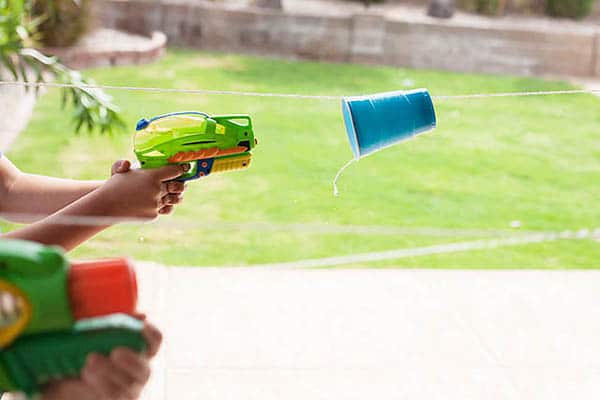 Water Game Idea #7: A cup, string and water guns are all you need to set up some fun Water Cup Races! The kids will have a blast with this fun water game. that can be played all summer long.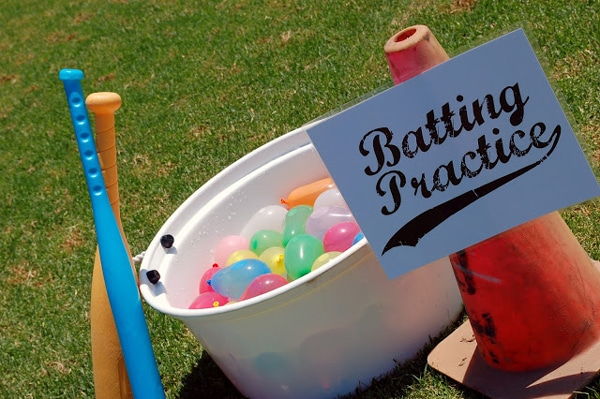 Water Game Idea #8: Forget the baseballs this summer and try your hand at Water Balloon Baseball! Everyone will love hitting the water balloons with bats. This is a fun water game to set up in the backyard whether you're having a birthday party or just some summer fun!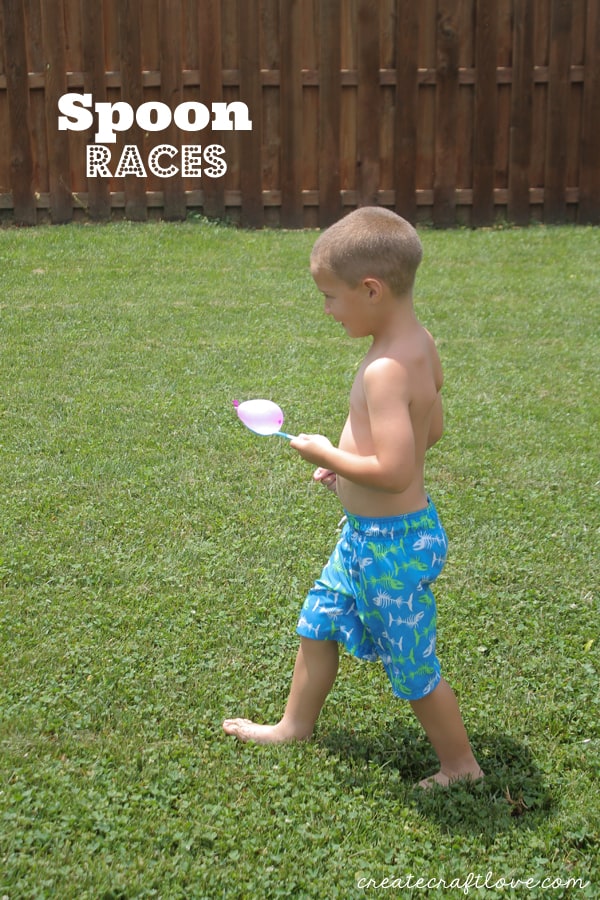 Water Game Idea #9: Everyone will have a great time playing Water Balloon and Spoon Races! If you're looking for easy water games for kids, this activity only requires spoons and water balloons.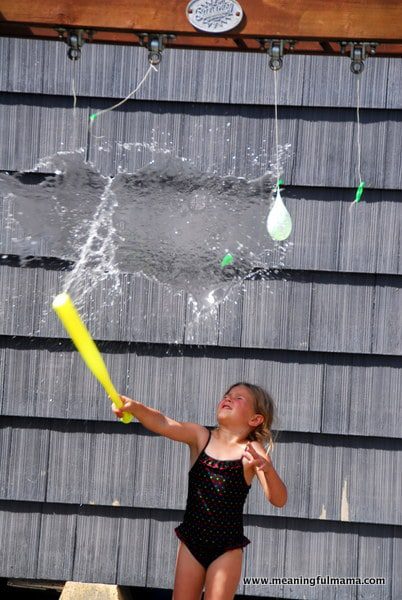 Water Game Idea #10: Forget the traditional party piñata filled with candy. In the summer, Water Balloon Pinatas are more fun! Fill up some water balloons and hang them on something, so the kids can hit them with bats! It's a fun water game all around and the kids will have a total blast!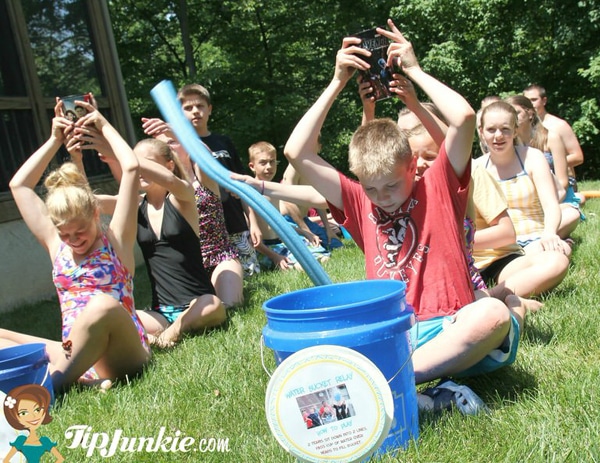 Water Game Idea #11: If you're looking for some water relay games this Water Bucket Game For Kids should be on your list! This is such a fun activity for kids. The idea behind this water game is to make teams. Then give each team a bucket a water and a plastic cup. Place an empty bucket at the finish line. Players have to fill their cups up with the water in the bucket in the front of the line. Then players pas the cup over their heads to the player behind them. The last person in line dumps the water in the bucket at the end of the line. Players do this until all of the water in the first bucket is empty. The team with the most water in their bucket at the finish line wins!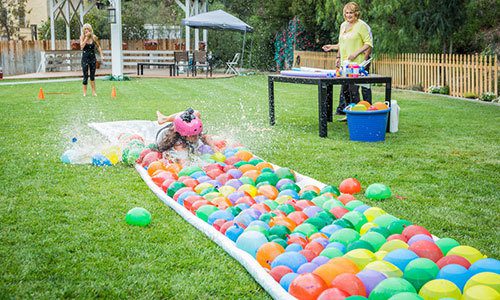 Water Game Idea #12: Turn that boring water slide into something epic with this DIY Water Balloon Slide! All you have to do is fill up a bunch of water balloons and cover the water slide with them! It's that easy! A little creativity is all you need to add these water games to your party!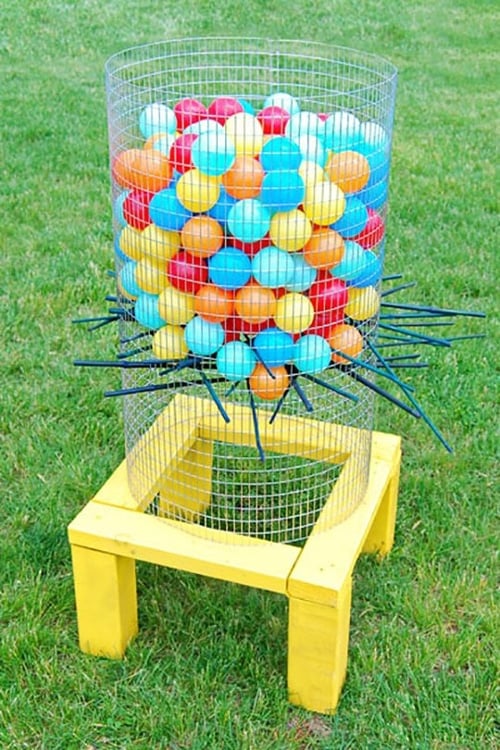 Water Game Idea #13: This DIY Water Balloon Kerplunk Game is one of our favorite water games! Whoever thought of this fun activity for kids is a total genius! The idea behind this game is to have each player take turns removing one stick without having any water balloons fall down. What a great water game for kids and adults!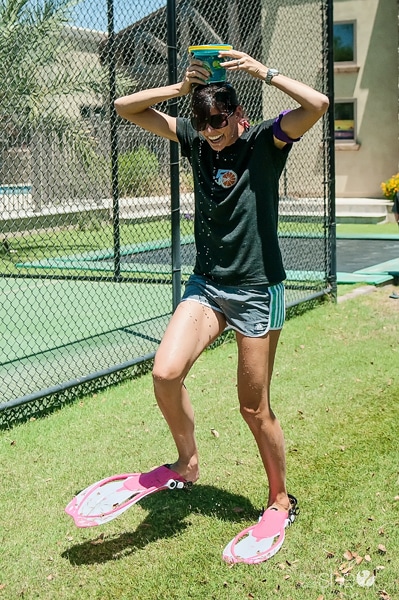 Water Game Idea #14: Flipper Fill Up is a silly game everyone will have fun with! To play this timed water game, players put on flippers, fill up a small bucket (from the large bucket of water) and walks to the 3 gallon bucket with the small bucket on their head. Once they reach the 3 gallon bucket, they pour the water into the bucket. They run back to the start line (still in flippers) where they tag their teammate, remove their flippers, and their teammate puts on the flippers, and so on. Once the bucket is full, the timer is stopped. Record the time and see who was the fastest.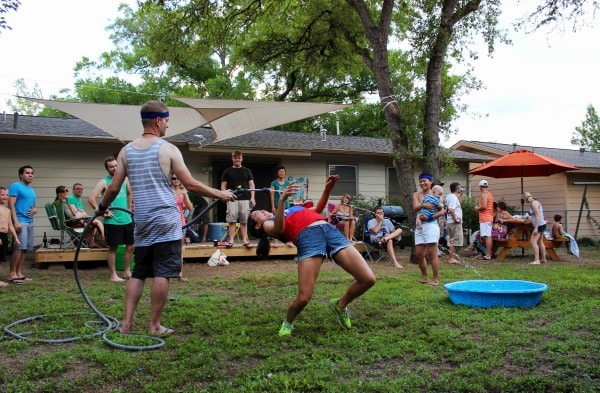 Water Game Idea #15: Another fun water game is Water Limbo. Everyone remembers playing limbo as a child, but using a hose make it's more fun! Turn up the music and do the limbo under the water. Make sure you get a kiddie pool to spray the water into. You don't want a muddy mess!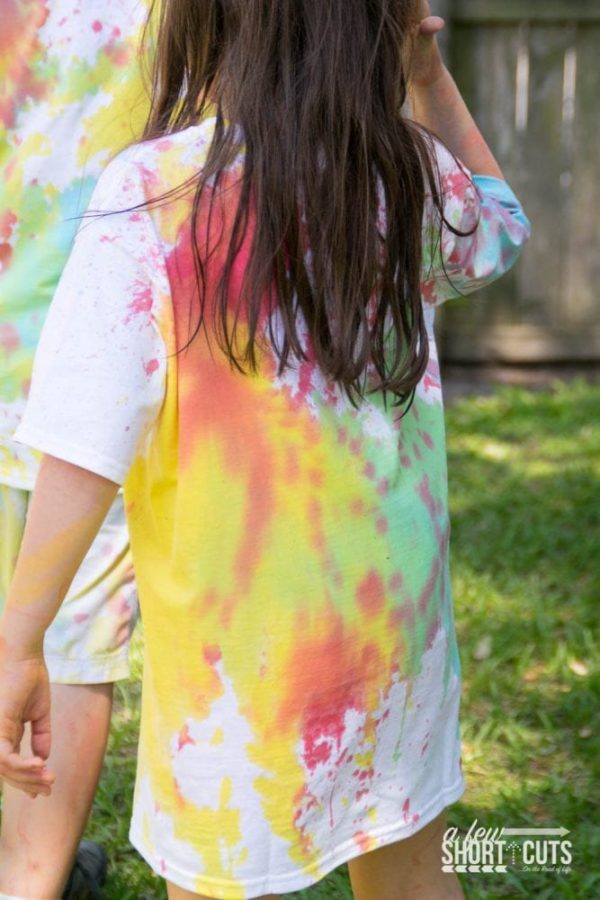 Water Game Idea #16: This outdoor activity for kids is so much fun! Add Water Gun Tie Dye Shirts to your games and activities. All you need for this activity are some white T-shirts, paint and water guns! The kids will love this idea and it's a great way to kick off the summer.
Well that's our list of Fun Water Games For Kids! Do you love these water games? Let us know which one you will be doing this summer with your kids.
For more fun game ideas, follow us on Instagram @prettymyparty and Pinterest and join us in our private Facebook group.