45 Awesome DIY Balloon Decor Ideas
I don't know how you decorate for a party, but I love decorating with balloons! Get some incredible crafty ideas with these 45 Awesome DIY Balloon Decor Ideas!
A party is not a party without balloons. Balloons are the best party decor for indoor or outdoor parties. They're eye-catching, inexpensive, and you can get super creative with them too. They're a fun way to make any occasion extra special.
If you're looking for fun, unique, and creative birthday balloon ideas for your next event, we've rounded up our list of 45 DIY Balloon Decor Ideas, so you can start getting those creative juices flowing for your next party.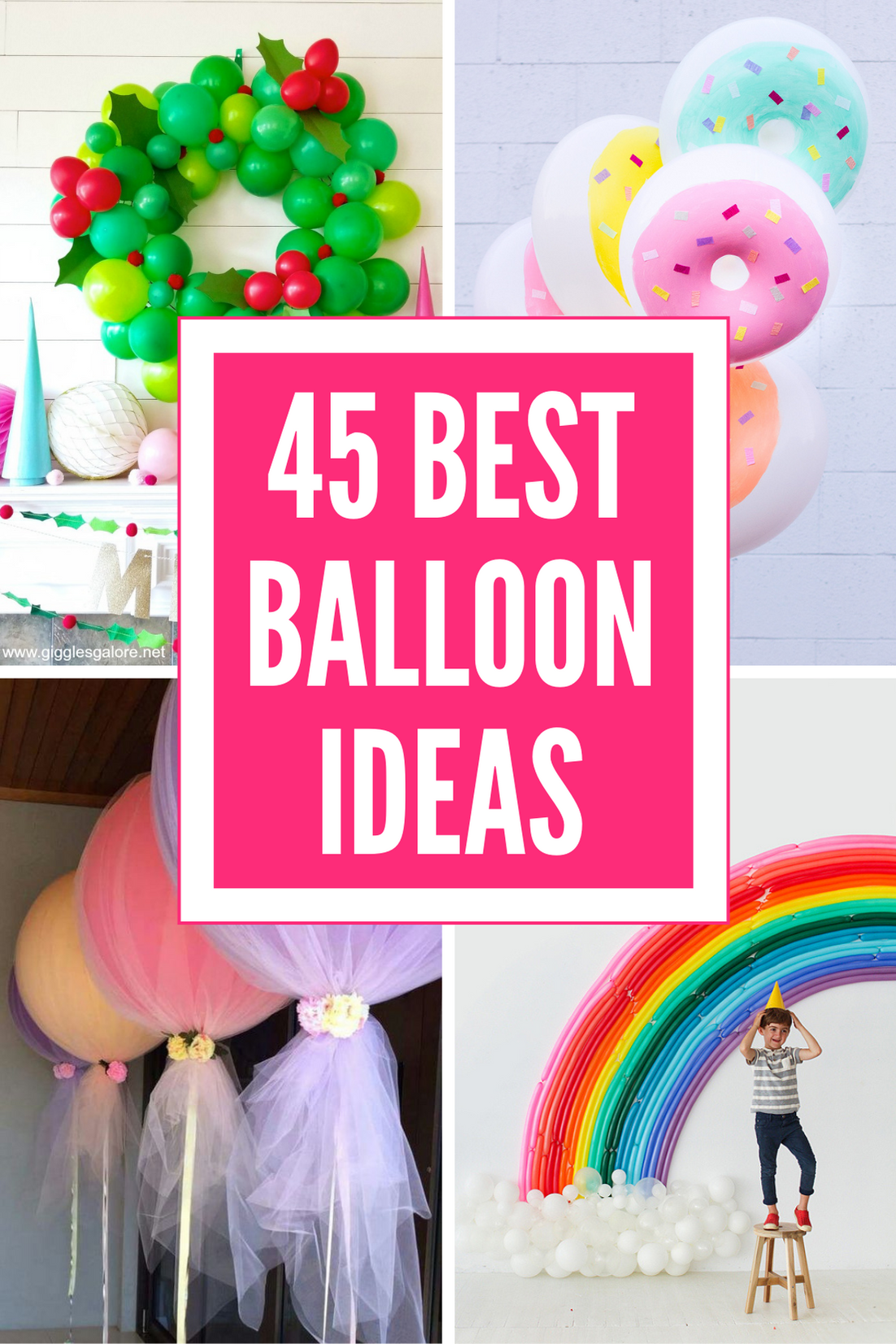 There are many creative ways to decorate with balloons, including balloon arches, columns, garlands, walls and backdrops, characters, garlands, table centerpieces, numbers, LED balloons, glow stick balloons, balloons with crafty tassels, rainbows, etc. The sky's the limit when it comes to decorating with balloons!
These creative balloon ideas are not just for a birthday celebration either. They make a statement at baby showers, gender reveals, bridal showers, bachelorette parties, anniversary parties, baptism parties, Christmas, Halloween parties, graduation, prom, school events, and grand openings.
Whether you're looking for simple balloon ideas for home or if you're a party pro that can make the more advanced designs, we've got you covered in this extensive list of unique balloon decoration ideas.
45 Awesome DIY Balloon Decor Ideas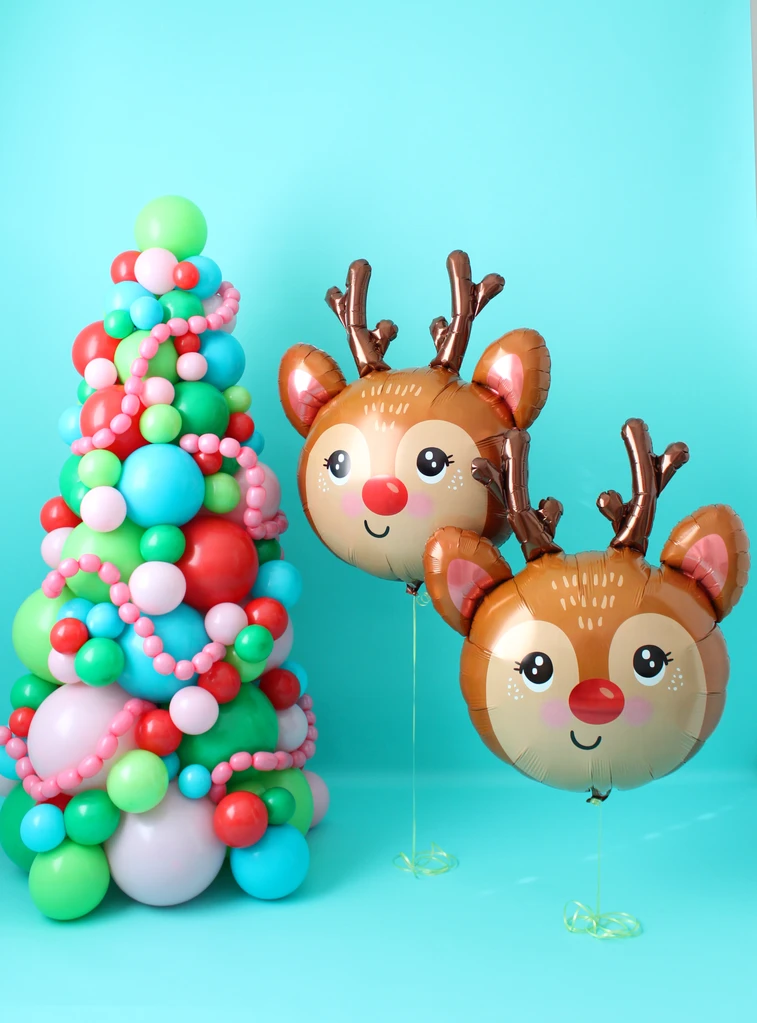 1. DIY Balloon Christmas Tree – Creative Heart Studio
Christmas is the perfect time for balloons. But what about a cool balloon Christmas tree?!
Kids will love this DIY balloon idea, and it's the ideal showstopper for any holiday event.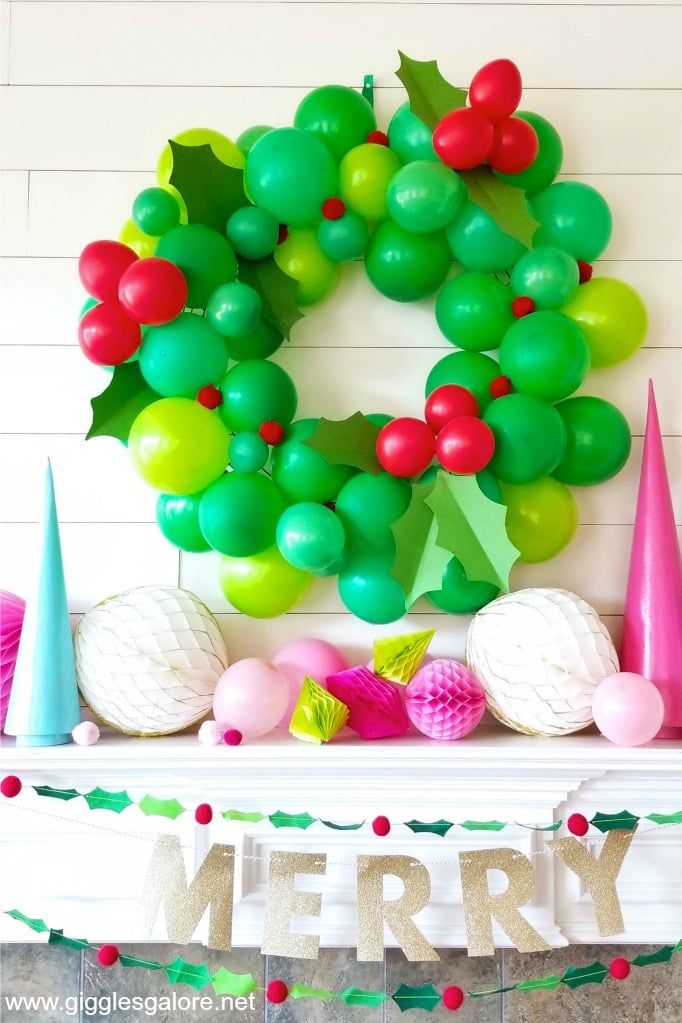 2. DIY Balloon Christmas Wreath – Giggles Galore
This DIY balloon wreath is a great, inexpensive way to add some color and pizzaz to your holiday party!
Balloons are whimsical and are perfect for a kids' Christmas party or photos with Santa.
Try making a cool balloon Christmas tree and wreath, and check your guests' reactions when they enter your magical holiday celebration. It's a unique way to add to your decor for the holidays!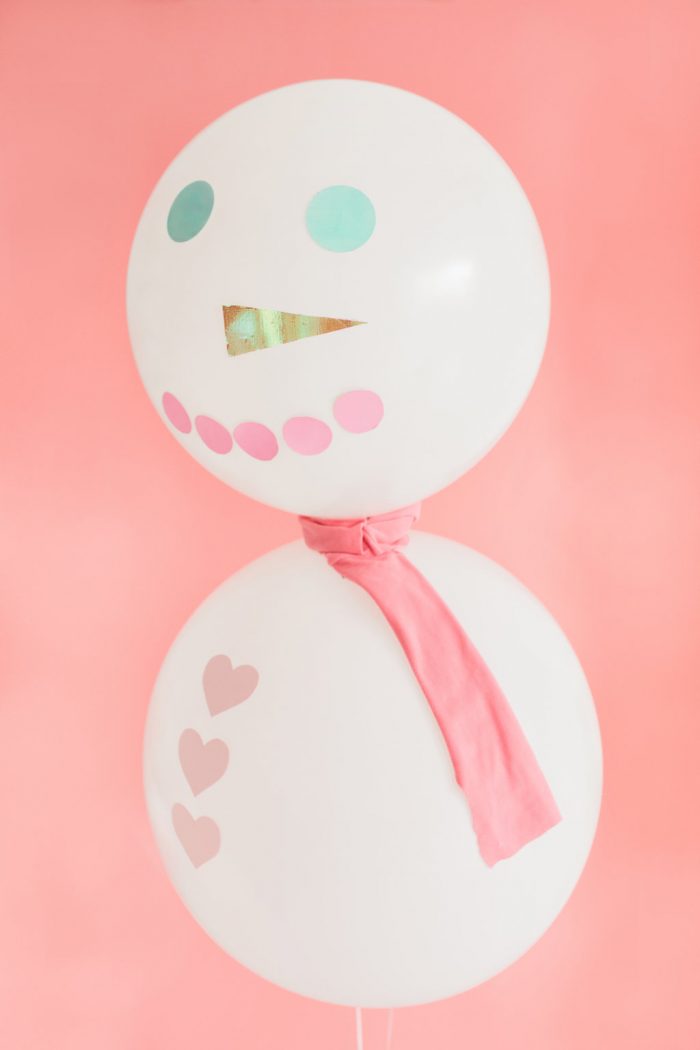 3. DIY Snowman Balloon – Best Friends For Frosting
The Christmas fun doesn't stop there! How about this adorable DIY snowman balloon decor?!
This DIY snowman balloon idea is so fun and easy to make. Add it to any holiday party or classroom for charming decorations.
You can even make it a holiday craft day with the kids. Have fun with colors and snowman accessories, and get as creative as you want.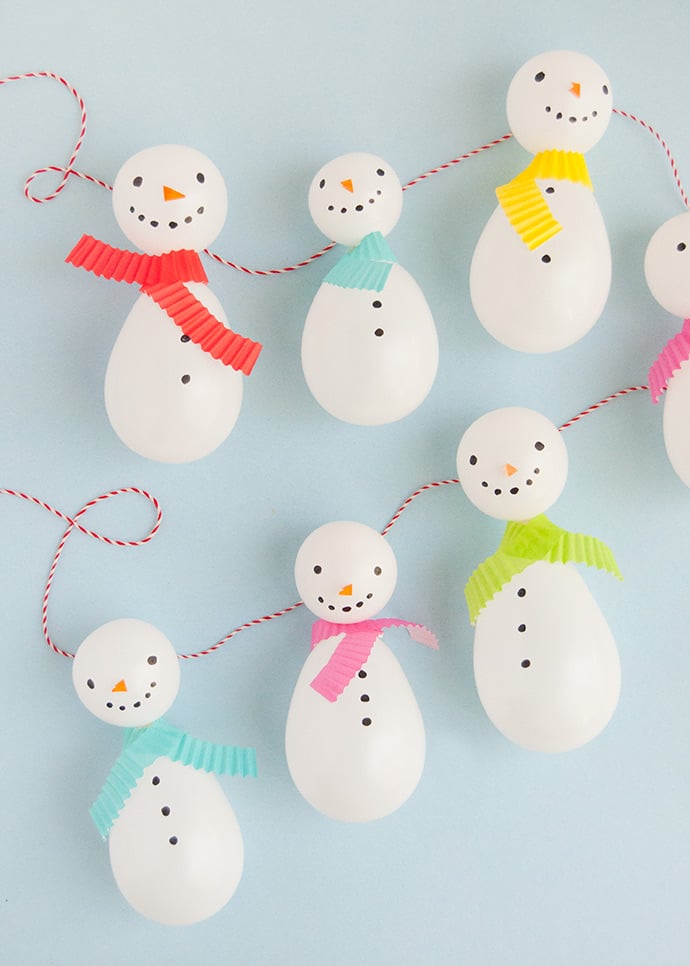 4. DIY Snowman Balloon Garland – Handmade Charlotte
How cute is this DIY balloon snowman garland? This DIY balloon decor is quick and easy to make and will be a conversation starter at your festive gathering.
All you need to start crafting this cute balloon decoration is some balloons, ribbon, scissors, glue, a black marker, and some cupcake liners.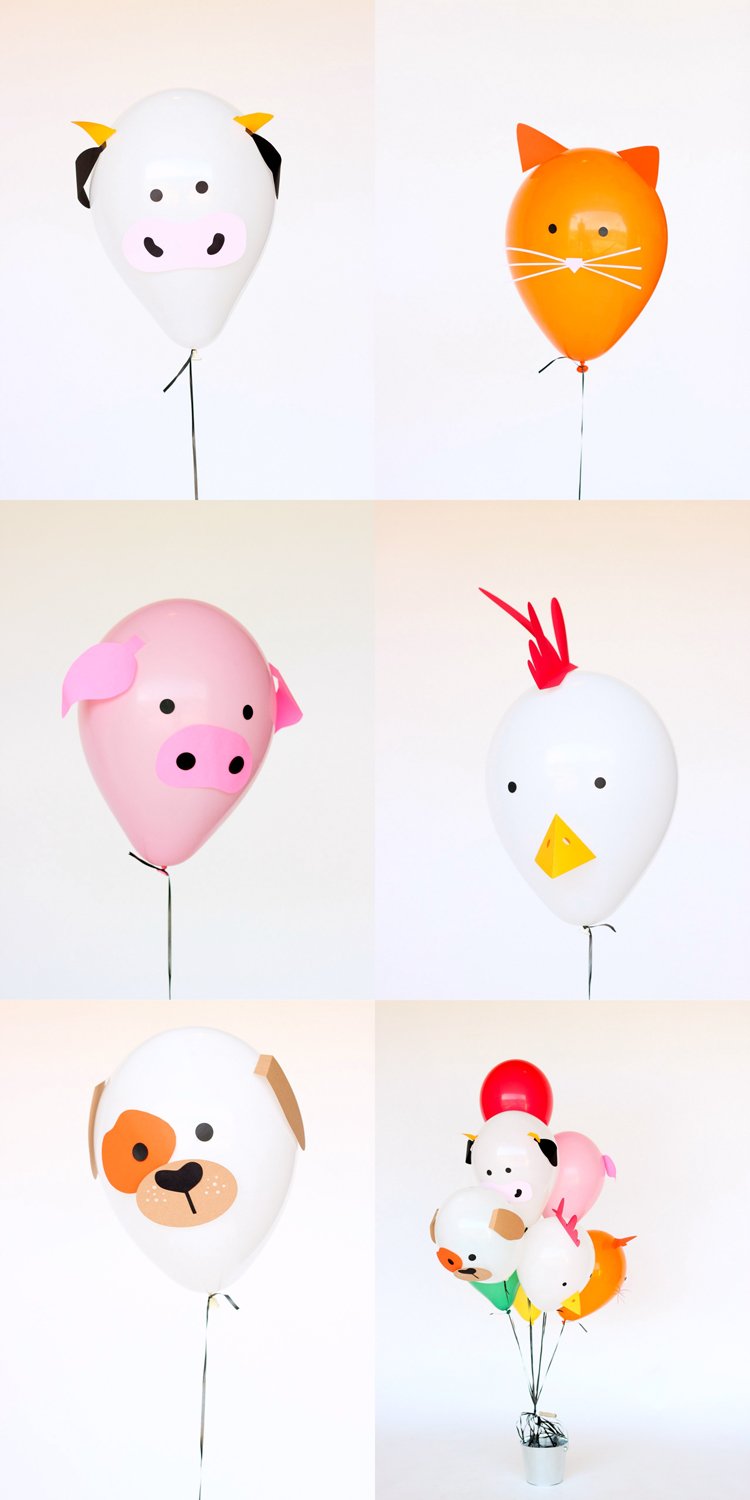 5. Paper Balloon Farm Animals – Delia Creates
How adorable are these paper balloon farm animals? This simple birthday balloon idea is perfect for a farm-themed party!
The kids will love them. You can even give them as party favors to your little guests.
Grab all of the FREE cut files to make your very own balloon farm animals!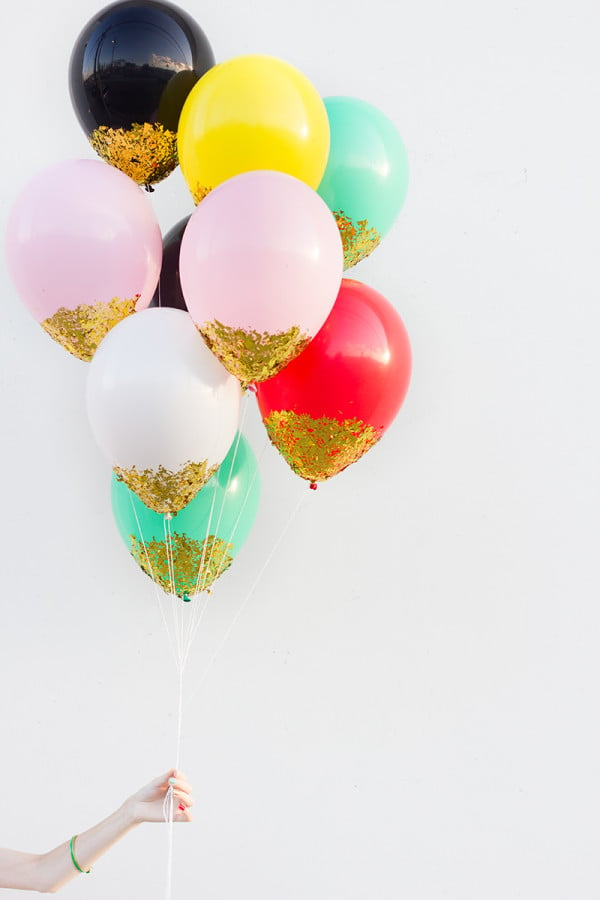 6. DIY Confetti Dipped Balloons – Studio DIY
These DIY confetti dipped balloons are the perfect way to glam things up! Add them to your New Year's Eve party for some extra pizzaz, or decorate your daughter's party venue with this simple balloon idea!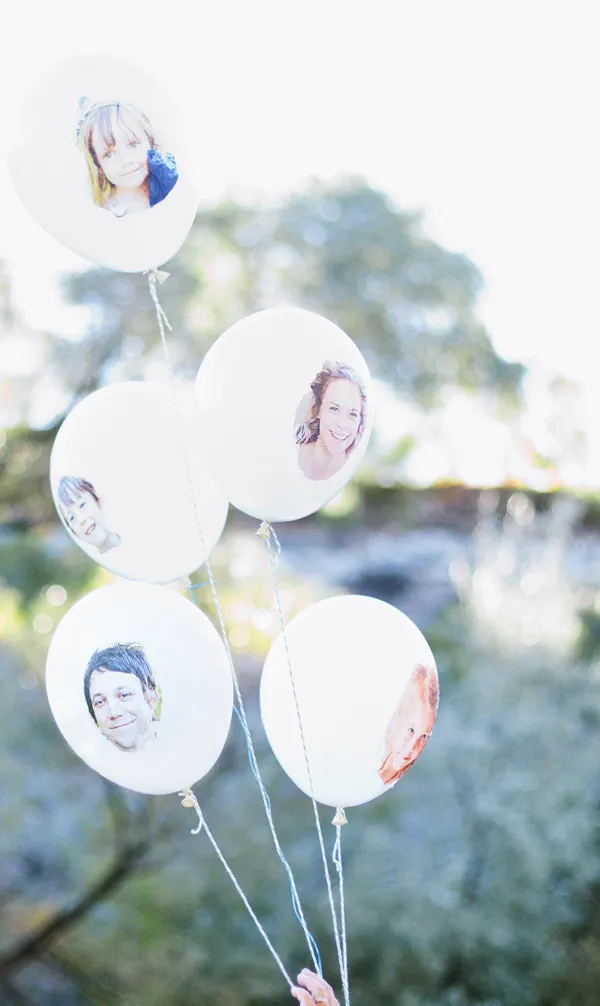 7. DIY Face Decal Balloons – A Subtle Revelry
Add that personal touch to your birthday balloons with these clever DIY face decals!
How fun would it be to put the guest of honor's face on a bunch of balloons and decorate the venue with them?!
I would love to see their face when they walk into their birthday party, retirement party, or anniversary party!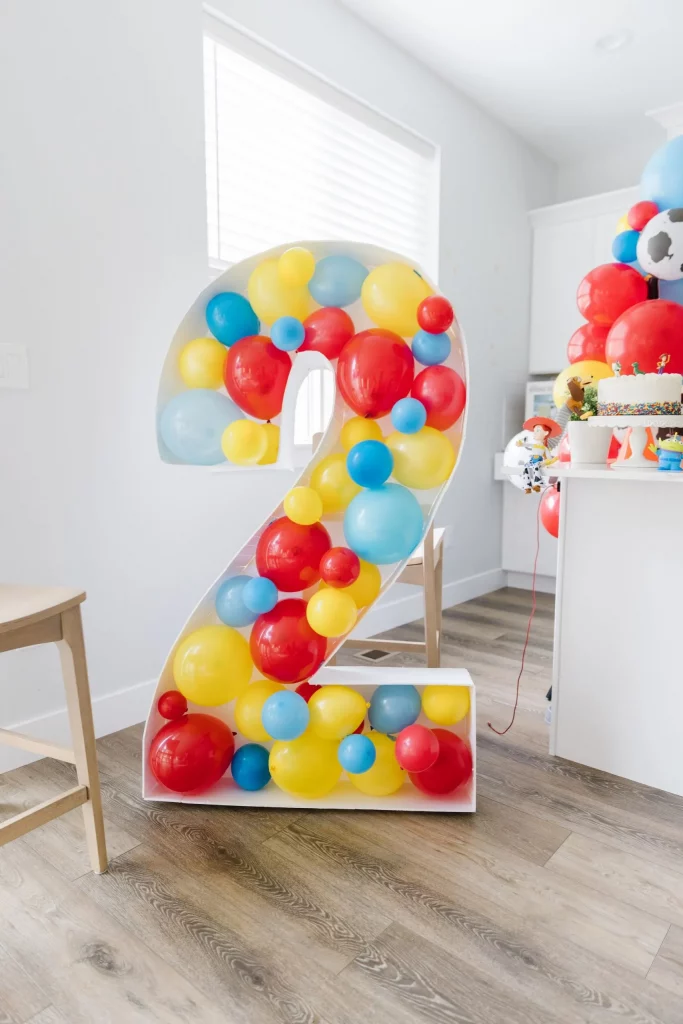 8. DIY Marquee Balloon Number – The Price Adventure
Forget your standard number balloons when you've got these giant marquee balloon numbers!
Marquee balloon letters or numbers are afforable and super easy to make. They will pack a punch at your next event!
9. DIY Cupcake Balloon Decoration – Balloon Project Shop
This DIY cupcake balloon decoration is a cute idea for a sweet shop birthday party! Add this cute birthday balloon idea for some larger-than-life party decorations the kids will love!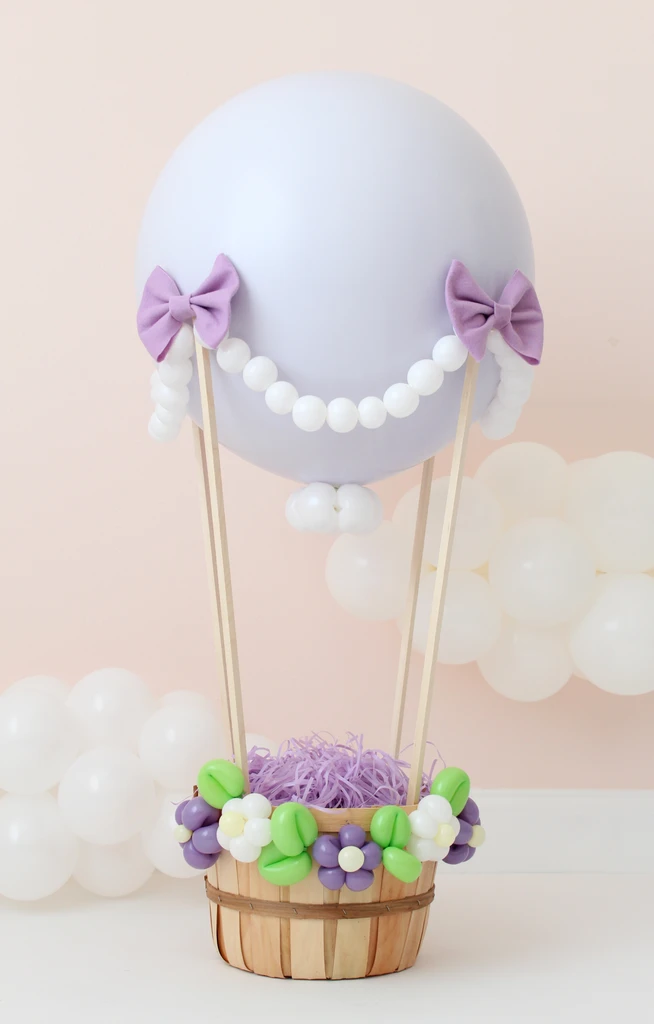 10. DIY Easter Hot Air Balloon Basket: The Creative Heart Studio
This DIY Easter hot air balloon basket will make the kids go wild! It's one of our favorites in this list of 45 Awesome DIY Balloon Decor Ideas!
We know the Easter Bunny is creative, and this is an Easter the kids will never forget.
So grab your balloons, glue, scissors, and balloon pump for a crafty adventure and some Easter memories!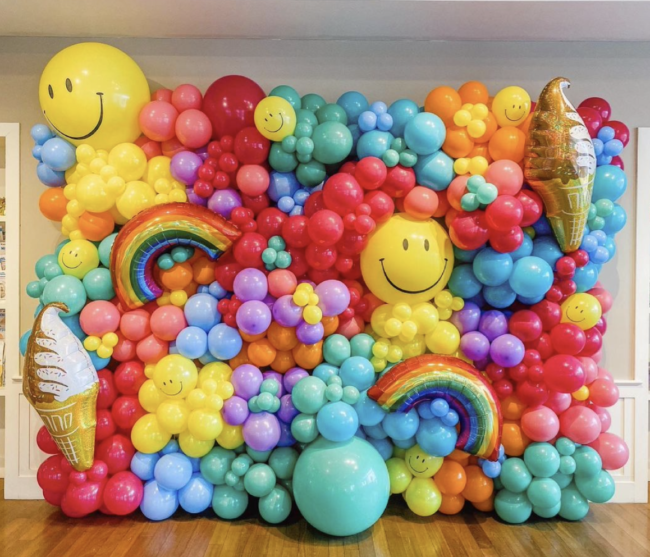 11. DIY Balloon Wall – Love of Character
DIY balloon walls are all the rage these days. They are eye-catching and make the perfect backdrop for photos, the cake table, or a dessert table.
This colorful balloon wall with smiley faces will be a hit at your child's birthday party.
Add some cute emoji faces and your backdrop will be an instant hit!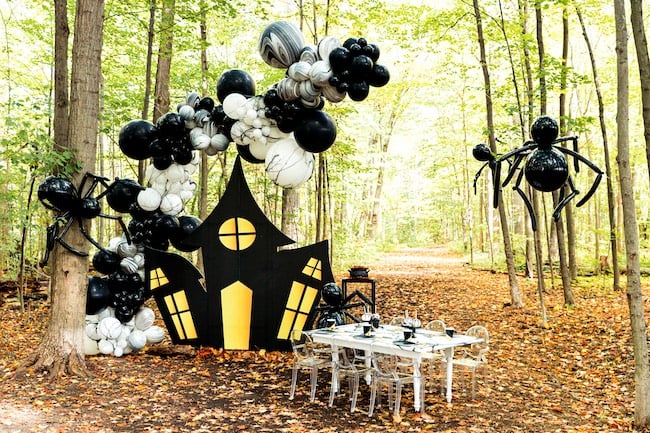 12. Halloween Spider Balloon Garland – Confetti My Party
Halloween is another perfect holiday to show off your balloon design skills! This spooky Halloween balloon garland with jumbo spiders is a showstopper.
The black and white marbled balloons are just the thing to make your spooky event memorable.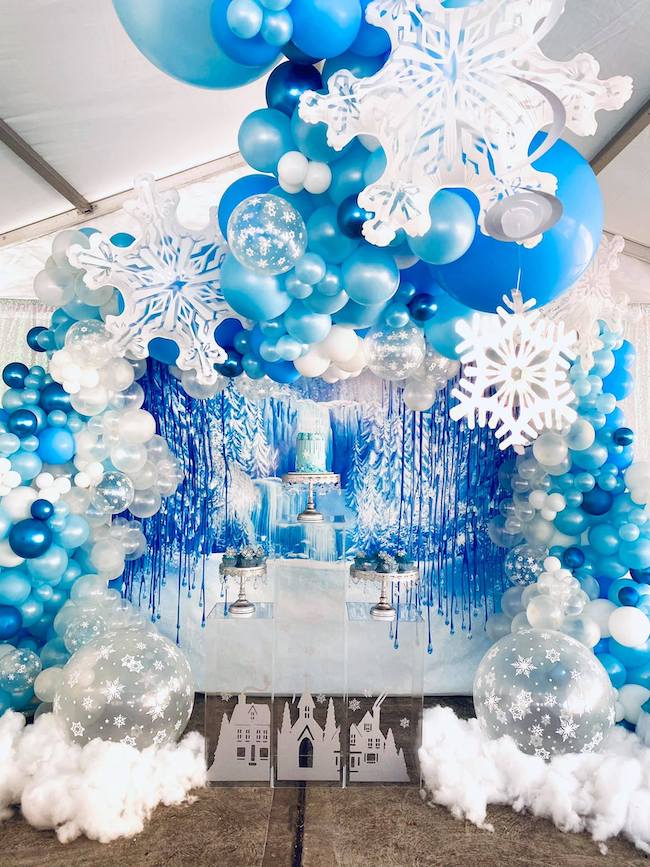 13. Winter Wonderland Balloon Dessert Table Backdrop – Pop The Balloon! Children's Parties & Events
This spectacular winter wonderland balloon display with blue, white, clear, and snowflake balloons is perfect for a Frozen-themed party or any winter celebration.
A little creativity is all you need. Once you have your theme figured out, you can get some cool ideas for an incredible balloon installation that will blow guests away.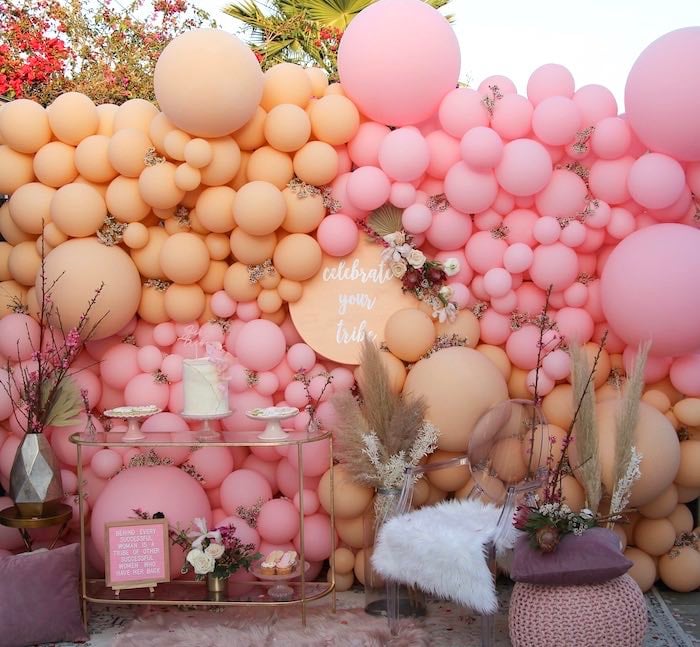 14. Gorgeous Balloon Wall – Hello Pretty Events
If you're planning a fun girls' event, make it spectacular with a giant balloon wall. We love the mix of large and small balloons with floral accents.
The great thing about DIY balloon ideas is you can add anything you want to make them stand out, including streamers, flowers, greenery, etc.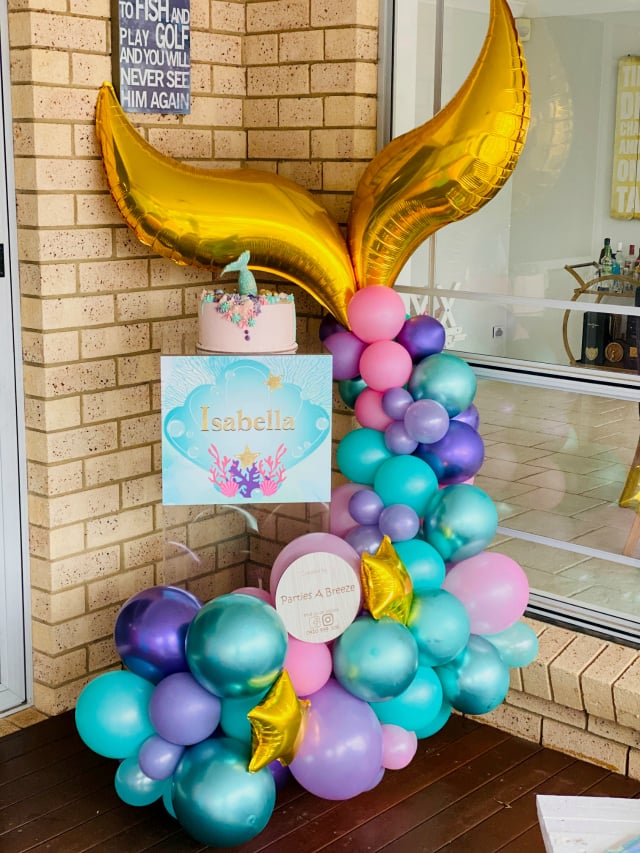 15. Mermaid Fin Balloon Decor – Parties A Breeze
If you're planning a mermaid or under the sea-themed birthday, this mermaid fin balloon decoration is just what you need!
Put a few of these together, place them next to the gift table, dessert table, or at the entrance for that perfect mermaid vibe.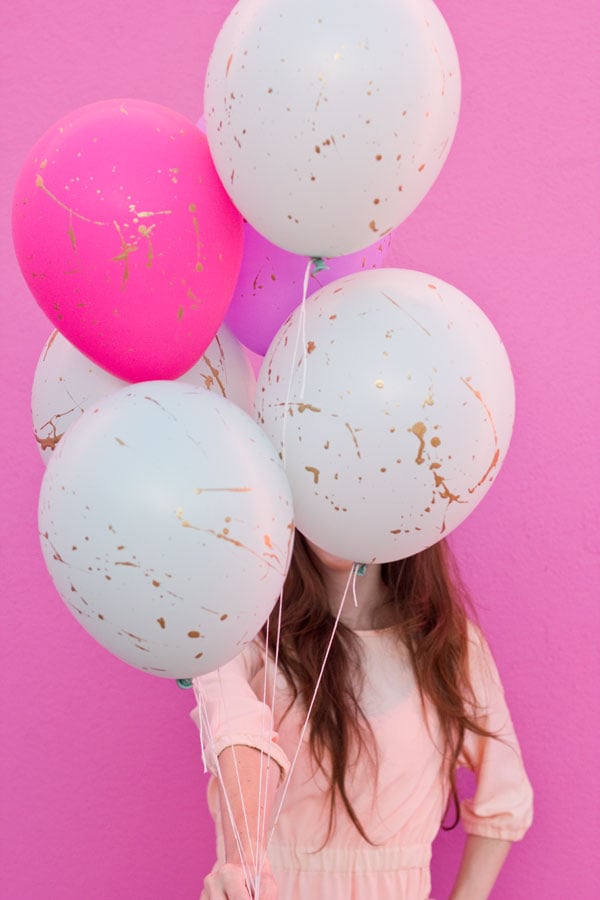 16. Gold Paint Splatter Balloons – Studio DIY
Grab some latex balloons and gold paint for an excellent balloon craft that's easy and makes a statement.
Mix up some color balloons, add some string, and you've got yourself some fabulous DIY balloons!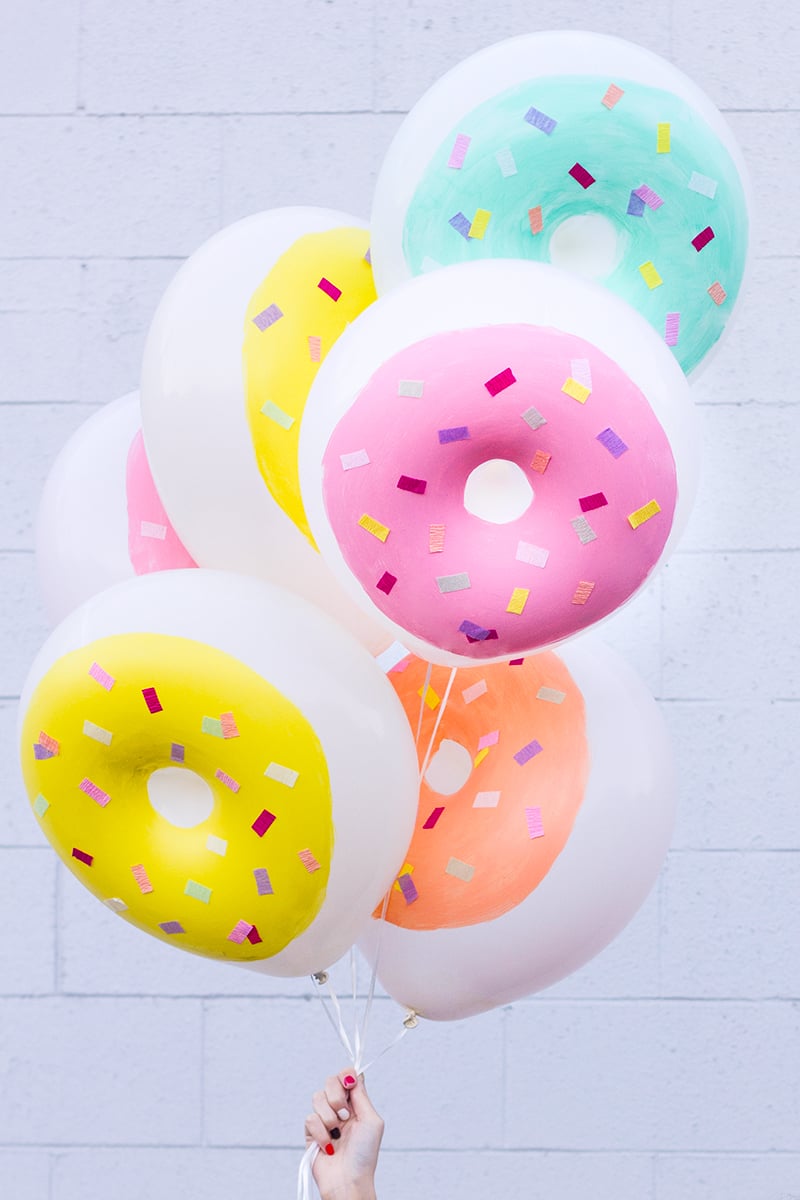 17. DIY Donut Balloons – Studio DIY
How cute are these?! If you're hosting a donut-themed party, you have to make these adorable donut balloons!
All you need are just a few supplies to get started, like acrylic paint, a foam brush, crepe paper, and double stick tape.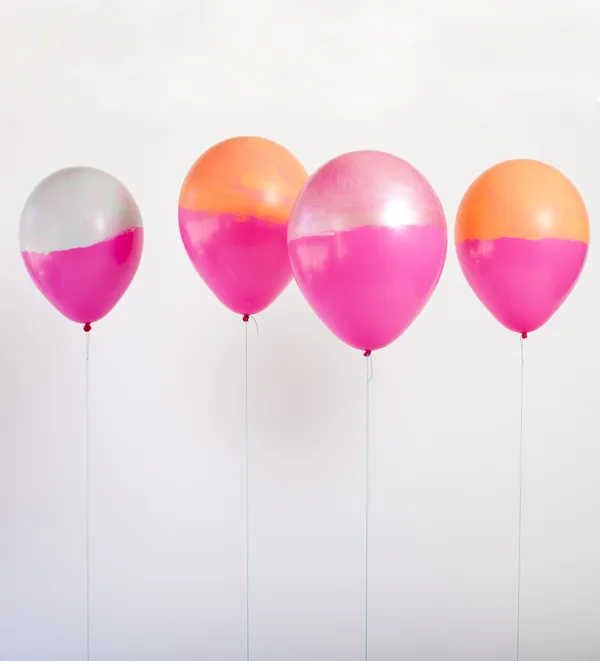 18. Two-Toned Balloons – A Subtle Revelry
We love the look of these pretty two-toned balloons. They are super easy to do, and all you need is some acrylic paint and a foam brush.
You can choose color balloons or clear balloons and make them any color you like. They bring that subtle artistic touch to any event.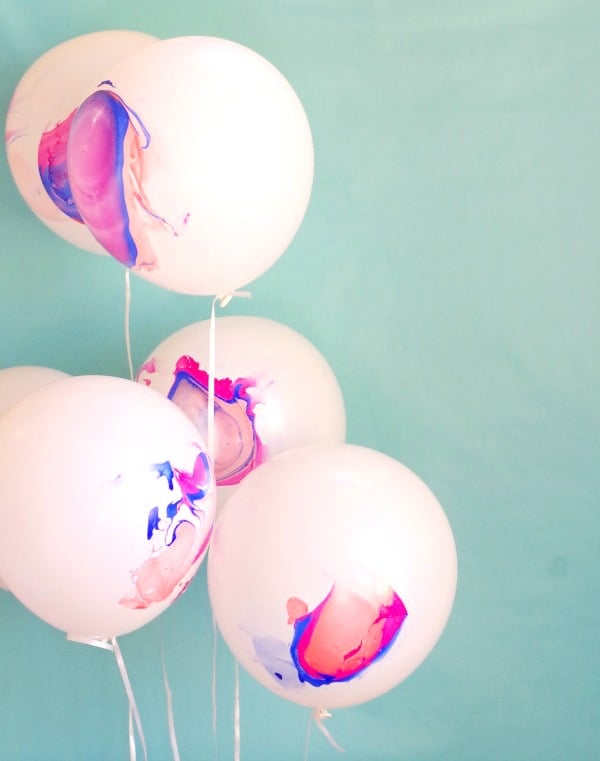 19. Marble Balloons – Simple Crafty Fun
Grab some nail polish and white balloons and DIY your way to these fabulous marble balloons.
We love the look of those colorful swirls — what a great way to add some fun to your balloon decor.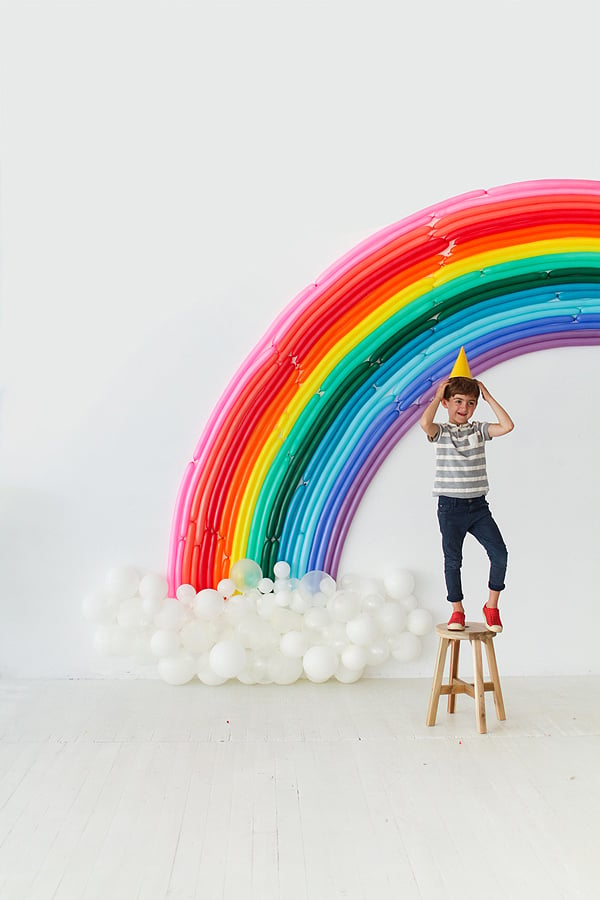 20. Rainbow Balloon Backdrop – Oh Happy Day
We're somewhere over the rainbow with this incredible life-size balloon rainbow backdrop. Make this for a trendy photo backdrop, or incorporate it into your St. Patrick's Day party decor.
No matter where you choose to place this rainbow, it definitely will have everyone talking!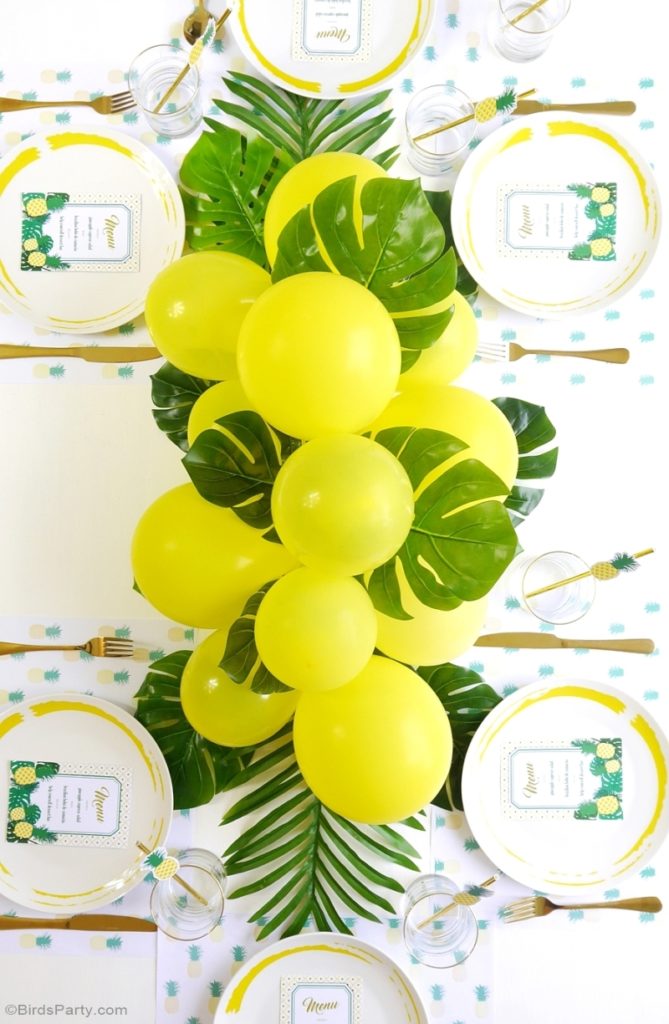 21. Tropical Balloon Centerpiece – Bird's Party
If you're looking for something different for your tables, try your hand at this simple and elegant tropical balloon centerpiece.
Add some palm fronds and leaves, and you have a fabulous tropical centerpiece for your luau.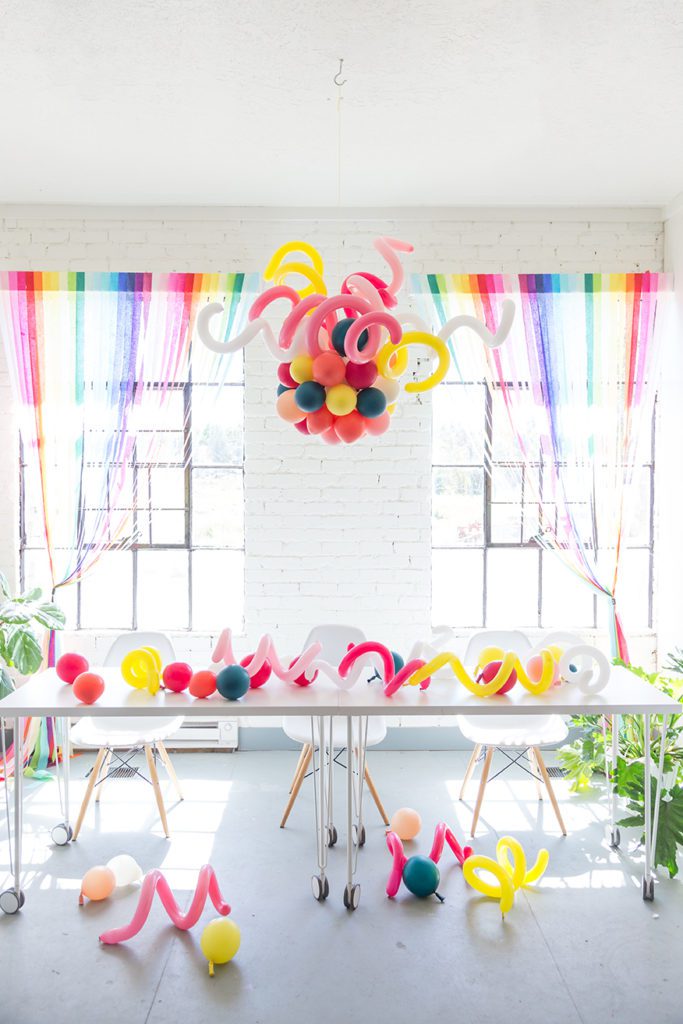 22. Balloon Chandelier – The House That Lars Built
If you want to get creative, this unique balloon chandelier is a project you have to tackle.
Balloons can be anything you want them to be, and this chandelier idea will be the focal point of your event.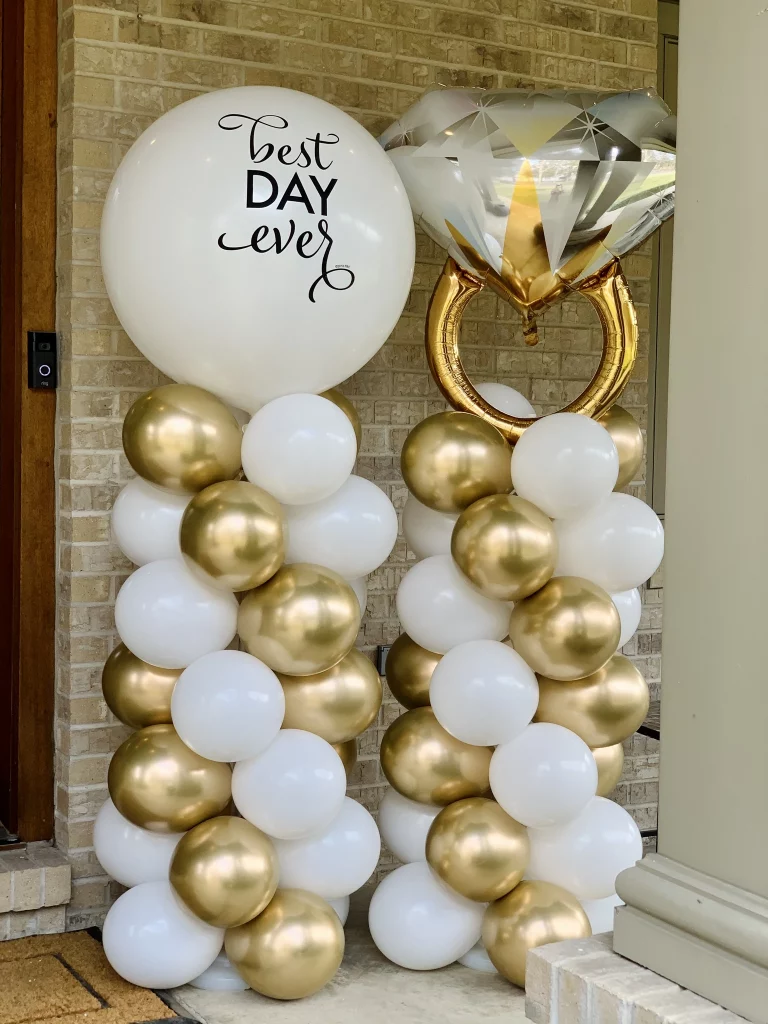 23. Engagement Balloon Columns – Party Hop Shop
Balloon columns are another great way to celebrate an occasion in style.
We love these engagement balloon columns! Surprise your bride-to-be with something like this, and she will not say no!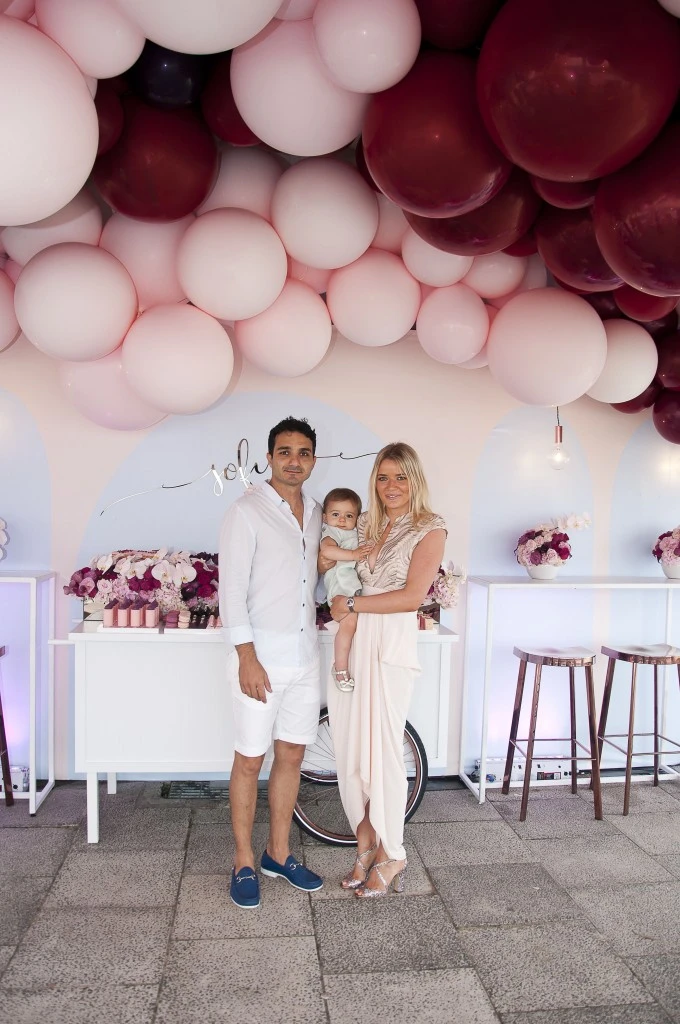 24. Jumbo Ceiling Balloon Decor – Oh It's Perfect
If you want to make a statement, go big or go home! How excellent is this party idea with jumbo balloons covering the entire ceiling?
It's a whimsical way to transform any party space and impress your guests.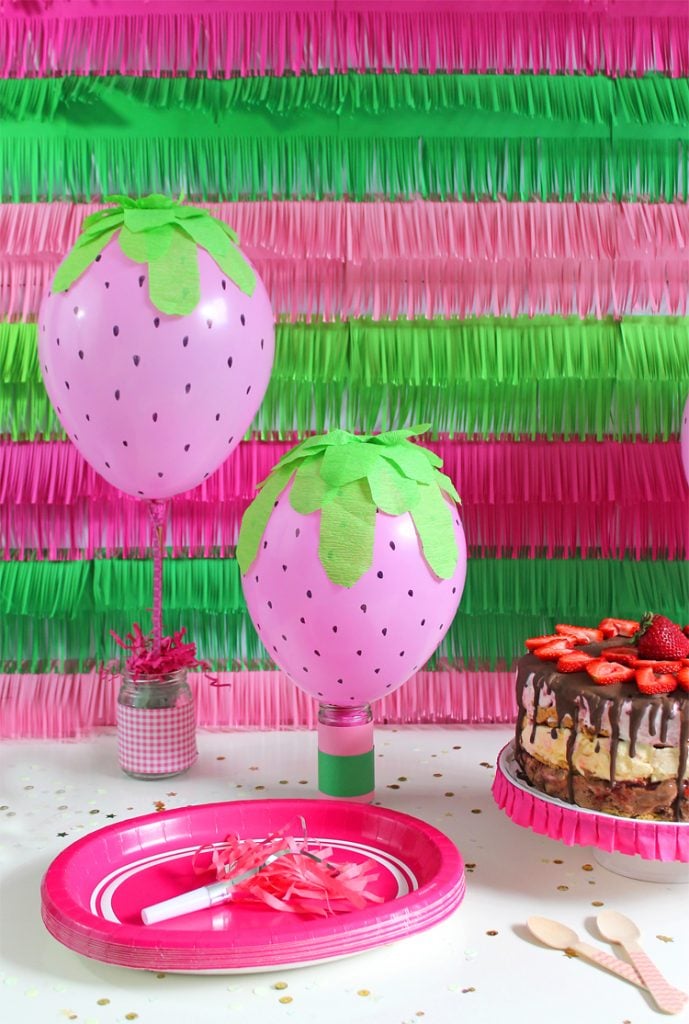 25. Strawberry Balloon Centerpieces – The Craft Patch
You can whip up these simple strawberry balloon centerpieces in no time for a sweet summer party, or you can make them with the kids for a fun, little craft project. Everyone will be "berry glad" you made them!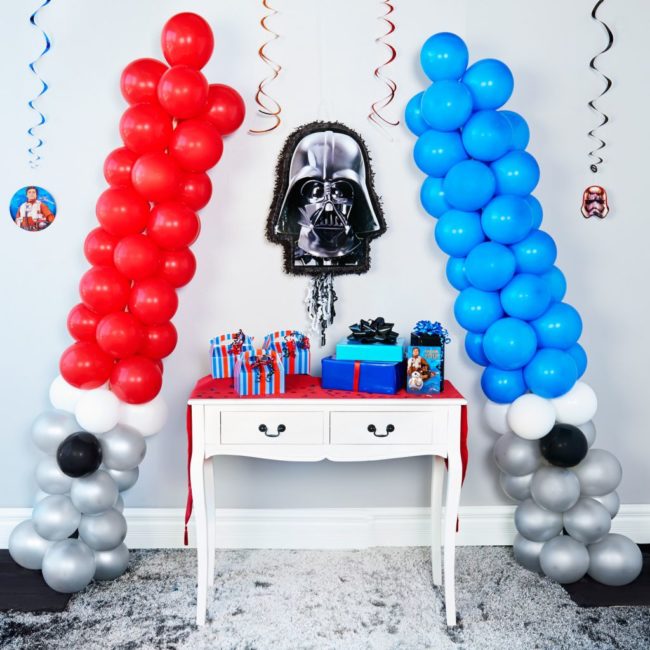 26. Light Saber Balloon Decor – Birthday Express
If there's a Star Wars fan in your house, these lightsaber balloons are a must-have for your celebration.
Make these lightsaber decorations using six-foot dowels, PVC pipe, and some wooden bases, all of which are at your local hardware store.
Imagine your little Jedi's face light up when they see this at their Star Wars party!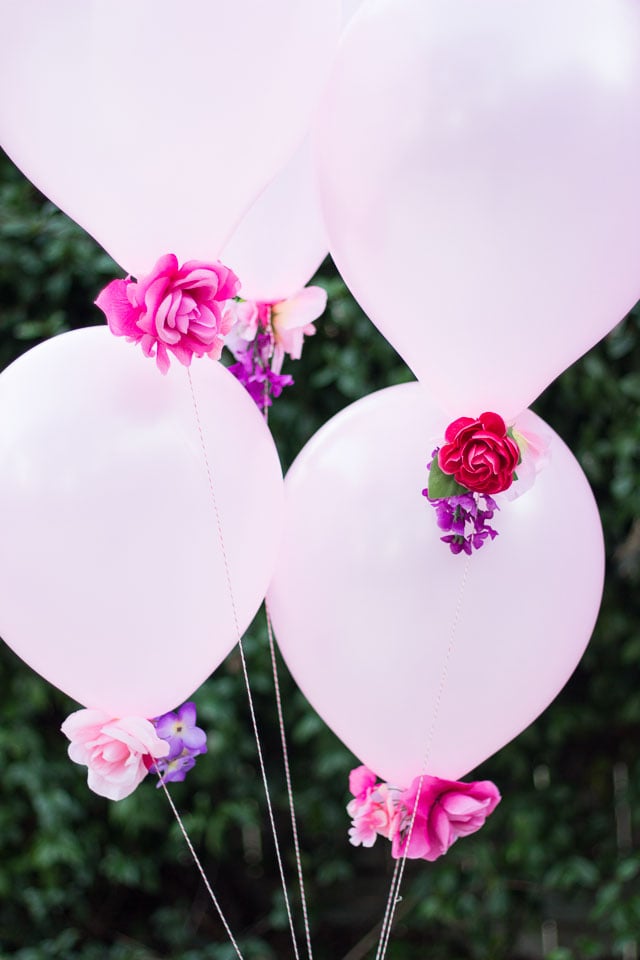 27. Flower Balloons – Design Improvised
These Dollar Store flowers look so chic on these balloons. What a simple and affordable way to take your balloon idea to the next level!
These cute balloons are quick and easy to make and are perfect for tea parties, garden parties, or a sweet photo op.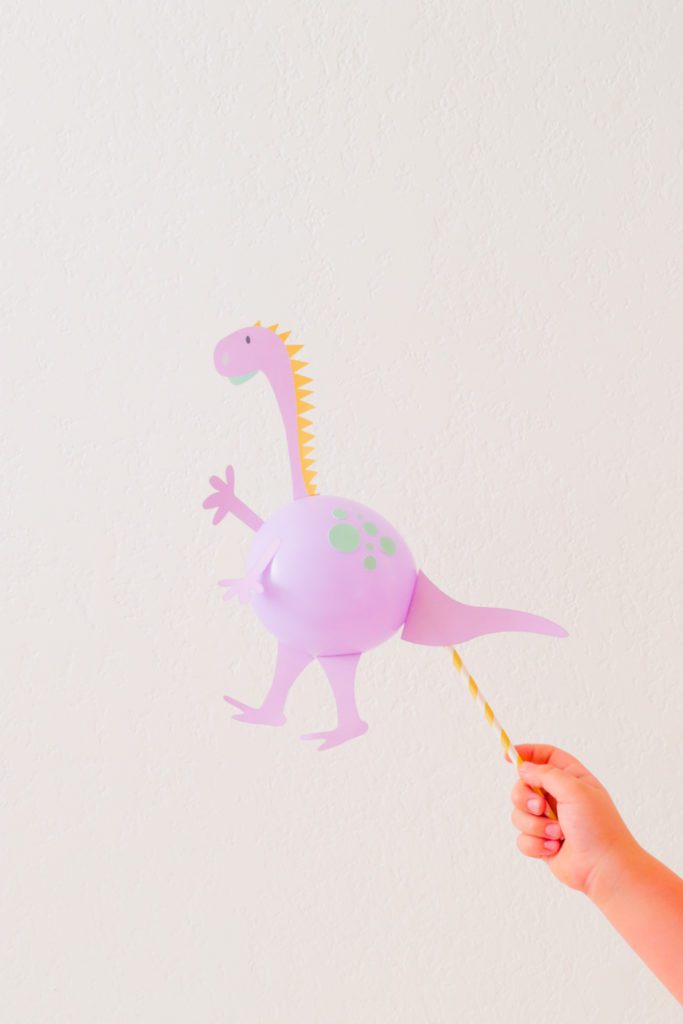 28. DIY Dinosaur Balloon – Twinkle Twinkle Little Party
Add the cutest little dinosaur balloons to your dinosaur-themed birthday party! The kids will love them and make the best party favors too.
29. Tulle Balloons – Home Edit
Add a touch of elegance to your bridal shower or baby shower with these jumbo tulle balloons. They're easy to make and are perfect for a tea party or ballerina-themed party.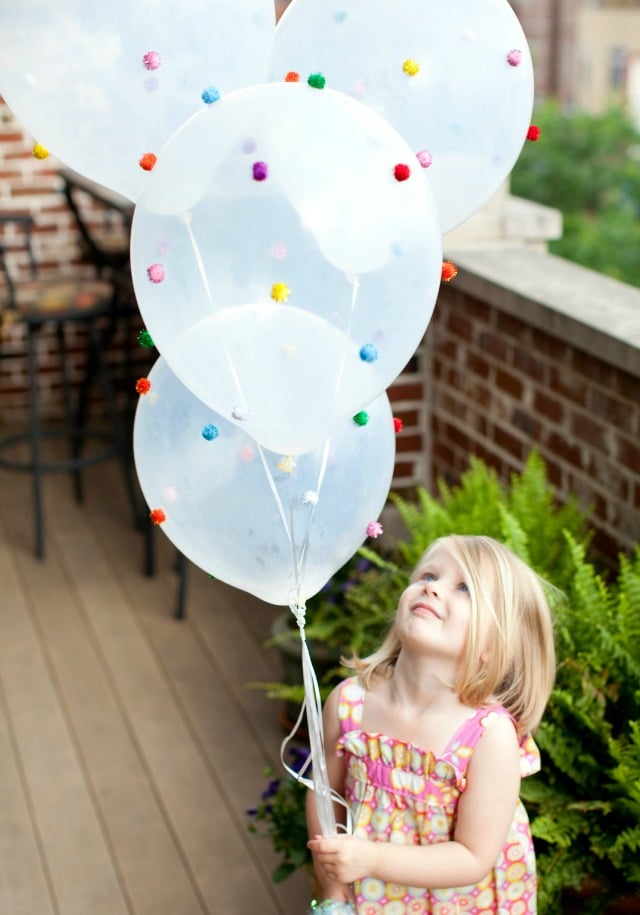 30. Pom Pom Balloons – Design Improvised
These pom pom balloons are quick and simple to make. They're eye-catching and a great idea if you're looking to kick up your balloon decor a notch.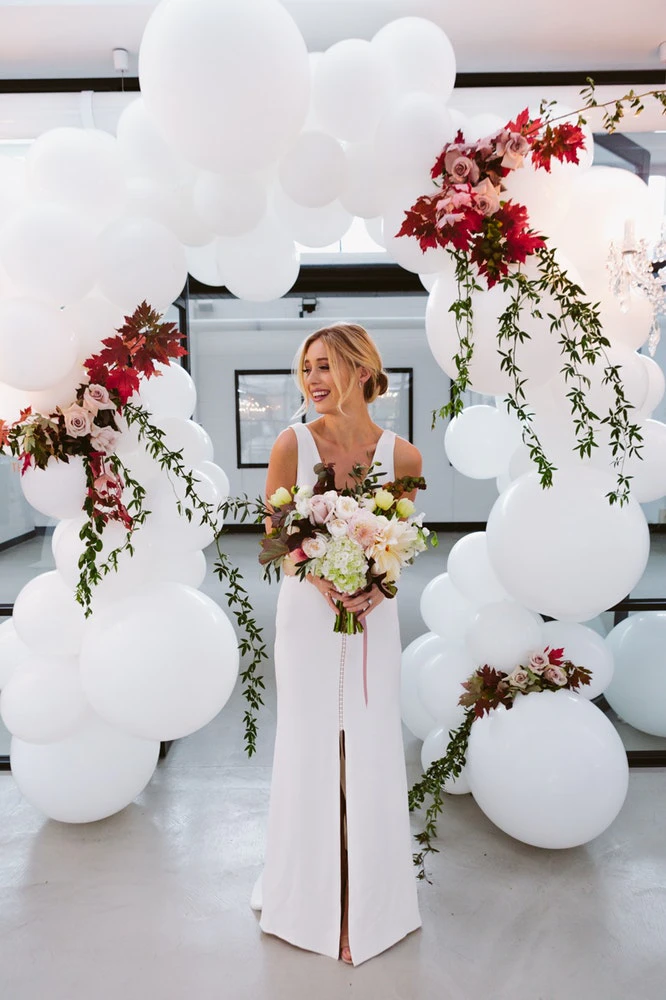 31. DIY Balloon Wedding Arch – Lenzo
If you love balloons so much that you want them to fill your ceremony space, consider this chic balloon arch.
Your wedding photos will look fantastic with this whimsical balloon decoration idea.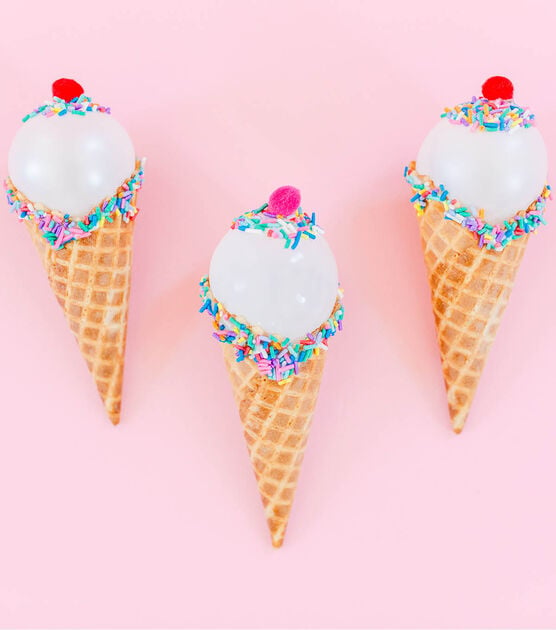 32. Ice Cream Cone Balloons – Joann
Ok, we're going to give you the scoop – the ice cream scoop, that is!
These super cute ice cream cone balloons are just what you need for your ice cream-themed birthday party. The kids will love them.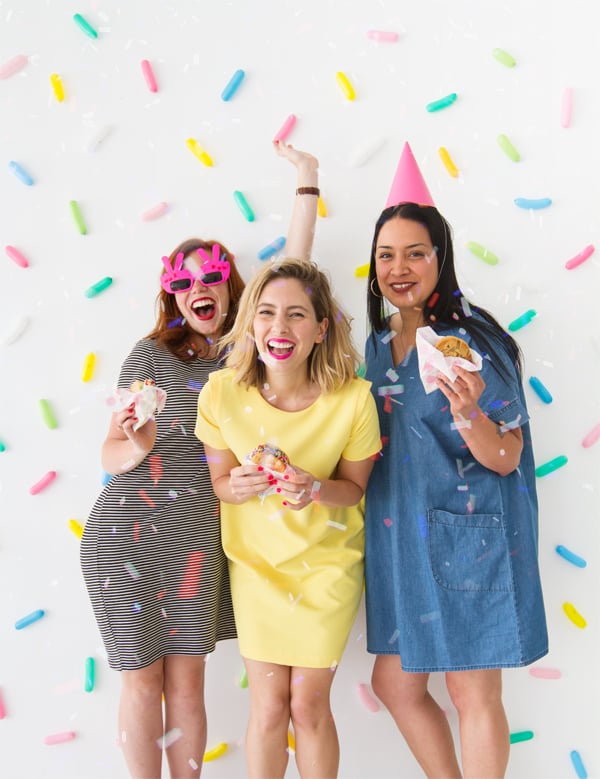 33. Balloon Sprinkles Backdrop – Oh Happy Day
Are you looking for a simple and creative party backdrop?
This balloon sprinkles backdrop is inexpensive, adorable, and perfect for parties. It even makes a great photo backdrop too!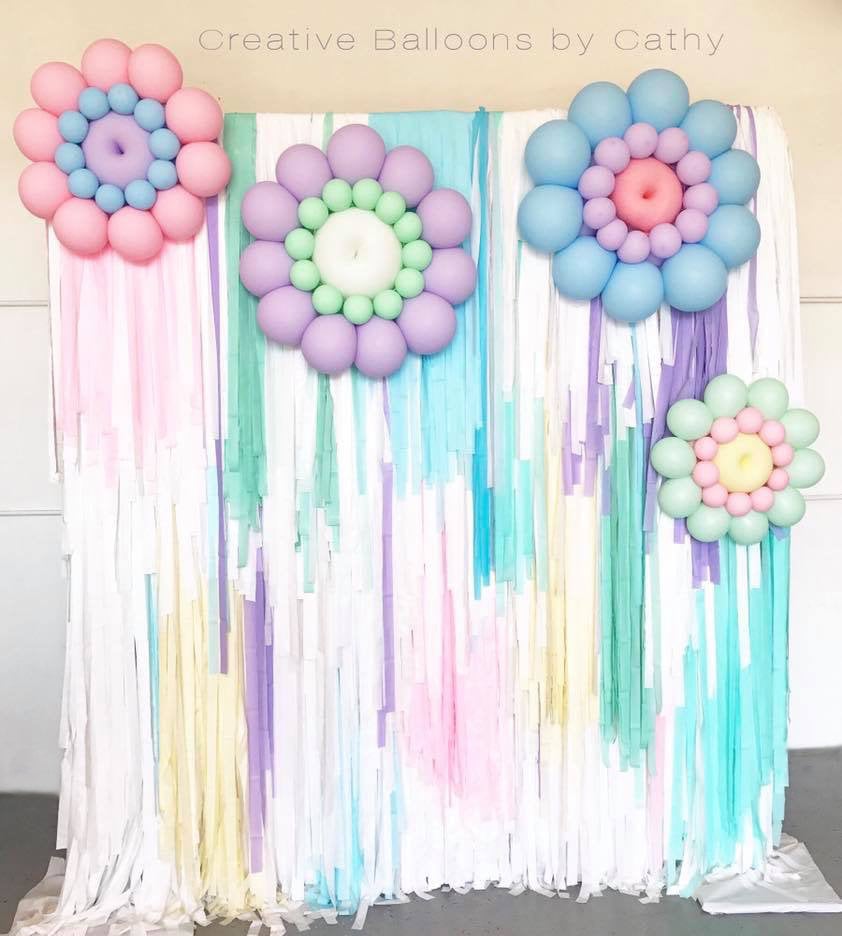 34. Flower Balloons – Creative Balloons By Cathy
These cute flower balloons will brighten anyone's day! They're perfect for any party theme and will look perfect with your other party decorations.
We love how they were styled with pastel streamers. This is a great backdrop for a dessert table or photo booth.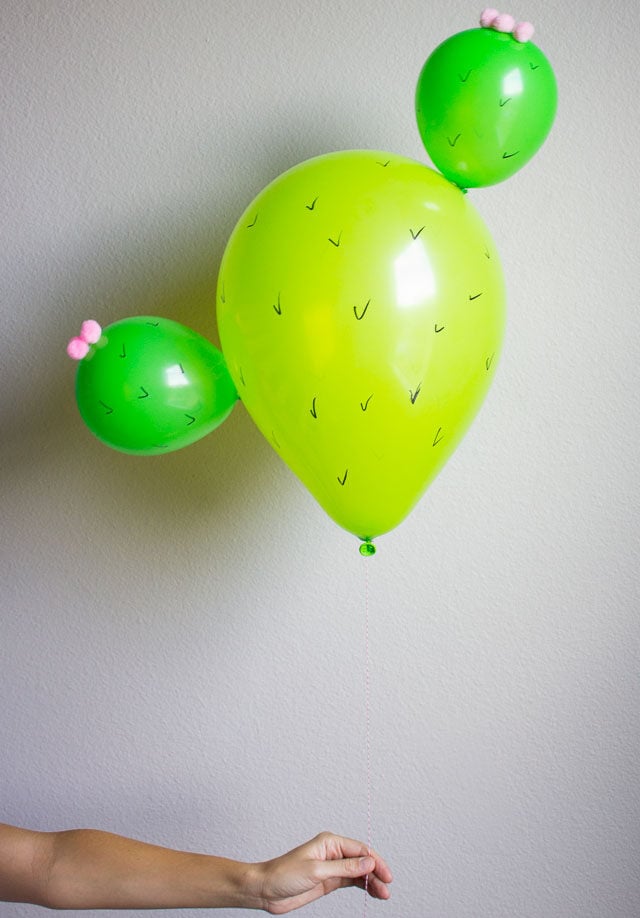 35. Cactus Balloons – DIY Improvised
You can make these fun cactus balloons in no time for a cactus-themed birthday party or baby shower.
They're even perfect for your Cinco de Mayo celebrations! They are easy and fun to make, and everyone will love them!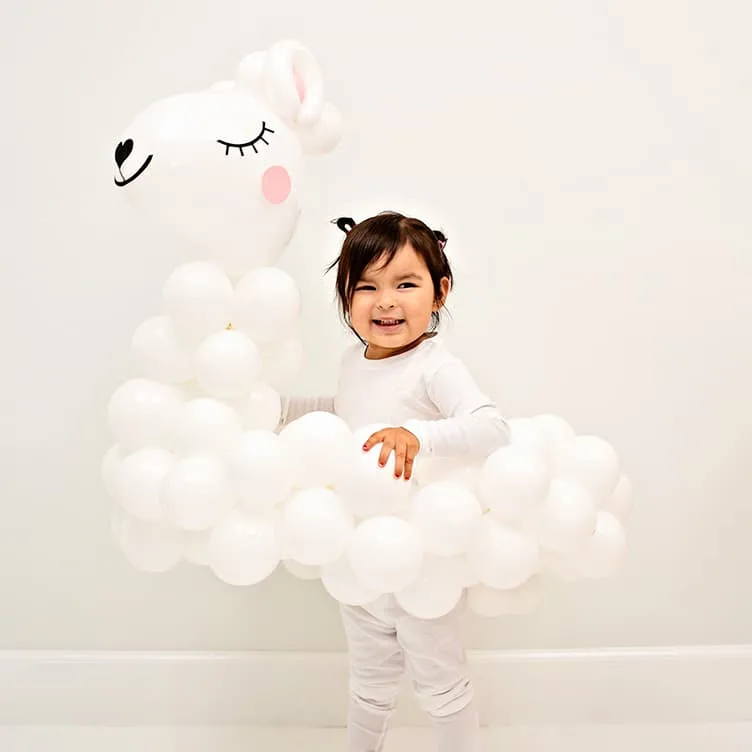 36. Balloon Llama – Hello Wonderful
How incredible is this balloon llama? Make this for a Halloween costume or a llama-themed party decoration. No matter how you use it, everyone will love your creativity!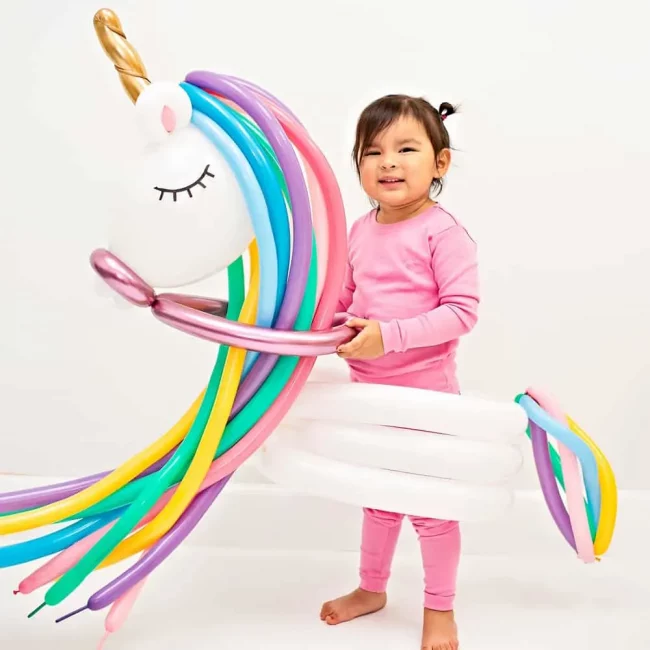 37. Balloon Unicorn – Hello Wonderful
This unicorn is impressive and that's why it makes our list of 45 Awesome DIY Balloon Decor Ideas.
This balloon idea makes the perfect decoration for a unicorn party! The little guests can take turns wearing it for a fun photo too!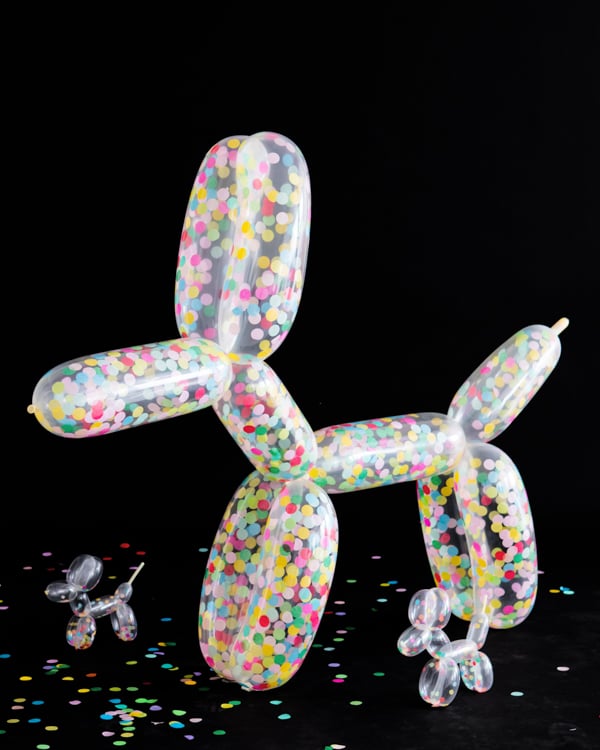 38. Confetti Balloon Dog – Oh Happy Day
If you're planning a dog-themed or confetti-themed party, this giant confetti balloon dog will have everyone talking.
Make a few of these cool dogs and place them around your party to decorate your venue.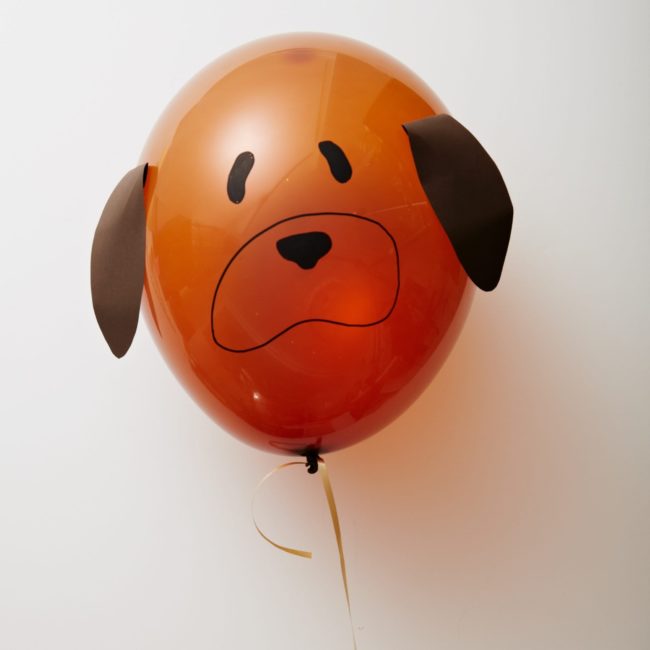 39. Party Puppy Balloons with Template – Darcy Miller
If you're having a puppy-themed birthday for your little one, these puppy balloons are a must!
The templates to make these are also available here, so start crafting these easy, adorable balloons for your party.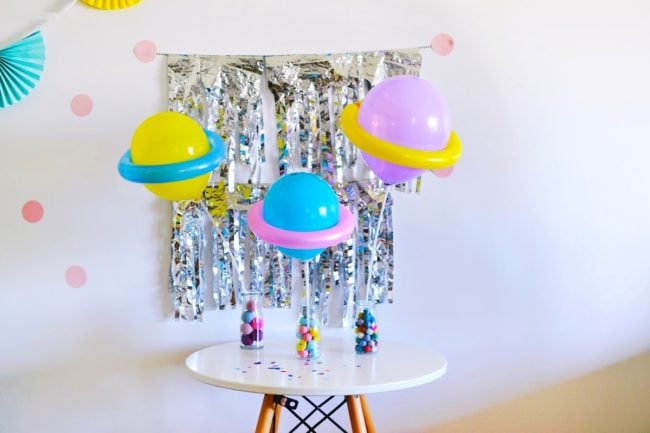 40. Balloon Space Planets – Patchwork Cactus
Space-themed parties are so fun, and these planet balloons would be perfect hanging above your space-themed dessert table or gift table.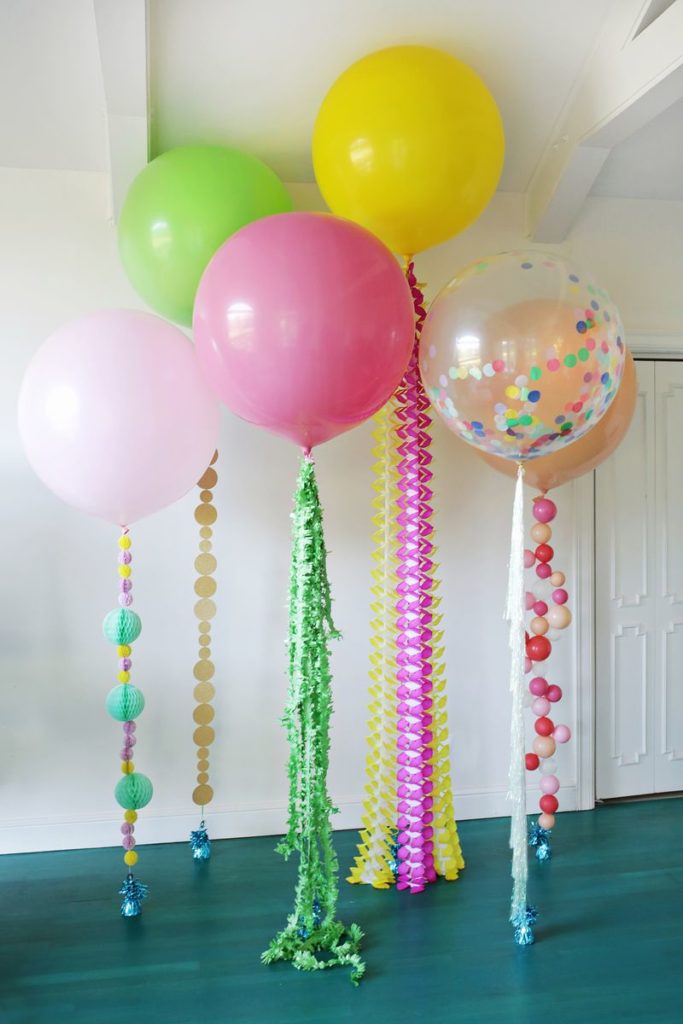 41. DIY Balloon Tassel Garlands – A Beautiful Mess
If you're looking for a great way to turn your ordinary balloons into something fun and trendy, make some trendy balloon tassels like these!
From glittery tassels to honeycombs, there's no limit to how you can dress up your balloons. They will look so glam and chic!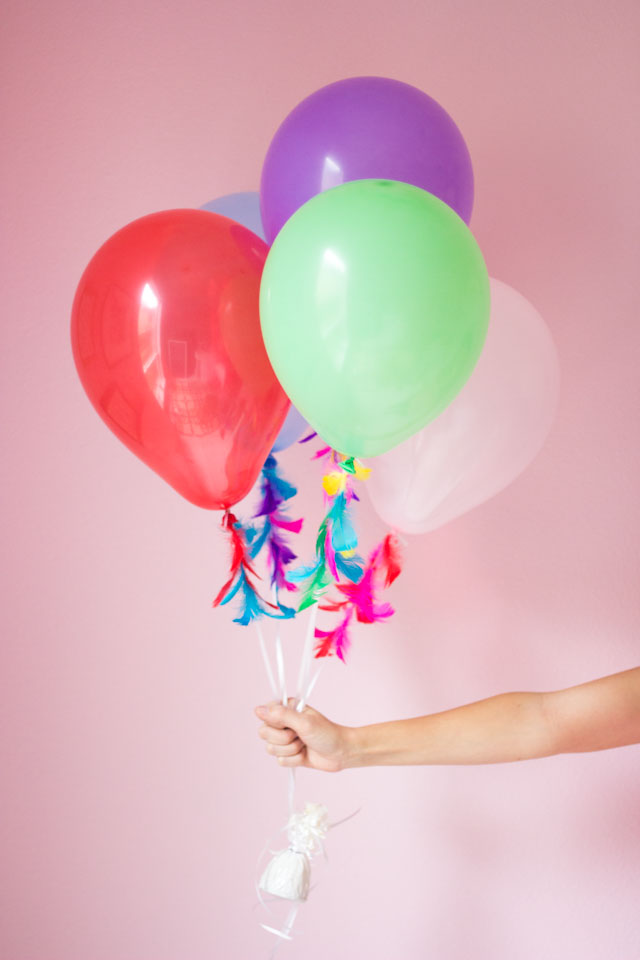 42. Feather Balloons – Design Improvised
How fun are these feather balloons? Colorful feathers add fun to plain balloons. What an easy and affordable idea you can craft youself.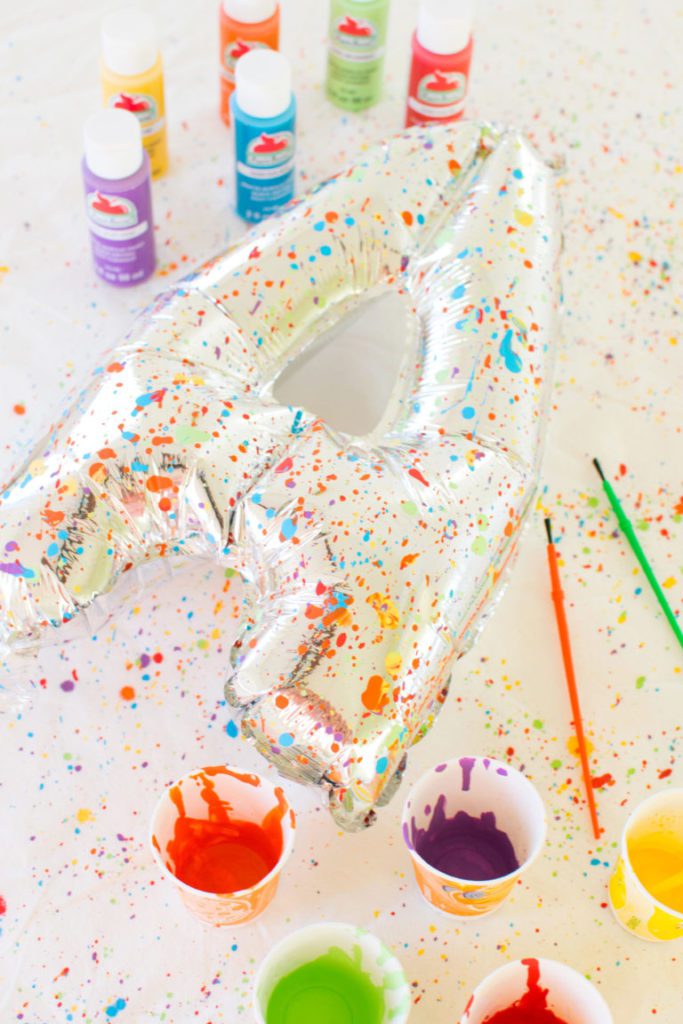 43. Paint Splatter Balloons – Twinkle Twinkle Little Party
These paint splatter balloons are so fun! They could be a little messy to make, but they'll be so worth it! They're a simple way to dress up balloons for your next event.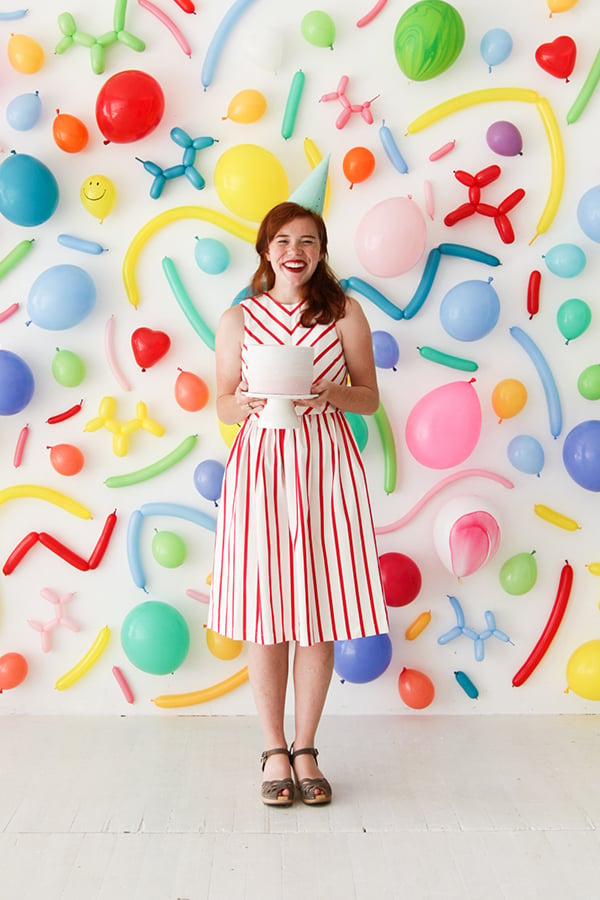 44. Colorful Balloon Wall Photobooth – Oh Happy Day
We're all about balloon walls! Simply sticking a variety of colorful balloons in different sizes on a white wall can transform your party space or make a fabulous photo booth.
It can also serve as the backdrop to your dessert table or gift table.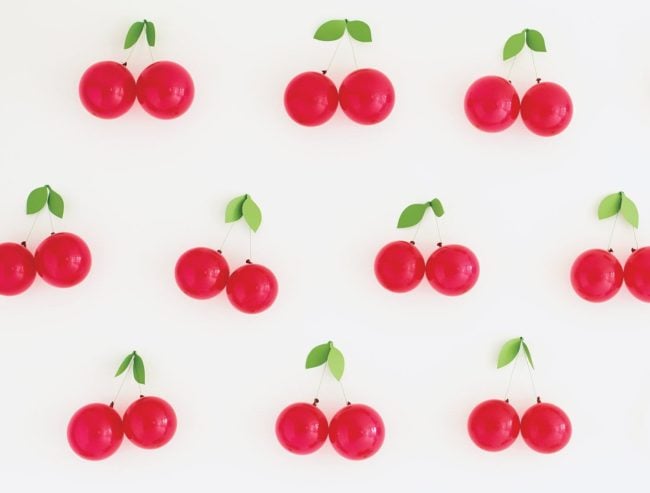 45. Cherry Balloon Wall – Darcy Miller
How cute is this cherry balloon wall! This idea would be the perfect idea for a girl's first birthday.
It's easy to do and adorable. Imagine a baby girl's highchair in the front of this wall for some cute photos.
Well, that's it! There are so many creative balloon decorations you can make for your next party.
Shop these balloon kits and make your own:
Which of these 45 Awesome DIY Balloon Decor Ideas is your favorite? Let us know what your favorite balloon trends are in the comments below!
Are you looking for more DIY party decor ideas? Follow us on Instagram @prettymyparty and Pinterest and join us in our private Facebook group.