Celebrate Your Tribe Birthday Party
The time to celebrate is now! And a Celebrate Your Tribe Party is the perfect theme for a celebration with your best girlfriends!
This gorgeous Celebrate Your Tribe Birthday Party, styled by Khambolin Meas of Hello Pretty Events, fromAnaheim, California, is absolutely picture-perfect! The mix of modern and bohemian elements really bring this design to life. Add in a gorgeous balloon wall and beautiful flower arrangements, and you have a boho chic setting for a fun time with your best gals!
Celebrate Your Tribe Party Ideas
Modern decor, including acrylic ghost chairs, gold trim terrarium accents, and tapered candlestick holders
Boho decor, including macrame pieces for the table runner, chair cover, and napkin rings
Gorgeous blush glassware and Napa collection china
Beautiful florals with pops of color that includes anemones, cherry blossoms, and queen proteas. Also, the white ranunculus and white iris gave the pieces sophistication and charm
Amazing peach and pink balloon wall with floral accents
Peach Celebrate Your Tribe sign surrounded by balloons and flowers
Incredible marble deckle edge cake graced with delicate wafer flowers
The beautiful acrylic cake topper was the perfect "cherry on top"
Scrumptious desserts including cupcakes, cookies, geode macaroons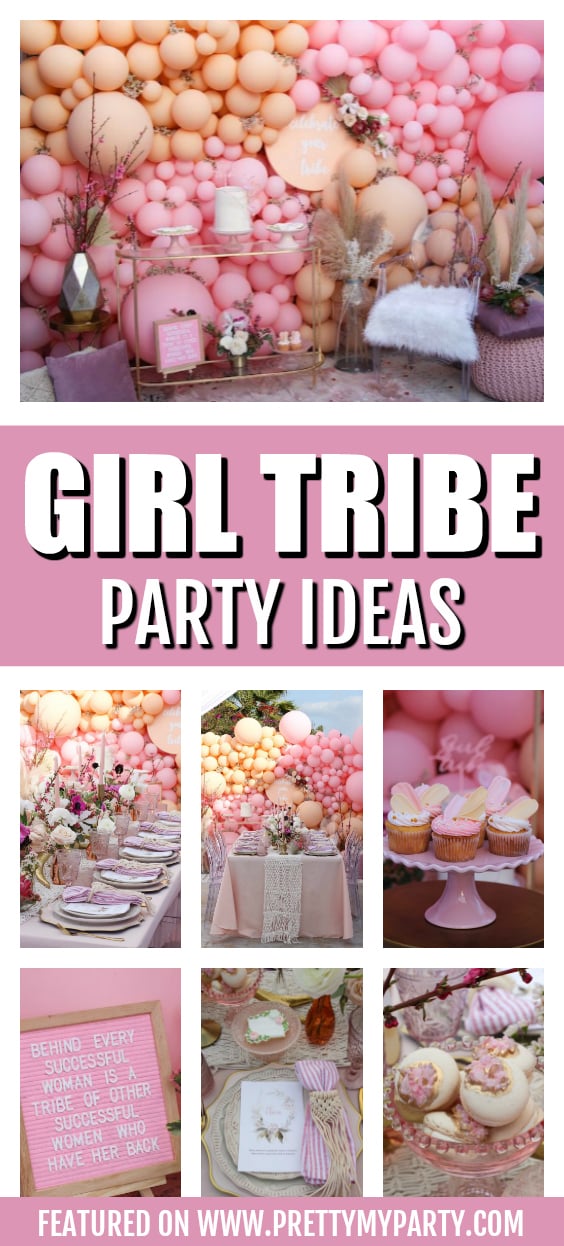 From Khambolin: Initially, I did not anticipate celebrating my 37th birthday. Turning 37 did not seem like a significant "milestone" to celebrate like turning: 21, 25, 30, 40, 50, etc. Even when my girlfriends asked me what I wanted to do for my birthday; my initial reaction was, "nothing". After thinking of my loved ones, it dawned on me that the time to celebrate is NOW. All we have is each other now. What better way to celebrate a birthday than with my girlfriends? With my tribe? It is so easy to get caught up in life as some of us are: professionals, mothers, entrepreneurs, or all of the above. We tend to overlook opportunities to genuinely bring us together. After all, the energy and inspiration we give to each other is something to celebrate. This instantaneously created the idea of "Celebrate Your Tribe."
Oftentimes, the hustle and bustle of daily life deceives us to believe that the quantity of people is what enriches our life. I believe that quite the opposite is true. Thus, I created an intimate gathering of a modern Bohemian theme with spring colors, because it allowed us a chance to relax, take a slow breath, catch up, and spend quality time together. We treated ourselves to a charcuterie board, sweet treats, and indulged in sweet wine!
Celebrations can center around more than just a birthday. They can be reasons to celebrate each other. The people who bring out the best in us deserve to be celebrated along side our achievements and "milestones". We didn't even sing "Happy Birthday", but rather, we discussed our dreams, aspirations, and goals for the year. I wanted each tribe member, my sisters, my girls, to see each other's faces glowing in support. My favorite moment and greatest birthday gift to date was feeling the love, strength, and admiration that was shared among us that day.
Another amazing moment was when we went around the table to have each girl read their personalized quote that I put together for them. I made each girl a place card with a specialized quote that reminded me of them. Seeing their face light up while reading each card warmed my heart! I wanted to accentuate the originality and personal gift each person has and I wanted them to know it's beautiful and deserves to be celebrated.
Shopping list: Celebrate Your Tribe Party Decorations
See more party ideas here:
What's your favorite detail in this Celebrate Your Tribe Birthday Party? Let us know in the comments below!
For more stylish birthday party ideas, follow us on Instagram @prettymyparty and Pinterest and join us in our private Facebook group.
Party Vendors
Planning, Design, Styling: Hello Pretty Events // Instagram
Balloon Styling: Pretty Sweet Deets
Balloons: North Star Balloons and Qualatex
Cake: Sweet Deetails
Cookies: Busy Bee Sweet
Macaroons: Love Zooey
Florals: ADORNING
Cupcakes: Communitea Bakery
Rentals: Create A Party
Draping: All About Party Rentals And Events
MUA: @inkledbrowsla