Flirty Thirty Themed Birthday Party
We're all about getting older with this fun Flirty Thirty Themed Birthday Party! Who said being 30 has to be dreadful?!
This styled Flirty Thirty Themed Birthday Party shoot puts on the thrill of celebrating getting older! Flirty 30 is not only the theme, but the mindset of this fabulous birthday girl. Surrounded by her girl squad, she's ready to take on the world.
Fairy Godmother a Wedding & Event Company did a wonderful job designing this 30th birthday shoot with an urban feel. It is a modern party for a modern girl, but has plenty of whimsical characteristics. We also love the gorgeous cake from Byrdie's Bake Shop. What a unique creation for a Flirty Thirty Themed Birthday Party!
Paper products and the gorgeous invitations by Matinae Design Studio were stunningly displayed, with fun confetti and colorful paper props from Lolita's Blooms found around the event. And how about those fun balloons from Ballooniverse?! But we can't forget the bright and colorful floral designs from House of Flowers that were on the guest tables and all around the 30th birthday celebration. They are beautiful!
Having a 30th birthday bash full of lively colors, champagne, and of course, confetti is a must for kicking off her new chapter. We love the wide variety of the strong color palette, with yellow, magenta, purple, teal, green, black and gold. After all, true beauty is timeless and we're all about this glamorous entry into a new decade!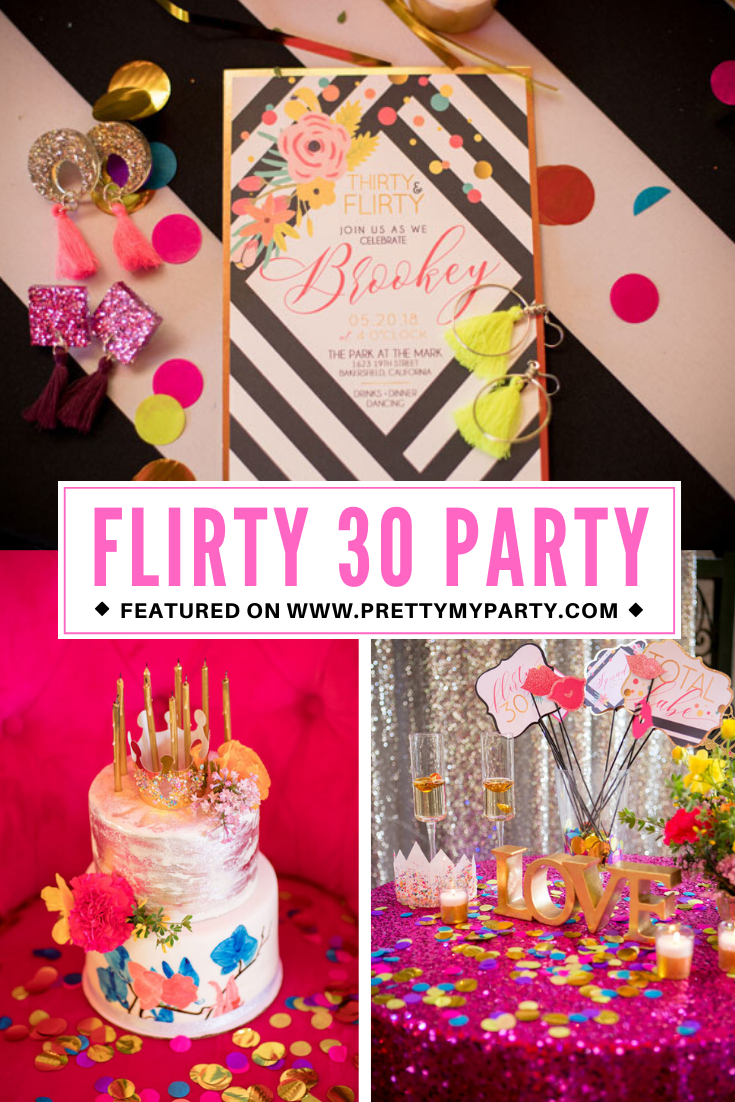 Flirty Thirty Themed Birthday Party Ideas
Bright and bold tablescape with fun, glittery tablecloth
Colorful place settings with paper flowers on each plate, along with bright floral arrangements for centerpieces
Bright pink napkins to fit in with the Flirty 30 Birthday Party
Fun and colorful confetti used on dessert table and even in some of the balloons
Unique birthday cake with extra sparkle, perfect for a 30 flirty and thriving theme, with big gold candles used for the cake topper
A birthday crown for the birthday princess, celebrating the big Cheers to 30 Years
Gorgeous photobooth, complete with props that the girls loved being silly in
The photobooth also had a balloon garland piece, complete with a gorgeous gold glitter and shimmery backdrop
Amazing birthday invitations and party signs found around the event with bright and bold colors to match the flirty at 30 vibe
All of the guests, especially the birthday girl, wore amazing birthday outfits for the day
Beautiful gold party decorations found around the event to offset the bright and bold colors
A perfect signature cocktail is a perfect addition to this Flirty Thirty Themed Birthday Party
Floral designs were colorful, with some greenery added for depth and effect
Fun party favors for all of the guests, personalized from the birthday girl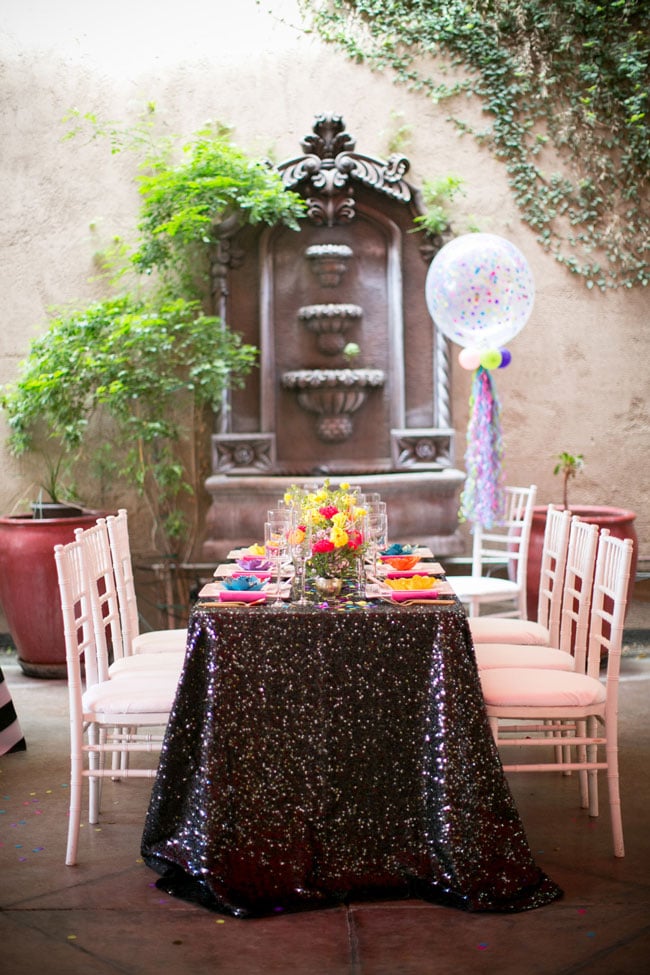 How could you not love every detail from this fun Flirty 30 Birthday Party?! It's such a fun celebration and to include your best girlfriends is priceless! Sometimes, bigger doesn't always mean better and this fun party is the perfect example of that.
Our favorite detail from this birthday party is definitely the bright and colorful guest tables that everyone was able to enjoy. The over-sized paper flowers that were on each place setting were so fun, especially with them all being different colors for every setting. And the bright and fun flowers set up as centerpieces put everyone in the party mood!
Flirty Thirty Themed Birthday Party Supplies and Decorations:
What are your favorite details from this fun Flirty Thirty Themed Birthday Party? Let us know in the comments below!
For more first birthday party ideas, follow us on Instagram @prettymyparty and Pinterest and join us in our private Facebook group.
Party Vendors
Venue: The Park
DIY or Handmade Goods Designer: Those Things By That One Girl