Nerf Themed Birthday Party
What is better than an action-packed Nerf Themed Birthday Party for a high-energy birthday boy?!
This Nerf Themed Birthday Party is perfect for any little guy who can't get enough of some epic Nerf gun battles! This little guy has a birthday in the middle of winter, so an outdoor party isn't on the forefront due to weather. But thanks to The Greystone Recreation Center, indoor fun was just around the corner!
Jessica George Weddings & Events got to work at the perfect venue for this Nerf themed party. It was a great place to host the event, since it had a separate party room, along with an indoor park and a rock-climbing wall.
Custom balloons and an amazing arch over the dessert table were provided by Jujabel, which were an amazing focal point at the birthday celebration! With the Nerf color palette of white, yellow, orange, red, blue, green, grey and black, it looked like all of the guests were ready to enter a Nerf gun war as soon as they walked into the venue!
The dessert table was incredible! A delicious nerf-themed cake was provided by Artylicious Cakes, while cookies and other treats were made by Casianna Brown Collections. We love that nerf-themed cake, complete with a bullseye on top for the cake topper! Homemade pizza and wings were catered by Lillian Suarez Weddings and Events and all of the guests couldn't wait to dig in.
Awesome nerf decor was found at Party City, along with vests and nerf guns purchased from Amazon. It was the ultimate DIY celebration with tons of fun indoor activities to occupy the kids. The party was a hit!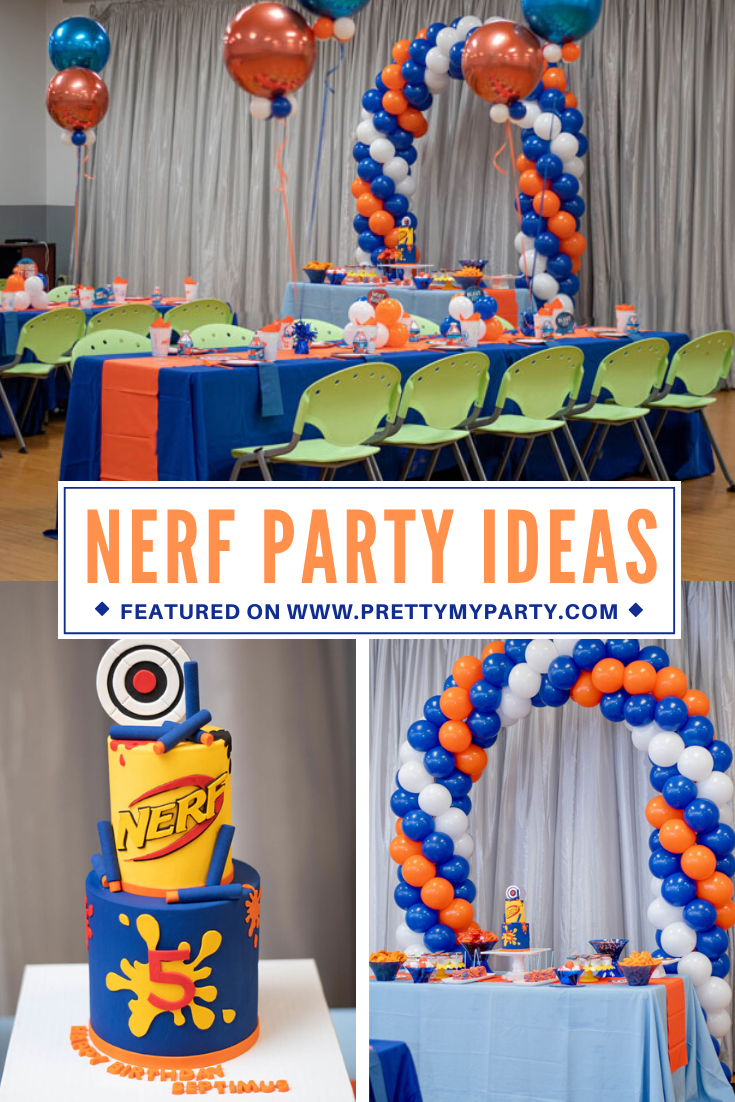 Nerf Themed Birthday Party Ideas
Nerf party supplies and decorations, which were easy to obtain for DIY ideas
This indoor Nerf gun party was the ultimate battle that is perfect for boys and girls
Oversized balloons with nerf colors were used on all of the guest tables
Large balloon arch was found over the dessert table, as well as another balloon arch welcoming guests at the Nerf Gun Birthday Party entrance
Nerf war games with friends was the ultimate activity at this indoor 5th birthday party
The incredible dessert table had the perfect Nerf Party Theme birthday cake with a target cake topper
Sugar cookies and cupcakes with nerf inspired toppers were found on the dessert table, along with other yummy snacks
A table with everything everyone needed for the Nerf inspired battlefield, including bullets, vests and tactical gear, which also doubled as party favors
Guest tables had Nerf inspired plates, napkins, cups, and decor with balloons and party printables used as centerpieces
Simple ideas that were easy to execute were used for party food, including pizza and wings
What an amazing indoor Nerf Themed Birthday Party! These kiddos looked like they were ready to take on the world. Having a kids birthday party in a venue like this can be so great when you aren't quite sure what the weather will bring, and everything was styled perfectly in the party room.
Our favorite detail? It has to be all of the Nerf-themed decor around the party! As soon as the guests walked in and saw those amazing balloon arches in the signature Nerf colors, they knew it was going to be a blast. And that dessert table?! It's just incredible! We also love how all of the Nerf gear was laid out for all of the party guests to take home, which doubled as the perfect party favors. What a great two-in-one idea. Finally, the guest tables were decorated perfectly with Nerf decor found from one end of the tables to the other. What a blast!
Shopping list: Nerf Party Supplies and Decorations
See more party ideas for boys here:
What are your favorite details from this pumped up Nerf Themed Birthday Party? Let us know in the comments below!
For more boy party ideas, follow us on Instagram @prettymyparty and Pinterest and join us in our private Facebook group.
Party Vendors
Linens: Party City & H&L Event Designs
Target/Bullseye: Theresa Jatko Designs
Vest and Nerf Guns: Amazon.com