Super Cool Gamer Birthday Party
Looking for fun ideas for a Gamer Birthday Party? This Gamer Party has everything your kid needs to have the best birthday ever!!!
Coming up with a Gamer Birthday Party is a whole lot of fun. If you have a gamer in your life, then without a doubt, this is a birthday theme worth having. Just imagine sending out gamer birthday invitations in the form of a gamer box. The kids are going to go wild! When the person being invited opens up the invitation, their gaming world is completely opened up!
Gamer Party Supplies
If you think this Gamer Birthday Party is cool, check out this Fantastic Laser Tag Themed Birthday Party.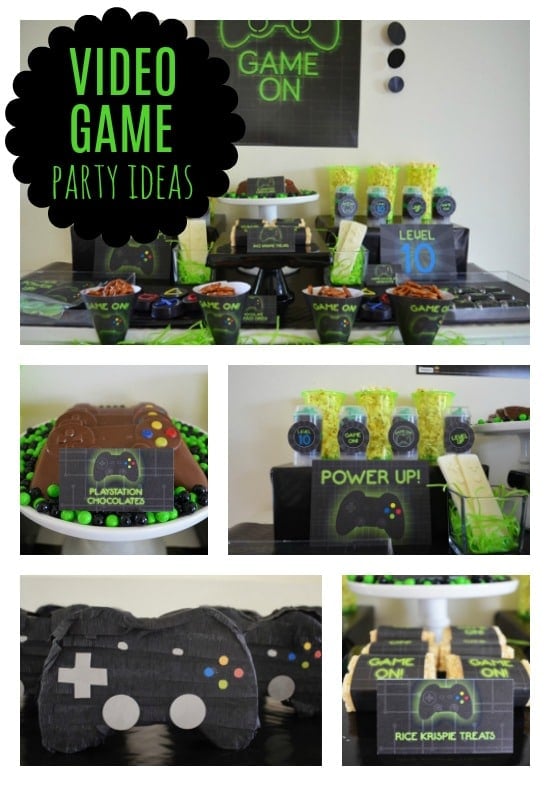 The setup of this Gamer Birthday Party is 100 percent a level 10! We're loving the dessert table and everything that surrounds it. This gamer party is perfect for boys or girls, kids and adults – anyone who LOVES video games! The black and green color palette just scream gamer don't you think! We're also loving the "game on" theme and dessert table backdrop! Isn't that what gamers say to each other, anyways?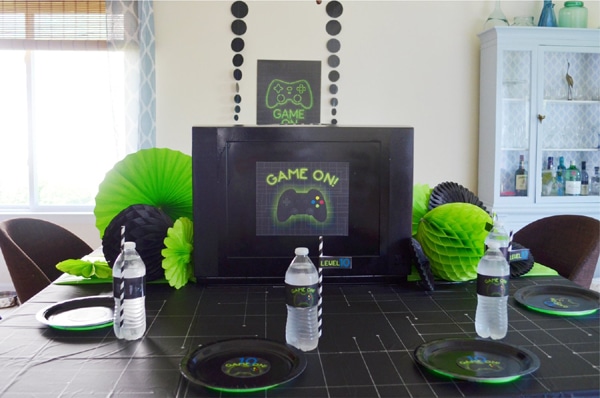 This video gamer birthday party setup is so fun and creative. You can't tell us that a boy or girl wouldn't love this birthday theme, especially if they are super into gaming. Black spray paint really came in handy for this party. We just love the DIY TV with a game on sign surrounded by black and lime green tissue fans and poms.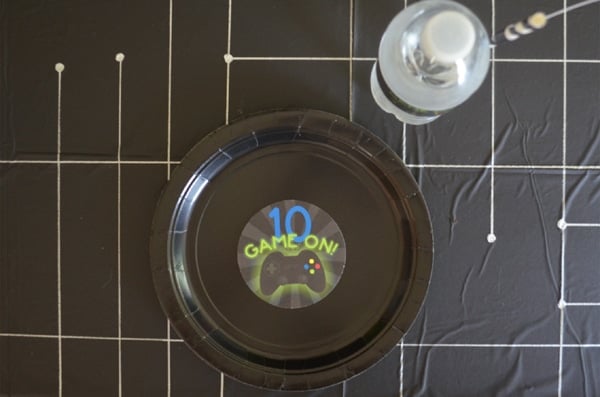 We like how the place settings were kept simple with black plates and Game On printables. Black was a great base color for this gamer birthday party. From the moment you step into this party, guests know it's a gamer themed party.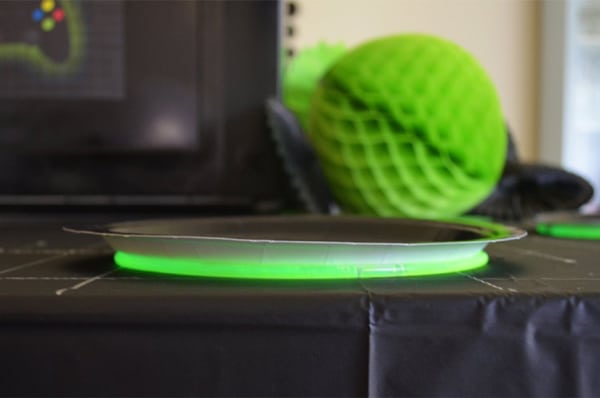 And if you look closely, the place settings included green glow-in-the-dark necklaces. What a great touch!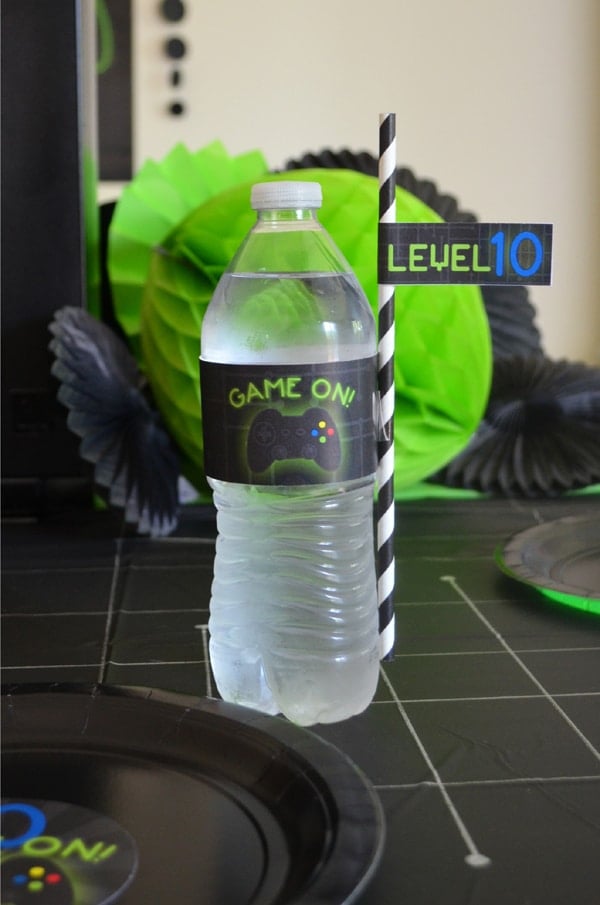 If you're going to dress up a water bottle at a gamer birthday party, you might as well do it in style. Even the water bottle was dressed to impress. Such an epic addition to this gamer party!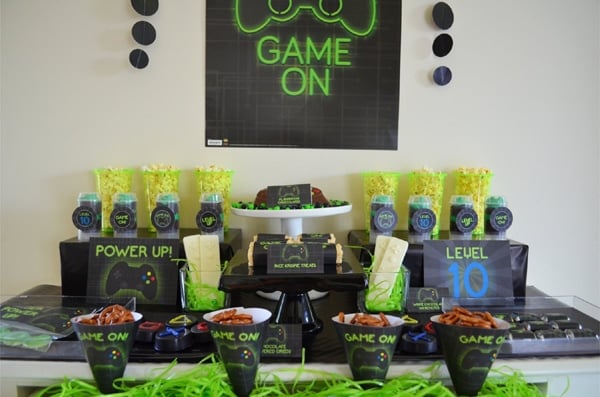 As you can see, this gamer birthday party was also on point in the snack and food department. You will see sweet and salty treats, which is the perfect combination at any gamer birthday party. The party attendees could also easily carry around their snacks to partake in other aspects of the party like games and activities.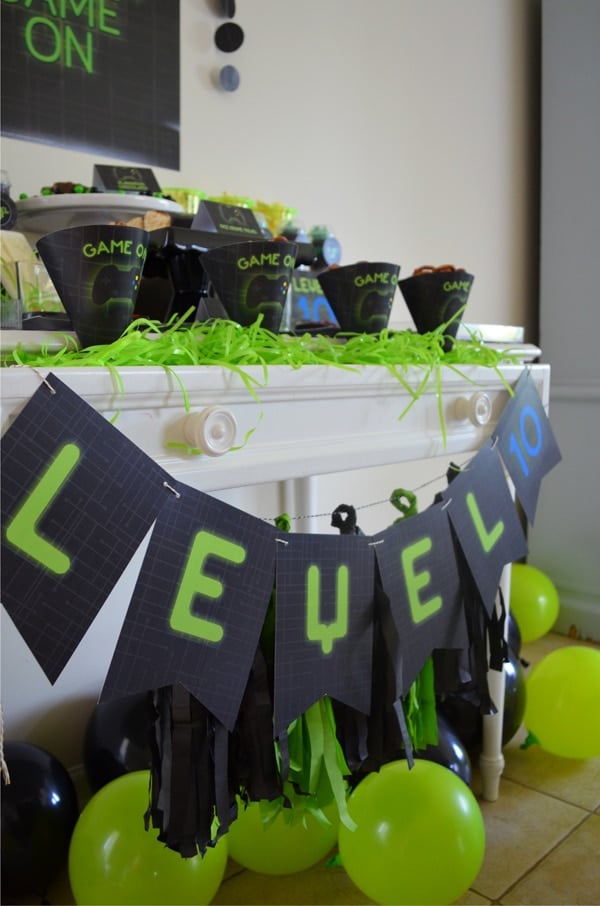 Another shot of the epic gamer birthday party unfolding. The green balloons were an awesome decision for this party. The green glow is there again to help the party really pop! "Level 10" is also a great way to tie in the kid turning ten, right along with using gaming terminology.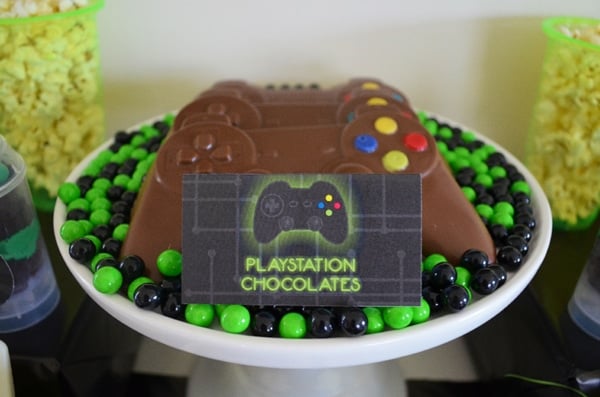 Now this is literally the best part of the gamer party. Using a chocolate mold, the party creator was able to create these awesome chocolate game controllers. How awesome are these? The pops of color were also a good choice. The dessert platter was also filled with black and lime green candies to display the cool Playstation chocolates. FUN!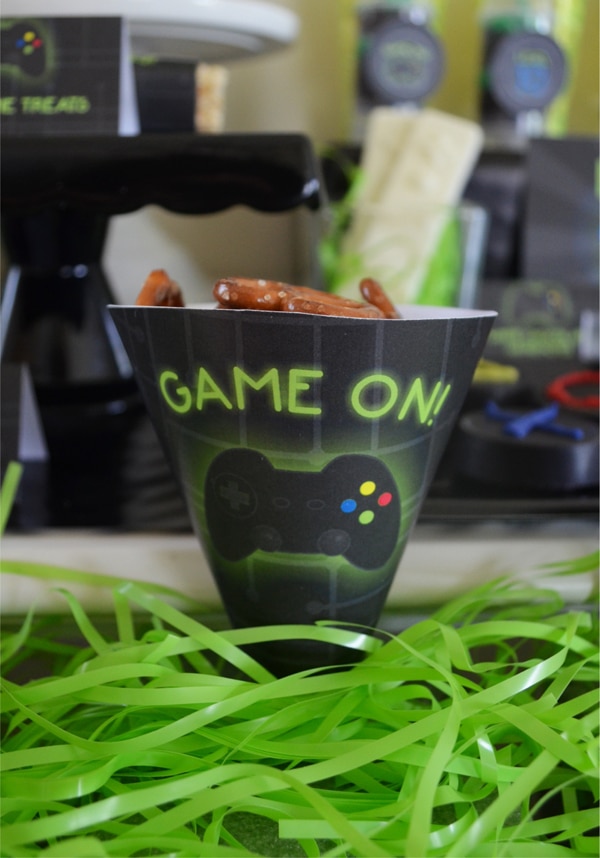 When it comes to a gamer birthday party, you have to admit it takes some creativity. Look at the fun and creativity that went into creating these snack holders. You better believe this was one well stocked gamer snack party. What a great addition to the party snacks.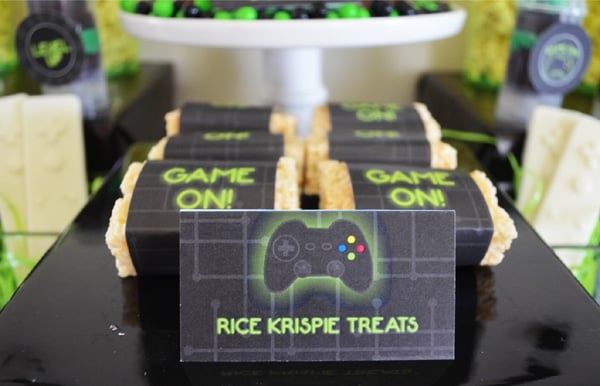 The gamer covers on these rice krispie treats are just so cool! Simple, yet the kids could eat it and be on their way! The party creator used simplicity and played on her child's love for gaming to really bring this party theme to life.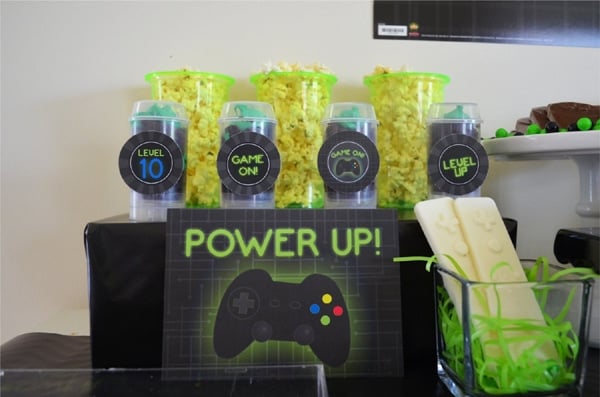 Look at that snack set up. It screams "gaming birthday party!" Can you just imagine the birthday boy's face when they walked into their party and saw everything?! Plus, they probably had a ton of fun eating the popcorn and white chocolate molds, once mom gave the approval!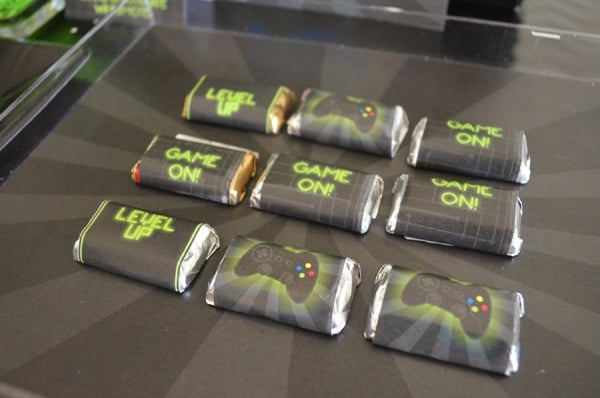 In addition to all of the other snacks and treats, there was also a variety of candy on hand for the kids.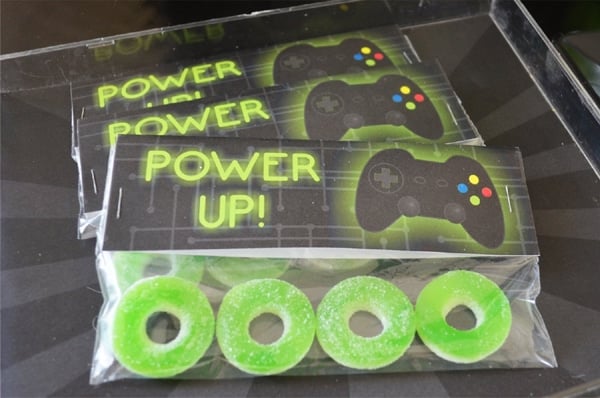 The candy bag labels also featured Power Up! with a game controller, which matched the party decor perfectly. The kids could also take these little bags home with them to enjoy too! It's a win-win!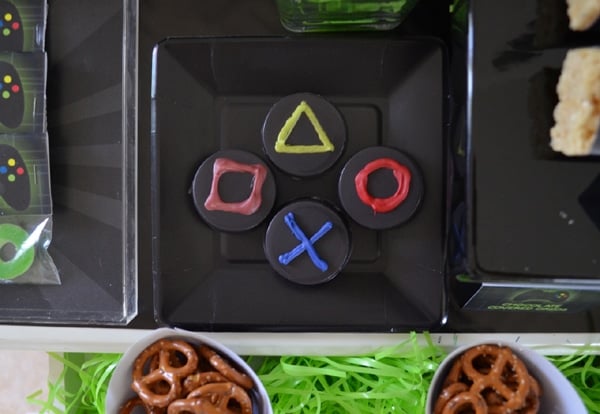 Another creative treat for the kids were these awesome chocolate covered Oreos made to look like buttons on a game controller. WOW! You know this will make any gamer excited. The person that created these gets a 10/10 for their ability to think outside of the box!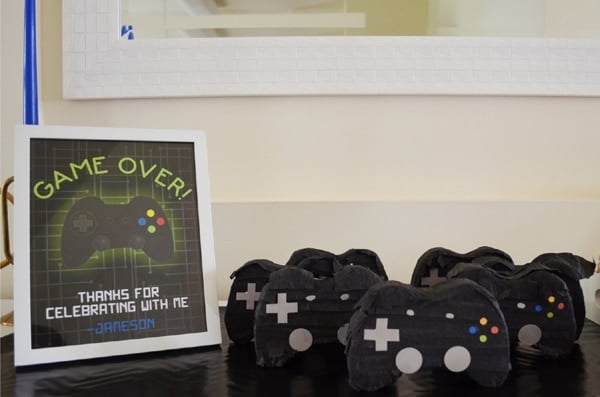 Although the game may be over for this gamer birthday party, the kids sure did have a blast. Every aspect of this video game birthday party was spot on. From the awesome gaming accessories to the amazing food, no detail was left out. The party favor station featured a Game Over sign, which is so fun and clever. The party favors were mini pinata game controllers. How fun is that?!?!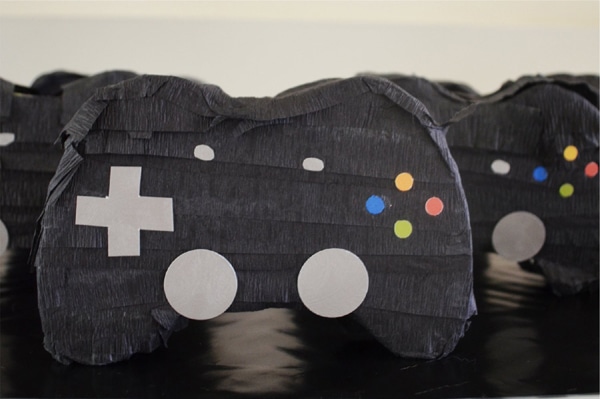 Look at the detail on this gamer controller? They don't look too difficult to make, yet they really help bring the theme together. We're sure the kids were excited to see what treats were inside of these cool game controller pinatas.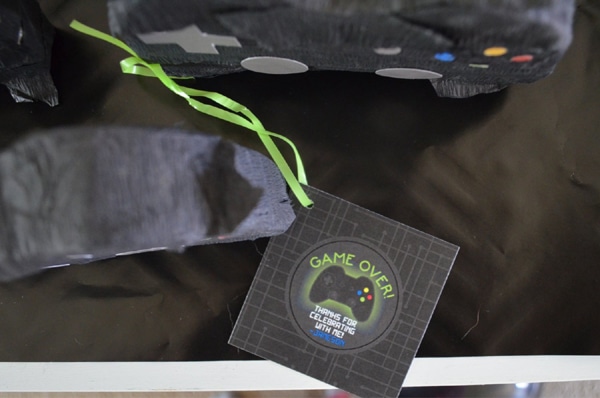 Imagine your child finding this little gamer tag in a few years. They will quickly be reminded of how much fun they had at their very own gamer party. Putting all the work into a birthday party is totally worth it, when you see the look of happiness on your child's face.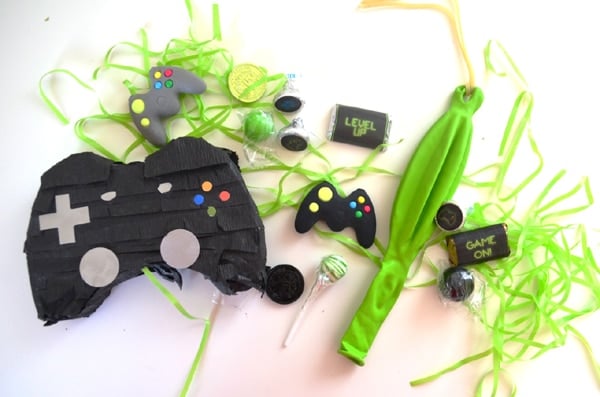 This gamer birthday party is one for the books. The game was definitely on when it came to planning this fun gamer birthday party. Everything from the party decorations and party printables to the food, desserts and party favors were awesome! Any true gamer would love a Super Cool Gamer Birthday Party like this one!
Vendors & Credits
Party Styling and Party Printable Package: Nestling Design