Fantastic Laser Tag Themed Birthday Party
Plan a Laser Tag Birthday Party like this one and you will take home the title of Mom of the Year!
Laser tag is the best! You get to shoot your friends and vice versa. In fact, a Laser Tag Themed Birthday Party is brilliant. If your child loves laser tag, then it's time to start planning a Fantastic Laser Tag Themed Birthday Party ASAP. Everything from the fun colors and party decorations to the food, cake, desserts, and party favors will be an absolute hit with your child and his or her friends! Whether you're planning this party for a little guy or a little girl or a big guy or girl, they're going to love this birthday theme. There is so much to show you within this laser tag party, so let's get started!
If you think this Laser Tag Themed Party is awesome, check out this Super Cool Gamer Birthday Party.
Laser Tag Party Supplies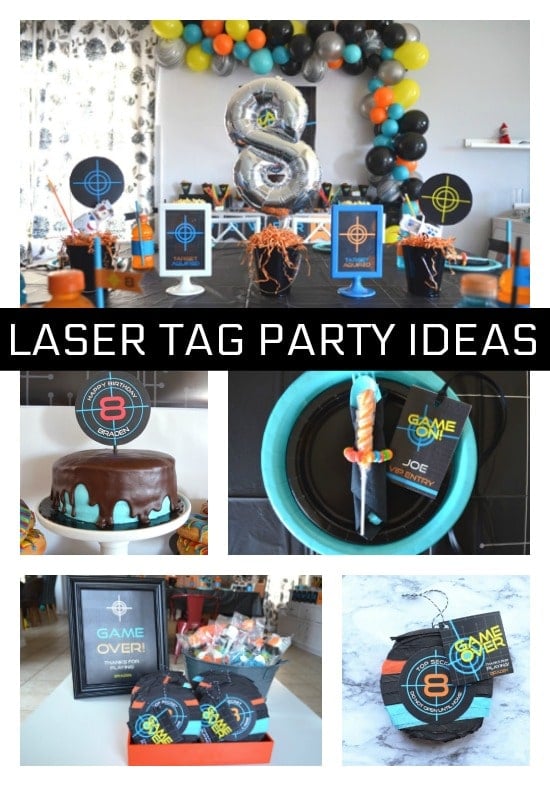 How to throw a laser tag themed birthday party with some tips
Keep it simple: While you want to make this Laser Tag Themed Birthday Party perfect for your little laser tag lover, don't drive yourself crazy. This party is easy to set up, which makes it even more fun.
Get the kids involved: Unless you're making this a surprise laser tag party, involve the kids and let them have fun with it. When they see the final product, they're going to be amazed.
Colors are super important: As you can see, colors are everything when it comes to party planning. While you can have a basic black background, these colors really help bring everything together.
Let the kids have fun: After you've set all of the Laser Tag Party Supplies and Decorations up, it can be hard to see the kids slowly take everything apart. However, it's their way of telling you "this party is fun and we love everything about it."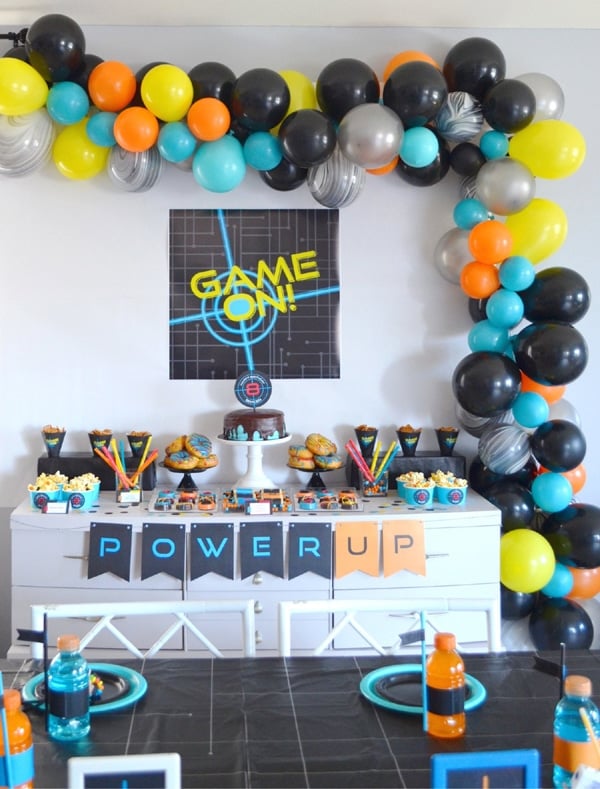 The balloons are clearly a great part of this laser tag themed birthday party. By mixing fancy marbled or watercolor balloons with basic colored balloons, they were clearly able to create an amazing backdrop for the laser tag themed dessert table! Balloons are the fun part of the party. The kids can go crazy with them, but they really help bring the party decorations together. Plus, balloon garlands are so in right now and really make the perfect statement as far as party decorations are concerned.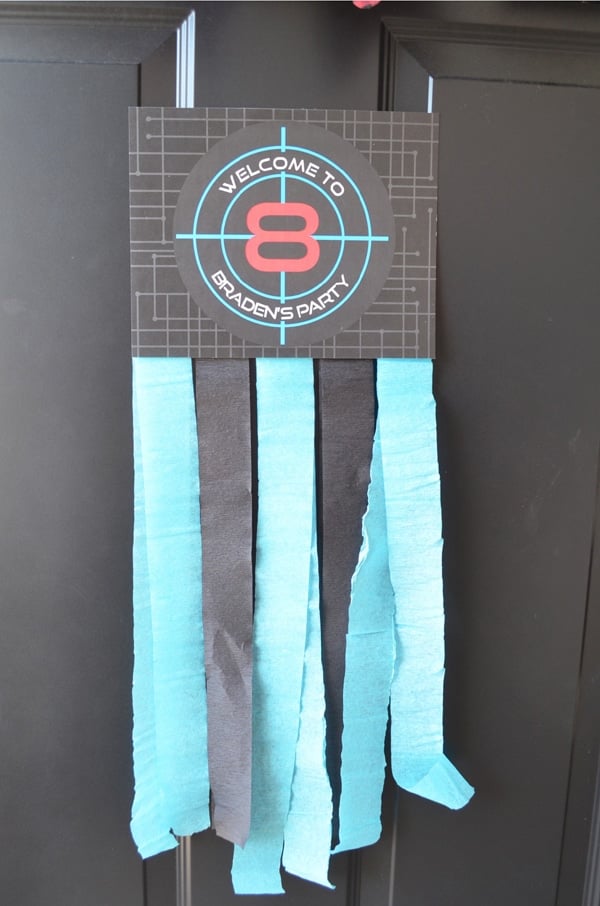 If you have ever done laser tag, then you know this Laser Tag Birthday Party welcome sign is everything! Look at the detail – what an incredible job. Yes, the crepe paper adds a lot to the whole look of the sign, but the sign itself is perfect for the theme! The laser tag party printables really do make this party fantastic.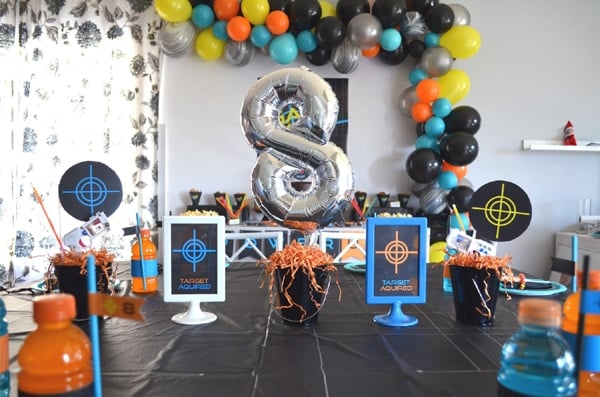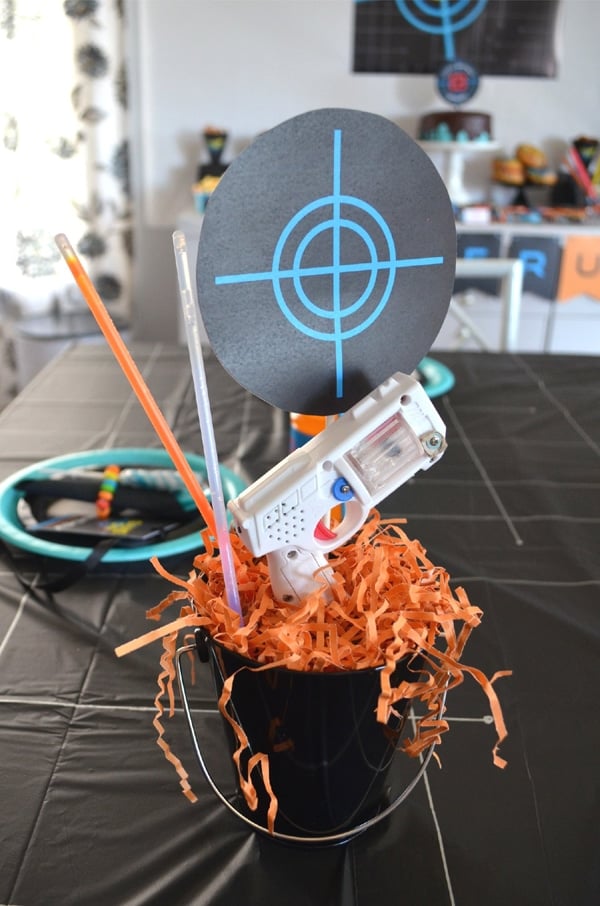 To make the table centerpieces, just print out the target and attach it to a glow stick or straw and stick it in a small bucket with crinkle paper for the perfect party decoration on the kid's table. A gun was also added to complete the fun laser tag themed centerpiece.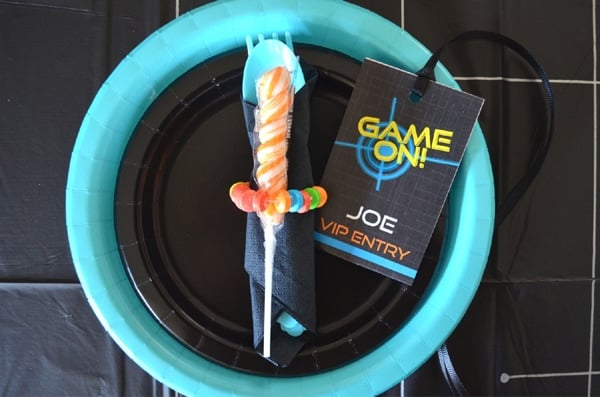 The kid's party table also included this cute place setting with candy, a lollipop and "Game on" VIP tag.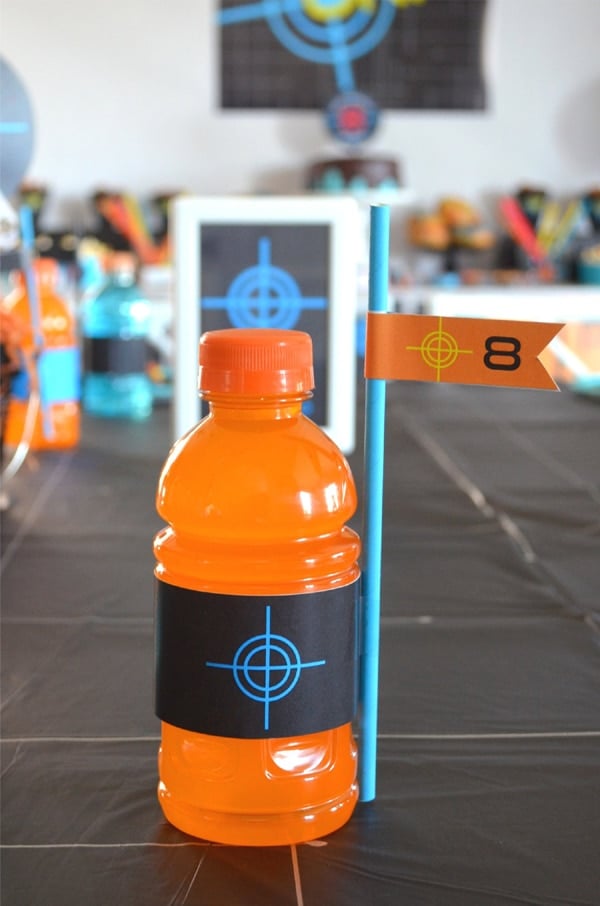 The laser tag themed party printables also extended to the drinks and straws as well! What a nice touch!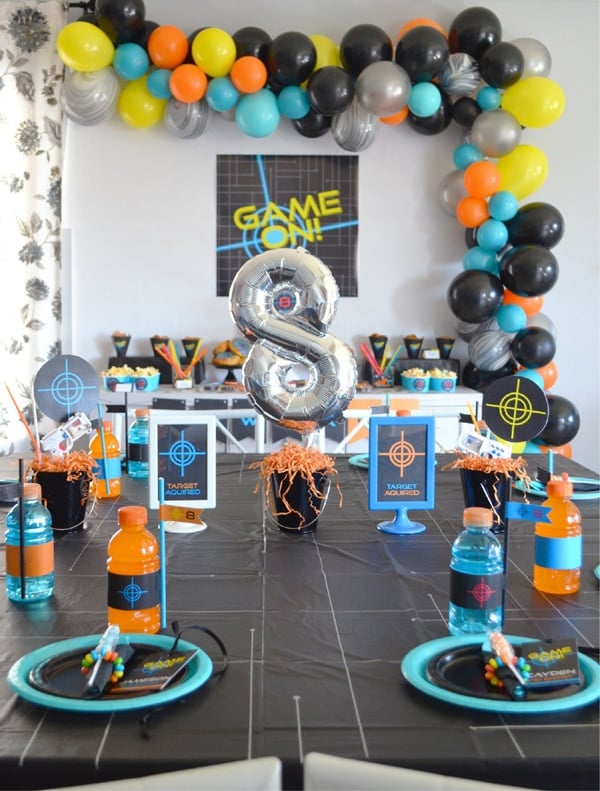 The targets, number 8 balloon, colorful drinks, and party favors all help bring together the theme on the party table. Wherever you look, there's a target! What kid wouldn't love this party set up?!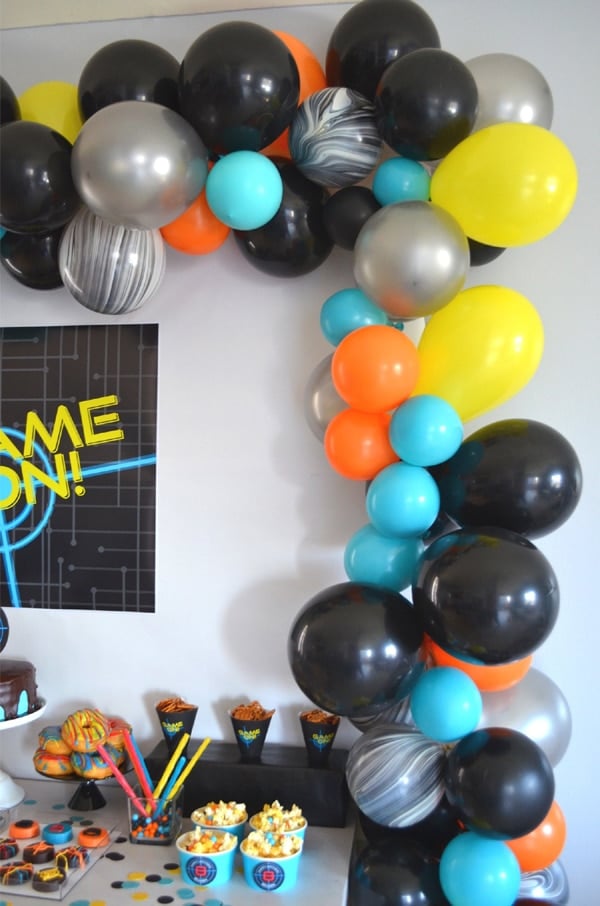 Here the balloons are stealing the show once again. They really make the dessert table pop! Balloon garlands are all the rage right now and makes any party theme come to life! When it comes to planning a laser tag birthday party, think smarter not harder.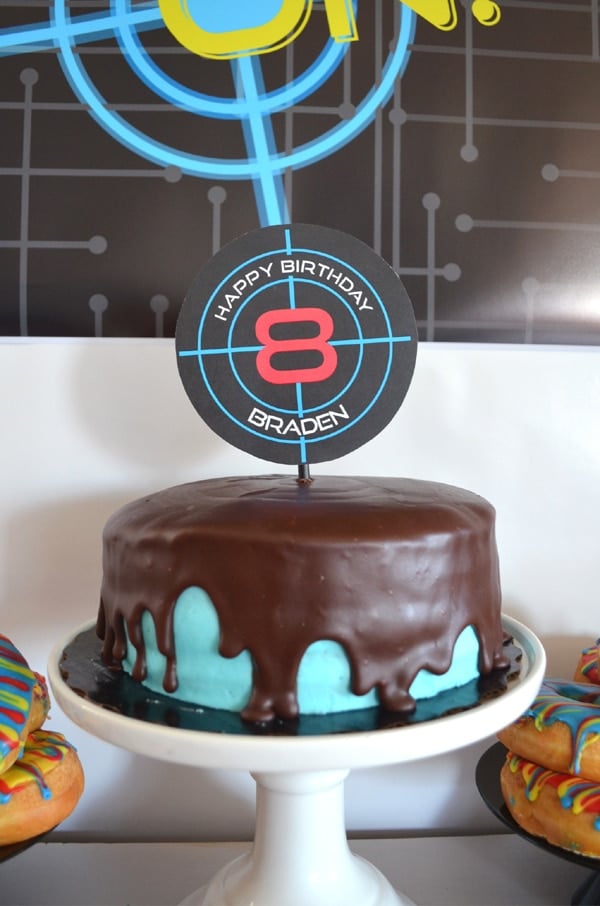 This birthday cake is simple, but perfect for this theme! By adding a simple topper to the cake, it comes to life. Color coordinating the cake with the rest of the decor helps too. However, cakes just get eaten, so there isn't always a reason to make them crazy fancy. Just remember that when you're going heavy on the decor, buying a store-bought cake and adding a topper is completely okay! Don't go crazy trying to make everything by hand because party planning is stressful. Always enlist the help of family and friends to make your party vision come to life.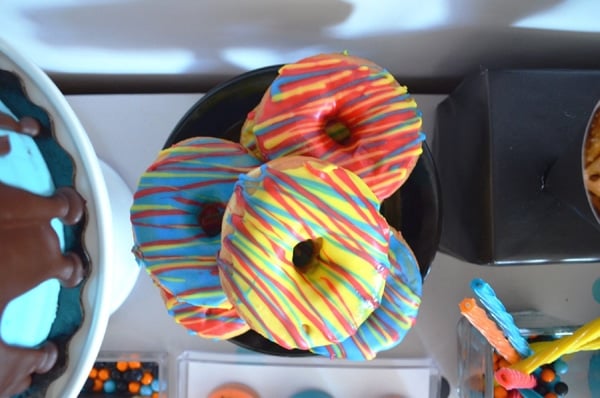 Donuts are delicious. Plus it helps that they match the party decor perfectly! What a fun idea! All the snacks look super easy to take on the go, which is awesome. Everyone knows that little party goers don't sit still. They want to be able to eat on the go and this party creator really captured that with the variety of desserts on the dessert table.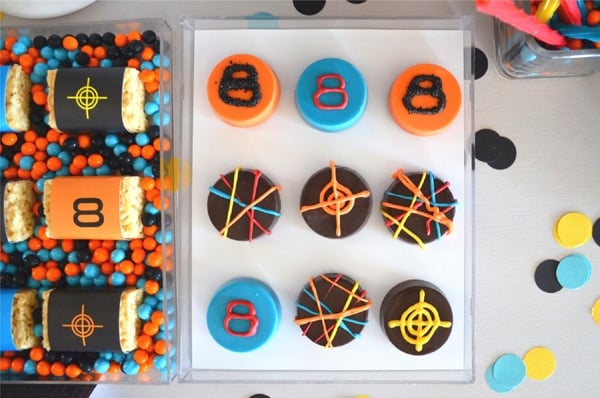 How fun are these chocolate covered Oreos?! Desserts are an easy way to help bring this laser tag birthday theme to life! Think of the desserts as part of the party decorations too!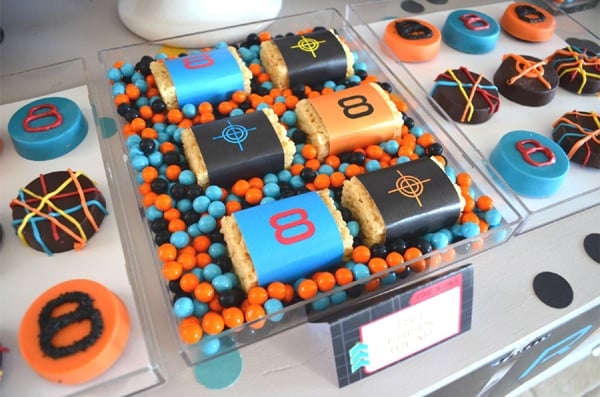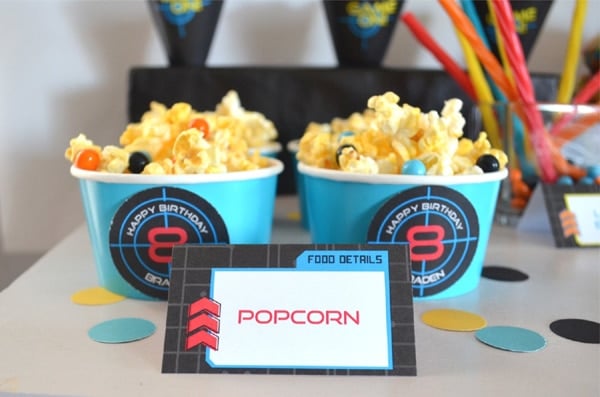 Popcorn is the easiest type of yummy party food. You can pop it quickly and add it to any container. We adore these little laser tag popcorn holders with Happy Birthday target printables. The kids can easily carry this around during the party. Eating and partying just got a whole lot easier!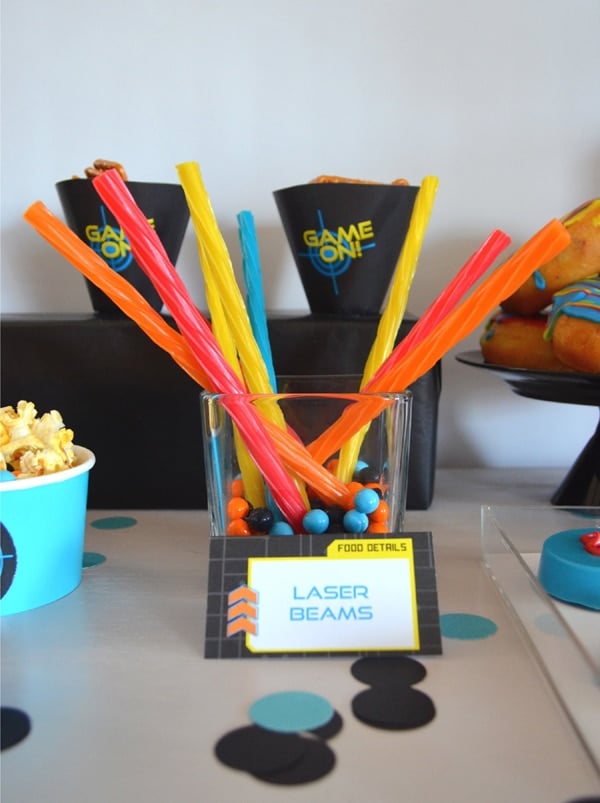 The Twizzlers were also a fun addition to the laser tag party supplies. The different colors help bring the laser party theme to life. When one thinks of a laser party, they think of bright colors. Oranges, blues, reds, and yellows are all the perfect colors for this fun theme. The food label with "Laser Beams" is also a creative touch!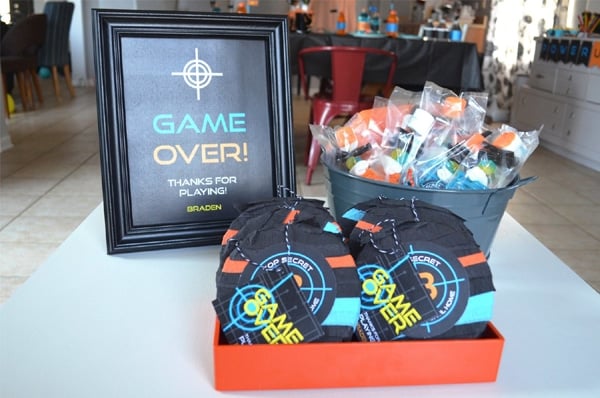 Sigh, the laser tag themed birthday party may be over, but at least the kids get to take something fun home with them. Your guests will be thinking that they've never been to a party this cool! These laser tag party favors sure are a fun treat to take home.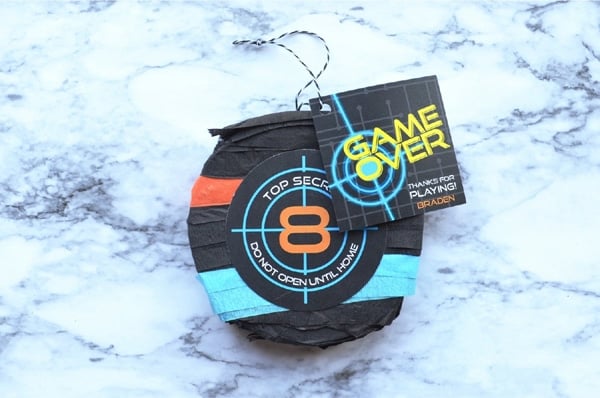 Just look at the FUN in these laser tag birthday party favors. The red, blue, black, and yellow colors just scream Laser Tag FUN! The target pinatas are so much fun and make the most memorable party favor for the kids. We love the mini pinatas because they are so fun and unique. Plus, it's a great surprise to see what's inside!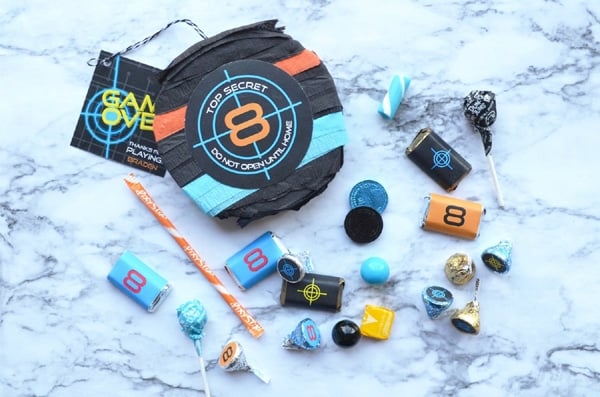 There you have it, how to throw a laser tag themed birthday party that all the kids will love! You may just surprise yourself with how simple it is. From the party favors to the decorations, make it easy but fun! You can easily take this decor to a local park and set it up.
Enjoy eating the cake and watching the kids play laser tag. All your hard work is going to pay off! It won't be long before your kid is asking you for another laser tag birthday party! Do you plan on hosting a Fantastic Laser Tag Themed Birthday Party? Let us know in the comments below!
For more party ideas, follow us on Instagram @prettymyparty and Pinterest and join us in our private Facebook group.
Shop the Laser Tag Party Package
Vendors & Credits
Party Styling and Printable Party Package: Nestling Design