11 Halloween Front Porch Decorating Ideas
Kick off the season the right way with these Halloween Porch Decorations!
Who's getting excited for fall and Halloween decorating?! Halloween is just around the corner, so you might want to start thinking about ideas for Halloween Porch Decorations.
There are so many fun and creative ways to make your home and front porch SPOOK-TACULAR this holiday, so you'll surely have a wonderful time planning and decorating your home with these Crafty Halloween Ideas.
Check out these 11 Halloween Front Porch Decorating Ideas and really impress all of those trick-or-treaters and your entire neighborhood this year!
Plus, if you're hosting a super fun Halloween party at your home, these Halloween Front Porch Ideas will help set the stage for what guests will see when they enter!!!
Halloween Porch Decorations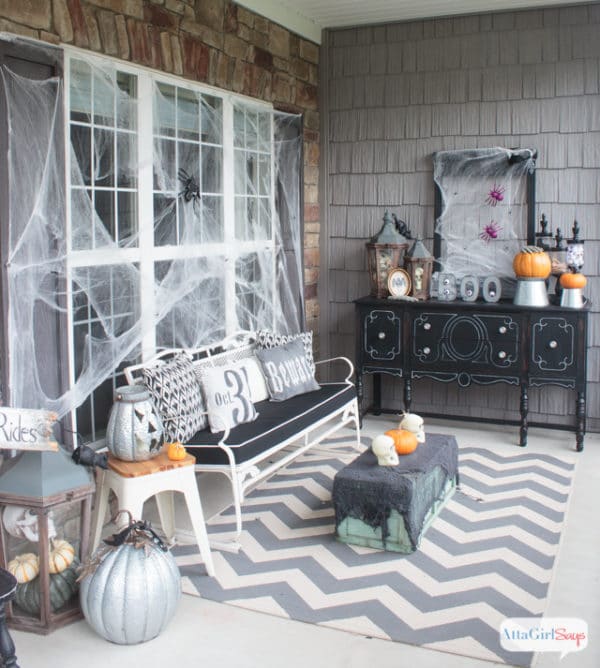 Halloween Front Porch Idea #1: If you're looking for some Scary Halloween Decorations for the Front Porch think skulls, spiders and spider webs like this front porch!
The monochromatic theme with a few pops of pumpkin orange and light green shades looks super classy and elegant but still very spooky!
What's great about this design is that a lot of the elements in the setup are probably already in your living room, so you don't need to spend too much money on decorating!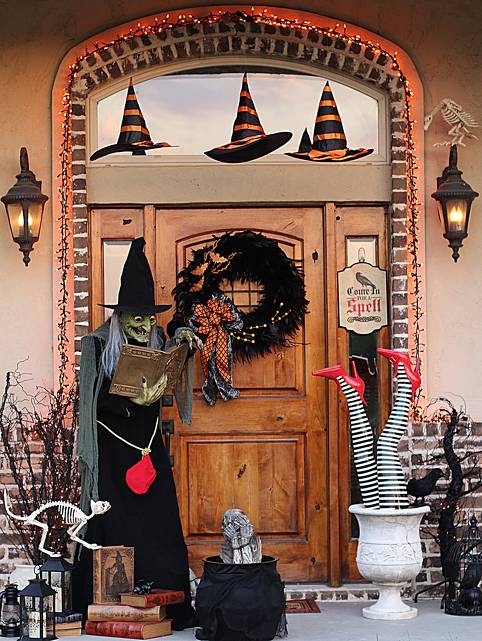 Halloween Front Porch Idea #2: A life-size witch and floating witch hats will make these Front Porch Halloween Decorations a huge hit among neighbors and passers-by this Halloween!
The classic scary elements featured in this Halloween Porch Decor setup are easy to find at your local party supplies store. You can even try your hand at making homemade decor!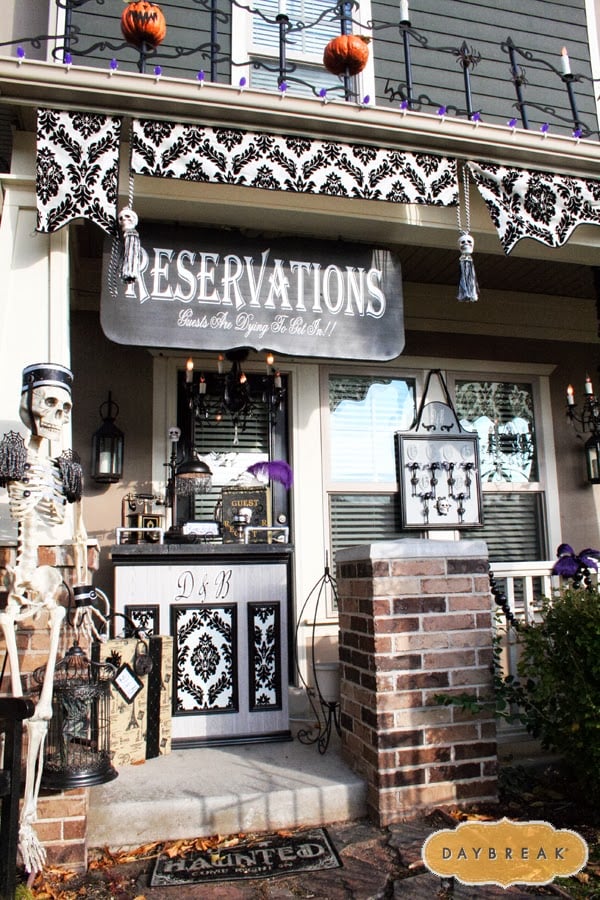 Halloween Front Porch Idea #3: WOW! This Spooky Halloween "Dead & Breakfast" Porch will blow everyone away!
We love all of the BOO-tiful details like the gothic damask banners and the unique costume on the life-size skeleton! This will surely look amazing as the entrance to a Halloween party.
This is definitely one of the best Halloween Front Porch Displays we've seen!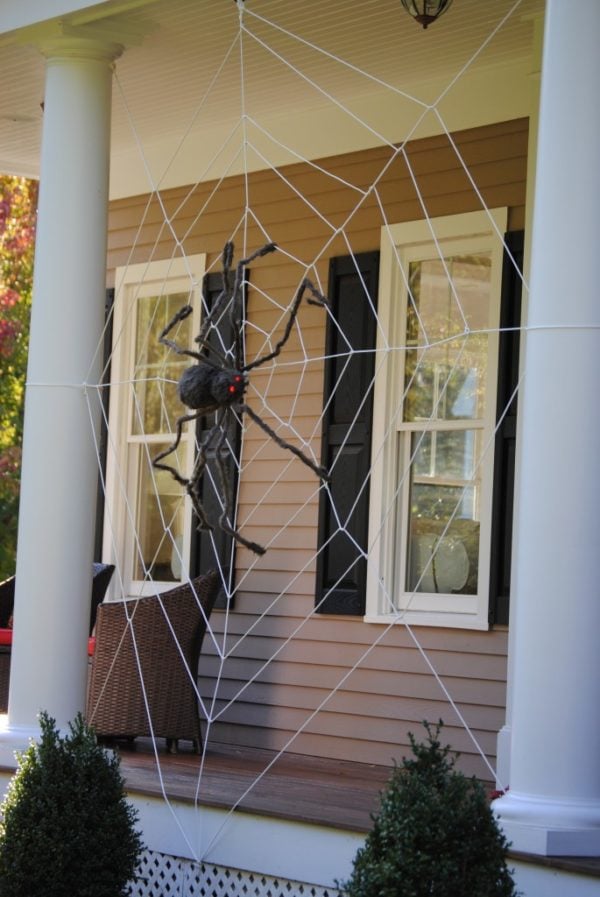 Halloween Front Porch Idea #4: Don't know what kind of DIY Outdoor Halloween Decorations you can have for your front porch? Make this DIY Tangled Spider Web for some front porch spookiness!
It's super easy to make, and it will definitely get the attention of trick-or-treaters! A big central decoration such as this is also perfect if you don't have a big space upfront.
You can also add more small details like tiny pumpkins, tattered grey hangings, and more cobwebs to complete the look.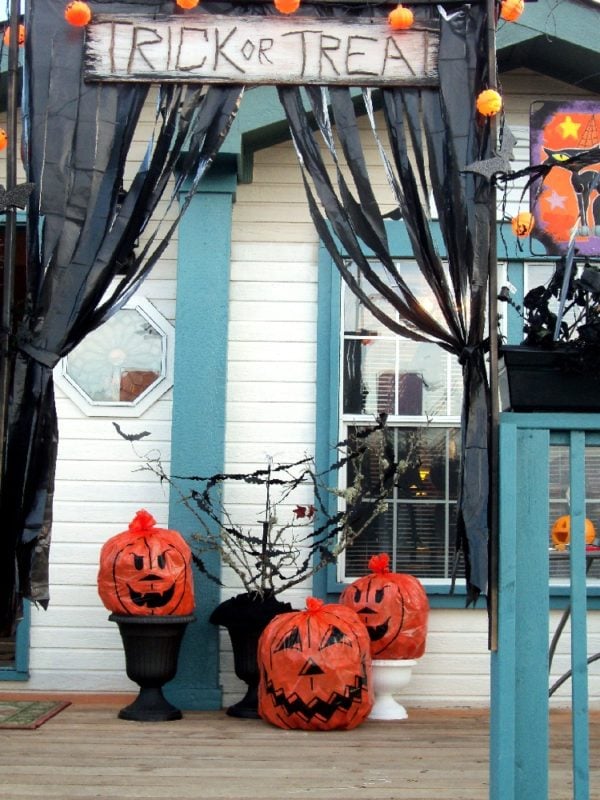 Halloween Front Porch Idea #5: This Halloween Porch Idea features a great entrance! Who says you need to spend a lot on decorations to make your front porch look amazing on Halloween?
Large DIY pumpkins are tried and tested to be super effective scary Halloween Porch Decorating Ideas, and these ones are super easy and affordable to make yourself.
Most of the Outside Halloween Decorations shown here are easy to do as DIY projects, so this front porch is definitely a good idea for the crafty types!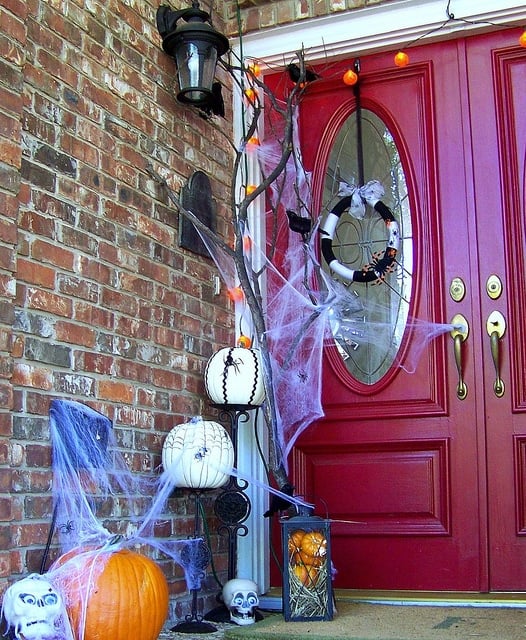 Halloween Front Porch Idea #6: Searching for awesome Halloween Front Door Ideas? This Spooky Halloween Porch Decor includes a large tree branch with blackbirds.
The cobwebs extend to the red front door making it look all the more spooky and definitely well put together.
The small orange light bulbs also complete the look and will surely make this front porch look even more frightening at night when all the trick-or-treaters are out. What a great idea for Halloween!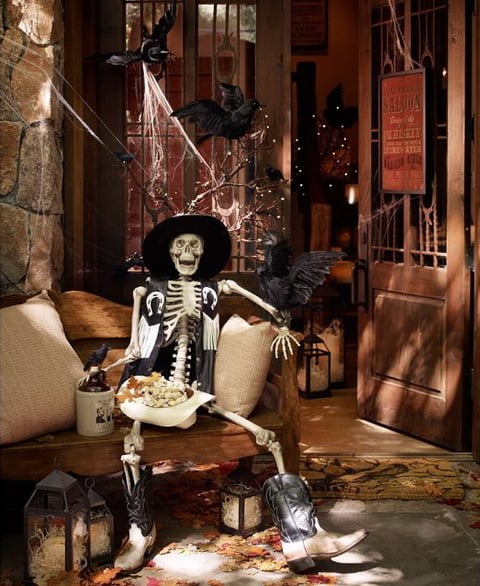 Halloween Front Porch Idea #7: How cute and creepy is this skeleton?
If you don't have a huge porch and are looking for Small Porch Halloween Decorations, it's a good idea to feature just one unique element on your porch as a sort of centerpiece and surround it with smaller scary elements like the blackbirds, dried out twigs, and cobwebs seen here.
This Spooky Skeleton is ready for some line dancing with his cowboy hat and boots and he's definitely ready to impress the trick-or-treaters.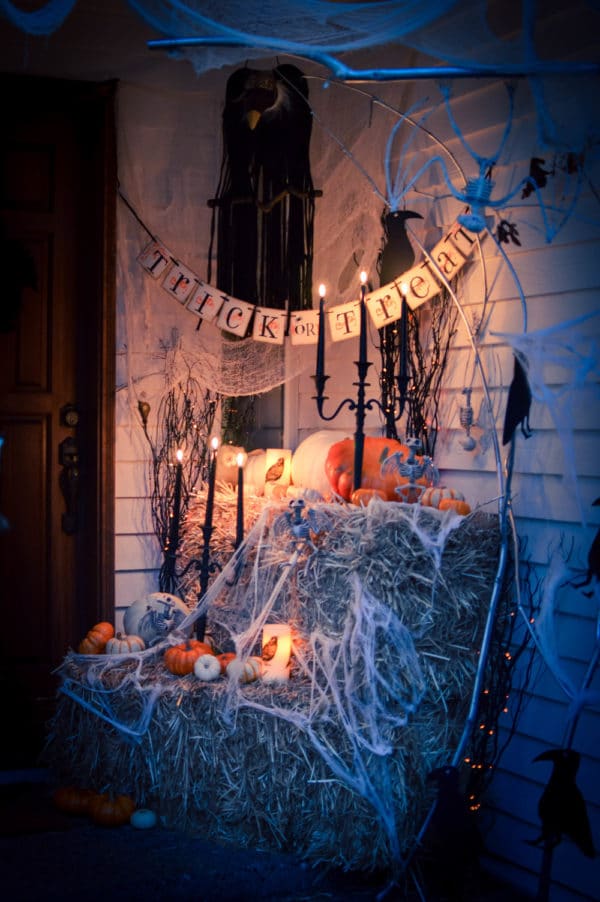 Halloween Front Porch Idea #8: This Spooky Halloween Porch features some ambient lighting with gothic candelabras, black candles and orange lights, and it definitely makes everything a lot more creepy.
The pumpkins in assorted sizes give it that classic Halloween feel, but doesn't take away from the creepiness of the scene.
Pumpkins are perfect for Halloween porch decorations! This is definitely up there on our list of the Best Outdoor Halloween Decorations out there.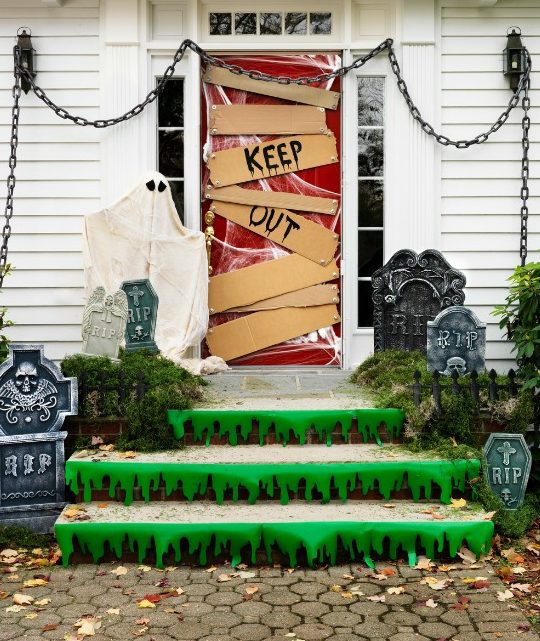 Halloween Front Porch Idea #9: The details are fantastic in this Keep Out Spooky Halloween Porch!
Look at the green slimy steps complete with gorgeous tombstones and an eerie ghost just waiting to pounce on unwitting Halloween revelers!
The contrasting and bright colors on this Halloween themed front porch instantly makes it a standout.
The small details like the chains, cobwebs on the glass, and the moss complete the spooky look. This is definitely one of the most creative Outdoor Halloween Decorations we've seen.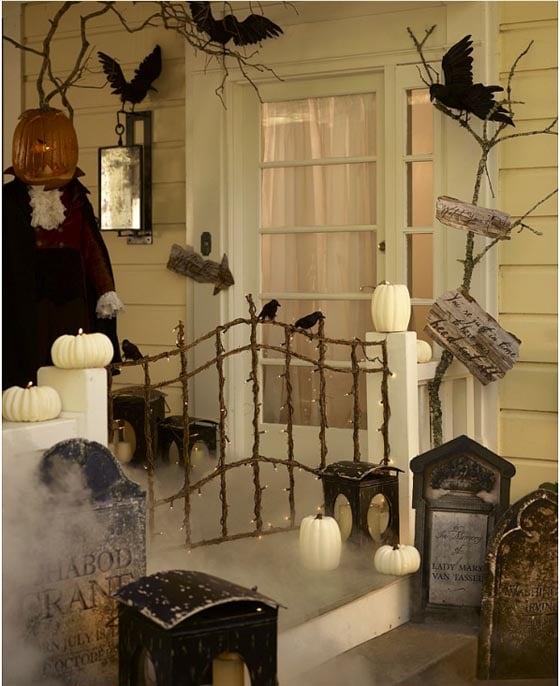 Halloween Front Porch Idea #10: Want Front Porch Decoration Ideas that will blow your neighbors away?
Smoke, incredibly realistic crows, tombstones, and a scary pumpkin man are featured on this Spooky Tombstone Halloween Porch.
The combination of the white pumpkins and gray and black Front Porch Halloween Decorations featured here makes this setup look incredibly sinister and spine-tingling.
If you want a similar effect, it's best to stick to a monochromatic theme. This will make your home so much more eerie – perfect for the holiday!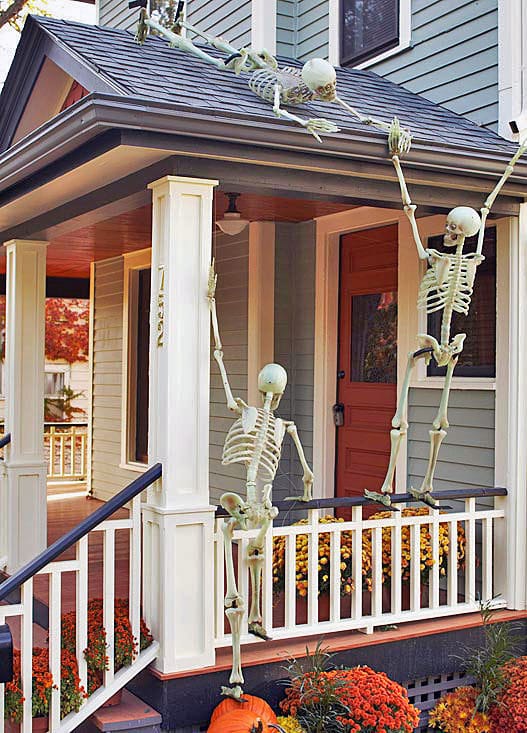 Halloween Front Porch Idea #11: Check out these Skeleton Porch Decorations! When the homeowners are away the skeletons will play!!!
If you're looking for Outdoor Halloween Decoration Ideas that showcase some sense of humor, then these should be on your radar!
The gorgeous orange flowers that surround this home already set the tone for a beautiful Halloween front porch, so it only needed a little extra decoration.
The climbing skeletons definitely complete this fun Halloween setup!
Which of these 11 Halloween Front Porch Decorations are your favorite? Do you plan on using any of these as inspiration for decorating your own front porch this coming Halloween? Let us know in the comments below!
For more party and holiday ideas, follow us on Instagram @prettymyparty and Pinterest and join us in our private Facebook group.
SaveSave
SaveSave