10 Packing Tape Ghost Ideas
If you're looking for creative DIY Halloween decorations that will really scare your neighbors, check out these awesome 10 Packing Tape Ghost Ideas!
Whether you're decorating your house for Halloween or hosting a Halloween party, these packing tape ghosts are SPOOK-tacular!
They are seriously the coolest Halloween craft you're ever going to make! They make perfect outdoor Halloween decorations or party decorations.
Plus, if you're going all out and setting up a haunted house, these packing tape ghosts are the perfect Halloween props that will really scare the trick-or-treaters.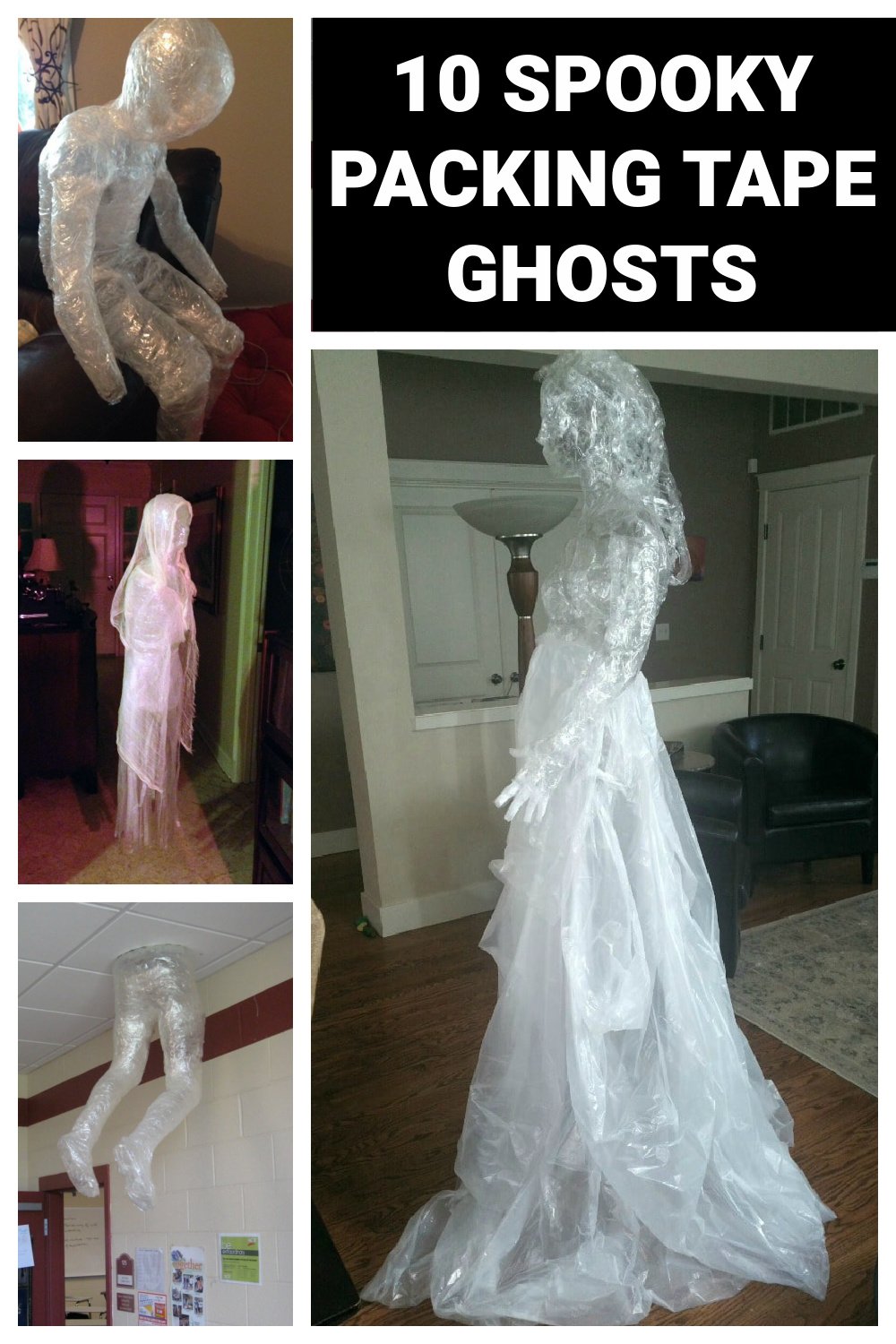 There are many ways to make these packing tape ghosts. You can make a girl or boy ghost, hands, or legs.
Add an LED light to illuminate your packing tape ghost in the front yard or hang a couple of these scary DIY Halloween decorations from the trees outside of your home.
These DIY Halloween Decorations will amaze and frighten your guests.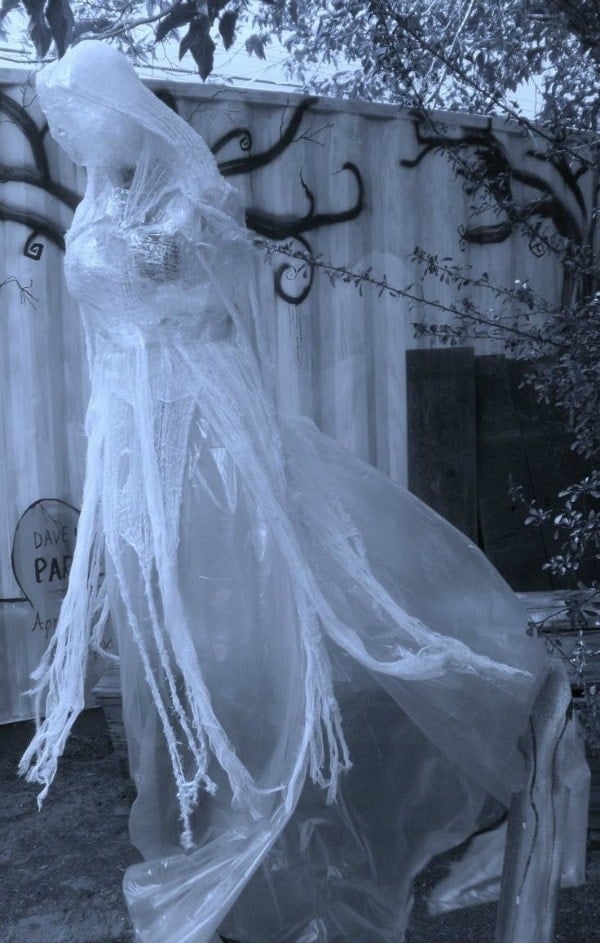 1. PACKING TAPE GHOSTS WOMAN Halloween Decoration
If you're looking for awesome Halloween decorating ideas, you've come to the right place.
If the plan is to design a haunted house or outdoor cemetery in the front yard, this packing tape ghost woman will be the highlight of your DIY Halloween decorations.
Friends, neighbors, and trick-or-treaters will be blown away by your creativity. This packing tape ghost woman is a scary Halloween decoration for sure!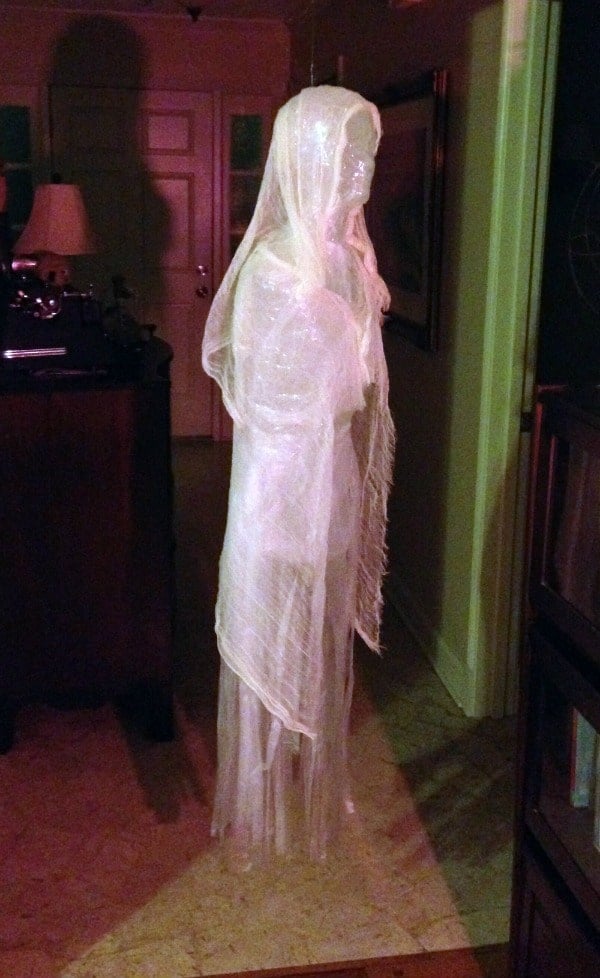 2. PACKING TAPE AND TRASH BAG GHOST
Are you looking to make a scary Halloween decoration that will be the highlight of the neighborhood?
Learn how to make this packing tape ghost with tape and trash bags. This Halloween decoration will scare anyone who walks in the door or sees it in your front yard!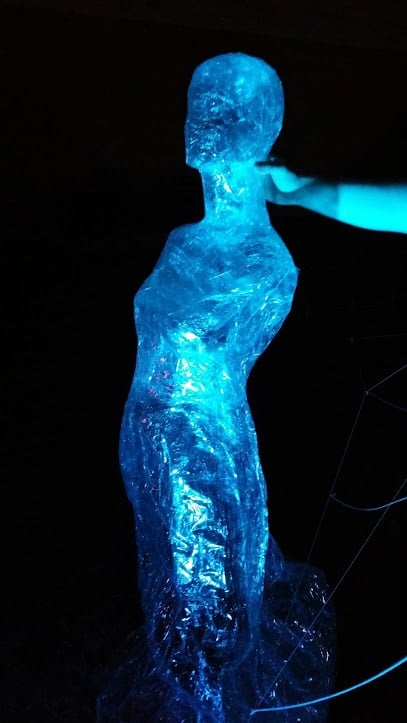 3. GLOWING PACKING TAPE GHOST DIY Halloween Decoration
There's nothing cooler than a glowing packing tape ghost for Halloween. They look like real ghosts!
If you're placing these packing tape ghosts in your front yard, make them even more spooky with some lights.
Then all of the passersby will see them in the dark. They look extra spooky with a light on them.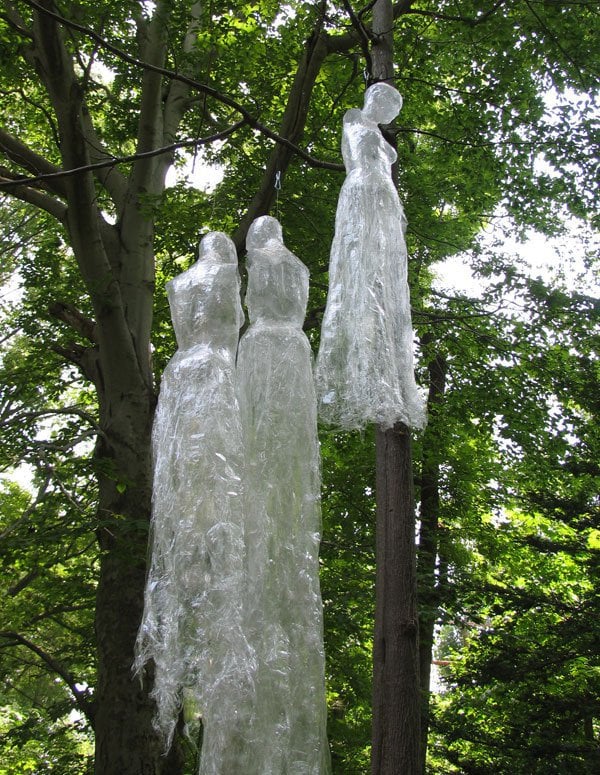 4. HANGING PACKING TAPE GHOSTS
Once you get the hang of making these awesome packing tape ghosts, make a couple of them and hang them from the trees outside of your house!
Everyone will be amazed by your DIY Halloween decorating skills with these spooky hanging packing tape ghosts!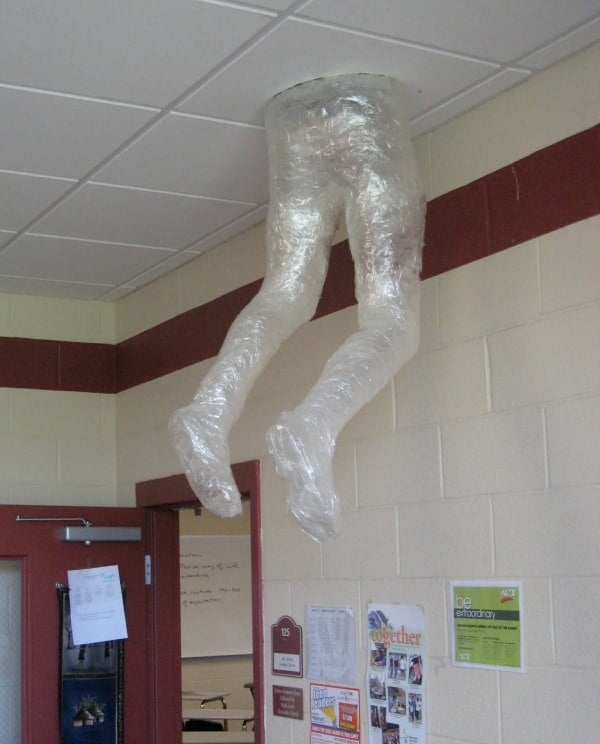 5. HANGING GHOST LEGS
This packing tape ghost idea is too funny! If you think that making an entire ghost is too difficult, just make the legs and hang them from the ceiling like this one.
These hanging ghost legs are the perfect DIY Halloween decoration!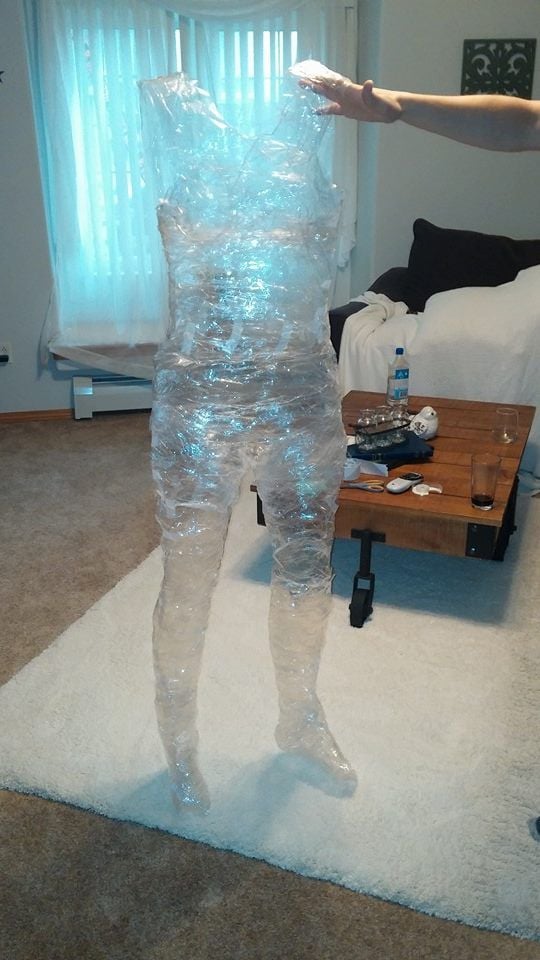 6. DIY TAPE GHOST BODY
If you're looking to go extra creepy, forget the ghost head and just do the body!
There are endless possibilities with these cool packing tape ghosts and this DIY tape ghost body!
Imagine people's faces when they walk into your house and see this scary Halloween decoration!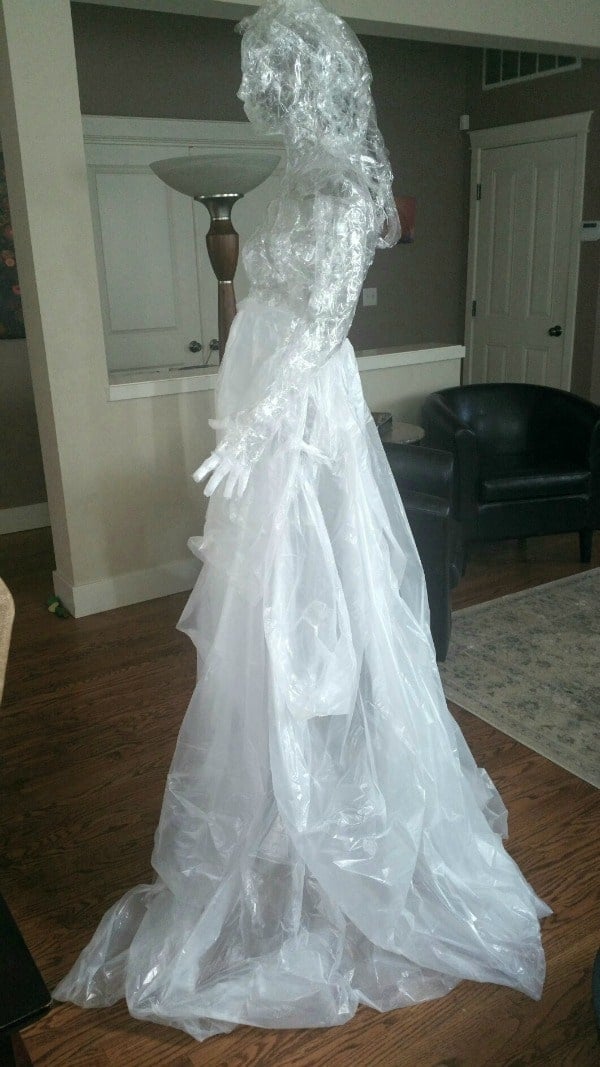 7. DIY PACKING TAPE GHOST GIRL
This packing tape ghost girl is awesome! This Halloween DIY will surely impress!
All you need to make this packing tape girl ghost are white plastic bags, packing tape, and a mannequin.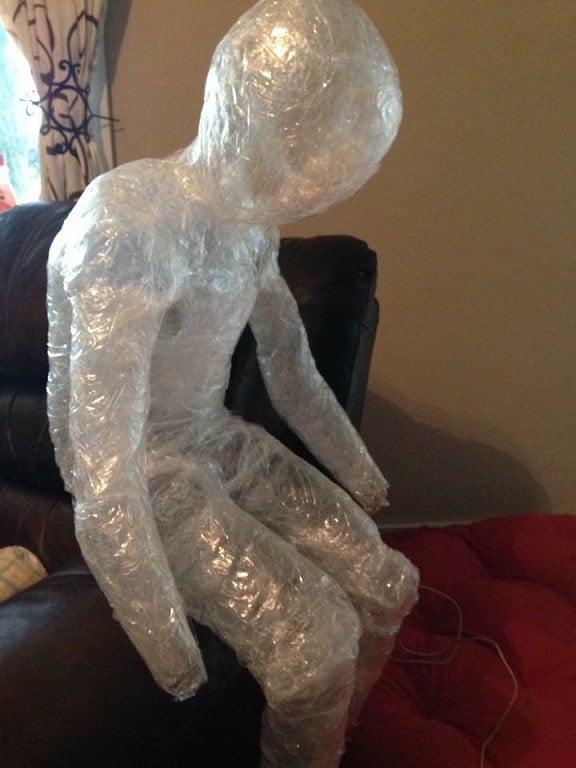 8. PACKING TAPE GHOST CHILD
This packing tape ghost child is sitting on the couch – how spooky!
Add this to your spooky haunted house for some screams!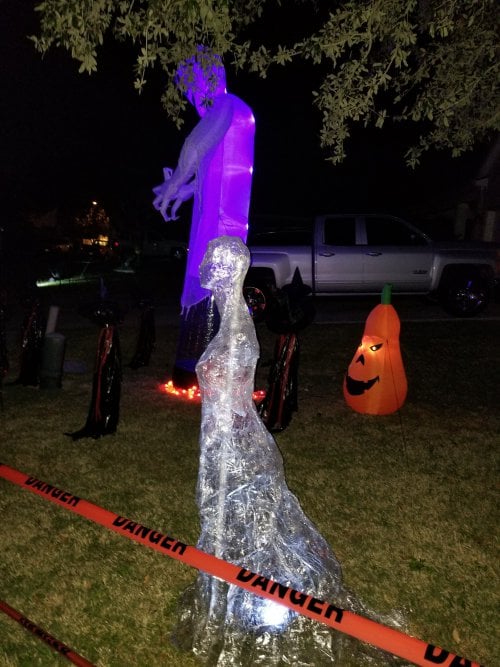 9. EASY PACKING TAPE GHOST
Here's an easy packing tape ghost tutorial for you to try.
If you want to add it to your front yard like the one above, just get a piece of rebar and a piece of PVC pipe for the ghost to rest on.
Then all you have to do is stick it in the ground! Get ready for a lot of cars driving by your house to check out your awesome DIY Halloween decorations this holiday!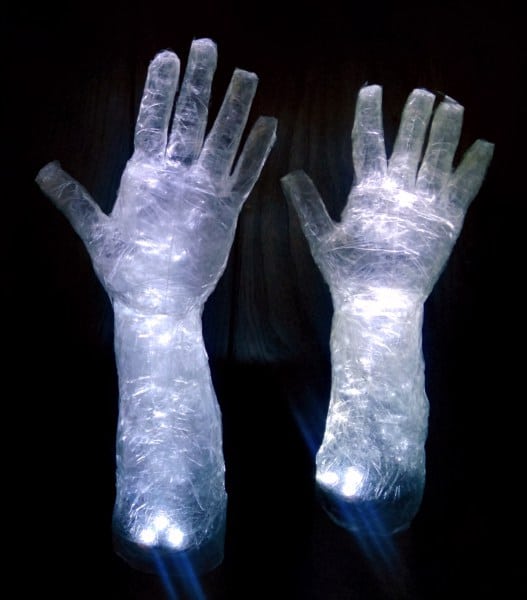 DIY Halloween Decoration #10: Packing Tape Ghost Hands
Like we said earlier if you're not ready to tackle a whole packing tape ghost just yet, try some spooky hands!
You can even get something to anchor these into the ground and they will look like they are coming up from the ground. What an easy DIY Halloween decoration to add to your front yard!
Do you have a favorite packing tape ghost idea here? Let us know which one you will be making in the comments below!
Check out this video on how to make a packing tape ghost for your haunted house this year!
HALLOWEEN DECORATIONS
Here's more spooky Halloween decor you can add to your haunted house or yard this fall: