10 Packing Tape Ghost Ideas
Check out these 10 packing tape ghost ideas that are sure to frighten your family, friends, and neighbors!
Want to create a spooky, life-size packing tape ghost that will scare the neighborhood this Halloween? Then you're in for a treat!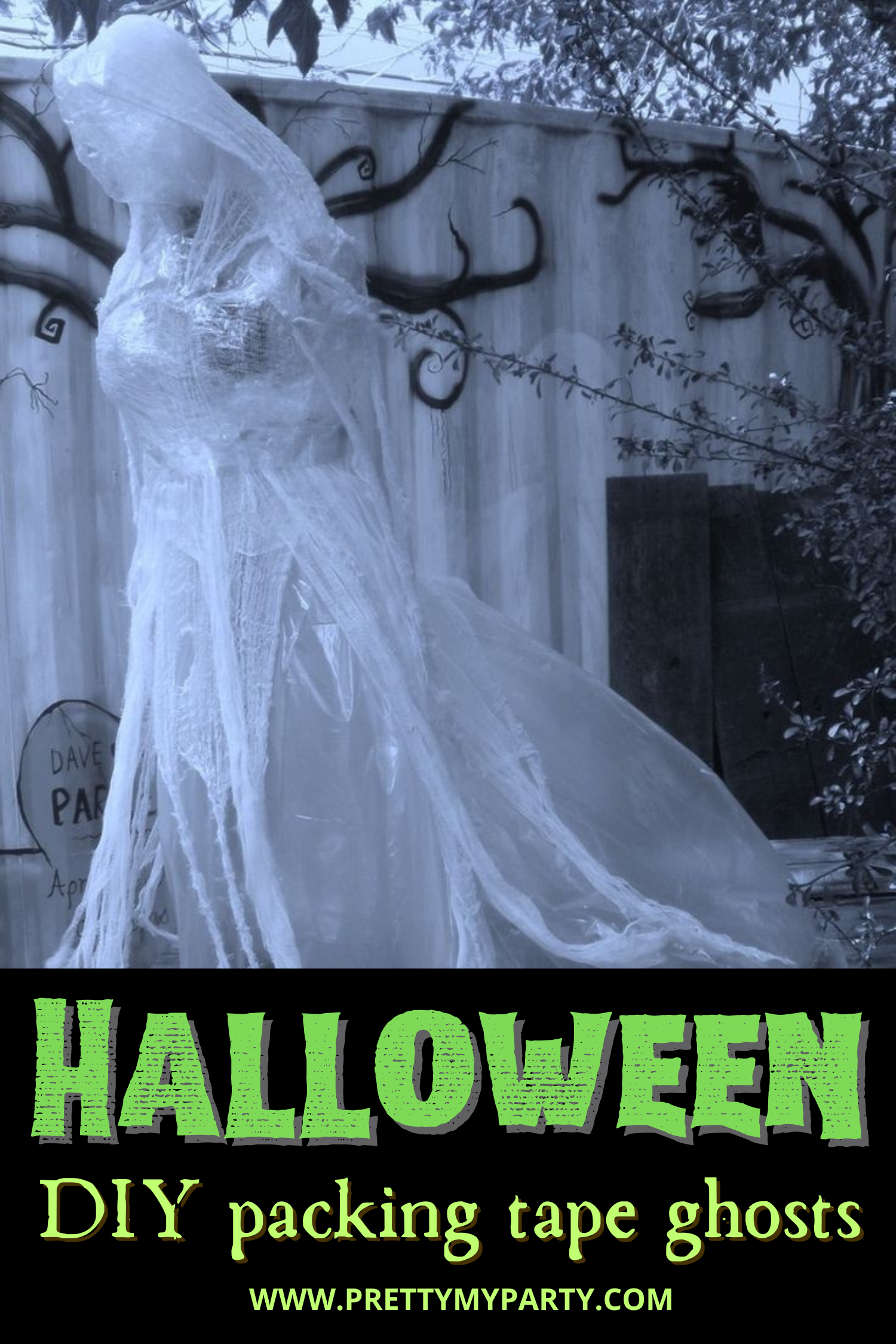 Packing tape ghosts are a unique way to add a touch of spookiness to your haunted house or Halloween party. They're also pretty cheap to make, so you can create a family of DIY ghost decorations without breaking the bank!
What materials do you need to make a packing tape ghost?
To make a packing tape ghost, you'll need the following materials:
How do you make a packing tape ghost?
Here's a step-by-step guide to creating a basic packing tape ghost:
Instructions:
To create the ghost, first wrap the mannequin with one layer of plastic wrap. This initial layer will serve as the base for the ghost. Tip: Use smaller pieces of plastic wrap to wrap the individual parts or sections of the mannequin instead of wrapping it up like a mummy.
Next, wrap the mannequin with the first layer of clear packing tape. Make sure to cover the entire mannequin.
Add additional layers: Continue wrapping the mannequin with additional layers of packing tape. You'll want at least three to four layers for stability and durability.
Once you've applied all of your layers, reinforce the shape by adding horizontal strips of packing tape across the ghost's body. These strips will provide additional support and maintain the form.
Next, carefully cut a line down the back of the ghost using scissors. Cut through all the layers to remove the ghost from the object.
Then attach a string or fishing line to the top of the ghost's head to hang it up. Simply create a loop or tie a knot.
Optional decorations: To add a spooky effect, you can decorate the ghost with eyes, a cheesecloth, or other features.
Additional tips for making the perfect DIY packing tape ghost
If you're using a mannequin or dress form, you can stuff it with newspaper to give it some shape.
Be creative with your decorations. You can use anything from glitter to googly eyes to make your ghost spooktacular!
Add a black light or some glow-in-the-dark paint.
Add some spiders and spider webs to make your Halloween decorations complete!
Hang your ghost from the ceiling, front porch, or from a tree in your front yard.
Place the ghost in a dark room and turn off the lights for a big scare!
No matter how you decorate your packing tape ghost, it's sure to be a hit with party guests and trick-or-treaters.
How long does it take to make a packing tape ghost?
The time it takes to make a packing tape ghost can vary depending on the size and complexity of the project. However, on average, it can take anywhere from 1-3 hours to complete.
This includes applying the packing tape to create the ghost form and cutting and removing the form from the body.
Keep in mind that this is just an estimate, and the time can vary based on individual skill level and the specific design of the ghost.
Can you use different types of tape besides packing tape?
Yes, you can use different types of tape besides packing tape to create a ghost decoration. However, the type of tape you use may affect the final look and durability of the decoration.
For example, masking tape may not be as strong as packing tape and may not hold up as well. Duct tape may be stronger than packing tape, but it may not be as transparent and could affect the appearance of the ghost.
Ultimately, the choice of tape will depend on your preferences and the materials you have available.
10 packing tape ghost ideas
Now, for a little decoration inspiration! Here are 10 packing tape ghost ideas to get you started!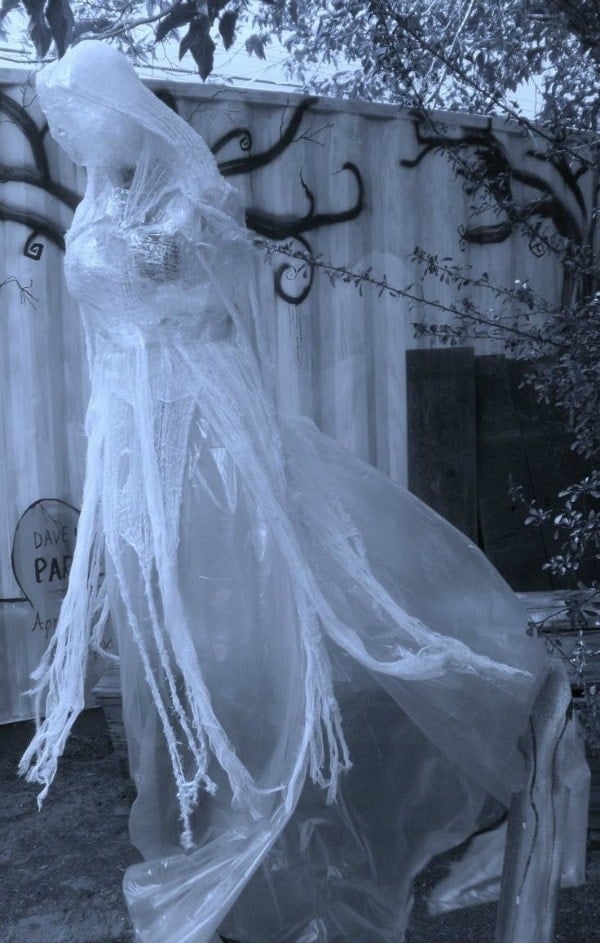 1. Packing tape ghost woman
Are you looking for a scary Halloween decoration that will wow your friends, neighbors, and trick-or-treaters? Look no further than this packing tape ghost woman! This DIY project is perfect for anyone who wants to add a touch of terror to their Halloween festivities. With a little bit of time and effort, you can create a hauntingly realistic ghost woman that will be the centerpiece of your haunted house or outdoor cemetery.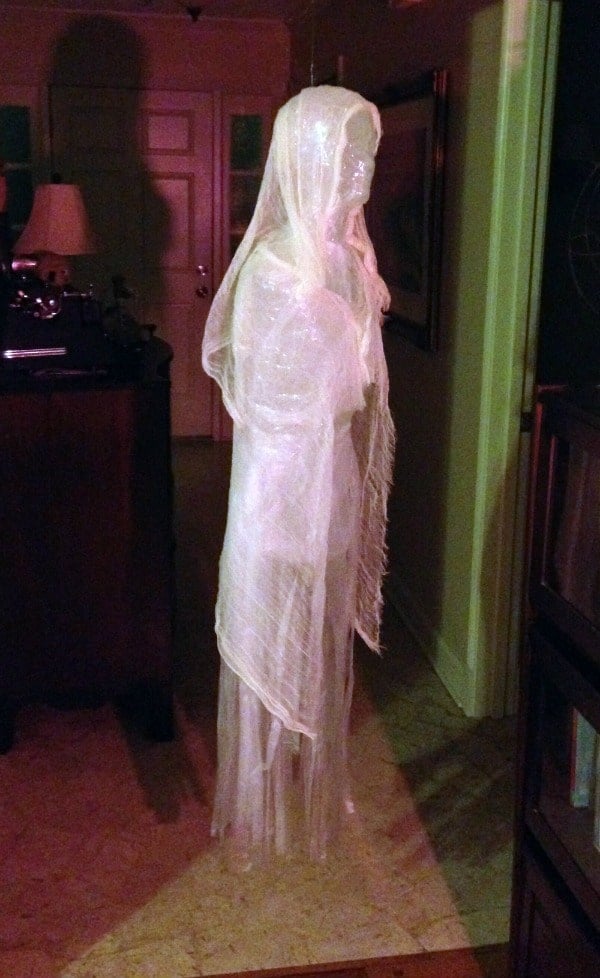 2. PACKING TAPE AND TRASH BAG GHOST
Are you looking to make a spooky Halloween decoration that will be the talk of the town?
Learn how to make this packing tape ghost with just tape and trash bags. This DIY Halloween decoration is sure to scare anyone who walks in your door or sees it in your front yard!
Here's how to make it:
Gather your materials: packing tape, trash bags, a mannequin or person to use as a model, scissors, and a marker.
Wrap the mannequin or person in trash bags.
Use the marker to draw the outline of a ghost on the trash bags.
Begin wrapping the ghost in packing tape, starting at the bottom and working your way up.
Once the ghost is completely covered in packing tape, cut a slit in the back and remove the mannequin or person.
Seal up the slit with packing tape.
Add any additional details you like.
Display your ghost in your front yard or around your house.
Here are some more tips for making your packing tape ghost even more spooky:
Use different colors of packing tape to create a more unique look.
Add some holes or tears to the ghost's body for a more ragged appearance.
Use LED lights or glow-in-the-dark paint to make the ghost glow in the dark.
Place the ghost in a strategic location where it will be seen by trick-or-treaters.
With a little creativity, you can make your packing tape ghost the scariest decoration on the block!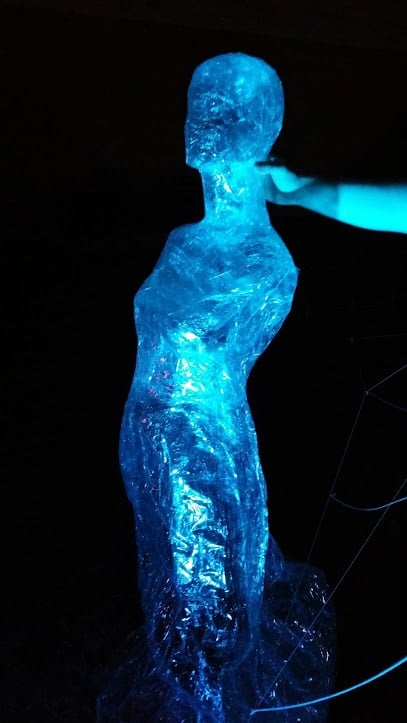 3. GLOWING PACKING TAPE GHOST
There's nothing spookier than a glowing packing tape ghost for Halloween! These translucent figures look like real ghosts, and they're even more eerie when they're lit up. Place them in your front yard to be the talk of the town. The lights will make them look even more lifelike at night, and they're sure to scare the trick-or-treaters!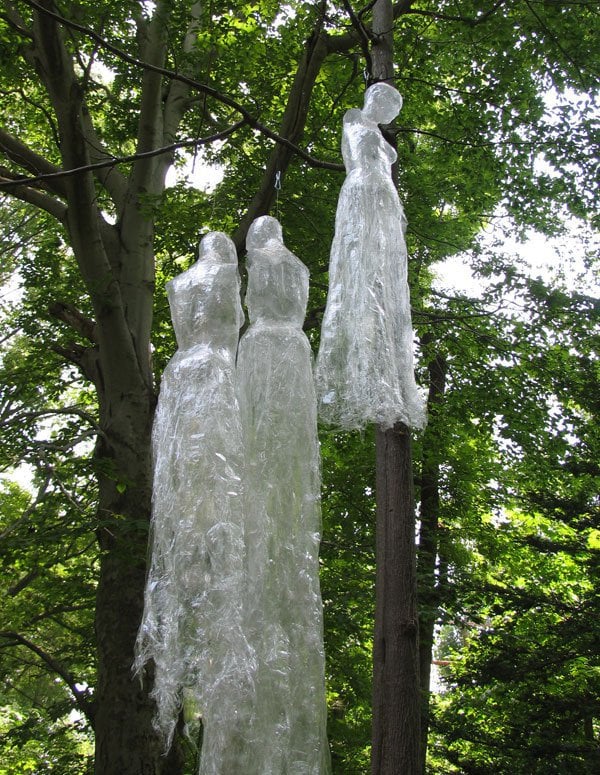 4. HANGING PACKING TAPE GHOSTS
Once you've mastered the art of making packing tape ghosts, you'll want to make a few more to hang from the trees outside your house. These spooky decorations will be the talk of the neighborhood, and everyone will be amazed by your DIY Halloween decorating skills.
Here are some tips for hanging your packing tape ghosts:
Use a strong fishing line or wire to hang the ghosts.
Make sure the line is long enough so the ghosts can sway in the wind.
Tie the line to a sturdy branch in the tree or off your front porch.
If you want the ghosts to glow in the dark, you can use LED lights or glow-in-the-dark paint.
With a little effort, you can create a truly spooky display that will make your home the highlight of the Halloween season. So get creative and have some fun!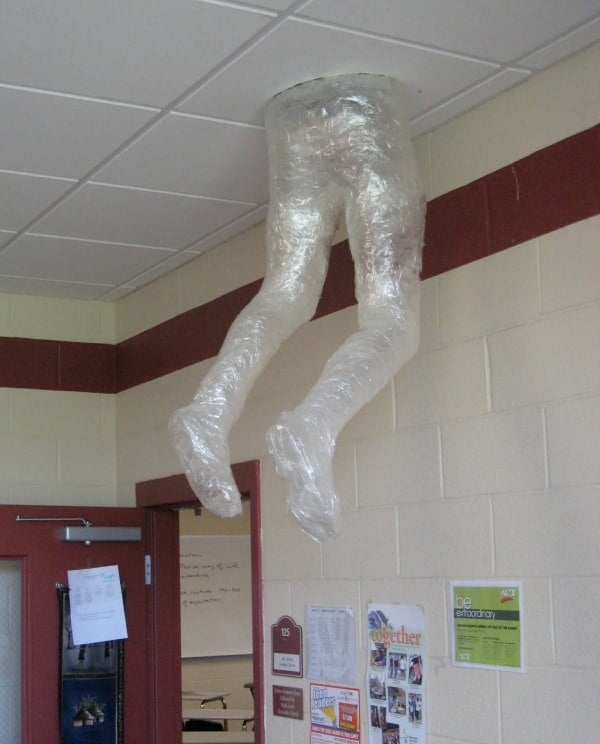 5. HANGING GHOST LEGS
This packing tape ghost idea is hilarious! If you think that making an entire ghost is too difficult, you can just make the legs and hang them from the ceiling. It's a simple and effective way to add to your Halloween decorations.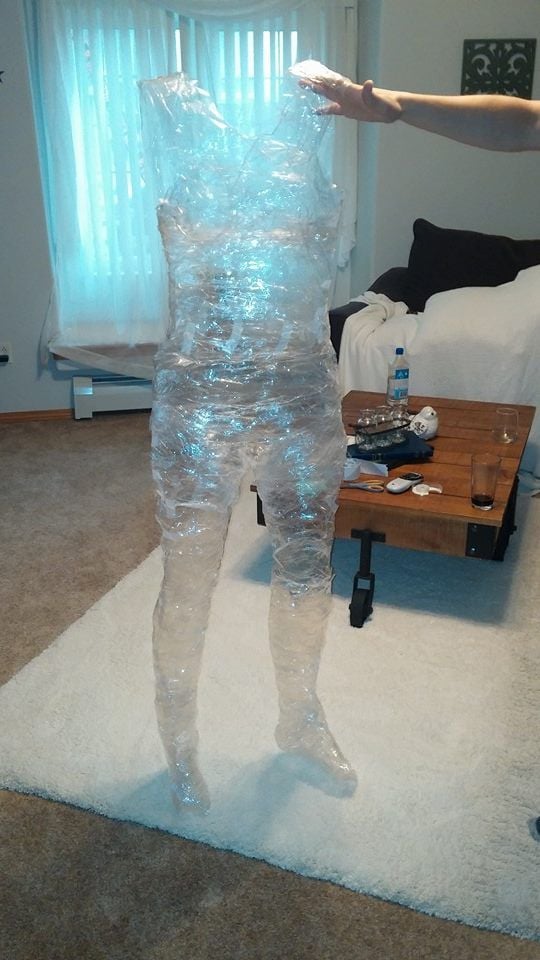 6. DIY TAPE GHOST BODY
If you're looking to go extra creepy for Halloween, forget the ghost head and just do the body. This DIY ghost body is an easy way to bring some spookiness to your home without having to make a full-body ghost.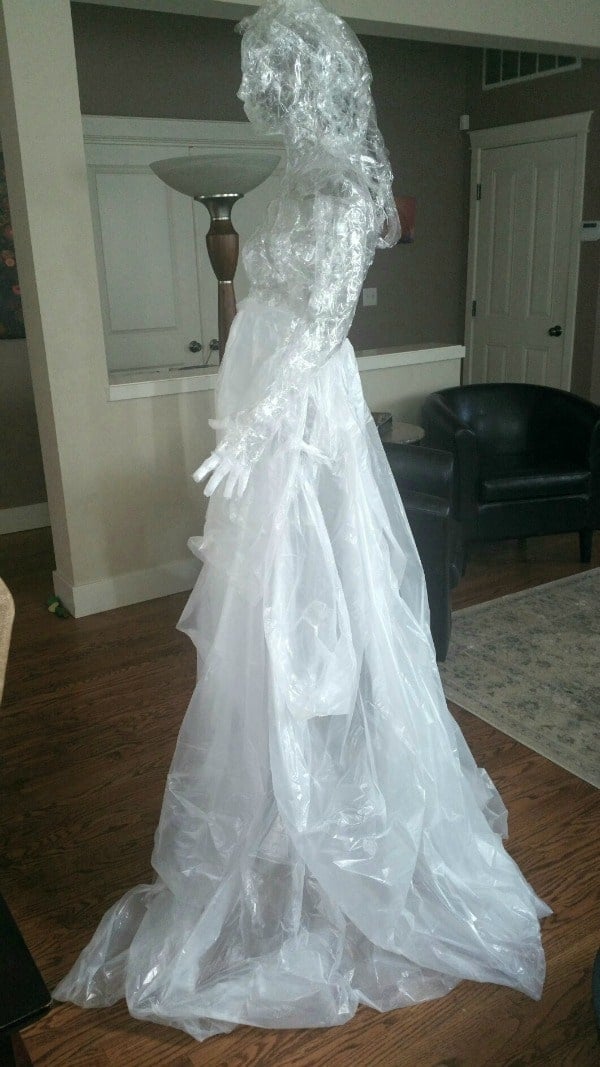 7. DIY PACKING TAPE GHOST GIRL
This packing tape ghost girl is truly awesome! This Halloween DIY is sure to impress everyone who sees it. All you need to make this ghost girl are white plastic bags, packing tape, scissors, and a mannequin.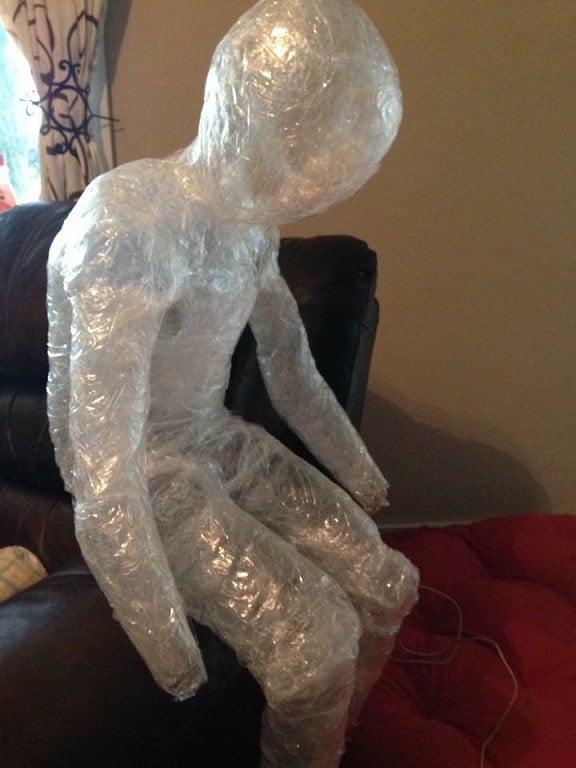 8. PACKING TAPE GHOST CHILD
This Halloween packing tape ghost child is truly spooky! The sight of a child sitting on a couch, but with no visible body, is sure to send a chill down your spine. This is a great decoration to add to your spooky haunted house for some screams!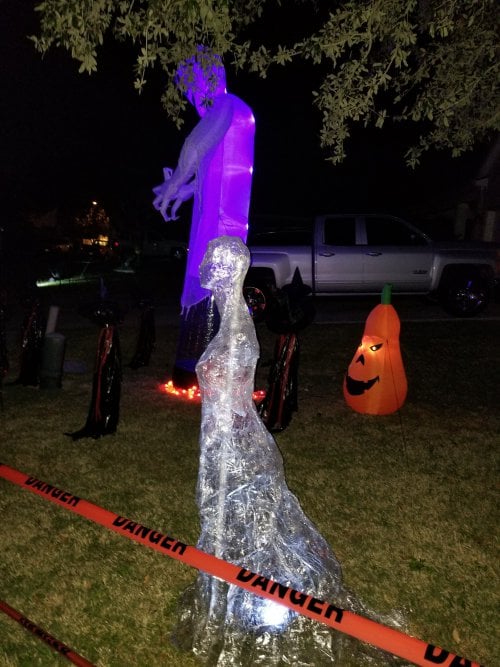 9. EASY PACKING TAPE GHOST
Here's an easy packing tape ghost tutorial that you can try for your Halloween decorations. With a few simple steps, you can create a spooky and unique ghost that will be sure to impress your guests.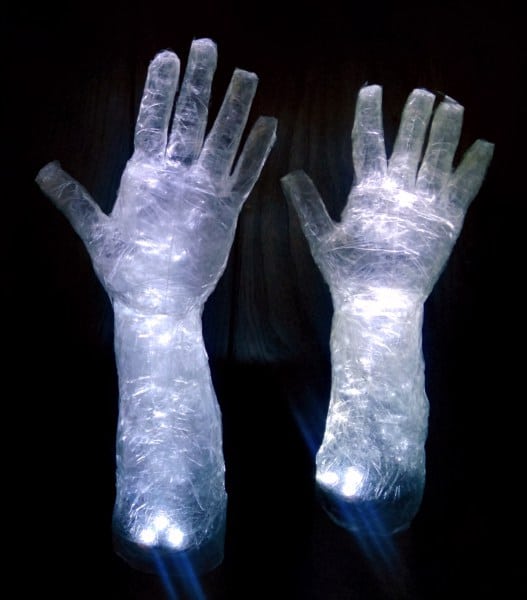 10. PACKING TAPE GHOST HANDS
If you're not ready to tackle a whole packing tape ghost just yet, try making some spooky hands! These are a great way to add a touch of spookiness to your Halloween decorations without having to commit to a larger project.
Want to make a packing tape ghost for your haunted house this year? Check out this video for a step-by-step tutorial!
So there you have it! A step-by-step guide on how to make your own packing tape ghost plus 10 spooktacular packing tape ghost ideas for some crafty inspiration!
With a little bit of time and effort, you can create spooky ghosts that will frighten the whole neighborhood this Halloween.
Which packing tape ghost will you make this Halloween? Join the conversation in the comments!