Incredible Nerf Party Ideas
Looking for Incredible Nerf Party Ideas?! We've got your covered with these awesome ideas!
Are you planning to host an amazing Nerf battle birthday party for your birthday boy? We've got some incredible Nerf war party ideas to help you throw the most awesome party that your kid and all his friends will enjoy!
Nerf birthday parties are super fun because your little party guests will have such an exciting activity to busy themselves with. Who doesn't love Nerf shootouts, right?! If you're looking for ways on how to turn a Nerf battle into an all-out birthday theme, we've got just what you need. Here are some incredible Nerf party ideas that will help you host the ultimate Nerf party that's right on target!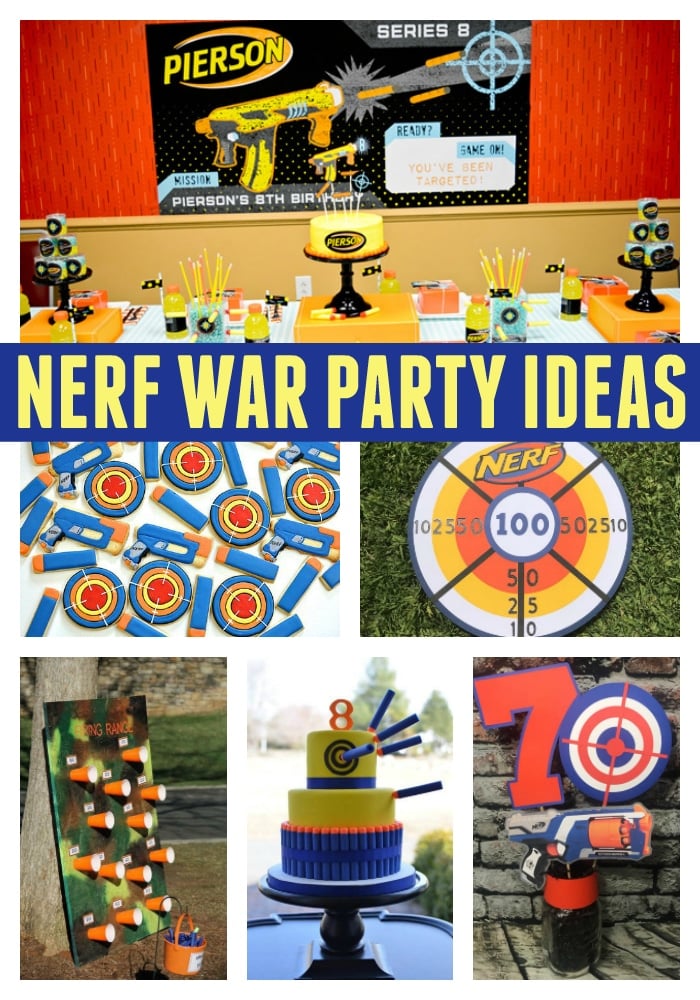 Nerf Party Decorations and Supplies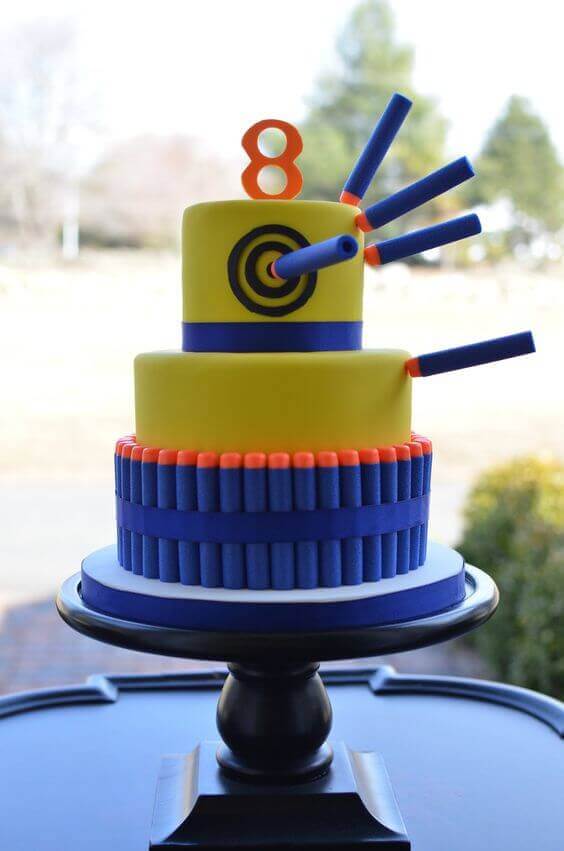 Nerf War Party Idea #1: This Nerf Cake is absolutely spot on! This colorful three-tiered cake will look smashing as the centerpiece of your party table. It's perfectly decorated to fit the Nerf war theme too. From the little Nerf ammo protruding from cake to the bulls eye right at the top tier, this is definitely one great looking cake. The colors are just the perfect shades of Nerf blue and orange too!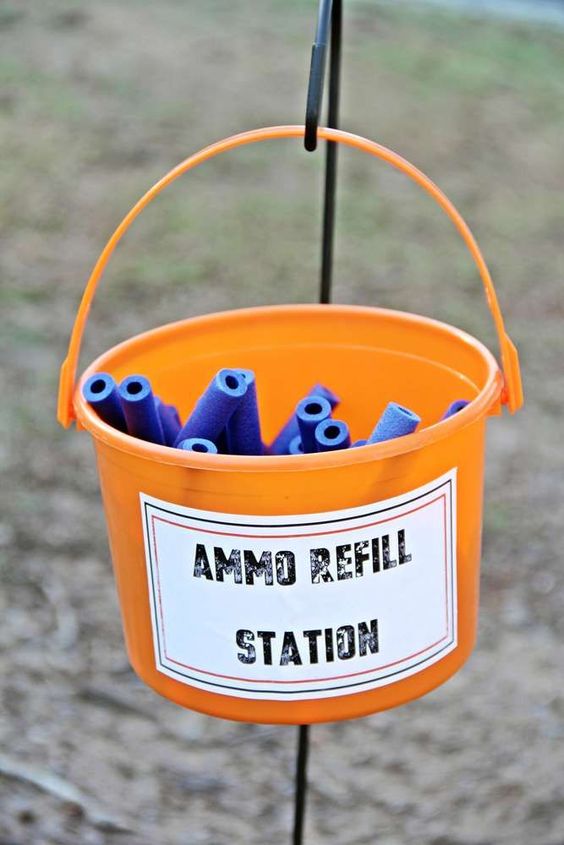 Nerf War Party Idea #2: You definitely want to keep your little warriors fully-stocked on ammo, so make sure you've got an awesome Ammo Refill Station like this scattered around your party! The color choice for the buckets fits in perfectly with the theme too, just as long as you pick out a Nerf orange or a Nerf blue container for your very own ammo refill station!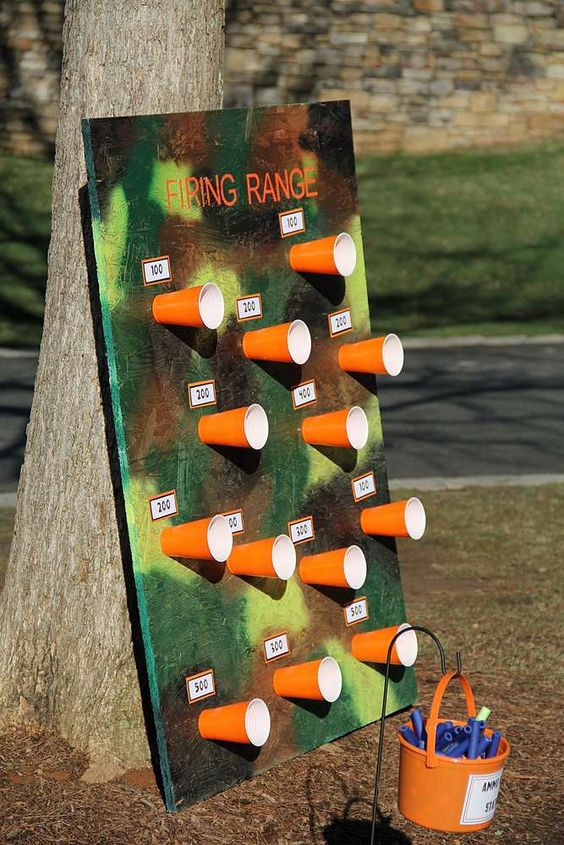 Nerf War Party Idea #3: This Firing Range is a must for every Nerf Party. Aside from keeping your guests occupied, it will also blend right in with the decor and theme of the party. It's so easy to make, too. All you need are some orange cups, some tape and a plyboard. Now sit back and watch as this oh-so-fun activity becomes the highlight of the party!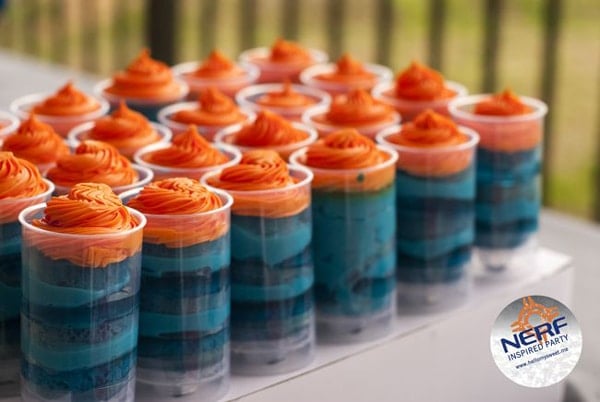 Nerf War Party Idea #4: Wow! These Nerf Inspired Dart Push Up Pops are such a creative way to incorporate your Nerf battle party theme into your desserts! To make these delicious and incredibly Nerf-like push-up pops, you're going to need a couple of push pop containers, blue raspberry Jell-O, some vanilla pudding that's colored blue, some vanilla frosting that's tinted orange, and some mini whoopie pie cakes that are also colored blue.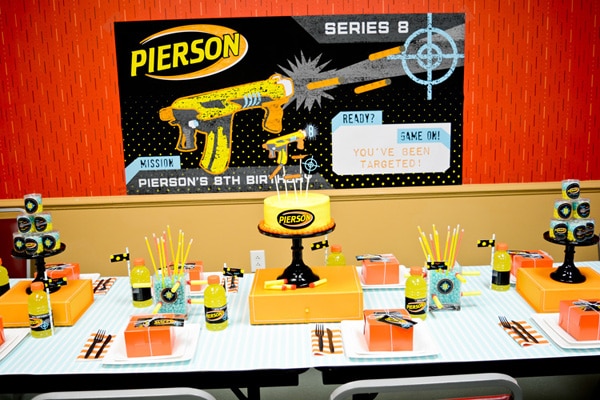 Nerf War Party Idea #5: How incredible does this Nerf Gun Laser Tag Party Dessert Table look? With the bright colors laid out on the table, all your guests will definitely dig into their meal with excitement! The action-packed backdrop looks super cool too!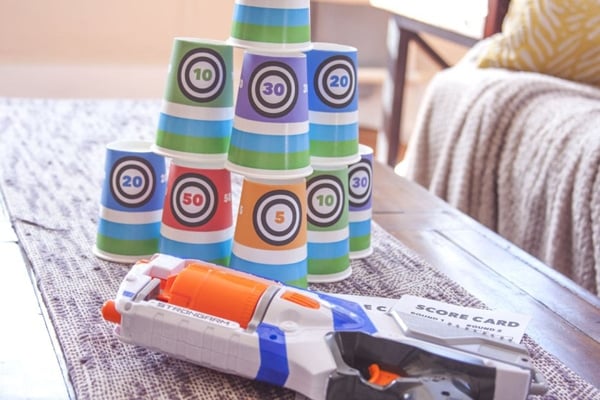 Nerf War Party Idea #6: Here's a nice little DIY Nerf Party Game for the children. The great thing about this game is that it's super simple to prepare and it promises a boatload of fun for the kids at your party. All you need are some disposable paper or plastic cups, some printable targets and scorecards, and loads and loads of ammo for many rounds of fun!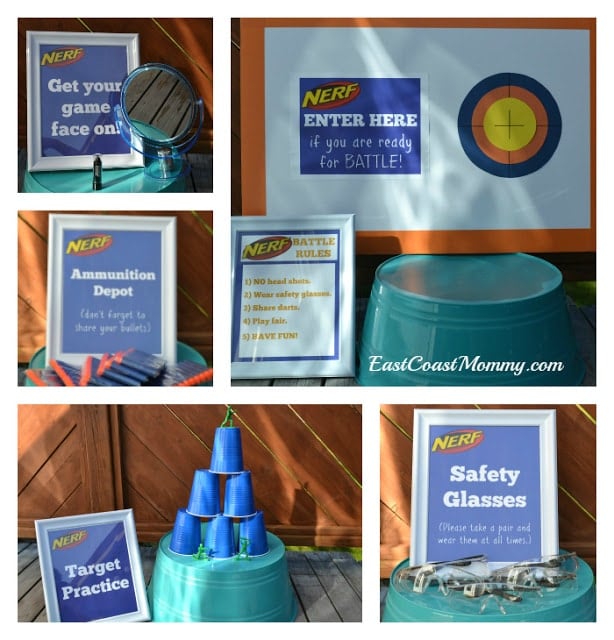 Nerf War Party Idea #7: Want to take your Nerf war party setup to the next level? Build some amazing Nerf Party Battle Stations around the party area! The ultimate Nerf war isn't complete without super creative Nerf battle stations like an ammunition depot, a safety glasses station, an area for target practice, and of course, a place to get their war paint on! Everyone's going to have such a blast when it comes to the ultimate Nerf battle after they go through these battle stations!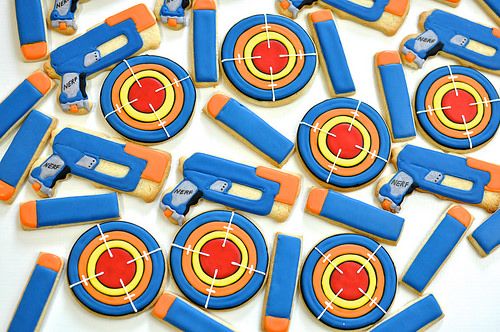 Nerf War Party Idea #8: These Nerf Gun Cookies look absolutely on point! To replicate the look of these awesome Nerf themed sugar cookies, you have to make sure to get just the right shade of Nerf blue and orange. The Nerf ammo and bullseye look good already, but check out the awesome detail on those Nerf guns!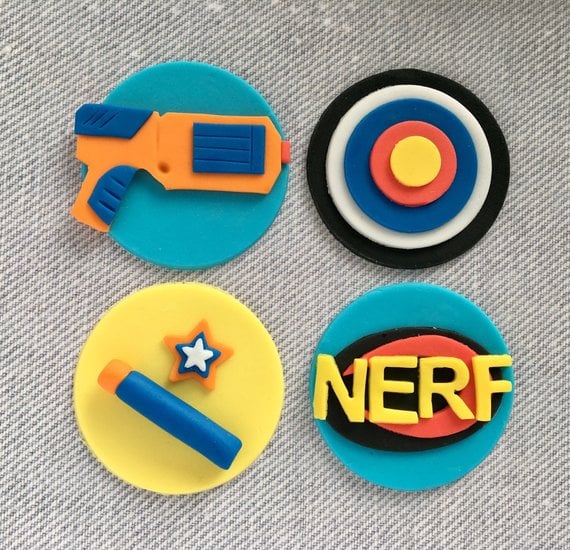 Nerf War Party Idea #9: Here's another cute Nerf food idea: Nerf Party Cupcake Toppers! Top any cupcake with these adorable Nerf-themed cupcake toppers and they're sure to be a huge hit.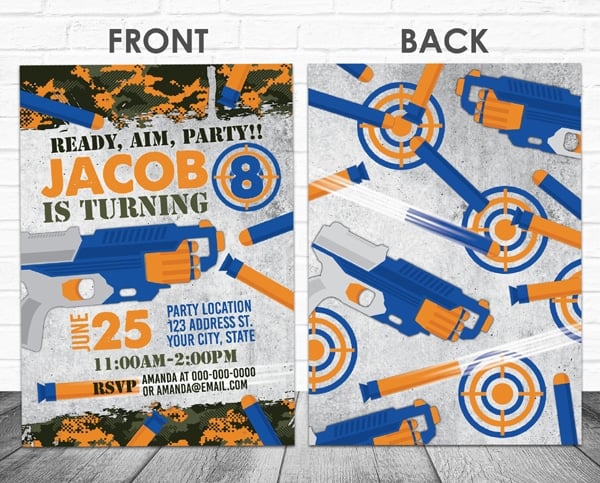 Nerf War Party Idea #10: You can't have an incredible Nerf party without an equally special Nerf Party Invitation! This brightly colored Nerf party invitation complete with Nerf guns, ammo, and bullseyes will definitely get your party guests excited to attend your celebration.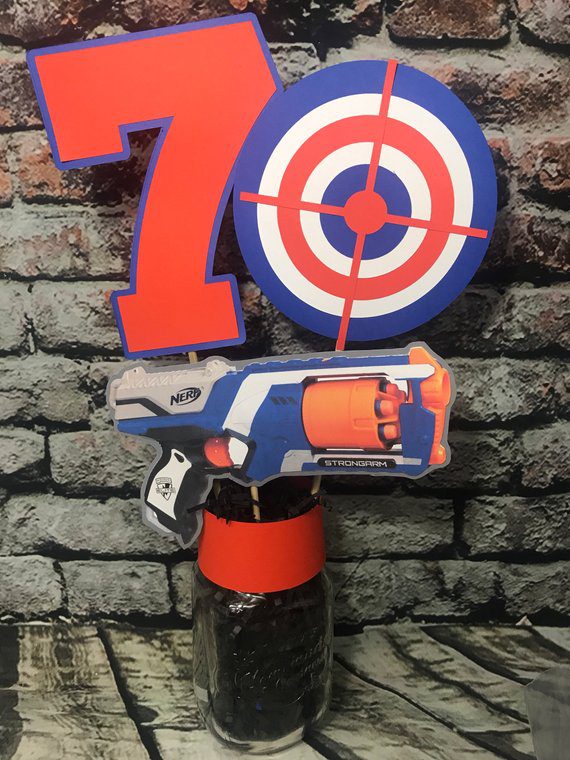 Nerf War Party Idea #11: Looking to spice up your party tables? You can definitely make everything look better with this Nerf Party Table Centerpiece! Pardon the pun but this awesome centerpiece hits all the right spots!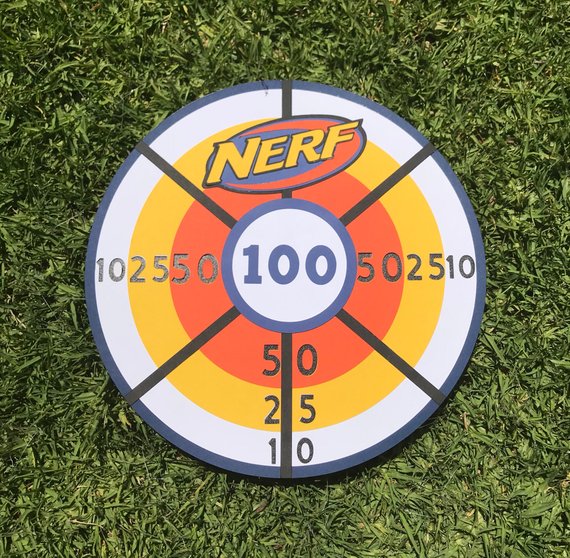 Nerf War Party Idea #12: Looking for some cool DIY ideas? Try this easy to make target board. Your Nerf war party definitely won't be complete without an awesome Handmade Nerf Target like this one.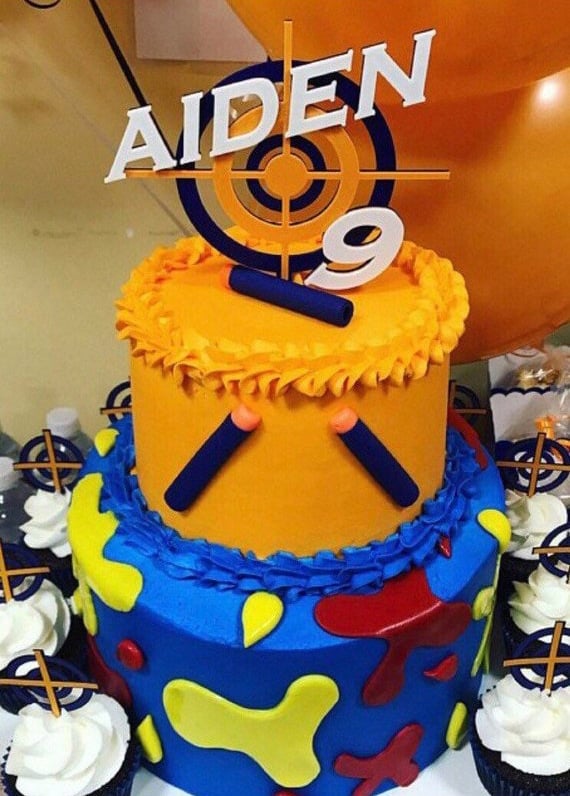 Nerf War Party Idea #13: Here's another wonderful Nerf war birthday cake idea. Like many other Nerf party ideas, it has to have the bright blue and orange colors to fit in perfectly with your theme. What really makes this cake a standout is the awesome Nerf Cake Topper!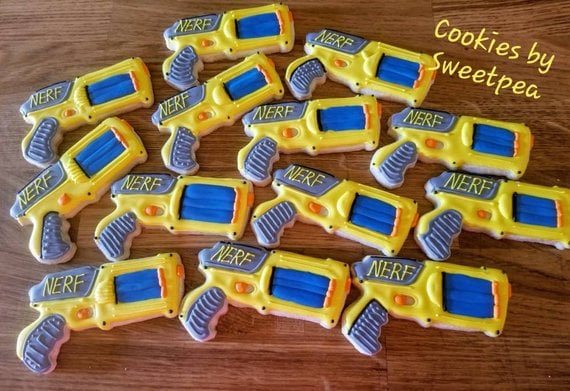 Nerf War Party Idea #14: These Nerf Gun Cookies look so detailed and beautiful! These cookies will definitely be a big hit on your dessert table.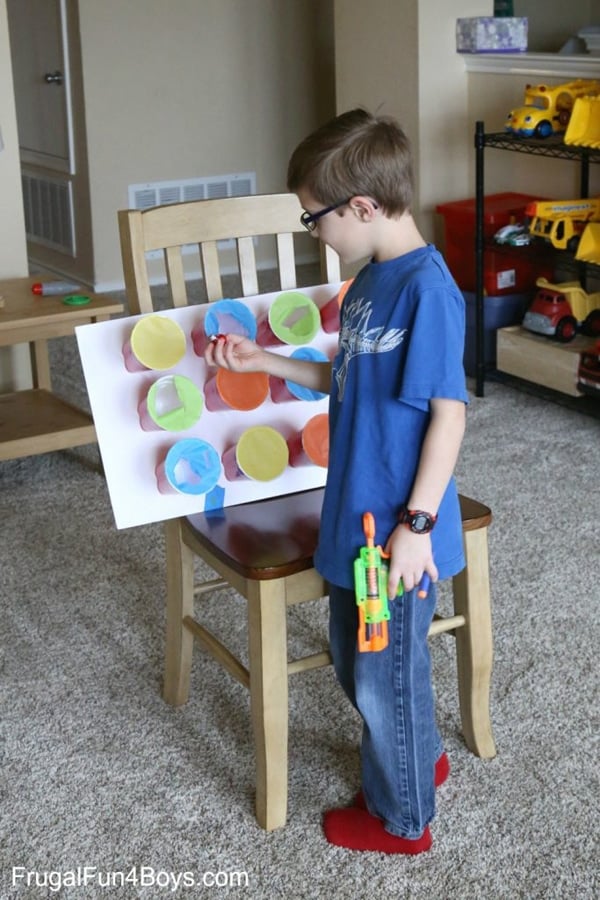 Nerf War Party Idea #15: You can't have too many Nerf target games at your Nerf war party, right? This Nerf Target Prize Game is another cool game that you can DIY for your party. It's a super easy project to do, and you will just be needing some paper or plastic cups, a cardboard, and some colorful tissue paper to make it!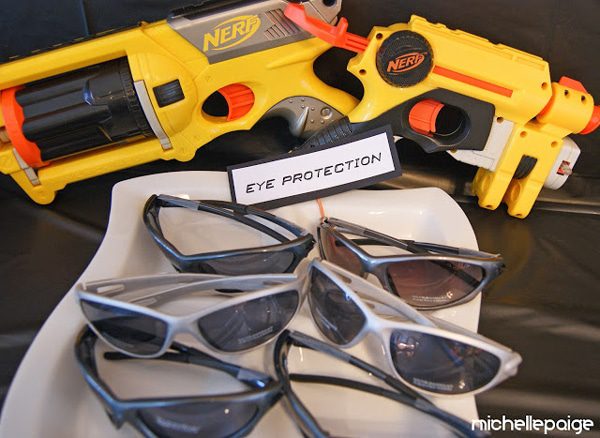 Nerf War Party Idea #16: What better party favors to give than these great Nerf Guns and Eye Protection Glasses Party Favors? Everyone will surely love taking home some of these!
Nerf Party Food Ideas
Need more food ideas to fuel your kid's Nerf battles? Here are some yummy treats that the little brave soldiers at your party will surely enjoy!
Cheese Curls – Nerf Darts
Pixie Sticks – Gun Powder
Doritos – Battle Chips
Cheese Balls – Cheese Pellets
Target Pizza
Jello Shooters – Sweet Shot
Crackers – Don't Crack Under Pressure
Marshmallow Pops – Bullseye Bites
Candy – Candy Bullets
Nerf Juice
For more party ideas, follow us on Instagram @prettymyparty and Pinterest and join us in our private Facebook group.