Whimsical Candyland Birthday Party
Get your sweet tooth ready for this fabulous Candyland Party!
This Whimsical Candyland Birthday Party, styled by Charlene of Chakoda Designs from Beverly Hills, California, is every girl's dream!!! This sweet and colorful Candy Themed Party includes amazing decorations like lollipops, gingerbread, ice cream, cupcakes, candy, sprinkles, donuts, and more! We love the amazing party ideas in this Candyland Birthday, including the incredible birthday cake, giant candy and sweets decor, the candy themed balloon garlands, lighted marquee letters, and much more! What a sweet celebration for a lucky little lady!
Candyland Birthday Party Ideas
Guests entered the party through an incredible Candyland arch
The foyer of the home was decorated with a pastel balloon garland and large candy and sweets decor
Guests followed the colorful Candyland floor squares that led to the Candyland Birthday
The birthday girl's name was spelled out in pink marquee letters
Lighted marquee letters also spelled out Candy and Bar
Colorful hanging pom pom garlands strung from the chandelier
Candyland themed balloons throughout the party
Cute gummy bear decorations wearing party hats
Life-size candy decorations, including Smarties, Tootsie Roll, Gummy Bears, Gumball Machine, and more!
Candyland table decorations, including ice cream cone, glittery gingerbread house, cupcakes and candy table centerpieces
Personalized Sweet Shoppe Dessert Table Backdrop
Dessert table with amazing Candyland Birthday Cake and candy bar
Pastel balloon candy themed arch in front of dessert table
Sweet Shoppe and ice cream play stands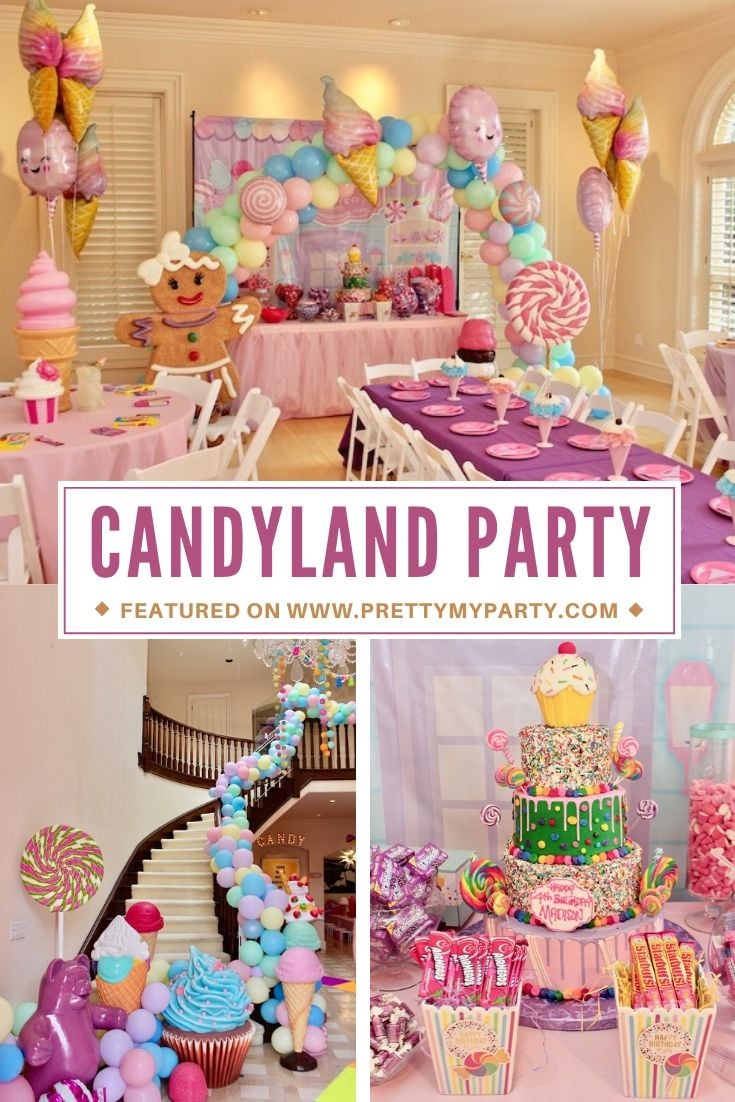 This Whimsical Candyland Party is too sweet! It's the perfect theme for any candy-loving girl and her friends! The amazing, life-sized candy themed party supplies and decorations really made this event magical!
Shopping list: Candyland Party Supplies
What's your favorite party ideas in this Whimsical Candyland Birthday Party? Let us know in the comment below!
For more party ideas for girls, follow us on Instagram @prettymyparty and Pinterest and join us in our private Facebook group.
Party Vendors
Party Styling: Chakoda Design