Teddy Bear Picnic Birthday Party
Come join us for a perfect little Teddy Bear Picnic 1st Birthday!
This Adorable Teddy Bear Picnic Birthday Party from Parties A Breeze of Australia, is the cutest theme for a boy's 1st birthday! Set up an outdoor picnic for you and your guests like this one with a fun teepee tent for the birthday boy, a donut stand, boho style picnic table and cushions for the littles, bear themed cake and desserts, and more!
This Teddy Bear Picnic Party features red gingham picnic themed decor, but you could always throw in blue or pink gingham patterns as well, depending on if it's a boy or girl theme. There are so many fun Teddy Bear Picnic Party Decorations that you can incorporate into this sweet theme. We also love how they incorporated blue, white and gold balloons and the "Teddy One" sign for the teepee tent.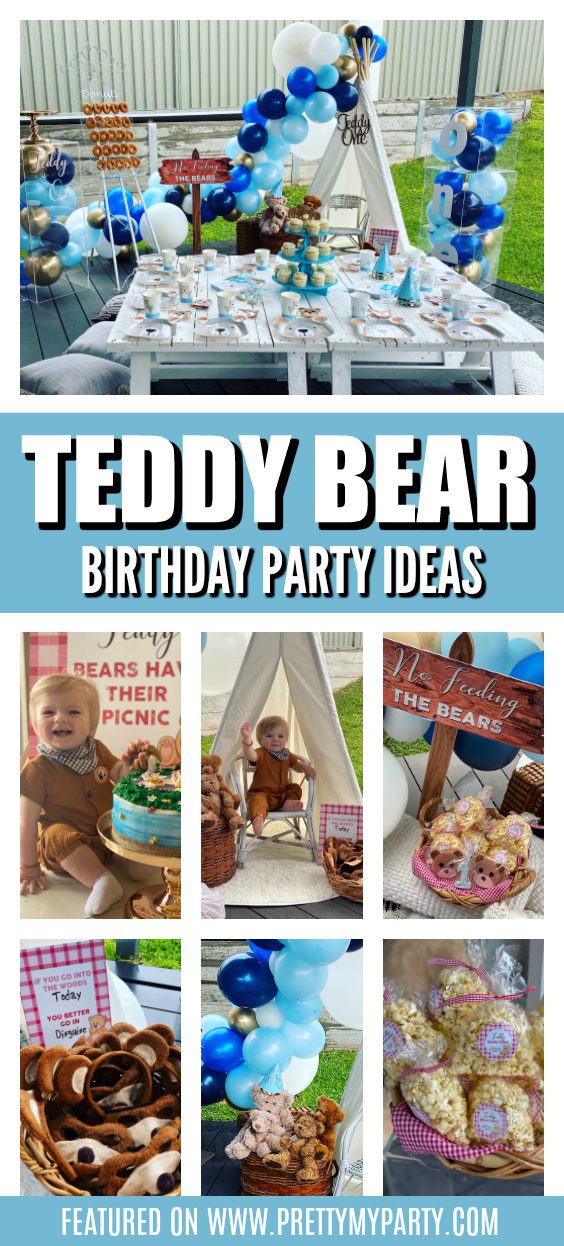 Teddy Bear Picnic Birthday Party Ideas
Gorgeous white teepee tent with matching chair and teddy bears for this 1st birthday boy's throne
Donut wall with delicious cinnamon donuts and a sign warning guests not to feed the bears
Gorgeous white kids boho table and cushions, styled with bear plates, napkins and cookies with a cupcake tower centerpiece
Adorable Teddy Bear Picnic 1st Birthday cake
Red gingham picnic themed signs, backdrop and other decor
Clear stacked boxes with balloons spelling out ONE
Cute bear masks and ear headbands for the kids
Teddy Bear plush decorations around the party, some wearing party hats
Popcorn Party Favors with red gingham teddy bear labels
We absolutely adore this modern day twist on a traditional Teddy Bears Picnic, styled with every little teddy bear in mind. Everything from the picnic-style table and cushions to the cake, desserts and decor were adorable! It's the perfect 1st birthday theme for a boy or a girl.
Shopping list: Teddy Bear Picnic Party Supplies
See more 1st birthday party ideas here:
What's your favorite details in this Teddy Bear Picnic Birthday Party? Let us know in the comments below!
Party Vendors