Fiesta Themed 1st Birthday Party Ideas
Wear your party sombrero and shake your maracas with a fun and festive fiesta themed 1st birthday party!
A Mexican fiesta 1st birthday party is so much fun because it involves an explosion of bright colors, delicious Mexican food, and exciting fiesta music. These bright and loud elements are going to be super enjoyable for your tiny tot – and everyone at your colorful fiesta!
If you're looking for fun fiesta themed 1st birthday party ideas, you've come to the right place. This article has a ton of awesome 1st birthday fiesta ideas to inspire you and help you come up with the best 1st birthday fiesta ever!
Keep on reading to discover so many incredible fiesta theme 1st birthday ideas – from a cute 1st birthday fiesta outfit for your little one to essential fiesta 1st birthday party elements like decorations, party favors, invitations, and other party supplies.
Fiesta Party Supplies and Decorations:
SEE MORE FIESTA IDEAS HERE: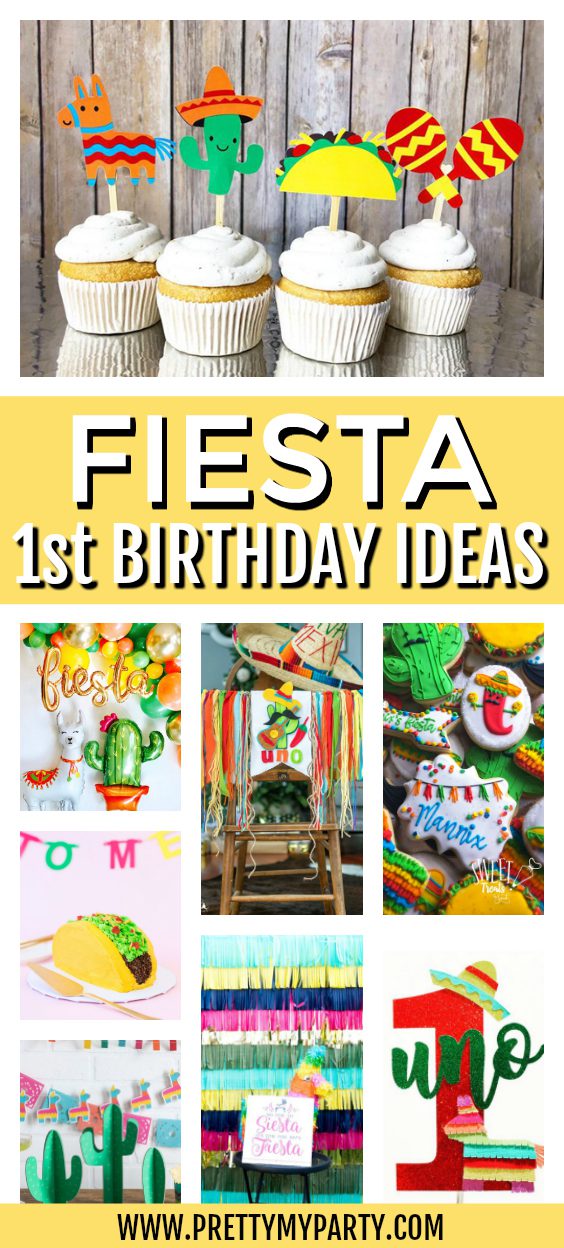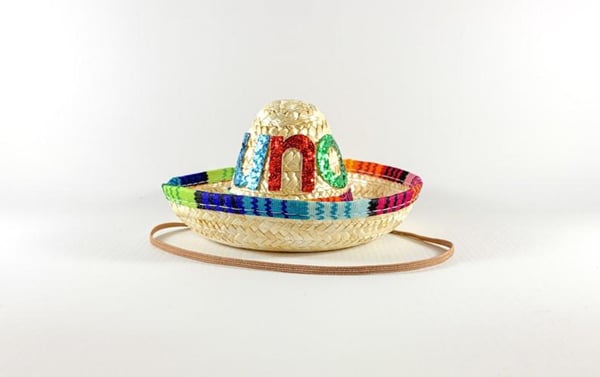 Mini Uno Sombrero: How adorable is this mini uno sombrero? This is absolutely perfect as a party hat for your one-year-old. The sparkly sequins used in the lettering makes it all the more special because babies love sparkly and colorful things! This will definitely be a great keepsake for your child.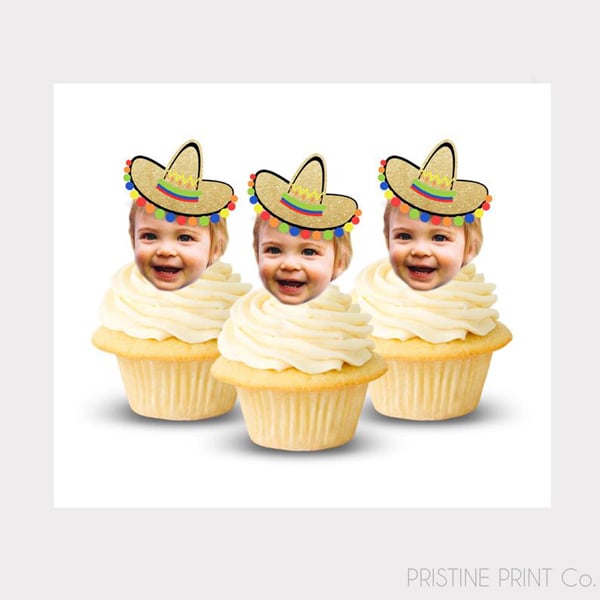 Fiesta Cupcake Toppers: These custom-made cupcake toppers are just so cute! You can have a party printables shop create these custom cupcake toppers for you. Or, if you have the photo editing skills, you can make them yourself and just print them out on thick cardstock paper!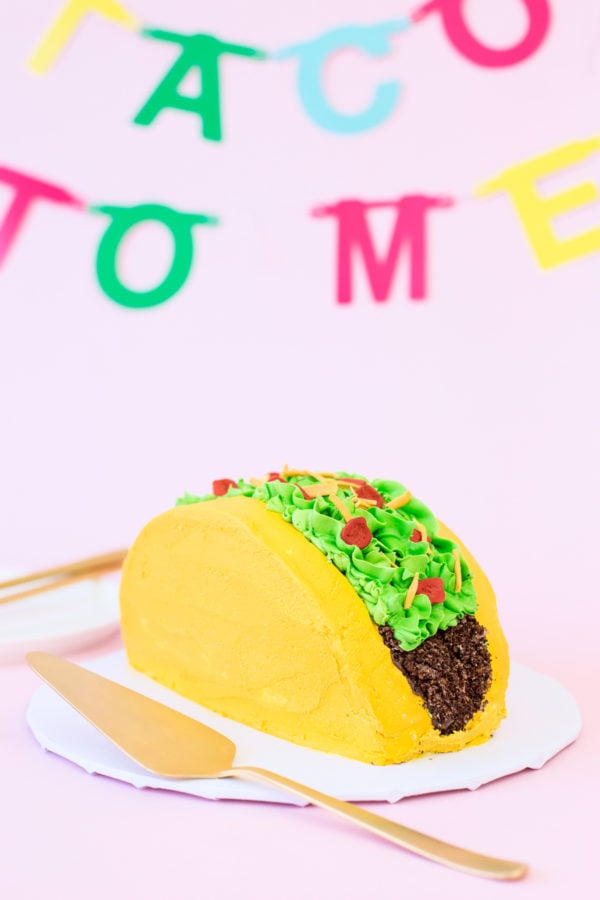 Taco Cake: This taco cake looks absolutely wonderful! And it's pretty easy to make too. Creative use of a regular 8-inch round cake, a small chocolate cake or some crushed Oreos, buttercream, meringue powder, sugar, and food coloring are all you need to make a gorgeous taco cake like this. To make the taco shell, just split the 8-inch cake in half!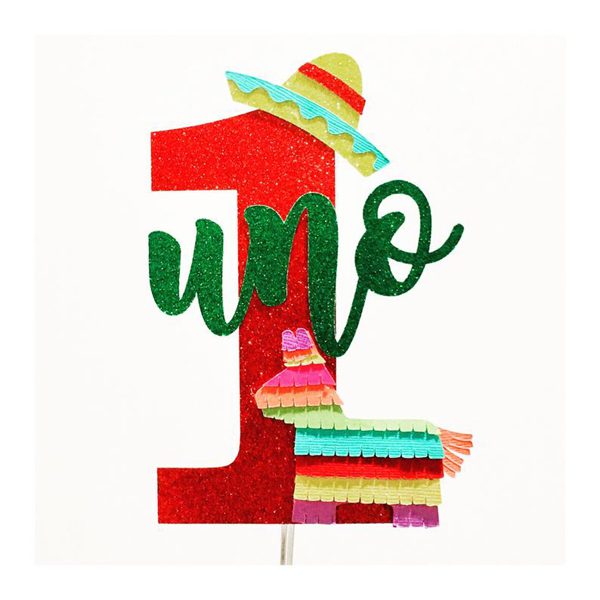 Uno Cake Topper: This simple and colorful uno cake topper will be a nice addition to any regular cake. It definitely gives a very 1st birthday fiesta theme vibe. The super cute sombrero and pinata adds a nice touch!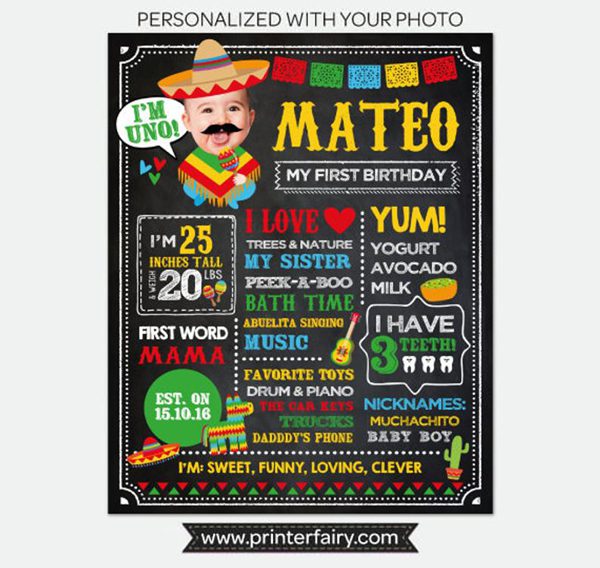 Chalkboard Poster Sign: Make your party venue so much more amazing with a custom-made chalkboard poster sign like this one! The super bright colors and personalized photo of your baby with an adorable sombrero (and mustache!) definitely makes this sign an obvious attention grabber.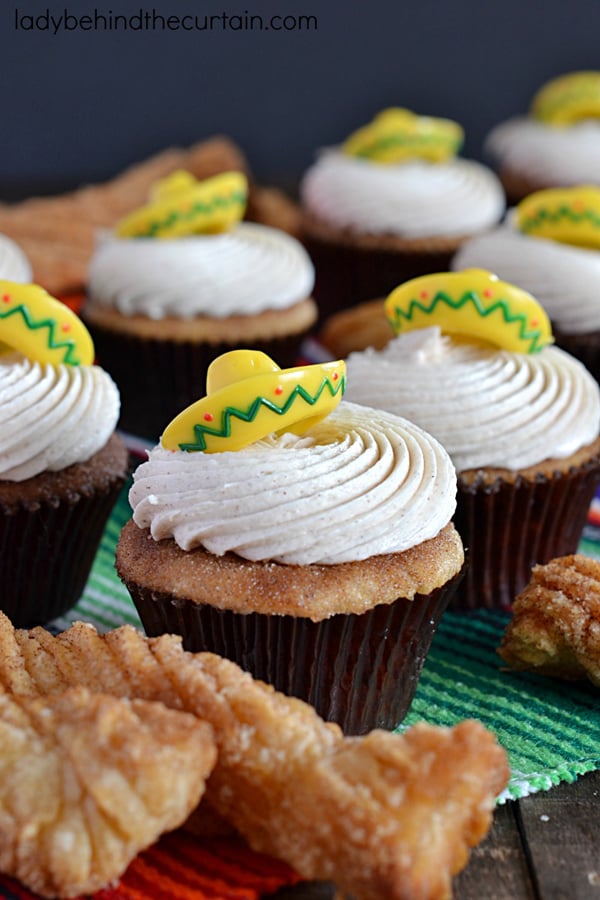 Churro Cupcakes: Adorable and delicious! These churro cupcakes are going to make a yummy addition to your 1st birthday Mexican fiesta dessert table. These scrumptious cupcakes are so full of cinnamon goodness that even the frosting is made with cinnamon cream cheese. The sombrero topper completes the whole look!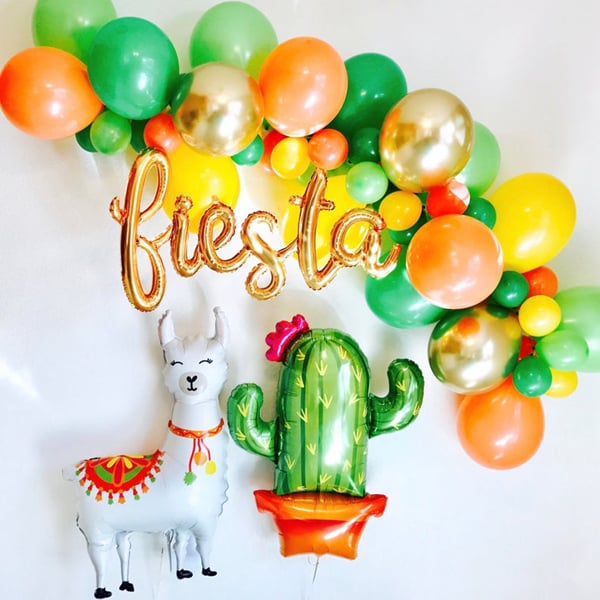 Fiesta Balloons: You can't have a 1st birthday Mexican fiesta without throwing a couple of succulents (and a llama) in! These cute balloons are going to look amazing as a backdrop for your food table or as a photo booth backdrop.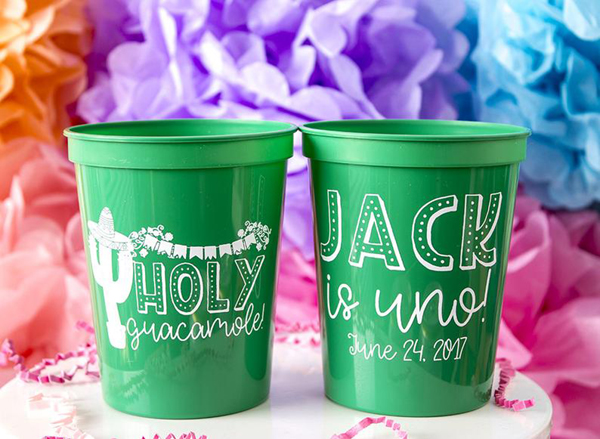 Party Cups: Fiesta-fy your party drinks with these customized party cups! You can even have custom messages printed on the cups too. Get crazy with the fonts and colors!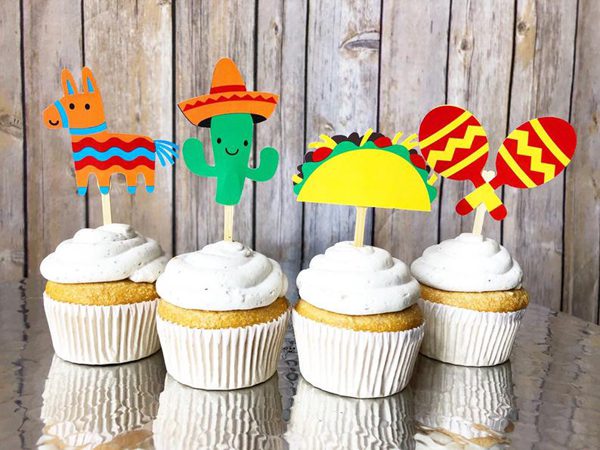 Cupcake Toppers: So cute! Tacos, a cactus in a sombrero, a pinata, and maracas are definitely some of the most popular fiesta elements around. These cupcake toppers definitely hit the mark! You can even DIY them by downloading some free printables and printing them out yourself.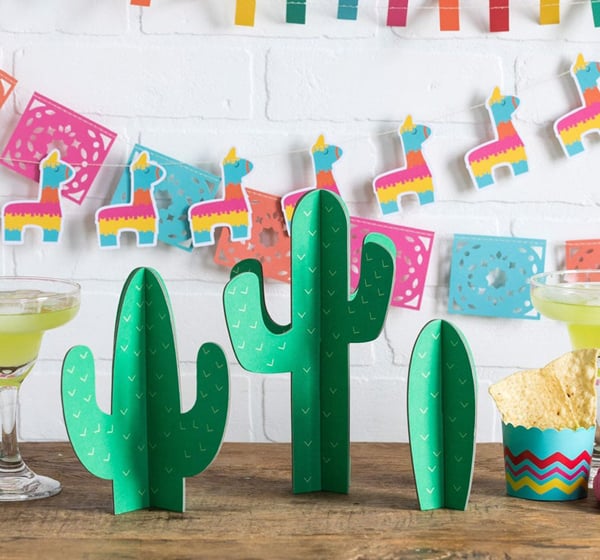 Cactus Decorations: Liven up your dessert table or taco bar with some lovely cactus decorations like these ones! These will also make for great centerpieces on your guests' tables.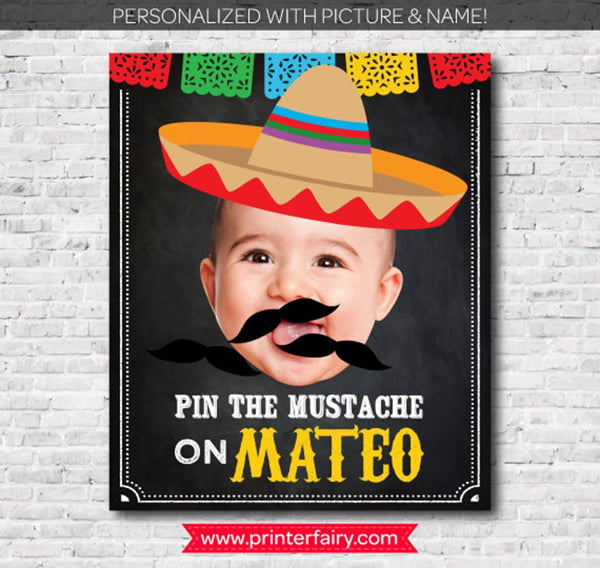 Pin the Mustache Game: This looks so cool! Put a Mexican fiesta spin on your regular pin the tail game with a pin the mustache game. Put your baby's face on it to make it more personalized.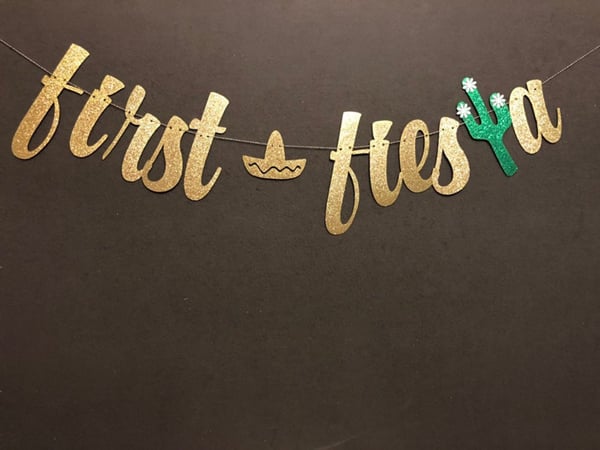 First Fiesta Banner: A simple but classy first fiesta banner can really liven up a blank wall. This green and gold banner is a nice way to go if you want to avoid too much brightly-colored stuff in your decorations.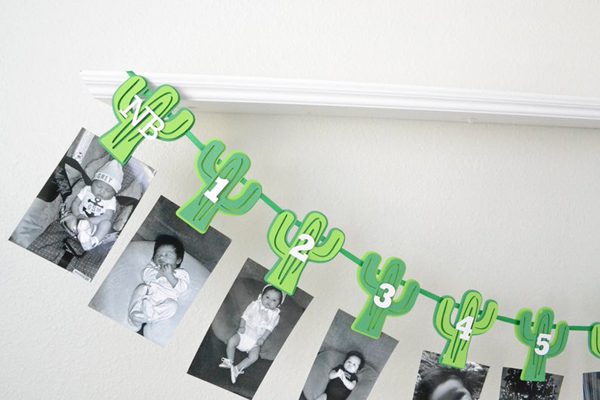 Cactus First Year Banner: This cute cactus first year banner documents the precious stages in your baby's life and shows them off to your guests. It's an adorable way to showcase just how much your little angel has grown!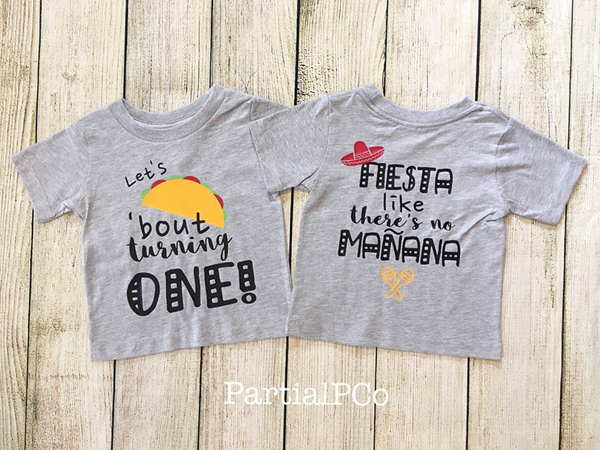 Birthday Shirt: Dress your little one up to match your party theme with these fun fiesta themed birthday shirts! If you're feeling really festive, you can have a bunch of them printed out with various clever fiesta themed phrases and give them away to your guests as party favors. They're definitely going to adore these!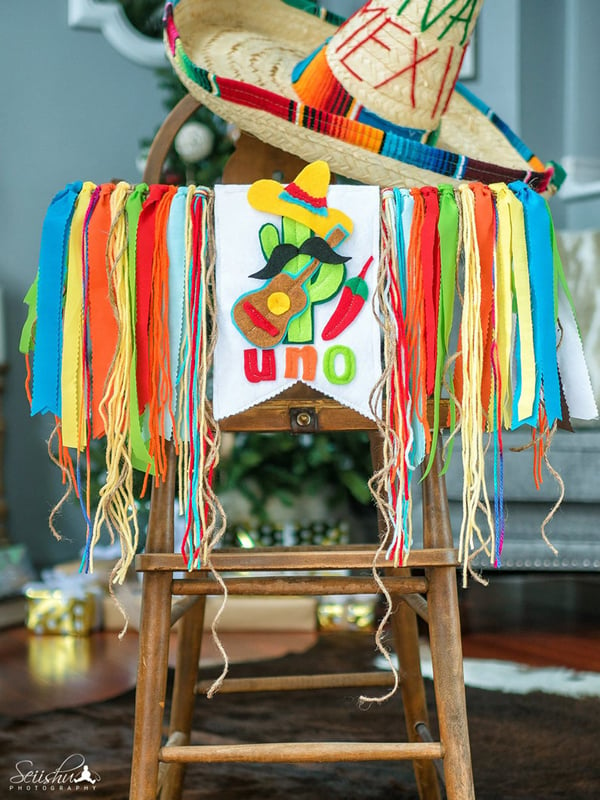 UNO High Chair Banner: Want a colorful upgrade for your little one's high chair? How about this fringe banner? This colorful banner is easy to DIY with some scraps of pretty fabric or felt paper, jute rope, and a couple of pom poms.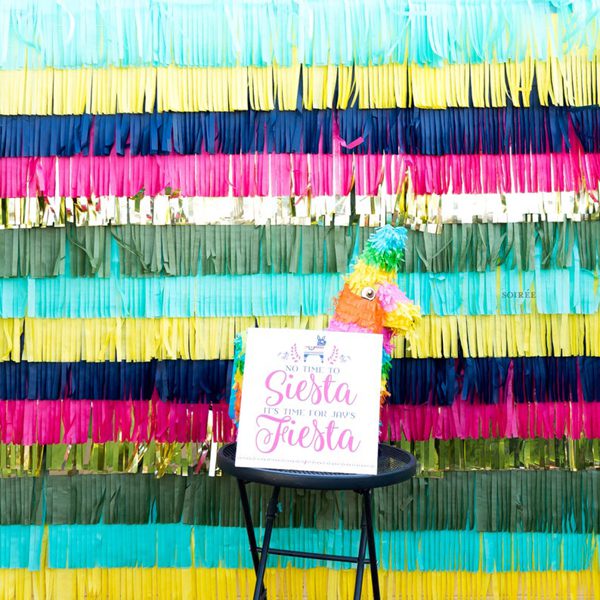 Fiesta Fringe Backdrop: Wow, this fiesta fringe backdrop sure is a scene-stealer! You can order this custom made with colors of your choice, or you can try your hand at a nice, little DIY project using tissue paper and rope. If you're looking for photo booth props or something to liven up the wall behind your dessert table, this fiesta fringe backdrop is definitely a great choice.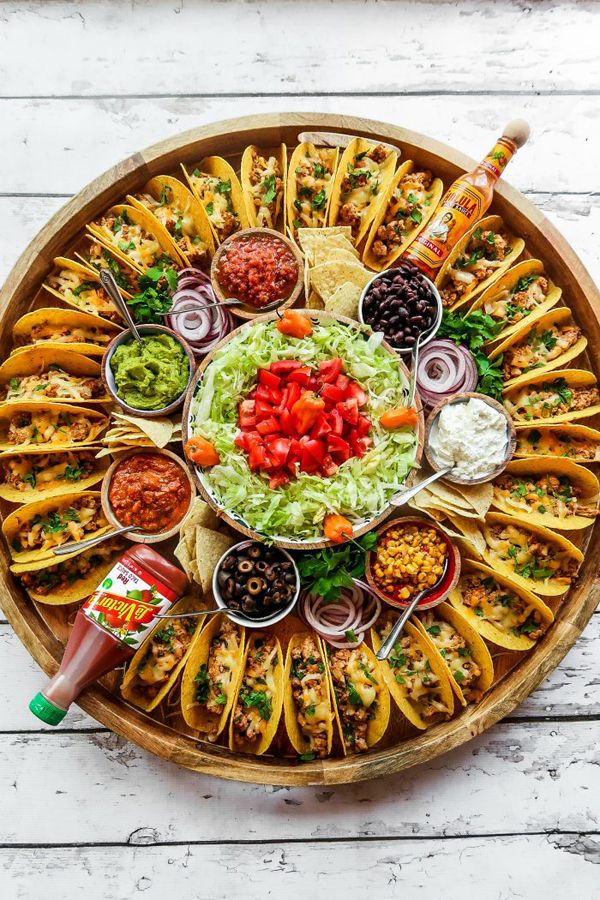 Taco Board: You can't have a fiesta party without tacos! This colorful huge taco board looks both stunning and delicious; your guests will surely love digging into this one!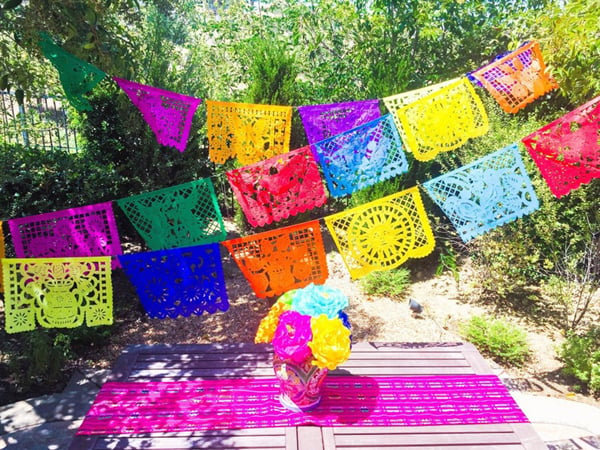 Mexican Papel Picado Banner: Want to go classic Mexican for your fiesta themed party? This Mexican Papel Picado (perforated paper) banner is a great way to do it! Papel Picado is a traditional banner used in Mexico for fiestas, weddings, quinceaneras, and other fun celebrations.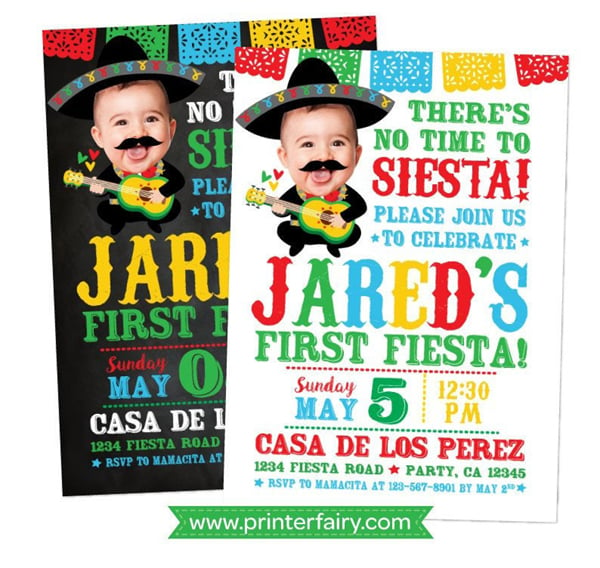 Fiesta 1st Birthday Invitation: Who can say no to these colorful party invitations? The custom photo of your baby playing music with a mustache and sombrero really makes these invites stand out!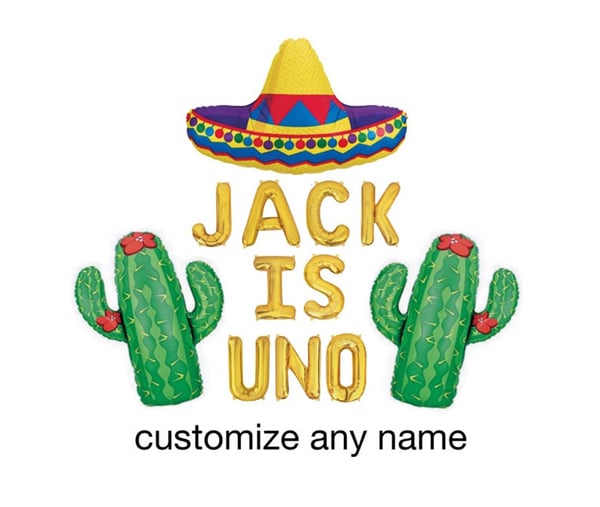 UNO Balloons: These customized uno balloons with some adorable cactus balloons thrown in will make for an excellent addition to your fiesta party decorations.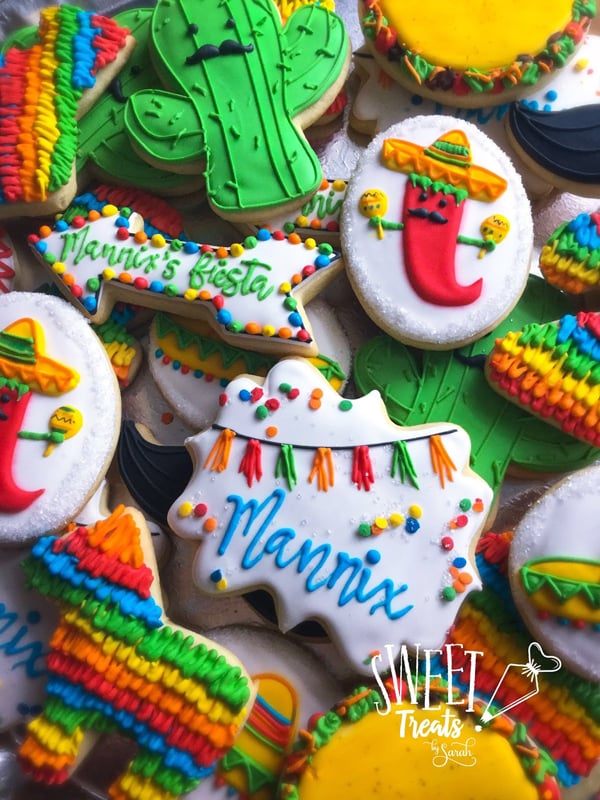 Fiesta Cookies: Sugar cookies are a staple at any kids birthday party. These colorful fiesta cookies will definitely be a hit at your fiesta themed 1st birthday party.
Which of these fiesta theme party ideas did you like the most? Share your thoughts in the comments section below!
For more ideas, follow us on Instagram @prettymyparty and Pinterest and join us in our private Facebook group.