Taco Bout A Baby Gender Reveal Party
What will it be? A senor or senorita? Find out in this fun fiesta-themed gender reveal party!
This festive and colorful Taco Bout A Baby Gender Reveal Party features a taco bar, margarita bar, piñata cake, fiesta-themed-cookies, Taco Bout A Baby balloon backdrop, and the most anticipated event of the night – a confetti balloon gender reveal!!!
Sam and Michael had been trying for several years to have a baby, when they were told that they would need to try fertility treatments or in-vitro-fertilization (IVF). They were so thrilled to find out that after one cycle of IVF, Sam was pregnant!
The doctor's office contacted Sam and asked her if she'd like to know whether the baby was a boy or a girl, and they decided they'd like to be surprised. However, they did decide to find out about the additional embryos that would be frozen for future pregnancies. All of the embryos turned out to be boys, and Sam grew anxious to find out if she would be carrying another boy for what she called "her baseball team", or a sweet baby girl.
She felt that this could be her only chance to have a daughter, and nearly cancelled the party in case the baby was a boy – she didn't want to appear disappointed in front of everyone. Luckily, we knew the secret, and convinced her that this was her only chance to be surprised by the results (since she had already found out the genders of the other embryos), and the party planning began.
Sam and Michael decided to throw a Gender Reveal Fiesta in honor of their favorite date-night cuisine – Mexican food! They included fun touches like fiesta-theme cookies, a margarita bar, a taco buffet, and papel picado banners. All of their closest friends, family, and neighbors came to celebrate and find out the gender of Baby Brown. The guests chose pins labeled "Team Taco" and "Team Burrito", and signed a framed sonogram of the baby in their guess of pink or blue, then gathered around for the big reveal.
The parents-to-be chose a fiesta-themed balloon and confetti canons for the reveal. The whole group counted down together, and the balloon was popped! See below for the gender of Baby Brown!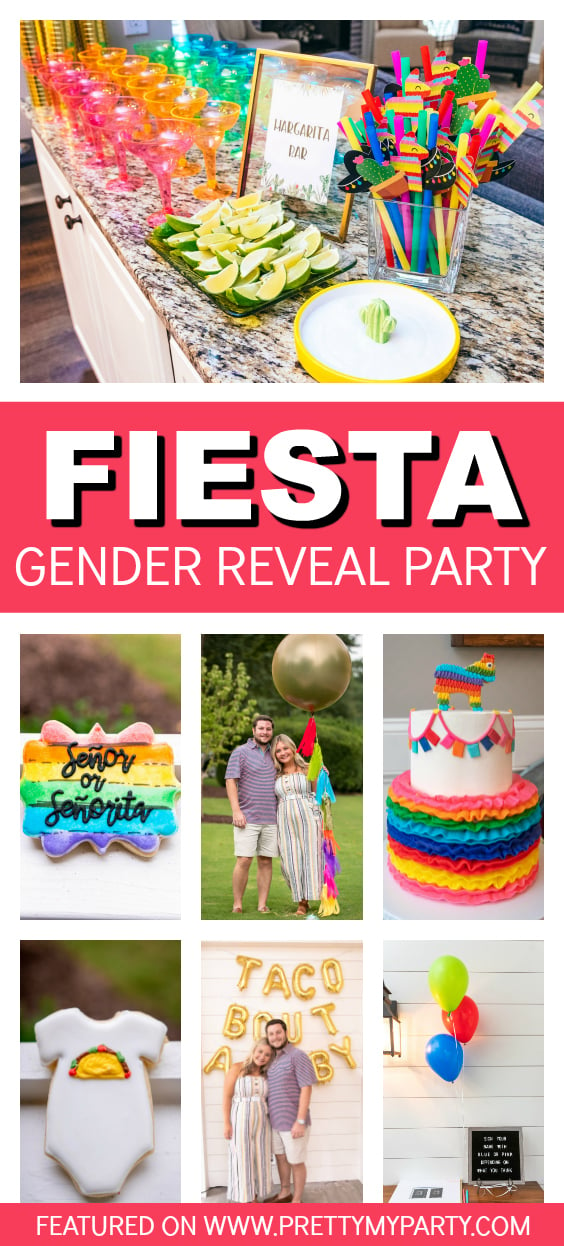 Taco Bout A Baby Gender Reveal Party Ideas
Cute Taco Bout A Baby gender reveal invitation
Colorful piñata gender reveal cake
Fiesta-themed cookies including a taco onesie, cactus, sombrero, senor or senorita, and piñata
Framed sonogram guest book
Gold taco bout a baby balloon backdrop
Colorful margarita bar with colored margarita glasses and fiesta-themed straws
Awesome taco bar
Team taco or team burrito pins
Confetti balloon gender reveal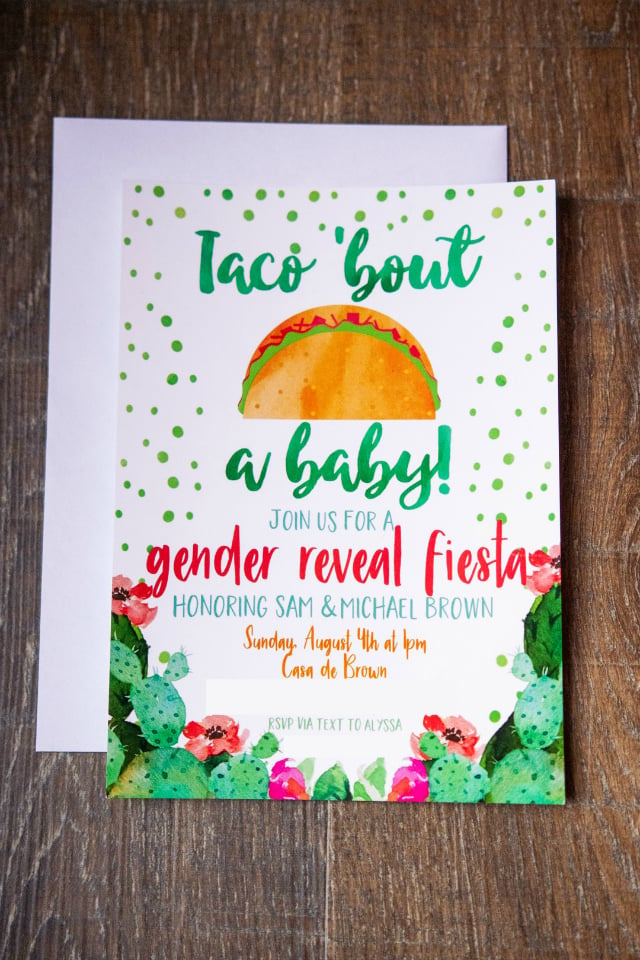 Taco Bout A Baby Gender Reveal Decorations:
In a storm of pink paper confetti, Sam was jumping up and down crying happy tears – she had her baby girl! Everyone rushed in for hugs, laughing, and crying together. The celebration continued for hours, and Sam and Michael agreed that they were so happy that they had stuck with their plan to host a gender reveal fiesta!
We absolutely love everything about this gender reveal party! What a great way to welcome a new baby girl into the family! What's your favorite details in this Taco Bout A Baby Gender Reveal Party? Let us know in the comments below!
For more gender reveal party ideas, follow us on Instagram @prettymyparty and Pinterest and join us in our private Facebook group.
Party Vendors
Caterer: La Parilla
Bakery: Cakes by Anna
Bakery: Twin Baked Cookies
Event Planner: Ivory and Pine Co
Photographer: Frank Gibson Photography