Colorful Fiesta Theme Quinceanera
Celebrating a special Quinceanera soon? This Colorful Fiesta Theme Quinceanera will give you ample inspiration for every single detail that you'll be looking to have in your own special day!
This sweet girl was getting ready to celebrate her special day and we absolutely love the final results! A Colorful Fiesta Theme Quinceanera was the theme for her big day and it was clear that this was a very special girl who was going to be celebrated! After all, it's not every day that someone turns 15, so a celebration was high on the list for her, along with her family and friends!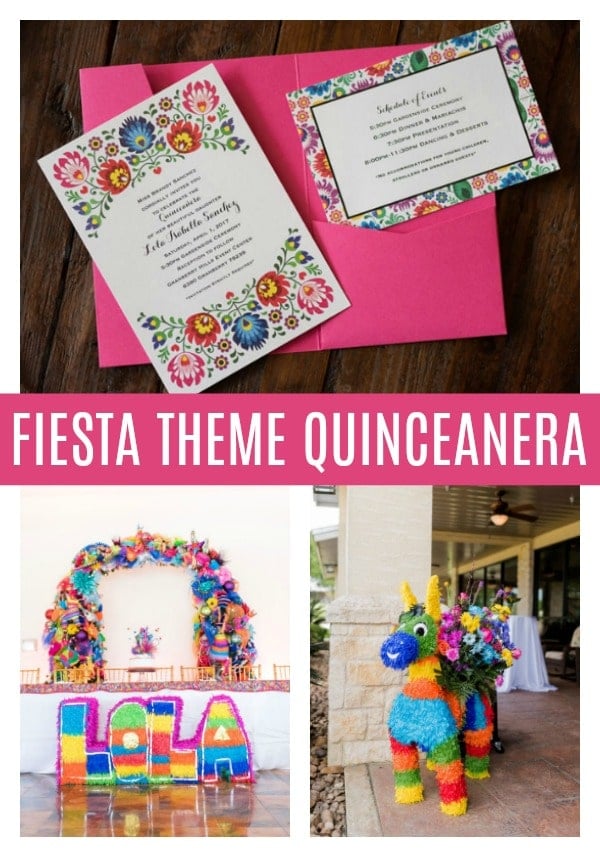 Fiesta Theme Quinceanera decorations
Colorful Fiesta Theme Quinceanera Party Ideas that are on the top of our list:
Gorgeous "LOLA" letters that adorned the front of the main table. They looked like large and bright pinatas!

Hand-painted canvas shoes for the birthday girl
Not one, but TWO, special hand-painted gowns with gorgeous hot pink petticoats and colorful flowers for the special day
A perfect horse-drawn carriage ride for the birthday girl, to her special Quinceanera

What is a Quinceanera?
You may be wondering what this celebration is all about and we're here to tell you! A Quinceanera is a celebration of a girl's 15th birthday and has its cultural roots in Latin America. It is celebratory throughout the United States, though!
The term Quinceanera is solely reserved for females and marks the transition from childhood to young womanhood. In the past, it was a time when girls were taught cooking, weaving and other adult responsibilities in preparation for their future roles as wives. What an interesting Latin tradition!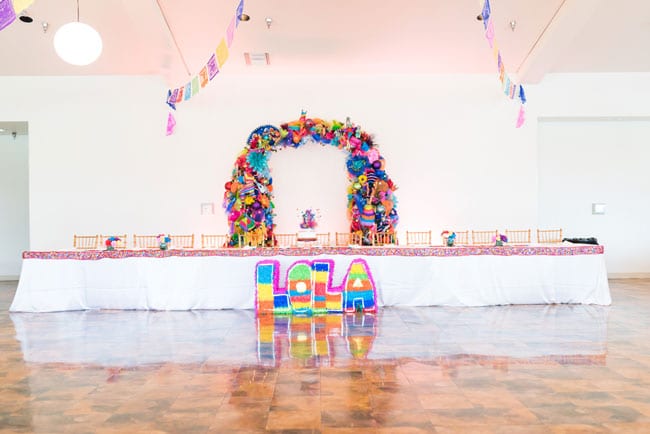 When it came to this Quinceanera party, the more colorful, the better! We just love this head table design and the amazing arch that is located behind the main table. Gorgeous!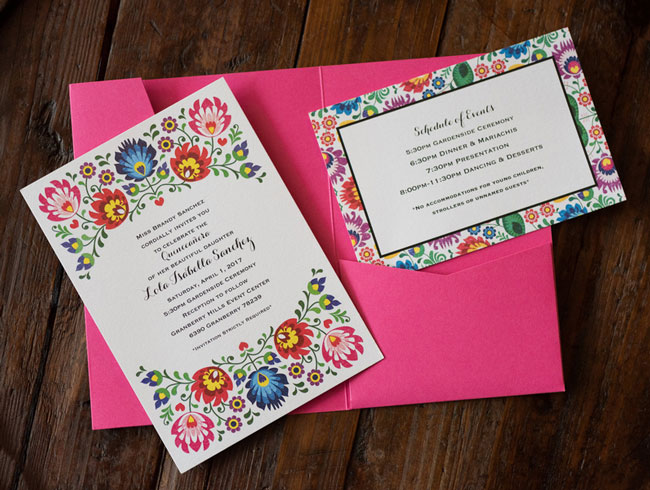 How sweet are these Quinceanera invitations, full of color and flowers! They just scream spring, happiness and whimsical fun. We also love how the invitation matches the Quinceanera dress.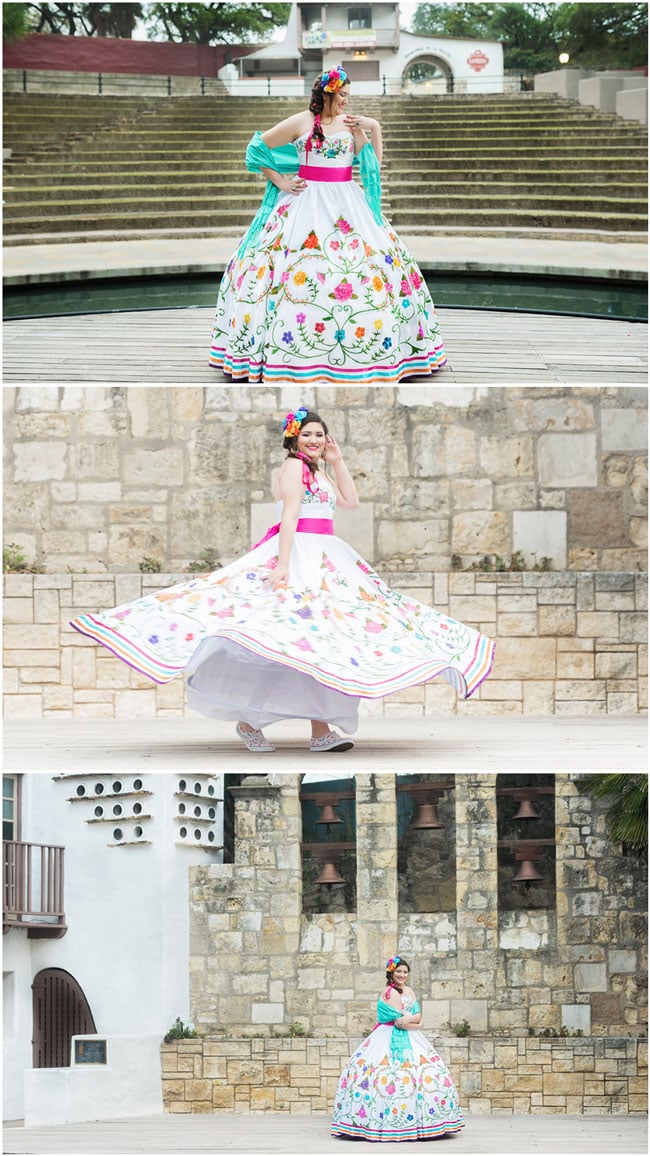 What to wear to a Quinceanera?
Typically, guests at a Quinceanera wear formal attire, similar to what one would wear for a wedding. Women can wear floor-length evening gowns or cocktail dresses, but the birthday girl is the one that really shines in her gown!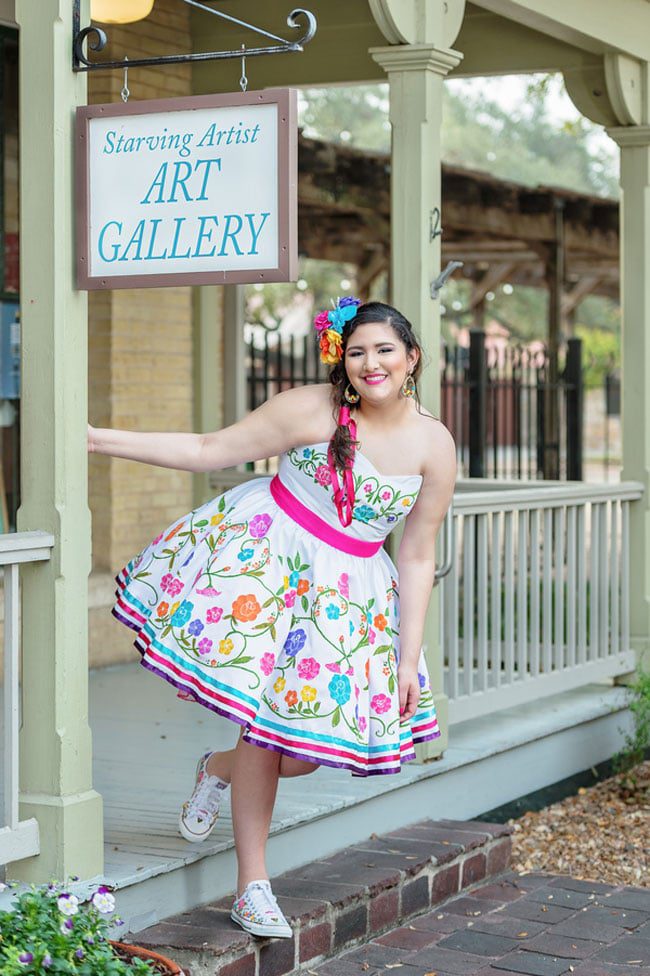 This special girl's mom and grandmother spent months planning her perfect quinceanera at the beautiful Granberry Hills. But the amazing part of the day was the birthday girl's gowns that she wore. She didn't have merely one gown that she was able to wear for her special day, but she had TWO, designed by El Rodeo Country! They were hand-painted gowns with gorgeous hot pink petticoats and colorful flowers painted all around the two dresses.
We can't say enough great things about these amazing canvas shoes that the birthday girl got to wear for her special Quinceanera! Hand-painted, like her gowns, they were the perfect way to keep a modern touch on such a special day.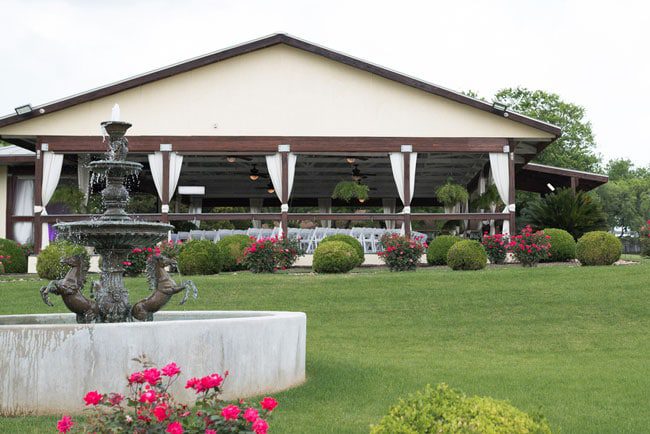 Fiesta is a big deal in San Antonio, Texas. It's a time when people take weeks off from work and plan their vacations around. With over two weeks of parties, events and parades, it's the city's signature event – the perfect time for a Quinceanera!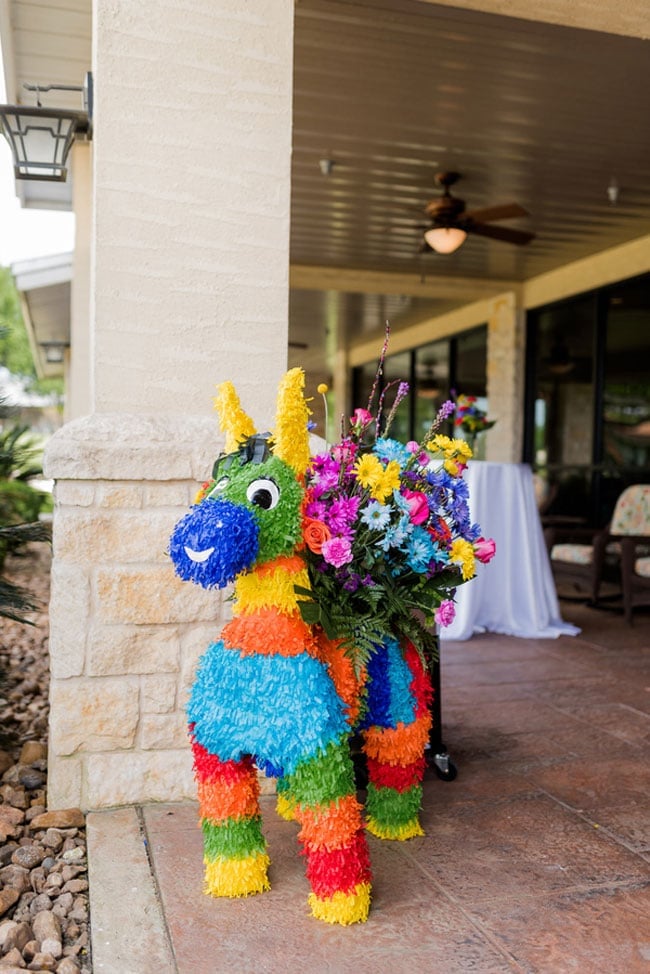 Brightly painted flowers are a key part of Fiesta, which was the main inspiration behind the bright colors of this sweet girl's Quinceanera. Gorgeous giant pinatas filled with brightly colored flowers welcomed guests at the door. What a great Quinceanera decoration idea!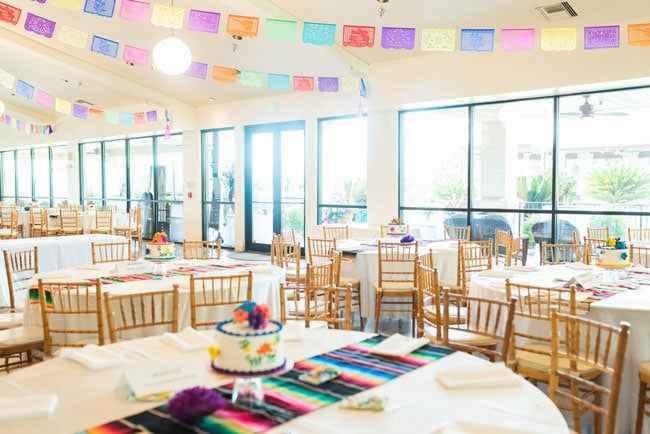 The theme goes perfectly with Lola as she has two beautiful and strong women role models in her life who worked hard to make her 15th birthday Quinceanera celebration perfect for her. What an amazing Mom and Grandmother this girl has in her corner! The venue looked absolutely perfect with colorful papel picado banners hanging across the ceiling, colorful fiesta table runners, and colorful cake centerpieces for each table!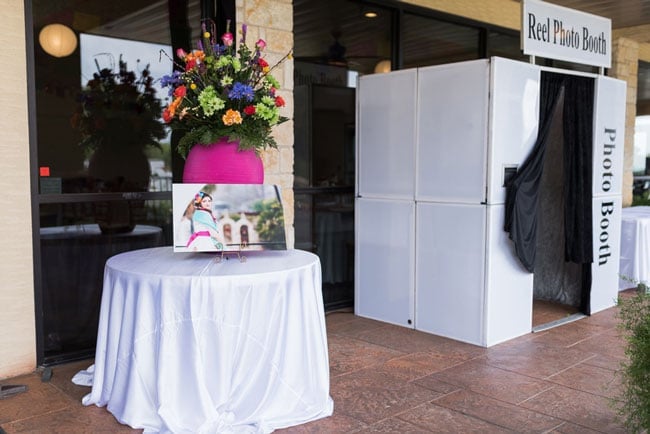 What kind of Fiesta theme party would it be without a photo booth to capture all of the wonderful moments of the day?! Everyone absolutely loved being able to make crazy and fun faces during the Quinceanera.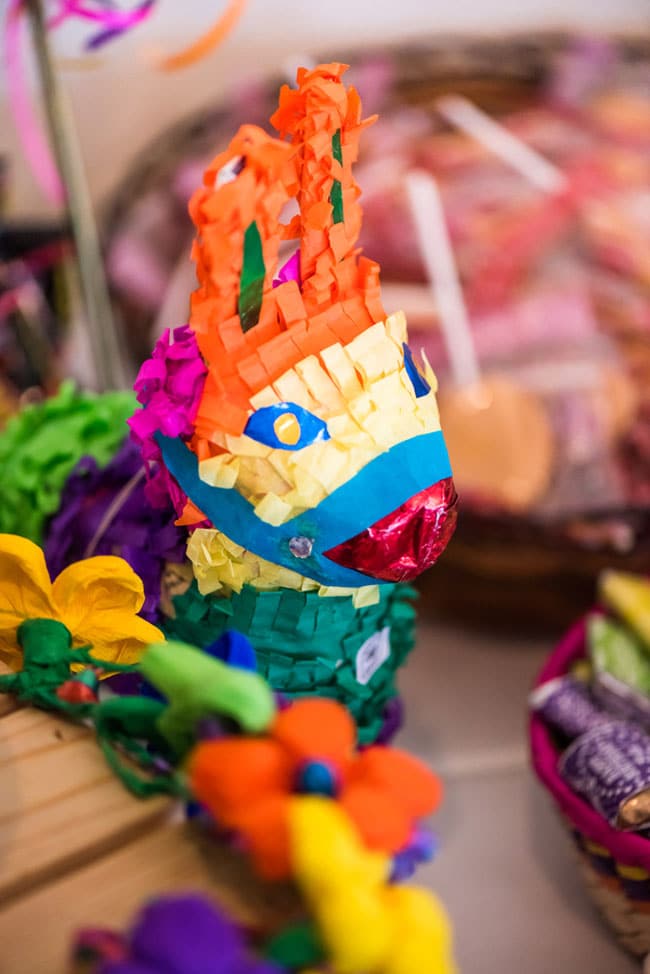 Mexican decorations were found everywhere throughout the Quinceanera. Pops of color were everywhere, along with mini pinatas and gorgeous flowers. What a fun and colorful Quinceanera!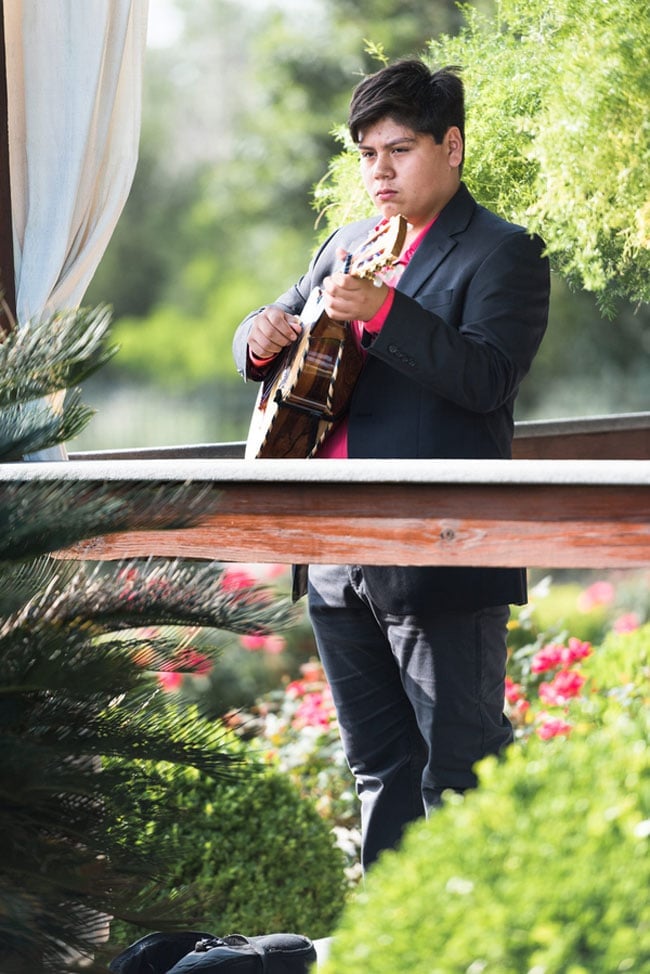 Quinceanera music was on hand during the entire event. Listening to authentic Latin music was so much fun for the guests, along with being able to listen to amazing musicians.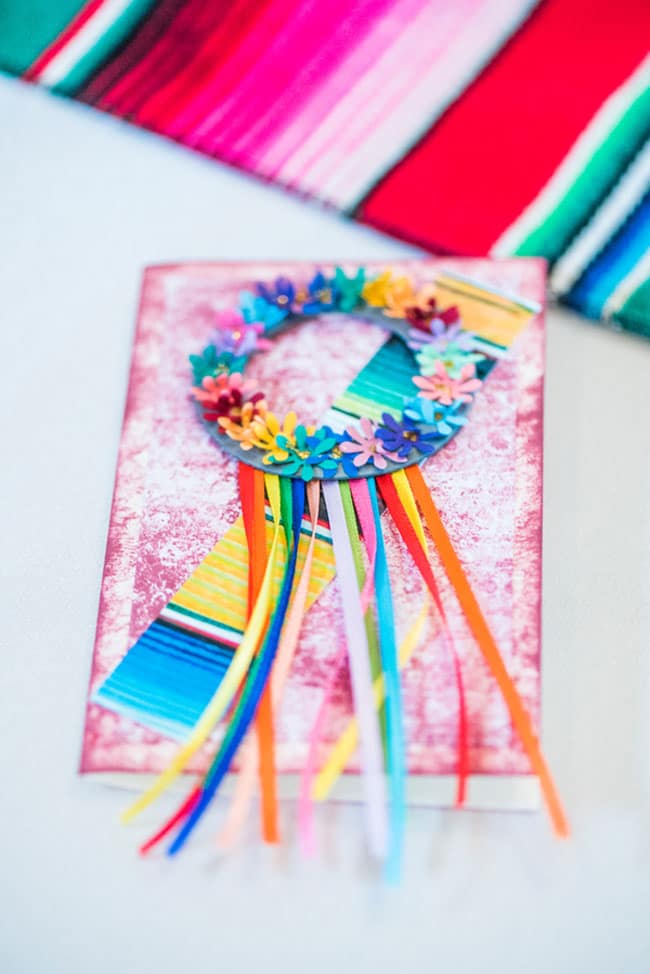 The colorful and authentic Quinceanera decorations were featured throughout the entire event. Everything was so beautiful inside and out. It was truly a dream come true for this special girl!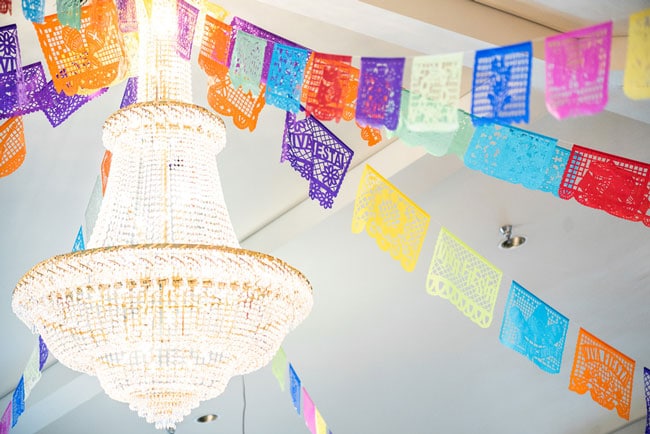 Just look at those amazing, colorful papel picado banners that were flying high above all of the guests heads. The chandelier alone was the perfect centerpiece in a room for the Quinceanera, but the bright colors and decorations added to the perfection!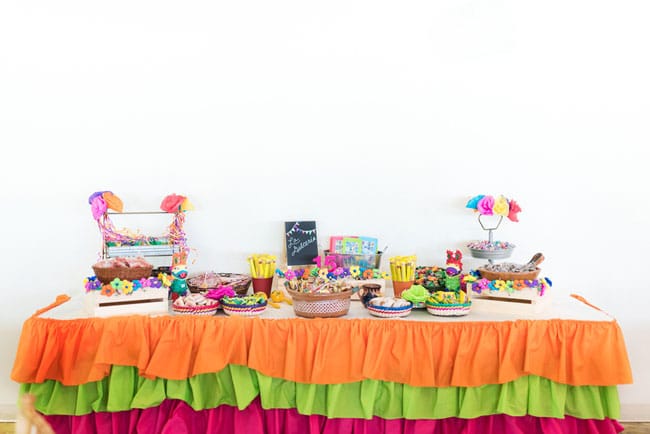 Colorful decorations beautifully surrounded everyone, no detail was spared. There was a Mexican themed candy table that featured goodies for everyone to enjoy. And the colorful table runner was the icing on the cake! Look at those beautiful hand-crafted flowers on the table!
The amazing signage that was found throughout the Quinceanera event were so gorgeous. The chalkboard look is one of our favorites, and combined with the great colors, it was the perfect offset for the decor.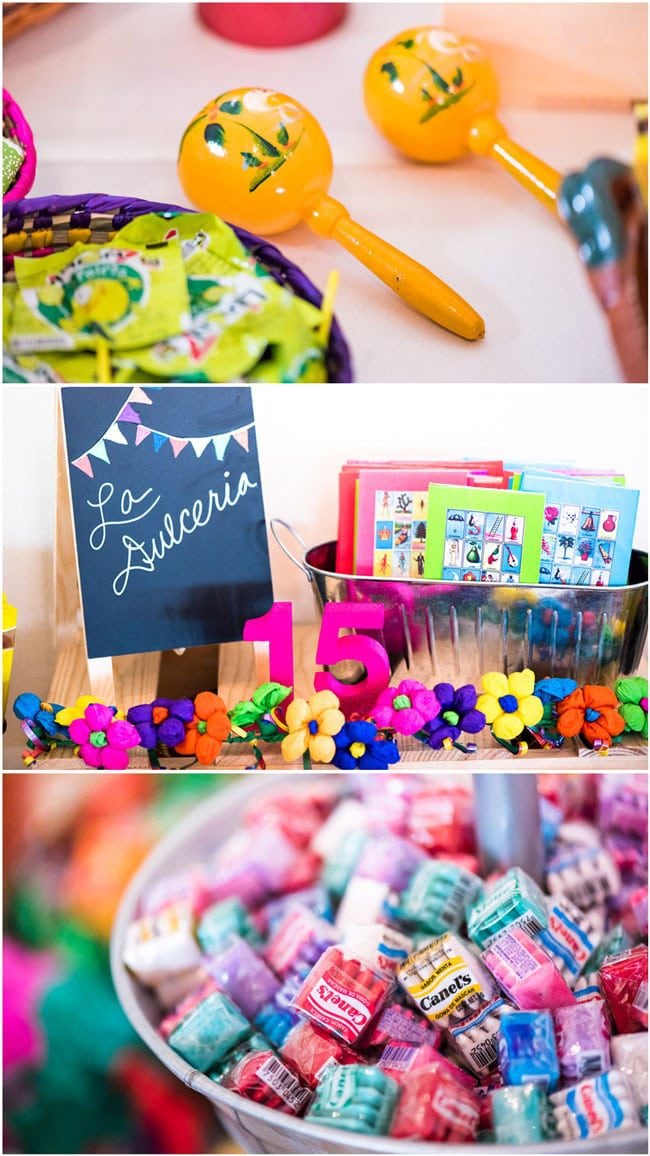 She's Crafty Too made many of the handmade goodies that were found throughout the event.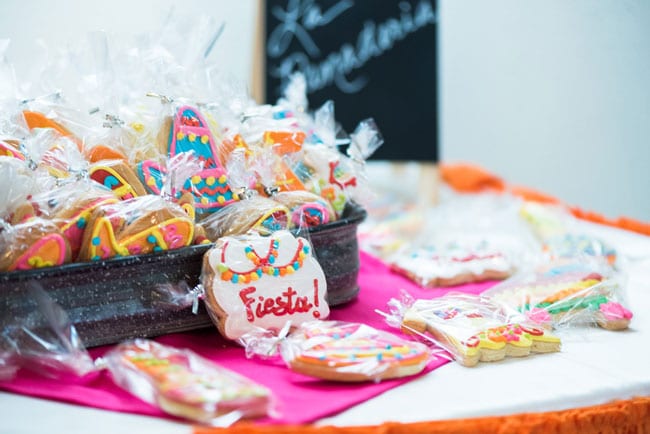 Who could resist these yummy fiesta party theme cookies?! They were absolutely gorgeous and the colors matched the party theme perfectly. Delicious food was available for all of the guests to enjoy, prepared by Fusion Cuisine Catering.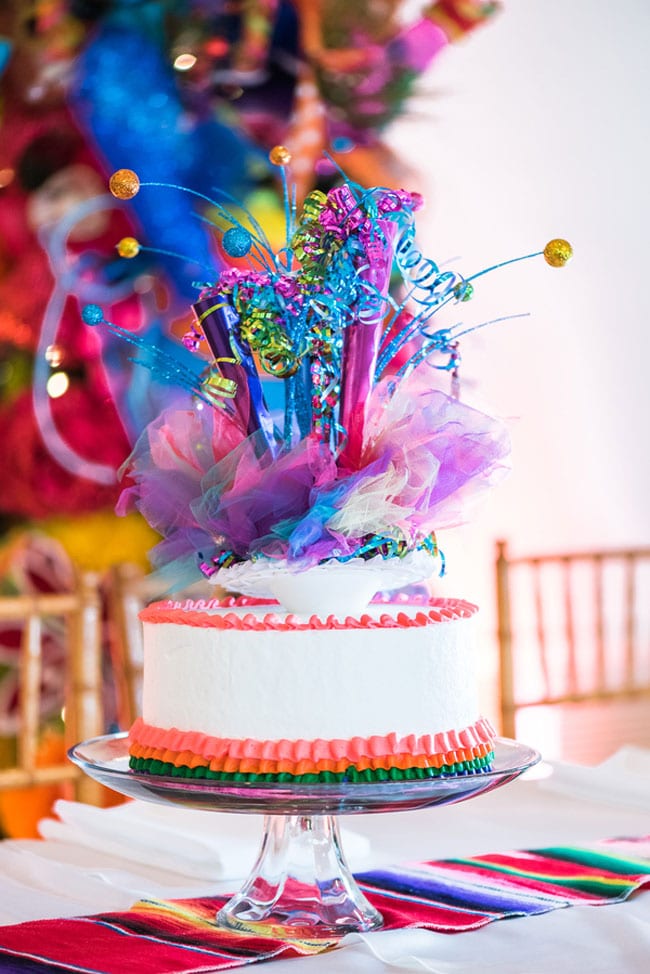 A beautiful fiesta cake on bright serape table runners was found at every table as a centerpiece. What a fabulous fiesta party idea!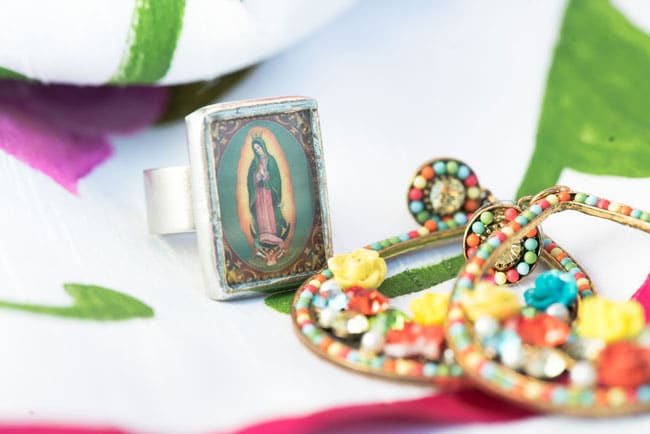 Fiesta medals are collector's items. Collectors search and try to earn and collect these beautiful custom medals and pins to show off their Fiesta spirit, so it's no surprise that Lola had her very own custom medal to give as Quinceanera favors!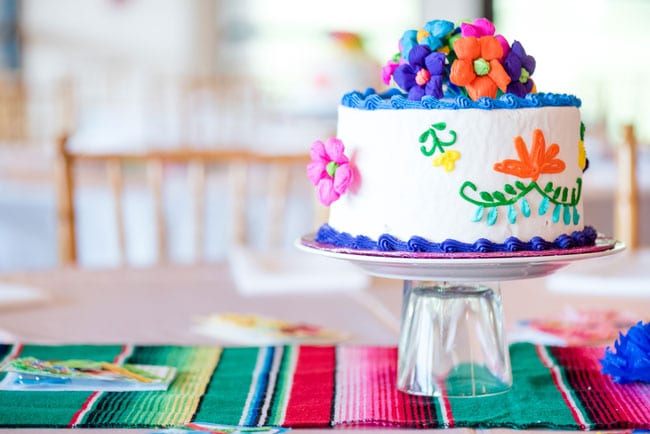 The cake topper on her main table was special as it was from her own mother's sweet 16. What a special way to incorporate the past heritage into the future!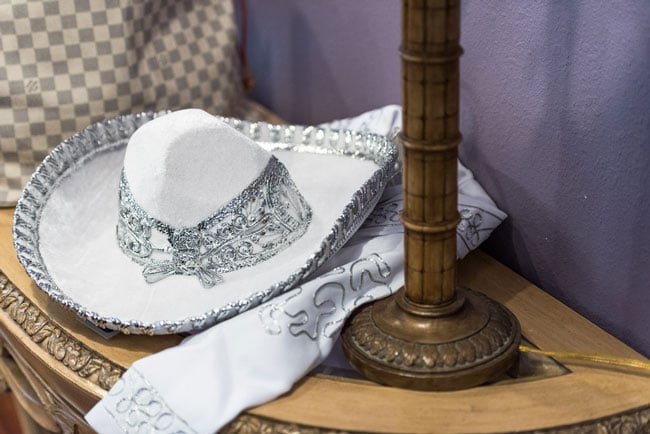 Her little brother wore a white and silver mariachi outfit, which was absolutely adorable!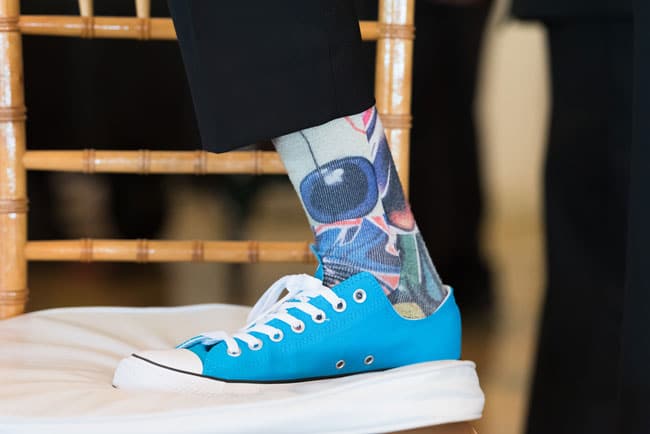 He also had his own fancy canvas kicks to go with the outfit, as well. We just love this modern touch!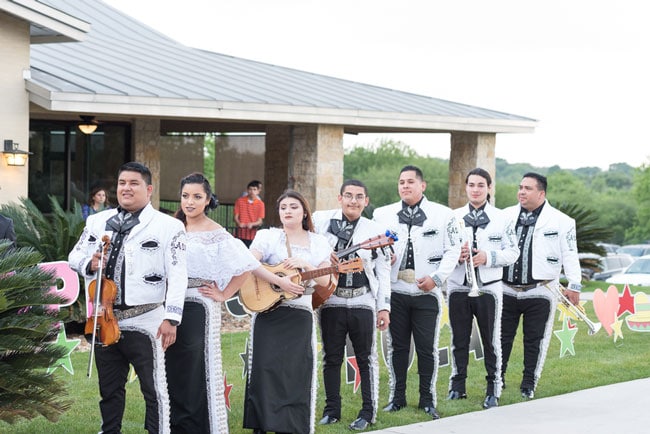 Mariachi Alma de Mexico did an amazing job during the Quinceanera celebration. Authentic Latin music was a hit for everyone!
One of the best Quinceanera ideas during this entire day was how the birthday girl made her grand entrance. What could beat a genuine horse and carriage entrance, just like Cinderella?!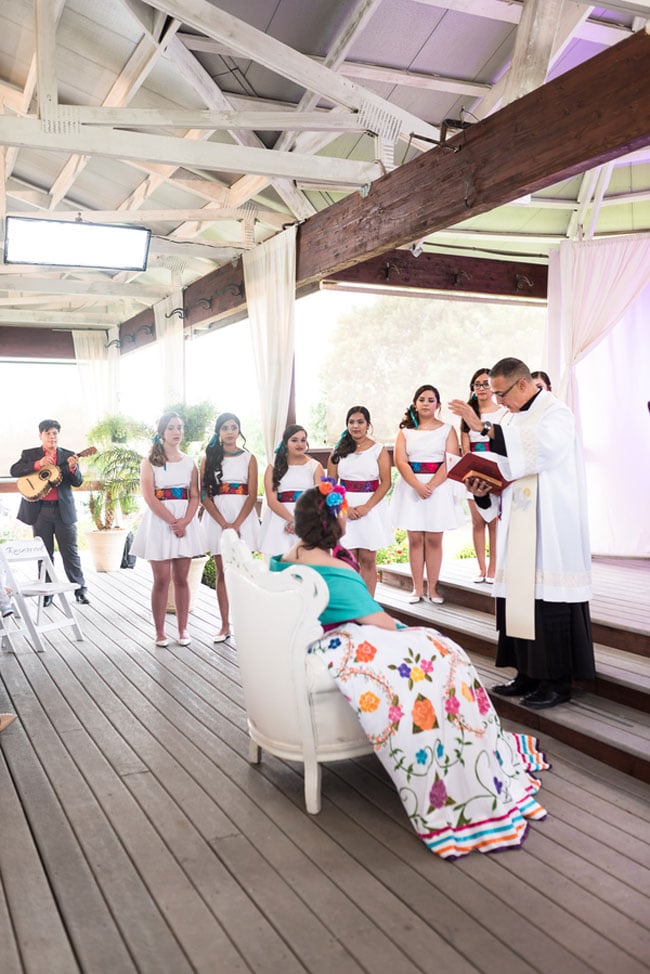 The special Quinceanera ceremony was magical, and being down in Texas, it was great to have it held outside, no matter the weather, in a wonderful tented location.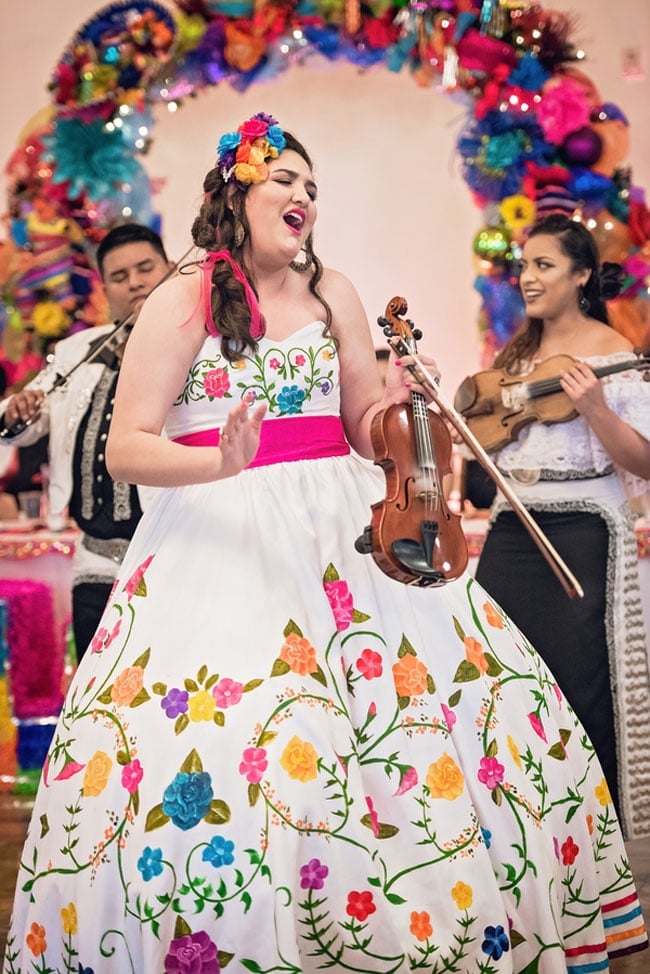 This birthday girl totally deserved a wonderful Quinceanera. She's a sweet and talented young lady, who was also an amazing violinist and vocalist, putting her talents on display during her big day. Her voice is one that can bring you to tears. What a great party to celebrate becoming a woman! What's your favorite detail in this Colorful Fiesta Theme Quinceanera? Let us know in the comments below! For more party ideas, follow us on Instagram @prettymyparty and Pinterest and join us in our private Facebook group.
Vendors & Credits