Hot Air Balloon Safari 1st Birthday
Come hang out with all of the cute giraffes, monkeys, elephants, and lions in this fun Safari Party!
This sweet pastel Hot Air Balloon Safari 1st Birthday from I Do Parties, of Sri Lanka, combines two great party themes: hot air balloons and safari animals! What a fun and creative 1st birthday party theme for boys! The soft, pastel color palette, in addition to the cute safari animals, makes this the perfect party theme for this birthday boy! The safari animal party was held outside surrounded by lush greenery, which was perfect for this jungle theme. Pastel greens, blues, yellows, and oranges were seen all around the event, including in the party supplies, decorations, desserts, and party favors.
Hot Air Balloon Safari Party Ideas
White ONE dessert table
Pastel yellow, green and coral balloon garland with colored palm leaves
Giraffe, lion and elephant party decorations
Personalized hot air balloon decoration
Amazing hot air balloon safari birthday cake with adorable cake topper
Themed welcome sign and party printables
Adorable safari animal desserts, including cupcakes, sugar cookies, cake pops, cakesicles, and macarons
Matching pastel dessert and cake stands
Pastel blue and green chairs for guests
Hot air balloon first year photo display of the birthday boy
Fun for the kids, including a bounce house and water slide
White party favors cart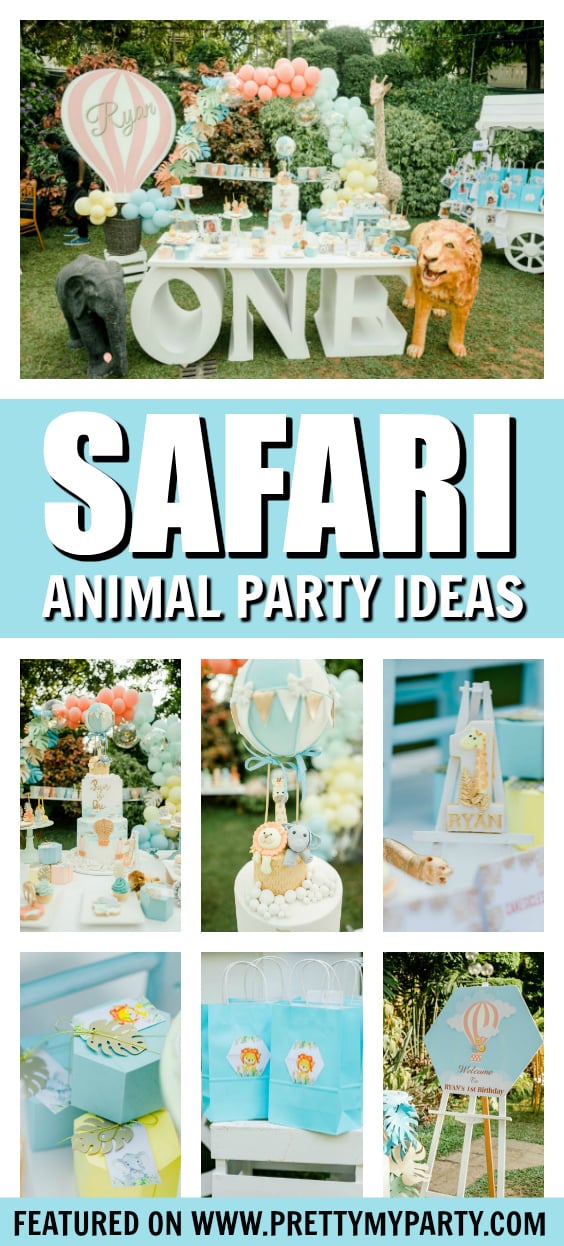 Hot Air Balloon Safari Party Supplies and Decorations:
See more party ideas here: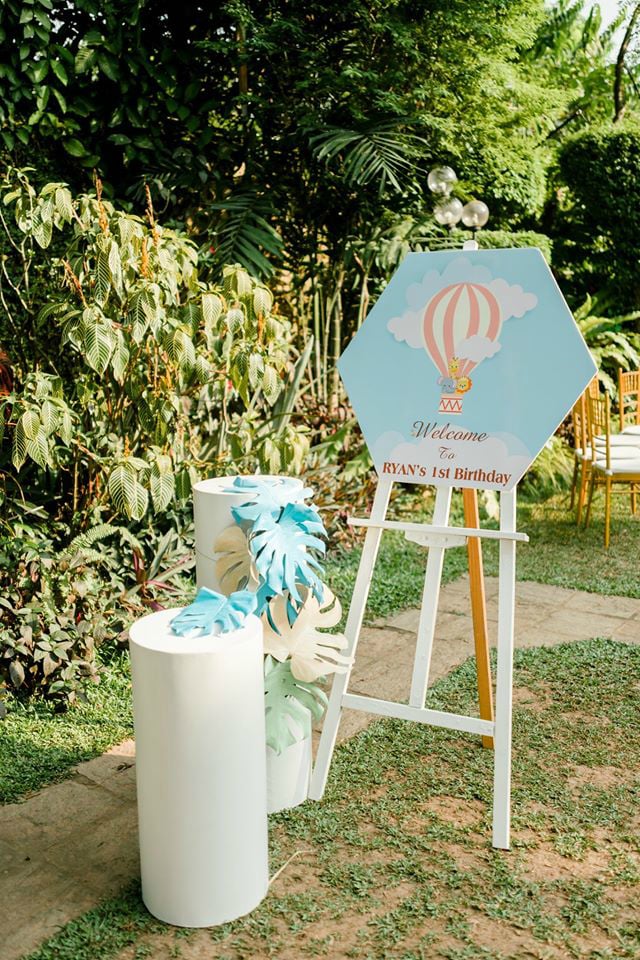 We adore this sweet pastel safari themed birthday with hot air balloon details! It's the perfect theme for a birthday or baby shower.
What's your favorite party ideas in this Hot Air Balloon Safari 1st Birthday? Let us know in the comments below!
For more fun 1st birthday party ideas, follow us on Instagram @prettymyparty and Pinterest and join us in our private Facebook group.
Party Vendors
Planning: I Do Parties
Florist: Flowers By Shé
Photography: Enamour
Balloons: Sky Balloons Service
Cakes & Sweets: Best in Town Cake & Cupcakes and Moreish Cupcakes
Chocolates: Love Every Detail