Modern Jungle Theme Party
Calling all party animals! Come and explore this modern jungle theme party with real live jungle animals!
There is nothing quite as exciting as having a Modern Jungle Theme Party for a little one's birthday! It's such a fun theme. What little four-year-old boy doesn't love anything to do with jungle animals?! Get ready to find some amazing jungle party inspiration for your next birthday celebration!
This little guy was getting ready to turn four and nothing would do like a Modern Jungle Theme Party! Not only were all of the jungle decorations completely adorable, but they also were able to score some real jungle animals for this 4th birthday party adventure!
Jungle Party Decorations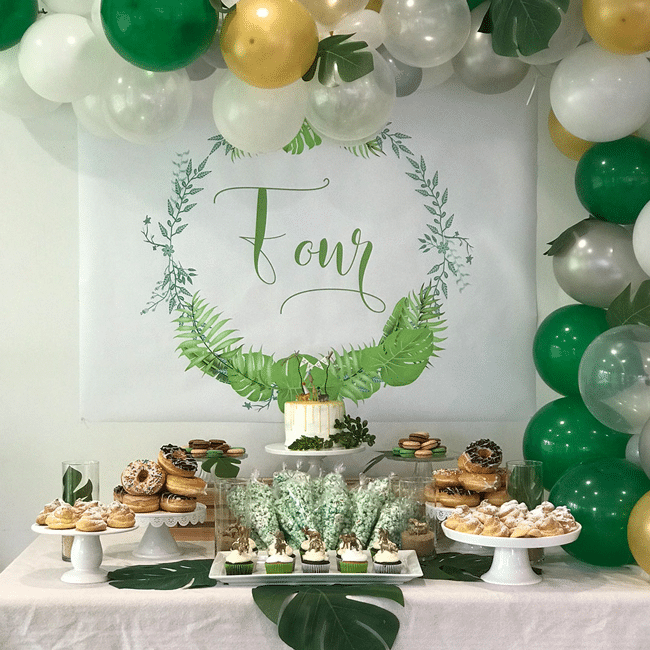 Modern Jungle Theme Party
The jungle theme cake is simple, yet perfect! The little jungle animal figurines that were on the top of the cake (with birthday hats) were the perfect touch! It looks to us like everyone was ready to celebrate this little guy's 4th birthday. Even all of the party jungle animals!
Chocolate and vanilla cupcakes were available for all of the jungle party guests, with cute little jungle animals sitting on top. Between the sweet rhinos, giraffes, elephants and lions, everyone was going to find their little "spirit" animal!
Fun Jungle Theme Party Entertainment
A magician was also on hand to entertain all of the party guests. There were plenty of tricks and laughs when listening to this fun magician!
I don't know about you, but being this close to this big of a snake isn't on my bucket list! But the birthday boy? He absolutely loved touching this jungle animal! Can you even imagine? What a great experience for all of the birthday guests!
A face only a mother could love!
Everyone loved getting close to the jungle animals that were available at the jungle party. Even the adults wanted to get in on the action! Everyone learned all about the habitat where the jungle animals lived and had all of their questions answered by the end of the day.
Nothing describes a four-year-old boy quite as much as the words "Wild and Free". It was the perfect balloon phrase to have at the Jungle Theme Party next to the dessert table.
The Jungle Theme Party had the safari come to the guests with these great party favors! Of course, you need to be well hydrated in the jungle, so water bottles with custom printables were handed out. There were also adorable safari hats for everyone, along with a safari goody bag!
The cute safari goody bags were given to every "party animal" in attendance, with lots of fun items for everyone to remember their great jungle day in the wild! Everyone went home with full bellies, full hearts, and full goody bags!
This Jungle Theme Party was a huge hit with everyone. What is not to love with the delicious desserts and fun wildlife that came to play, as well? It's a jungle themed party that any four-year-old would love. With these amazing ideas and great inspiration, you'll be able to get started on your own safari adventure in no time!