Bright Modern Bridal Shower
Modern meets glam in this Bright Modern Bridal Shower!
We are in love with this Bright Modern Bridal Shower, which is packed with show-stopping beauty from one end to the other! This colorful bridal shower took place at CopperWynd Resort / Alchemy in Scottsdale, Arizona and was the perfect combination of outside beauty with inside elegance.
The entire space felt harmoniously put together by Mandy Marie Creative, despite the eclectic decor and vivid floral arrangements. Bright floral centerpieces were created by Bloom + Blueprint, which added cheer to every table. Parcel and Maude Press also did an amazing job creating bright and fun invitations and printables for the event and all of the guests.
A powerful pop of color was introduced through the use of a transitional lounge furniture pieces. The hot pink velvet sofas from Prim Rentals gave the space a touch of elevated glamour, as well, and everyone couldn't stop talking about it! What a modern and elegant mix! And how about the amazing calligraphy sign created by They Call Me Spindles?! What a unique and fun addition!
The open bar was surrounded by green hedge walls and painted architectural floral arrangements. What a whimsical and romantic twist at this desert oasis! A signature drink of an Elderflower Spritz cocktail was created for the guests, which was served in tinted pink goblets. What a perfect way to enjoy the picturesque Arizona mountain backdrop, while mingling!
At sunset, guests were seated for a 3-course plated dinner at funky acrylic tables. To keep things happy and eclectic, tabletops were set with Christian Lacroix Sol Y Sombra Chargers, with pink tinted goblets and soft pink Cutipol Goa Flatware. To complete the look, handmade custom paper tassel place cards were tucked into stylish knotted napkins for each guest.
After dinner, the ladies indulged in the amazing dessert display created by Sift Bakehouse. Once the cake was cut, guests moved outside to the lounge area for games and gifts.
Pink was the name of the game at this summertime shower, but the amazing aesthetic was showcased through whimsical florals, bright decor and playful place settings. What a perfect day!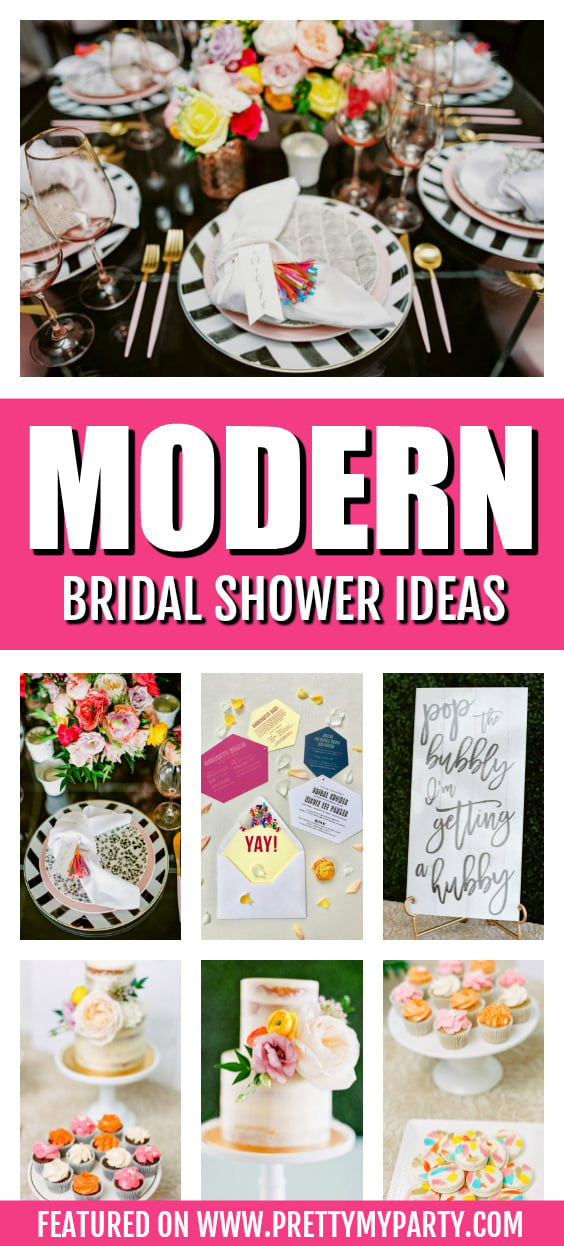 Bright Modern Bridal Shower Ideas
Bright florals were used in many strategic places throughout the venue
Spring fun ensured comfort for inside and outside of venue
The unique geometric themed bar with gold trim was a stand-alone piece that everyone loved
Feminine sign with calligraphy welcomed everyone into the celebration
Fun colors everywhere ensured everyone would celebrate in style
Bright and bold furniture pieces were brought in to draw the eye around the venue
Colorful flowers were set up on the tables as centerpieces
The dessert table was full of bright colors with cookies, cupcakes, brownies, and more
The cake was simple, with a multi-tiered naked frosting used, but with bright flowers used to make it pop
A bright, modern shower invitation was created, with fun and colorful confetti set to greet the recipient
Eclectic and unique decorations greeted the bride-to-be when she arrived with this bright modern theme
Entertainment was done inside and outside the venue, with gorgeous glass doors inviting everyone outside
A special bar menu was created with a signature cocktail to add to the fun
Personal gift boxes were available for all guests to take home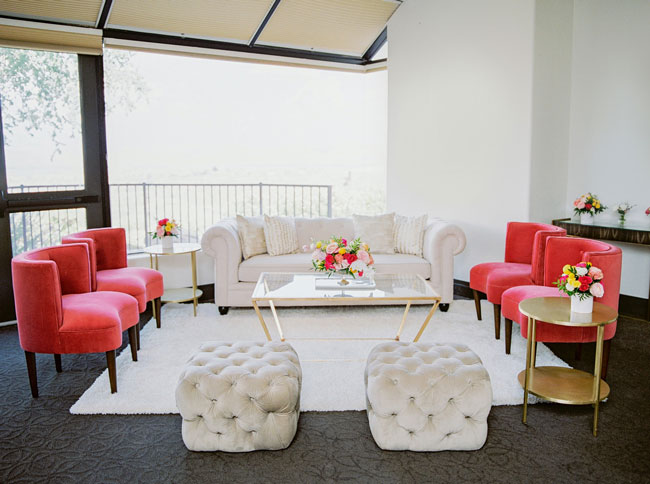 Bright Modern Bridal Shower Supplies and Decorations:
SEE MORE BRIDAL SHOWER IDEAS HERE:
A Bright Modern Bridal Shower is such a fun way to kick off the wedding festivities and get everyone into the mood for fun and excitement! Our favorite feature from this unforgettable shower has to be the gorgeous dessert table. From the fun geometric patterns to the bright and bold colors, everything was perfectly arranged around the simplistic naked multi-tiered cake. Talk about really making a statement!
We also love the pops of color found throughout, with the addition of different furniture pieces and the fun geometric styled bar that was used. What a fun and exciting theme for any woman to celebrate this big milestone!
What are your favorite details from this glamorous Bright Modern Bridal Shower? Let us know in the comments below!
For more bridal shower ideas, follow us on Instagram @prettymyparty and Pinterest and join us in our private Facebook group.
Party Vendors